26 Reviews
Recommended by 97% of couples
Quality of service

5 out of 5 rating

Average response time

5 out of 5 rating

Professionalism

5 out of 5 rating

Value

4.7 out of 5 rating

Flexibility

4.8 out of 5 rating
Awards
7 User photos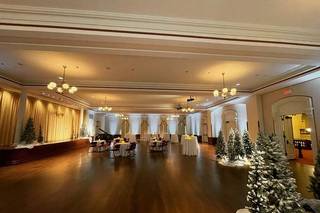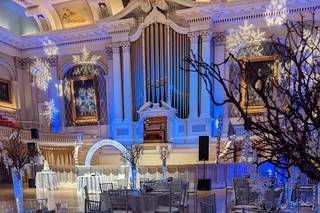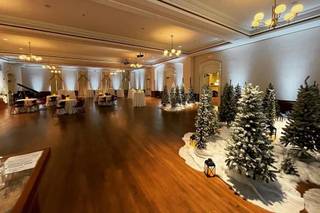 + 3

photos
Joe G.

Married on 01/22/2022

Dreams do come true

I can not say enough good things about mechanics hall and their staff. Made a dream come true and allowed me to create my winter fantasy wedding.

Mechanics Hall's reply:

Thank you Joe! Kim and I enjoyed planning alongside of you and making your dream come true!! The Mechanics Hall team wished you years and years of happiness!!

Eric B.

Married on 01/22/2022

A Stunning Venue w/ an Amazing Staff

Mechanics Hall was an amazing wedding venue and we couldn't be happier for using them as the setting of our big day. Planning a wedding is hard. Planning a wedding during a pandemic is extremely hard. On top of that, being a same-sex couple, there's more stress because of all the stories you hear about vendors not willing to work with couples due to personal beliefs. We were extremely relieved and happy that Mechanics Hall was welcoming to us and our vision with what we are looking for. We also used a queer performer for our officiant and cocktail hour entertainment. The staff at Mechanics Hall were so careful and conscientious of that person's pronouns and identity. On top of that, everyone that worked the day before and day of our wedding were so accommodating of our needs and were paramount in making the day run smoothly. All of our guests were stunned by the architecture of the venue and how beautiful it was able to become this winter themed event. Even without a functioning kitchen, the event planners were super helpful with providing caterers in the area that are familiar with the venue and are able to transport the food and keep it hot, even on the coldest days (we got married in January, temperature reaching a high of 21 for the day). It's such a unique venue and we couldn't recommend it enough for a wedding.

Mechanics Hall's reply:

Hi Eric,

Thank you so much for your kind words! The Mechanics Hall Experience is about taking the cleints' wishes very seriously and doing everything in our control to make their dream a reality. Congratulations on marrying the love of your life!

Marykate

Married on 01/21/2017

Mechanics Hall certainly provides a magnificent and breath-taking setting for a wedding, but the staff truly makes the event. Joan's customer service was outstanding - she was able to be flexible with us and from the very start worked hard to make sure our wedding reception would be an unforgettable night. Joan is great to work with, professional, thoughtful, detail-oriented, and made our lives very easy throughout the whole process! She took charge by getting all our vendors on board and ready to go, which limited my need to get too far into the weeds. The set-up of the Main Hall, Washburn Hall for cocktail hour, and even the Boardroom for the wedding party was well done. Joan even took to helping with lighting set up during our pictures as cocktail hour was going on - she truly goes the extra mile. When it came time to later on in the reception, Anna was extremely helpful in keeping the event running smoothly, even negotiating competing priorities in the timeline. Suzan, in a bartender-type role, also gave incredible service. That was greatly appreciated! I don't think we could have asked for a more stunning venue for our wedding reception, and what made it even better was the talent and dedication of the staff! I cannot recommend Mechanics Hall enough and am fortunate for the memories my husband and I, along with our family and friends, made that night. Our guests were in awe of the venue and we couldn't believe our fortune in being able to celebrate our newly minted marriage at Mechanics Hall!


Are you interested?

Send a message

Srivani

Married on 08/07/2016

Where to begin? Mr. Bob Kennedy and the Mechanic's Hall team are absolutely fantastic! There are many moving parts to a Indian Hindu wedding. The team is incredibly kind, professional, and responsive to everything. The Hall is stunning and is the perfect backdrop when you want to make a statement. I highly recommend hosting your wedding at Mechanic's Hall.

Harry

Married on 12/31/2015

Mechanics Hall is a beautiful historic structure which is able to accommodate events of various sizes in separate venues. It is managed by Mr. Robert Kennedy and his professional staff who take great pride in their work. We were primarily assisted by Diana Casavecchia, who is not only the director of sales but a qualified and dedicate event coordinator. She works with a team whose objective is to make your event a memorable experience for your guests and an event that you will be proud to have sponsored at Mechanics Hall.

Lee

Married on 07/11/2015

Without a doubt, booking our wedding at Mechanics Hall was the best decision we could have made for our wedding!

When we first saw Mechanics Hall online, we thought "there is no way this would work for us." We worried that it would be too "over the top," that it would feel too big for our reception of ~140 guests, or that it would be way too expensive. But it's beautiful, and we just _had_ to see it in person. From the moment we walked in the door, we knew that our fears were unfounded, and this was the place for us. Mechanics Hall clearly takes great pride and enjoyment in helping you to throw the beautiful party that you want to throw. After visiting several wedding venues that seemed to be more interested in things like upselling us on linen patterns, it was a relief to feel like Mechanics Hall truly wanted to help us achieve our vision. Even better, it was not much more expensive than many other _much_ less special venues we had considered.

Karen and the rest of the staff at Mechanics made everything run so smoothly! They did everything possible to accommodate our needs, even unusual requests. They gave us lots of great recommendations, but they also gave us lots of freedom to choose the vendors, schedule, and decorative choices that we wanted. Their professionalism and hard work ensured that everything just worked on our wedding day.

It may sound weird to say that you're proud of your wedding venue, but honestly, we are. When talking to our guests, more than anything else, they kept coming back to how beautiful and special our venue was. We couldn't agree with them more. In so many places, beautiful historic venues like this have been torn down (if they ever existed at all). Mechanics Hall was spared, and by hosting our wedding there, we felt like we were helping to keep that history alive. It gave our guests an experience that they wouldn't get anywhere else, and we felt privileged to be able to host an event there that they will remember.

Kerry

Married on 10/11/2014

To say Mechanics Hall is beautiful would be an understatement. It was the first venue we visited out of three, and maybe this was our mistake, because nowhere else could possibly compare. We are so glad we had our wedding at such a magnificent location.

We were enamored with the spaces for the ceremony, cocktail hour and reception. As a bride, and seeing friends and family get married prior to my own, I know the many intricate details that can go into making your wedding venue space your own. The beauty of Mechanics Hall is that you have very little to worry about. The ornate features of the hall and throughout the building provide its own elegance and décor. To me, this meant less I had to worry about in the long run. I felt like our wedding night was a fairytale, largely because of the beautiful location that we hosted our wedding.

Right from the start, the staff that helped show us around and answer our questions was beyond courteous and accommodating to our schedule and inquisitive minds. This courteous and helpful nature did not stop there. When we signed on to have Mechanics Hall as our wedding venue, any questions or needs I had along the way, they were quick to help answer those questions. This lead right up to the week of the wedding, where my coordinator, Joan Stewart, went above and beyond ANYTHING I could have hoped for! We had our final meeting with her, where I dropped off all my decorations and details, and she assured me that not only did I not have to set anything up, but also I had nothing to worry about. And it was perfect! Being able to not stress about those details allowed me to really enjoy my wedding from start to finish. The rest of the staff did a fantastic job catering to our guests during our wedding, providing wait staff and bar services that were friendly and fantastic.

There are so many words that can describe our experience, but classy sums up the location and the staff.

Myriam

Married on 08/30/2014

Overall, Exceptional!!From its gorgeous interior, to spacing and accommodations, Mechanics Hall is a "diamond in the rough" for couples in the Boston/New England area. The Mechanics Staff were professional, flexible and accommodating. Mechanics Hall allows for "DIY" tweaks such as bringing in your own caterer, and other vendors. Karen, the Event Coordinator was a joy to work with and made sure our day went off without a hitch from start to finish.




If you are looking for elegance, drama and amazing staff, you Must have your wedding here. We were blown away by the raw beauty this hall had. Add decorations and it's truly magical. The entire staff and wedding coordinators were professional and cooperative and truly genuine people. We would do it all over again with them if we could.

Mechanics Hall is a hidden gem that was perfect for our wedding! It is beautiful!! We picked Mechanics Hall because of the flexibility it offered us in terms of bringing in our own catering and being able to have our reception go late into the night. We had both our ceremony and reception there. The staff at the Hall was so hard working and accommodating and they all had smiles on their faces throughout the event and made our event run so smoothly! We would whole-heatedly recommend this venue!

Doudelyne

Married on 08/23/2013

The staff at Mechanics Hall are very professional and friendly. They worked with our budget and made the experience so pleasant. We had the entire 3-story building at our disposition and the setting is without hesitation, the most classy of venues. For those with taste of beauty and elegance, this is the venue for you! Thank you for making our day memorable!

Absolutely stunning venue. The wedding coordinators were incredible. They handled everything and kept the entire night moving effortlessly.

Jamie

Married on 02/02/2013

Mechanics Hall was such an AMAZING place to have our Wedding and I'm so glad we choose this gorgeous venue. From our 1st meeting Bob and Joan were very imformative and helpful in answering all of our questions and are such nice, pleasant people-we immediately knew after meeting with them and seeing the Hall that this was our place!! Joan was extremely helpful and thorough throughout the planning process and included every little detail. On the day of our wedding Joan was there to run our rehearsal in the morning and was there throughout the rest of the day/night to make sure everything ran according to plan. She was Amazing that night and made sure things happened on time, things ran smoothly and people were doing what they were supposed to be! I couldn't have asked for a better night and Joan had a Huge part in making it that way!! Thanks Mechanic Hall!!

Debbie

Married on 11/10/2012

Sharon was unbelievable as a wedding coordinator at Mechanics Hall! Everything was perfect!! Not one hiccup on the wedding night! Bar staff was fabulous as well!!!! Worth every penny!! Made my dream wedding come true!

I can't say enough about Mechanics Hall - the Venue is BEAUTIFUL, the staff is professional and Joan is an amazing planner and had every detail covered. We needed a venue where we could bring in our own caterer, and Mechanics Hall was cooperative and worked wonderfully with all our vendors.

Angela

Married on 09/22/2012

Mechanics Hall is an absolutely amazing venue. Not only is it rich with history but it is truly stunning. It was very difficult to describe Mechanics Hall to my guests and needless to say, many of them were blown away when they saw the venue in person at the reception. The best thing about the hall is the staff. I felt like Bob Kennedy and Sharon Onorato treated me like family. They were so helpful throughout the planning process and someone was always available if we had questions or wanted to have (another) walk through. They worked with me on every detail and made sure that my dreams became reality. Several of my guests commented on how the staff was so attentive and welcoming when they arrived at the venue for cocktail hour. Sharon and Bob were there late into the night (well past midnight) to make sure everything went smoothly (which of course it did!). Mechanics Hall is by far the best wedding venue in central MA if you're looking for something elegant, classy, and timeless.

Jen

Married on 10/08/2011

If you choose this venue, no one will forget your wedding! Its been 8 months since mine and my guests are still talking about Mechanics Hall!


Margaret

Married on 07/11/2009

The staff at Mechanics Hall is professional and attentive, warm and flexible. The setting is unique and our guests were thoroughly impressed as well as comfortable.

Lisa

Married on 08/30/2008

The venue is stunning. We are still hearing from guests about how beautiful it is. The only downside is that you have to do a little more planning to bring in your own caterer, cake, linens, flowers etc; the kinds of things that may be included in a hotel package. But it worked out perfectly for us because we didn't want a hotel ballroom wedding. The other minor thing is that the chairs that are included are a really old red fabric and its pretty expensive if you choose to rent other chairs or cover them. We chose to just use them and they were fine. But if you care about everything matching, then you wll want to leave room in your budget for chairs.
Overall, everything was perfect and we would definitely recommend Mechanics Hall.

Emily

Married on 08/15/2009

Mechanics Hall was one of the best choices we made - absolutely gorgeous, spectacular service. We worked primarily with Bob, and he was absolutely a dream. We got many compliments on the gorgeous venue, and everything went flawlessly, thanks to Bob and Sharon.

Gregory

Married on 05/07/2016

Mechanics Hall was great!

We wanted to find an indoor venue for our ceremony and reception with enough space for 150+ guests and a large dance floor, and Mechanics Hall fit our needs perfectly. Mechanics Hall is beautiful throughout, allowing us to take all of our photos inside on our cold and rainy wedding day.

Mechanics Hall has a large main hall with a room behind the stage for a bar. Below the main hall is a smaller hall available for the cocktail hour. The bride and the bridal party were able to get prepared (hair, nails, and dress), starting at 10AM (wedding at 4:30PM), in one of the venue's many rooms.

The ceremony took place in the main hall with the officiant, wedding party, bride and groom on the stage. Pipe and drape separated the aisle, chairs, and stage from the tables for the reception, and the Mechanics Hall staff did an amazing and efficient job at converting the room from the ceremony to the reception. During the reception, Mechanics Hall provided the bar-tending staff and liquor (per MA law).

Mechanics Hall was quite flexible and met the vast majority of our needs. They allowed us to conduct a rehearsal the day before the wedding, even though they had a prom later that night, and they allowed us to bring in decorations and the wedding dress in advance to the wedding. However, because there was a prom that Friday night, we were unable to begin placing decorations until cleaning was complete.

Karen McDonald was our main point of contact, and she acted as a somewhat of an event coordinator. Karen was a pleasure to work with, and she was very timely and thoughtful with her communications! She was also very knowledgeable about vendors and processes, so she was able to advise us and answer all of our questions. She helped coordinate vendors and the wedding party, but, because it is not her job to be the event coordinator, we recommend having a designated point of contact for vendors, personnel, etc. on your wedding day.

Karen

Married on 10/23/2010

The staff at Mechanics Hall really exhibited professionalism and excellent hospitatlity in all of our interactions. Sharon was very responsive to any questions, requests, and ideas we had. On the night of the wedding both my husband and I, as well as all of our guests, we treated incredibly well. The venue was gorgeous and everything went smoothly thanks to the experienced staff.

Ashley

Married on 11/29/2008

Absolutely beautiful venue in everyway, loved it, felt like royalty. Only downside is there is no kitchen, so you have to find a caterer that will work there.

This place is absolutely beautiful. Everybody is very professional

Mechanics Hall is a beautiful venue to get married in! The architectural detail and unique setting give it that grand feeling! I am more than happy that I chose this venue for our wedding reception and wouldn't have changed anything about it! The reason for my less than 5/5 star rating is because I found the venue's costs a little high (especially to add additional hours) and they weren't as flexible as I had imagined. They booked an event the night before my wedding which constricted myself (and my vendors) from accessing the venue anytime before the morning of. I was disappointed. I expected for a wedding as large as mine (350 guests), they would not book an event the night before. This made things a little more difficult for my vendors, but none of them complained. I should also note that this isn't always the case, there have been other weddings/events that the hall was free the night before. I guess it's just the luck of the draw.

Other than the scheduling and cost for additional hours, this place is perfect! Joan was great to work with and was wonderful throughout the entire night!
Are you interested?
Send a message