24 Reviews
Recommended by 99% of couples
Quality of service

5 out of 5 rating

Average response time

4.9 out of 5 rating

Professionalism

5 out of 5 rating

Value

5 out of 5 rating

Flexibility

4.9 out of 5 rating
Awards
1 User photo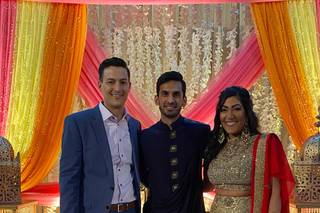 Riddhi P.

Married on 08/20/2022

musically intelligent, attentive/ great at reading the crowd, hype when necessary without overdoing it

Umang and his team were amazing! We had a specific idea in mind and we provided multiple extensive playlists and he managed to compose a mix that fit each occasion perfectly. The baraat went wonderfully, it was so fun! Our guests couldn't wait for the evening. The ceremony was also great- he played the right songs without prompting and it was really beautiful, he was able to control the volume perfectly so the pujari was never being over-shadowed. The attentiveness from Umang and his team was exceptional and exactly what we wanted. They read the room perfectly during every occasion. He also provided a plethora of add on options to give us a unique experience. We couldn't have imaged a better music experience for our wedding! If you want a musically intelligent, attentive/ great at reading the crowd, hype when necessary without overdoing it- definitely go with Umang's team, including Pinak, Summit, Jack!

Mayuri G.

Married on 08/06/2022

Dream come true!!!

Umang absolutely made our wedding!!! We got so many compliments on our DJ. But let me start from the beginning and tell you why Umang should be the only choice you look at for a DJ.

As soon as we started working with him we felt like we were in good hands immediately. He was so prepared and was very knowledgeable about all of the equipment we need, especially because our venue was outdoors and he flew out for it. He reached out to many AV vendors on our behalf to find us the best deal for the right equipment and told us himself what he thought would be the most sensible choices for us in terms of throwing an epic wedding within our budget.

Right before the wedding he had all of the right documents prepared to know exactly what would happen at each event and the type of music we would like to have played.

He came extra prepared and early to make sure everything was set up exactly right to a tee.

And then comes the actual DJing, no stone was left unturned. He beautifully strung together all of the small surprises we had planned. Made sure every single moment was filled with music and lit up the whole day. He also went above and beyond to make sure our MCs felt comfortable.

Hold up let me also tell you something else. My husband sang the song that I walked down the aisle to, he recorded it himself. Umang during a layover took hours of his own time remastering the track to make it sound better and we didn't even ask him to do that. Seriously went above and beyond.

Alright now onto the actual DJing. He did the dance floor for our Sangeet and reception and everyone was dancing all night, song after song was a vibe. He had everyone dancing from the parents to the kids. Now we all want him to move to portland so he can DJ every event here lol

Okay I'm almost done. Besides just being a super talented DJ, he is one of the kindest humans we have ever met.

Don't think twice HIRE HIM! He will transform your wedding.

Benjamin H.

Married on 06/03/2022

One of the best DJ companies in Ohio. Period.

Masala Events recently dj'd + mc'd our Indian fusion wedding. It was a 2.5 day event and Umang and his crew covered everything: Mehndi Night, Baraat, Hindu Ceremony, Sangeet, traditional western ceremony, and western reception.

Umang and his team did an AWESOME job with everything. The songs were always on queue for our pre-planned dances, our slideshow/video went smoothly, very few technical issues, and overall a great flow of music with a good mixture of Bollywood + mainstream music. Umang even helped us put together the slideshow and mix our songs the Sangeet dances. Personally my favorite part was the Baraat. He didn't just throw down a playlist....he actively dj'd a show from the back of his truck while we processed to the the venue. He has a talent for mixing songs together seamlessly and put together an impressive medley of both Bollywood + mainstream pop music. His dhol drummer Simer is outstanding as well...both on his own and playing along to whatever music was on. I can't recommend this crew enough, regardless of what type of wedding you're planning. First rate experience from start to finish.

Are you interested?

Send a message

Sarah O.

Married on 05/29/2022

Our guests can't stop talking about our DJ!

I can't recommend Masala Events highly enough. From the very beginning, DJ Umang made planning the music for our wedding both easy and fun. He helped us plan the music for our ceremony and reception and made that our timeline ran smoothly. When we weren't sure what to choose, DJ Umang helped us to fill in the gaps and gave us feedback on what has worked and not worked for other couples in the past.

DJ Umang was also an incredible MC for our wedding reception. He created an amazing playlist that kept both our American and Indian families dancing all night. Our dance floor was never empty and our guests are still talking about how much fun they had! Masala Events was very professional and prepared and helped to take a lot of stress out of our wedding day!

Akhil S.

Married on 01/29/2022

Best decision we made!

Umang and his team were kind, timely, and professional. They went above and beyond what we asked and expected from them.

Planning through the pandemic was not easy for us, but Umang and his team never made it seem like it was a burden. They were always flexible and made sure that we had considered all of our options.

Sama F.

Married on 01/16/2022

Sangeet/Wedding

We used Masala Events for our sangeet and for our wedding. Umang combined professionalism with a personal touch. He was flexible and worked around our schedules to set up virtual meetings in order to create a timeline for both the sangeet and the wedding. He communicated with our venue co-ordinators and vendors to ensure events flowed seamlessly. We were keen on having sound tracks with dhol for the baarat and he surprised us by bringing along a dhol for the baarat and playing it...just one example of the many ways in which he went above and beyond. He functioned as the master of ceremonies (MC) for our events. Family that could not join us had sent video messages and wishes for us to be played during the ceremony. Umang and his team fixed files that were not playing properly and ensured the wedding day went so smoothly that we only became aware that they had even encountered these issues after the ceremonies when family members praised all the work the Masala Events team put into fixing the files. As requested, Umang gave short descriptions of the rituals for the benefit of guests who were not familiar with an Indian wedding. We had a blast on the dance floor thanks to his team's extensive music collection and ability to read a room and keep the party going. We cannot recommend them highly enough.

Sohini G.

Married on 11/20/2021

Lit Indian Greek Wedding

We hired DJ Umang and Masala Events for our wedding and couldn't have been happier.

First and foremost his organization skills and attention to detail was beyond what we had expected. Not only did he coordinate with the vendors to ensure things ran smoothly, he coordinated with the bride, groom, father of the groom AND father of the bride. NOT an easy task when you have two very opinionated fathers...

We had a list of "do not play" and they deflected certain requests well without offending any guests.

Umang also "MC-ed" the night; The schedule ran smoothly. Transitions went well. All names pronounced correctly.

Cost-wise they were upfront with all expenses and there were no surprise charges.

Most importantly- music was off the hook. We had a packed dance floor all night and had many comments after how fun everyone had dancing.

Overall- highly recommend. While I hope this is the only wedding we hire them for- will definitely rebook for the next DJ event!

Arun R.

Married on 11/06/2021

Best DJ Ever

We hired Umang to DJ for our wedding weekend. To sum it up, hiring Umang was worth every penny.

We had a fusion Indian - American wedding so there were a lot of different musical tastes and styles involved. Umang met with us multiple times before our wedding to help us with music and with our wedding timeline. He was patient, thoughtful, and gave us some great suggestions.

Umang and his team did an outstanding job during the wedding weekend as well. To begin, he and his team absolutely crushed the Baraat. I have been to a lot of baraats and none of them compared to the job that he and the crew did for ours.

During the reception, it seemed like the dance floor was always full of people of all ages. We received so many compliments from family and friends about how great our DJ was.

We are so happy that we hired Umang and we would highly recommend him to anyone else planning a wedding.

Zara S.

Married on 06/19/2021

The Best Decision...they deliver!!

Went above and beyond. Visionary with immense technical expertise! Could not have chosen a better DJ especially for our fusion wedding! The music, sound, Dhol, and execution made our wedding like a fairy tale and beyond what we had planned! Very organized and they left no stone unturned to make sure our wedding was perfect. I'd highly recommend choosing them over anyone to make your special day perfect!

Isha S.

Married on 03/04/2021

Masala Entertainment brought ALL the SKILLS!

First and foremost, if you have an Indian wedding or Fusion wedding like we did – hire Masala Entertainment. Our wonderful wedding planner Priscah from Joie De Vivre recommended DJ Umang and his team and after our first video chat we hired him on the spot. As the creative music juices started to flow we couldn't wait to collaborate with him on our Sangeet, Wedding Ceremony, and Reception. My husband and I are huge music lovers and we have a very eclectic taste and Umang was able to capture all of that throughout our entire weekend. It was a mix between chill EDM, Bollywood hits, and pop music – keeping people on the dance floor all night! My feet hurt for 3 weeks after the wedding because we danced so much! The attention to detail and the charismatic way Umang puts his spin on everything made us feel like he wasn't just a DJ but that he really took the time to get to know us as a couple and helped created a magical weekend. Now that you know the music is on point lets talk about the ambiance of a wedding – its all about the mood lighting and that is where Masala Entertainment created a custom package of lighting for us – as we entered our reception our mouths dropped as the entire room felt like a fairy tale with soft pinks and highlights of gold. Our guests gasped upon entering at how elegant the room looked!! With the challenges of Covid – almost all of our meetings were held via Google Chat which was okay since their booking system for songs, lighting, and additional details makes it so easy for the bride and groom to update in live time essentially making conversations go smoothly. All in all if you want more details I am happy to share but the smile on our faces from our Sangeet night shows how truly happy we were to book Masala Entertainment!

Seema

Married on 06/24/2017

Indian Hindu Wedding

Great experience. Worked with us and gave us exactly what we wanted. Would definitely recommend them.

Paridhie

Married on 06/10/2017

Masala Entertainment was a huge success at our wedding! Umang was so easy to communicate with and made our whole process much easier. He is an expert with lighting and music and went above and beyond what we had asked for. Everything he did was customized to my taste and executed perfectly and our guests had nothing but positive remarks. We truly enjoyed working with him and his team and highly recommend Masala Entertainment!

Kavita

Married on 08/01/2015

I worked with DJ Umang on music for the Baraat, wedding ceremony, cocktail hour, dinner, and reception. My husband is really particular about music (and Is an audiophile and former radio DJ himself), so it was imperative that we have the right music. After talking to Umang on the phone for an hour about music and our tastes, we got a sample playlist from him. We added and subtracted a lot from that and he was cool with that. At the reception itself, many people commented on how awesome the music was. I danced for hours on end.

Anisha

Married on 11/29/2014

Masala Entertainment was absolutely amazing at our wedding. They did the lighting and sound for our Sangeet and the sound for our wedding/reception in Indy. The team was very quick with response time and helped us plan out the music for the whole weekend to ensure we created the perfect atmosphere at all times. They're very friendly and know their music! Our guests are still talking about how much fun they had dancing both nights! Great job guys! Would definitely recommend to any bride!

Komal

Married on 06/15/2014

We loved working with Masala Entertainment for our wedding. They were so easy to set-up an appointment with, and took the time to come to a location that was closer to us. We had the following services through them: dhol and music for the baraat, music throughout the wedding day (including reception) and lighting. Their price was reasonable and their work was great. They had previously worked with our wedding designer, so that made things all that much easier. I loved that they were happy to take our music requests. Our reception was suppose to end at 11:00pm, but we later found out that our guests were having such a great time that Apurva and his brother stayed an extra 2 hours! This was not at all expected or necessary, but it showed how much they love what they do. We are so happy we went with Masala Entertainment and we would definitely recommend them!

Juliet

Married on 04/06/2013

These guys were great and a pleasure to work with! We used them for ceremony, cocktail hour and reception music. They were able to get any music we wanted, and their set up was very nice. The dance floor was packed the entire night, everyone had so much fun!!

Veena

Married on 05/27/2012

We were very impressed with the DJs from Masala Entertainment. They were very professional, prompt, and reliable and played some great music! They also were willing to do a lot of last minute adjustments, which was great. Great job!

Nisha

Married on 04/14/2012

They did a great job at our wedding. Honestly, they were amazing. Our friends had a lot of fun. Their timeliness, professionalism and attitude made our event a success.

It is very hard to find a vendor like them that is so easy and professional to work with. We had NO issues with them. I highly recommend!

Mitul

Married on 04/07/2012

The DJ service was great. They did a great job at our wedding. They also did the up-lighting for our event and it was wonderful. Our friends & family had a lot of fun. The service was professional and they were always on time.

We had no issues with them. We would highly recommend them to everyone!!!!

Ram

Married on 03/17/2012

Masala Entertainment was great to work with and I would def recommend there for future clients. They were very professional and responsive. I think their personalities also match well for the events, in that they are approachable, knowledgeable, and resourceful. They made it a hassle fee experience for DJ services.

Neelam

Married on 10/09/2011

I think we can all agree that wedding planning can be painful especially if a vendor is not so easy to work with. I was referrerd to Masala Entertainment by a family member and wasn't sure what to expect. I was very pleasantly surprised when I spoke to Umang for the first time and felt like he was very professional and just an all around wonderful person.

I feel that a DJ can make or break a reception- and Masala Entertainment certainly made both the wedding and reception a hit! Umang is an amazing dholi artist & his music selection for the wedding & reception was exactly what I was looking for. Everything from the uplighting to the music & dj booth was AMAZING. I am not the type of person that give compliments unless someone truely did something well.

I have been to hundreds of weddings all over the states, and I haven't come across a DJ quite like this. Keep up the awesome work! Masala Entertainment was long overdue in Ohio, & I'm so glad we were referred to you!

Abheshek

Married on 10/01/2011

Umang/Masala Entertainment provided exceptional service. Their professionalism and customer focus was very refreshing, as this is not very common in the DJ industry. Moreover, Umang and team took the time to speak with me, understand our needs and worked with me on the pricing as well. Such customer focus is a rarity these days.

Finally, Umang and team did whatever was required to ensure that our wedding event was as successful as possible, despite inclement weather, and anticipated every need. I would highly recommend Masala Entertainment to anyone of my friends.

We used Masala entertainment for my sister's wedding. Apurva was the main DJ and he was absolutely amazing. During the event he was focused and so attentive. He knew who were the main people and organizers and did a great job working with them. He was so helpful, he even helped move chairs between skits during part of the evening program. There was a small hiccup when a song was played that the couple did not want, it was one of those typical wedding songs that may have been requested many times by guests, but it was not a huge deal. I would highly recommend Apurva for a wedding or special event.

These kids are young, but have solid equipment and skills. They let us come preview their playing at a college party, and we liked what we saw. We used them for two parties. On the first night the DJ got lost but called us a number of times to let us know his status. He made it to the event on time. We sent them a huge list of plays and do not plays. They got most of it right. Our crowd was demanding and they struggled a little bit with the man dozen requests, but did their best to make do.

Overall, the dance floor was almost never empty. Hard to say more than that. Also, they did a strong job accommodating western and Indian music, and mixing it up.
Are you interested?
Send a message