Reviews
5.0 out of 5 rating
Quality of service

5 out of 5 rating

Average response time

4.9 out of 5 rating

Professionalism

4.9 out of 5 rating

Value

4.9 out of 5 rating

Flexibility

5 out of 5 rating
99%
Recommended by couples
Awards
3 User photos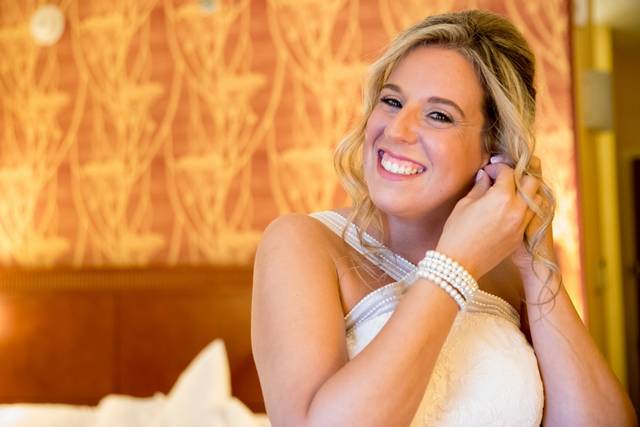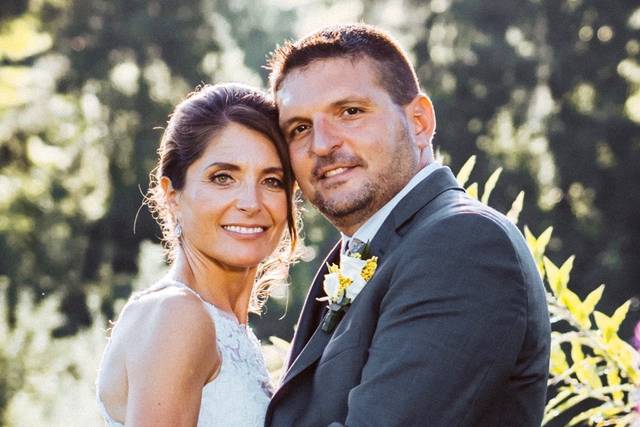 Regina D.

Married on 08/24/2019

Experienced, professional, and fun!

Jenny is such a wonderful make-up artist! She is fun, experienced, professional, and amazing at what she does. On top of it all, she was so patient. She did my make-up exactly how I had imagined it. I didn't look overdone and I still felt like myself on my wedding day. My make-up was beautiful throughout the entire day and my photos are amazing. I highly recommend Jenny for your special day.

Melissa

Married on 08/04/2018

Jenny did an amazing job with my wedding makeup-- it was just what I wanted! I don't wear a lot of makeup and was going for a natural look. Jenny understood my wishes and got it just right at the trial and on the big day. The makeup lasted through an outside ceremony on a very hot and humid afternoon followed by a lot of dancing. And she uses natural products, which is a bonus! She also did my mother and sister's makeup without trials, and everyone was very, very happy. Jenny is professional and responsive, and she is also is a fun person to have on your team on your wedding day!

Tiffany

Married on 06/17/2017

Jenny was absolutely amazing! She and her assistant created beautiful make-up styles for everyone in our wedding party! The looks were fantastic in person and on camera and they lasted all day! Thank you so much for helping to make our day beautiful Jenny!!!!

Are you interested?

Send a message

Jenny is absolutely amazing. Not only is she a fantastic makeup artist, but she is genuinely a great person to work with. I had my makeup done by Jenny during a friends wedding and after looking in the mirror I knew I had to have her do my makeup again for my own wedding. She's creative, fun, and so amazing at what she does. I can't wait until I need makeup done again! Thank you, Jenny!!!

Makeup By Jenny's reply:

Thank you so much Angela! Looking so forward to working with you again! Congratulations!.

Lauren

Married on 10/10/2015

Jenny did an AMAZING job on my wedding day. My makeup made it through laughs, tears, food, and drink (and it was a long long day, too!). In preparation, my consultation was a really great open discussion where we tried out different looks, practiced my makeup for the day, and talked it all through until I was happy. Day-of she was punctual, professional, and SO TALENTED. On top of that, her prices were very competitive, and worth every penny! Thanks for everything, Jenny! I would do it all again if I could, and I'd bring you on to do it, too!

Kerry

Married on 06/20/2015

Jenny and her team did an amazing job! I had used Jenny when I was a bridesmaid in a friend's wedding and loved how I looked! So I knew she was who I wanted to do my wedding makeup! I feel like I got exactly what I asked for and loved how I looked on my wedding day. I did air brushing and she gave me the natural look I had asked for. Jenny and her team did myself and 6 others. She was professional and managed the time well. All my bridesmaids, mother and mother in law loved how they looked. I couldn't be happier with the service she provided and will/have recommended her to future brides and friends!

Makeup By Jenny's reply:

Thank you so much Kerry! It was such a pleasure working with you! Best Wishes & Congratulations!

Kathleen

Married on 10/18/2014

Jenny did my makeup for prom over 10 years ago, and I still tell people to this day, she is the only one I let do my makeup!! It was an easy decision to have her do my makeup for both myself and my bridal party, and as usual everything was perfect! Everyone's makeup came out beautifully, and having 6 women be completely happy is rare! The makeup lasted all night and (shame on me - after a looong night of partying) I went to bed with it on, and it was still perfect in the morning!! I cannot recommend Jenny enough, she is so talented, as well as being such a nice presence and happy person to be around!

Jenny did my makeup, as well as 6 bridesmaids. She did an incredible job, like others have said, making us look amazing while still like ourselves. Even my pickiest friends were happy and Jenny was patient with some of my last minute changes. Most weddings I've had makeup done for, you have to decide between looking normal in person and looking great in photos, but Jenny walked that line perfectly so that everyone felt beautiful and natural enough the day-of, but also looked absolutely incredible and appropriately done-up in photos. Thank you Jenny!!

Katherine

Married on 06/21/2014

For my outdoor, rustic-style wedding I was looking for someone who could make me and my bridesmaids look our best without making us look like totally different people through overly-heavy, overly-dramatic makeup. I chose Jenny because I could tell from her photos and reviews that she could achieve that natural beauty look I was going for -- and she did not disappoint! When I had my trial with her, my mother-in-law who accompanied me was so impressed by Jenny that she decided to get her makeup professionally done too (which she hadn't originally planned to do) and so did two of my bridesmaids who had also originally planned to do their own makeup! We all realized it was well worth it to have Jenny do her magic on us all! I was especially impressed by how beautiful she made my 70+-year-old mom look, while keeping her makeup subtle enough so that even my dad (who hates makeup!) loved it! Also, Jenny was super-responsive--she would email me back within hours, at all times of day--and really easy to work with including accommodating a tricky schedule with 7 people having to get their hair and makeup done simultaneously on my wedding morning. Jenny and her assistant worked really fast but with great results! I would highly recommend Jenny to anyone who wants a stress-free and beautiful wedding makeup experience.

Danielle M.

Married on 05/09/2014

Jenny was absolutely amazing!!!! I can't even tell you how many compliments we all got!!! She did suchhh a great job with my makeup in addition to my bridesmaids makeup!! Jenny really listened to what we wanted and worked with each an every one of us to make sure we lovedd the way we looked!!! Thank you thank you thank you again Jenny for such a beautiful job!!

Nicole

Married on 10/12/2013

Words cannot express how grateful we were to have Jenny be a part of our special day.

First, Jenny is extremely talented and everyone in the bridal party raved about her work. She has the ability to bring out your natural beauty, without being overdone. For example, even though I wanted really dramatic eyes, she was able to do it perfectly and I still looked like natural! Even better, the make-up stayed on the entire night.

Second, she was also able to re-create any look we were going for, on all skin types! Between my bridal party and mother, we all had different skin (sensitive, dry, aging, for example), but she was still able to make us all look beautiful.

She also came perfectly prepared, with a ton of make-up options and high-end make-up brands (MAC and Laura Mercier, to name a few) to customize a look for each girl in my bridal party.

Lastly, she was just great to work with! From my first consultation with her, to my trial, to the wedding day, she was responsive, organized and friendly. Throughout the process, I felt like she was more of a friend than a vendor. We had a few issues the day of the wedding and she was just SOO sweet and supportive. She even stayed a little longer until everything was sorted out. I could not have made it through the day without her!

Any bride will be lucky to work with Jenny -- I would HIGHLY recommend her and will absolutely work with her again.

Tiffany

Married on 05/11/2013

What can I say about Jenny? She saved my entire wedding day! I had this terrible allergic reaction to eye drops and an eye infection. My eye was swollen shut the day before my wedding. Jenny had provided me with some tips to get the swelling down - which worked incredibly well. In the morning when I awoke I could manage to see out of my eye, haha, but it was still swollen and very red. I shouldn't have worried for a minute - Jenny worked MAGIC on me. She made me look beautiful! My face looked flawless, particularly as time wore on.

I seriously couldn't have asked for anything more. Not only is she sweet, professional, attentive and responsive, she is SO talented. I'm so happy I had Jenny for my wedding day. If she managed to fix me in the state I was in, imagine what she could do for you!

Makeup By Jenny's reply:

Thank you so much TIffany! You and your family where such a pleasure to work with! I was so Happy I could help! You are beautiful! <3 Best Wishes!

Jenny was so professional and such a sweet heart. She always got back to my emails immediately and when I wasn't completely satisfied with my first trial, Jenny offered another one within that week. The day of my wedding she was all business and made everyone look like angels! She's the best around no doubt!

Doriano

Event on: 01/01/2013

With all the fly-by-nighters out there, Jenny sticks to her true passion, makeup. There's no comparison between an artist who hones their specialty to a jack of all trades.

Rachel

Married on 10/13/2012

Jenny was wonderful and very accomodating. She was personable and friendly and made me and my wedding party not look exactly the same which I notice a lot with make-up artists. She also doesn't have a heavy hand which I love. I wanted a soft, romantic look and that is what she gave me. I felt stunning. Jenny is great!

Makeup By Jenny's reply:

Thank you so much Rachel! It was my pleasure working with all of you! Best Wishes!
Jenny

Nicole

Married on 09/22/2012

Jenny was wonderful! I contacted her last minute (2 weeks out) to do only my makeup, and she was extremely responsiveness and flexible! At my trial, I felt comfortable and confident in the quality of work Jenny did -- and even when I changed my mind abou the vision of my makeup (on the day of), Jenny did a wonderful job of making me looking exactly how I envisioned. She was even able to squeeze in my sister and mother without any prior warning, and made them feel just as beautiful as me on my wedding day.

I'd recommend Jenny to anyone - professional, friendly, competent and worth every penny.

Makeup By Jenny's reply:

Thank you so much Nicole! It was my pleasure working with all of you!
Best Wishes!
Jenny

Kate

Married on 08/25/2012

Jenny was recommended to me by my wedding planner and what a great recommendation it turned out to me! From the beginning Jenny was professional and very personable. At my trial, she tried a few different things and really made sure that I loved everything. She wrote everything down that she did so that on the wedding day she could replicate it exactly. Jenny did the makeup for my mom and girls as well. Everyone looked beautiful!!!

Makeup By Jenny's reply:

Thank you so much Kate! It was such a pleasure working with all of you! Congratulations! Wishing you a lifetime filled with Love & Happiness!

Kate

Married on 06/16/2012

Jenny does an excellent job at makeup. I worked with her many years ago and had already seen the great work she does on brides or anyone. I knew when it came to my time to be a bride who I was going to use. She makes you look so natural and beautiful. I look at my pictures and I'm amazed how great I looked. All my bridesmaids and my mother in law looked beautiful. Thanks Jenny!!

Makeup By Jenny's reply:

Thank you so much Kate! Wishing you a lifetime filled with Love & Happiness! <3

Lindsay

Married on 04/28/2012

All I can say is WOW! Jenny is beyond amazing! She knew exactly what I was looking for and when our special day came she was not just there for myself but for my girls too. I can't tell you how many compliments we all got on our make up. Professional, caring and overall amazing. Hands down Jenny is the best around!

Katie

Married on 10/29/2011

Jenny is amazing. She is fun, personable and a true make-up artist. I would highly recommend her services for your wedding or other special event.

Makeup By Jenny's reply:

Thank you so much Katie! It was a pleasure working with you! Best Wishes! Jenny

Christine

Married on 05/07/2011

Great makeup Artist!!! My bridesmaids and I each had our makeup done by Jenny. Jenny Knew exactly what I wanted,and made my special day wonderful!! I received so many compliments on my makeup. She was very flexible. I recommend her to anyone who is looking for a great makeup artist!!!!

Meghan

Married on 08/16/2009

Jenny was wonderful to work with and an amazing makeup artist. I knew from the trial that she genuinely cared about what my makeup looked like and just wanted me to look like my best self, not a "made up" version of me. She also did my sister, mom and mother-in-law's makeup and everyone was thrilled with the results. I can't say enough about how great she was!

Makeup By Jenny's reply:

Thank you so much Megan! It was a pleasure working with you & your family! Best Wishes! Jenny

Christine

Married on 09/25/2004

We just watched our wedding video again and all of our makeup was so beautiful!!! Thank you for making us all feel so special. Love u

Makeup By Jenny's reply:

Awwe Thank you Christine! <3 Love you too! I love to make people feel special so its nice to hear! Thank you for taking the time to review me! XO

Tania

Married on 10/23/2011

Jenny was great. She knew what I wanted and I looked fabulous on my big day. She and her assistant made everyone look great. She came to the hotel and everyone was ready with plenty of time left over.

Makeup By Jenny's reply:

Thank you so much Tania! It was a pleasure working with you! :) Best Wishes! Jenny

Jane

Married on 09/30/2017

We got married at the end of September this year. It was a pleasure working with Jenny, Jennifer, and Denise. I had my hair and make up trial done 6 months before and was very happy with the results then and on my wedding day. On our wedding day there was an unpredictable cold snap and rain and my hair and makeup looked perfect all night! In some of our photos, it was even lightly misting and everything stayed. I also have Sjogren's which causes extremely dry eyes and Jenny worked with me to make sure my eyes would be ok. My makeup and hair looked beautiful and natural which was just what I wanted! Thank so much for making our day special!
Are you interested?
Send a message