212 Reviews
Recommended by 99% of couples
Quality of service

5 out of 5 rating

Average response time

5 out of 5 rating

Professionalism

5 out of 5 rating

Value

4.9 out of 5 rating

Flexibility

5 out of 5 rating
110 User photos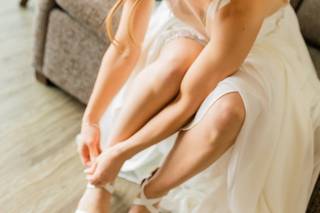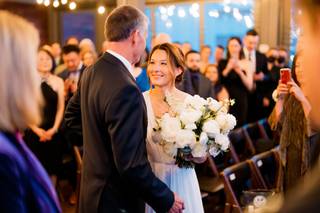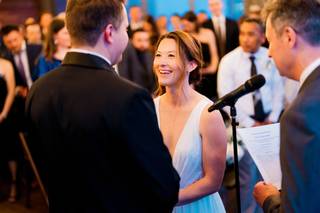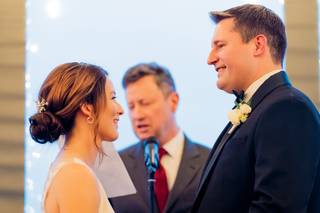 + 106

photos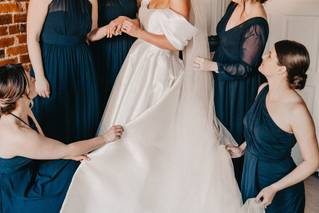 Caroline H.

Married on 04/29/2023

Jessica is phenomenal!

Jessica is phenomenal. I rarely wear makeup and was a little weary of using an artist for my wedding. She was a careful listener who executed my dream flawlessly.

I also have high praise for MAB's coordinators. Momina was responsive and kind.

I highly recommend Makeup by Ana B for an expert and stress-free experience.

Sahar S.

Married on 04/08/2023

Couldn't be happier with the MAB team!

The MAB team was absolutely amazing from start to finish. I reached out to the MAB team through their website and received a reply quickly. Setting up the hair and makeup trials was easy and seamless.

Bianca Lara (makeup) and Esme (hair) were absolutely the dream team. They combined my wants with their expertise to achieve the perfect look for me and the bridal party. They were incredibly flexible and willing to make changes along the way. Their talent, kindness, and professionalism made the getting ready process easy and smooth. I could not recommend them enough!

Jennifer W.

Married on 03/10/2023

MAB is the best! Gorgeous makeup and hair, incredible attention to detail

MAB is the absolute best -- in terms of communication, coordination, and quality of their work, they're a huge cut above. Thank you to Esme and Norma in particular for making our special day so wonderful. My mother, my mother in law, and I were all so incredibly pleased. They are both exceptional! The hair and makeup services they provided were truly impeccable.

Are you interested?

Send a message

Becca F.

Married on 12/31/2022

MAB is the best! Gorgeous HMU work and great customer service.

Working with MAB was a great experience from start to finish! Their office/administrative staff was extremely organized and communicative, and I never had to worry about my appointments, timeline, contract specificities, etc. I was able to flexibly schedule a hair and makeup trial at their beautiful studio, and they made sure to spend lots of time with me talking through what I wanted and then discussing my feedback. I was indecisive about how I wanted to do my hair, and they accommodated me to schedule multiple trials, even just a few weeks before my wedding. I had 11 women getting hair and makeup done for my wedding, and the team arrived early/on-time, worked through everyone efficiently, and made us all feel so relaxed and glamorous on wedding day. They preemptively scheduled in touch-up time in our day-of schedule. I got a ton of compliments on how beautiful everyone's hair and makeup were. These artists are truly the best of the best--so talented and such great judgment about how to make everyone's natural beauty shine through. Thank you, Bianca, Esme, Norma, and Shirley!

Caroline T.

Married on 11/19/2022

The BEST Glam Squad!!

MAB is the BEST! I debated HMUAs for my wedding since I love a voluminous hairstyle and classic makeup– I LOVED that MAB offered such a seamless package and range of artists– all in one place!!! Their booking process is smooth, and their organization is top notch. Their team sent a questionnaire and schedule for the day, taking all the guesswork out of our timeline. I did a pre-wedding facial with Bianca, which was everything my skin needed before the wedding. I also did a makeup and hair trial, and despite my indecisiveness during the trial, Melissa listened to any changes I desired and boy did she DELIVER on the big day!! Hala did my bridal makeup, Melissa did bridal hair, and Norma, Hala, and Melissa tagged teamed the Bridesmaids, mother of bride and groom! They did a FANTASTIC job!!! I could not have felt more beautiful, and I received so many compliments about how natural and stunning my soft glam look was! Their demeanor is calming, and they were such a welcome presence on the morning of our wedding day. I HIGHLY recommend the team at MAB Artistry for any special event or beauty needs, and special shoutouts to Hala and Melissa for making me feel like a true princess that day! You will not regret having them as your glam squad!!

Jorden G.

Married on 11/05/2022

Loved working with Martha and the entire MAB team!!

I cannot say enough great things about Martha and the entire MAB team! Martha was so kind and fun, and is an AMAZING makeup artist. I was so grateful to have her be a part of our wedding day. She made my entire wedding party, mom and I feel so beautiful! And the entire MAB team was always quick to respond and great to work with leading up to our wedding. Can't recommend them enough!

Allison J.

Married on 10/28/2022

Amazing wedding hair and makeup

I cannot recommend Bianca for makeup and Jasmine for hair from the MAB team. Bianca was so sweet and answered all of my questions before the wedding over text. I loved my makeup she did at the trial but the makeup done on my wedding day was on another level. I have never felt so beautiful and I usually do not like when my makeup is professionally done. Bianca is the best!

My hair also looked so perfect thanks to Jasmine. I got a million compliments on my hair- she did a fantastic job. I can't recommend these two enough for your wedding hair and makeup.

Victoria B.

Married on 10/22/2022

Talented and Trustworthy HMU Artists!

I am so glad I went with MAB for my wedding hair and makeup! I had Cori for hair and Suz for makeup and they were amazing. My trial went great and they really listened to what I wanted! They really encouraged me to speak up if I wanted adjustments so I felt so comfortable with them and my hair and makeup turned out exactly how I wanted it to. They also did my bridesmaids hair and makeup. They really stuck to the schedule so we didn't run behind and - all of the girls were so happy with their looks. MAB was also really responsive throughout the whole process and flexible with any changes I had. Overall, MAB made things run so smoothly and I felt great on my wedding day!

Mithra S.

Married on 10/15/2022

Wedding Makeup

I came across MAB through my early research in wedding planning and saw that they not only had skilled makeup artist and hair stylists who could accommodate my specific features but also the style makeup I was looking for. They did a great job and adjusted exactly how I requested. My entire bridal party also loved their hair and makeup. I would absolutely recommend them to future brides!

Stephanie

Married on 10/15/2022

Fantastic hair and makeup team!

I had a wonderful experience using MAB Beauty! Cori and Suz are super talented and everyone in my bridal party (my mother and 4 bridesmaids) looked absolutely stunning the day of the wedding. As the bride, I received so many compliments on my hair and makeup and it lasted the entire day – I was especially impressed with how beautiful Cori made my hair look with my intricate headpiece! I cannot say enough great things about Cori and Suz and how talented they are. I would highly recommend them and the MAB beauty team to future brides!

Lena C.

Married on 10/15/2022

Professional and accomodating

We worked with Jessica and Mong to do makeup for 12 people the morning of our wedding and working with MAB was such a breeze. I had been following them on Instagram for a while and was really happy we were able to book them for our wedding. I got into an accident about 2 weeks before my wedding leaving me with a large wound in my chin that needed stiches and was very visible as well as a lot of other small abrasions on my shoulders that was very stressful to deal with right before our wedding. I had emailed MAB to let them know and they were so comforting and assured me that it wouldn't be a problem and they would be prepared for whatever they had to help cover and I was shocked at how well Jessica covered it. You couldn't see the scar at all and I felt super confident and my makeup didn't budge the entire night. They were organized, sent us a schedule for timing and kept everyone on track the whole morning. Would definitely recommend them to anybody in the dmv area.

Carolyne F.

Married on 10/09/2022

Highly recommend working with MAB!

I loved working with Makeup by Ana B! I hired two stylists for my wedding day for five people (bride, two bridesmaids, mother of bride and mother of groom). MAB was very professional, flexible, and easy to work with! I hired Cori for hair and Ana M . for makeup and could not be more thrilled with how everything turned out. My hair and makeup held up for the entire night and were exactly how I envisioned! Highly recommend you work with MAB for your event!

Megan M.

Married on 09/17/2022

Fantastic service!

I had a wonderful experience using MAB! Everyone in my bridal party (which included 3 moms and 9 bridesmaids) looked beautiful and was thrilled with their hair and makeup the day of the wedding. Despite the large group, we were even able to finish ahead of schedule! Lexi, Tanya, Nour and Trisha were so friendly did a great job listening to what each person wanted. I got so many compliments on my hair and makeup as well, and it lasted all day long!

Javaneh T.

Married on 09/11/2022

Fantastic hair and makeup team!!

Makeup by Ana B did a wonderful job for my bridal hair and makeup and my entire 7 person bridal party! On the admin side, everyone was very responsive and helpful with my requests and even added a makeup artist/hair stylist last minute for me. I appreciate the flexibility!

Maria, Stefani and Bianca were such professionals and made us all look stunning!! They showed up on time, were very efficient, made sure every girl was comfortable, and made every girl (who each looked very different and had their own style) look gorgeous. I absolutely loved my makeup in particular! All the bridesmaids were highly complimentary of the team. I would recommend them for hair and makeup!!

Eleanor

Married on 09/10/2022

Wonderful to work with - especially Norma!

MAB provided hair and makeup services for my seven bridesmaids, mother, mother-in-law, and me (bride) the day of my wedding. In the lead-up, I had a make-up trial that left me feeling a bit unsure about my make-up day-of. MAB recommended that the stylist who had done my hair, Norma, also do my make-up, and offered a re-trial at no cost. I'm so grateful to have had Norma for my make-up and hair. She was an absolute joy to work with, made me feel at-ease, and nailed my vision for a more natural yet sleek look. The same can be said for the rest of the MAB team we worked with on my wedding day - Vasa, Katoya, and Nour, were all wonderful - showing up promptly, finishing ahead of schedule, and leaving everyone content with their final looks. I highly recommend MAB and hope to use their services (especially Norma's!) in the future.

Madison L.

Married on 09/10/2022

Five stars!

I am thrilled with my experience with Makeup by Ana B for my bridal hair and makeup. They are truly experts at what they do with a lengthy background in weddings. My stylists - Rocio and Suz - were SO talented, and I felt gorgeous on my special day. The makeup and hair lasted for HOURS!! They also answered all my questions and had great tips for what would work best during my trial. Plus, they did an excellent job with my bridal party - everyone looked stunning. I highly recommend them. You'll be in great hands!

Erin N.

Married on 09/03/2022

Incredible Hair and Makeup Team!

MAB's hair and makeup artists are truly amazing, and it was so easy to work with the company to determine availability and go through the planning process, as they're extremely organized and responsive.

The artists I worked with were Martha for my makeup and my family members' makeup, Uzma for my hair and my family members' hair, and Tanya for my friends' makeup - and all three were so kind and incredibly talented. I went into my trial with a general idea of what I wanted, and when I mentioned tweaks to Martha and Uzma for the day-of, they were very receptive and understood completely, turning the vision into reality.

MAB created a timeline for me and it made the day-of go SO smoothly - if anything, we finished ahead of time (which, having participated in several weddings, is rare!). It was also just such a joy having Martha, Uzma, and Tanya with us to get ready. They put everyone and ease and were just so fun to spend time with.

I can't emphasize enough how beautiful I felt and how perfectly my hair and makeup turned out - and it all lasted through a very warm September ceremony and LOTS of intense dancing. I highly recommend the team at MAB Artistry for event hair and makeup - especially Martha, Uzma, and Tanya!

Savanna M.

Married on 09/02/2022

Amazing Makeup Services

The services of Makeup by Ana B were such a wonderful part of our wedding day!

Fasiha was so helpful and wonderful to work with leading up to the day, answering my many questions and remaining flexible as I worked on arranging a comfortable hair and makeup schedule for 16 women!

Our stylists, Hala, Norma and Nour were each so lovely and helped the morning run so smoothly makeup wise! Their positive attitudes, kindness and expertise were very much appreciated and my bridesmaids and I spent the day feeling beautiful in our makeup!

It was such a pleasure to work with everyone here!

Carole A.

Married on 07/30/2022

Great tips for making sure my hair & makeup lasted all day!

My hair and makeup were perfect for my wedding day! Not only did my hair and makeup look perfect but my bridesmaids and family members looked amazing as well. They focused on everyone's natural beauty! They came by our hotel suite to do everyone's hair and makeup, not only were they on time but they finished early!

I went before for a trial run and my hair stylist gave me a great tip for my rehearsal dinner by going to dry bar for a blow out so my hair was clean and pre-styled for the wedding day! It helped my fine straight hair last all day for the wedding!


Merrill W.

Married on 07/16/2022

Amazing Makeup from Tanya!

We hired Tanya from Makeup by Ana B to do makeup for all of my bridesmaids. From start to finish, Tanya was highly professional, warm, and fun to work with. But most of all, we loved Tanya's amazing talent with makeup! All of the bridesmaids looked phenomenal, and Tanya did a great job listening to what each woman was looking for while creating a cohesive look for the entire wedding party. I would highly recommend Tanya!

Sara D.

Married on 06/04/2022

Amazing Results and Process

It be scary to trust someone else with your hair and makeup on your wedding. But the artists at MAB made me feel SO comfortable, and made sure to take the time to understand what I wanted on my big day. They made me look and feel gorgeous. My bridesmaids were also blown away by the end results and professionalism of the staff. Thank you to MAB and their artists, they were a pleasure to work with and made a stressful day super enjoyable.

Lee C.

Married on 05/07/2022

MAB is the best!!!

I am sooo happy I hired MAB for my wedding! I had a large group of women for hair and makeup (9 bridesmaids + my mom + my MIL + me (bride)!) and they made everyone look AMAZING. My friends kept commenting on how good they looked/felt, which made me so happy. Cori, Hala, Bianca M, and Karina were fantastic and kept us right on schedule. I recommend MAB 100% - they are the best!

Ryland D.

Married on 04/29/2022

Beautiful work and easy partner to work with!

Ana and her team were the perfect partners for my bridal party hair and makeup! They made me feel so special at my trial and then again on my wedding day, and they navigated my large bridal party with ease, keeping us all on time. Everyone was so thrilled with how they looked - I couldn't recommend them more!

Lauren I.

Married on 04/23/2022

Whether your style is natural or dramatic- they've got you covered

I had Vasa and Eboni provide makeup services for 11 of us total, including bridesmaids, my sisters, my mom/MIL, and me (bride). The made my already gorgeous crew that much more gorgeous! They listened to each of us and took to heart our preferences, for example, I wanted a more natural look for my skin, while one of my bridesmaids wanted a full glam show! Even though several of us needed to get ready, they kept everyone on schedule and relaxed while doing so!

Anne

Married on 04/08/2022

Best In the Business

The Makeup by Ana B team is the best in the business. They are so talented and really listened to everyone's vision for their hair and makeup. They were kind and flexible when we had to reschedule twice. I used Hala for makeup and Cori for hair and could not have loved them more.
Are you interested?
Send a message