109 Reviews
Recommended by 89% of couples
Quality of service

4.4 out of 5 rating

Average response time

4.5 out of 5 rating

Professionalism

4.4 out of 5 rating

Value

4.5 out of 5 rating

Flexibility

4.4 out of 5 rating
Awards
31 User photos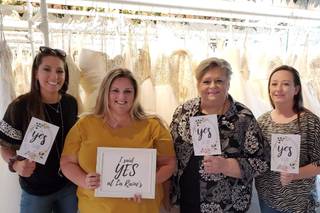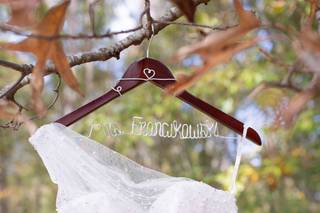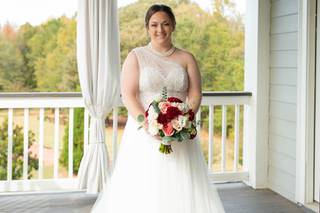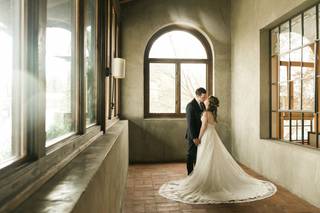 + 27

photos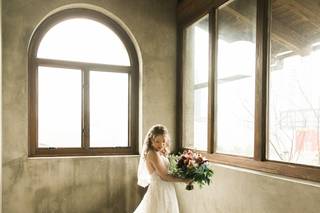 Alexis C.

Married on 01/15/2022

They Care and love what the do

There is not enough words that I can give to scream how amazing La Raine's is. I'm a plus size girl. First of all, I thought the cards would be stacked against me. The minute we arrived I felt like I saw my best friend from ages ago. Such a fun and positive energy. They had best Customer Service! Sara and Courtney not only did an amazing job but they made my dress dreams come true. I promise you they will take care of you!

Kimberly K.

Married on 11/06/2021

This should be your first and only stop!

La Raine's gave me the perfect bridal experience! I should have gone here as my first stop. My bridesmaids and I were greeted with champagne and a charcuterie board, and we were free to roam around the store! They had the exact dress I wanted to try on, and they made sure I tried that one on first! I also tried on every other dress I could ever dream of to make sure that I had found THE ONE! Everyone was so sweet and patient and encouraging! Even Ms. Sue, the in-house seamstress, is the best! This is the place that every bride needs to go to first!

Rachel W.

Married on 10/16/2021

Amazing!

Wow!! I had such an amazing experience with La Raine's Bridal and highly recommend it to any bride searching for the right dress! From the moment we called to make the appointment, everyone was so friendly and accommodating. Compared to other bridal salons, the atmosphere is fun and relaxed. Courtney, my consultant, was incredible!! She was nice, knowledgeable, and made the appointment a blast! She also never made me feel pressured, unlike at other places. I was allowed to look through all the dresses with my guests. I struggled with other salons not carrying many gowns in the style I liked, but La Raine's had an incredible selection well within my budget. Courtney saw us through to when I picked up my gown, just to make sure everything was perfect. With many other parts of wedding planning being stressful, La Raine's made the whole process easy and enjoyable! I cannot recommend it enough!

Are you interested?

Send a message

Ladan M.

Married on 05/04/2021

BEST bridal boutique in Atlanta!!

Hands down THE BEST bridal boutique in Atlanta! Ask for Michelle When you go!! She was seriously so helpful, knowledgeable, and patient! Everything about this boutique was perfect - the atmosphere, customer service, and the most amazing dress selection! Highly recommend!! Thank you, Michelle & team for helping me find my dream dress!!

Leanna M.

Married on 11/15/2020

Courtney is the best!

La Raine's was the best! I had gone to several bridal boutiques and La Raine's had the most beautiful selection and amazing staff. Courtney was our consultant and she was so bubbly, knowledgeable, honest, and funny. My mom lives out of state so she was not there with me to purchase my dress, but Courtney still made me feel so encouraged and excited about my purchase. Courtney was able to help me customize the dress how I wanted. She let me know about custom length, which is so important. I am a short lady and I didn't know you could do custom length and keep all the details on the dress and save money in alternations. I trusted Courtney's other opinions and guidance completely. I purchased the dress in July of 2019 and the dress was ready in November of 2019. My mom traveled to Georgia so we could pick up the dress. We made an appointment in December. They had moved to a temporary location, and Courtney was there! It is so important to have a consultant who is experienced and flexible and listens to your concerns and is also kind and relatable. Thanks!

Raven B.

Married on 07/25/2020

The girls here are amazing

The girl's at this shop were just as wonderful as their dress selection. From the moment we walked in we were instantly greeted with big smiles and big personalities. My family and I were escorted to a beautiful dressing area and I was allowed to skin through the dresses and try on whatever called to me.

There is a big family atmosphere in this shop and our stylist Liana was simply amazing. She made this whole experience that much more special. I can't say enough amazing things about this experience. Highly recommend.

Caitlin P.

Married on 06/05/2020

Awesome Experience!

I had a great experience buying my dress at LaRaine's. I first shopped in June 2019. I had a great time with my consultant Courtney. She was so friendly, helpful, and not pushy at all. I shopped around a bit and then went back in August 2019 to order my dress. We tried it on again, took my measurements and placed the order. LaRaine's was great about keeping me updated throughout the ordering process. I went back in December 2019 to pick up my dress. It came in without a problem, and the try-on appointment went great. Courtney worked with me start to finish, even recommending a seamstress for alterations. I have my first appointment with them in a couple of weeks, but every experience I had dealing with LaRaine's was awesome. I got a beautiful dress for a reasonable price. They had dresses there for a wide range of budgets and they were all beautiful.

Maggie C.

Married on 05/31/2020

AMAZING experience!!

I had already talked to a couple other boutiques that didn't have any open appointments for weeks but when I called La Raine's Bridal Boutique to check availability they were able to take me that day which was such a blessing! I went with my mother, mother-in-law, two of my bridesmaids and my grandfather to try on dresses. I had only looked online at wedding dresses to get an idea for what I wanted so when I walked into the boutique I tried to keep an open mind. Michelle listened to what I liked and learned more about me to understand my personality better to know what kind of dresses to look for. Michelle made my experience incredible by encouraging me the whole time and really listening to any hesitations I had about dresses. She was so patient and never made me feel forced to get a dress. She showed me one of her favorite dresses and I fell in love with it! I was able to try on many different types of dresses but kept going back to the one Michelle picked out. I put my favorite dress back on and put a vail on to go with it to envision what it would look like and I began to cry I loved it so much. My grandfather said it was his favorite dress too and that if my grandmother was still alive she would have loved it so much so I just knew I had to get it. I said YES to the dress and the staff brought out champagne to celebrate! I bought the dress and vail and everyday leading up to my wedding I got more and more excited to wear it! I never imagined that the very first day I went looking for my wedding dress I would find it in the first hour but that truly shows how amazing and talented the staff of La Raine's Bridal Boutique is. It is definitely the first place a bride should go when looking for her perfect wedding dress!

+ 8

photos

Nancy S.

Married on 05/01/2020

Extravagant bridal boutique

The bridal consultant was so sweet to let me come in last minute and knew exactly what I was looking for. The dresses she pulled out for me to try where stunning.Such a cute and dainty shop. Their accessories are also beautiful.

Tara

Married on 10/12/2019

The best wedding dress shopping experience I could have asked for!

I cannot say enough great things about La Raine's – I would give them 100 stars if I could. This was my first dress shopping experience and I was really nervous because I only had a vague idea of what type of dress I was looking for. Liana was AMAZING. She knew exactly which dresses to pull to help me hone in on the style I liked, and she made the entire experience so fun and special for us in the private Flamingo room. I fell in love with the first dress I tried on and went back the next day to purchase it after going to another store and realizing that nothing else could compare to that first dress. They have a huge selection of dresses at several different price points, AND you get a 10% discount if you buy a dress within 24 hours of your appointment! LaRaine herself is so down-to-earth and fun to talk to – she and my mom became instant besties. It is very evident that everyone here loves what they do. I couldn't have asked for a better dress shopping experience and I am so so glad that my first appointment was at La Raine's & that I got Liana as my consultant! If you are a bride-to-be trying to figure out where to make appointments, I would HIGHLY recommend that you make La Raine's your first stop!

Rachael G.

Married on 06/07/2019

Amazing experience!

1000% would recommend La Raines Bridal to any future bride! My guests and I had such a great experience with Michelle/Sarah during our visit to find the perfect dress. I loved the selection and how all of the dresses had pictures of how they look on a model-super helpful!! Michelle was attentive, had an amazing attitude, and was just a pleasure to try on dresses with!! With COVID policies in place, we all felt very safe and well taken care of. I was thankful to be able to have my 5 person crew there with me.

Katie

Married on 05/18/2019

Great Shopping Experience!

A friend of mine recommended LaRaine's. I was worried when we got there that nothing would be in my budget, since it does have a lot of high-end dresses. Liane (I hope I'm spelling her name right) was great at reading my nervousness and helping me identify the dresses there that would fit my budget, but also referring me if I did not find a dress there that the sister store they own nearby would have plenty of what I was looking for. The second dress I found here ended up being the perfect one. While I decided, Liane was great about showing the dress in different lighting and giving me space and time to make a non-pressured decision. It ended up being the only bridal salon I went to, and I'm so glad I started my search here! Definitely check out La'Raines or their sister store (I forget the name) in your wedding gown search.

Savannah

Married on 05/04/2019

Dress Search

Sarah was my consultant and she was the bomb!!! She welcomed me and family as just that, family! She was extremely personable and made the experience so simple but meaningful.

Ryan

Married on 10/27/2018

Wonderful experience! Very friendly people, very reasonable and helped stay in our budget, and so sweet and helpful with good prices!

Kelley

Married on 10/06/2018

I was so nervous to try on wedding dresses and Sara made me so comfortable. She let us pick what we thought would work but ultimately she spotted my dress and quietly asked me to try it on. She was so right and I bought it that day. These ladies are super talented and I could not have had a better experience!

Tolani

Married on 10/06/2018

If you're looking for a beautiful dress that stands out from the usual generic selection of bridal gowns, this is the place to go! I'm very picky with clothes in general and was scared that I'll have a hard time finding the "dress" and that the dress I would fall in love with would be away above my budget. This place proved all of that wrong. This was my 3rd stop when I started dress shopping. Right from when I walked in, I fell in love with this place. The dresses on display were beautiful and looked like they cost 3 times more than what the price tags actually said and the customer service was impeccable. La Raine, the owner and Sara were there throughout my whole experience and made bridal shopping so comfortable and fun. You can tell they really enjoy what they do and make you feel right at home with their friendly attitude. I got scared that I was making my decision too early being that this was just my 3rd stop and decided to see 6 more stores to see what else was out there. After seeing a lot of repetitive dresses that didn't have the wow factor I was looking for, I came running right back to La Raine and absolutely said yes to my dress!

Genevieve

Married on 09/29/2018

Loved this boutique!

Such a beautiful place! Our experience shopping at La Raine's was a dream. They were incredibly kind and patient with a huge selection of dresses. Plus once I found my dress they had incredible recommendations for alterations. They really guided me through the whole wedding dress experience stress free and with ease! Loved them!

Amanda

Married on 09/15/2018

I bought my dress at LaRaine's in February of 2018. I had a wonderful experience purchasing my dress, I only ended up trying on 4 there (this was the first day I'd ever tried on dresses, but the second store I had been to that day). The purchase process was easy and LaRaine ended up being the one to measure me (she's so sweet!). My dress came in to the store in my size in June, and long story short, the manufacturer made it wrong. LaRaine's was nothing but helpful through the whole process of trying to get it worked out. They worked with me to find a solution that would get my dress to me in time for my September wedding, and in the end, I am still completely obsessed with my dress! I would definitely recommend anyone looking for quality dresses for reasonable prices to go to LaRaine's! (Or their sister store Suite! I actually had an appointment here as well, but cancelled because I found my dress before then.) Definitely schedule an appointment with LaRaine's when you're in the market for your wedding dress!

Lindsay

Married on 08/18/2018

La Raine's exceeded my expectations! I had never gone dress shopping, and I'm new to Georgia, so I relied on the internet to give me decent advice on what shops to book appointments at. La Raine's was the first to get back to me, and they were very flexible with their times. Good start to the process. When we go to the appointment, we had the entire place to ourselves, which was nice, and the girls were so bubbly and very contagious. It definitely set the mood for dress shopping. We got to pick out whatever dresses we wanted, and the stylist picked out a couple, too. It was nice because she wasn't pushy with anything. Because of that, we enjoyed seeing a bunch of different styles and had a blast! The last dress I tried on was the one she chose, and that was the winner. We all had so much fun and were in and out in 2 hours. I didn't have time to dilly dally around because we had moved and my family lives across the country. We had 24 hours to find a dress, so we were on a mission. Ha! Overall, it was a fabulous experience, and I recommend everyone to go to La Raine's!!

Beth

Married on 08/11/2018

Absolutly loved this boutique! I found my dress and loved every second of the process. They were helpful and honest the whole time. Allowed me to go to another boutique and then come back and try on my forever dress. Great experience!!

Shannon

Married on 07/14/2018

I could not recommend La Raine's Bridal more!

After I picked up my dress and found something wrong with it, they had me bring it back into the store and La Raine herself looked at it and helped try to solve my problem. Her team at La Raine's and their sister store Suite Bridal immediately stepped into action mode and handled the emergency perfectly, and had such a sense of urgency to get things figured out for me that I knew I was in good hands and everything would be resolved on time. Sara, Courtney and La Raine were the best problem solvers and went above and beyond for me.

I seriously cannot recommend La Raine's and Suite Bridal enough!

Callie

Married on 06/30/2018

We had so much fun at La Raine's Boutique. My consultant was amazing and led me right to my perfect dress while keeping myself and my family included. I couldn't have asked for a better day!

Monique

Married on 05/26/2018

They were amazing! Everyone was so helpful and nice! Also, all the dresses are pretty at LaRaine's Bridal. It is not possible to leave this place without finding your perfect gown!

Monique

Married on 05/26/2018

Very nice selections of dresses, great customer service, very nice comfortable and elegant boutique, very accommodating to your guest that attends with you. My consultant was Courtney! She was excellent and help me to pick out the perfect dress and veil for my special day!

+ 3

photos

Heather

Married on 05/26/2018

I loved my experience here. It was really cool to have LaRaine weigh in on my dress too. Such an AMAZING selection of dresses, all within a very fair price range.
Are you interested?
Send a message