60 Reviews
Recommended by 95% of couples
Quality of service

4.9 out of 5 rating

Average response time

4.9 out of 5 rating

Professionalism

4.9 out of 5 rating

Value

4.7 out of 5 rating

Flexibility

4.6 out of 5 rating
Awards
27 User photos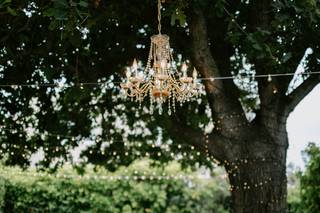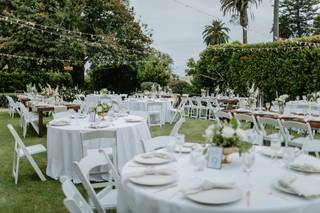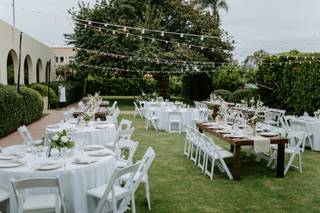 + 23

photos
Tara H.

Married on 11/07/2021

Absolutely stunning site for a wedding

We had the perfect wedding day at the La Jolla Woman's Club. We couldn't have asked for a more beautiful ceremony.

In the months before we booked, we toured a number of larger and more ostentatious venues. We weren't sure how many people would be attending our wedding - or what exactly we'd be looking for. We'd lived in La Jolla for a number of years. On the one hand, we wanted our ceremony to be near the ocean. On the other, we also valued serenity and privacy. We wanted our wedding to be set off from crowds - surrounded by nature and history.

The La Jolla Women's Club was perfect. It's just off Prospect, the main drag in this part of La Jolla - about two blocks from the beach. But it's so quiet and peaceful. The site is more than a century old. Ancient trees rise up on all sides. The garden area off to the side is a picturesque spot, surrounded by greenery. The buffet area in the main courtyard is an ideal setup for a reception area. The weather in San Diego in late fall was perfect for us - sunny and high 60s, with a few low-hanging clouds. We had almost a dozen guests come up to us independently and tell us this was the most beautiful venue they had ever seen.

One other important point - our wedding was originally booked for April 2020. The La Jolla Woman's Club was flexible and easy to work with during the COVID-19 closures that followed in the next year. A number of other venues' contracts had broad "force majeure" clauses that could have made this situation a nightmare. Instead, what could have been a stressful and difficult time was easy - through two consecutive postponements. The La Jolla Woman's Club was a pleasure to work with. They made our wedding day one we'll remember for the rest of our lives.

Karen A.

Married on 10/24/2021

Thank you La Jolla Woman's Club!

From our very first walkthrough, seeing the gorgeous outdoor garden spaces, great location and beautiful architecture, we knew this was our dream venue and we are so happy to have had our wedding there! We are so grateful to Auriel & La Jolla Woman's Club for sticking with us through two postponements and making our wedding day this past October so so special! Auriel was so understanding throughout the whole process of planning, postponing & rescheduling our date on top of keeping us updated on all the safety or city Covid protocols. We finally had our wedding day and we just can't recommend La Jolla Woman's Club enough.

Katie S.

Married on 10/09/2021

The Perfect Venue!

My husband and I really don't enough positive things to say about hosting our wedding at the La Jolla Woman's Club. The space is so versatile and could really be customized for any event. It's not only just a gorgeous space, but also such a versatile space and the staff are INCREDIBLE. They were so accommodating with managing last minute Covid changes. I could go on and on but amongst many of our wedding plans being upended, I'm so thrilled we were still able to host our wedding here. It fulfilled all of our expectations and more.

Are you interested?

Send a message

Evelyn H.

Married on 08/28/2021

Perfect Unique Location

My daughter got married this past weekend after a year postponement and the venue, the venue staff, the amenities and the ambiance of the building, verandas, gardens, courtyards, made the day so magical. Having the flexibility to design your perfect idea of what you want in a ceremony, cocktail hour, and reception was icing on the cake once you see this historic mid century modern design in La Jolla, Ca. Everything could happen in one place making it so much more convenient for our guests. We chose to have the ceremony outside under the tree with the reception indoors. With COVID restrictions we knew we had the flexibility to move the reception outside and it would be just as beautiful.
I can not say enough about Auriel and Mario. This dynamic duo makes everything so easy. They have so many tricks and props to make the day unique and special. Many of our guests were from out of town and having access to the beach and hotels close by in such a beautiful setting was icing on the cake.
The team that worked with us on the day of the wedding was so amazing. They were efficient, kind, and super helpful and professional. They really are unsung heroes making all the magic happen and come together. They didn't just do the minimum, they really did set a very high bar and they went out of their way to coordinate with all the vendors and watching this team in action was amazing. I would highly recommend this venue if you are looking for something unique and special.

Kati M.

Married on 08/20/2021

Stunning Venue

I had my wedding reception here in August, and it was a dream! Auriel is the BEST and so easy to work with. As an event planner myself, I'm very detail oriented and always have questions, but Auriel made the whole planning process a breeze. She spells everything out for you, so you have minimal questions (if any). I was a 2020 bride, and Auriel was great with helping us move our date to 2021 and through COVID she kept us updated on the CA guidelines/restrictions and what the Club was doing. The venue is a stunning space, and it truly does not need much to spruce it up. We used the rental company through the Club (Mario), which made things much easier and it was one less vendor to worry about.

Photo Credit: Mazelma Photography

+ 7

photos

Joe S.

Married on 11/08/2019

Perfect! Perfect! Perfect!

We live across the country in Washington, DC and had another venue in La Jolla picked out for our November 2019 wedding. My now mother-in-law (local in SD) wasn't feeling it and suggested La Jolla Woman's Club. At first I was like what, no, we have a place in mind, then the second I clicked through LJWC details, I was sold. As a former US history teacher, I had wanted something with historic charm, and wow did La Jolla Woman's Club deliver! We started planning this wedding a year and a half ago, and every step of the way Auriel led us with expert professionalism. I thought at first that we paid a venue rental fee and we were really on our own to work through the details, but Auriel graciously helped us, with tons of pro tips and suggestions, helping with layouts and rental and vendor decisions, giving us some tough love advice when we needed it, and the RESULT was the most dream perfect wedding. The rentals Auriel helped us with through Mario were perfect and way more affordable than outside rental vendors. The fountain was such a perfect focal point for our ceremony, that tree was magnificent, and on and on. Our guests raved about all of it, and more importantly, we'll hold La Jolla Woman's Club close to our hearts for the rest of our lives. Could not have asked for a better experience.

+ 4

photos

Taylor

Married on 09/22/2018

We loved our ljwc wedding

We had our wedding reception at the LJWC in September of 2018. We absolutely LOVED this venue. Ariel was extremely helpful and responsive to all of our emails and questions. She was also at our reception to make sure it ran smoothly. All of our guests loved the venue. It's so beautiful and charming. It's also walking distance to all of the hotels we used for ourselves and our guests. I recommend this venue to anyone who wants to get married in La Jolla.

Tiffany

Married on 05/25/2018

We are so happy that we chose La Jolla Woman's Club for our first look and our reception. The venue is so gorgeous. There are so many spots to get amazing photos. You don't need too many additional decorations because it's already beautiful. Working with LJWC (Auriel in particular) has been a very smooth and easy process. They are there to make sure your day goes perfectly, and our wedding day definitely did!

Shannon

Married on 11/26/2016

LJWC was the perfect spot for our 11/26/2016 reception. We had 175 guests, and would not suggest much more for the ballroom, but the feel was close, intimate, and so, SO fun! Auriel was great from beginning to end - super enthusiastic and helpful on all fronts (including being there on our big day with a giant smile and well-wishes). Highly recommend this spot if you're interested in a sweet, vintage-ey feel in an awesome location. Also - check out Abbey Catering and Events for food/coordination, we loved them and they work with the LJWC all of the time so it's like a well-oiled wedding machine over there!

Emily

Married on 09/24/2016

There are not enough ways I can express my gratitude to Auriel and her team at LJWC for all that they did in the months leading up to, and the day of our wedding. Choosing this venue as the place to have our wedding and reception was one of the best decision we ever made. From the moment we expressed interest, Auriel made us feel important and appreciated, she was such a pleasure to work with. She was in constant communication with us through the months, and was always there to answer questions, and send us information that would help with the planning process. Our wedding day was absolutely perfect. From the secret garden side patio where we had the ceremony, to the gorgeous patio for cocktail hour, and the beautiful lighting for the reception. It was all executed with such precision and expertise. Our guests were raving about how stunning everything looked. The LJWC really knows how to put on an impressive wedding, and they truly helped create a lifetime of memories for us.


Donna

Married on 09/17/2016

We held our daughter's wedding ceremony and reception at this lovely place in Sept of '16. The LJWC was the ideal indoor/outdoor venue, not only due to the historical building and beautiful outdoor spaces, but also due to the staff. Auriel was so easy to work with; she was responsive, accommodating and on top of all of the details. The location is wonderful, and your guests can make it a destination wedding, with everything within walking distance in La Jolla Village.

Liezel

Married on 01/30/2016

Without second thoughts, we chose La Jolla Women's Club as our wedding reception venue. La Jolla Women's Club is a very nice and cozy venue with a great history behind it. With a little bit of an ocean view, and walking distance from a couple of hotels and eateries, the location of the venue made it very convenient for our out-of-town guests to enjoy the area and be worry-free with parking. Auriel O'Niel (venue manager) was a pleasure to work with. She was very considerate and accommodating of our special request based on traditions from our family, and she offered us a very reasonable price that we could not turn down. A couple of other good things with the venue is that the vendor (Best Rentals San Diego) who decorates the venue already has his decorations there, and the venue also only works with BarWorks for catered beverage service. So it was very convenient for us in not having to look for other vendors for this. Both vendors are very reasonable to work with. The only downside to booking a venue at his location is the noise ordinance, which ended our reception early, but in past weddings we've been to, it's starting to seem like the norm. Guests wouldn't be dancing throughout the night, and some would be leaving early. In our case, it made our families and friends dance during the time frame, and the noise ordinance was perfect timing for other guests to leave early without feeling guilty, while others moved the party to other places, like local bars—it gave them the chance to explore La Jolla's night life.

Amy

Married on 08/15/2014

La Jolla Woman's Club captured us as soon as we walked through the gates and never ceased to amaze.

The historic building and the outdoor landscape design instantly welcomes you into this intimate private setting for all your wedding guests to enjoy. The 100 year-old building enhanced our 1920s vintage/modern themed wedding too. It was a perfect location for us; walking distance from the hotel (Inn By the Sea - highly recommended as well. Can't beat the location, service and price point) and all the weekend activities. Plus a quick drive to La Jolla Cove for wedding pictures. We have absolutely no regrets on this venue and would chose this place if we had to do it all over again.

Working with Sharlene Thompson, the Executive Director for LJWC was a nice experience. She is professional, responsive, and fair; and will give it to you straight (something I appreciate). Tip: She holds weekly open houses, so you can drop in for a visit as often as you'd like. I took full advantage of these open houses. It's always fun to check out your venue in the months leading up to your big day.

We hosted our ceremony in the South Garden, which had this loving, intimate feel with beautiful natural scenery. Cocktail hour was planned for the North Garden, but at the same time a colony of bees decided to build their new nest around their Queen, so it was relocated to the South Garden (Guests could have cared less). We like to think of it as good wedding-day fortune. The reception was held in the ballroom. The space allows for people to dance the night away and/or enjoy some fresh air while watching the La Jolla sunset.

A great time was had by all. Go check this place out!

Maressa

Married on 08/09/2014

"My husband and I loved having our wedding at the LJWC! It was truly a special and magical day - and better than we imagined it to be. The venue was perfect - we loved that it was historic and set back from the street. There are also so many places around the venue for photographic opportunities that each had their own character. We felt like the club was a special guest at the wedding. I am still in love with your oak tree and that we could hang a chandelier in it! All the vendors worked well together and as far as we know, there were no problems! We really appreciate all the communication we had with you throughout the process and I know it helped to make our day flow seamlessly. We received positive feedback from our guests about how special and beautiful the wedding was and people even commented that parking was not a problem. We had worried that it might be. We also loved how walkable La Jolla is and that guests were able to enjoy a mini weekend in LJ and not have to worry about renting a car to get from their hotel to the venue since there are many wonderful hotels within walking distance. We would highly recommend the LJWC for any couple looking for an elegant and historic venue. We would also recommend all of our vendors: Wedding Planner - Andrea with A Diamond Celebration, Cute Cakes in Escondido, Crown Point Catering, Bar Works, Haydee's Creative Flowers, Michael Tiernan with Still Listening Productions, Anika London for Photography, XOXO Wedding Studio for Videography, Kristen at Rock and Royal Make Up Studio, the Holiday Suite at the Bed and Breakfast Inn at La Jolla (next door to the LJWC!), and Mario with Best Rentals."

Christina

Married on 08/02/2014

The minute I laid eyes on the La Jolla Women's Club I simply knew that was where I was meant to get married! I had visions of walking down the brick aisle and getting married to my wonderful fiancé (now husband) in the gorgeous serene garden. Every contact with Sharlene was helpful and she always answered my questions promptly. So far everything was going great! I never thought to ask, "what do we do if it rains?". Why would we have asked-California is in a draught and the wedding would be in August! Well go figure, it rained the day of our wedding-August 2, 2014. I couldn't believe it! I received a call from Sharlene assuring me they had an idea for where we could move the ceremony. I insisted we wait until the last minute to move the ceremony from the garden to the veranda. By the time we arrived at the venue, the rain was obviously not going to stop. I saw how Sharlene and Mario set up the ceremony to be under the veranda right next to the original garden ceremony location. It was beautiful!! My husband and I are so grateful for Sharlene, Mario and our wedding coordinator. Our wedding day was actually better than we could have imagined. They worked so hard to make sure our day was wonderful. Our wedding was unforgettable. We had an amazing ceremony outside under the veranda as it rained. The green all around was stunning. Our cocktail hour was simply moved inside right by the garden. With all the doors and window open, it was like we were outside. We truly think our day was better than how we originally planned. I feel so lucky to have picked the La Jolla Women's club because there are endless possibilities no matter the weather. At another venue, we would have had no other option for a ceremony. I had nothing to worry about on my big day. Sharlene and crew took care of it all and were excellent at troubleshooting I strongly recommend the La Jolla Women's Club. It is worth every single dollar to ensure your big day runs smoothly, no matter what!

Tony

Married on 08/01/2014

What we love about San Diego is Balboa Park with its gardens and fountains, the proximity to the beach, and the great weather. At La Jolla Woman's Club you get all of that but better! It has a very Balboa feel (beautiful gardens and a fountain) while being a nice private venue that is not possible at Balboa. Plus, it is very short walking distance to the beach and having our family all staying in La Jolla meant we "took over the town" for a few days which was very fun and surreal (we had lots of international family). Also, all our guests were so excited to visit/stay at San Diego, and the well known La Jolla especially. Sharlene (who runs the venue) is absolutely wonderful I (the bride) is a San Diego native, but we were planning the wedding from the east coast. Sharlene was very professional and able to help us get good contacts, answer any questions promptly, and solve any problems. We would recommend this venue to everyone! It will always be a special place for us now!

Jennifer

Married on 07/19/2014

My husband and I were married at the La Jolla Women's Club in July. The venue is located in La Jolla Village right across from the ocean. It is walking distance from many hotels, which worked perfectly for us since most of guests were from out of town. Although it is located in a busy area, it is very peaceful and private. The venue itself it absolutely beautiful, with all the flowers surrounding the gardens, very little decoration is needed.

Sharlene was excellent to work with. She was so helpful throughout the planning process. She is very knowledgable about the area and vendors. She provided us with a helpful list of suggested vendors. The only required vendor is BarWorks, but the prices were reasonable and they provided excellent service. Sharlene was always very warm and welcoming during all of our visits to the club and gave us a lot of extra suggestions to help us during all of the planning.

I would definitely recommend the La Jolla Women's Club for weddings and events!

Ashley

Married on 04/25/2014

I got married in April at the La Jolla Woman's Club in the heart of La Jolla. Our guests were able to walk from their hotel at the Empress to this venue with ease. This historic building is well-maintained and felt so inviting. We had our ceremony in the south-side garden. The flowers and trees were all in bloom and gorgeous. There was already a beautiful arch to stand underneath during the ceremony. This venue was very intimate and private. They had lights on the trees at night which provided us with some great night pictures with our photographer. It was a pleasure working with Sharlene. She was easy to communicate with and responded promptly to any emails. She and her staff went out of their way to make our experience a great one.

Gulin

Married on 11/09/2013

La Jolla Woman's club is the best location for any occasion. I love the garden and the building itself. Located close to the beach and never had trouble with parking although it is in the heart of La Jolla Village.

We had our wedding beginning of November 2013 and it was just perfect. Our ceremony took place in the south garden where it is more private and the bar was set up in the north garden. Our guests enjoyed themselves while we took stroll down to the beach for some sunset shots. Our reception was indoors but you have the option to have it outside. It almost never rains in San Diego but we wanted to have a location where indoor/outdoor set up can be possible without and additional worry. Only down side is if you want to party long hours into the night you need take it to another location after 9:30 since the music needs to be turned down due neighborhood noise ordinance.

Sharlene is the executive director and she is great with everything when it comes to planning. We had a short time to put everything together (3-4 months) and to be honest we didn't know all need to be taken care of. Sharlene was very helpful making sure we had everything straight. Se has her checklist and makes sure nothing is forgotten. She is prompt with emails and very professional. We were very lucky to have her, through out planning our wedding and on the day of. She was instrumental in our amazing experience at LJWC. We had a perfect wedding day!


Karen

Married on 10/05/2013

We feel so lucky to have found La Jolla Woman's Club for our wedding! The venue is fantastic, with lots of options to fit your style of wedding and it fit our idea of an alfresco garden wedding perfectly. Our guests keep commmenting on what a great location we had. Sharlene was so easy to work with and had lots of great suggestions to help our day run smoothly.

My husband and I had our September wedding ceremony and reception at LJWC and we couldn't be happier with how the day went. Sharlene, the site director, was a joy to work with. We knew we would be in good hands for our special day.

The grounds of LJWC are quite spectacular- as you walk through the gates (that offer a sense of privacy and intimacy), you are led through a well-manicured front lawn with a gorgeous tree and fountain, the famous side garden (which set the perfect backdrop to exchange our vows in) is absolutely beautiful and requires minimal decoration and on the other side of the Club guests can enjoy cocktail hour with a view of the ocean. Then you enter the charming historic building, which has lovely wooden floors with high ceilings in the grand ballroom, and unique details in every corner you look. Of course you can't beat the Club's location in La Jolla Cove too!

There's plenty of street parking in the nearby neighborhood and because the area offers some of La Jolla's best hotels, many guests were able to stroll over to the wedding by foot. Even when we were running behind on our timeline, it really felt like Sharlene had everything under control and was on our team to make sure that our vision would still be carried out. She even helped out with my bustle when my mother, bridesmaids, aunt and coordinator had difficulty finding the snaps!

All in all, this venue earns 5 stars in every category. The one drawback is that the music (and thus the party) needs to end by 9:30pm due to a noise ordinance and being close to a residential area. However, the Cove offers many spots to continue the party and my guests had a blast at our after-party that was just a five minute stroll down Prospect.

I feel blessed to have had such a wonderful wedding experience. Sharlene's professionalism, kindness and flexibility, along with the Woman's Club's gorgeous grounds and perfect location were instrumental in making my day amazing.

Michi

Married on 09/07/2013

My husband and I had our wedding at the La Jolla Woman's Club in September, & we could not have picked a more perfect venue to celebrate our special day! We actual wandered upon this place by accident on one of our evening walks around LJ village area. We loved the privacy that it offered, and the beauty of the building itself. When entering the property for the first time, I fell in love right away and knew this was the place! It has everything on site- a beautiful garden that is tucked away on the side of the property, the front portion of the grounds is wonderfully manicured with a beautiful huge oak tree in the front that was excellent for family photos, and then the other side of the property has a covered terrace with some what of an ocean view (and allows the breeze from the ocean to flow through) that is perfect for cocktail hour before the reception began. The location is prime because it is walking distance to pretty much everything in La Jolla proper which is HUGE if you have many out of town guests, and majority just walked from their hotel. Also, parking for those people who do drive is not a problem either since there is ample street parking available. Sharlene who is the site coordinator/director was a real pleasure to work with. She was so helpful with giving advice and worked well with all our vendors to make sure everything flowed smoothly. The only "downside" I would say is that the reception has to end by 9:30 due to residential noise ordinance, but I think that rule goes anywhere in San Diego that has an outdoor/garden venue that isn't in a hotel- we ended up hosting an after-party in the Village so it was fine. Also, no real candles allowed because it is a historical site.. but if you have an amazing florist like I did, she can make your table look spectacular regardless and give your table a beautiful glow without real candles. The ocean/beach is only a 2 block walk away and was perfect to take photos too with our bridal party.

Elizabeth

Married on 08/17/2013

We absolutely loved having our daughter's wedding at the La Jolla Woman's Club. When we first viewed the site during an open house last fall, we were greeted warmly by Sharlene, the club's outstanding director. She was a joy to work with during the whole wedding process, from the initial planning stages right through the wedding itself. Her help and professional advice were invaluable, especially in choosing our vendors and making timely decisions. The venue itself was exactly what our daughter was looking for: charming; beautiful; architecturally special (no cookie cutter hotel ballrooms); and it's ideally located within walking distance of hotels and restaurants (necessary for us since we had many out of town guests), while still providing a sense of privacy and serenity. The garden setting for the ceremony was lovely, and the ballroom was spacious, beautifully set up, and perfect for dinner and dancing. We couldn't have found a better place. We only wish the city of San Diego allowed the wedding to last longer into the evening!

I got married here 1 month ago, and it was a delight working with executive director, Sharlene, to ensure all things went smoothly for the big day. She was nearly always available to meet and responded quickly to any questions I had via email and/or phone. Sharlene was attentive to my needs and went above and beyond expectations in all the details I was made aware of especially when I had so much on my mind as the date got closer. I truly admire the architecture of this Irving Gill building, and my guests gave me so many compliments afterwards on picking such a gorgeous venue to have a wedding. Everything is in one location - ceremony and reception right in the same spot! How convenient! I got married under the large oak tree, in full bloom it was spectacular! The south garden is also exquisite, and this is where we took our pictures right after the ceremony. You are a walk away from the ocean and right across from the Museum of Contemporary Art making for great photo opportunities for the wedding party and guests. Located at the corner of Silverado St. and Draper Ave., there are plenty of parking spots for everyone (I had 170+ people attend). The night went smoothly, and I cannot emphasize how nice it was to have everything in this one location, at the heart of La Jolla of all places! None of my guests left until it was all over. I've received so many compliments on my wedding, and I believe a lot has to do with the wonderful services the La Jolla Woman's Club has to offer. The rich history and selfless dedication to women today makes this non-profit organization especially close to my heart. They are SUPERB!!! My wedding was one to remember, and I plan to visit this place during our anniversaries. You'll fall in love it with too, I guarantee it!

Midory

Married on 05/04/2013

Beautiful place! My now husband and I fell in love with this place for so many reasons. From the location, to the gardens, to the amazing help and patience from Sharlene. This place is so iconic architecturally, so to be able to get married here was a dream come true. And what makes a beautiful place better? Amazing help from the event coordinator; Sharlene. She was not only super helpful with information but was unbelievably sweet. We went to the venue about a million times to mock up our ideas and she was always so welcoming and would even help us brainstorm on what we could do! It was just such a lovely experience from start to finish! We couldnt have had a more perfect experience with the La Jolla Woman's Club and Sharlene! LOVE!
Are you interested?
Send a message