34 Reviews
Recommended by 100% of couples
Quality of service

5 out of 5 rating

Average response time

5 out of 5 rating

Professionalism

5 out of 5 rating

Value

5 out of 5 rating

Flexibility

5 out of 5 rating
Awards
53 User photos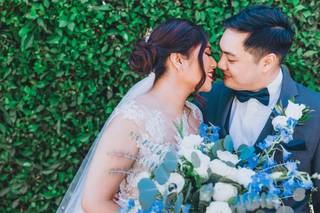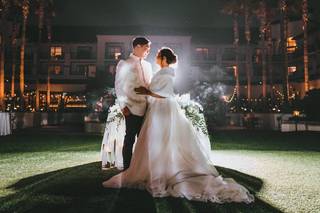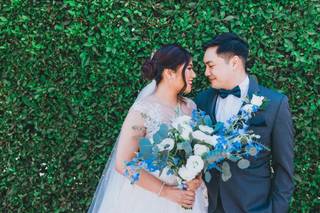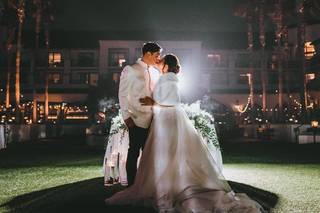 + 49

photos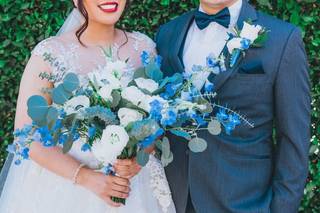 Celeste

Married on 12/03/2021

Thank you KQ team !!

Words cannot describe how amazing the KQ team is. We booked them in 2019 and due to the pandemic, we had to postpone multiple times. They were so flexible, professional, and creative. Not only are they so attentive to my husband and I but they would also provide different perspectives.
My husband and I ended up getting married on 12/12/20 and they were again so flexible. Due to the pandemic, things kept changing constantly, but my husband and I already knew we wanted to just get married. They helped us with our outdoor wedding church ceremony, our drive thru wedding reception and our dinner at the Hyatt Regency Huntington Beach. We got so many complements from out flower, the professionalism of the team for fries and family. (My mom kept raving about Espy and my sister, who was my maid of honor kept complementing Hannah). It was such a great experience with them and my husband and I would love to book with them again to celebrate formally with friends and family when it's safer circumstances. Thank you KQ team! For those considering booking them as a florist and wedding planner, do it! It was stress free and such a fun experience. Fun fact I also got my wedding dress from them ! They really your one stop shop.

+ 4

photos

Stephanie

Married on 11/02/2021

Thank you to KQ elements from the bottom of my heart

KQ Elements. What can I say? Words cannot describe how amazing they are. I was in search of finding the perfect flower vendor for my wedding and thought about past florists. I booked an arrangement with KQ elements retail back in 2014. Jayden greeted me and was very helpful with my budget and my ideals. He also offered Wedding Planning Services and Wedding Coordination. So I compared pricing with three other florists and his was the most cost efficient for my wedding vision. I also booked wedding coordination with KQ elements. Since my wedding was a Jordanian, Palestinian, Vietnamese Fusion wedding with a lot of moving parts I had a wedding coordination team of three people usually comes with two people. My DREAM TEAM consist of Espy, Hannah, & Jayden. I was blown away with the effective communication between all of us. They kept me calm for minor mishaps and was able to step in when the groomsmen & bridesmaid didn't. If I have my second wedding in Jordan I would hire them and fly them to Jordan. Thank you to KQ elements from the bottom of our hearts for making my dream wedding come true.

Candace

Married on 10/04/2021

I have no regrets with my decision to hire KQ Elements for my dream team

First of all Jayden & Espy are the bomb. These two were my wedding florist dream team. For 9 months we went back & fourth on what I wanted & didnt want, They were very patient and I love love love their personality. I told Jayden I wanted a fall themed wedding and the space I was working with for the cereminy wasn't that visually appealing so I needed him to transform the space into a magical garden. He took one look at the space and came up with all sorts of ideas. The day of the wedding, as I approached the aisle I immediately started crying, not just because I was marrying the love of my life but also because everything came together so beautifully. Jayden captured that fall scenery that my husband & I had envisioned. I also wanted to repurpose my floral arrangements for the reception & the team stuck around and made that happen. When I tell yall I have no regrets with my decision to hire KQ elements for my dream team, I absolutely mean just that and I can't thank them enough.

+ 3

photos

Are you interested?

Send a message

Stephanie

Married on 04/10/2021

Thank you KQ elements I could not have done it without you

It's hard to find where to begin ! I ordered all my florals and had wedding coordination services from KQ elements .The KQ elements team was so amazing in every way . I came to them 1.5 months before the wedding date and they made everything possible in short time . It really was the dream wedding ! Because of so many covid restrictions and regulations , I was worried I wouldn't be able to have the wedding I wanted , but KQ elements went above and beyond to ensure I had everything I had envisioned . Espy and Hannah , the wedding coordinators/planners, are a absolutely incredible . Their professionalism , dedication , patience , and kindness is beyond impressive . I cannot thank the team enough for their time , effort , and hard work . All my florals were breathtaking. Each ok of my guests complimented who beautiful the florals and set up was . I really have no words ! Thank you KQ elements for making this day so memorable and special ! If you are looking to eliminate stress and have a beautiful wedding , I definitely recommend KQ elements and especially Espy, Hannah , and Jolene !

Sery

Married on 09/12/2020

My wedding was a dream thanks to KQ

Attention all engaged couples, if you're looking for vendors for wedding coordination, and/or floral, STOP HERE! You found them! KQ Elements were phenomenal. I don't even know where to begin, but let me start from the beginning. My husband and I chose KQ Elements as our wedding coordinators because they are experienced in coordinating multicultural weddings. The planning process was smooth, communication was open, and there wasn't a time when I felt like I had to question anything. My husband and I were affected by covid, and had to postpone our wedding. Challenges that led to another, and our original wedding was canceled. Next we are planning a whole new wedding that adhered to CDC guidelines due to covid-19.

Hannah, and Espy were my main coordinators, and we also had the pleasure to work with Eileen during the planning process. Before the pandemic hit, Espy and Eileen met with our original venue and I was impressed by their punctuality, and they were so prepared. Hannah, and Espy were there every step of the way when I was planning a whole new wedding in the midst of a pandemic. Hannah and Eileen were at one of the meetings with my venue. I was very impressed that Hannah printed out copies of our contacts, and was so prepared, and was able to answer questions that I didn't have the answers to at the moment. Hannah and Eileen and questions for my wedding that my husband and I didn't think of and we were very pleased by how prepared they were. KQ Elements made it a goal to make sure we were protected during these unprecedented times, and made the effort to make sure the venue followed CDC guidelines.

Hannah and Espy are exceptional. They communicated so well with all of our vendors. The timeline was impeccable, and when our big day finally came, I felt safe. I felt stress free! I knew I was in good hands. I also know that you just have to let things go with the flow. There were a few things that I couldn't control, but Hannah and Espy were on top of it, and I had such a wonderful wedding memory. There was a time when my husband turned to me because our wedding guests were lost, and needed help getting to the venue. All of a sudden, Hannah was at my side, got the number to contact our lost wedding guests. Next thing you know there they were, and made it safely to our venue. Whenever I had a question, or needed to check on something, Hannah and Espy were there.

My family and wedding guests were so impressed by how smoothly my wedding went. Many have told me that it was perfect, and I couldn't be happier. Everyone had such an amazing time, and many compliments were received. I am in awe of how my big day went. I keep telling my husband, "I knew our wedding was going to be fun, but I didn't know how much fun it would be!" Or should I repeat what our wedding guests keep telling us, "Your wedding was LIT!"

Floral: I've been on pinterest for years, pinning romantic, elegant, garden like photos that suited my vision. KQ Elements, thank you for making my vision come to life. The flowers were absolutely beautiful, and lush. My sweetheart table was a dream, and so was the ceremony decor. Each centerpiece was lush, and fresh. My dad NEVER compliments wedding floral, and this was the first time he ever mentioned floral at a wedding, and it was even better because it was at my wedding. He told me how beautiful the floral centerpieces were, and how much he loved, and was impressed by it. My friend told me she saw my dad trying to carry two huge centerpieces, and refused her help because he wanted to carry it on his own! All of my wedding guests ran towards all of the floral when it was announced that they could take it home. My friends and family told me how they couldn't believe how gorgeous and lush my sweetheart table was, and absolutely loved it. Also, my husband surprised me when he told me how beautiful our wedding cake florals were. When a guy compliments florals for a cake, now that means something!

My wedding was a dream. I wouldn't have had it any other way. I was told that planning a wedding is stressful, and difficult...Now imagine planning a wedding during a pandemic. You are safe in the hands of KQ Elements when it comes to your wedding services. KQ Elements is a one stop shop. Jayden, thank you. You have a wonderful team. Your team is so professional, punctual, great communication skills, and really made my husband and I feel at home. If I can give KQ elements a 100/10 starts I would. The 5/5 stars on their yelp is REAL, and if I can do it all over, I would choose KQ Elements again. Thank you for all that you do. Please continue your amazing work!

Crystal

Married on 05/10/2020

Thank you Tammy and KQ Elements!!

I'm so extremely happy with the flowers at my wedding!! EVERYONE kept commenting on how beautiful the flowers were. I highly recommend KQ Elements to anyone! They were so easy to work with and Tammy was there to answer any questions and put me at ease. The photos attached do not come close to capturing how beautiful the flowers were.

Casey

Married on 05/06/2020

Dream Team of Weddings

HANNAH AND ESPY ARE THE DREAM TEAM OF WEDDING COORDINATORS!!!! My wife and I recently had our wedding 6/14/2019. I personally was so nervous because I'm a perfectionist at heart and we were requesting so much from these two. Leading up to your wedding, they ask EVERY possible question that you don't even realize they need to know on your wedding day. It can be overwhelming answering all those questions but trust me, when that big day arrives, these ladies were on top of everything. I was so amazed how on-time we were throughout the whole day! They keep everything going smoothly and are ready to have those tough conversations with the vendors/venues if we are about to late and need to keep the show going!

Also, these two ladies are seriously the eyes and ears on your wedding day. My wife forgot her wedding shoes at the ballroom and didn't even realize the next morning. To my amazement, these girls actually created a list of all the things they recovered from the ballroom! They emailed us that list immediately after the reception was over and the followed up with us to make sure we saw it!

I'm still riding an emotional high from the wedding but Espy/Hannah are truly the best in business and I promise that you won't regret having them for your wedding. They made ours perfect.

Virunya

Married on 03/05/2020

The Greatest Coordinators

My husband and I LOVED our wedding so much and we have KQ Elements to thank for making it possible! We first went to KQ for our flower arrangements and Jayden asked us if we had a day of coordinator. At first we weren't sure about needing one at all but after a few thoughts and considerations, we decided to sign an additional contract with KQ for a coordinator. LET ME TELL YOU, it was the BEST DECISION we made for our wedding! We were introduced to 2 coordinators, yes 2! Not 1 but 2.. Hannah and Espy were incredibly helpful through the ENTIRE process. They took all the stress and worries away from us and ensured we had the time of our lives. It was truly a blessing to have these two amazing ladies with us through it all. I HIGHLY recommend to everyone to PLEASE get a day of coordinator (preferably through KQ), it will change your life and make your wedding planning experience one you will never forget. Thank you so much to Espy and Hannah for being the absolute sweetest and such a pleasure to work with!! On top of having the greatest coordinators, the flower arrangements came out so beautiful!! We heard people were wanting to steal centerpieces and my flower bouquet lasted for 3 weeks after the wedding! Thank you so much KQ Elements, our wedding was spectacular!

Thanh

Married on 02/10/2020

We truly had a great experience with KQ Elements and highly recommend them!

We recently had our wedding at Hyatt Regency Huntington Beach this October and KQ Elements were our wedding coordinator. Our wedding planning situation was a bit extreme because we changed our wedding date due to some personal reasons. We didn't have a wedding coordinator just one month before the big day. That was when KQ Elements came in and did magic! They were absolutely stellar throughout the entire journey and we are so glad to have worked with them.

We've met with Jayden, Tammy, Espy, and Hannah and everyone was so welcoming, friendly, and helpful. Espy and Hannah were our wedding day coordinator. They were super organized and detail-oriented. They walked us through the rehearsal and made sure we were as stress-free as possible before our wedding.

We have to admit that a long time ago we used to think that a wedding coordinator is unnecessary and we could save money by doing it our own. It is a huge mistake. Without Espy and Hannah, it would be impossible to enjoy our big day and at the same time making sure every guest had a good time. They were with us almost the entire time and even helped my wife change dresses during the reception. They also even made sure to deliver our belongings and left-over dinner to our bridal suite after the wedding!

We truly had a great experience with KQ Elements and highly recommend them!

Dale

Married on 02/06/2020

*This review is based off their day of coordinator service and floral arrangements/decorations

We had the pleasure of working with Jaden, Espy, and Tammy, all of whom were amazing and very helpful. Our main concern on our wedding day was that we didn't want ourselves or our family and friends to do any work on our wedding day. We just wanted to focus on enjoying our big day without having to worry about the details and the behind the scenes action. Our team made that possible and we are forever grateful to them. Espy made sure we stayed on track with our timeline and that all our vendors were on the same page. Set up was done the way we specified and we were happy with the way everything turned out and looked. Everything was executed to perfection and we believe that it was due to our coordinating team.

For our decorations, we wanted to go with something that reflected our personalities of being kind of nerdy and whimsical, but also keeping it classy so that our parents and older crowd could enjoy it without getting weirded out. We had a vision of having flowers arranged with Funko Pop figurines representing things we enjoyed in pop culture standing in the center of it. Our team was able to make beautiful centerpieces while pulling off our request. Their arrangements really did help set the mood of what we wanted our reception to be like.

Overall, our team from KQ Elements helped make our wedding day everything we wanted it to be. We would recommend them to anyone needing awesome decor and/or coordinating services!



Ara

Married on 10/10/2019

I HIGHLY recommend KQ for any of your future wedding or events!

I'm so happy I found Hannah and her team for my wedding day of coordinator! I really couldn't have done it without them. They are extremely easy to work with and also very detailed. I had zero stress because they were really on top of everything and the wedding went as smooth as a baby's bum. Not only are they great with the wedding details and and making you feel as ease, they're super sweet and friendly. I HIGHLY recommend KQ for any of your future wedding or events!

Michelle

Married on 10/09/2019

Both Jayden and Espy were amazing to work with

I just had my wedding on Sept 22nd. I hired Jayden as my florist and also as my wedding coordinator. Both Jayden and Espy were my wedding coordinators for the day of.
I was recommended Jayden thru my cousin who had him for her wedding when he was just starting his business out of his garage. He has come so far in just a couple of years. He is so talented!!
I didn't know what types of flowers I want or how I want them to look like, I don't have a very creative mind so I left it all up to him. I trusted his taste and talent to do everything. And boy, was I impressed!!! I couldn't have asked for more. The centerpiece were absolutely amazing. And the sweetheart table was stunning. EVERYONE complimented the flowers. Everyone asked me if they could sit up on the sweetheart table to take pictures =) I was very pleased how everything turned out.
Well, enough with Jayden and his talent. Let me talk about Espy.
Espy was amazing to work with. She's kind, friendly, on point and extremely organized. She texted and emailed me to keep me on track all the way through the wedding day. I don't think I could've enjoyed my wedding day as much if espy wasn't there. I feel like she's gone above and beyond for me. You definitely wont regret hiring espy for your coordinator. I'd highly recommend espy to anyone.

J L

Married on 09/10/2019

Thank you to KQ elements , we couldn't do it with out you

This is a super delayed review but then again I'm not really one to write these. I was compelled to do this because I don't know how we would have executed the wedding without Espy and her assistant. Thank you again!!!

Anne

Married on 09/07/2019

Skimp on all else. Pay (or have hubby pay) for coordination as a gift to yourself.

I used KQ Elements for floral services and day-of coordination for my wedding on 7/21/18. They are pretty much a one-stop-shop for wedding planning, wedding coordination, flowers, and even bridal gowns.
SHORT REVIEW
1) For flowers: You can easily find florists that can make beautiful arrangements and bouquets. What you want for your wedding is someone with experience who has a team that can ensure on time delivery and arrangement for your special day. Jayden is great to work with. Price is reasonable given quality of work. If you have a vision for your wedding, he will make it come to fruition. If you are clueless, then let his expertise guide you. Will update with better photos once I get them from photographer. I posted what I could screen-cap from Facebook.
2) For day of wedding coordination: Espy and Hannah are the best! They made my day go smoothly that I actually enjoyed my wedding day. If you have many parts to your wedding - such as tea ceremony, church ceremony, reception and/or vendors, things can go wrong at any point. In hindsight, what made my day memorable was not an expensive cake, the perfect reception dress, or the most elaborate centerpiece. What made the most difference was having a coordinator take care of the minutia so I could focus on being the bride.
LONG REVIEW for wedding coordination.
First off, let me say that I'm a very practical and frugal person for the most part. Initially, I only wanted KQ for floral services, so the idea of hiring someone for coordination was the furthest from my mind. Luckily, my now husband was with me at the time and said he wanted to hire a coordinator so that I would be able to enjoy my own wedding day and not be stressed. I went to their Westminster location to book them for floral arrangements. They offer discounts for bundle packages, so the more services you add on, the better the discounts. At the time, I had not yet bought my dress, so I went to GG location to take a look at the dresses and try on some couture gowns. I was greeted by Espy and she helped me try on dresses. She was so kind and didn't give me any pressure at all. She followed up by email with me and sent me photos of the dresses I tried on. I ended up not finding my perfect gown there, but I knew that I wanted Espy as my coordinator because I really enjoyed our interaction. So I put in a request with Jayden to have Espy as my coordinator. My list of vendors were quite long: floral, DJ, lighting, photobooth, cake delivery, caterer, hair, makeup, and photographer. That's 9 different vendors. Espy communicated with everyone, gave them a timeline with schedule of when to arrive and what time I should be finished with makeup, hair, etc. She was very organized, timely with communication and very patient with me as I was busy due to planning things from out of state. She even scheduled my wedding rehearsal the day before where I met up with both Espy and Hannah. They were a great team. They kept in communication the whole day via walkie talkie headsets which impressed me because it was a level of professionalism I was not expecting. All my vendors arrived on time and I did not have to deal with a single one of them. From rehearsal, to getting ready, to ceremony to cocktail hour then reception, through my wardrobe changes and all the crazy things inbetween, they were there the whole way and ensured a stress-free day.
PROS of having Espy and Hannah
1. They are very nice and accommodating to me as well as guests.
2. They go above and beyond. I bought a bench so sit on for the guest meet and greet photo session. To my surprise, when I came back to the hotel, I found that the bench was unboxed and assembled for me. How nice of them! Also other items I brought for the dessert table was assembled as well. They also made sure items were displayed (escort cards, sign in book with pens, sand ceremony vases, etc)
3. They are trust-worthy. I felt completely comfortable that they had the keys to my hotel room. They also handled the gift box and brought all my gifts (including monetary) back to the hotel for me so I didn't have to keep an eye on things the whole night and actually enjoy dancing. Don't bother designating your family or wedding party lest you run the risk of them forgetting when they've had too much to drink.
4. They are multilingual. Espy is fluent in Spanish and English. Hannah is fluent in Vietnamese and English. If you have multicultural guests (which who doesn't in SoCal), then it's priceless to have people who can communicate on your behalf - and do so courteously.
I had several guests comment on how relaxed and composed I looked even though they know I must have been nervous and stressed because all brides are. Nope. Honestly I looked that way because I was relaxed leaving all the un-fun things of wedding coordination to Espy and Hannah. Skimp on all else. Pay (or have hubby pay) for coordination as a gift to yourself.

Gabby

Married on 08/11/2019

Thank you Espy and Hannah!

I absolutely love the services at KQ Elements. I found them through the Pronovia dress website and when I called, they had the dress I was looking for!
Since the first appointment I had Espy has always been so sweet and accommodating. They also offer great full-service planning, so their boutique is really a one-stop shop. My husband and I ended up also getting their same day coordination with Espy and Hannah. They are both so detailed and professional, they made our wedding flawless. I definitely recommend them for any event you're having!
Thank you Espy and Hannah!

+ 2

photos

Peter

Married on 05/08/2019

We truly appreciate the work that KQ Elements provided

As a couple planning for our wedding, we kept seeing our budget ballooned up as we signed on more vendors. We hesitated when we were considering signing a "the day of wedding coordinator". We didn't want to add more charges on top of what we were already spending. But as we got closer to the actual date and our itinerary for the day of our wedding got more and more complicated, it became more apparent that we needed someone to help run the show for us. We could plan everything out as best as we could, but we needed help executing all our plans. Our family and friends deserved to be able to enjoy the events with us as well rather than worry about the execution. We were glad that we enlisted the help of KQ Elements to handle our "the day of wedding coordinating". Although KQ Elements was our "the day of wedding coordinator", the team was involved with the planning from early on. Espy was flexible with her schedule in order to accommodate our busy schedule and met with us 2 weeks prior to our wedding at Tebo at 9pm til close to 12am. She spent time going over a detailed itinerary for our day of the wedding. She was patient and checked in on us frequently as we got closer to the big day to make sure that we had everything in order and so we could update our itinerary as we finalized everything with our vendors. The week prior to our wedding, we met again with Espy and Jayden at KQ Elements' showroom to go over everything in details. Espy and Jayden provided us with a lot of valuable advices/ideas since they helped host so many other events/weddings prior to ours. Before the wedding, Espy helped coordinate with all our vendors to make sure they would carry out everything that was outlined on our contracts. KQ Elements team was on point with everything on the day of our wedding. Our wedding day started with a tea ceremony, the wedding ceremony at church, a wedding party photo shoot at a local park, and the reception at the hotel. KQ Elements' team of 3 coordinators communicated through headsets to make sure everyone was on schedule at all times. They were always calm, on task, and at the same time respectful to everyone involved. Even though we had so many events packed into the same day, we were always on schedule and everything went by very smoothly. We truly appreciate the work that KQ Elements team, especially Espy, did for our wedding. They were always professional and went above and beyond to make sure that our wedding came out exactly the way we envisioned. There were many other little things Espy and the KQ Elements team did for us on the day of wedding that will take too long for me to list them all out. If you are on the fence on getting a "the day of wedding coordinator" since that will be an additional expense to your budget, my advice to you is to get one. Having a "the day of wedding coordinator" will help take so much stress off you and your family/friends and you will more likely have a smooth and successful wedding. And of course, the first team you should reach out to is KQ Elements. You will not regret it.

Featured

Susan T.

Married on 04/05/2019

Espy and Hannah Best Coordinators

Espy and her co-coordinator Hannah were amazing. I thought our wedding weekend would be complicated with a Friday Tea Ceremony and a Saturday Wedding Ceremony but Espy was able to work with me and organize a timeline that was perfect for our event! Espy, was my day-of coordinator and she is very relaxed, helpful, communicative, and provided great insight into wedding planning (since I was planning it all myself). I bought all the decorations for my wedding and did not have a plan as to how I was going to decorate, but she and Hannah did an amazing job of filling our event space and it looked beautiful! We had some minor hiccups on the wedding day but these two were able to work around it and no one would have even known that there was some minor changes. I highly recommend Espy and Hannah as their price was budget friendly for a DIY bride like myself, but not only that, they were truly professional and show great enthusiasm and happiness in working with their brides!

Jessica

Married on 02/09/2019

From the bottom of our heart - THANK YOU Jayden, Cat, Tammy, and Espy

If you're reading this review that means you're looking for a company to catering your event. Please do not hesitate to hire them. Jayden and his team gave me the best day of my life with their services. Jayden was my wedding planner and also my florist, of course every wedding/event won't happen exactly like how you would envision it, but Jayden was very helpful and did everything he could, he tried his best to give me the best day of my life and he did 100% . All the guests loved the flowers, dessert table was gone after 5 mins . And the wedding was nothing like other weddings, it was beyond perfect!

The price won't be as cheap as most Vietnamese florist places in OC, but I guarantee you it's not that expensive like all the Americanize florist and his flowers are the best.

His team was very helpful too, he had Cat follow us all day to make sure we ate and were hydrated. And when the party was done he made sure I got back to the hotel and took care of the rest. I'm a very picky person so take my word for it. Jayden and his team was worth every penny .

From the bottom of our heart - THANK YOU Jayden, Cat, Tammy, and Espy



+ 9

photos

Peter B.

Married on 02/07/2019

Best Wedding Ever !!!

Best wedding ever... my fiance and I been planning our big wedding seem forever. And we couldn't have done it without the help of KQ Elements team. So first off thank you ya.

To start off I found the perfect wedding to say I do in. It was so perfect that I ball my eyes out twice in 5 mins. Yup that's the one. Not only they help me looking for my perfect dress. If they don't have it in their store. They was so open to help me find my perfect second dress for night reception. Yes I have 2. 3 if I could.

KQ element wedding planner team stayed and help us every step of the way from floral to cakes. To have my veil personalized. Help us look for our limo for the big day. Looking for catering. Makeup. When with us to every meeting with vendor. Everything. If we need something they are there and available. Even in the middle of the night. And yes never know what pop in your head to let your wedding planner in the middle of the night. They are there.

Wedding could be very stressful and they are there to take some of the stress off especially the bride. (Me).

We have a lot of request and was amazed. I wanted a horse and carriage. And yes I want that whole Cinderella fairytale wedding... and KQ elements idk how they does it but there it is my own personalize FULL SIZE Cinderella horse and carriage cover in complete flower... it was amazing ridiculous awesome.

We are so beyonce happy with our choice of KQ elements to be our wedding planner for our wedding and our decor/florist team. It was truly a fairytale wedding for a princess. We are greatly reccomend yes for any bride to be looking to plan their wedding to KQ elements.

Xoxo.
Mr. & Mrs. Snow

Kate

Married on 09/29/2018

This is a review for KQ Elements's bridal gown showroom, not their planning services.

I visited KQ Elements to try on some bridal gowns from Aria and had a wonderful experience. From my first phone call with Espy, she made me feel welcomed and comfortable. I told her the 8 or 9 styles from Aria that I wanted to try on, and that I was only going to be in the area for 1 day before heading back to the east coast. Espy was more than accommodating with finding me an appointment that worked with my schedule, and though she said they only had a couple of my desired dresses in their showroom, without any prompting she took it upon herself to call up the main Aria showroom in LA and ask to borrow the other styles for my appointment. She even drove up there to pick them up and drop them off!!
During the appointment, I felt comfortable and at ease. Don't be put off by their location in an office complex; once Espy opened the door from their front office to the showroom, it felt like night and day: They've used long tubes made of thick cardboard to define and decorate the space, making it a modern minimalist's dream with the added glam of chandeliers and luxurious seating and racks of gorgeous white gowns. A truly unique and super cool space.
The dressing area was huge, and Espy was great with helping get the gowns on and off. I didn't bring anyone to my appointment but Espy was so gracious to take multiple photos of me in every dress. I wasn't ready to make a decision that day, but Espy took my measurements in case I wanted to call in an order at a later date, and she followed up a few times over the next few months (while I was making my decision) but was never intrusive or annoying.
Ultimately I chose a dress by a different designer, but I had an absolutely wonderful shopping experience at KQ Elements, and with Espy in particular. She is so dedicated and obviously takes sincere joy in helping brides make their dreams come true.

Shanon

Married on 09/06/2018

So flexible and pricing was very reasonable

They did my wedding flowers and I loved them! Tammy was so easy to work with and very responsive via email. There were some minor adjustments I wanted the day before, and she was so flexible and more than willing to make those adjustments. The day of my wedding, all the flowers were beautiful! I was so happy with my bouquet, the arch setup, arch cluster, centerpieces, everything! Also, prices are VERY reasonable. I could not recommend a better florist, especially for a big day like your wedding!

Cat

Married on 09/02/2018

Jayden is basically amazing in all aspects

I seriously couldn't have asked for a better wedding planner/florist/decor person. Jayden is basically amazing in all aspects!!

My husband and I had the pleasure of working with Jayden, Tammy and Espi and I have to say they went above and beyond our expectations. It still blows me away how lucky and blessed we are to have such a great team behind us and we all know how important that is on such a significant time in your life.

My husband was a part of a wedding that Jayden was involved in and knew he wanted to book Jayden for ours. I was skeptical at first just because the wedding was so different than what I had envisioned for ours, but little did I know that versatility is something that not everyone has and he definitely has it.

He always checked up on us, made sure everything was done by the timeline he had given us. He even drove me to LA!!! Can't believe how patient he was with me since I know how much of a pain I can be and how picky I am with the millions of ideas I had.

Long story short, he really listens to your wants and learns your style. He gave us our dream wedding we never thought we could have. We had so so many compliments and people did tell us it was one of the most beautiful weddings they have been to. He made it very unique to us and showed our personality. I have to add I think I had one of the prettiest bouquets I have ever seen! I gave him a picture/color scheme and asked to add a few things and he made it 10x better. I even gave him requirements on decor and he exceeded all of them. Before the reception started Jayden did a walk through with me. I saw all the work and details that was put into the venue and it almost brought tears to my eyes. Jayden and the KQ team are awesome, really wouldn't know what we would've done without them.

Not gonna lie now all my friends wanna use him. Would've wanted to keep him for myself but that wouldn't be very nice ha.

Joanna

Married on 08/12/2018

my guests compared my wedding's decor to the wedding scene in the movie, "Crazy Rich Asians."

I had the BEST wedding this past 12/8/2018. I'm still getting compliments from all my guests about how my wedding turned out. It really exceeded all my expectations and I owe it to KQ Elements. I started working with Jayden, Espy, and Hannah in June this year and was apprehensive about pulling off a wedding in half a year's time on the budget I was on. But, from beginning to end, they were thorough, accommodating, and made sure everything went smoothly on the day of. I can't express how thankful I am for each of their help.

Besides planning, Jayden is super talented in his floral arrangements/decor. He's got quite the eye! Almost all my guests compared my wedding's decor to the wedding scene in the movie, "Crazy Rich Asians." It was just that gorgeous. I felt like I was in a fairytale the entire time I walked down the aisle. During the reception, I sat at the most stunning sweetheart table with this elegant structure made of all white flowers framing around me and my husband. I honestly don't know much about flowers or aesthetics, so I was thoroughly impressed with Jayden's hard work and vision because it all was incredibly beautiful.

Espy is a rockstar. She is kind and attentive to detail. I appreciated how professional and helpful she was with my millions of questions and her organization throughout the whole process. When I needed help finding bridesmaids dresses, she came out to meet me and my bridesmaids to guide us where to go and gave us tips on how to shop. She was transparent and prompt when communicating to us about vendor information and we felt so reassured in our interactions with her.

Hannah is the sweetest. She also is so professional and patient. She helped keep me in check on my BUSY wedding day with my multiple dress changes, photo ops in multiple places, tea ceremony steps, and overall timing of the entire day. She made sure I ate and stayed hydrated. I really appreciate all her efforts in giving me time to collect myself despite the hectic day.

Overall, I'm so glad I chose KQ Elements. They put my mind at ease and helped me pull off a wedding that my husband, our families, and I will forever cherish.

Jeffery

Married on 06/11/2018

Flawless Event

My wife and I use KQ Elements for our day of wedding coordination, and were very happy with the service provided. Both Esperansa and Hannah were great in making sure our ceremony and reception ran smoothly. Everyone who attended genuinely thought the event was pretty much flawless. We felt that Esperansa and Hannah went beyond our expectations. Highly recommended.

Ha L

Married on 02/05/2018

Thank you for the wonderful services that KQE have provided and I would recommend KQE to take care of the aesthetical and logical aspects of one's wed

It's been a couple of months since my wedding and I owe KQ Elements a positive review for Day-of-Coordinator and floral services. I did quite a bit of research for floral and day of coordinating services on Wedding Wire and Yelp, KQ Elements stood out the most to me base on the pricing package and the services that they offer. However, the things that signed the deal for me was the stella reviews they got online along with beautiful testimonial images of their floral arrangements.

From the start Espy was the first person responded to my inquiries about KQE. I was excited to find out later she's also the person that they assigned to be my DoC. She's sweet, calm, organized, and respectful...the qualities that I would entrust for someone to coordinate my wedding. As weeks were left until the wedding day, my stress level was heighten. Contrary enough, I was very well relaxed on my wedding day because Espy took over all the hard lifting works for me. She did a wonderful job coordinating with all my vendors, took details of all the little personal touch I want on guest table decors, and executed all my requests to the best of her ability. Highly recommend Espy!!!

Jayden was the florist that did my flower arrangements. Talented as he is, the man can arrange any type of flowers and make them look beautiful. I was being thorough about what I wanted and provided as many samples of the color tones as well as styles of the arrangements that I wanted. Jayden adhered to most of the floral requests that I made as well as giving his constructive feedbacks on what else can be done to achieve the wow factor given the budget. Overall, I'm happy with the way my flower arrangments came out and got compliments for them.

There is one thing I would like to point out in hope to help improve the service a little better on the financial side of handling things. I was a bit uneasy that I requested for receipt of my initial deposit a couple of times but never got it. Then when I went to take care of the rest of the balance in person days before the wedding, the florist asked whether I have made any prior payments. I had to remind them to trace back the check I wrote for the deposit that they have cashed months ago. This probably was an oversight on their part and could have been handling better in their filing system. But other than this weird situation, everything else was handled very professionally.

Thank you for the wonderful services that KQE have provided and I would recommend KQE to take care of the aesthetical and logical aspects of one's wedding.
Are you interested?
Send a message