Reviews
4.9 out of 5 rating
Quality of service

4.9 out of 5 rating

Average response time

4.9 out of 5 rating

Professionalism

4.9 out of 5 rating

Value

4.9 out of 5 rating

Flexibility

4.9 out of 5 rating
98%
Recommended by couples
22 User photos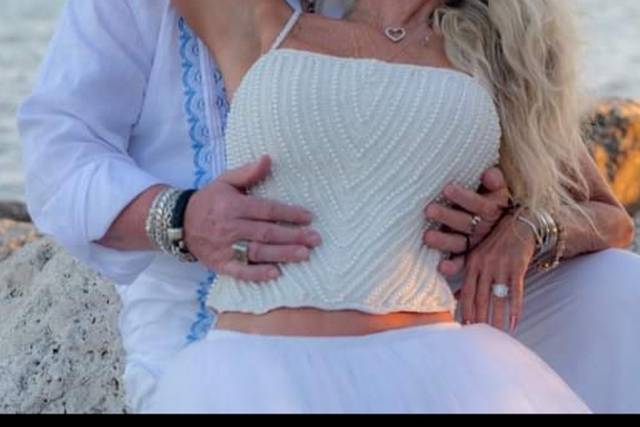 + 18

photos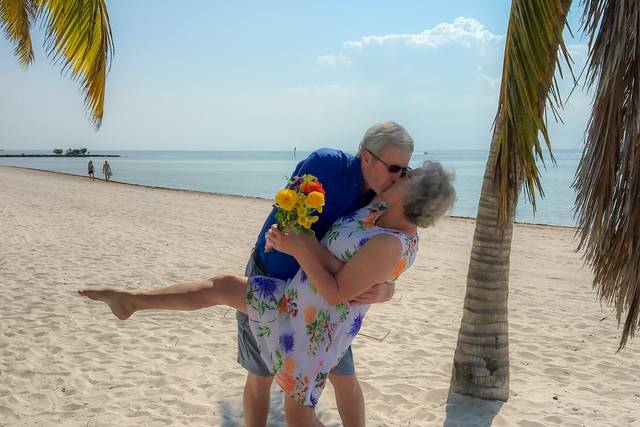 Jessica A.

Married on 06/05/2023

Jessica & Stephen Abbott, the surprise wedding!

Dan is absolutely amazing! My husband surprised me, by planning our entire wedding! I had NO CLUE, until the wedding was happening! Here's the backstory though, a few months ago my husband and I had a pretty deep conversation about getting married (we've dated for the past 4 years). We traveled to Florida to visit family and my husband said, let's take a little longer on our trip and head to key west for a few days. Little did I know, Stephen had already been chatting with Dan and planning a surprise wedding! After a random shopping trip with family (where I unknowingly bought my beach wedding dress) we were finally headed to key west! The day we got there, Stephen said, let's get dressed up nice and go to a fancy dinner and walk to the pier and watch the sunset! We got all fancied up, ate an amazing dinner and headed toward the pier. Once on the pier, Dan was nonchalantly sitting on the edge of the pier blending in as just a random person watching the sun set. Stephen looks at me and pulls a wedding ring out of his wallet, the ring drops onto the pier and is inches from being in the ocean! I'm blown away and trying to wrap my head around what's actually happening! Stephen stomps on the ring and stops it from rolling into the water, I pick up the ring and Stephen says 'will you marry me? ' of course I said yes, however he takes it further and says…. 'How about right now?' He turns me around, and BOOM, there stands Dan! Dan said, I hear someone wants to get married? I just stood there with a 'what is happening right now' look on my face! Dan gave me a moment to gather my thoughts and starts the ceremony, and it was absolutely perfect! The vows were so sweet and personalized to us! I was so shocked and happy this was happening that I cried, which in turn caused Dan to tear up as well!! Luckily there was a bystander to capture a few photos! Dan took a couple pictures for us as well! Our entire experience with Dan was amazing! He was professional, charismatic and genuine in the ceremony! It was as if our wedding was performed by a family friend! Thank you so much Dan for being a huge part of our story and making our wedding day perfect for us!!

Pete L.

Married on 03/25/2023

Great All-Around Experience

Dan from Key West Casual Weddings was perfect. He was very responsive, and everything came off without a hitch. Communications were excellent. Dan lined up flowers to be delivered to our hotel. He then performed the service, and did the photography. Everything was top-notch.

Key West Casual Weddings's reply:

Thanks so much guys, definitely appreciate the kind words. I love my job and couples like you just make it that much more enjoyable.

Dee R.

Married on 07/06/2021

Professional, touching wonderful experience.

Dan Leatherman was very professional. The ceremony was touching . I would recommend him for any casual wedding, or for any island setting.

Are you interested?

Send a message

Rhonda

Married on 06/19/2021

We decided to elope in Key West and one week later Dan married us at sunrise on Smather's Beach. He was very accommodating on such short notice and helpful, a true professional. The ceremony was everything we expected and more. The pictures came out fabulously. We can't thank Dan enough for making our day so special and getting up that early in the morning. If you are planning a wedding in Key West we recommend Dan! You won't be disappointed.

Anders & Rhonda

Monty A.

Married on 03/05/2019

Monty And Susie, 03/05/2019

Dan is very much the professional. From the first time we contacted him, to the finish of our ceremony he was helpful. Dan was always prompt with replies to our questions. We are in our late 50's and we wanted a simple ceremony, just us with Dan officiating. We were going to say some of our own vows, but when Dan finished there was nothing left to say. The wedding vows were extremely meaningful including everything a lasting marriage involves.
The location was amazingly beautiful with so many friendly people. We had never experienced such a relaxing atmosphere. Dan did a fantastic and professional job. The second we met him we were relaxed as if meeting an old friend at the beach. He is a personable and wonderful person. We could tell he adores people and truly loves his job. It was a five stars across the board wedding.
Thanks Dan for the perfect start to our lives together!
Sincerely,
Susie and Monty

Key West Casual Weddings's reply:

Thanks guys, it was all my pleasure and when you love what you do, you don't even consider it work! Congratulations!

Anja M.

Married on 12/30/2018

Perfect organization paired with a great photographer!

Dan is just perfect! We are so thankful. The photos are great! Dan supported us with all the paperwork (We are from Austria, and our English isn't the best ;-). He answered every mail very quickly. The reservation for dinner and hair and makeup - everything ran smoothly! We can recommend Dan to 100%!

Melissa D.

Married on 10/10/2018

David and Melissa 10.10.18


We cannot say enough wonderful things about Dan. He went out of his way to make sure our day was special. Prior to arriving, Dan provided information on flowers, hair, make-up details and hotel accommodations. The photographs from our wedding day were absolutely beautiful.

Our ceremony was just what anyone would want. We wanted to be married on the beach and Dan chose the perfect location overlooking the ocean. Dan was very professional, friendly, and easy to work with. We can not say enough wonderful things about him. He truly loves what he does and you can see that the minute you meet him.

If you are planning on getting married in Key West, you certainly will not go wrong with Dan Leatherman.



Sandy

Married on 08/12/2018

Dan / Key West Casual Weddings provided a wonderful beach wedding ceremony for us. Dan was fantastic to work with and made our wedding so very special! He is a very talented photographer. Dan took hundreds of photos and we loved having so many poses to choose from. He was great fun -- we loved his humor! At the end of our time on the beach, he recommended a fabulous restaurant, the Commodore, and made dinner reservations for us. Beautiful restaurant with fabulous steak and lobster and great wines. We loved Dan and would highly recommend him!!

Key West Casual Weddings's reply:

Thanks Sandy! Coming from a busy executive, that means a lot. Hi to Tommy!

Tracy

Married on 07/06/2018

Dan did an excellent job for us, very flexible and just wanted everything to be perfect for us. Dan worked with my husband for a few weeks and it was a complete surprise to me and it couldn't have been better. Thank you Dan!!!
G.K & Tracy R.

Key West Casual Weddings's reply:

Thanks, guys, it was all my pleasure; I Love My Job!

Murray C.

Married on 05/04/2018

We had a wonderful wedding day, thanks to Dan. We would recommend him highly. He was professional, punctual and always eager to help. We are from Canada and he did everything to make our special day in Key West the best. He made us laugh and it was such a relaxing day. Dan, thanks again Murray and I are very happy and even though the photos took a little bit of time to get here, we love them, too bad it was such a windy day, but a great sunny day on the beach. thanks again

Key West Casual Weddings's reply:

Thanks guys, you're the best! All my pleasure!!

Ben

Married on 01/30/2018

Dan did a great job! We are very happy with how our wedding turned out. We would highly recommend Dan to anyone wanting to get married in Key West.

Key West Casual Weddings's reply:

Thanks Ben, all my pleasure; I Love My Job! Hi to Jennifer!

Dana

Married on 01/12/2018

Dan was professional, easy to work with and fun. He made our day special and unforgettable. Thanks so much!

Key West Casual Weddings's reply:

Thank you Dana and Marc!

Jim

Married on 01/07/2018

Dan at Key West Casual Weddings was our officiant and photographer for our wedding. Dan was an absolute pleasure to work with. He is very knowledgeable about the area and knows how to get a beautiful and dramatic photo. We couldn't be happier with our decision to hire Dan, he is flexible very professional and a lot of fun. Dan worked with us to make sure that the flowers were beautiful, the ceremony included everything that we wanted and took beautiful photos, he even video recorded the ceremony for us! if your getting married in the Florida Keys you need to get ahold of Dan!!!

Key West Casual Weddings's reply:

Thanks guys, I love my job!

Arlene R.

Married on 10/16/2017

Dan was simply wonderful, handled everything with ease for us, made us feel comfortable even after Hurricane Irma!Dan helped us every step that he could from gorgeous flowers, to the best make up and hair stylist (huge shout out to Elena Southcott - she simply was the best!), to officiant the ceremony, and of course the most incredible photography. Dan made us feel comfortable the first moment he said hi! He shared in every moment with us from the ceremony through all the pictures he took. He laughed with us, he provided great ideas for photos, and he engaged us to give him ideas too! He is simply the top notch professional that every couple wants for their special wedding day. We especially loved that he made every moment special through his incredible photos and his extraordinary personality. He made us feel like we were family. We are incredibly grateful for Dan and Elena for making our special day just that incredibly special! We had the unique pleasure of following Hurricane Irma and wondering what Key West would be like. We were not only honored to be married on Smathers beach in Key West but it was even more beautiful after the Hurricane. We wish we could express how much we truly feel about our experience with Dan even more beyond a great big THANK YOU! Dan, truly we loved every moment, and were are grateful to you for all you did for us! We would recommend and certainly hope to see you in the future. The warmest regards and all of our gratitude - Arlene & Russ Cox

+ 2

photos

Key West Casual Weddings's reply:

You're to kind, just doing what I do. Thank you.

Kari

Event on: 09/03/2017

Dan was amazing!!! He was patient with my big party and every bit professional. I highly recommend his services. Thank you Dan for a very memorable 10 year anniversary!!

Ashley

Married on 06/26/2017

Dan was easy to work with, flexible, and super friendly. He made our special day exactly what we had hoped for! The flowers he ordered for us were delivered to our hotel, he was right on time for our ceremony, and he spent quality time with us for pictures. His reading during our ceremony was meaningful and fit right in with the tone of our wedding. We love the pictures he took and he captured us so well. I would enthusiastically recommend Key West Casual Weddings.

Key West Casual Weddings's reply:

Thanks Ashley, all my pleasure, hi to Rob!

Jamie

Married on 06/20/2017

My wife and I couldn't be more pleased with Dan and his professionalism. From beginning to end he was very dependable and reachable. Super experience. Exceptional service. We had a slight hiccup due to weather but Dan was extremely flexible and accommodating. Made our experience just what we were hoping for!! 100% recommendations. Pictures turned out great!! Thanks again Dan!!
Jamie and Kate Frailicks
San Marcos, TX

Brian

Married on 05/21/2017

We decided to elope and with only a few days notice Dan helped us plan our Wedding day to perfection. The flowers, photographs, and location he chose were incredible. Dan has a passion for what he does and it clearly shows. Thank you Dan.

Alison

Married on 05/09/2017

We were very pleased with Key West Casual Weddings! Our short visit to the keys via cruise was worry free with Dan as our Wedding Captain! He had the best location, photo poses, vows, EVERYTHING! All we had to do was show up in love. Our photos are fantastic and came back to us within a week of our wedding. AMAZING. I cannot brag enough about our experience with KWCW and Dan.

Key West Casual Weddings's reply:

Thanks guys, all my pleasure!

Angelika

Married on 04/22/2017

The contact was very good. Done by E-Mail from Germany to Dan Leatherman who made the ceremony and the photos.
All worked perfect. The only thing was the wheather, but Dan found another way. So all was flexible and calm with no panic. The photos are brilliant and really really perfect. We will think about that day for the rest of our life.

Key West Casual Weddings's reply:

Thanks Angelika, Hi to Falk! Don't think I'll be seeing you this year in Germany but maybe next year!

Mary

Married on 02/20/2017

Dan was great. Had our wedding set up for 4:30 p.m. Changed our minds and wanted to do it at 10:30 a.m. so we could head back to Michigan. Called Dan and he switched it for us right away. No Hassle what so ever. Dan was great to work with and a pleasure to meet. The service he performed was great, just what we hoped for. We recommend Dan highly.

Key West Casual Weddings's reply:

Thanks Mary, all my pleasure! Hi to Dan!

David

Married on 01/03/2017

Dan did an excellent job officiating, photographing, and planning the details of our wedding,exactly as we wanted. We were on a budget and he managed to make everything work. His communications were timely and we never worried about the degree of service provided. Truly first class. 10.0/10.0
David and Lori

Candace

Married on 12/27/2016

Dan Leatherman is so professional with his ceremony, and his photogarphs are out of this world.
We had the simple, and intimate , dream, beach wedding. The rest of the world should be envious at how unstressful, beautiful, and simple a wedding can be.
We had our dream wedding, with pictures that were heavenly.
Thank you Dan Leatherman for making this happen. I highly recommend him to anyone.

Key West Casual Weddings's reply:

All my pleasure Candace, I love my job! Hi to Brian!

Sarah

Married on 12/10/2016

I highly recommend Dan with Key West Casual Weddings as your officiant for your wedding. The ceremony was short but sweet, which was exactly what we wanted. He helped us form a ceremony plan and pick the perfect location for the ceremony to take place (we were married at West Martello Tower). Without his advice and input the ceremony wouldn't have gone as smoothly. Thank you Dan!

Key West Casual Weddings's reply:

All my pleasure Sarah, I love my job! Hi to Luke!

John

Married on 10/28/2016

Dan did a great job of communicating with us before the wedding and made our big day stress free and relaxed. He offered a complete package which made the whole experience wonderful. Highly recommend Dan.

Key West Casual Weddings's reply:

Thanks guys, all my pleasure!
Are you interested?
Send a message