60 Reviews
Recommended by 100% of couples
Quality of service

5 out of 5 rating

Average response time

5 out of 5 rating

Professionalism

5 out of 5 rating

Value

5 out of 5 rating

Flexibility

5 out of 5 rating
36 User photos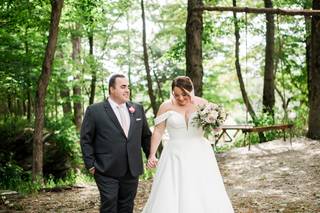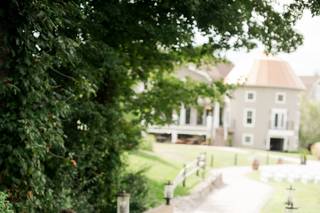 + 32

photos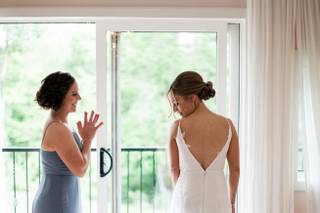 Louise

Married on 11/19/2022

Amazing photographer!

Katie and her team were so professional and fun to work with! She was responsive and communicative, and graciously offered solutions to help us work within our budget. On our wedding day, she was extremely calm and organized and helped everyone feel at ease. Best of all, we absolutely love our photos and will cherish them forever!!!

Julia O.

Married on 09/24/2022

Look no further!!

Hiring Katie was a no-brainer for my husband and I, as we were lucky to see her fabulous work firsthand when she shot my sister's wedding in 2019. She was the first vendor we hired (and we ended up picking our wedding date in part based on her availability)! It was the best decision we made in the planning process. She brought profound warmth and professionalism as she flawlessly shot our intimate September wedding in NYC. She was also incredibly attentive — which was invaluable as we opted not to have a wedding planner or day-of coordinator. With Katie on hand, we didn't need one! Quick with a bandaid and thoughtful suggestion about false eyelash length, Katie basically felt like a member of the bridal party. When we got our photos back, they absolutely blew us away. Katie's work is consistently incredible, and she did an amazing job capturing our wedding. If you are looking for a photographer in CT/NY, look no further!

Lily M.

Married on 08/27/2022

Most Lovely, professional, and calm wedding photographer!

All I can say is WOW. We are truly blown away with every part of working with Katie & Meg for our wedding last month. From the extremely thoughtful questionnaire before our wedding, to the down-to-earth loveliness of both of them upon our first meeting (I was 30 min late and they were so gracious about it!), to the full gallery of photos afterward - they nailed everything!!

Our family and friends still cannot stop talking about how wonderful they were the whole day. They were so kind to everyone, got every shot we wanted, and overall just a great asset to our day.

We were a little worried about not being able to meet Katie and Meg before the big day, but it really felt like they were old friends just there to capture our special moments. They brought such a calming presence to a potentially very stressful day.

The photo gallery we were given after is categorized and edited beautifully, with thousands of amazing photos! We are really stunned by their talent and ease. The light! The details! They are spectacular photographers and humans. Our only regret is not booking them for more time!

We'll have these photos forever, and I cannot wait to look back on them in 50 years and think what a perfect day, with the perfect duo to capture it all.

Are you interested?

Send a message

Kristyn O.

Married on 08/21/2022

Katie is amazing!

Finding the right wedding photographer was something that I took my time and tried to research to the best of my abilities because I wanted to love my photos. So much about planning a wedding is about the guest experience, family preferences, or budget constraints. Finding the right photographer on the other hand was something I wanted to do for my husband and me so we would have beautiful photos to look back on.

Katie, came highly recommended to me by a friend and I now see why. We were able to do our engagement shoot with Katie which allowed us to get to know each other. I felt so comfortable going into the wedding day.

Katie was well organized and planned leading up to the wedding and more or less told me what needed to get done. On the day, both Katie and her second photographer Athena were keeping a close eye on my emotions and helping me to feel all of the feels but to not get stuck in one place. They were also quick to sense when I was over something and again we moved on. Given that they didn't know us that well at all I was so impressed by their ability to read our body language and take photos that looked and felt like us as a couple.

Katie delivered over 2k photos all of which were beautiful and perfectly captured our day. If you're on the fence, don't be!

Amanda C.

Married on 07/08/2022

100/10 - book katie

I quite literally could not recommend Katie and her team enough. If you are in the CT area and she has availability, JUMP ON IT. From the very first consultation, Katie was incredible. First off - she is an INSANELY talented photographer. Her photos will look absolutely gorgeous, and even if you are awkward with photos/not used to getting your picture taken, she will somehow still take the most stunning shots! Everyone who we've shown photos to has been blown away by just how perfect they are. She is able to capture all the special little moments in such a beautiful, natural way. But beyond her obvious talent, what really makes Katie stand apart is her kind, compassionate, and calming presence throughout the process. Katie went above and beyond to make sure we felt comfortable, prepared, and excited for our day. She helped coordinate everything perfectly so that we never felt rushed or overwhelmed. She reminded us to take a deep breath and soak it all in. She was super responsive over email and always made us feel heard. I had so much fun working with her and her team. If you're looking for a photographer who is just a genuine joy to be around (with the added bonus of the most beautiful photos) - choose Katie.

Kim L.

Married on 06/18/2022

Amazingly talented work

Having Katie and her sister Meg as photographers the day of our wedding was the best and easiest decision we had ever made. Katie has proved her talent at many of our friends and family's weddings. Her calm demeanor was instrumental in keeping everyone organized and happy the day of our wedding, while she captured the most important moments of the day. She helped us prepare for the day in deciding which pictures would be most important for us. She captured every moment of our wedding, but never was overtly noticed which is a tricky talent of a great photographer! Her editing of photos is natural and beautiful. She gave us a gallery of over one thousand pictures in a timely manner. You cannot go wrong with picking Katie- she goes above and beyond always!

Rachel S.

Married on 06/05/2022

10/10 would recommend

Katie was AMAZING!! We had our original photographer ghost us and so booked with Katie just a couple months before our wedding. I had seen her at a friends wedding so knew she was great but was more of a financial investment than we had planned. If I could give one piece of advice to brides it would be invest in a good photographer. I'm so thankful we ended up with Katie. She made us SO comfortable and her photos are absolutely beautiful. We were overwhelmed with how well everything turned out and how many natural shots she got. These are photos we'll go back to for the rest of our lives so it was more than worth the investment to feel so satisfied and like we can relive the day. If I did anything differently, knowing what I know now, I would have added more time to our package.

Monika K.

Married on 03/05/2022

The best experience I could have asked for

Katie has been a dream to work with.
From the second she arrived we were put at complete ease and everything that followed seemed to just flow. The best way I can describe our experience is that Katie captured "us" as a couple as we are, naturally.
Her photos are candid but at the same time editorial and timeless. They could be taken from Vogue.
Could not recommend Katie enough!


+ 2

photos

Jennifer L.

Married on 06/19/2021

Katie is an absolute GEM to work with

I did an engagement session and my wedding with Katie. All I can see if how zenful and calm she is, which is the perfect dose of what you need as Bride. She helped calm all my nerves and helped reassure me my day will be great no matter what :) But since she is a photographer lets talk photos- She has this way of making your pictures look like they come right out of a story book. I love how Katie is soo good at natural photos and candid shots, which she makes it look easy. Katie really is an absolute GEM to work with. I will def be looking into possible family photos down the road.
Thanks Katie for making my day run as smooth as possible and thanks for calming my nerves during such a typical chaotic time in someones life.

+ 4

photos

Abby E.

Married on 06/06/2021

Incredibly talented!

Katie is an absolute dream to work with. She is professional and lovely -- it felt very natural and relaxing to work with her on our wedding day and she put us at ease. And the end result was ABSOLUTELY GORGEOUS. I cannot recommend her highly enough!

Maria

Married on 11/06/2020

Best Decision Ever!!

Having the right photographer was my number one priority going into wedding planning, and I can 1,000% say we made the right choice with Katie! Besides her amazing work that speaks for itself, the flexibility, support, and professionalism that was exhibited by Katie throughout planning a wedding during a pandemic made this incredibly stressful time much more bearable. We could not have made a better decision for our photographer! If you want photos that you will not get tired of staring at, look no further than Katie:)

Sarah

Married on 08/24/2019

Such a joy working with Katie and Meg!

Katie and Meg shot our wedding on 08/24/19 and we are forever grateful that we had them with us on the big day. From beginning to end, Katie and Meg were so friendly, so knowledgeable, and so incredibly talented. I was instantly drawn to Katie's work on her website & Instagram, but when we heard a mutual connection's glowing review, we just knew she was the photographer for us.

The week of our wedding, Katie walked through the timeline with me on the phone and made sure that we were not only both on the same page, but that she went over any questions or concerns I had before the big day. I knew we were in excellent hands! On the day of the wedding, Katie & Meg got there early and were the sweetest people – It felt like having two extra friends taking your photos. My husband and I weren't exactly the most comfortable couple in front of the camera, but they made it fun. When the pictures came back, we couldn't go through the gallery without smiling. We've shared the photos with so many of our friends and family and they're in awe of the photos.

Even just a few days after the wedding, we started to forget so much; The day is such a blur that you can't possibly remember it all. But the stunning pictures brought back so many memories and you can see certain moments happening all over again. Working with Katie and Meg was truly a joy and I cannot recommend them enough – You will not be disappointed!!



Erin M.

Married on 06/09/2019

Stunning Work

When I got engaged, I knew that the photography aspect of the wedding was one of the most important parts to me. When I came across Katie Slater's work online, I completely stopped looking for other photographers and booked her right away, and I'm SO glad that's what I did!

Katie's photographs are absolutely stunning. They are not your average, stiff, posed, and boring wedding photographs. They are truly a work of art. Our wedding album tells the story of our wedding day perfectly, from the natural beauty of our venue, to the perfectly captured expressions on everyone's faces. I just cannot stop looking at them.

Not only is her work gorgeous, but Katie is so fun and easy to work with. The bride and groom spend a lot of time with the photographer on their wedding day, and Katie's warm, calming presence was exactly what we wanted and needed on the day of. Meg, her second shooter (and sister!) was also lovely.

If you are at all on the fence about Katie Slater, just book her! I promise you will not regret it.

Athena

Married on 06/01/2019

5 Stars are not enough!!

I fell in love with Katie Slater Photography when I saw my friend's engagement photos. The depth to the photos were like nothing I had seen before. They weren't just photos, they were artwork. I knew before I was even engaged that I had to have Katie as my wedding photographer. I'm an indecisive person, but that was one thing I was 100% sure about!

Katie exceeded my already very high expectations. Her work speaks for itself. What I can say is that she is incredibly kind, professional, passionate about her work, and just an all around amazing person! Her sister Meg was the second photographer at our wedding- and she was equally as amazing!

Both Katie & Meg were refreshingly calming on an at times hectic wedding day. Still, they managed to direct our families & 18 person wedding party seamlessly.

We just got our photos- less than 2 WEEKS from our wedding day!!!! The photos are more than I could have ever dreamed of. The editing is simply stunning, and Katie and Meg captured precious moments that my husband and I missed. We will truly cherish the photos forever.

Do yourself a favor and book the BEST photographer in the business- Katie Slater!!!

Sarah L.

Married on 12/15/2018

The calm creative soul you need!

Katie was the best vendor to have on a super stressful day. She is so calm and lets you relish all the moments without being in your face and yet you know she is somewhere in the background creating that perfect shot. Her energy is very chill and yet she will clears a dance floor by being a boss for the perfect shot. She has done it for so long she knows all the tips and tricks and you can enjoy your day knowing she's capturing all the moments and details. It was magical. Mega Bonus - She even managed to help me make it look like it was snowing and she climbed a mountain with me for the perfect engagement shoot!

Andrea

Married on 09/15/2018

Perfection

How do I even begin to describe just how much we loved working with Katie Slater??! While we met Katie before we signed on with her (an interview of sorts), we got to know her a bit better during our engagement shoot. Katie was such a calming, reassuring presence, which was much needed given how nervous we were (and how awkward we felt). By the end, the awkwardness had dissipated and we had so much fun. To boot, our engagement photos were INCREDIBLE; we knew then we had made the right decision by hiring Katie.

Fast forward to our wedding day: Katie and her sister-second shooter, Meg, arrived on time and were ready to rock and roll. We had a few minutes to spare so Katie spent time taking tons of detail shots, which I really appreciated. Again, Katie's joyful, calming presence was exactly what I needed given how nervous I was! She offered to step away to give me some time with my family but I asked her to stay because it was so helpful for me. My now-husband also said that he and the guys felt very comfortable with Meg. When we received our wedding photos, we were absolutely blown away. They were more than we ever imagined and captured the pure joy and love that we all felt that day. Katie's/Meg's aesthetic is the exact opposite of contrived or cheesy - they are artists with extraordinary vision and that will come through in your photos. The areas they chose for photos, the lighting, etc... it was all so beautiful and felt very natural. Exactly what we were looking for in a photographer!

If you're considering hiring Katie Slater for your special event, do NOT hesitate. We are not only beyond happy with her work from our wedding, but so thrilled that we found our "family photographer" for any future special events. Thank you Katie and Meg!!

Sarah

Married on 08/25/2018

Our favorite vendor!

Katie was without a doubt the best decision for our big day! And we hit the jackpot getting both Katie & Meg. The work they produce is truly amazing - and they are extremely talented! We are so lucky to have had them and I have already recommended to so so many friends and family. They do such an incredible job capturing every special moment. I loved their energy and passion- always keeping the day fun and stress free. The photos are always natural and not forced - a style like no other. Each photo is a work of art and no one compares.

Future Brides - I promise you will not be disappointed. We are looking forward to needing Katie & Meg again!

Jayne P.

Married on 07/06/2018

We love katie and meg!

Hiring Katie and Meg was one of the best decisions we made for our wedding. From start to finish, everything about our experience with them was so wonderful. They are so easy to work with and made us feel so comfortable. Katie and Meg's energy is so calming and they just fit right into the day. Katie even helped my husband and I take moments for ourselves throughout the night. Their pictures are STUNNING! They really captured the essence of the night. You can tell they put so much thought into even organizing the photos - it's like a story! We have thousands of pictures and we literally love every single one! They are so professional and easy going. They showed up early and made sure we got every picture we wanted. Thank you so much Katie and Meg! Now we can relive the best day of our lives over and over! :)

Amy

Married on 06/29/2018

Having Katie Slater photography capture our day was one of the best decisions we made!
Meg was our photographer and her laidback yet fun and friendly personality was the perfect fit as she made us feel comfortable during pictures as well as didn't make us feel like we were "posing" so much, which is exactly what we were hoping for. She took the time to go over each detail with us prior, offered suggestions, and knew all the important moments to capture. When she sent us preview photos a couple days after our wedding, we were blown away and couldn't wait to see more! We are so in love with our photos and can't say enough about how talented, professional, and wonderful Meg is and we highly recommend working with Katie Slater Photography!

Our close friends recommended Katie Slater Photography, and specifically Meg, as they had booked her for their fall 2017 wedding. We knew instantly from our first conversation that we were going to choose her for our wedding! She was so friendly and easy to talk to, and she was super responsive and helpful throughout the entire process leading up to our big day. She even reached out to me a few days before the wedding to let me know that she was available if I needed anything, which was much appreciated! On our wedding day, Meg and Jayme were so easy to work with and they made the entire process seamless and fun! Meg also helped to navigate my husband and I through the ceremony, cocktail hour, and reception as it was tough to manage with 200 guests! We really appreciated the help and guidance. Meg sent us the preview photos 2 days after our wedding and we were blown away by how amazing they all were!! We are so excited to see all of the photos!!! If you are looking for a super talented, professional, and overall amazing wedding photographer, choose Meg and Katie Slater Photography!!!

Micaela

Married on 12/30/2017

Katie and her team were what made our wedding day so magical. Their top notch professionalism, flexibility and attention-to-detail were incredible. Katie was such a calming presence. On top of all this, our wedding also took place during quite the snow storm and her team didn't miss a beat. We made specific requests to keep the photos very classic and Katie beyond stuck with that found more beauty in these classic angles.

Overall, we cannot recommend Katie enough! The biggest challenge will truly be in determining what photos to select for our photo book because we are in love with each and every single one.

Morgan

Married on 09/09/2017

Amazing photographer and person!

Katie is not only an amazing photographer she is super sweet and calming! We love our wedding photos and received them very timely! She finds the light and has great backdrop suggestions. Before our wedding day we went thru timing, logistics and desired photos and she made me feel confident it was all doable. On our wedding day Katie was like a friend that also took pictures, when someone expressed a need for Advil or scissors Katie came to the rescue. She was in control of big photo groups and moved through them quickly! I highly recommend her!

Shana

Married on 08/11/2017

I cannot recommend Katie and her team enough! I had been a guest at a wedding a few years ago and was so impressed by their work that I knew I had to use them, too. We worked with Meghan, and she was absolutely incredible. She made us feel so at ease, and the photos are just stunning. My husband and I are so pleased and the amount of compliments we have gotten on them is unreal. I recommend them HIGHLY!

Lisa

Married on 06/30/2017

Having a great photographer and high quality photos were extremely important to us when planning our wedding. We got just that and more working with Meg and Jayme from Katie Slater Photography! Meg was so awesome and easy to work with. During all the planning, she made us feel comfortable and confident that our day would run smoothly. At our wedding, Meg (and Jayme) worked so hard to capture all of the important moments as well as the perfect candids. They were professional and seamless in a way that we didn't ever feel like we were posing. We ended up being trapped in a torrential downpour during our wedding and Meg truly went above and beyond to still capture us. Our photos are beautiful! Our guests could not say enough good things about our photographers throughout the night and again after seeing our pictures. We would highly recommend Meg to anyone and thoroughly enjoyed working with her over the past year!

Deanna

Married on 06/10/2017

Looking back on our wedding, hiring Katie as our photographer was easily the best decision that we ever made. Having met her three years before our actual ceremony, we had the incredible opportunity for her to shoot our engagement photos in the most idyllic setting possible, a secluded beach she found in California's Big Sur. One of these photos, consequently, became the birth announcement of our son, Jack.

Having had the opportunity to get to know Katie over the past three years, she became so much more than our photographer. She became a sounding board for a new mom, planning her wedding 3,000 miles away with a Newbom. She became a friend. She was able to get to know our little family, and to use this knowledge to capture every precious moment when we finally joined our little family of three this past June. Not only is she incredibly talented, every single photo from the day more breathtaking than the last, she was a calming force throughout the entire wedding process, and managed to make even the most stressed bride (me) look exactly how I dreamed I would look; calm, composed, and above all else, happy.

Katie, we cannot thank you enough for all you did for our wedding. I cannot recommend you enough. All I can say is, any bride that has the opportunity to have you in tow at their wedding should consider themselves very, very lucky.
Are you interested?
Send a message