114 Reviews
Recommended by 100% of couples
Quality of service

5 out of 5 rating

Average response time

5 out of 5 rating

Professionalism

5 out of 5 rating

Value

5 out of 5 rating

Flexibility

5 out of 5 rating
161 User photos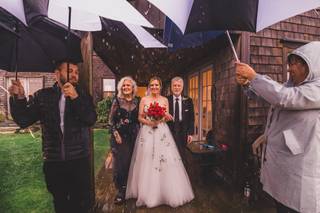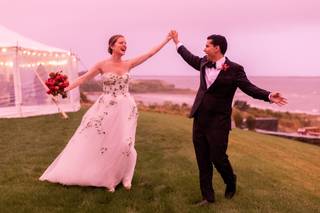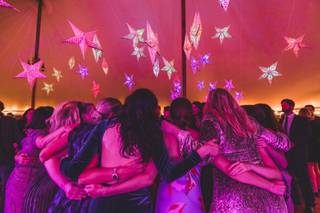 + 157

photos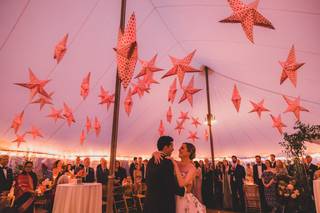 Marisa

Married on 10/01/2022

Katie Kaizer is Simply the Best!

I cannot say enough praise for Katie and the entire process of working with her! From day one of her meeting us at our home, we immediately connected. Over the course of the year, she held multiple calls with us and also met us at our wedding venue to scout several times. We held our rehearsal dinner outdoors at my aunt's home in Nantucket on September 30, 2022, and all the photos Katie captured are nothing short of spectacular and full of joy. She so beautifully captured both the scenic backdrop and the love felt by everyone in attendance. All while she game-planned with us for the rain that was inevitably going to hit the next day. Our wedding was October 1, 2022 held at a private estate (30 shawkemo road) in Nantucket, MA. The property is vast and located on the ocean. Our plan (right up through our ceremony rehearsal the day before) was to do the ceremony, cocktail hour, and all our photos outside by the water. Hurricane Ian however had other plans! Ultimately, our wedding day was 99% rain and heavy winds. When we realized our entire wedding and photos would need to be moved into our reception tent, this is when Katie truly showed up as the hero that she is! Throughout the morning of getting ready and making last-minute weather-related changes, Katie both took charge and rolled with the punches. As my cousin so eloquently put it: "Katie was the glue that held the wedding together!" From the moment we set foot in the house, Katie was the brightest light, never once complaining about the elements, all while ushering our family and wedding party around with ease and confidence. Her and Cary (second shooter) helped us all stay calm and positive throughout otherwise crazy weather conditions. Our joy and calm comes through in every single getting ready photo. Katie and Cary truly made the most of needing to take our formal photos inside our reception tent, using the tent décor and lighting to add dimension. Our aisle and ceremony shots captured the palpable emotion throughout our tent, and so beautifully depict the feelings of love we all felt. My favorite photos are when Katie asked "will you trust me to do some rain shots?" and we said "ABSOLUTELY" – these photos of us in the rain are pure magic. She made us smile and kept us calm throughout the wind and rain. A highlight was when she hurried us outside when we had literally 5 minutes of clear, pink sky for the most breathtaking shots by the ocean. These rainy weather shots are something out of a magazine. And finally, our dancefloor was absolutely packed the entire night, and she captured the energy of everyone perfectly. I've never seen such spirited dancefloor shots before!
Moral of the story: hire Katie, wherever you are getting married, but especially if you're planning to get married outside. The Grey Lady (Nantucket) is unpredictable, and you will never regret having Katie by your side to turn rain & wind into pure magic!


+ 2

photos

Sarah

Married on 09/17/2022

Katie is the best

We can't say enough good things about Katie. When we spoke with her two years before our wedding we instantly knew we'd be lucky to work with her. Very organized, very fun, very thoughtful about how she approached our weekend.

She captured everything exactly as it unfolded - the intimate moments and the fun ones. All super authentic and real. It felt like she was part of our wedding party in the best way possible. We are forever grateful

Delphine G.

Married on 09/10/2022

Exquisite work

Katie was a dream to work with. We have been family friends for years so it was a no brainer to hire her. Her style is like nothing I have ever seen before and our photos came out better than I would have even imagined. She was able to capture so many special one off moments and the feelings of us/our guests. Katie and her assistant were polite, hard working and made our day so enjoyable. On top of that prior to the wedding she helped me strategize where to go and how to work everything I wanted into my timeline, while still giving us plenty of time with our guests. We loved working with Katie so much!!

Are you interested?

Send a message

Taylor W.

Married on 06/25/2022

Truly the best

Katie and her team were truly the best vendors to work with. Katie was extremely responsive, beyond helpful and always available. From the very beginning, Katie went above and beyond to help with any questions I had. Having Katie by my side on my wedding day was the best decision I made ( besides marrying my husband) and the proof is in her work. Katie captured every single meaningful moment of the day and to say I am thankful to have these photos to remember my wedding day is an understatement!

Ryan S.

Married on 06/25/2022

Our wedding weekend

Katie and Kerry were amazing, and captured our special weekend like no one else could've. They really capture the moments and the energy.

Kate H.

Married on 06/18/2022

Working with Katie will be the best decision you can make for your wedding!

Working with Katie was one of the first and easiest decisions we made for our June 2022 wedding at the 'Sconset Chapel & the Chanticleer! Every single person I have shared my wedding photos with immediately gushes over the quality and the talent of our photographer.
I knew from our first introductory phone call that I wanted to work with Katie and be around the amazing energy she brought to our wedding day. She was so helpful and positive in all our pre-planning meetings and phone calls and even recommendations for some of our other vendors. We loved getting to know Katie in the lead up to our wedding so spending the actual day with her felt like spending it with a friend.
It was important to us that we didn't feel rushed between photo ops or like we spent our whole day posing for formal photos, Katie efficiently shepherded us through our shot list--even finishing portraits ahead of schedule! This allowed us to be fully immersed and present in the day of our wedding and Katie pulled us at the perfect moments for additional pictures throughout the night so we could take a minute to reflect on the evening without missing any of the fun. Katie's joyful enthusiasm and calm handling of logistics was wonderful throughout and the results speak for themselves!
We have the perfect mix of more formal photos, shots capturing everyone's real emotions from the day and super fun candids from our dance party. I love looking back on all the moments Katie captured and especially seeing all the little bits we didn't get to witness on the day of (like my husband getting ready with his friends and our guests arriving at the ceremony). We couldn't be happier with Katie's work from our wedding and hope to continue to work with her over the years for family portrait sessions!


+ 5

photos

Samantha T.

Married on 06/04/2022

Katie made our day absolute perfection!

Katie & team captured our wedding in June 2022 on Nantucket, and to say she is the absolute best is an understatement. Charls, my husband, and I couldn't recommend her and her team more. From the beginning in August 2020, when she captured our surprise proposal, to the wedding day in June, Katie was always available and eager to help us and answer all our questions (photography-related or not). Katie not only provided us with her professional opinions and knowledge, but served as a friend and confidant throughout the entire wedding planning process. She was just a phone call away (or a text, or coffee chat on island)! She made us feel so comfortable in front of the camera, guided us, and brought our vision to life. She would do anything for her clients - Charls and I wanted to take photos at Lilly Pond, but with some wet weather days before the wedding, we weren't sure it would be possible. Katie and her husband went out to Lilly Pond the morning of to check if the grass would be too wet for us to walk on - now that's superb service! Charls and Katie's families have known each other for many years, and it felt so special to have her and her team capture our day. The photos and her work are truly out of this world. We absolutely love all of them, and it's amazing to sift through and relive the most perfect weekend. Thank you Katie for everything - we couldn't have dreamt of a better photographer, and more importantly, a kinder person to share our day with.

Emily F.

Married on 02/09/2022

Perfect photographer for our intimate wedding celebration

Katie was absolutely wonderful to work with – from our first conversation, she conveyed her intention to get to know us as a couple, to understand our unique needs, and ultimately to capture elements of our wedding that were important to us both.

We had a small celebration planned that became even smaller as a result of COVID-19 and we balanced feelings of joy and anticipation with anxiety and uncertainty as we worked to ensure safety for everyone who would be with us on our wedding day. Katie offered flexibility and reassurance at every step of the way, and I was so appreciative of her guidance and generosity through the whole planning process. She gave us hours and hours of time in advance of the wedding, talking through ever-evolving plans and dreams via phone, email, and text. She was always extremely responsive and thorough in her communications and her genuine enthusiasm is contagious!

Not only is Katie clearly a seasoned professional when it comes to navigating the logistics of wedding planning, she also demonstrated her keen ability to adapt (and help us adapt!) with ease and grace to some extraordinary and unprecedented circumstances. Katie really went above and beyond in so many ways, stepping in to coordinate with various family members and vendors to help us pull the day off smoothly.

And what a day it was! I loved having Katie around throughout the day to touch base with – she gently (and effectively!) helped us stay on schedule and yet I somehow never felt rushed or pulled away from the intimacy of our celebration. When Katie sent a preview of the photos she had taken shortly after the wedding followed by the full gallery, we were blown away! We were incredibly grateful to be able to re-live so many special moments from the day – her photos are absolutely beautiful and we will treasure them for the rest of our lives.


+ 6

photos

Julie B.

Married on 10/10/2021

Genuine, Fun-Loving and Responsive!

The combination of Katie's passion for her craft and fun-loving personality made her a perfect photographer for our wedding! Planning a wedding can feel like you are juggling a ton of balls at once, but I never had to worry about my "photographer" ball because I knew Katie had everything covered. She has a keen eye for detail within both the planning process and on our big day. For most, these details might seem insignificant, but as a seasoned photographer, Katie was on top of it. She proactively set up check-ins with us and on our big day, she paid attention to the small moments which ended up being some of our favorite photos. She is optimistic, super organized, exceptionally responsive and genuinely wants to help her couples!

Kelly C.

Married on 10/09/2021

Working with Katie was the BEST decision for our wedding day!

My husband and I got married in the Sconset Chapel with reception at the Nantucket Golf Club in July. Our cheeks hurt from SMILING reliving the best day through Katie's photos. We are so thrilled with the joy and memories captured! Walking 'Sconset with Katie taking our photos was so much fun, she made us feel comfortable and captured our personality through the camera. She was also very flexible adjusting the schedule last minute to account for weather. We had calls with Katie leading up the the big day where she really got to know us and help us refine our vision for the day. Katie offered advise on location, timing and much more! It felt like working with a friend :) I cannot recommend Katie's photography enough - I don't know how we will ever pick favorites from all the fantastic moments she captured!

+ 2

photos

Emily B.

Married on 09/26/2021

Truly Fantastic - The Very Best!!!

Katie Kaizer was absolutely amazing. Firstly, the pictures blew me and everyone who saw them away. Everyone agreed they were amongst the, if not THE, best wedding pics people had seen. Secondly, Katie is lovely. My spouse doesn't love his pictures taken but we both agreed we want to book Katie to do more pics of us in the future as our family grows. When guests talked about the wedding afterwards many people commented on how great Katie was. She was warm, supportive and even provided suggestions as to the event location and set up to make sure we got the best pics. She got us our pictures in no time after the event. In short, I would strongly recommend her to anyone regardless of the type of event (large or small).

+ 4

photos

Lauren

Married on 09/12/2021

Friendly, Fun & Fabulous Photographer!

When looking for an engagement and wedding photographer, we narrowed it down to a few on Nantucket, but when it came down to it, we loved Katie's vibe and style the most! Katie has a comforting way about her and makes it so easy to talk to her about questions and concerns. When we arrived at our engagement photo shoot it was like meeting up with a friend-she made us so comfortable and made the experience so fun when it could easily have been awkward- and the photos turned out amazing!!!

After that, we were even more excited for our Wedding day and stayed in touch through the entire process. Katie is great at responding to all your random questions and she knows exactly how to handle everything. The day of our wedding Katie made us feel calm and relaxed and happy. We had become so close over the entire year long process that we were taking selfies together the day of the wedding because we love her so much! Feel confident in trusting Katie in her amazing skills and leave it up to her to figure out the best locations for your photos based on wind, lighting, background, etc. No matter how hard you try, the wedding day is always stressful with so much going on, but Katie was the one constant we didn't have to stress about-she is a calming and cheerful spirit! We knew our wedding photos were in amazing hands and were going to turn out beautifully. Katie is an artist at what she does and we couldn't be happier with how our special day was captured by Katie Kaizer Photography. We are in love with our photos and special memories and to top it all off we have a new friend!

+ 17

photos

Lauren L.

Married on 09/11/2021

Katie is the absolute BEST photographer!!!

I wish I could give more than 5 stars to Katie in this review--SHE IS THE ABSOLUTE BEST! Seriously, #1. She is SO incredibly talented, genuine, and kind--honestly a true inspiration. She made every moment of our wedding weekend + day so fun, and made Jack and I feel so comfortable. Katie has a true gift. She captured the most magnificent moments of Jack and I throughout our wedding weekend. WOW!! From Cisco Brewery, to our rehearsal dinner at The dreamland, our first look at Brant Point and our ceremony and reception at The galley—she absolutely crushed it!! Katie captured every single emotion that we felt. Every single photo is so magical. Every time I look at her photos from our wedding weekend, I get to relive every single moment and it makes me laugh smile and cry of happiness all at the same time! It was truly was the best weekend of our lives and I am so glad that we have all of these beautiful memories captured by Katie to look at and be reminded of for the rest of our lives.

Katie also photographed our engagement on Steps Beach, as well as my older Sister and brother in law's engagement + wedding weekend, all on Nantucket. It is so special that Katie has captured so many major life events my family over the past few years. My family loves and adores Katie as our photographer and friend! We feel so blessed to have met and gotten to know Katie and her beautiful family, and look forward to working with her again soon! :)


+ 17

photos

Molly W.

Married on 09/04/2021

The BEST photographer for our wedding weekend!

Katie Kaizer is hands down the most amazing photographer and person. Katie had photographed my two older siblings' weddings, so by the time my husband and I got married in September, I knew Katie was the perfect person. I knew I absolutely loved both her and her work! Now having worked with Katie for my own wedding, I could not say enough wonderful things about working with her. Firstly, Katie takes the time to get to know you as a couple before anything else. She prioritized our relationship, which made being in front of the camera feel so much more comfortable! Katie is fun, enthusiastic, genuine, and has contagious happiness that helped us feel so at ease on our big day (and throughout the other events). Katie spent hours of her time leading up to our wedding weekend to ensure everything would run smoothly. During our rehearsal dinner and wedding day, Katie helped us stay on schedule and captured all of the special moments without making us feel rushed in any way. Just days after our wedding weekend, she sent us previews, and we were blown away by how she captured such special moments in the most beautiful ways. We feel so grateful to have gotten to work with Katie and can not recommend her enough!!

+ 3

photos

Caroline S.

Married on 07/08/2021

Above and beyond experience

Since starting to work with Katie for our engagement photos, she has been flexible, and fun to work with. She has been ale to capture our vibe, feelings, and emotions from early on in the engagement photos, through the wedding pictures. The wedding pictures absolutely take my breath away. They are not only stunning, but they captured the emotions that we were feeling that day and weekend. From my first look with dad, to standing on the altar exchanging vows with my now husband, I relive every feeling that I felt that day through what she has been able to capture in the photos.

+ 2

photos

Catherine

Married on 06/26/2021

Katie is the BEST

While looking for a photographer for our 6/26/21 wedding at St. Mary's and Sankaty Beach Club, we were immediately drawn to the effortlessness of Katie's pictures. Nothing looked forced, and the personalities and the love of the couples she featured really came through. In our engagement photos and our wedding, Katie made us feel like ourselves. Our pictures all feel so natural, even the portraits. Our dance floor photos will be the photos I cherish the most. I somehow don't remember seeing Katie and her partner on the dancefloor, which is likely why they were able to get the most incredible shots. Photo after photo is filled with emotion, joy, and authenticity. Katie is the best!!!!

+ 2

photos

N. Tallon

Married on 06/19/2021

Katie kaizer is fantastic!

Katie was so friendly, down-to-earth, and responsive from the get go. I'd already seen her portfolio, and that just cemented for me that she had to be our Nantucket wedding photographer. We booked Katie before we booked anything else! Katie pretty much could have determined our wedding date based on her availability. And we are absolutely thrilled with the results. This was an intimate elopement on the beach as the sun started to go down. She let us enjoy our private ceremony, while still capturing all the special moments. And she got THE PERFECT SHOT, along with so many more we cherish. Cannot recommend her enough.

Alexandra L.

Married on 12/09/2020

Incredible photographer, photos & experience!

Katie is an incredible photographer and perfectly captures the moment. 2020 was a tough year to plan a wedding and Katie was flexible and helped us navigate the ever-changing environment. She put my husband, our families and me perfectly at ease. Our photos turned out truly spectacular and captured the day. We will cherish them forever!

Hayley R.

Married on 10/06/2020

A Trusted Photographer & Friend

First and foremost, we are beyond happy with our experience. She is incredibly thoughtful, flexible and amazing at her job. We are just reaching our 1-year anniversary and going through our photos was such a special way to reflect on the best day of our lives. And it's not just photos of people, it's photos of the incredibly special and intimate moments between family and friends that remind you why it's all so important.

We got married on Nantucket and our photographer search was focused on finding someone who knows the island and how quickly the weather comes and goes. She quickly showed that she was an expert when we had our engagement shoot. It was a true grey-lady day and, truthfully, we were pretty nervous. Low clouds and mist didn't seem like a recipe for success. But she had a plan. And this plan resulted in the most beautiful sunset picture that we will ever take. It is just breathtaking. In addition to that, our wedding day was met with the most epic storm that the island has seen in a while. In the middle of dancing, she quickly called out to my partners brother and needed us outside ASAP. And she somehow topped that breathtaking sunset photo from the engagement shoot. We honestly couldn't believe it - it was representative of so much.

We also had a secondary focus on someone who is comfortable with shooting an LGBTQ wedding. These kinds of days involve the same things as any other wedding but there is something really important about being able to photograph intimate moments between same-sex couples. We are so appreciative of not only her comfort but her genuine acceptance and celebration of us.

Another thing that we valued was her ability (and willingness) to understand family dynamics. We took a walk with our dogs on the beach a few days before the wedding and, aside from it being a great time to spend together as a group, she really took the time to learn about the who/what/why. And none of that was forgotten during the craziness that is a wedding day.

After the wedding, she sent us the most thoughtful package. It had prints of her selects packaged in the cutest box. She also included a thumb drive of the high-res photos. Opening and going through everything felt like Christmas morning. It also made for another great Instagram post because wedding content never ends :)

From the moment we first spoke to Katie, we knew right away this was the person we trusted. We couldn't be happier to not only have amazing photos from her but to call her a friend. And we can't wait to see her when we are back on the island next!


Jamie

Married on 09/12/2020

Talented & Genuine! Highly Recommend.

To me, choosing a photographer was the most important part of my wedding planning journey and I really wanted to get it right. I was instantly drawn to Katie's style and the way she captures moments that told a story versus typical bridal photos I've seen throughout my vendor hunt. During my initial call with Katie it wasn't her work that won me over, more so that I felt instantly comfortable chatting with her and truly felt like she understood me and my vision. We confidently hired Katie for both our engagement session and our wedding and it was the best decision we made. She made myself and my fiancé so comfortable and it truly showed in all of the photos. There was literally not a single photo we didn't love. We still have people telling us that our photos are the most beautiful they've seen, and I have to agree! I cannot recommend her enough; Katie will be my go-to recommendation and my 'forever photographer' for all my future celebrations and special moments.

Mary H.

Married on 08/07/2020

Exceptional Experience with Photographer Katie Kaizer

Katie Kaizer is indefatigable, brimming with energy, passion, drive and determination. Knowing that she is charged with the awesome responsibility of capturing the most meaningful moment in a couple's life--and a family's--she brought all of herself into this time. As Mother-of-the Bride, I can say that our family is forever grateful that Katie is part of our wedding memory. I think of her when I think of that wedding weekend, as she also shot Rehearsal Dinner (as well as the engagement shots). With us for two days, including the festivities around getting ready (hair & makeup with her bridesmaids/groom & groomsmen)..to the entire ceremony and celebration that followed. Katie has a great team she pulls together to ensure not a moment is missed. Most of all, Katie brings her own personal passion and real love into the equation. She shoots like she is capturing her own loved ones for this forever moment. My daughter and I LOVE Katie Kaizer and recommend her wholeheartedly!!

Heather K.

Married on 07/13/2020

Unbelievable talent!!!

Where do I begin with Katie!? We had the pleasure of meeting Katie when she photographed our engagement session. We wanted to include our pup in our photos and love the way Katie captures dogs and families. Working with Katie was so easy and relaxed, we felt as if we had gained a new friend. She is so good with dogs, and helpful with advice on locations, outfits, time of day, and direction while taking photos.

We had to cancel our original wedding plans in Maine due to Covid, and decided to elope at home on Nantucket instead. Our first call was to Katie to make sure we could secure her for our wedding. We couldn't feel more lucky to have been able to work with her on such a special occasion that had been quickly replanned. It was so important to us to have an album of beautiful photos to remember the day.

Upon receiving our album we were blown away with how much we loved each and every single photo. From the way Katie lights the photos, the natural tones, the framing, the way she captured our feelings and words during our ceremony and vows - we loved it all. They tell a story that we will forever cherish.

One of our favorite things about working with Katie is the way she naturally lights up with excitement and inspiration by the location and subject she's shooting. The whole time we were all in awe of the beautiful day Nantucket had given us and we were eager to capture every moment of it's perfection. Our wedding session was photographed all in 1 location, yet somehow she made it look as though we had travelled all over island. She captured our special moments as well as so many things that we love about this Island and it's natural wonders.

In addition to blowing us away with her talent - Katie's talent was recognized in an international contest! Katie won 2 awards from the National Wedding Photojournalist Association for photos from our wedding. Both photos captured very meaningful moments in our day and we are so very proud of her!!!

We feel very fortunate to have been able to work with Katie for two special moments in our life. She's caring, compassionate and extremely talented! We highly recommend her.

+ 15

photos

Sheila E.

Married on 05/12/2020

Katie Kaizer: The wedding photographer of your dreams!

As soon as we got engaged, we made a list of the 5 most important things that we needed to lock-in right away. Photographer was ranked #1 because the only thing you can take with you after your wedding day are those moments captured in photo​s.

In August of 2017 we were so excited to reach out to Katie Kaizer - after following her amazing photography on social media for years - to see if she would be available to photograph our potential October 2018 wedding date. She quickly responded but regrettably informed us that she was unavailable because she and her fiance were getting married that same day in Nantucket! Although we were thrilled for her to finally experience HER own wedding day after capturing so many others' weddings, we were also incredibly disappointed knowing that Katie couldn't be our wedding photographer! The next day, after going back to our Boston wedding venue to lock in this October date we had inquired with Katie about, we quickly learned that we were just minutes too late and our venue was no longer available. That date change was the biggest blessing in disguise as we quickly switched gears to create the downtown Boston Christmas wedding of our dreams and in doing so, we were able to secure Katie Kaizer: the wedding photographer of our dreams!

From beginning to end, Katie's knowledge, professionalism, responsiveness, attentiveness, creativeness and accommodation truly exceeded our highest expectations. Although she lives in Nantucket and we were in Boston full time, she was always willing to connect via phone, email and text. She was incredibly flexible in accommodating our schedule with being available for calls after work. Having an off-season wedding also gave us the amazing gift of more time with Katie! We both finally met Katie at our engagement session in Nantucket. We instantly felt so comfortable with her upon meeting her and our session totally flew by. She knew all of the amazing spots to go and captured the our most special moments together as well as with our 15 year old pup, Kerry who made an appearance as well!

Katie was always thinking and anticipating things we would have never thought of. She was prepared for all scenarios ​for our wedding day ​whether it was the weather, traffic, sunset time and the potential need for additional lighting at our venue to ensure the BEST photographs were taken. She partnered with her friend and talented colleague Cary Tozer to ensure we had enough coverage for our wedding day since my fiance and I would be getting ready at two separate locations. She arranged to do a site visit at our wedding venue, The State Room, just a few weeks before our wedding on the way back from attending her friend's wedding in New Hampshire to fully understand the lighting, the room set-up for the ceremony and reception as well as scope out the locations where my fiance and I would be getting ready in town as well as where we would have our "first look". Katie also adjusted her personal plans for the holidays to ensure she would be off the island and in Boston in enough time before the wedding. She eagerly asked to attend our rehearsal to meet our families, understand our family dynamics and of course, capture some amazing photographs of us, our families and friends at the Seaport. If you know Katie, you know she is a HUGE fan of dogs. She encouraged us to have someone meet us at our "first look" with Kerry our 15 year old shih-poo and Ruthie our then 4 month old Golden Retriever pup. We are SO glad she was persistant because those photographs are truly some of our favorites!

The day of the wedding, Katie and Cary worked their magic and every single moment was captured and then some! To quote a family member after viewing our photos which were posted on Facebook "These are amazing! They capture the heart and personality of the beautiful brides and all the fun we had celebrating with them! The pictures themselves are so intimate but not intrusive. How you managed to find every special moment is a testament to your talent!" After receiving our wedding photographs from Katie, we relived that day from start to finish.​ She truly captured every moment.​ We feel incredibly blessed to have had Katie and Cary photograph our wedding and look forward to continuing our friendship and having them capture more of our family events in the future!

So, go ahead. Give yourselves the GREATEST wedding gift and have Katie Kaizer shoot your wedding. You will have these amazing photographs forever. You can thank us later.

Michelle P.

Married on 10/22/2019

Katie Made Our Day Amazing!

Katie was a special part of our wedding. The pictures are amazing, and we have received compliments from everyone who has seen them. Her technical skill and knowledge of Nantucket were evident, but it was that she made us feel so comfortable and at ease that showed in each picture. We treasure the memories that Katie helped us capture. She was enthusiastic and very responsive. It was like having a long-time friend photograph our wedding.

Rochelle P.

Married on 10/05/2019

INCREDIBLE experience with Katie!

My partner, Ryan, and I did a lot of searching and research in order to choose our photographer because it meant a lot to us that the pictures reflected us and the feeling of our wedding day. From the first phone call, we knew Katie was the one! She is an incredible person in addition to her outstanding skills as a photographer which made her so wonderful and easy to work with. She was organized, timely, intuitive, and respectful of our wishes/requests. We got married October 5th 2019 in Madaket on Nantucket. I never felt like I was being followed by a photographer - instead, she blended in seamlessly with our friends and family and in some magical way was always in the right place at the right time! Her energetic, yet genuine and caring personality made me feel like she was part of my friends/family as she documented us 'getting ready' and I believe this is what enables her to capture such candid, emotional pictures where I can look back and really remember exactly how I was feeling in the moment! She was so respectful of our wish to maximize our reception time with our guests, that she seamlessly planned when, where, and how to capture (AMAZING!) pictures of Ryan and I just after the ceremony. And I was so happy that it was her that we got to be with during such a special moment in our lives. It was completely comfortable (as I am a bit camera shy!) I seriously cant stop relooking at her photos and all that she was able to capture!...including the overall 'mood' that we had hoped for. Katie is the most perfect balance between personal and professional which is a dream come true when all the stressors of the wedding are swirling around. Also she knows Nantucket like the back of her hand which made for beautiful pictures in places that I would not have known about. I will certainly be calling up Katie for all future life photo ops based on the incredible experience that Ryan and I had with her on our special day. I truly feel like I get to 're-live' that day by looking through our photos, which is a dream come true!
Are you interested?
Send a message