115 Reviews
Recommended by 99% of couples
Quality of service

5 out of 5 rating

Average response time

4.9 out of 5 rating

Professionalism

5 out of 5 rating

Value

4.9 out of 5 rating

Flexibility

5 out of 5 rating
2 User photos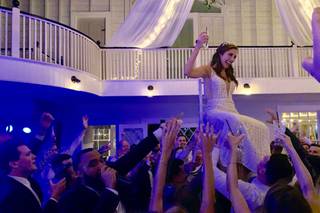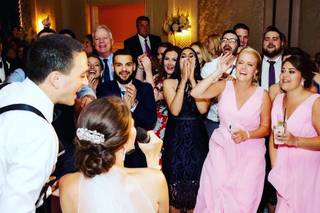 Jacquelyne D.

Married on 10/01/2022

The Best Band in Boston

Their website doesn't lie….they are the BEST band in Boston. We went with the 7 piece band, KB3, for our wedding after seeing them play live at Encore. They were INCREDIBLE. They 100% made our wedding a party and had every single guest up and dancing the entire night. From our pre call to the day of, every band member was so professional and kind. We used Kahootz for our ceremony music and cocktail hour as well. Would 100% recommend!!!

Christa M.

Married on 09/17/2022

The Best Band

This band made the wedding. No one left the dance floor the entire evening. Hit after hit, they were lights out all night long. Working with them was a breeze, and they were accommodating to our requests and overall thoughts on music. We also left much of it up to them, fully expecting the experts to bring the party, which they fully did. In our opinion, the music can make our break a wedding so finding a great band was key to us. We will find a reason to book them again for another event.

Rachel D.

Married on 09/10/2022

Book this band!

We cannot speak more highly of Kahootz!! Our wedding on 9/10/2022 was an incredible experience.
From the beginning, we appreciated how easy the contract process was, Chris was very responsive and answered all of our questions promptly. Closer to our date, we had a planning meeting with Chris were he focused only on how he and the band could make our day the best. When it came to the performance, they were out of this world! I have never heard such positive feedback about a band. We are still receiving compliments about how wonderful they sounded, how much they engaged with the crowd and the set list. If you are looking for a great guest experience BOOK THIS BAND!

Are you interested?

Send a message

Boston's best band

We were thrilled with KB3's entertainment for our July 2021 wedding in Providence, RI. The band did an incredible job of reading the audience and playing songs that kept our guests dancing for hours on end. We heard (and keep hearing) over and over from guests that KB3 was the best wedding band they had ever seen, and they executed our requests (including "All Star" by Smash Mouth) perfectly. We would recommend them to anyone looking for an incredible band for their event!

Lindsay

Married on 10/05/2019

KB3 made our whole night!

I'll be honest, my husband and I were a little nervous when we began our band search for our October wedding in December. Music was so important to us, but we felt we were late to the game and the likelihood of finding a great band that wasn't yet booked was slim. Thankfully, we hit the jackpot with KB3. Not only were they miraculously available, they had POWERHOUSE singers and brass musicians (a must)!

Prior to the wedding, the band leader Jim met with us to review the details and was incredible flexible and sensitive to last minute changes! On the big day, they arrived early, took care of set up and generally put us all at ease. Then... they brought the house down. Absolutely killed it with the most energy I've ever seen from a wedding band - the lead singer Charles was up on the balcony, out on the dance floor, and everywhere in between. Our friends and family did not stop dancing the entire night, and raved for days about how incredible they were. Several of the engaged couples even asked for their business cards - they were that good.

Thank you Chris, Jim and crew for fueling the best day of our lives!

Kathleen D.

Married on 08/31/2019

Never left the dance floor

Kahootz performed at my daughter's wedding at the Boston Public Library and they were amazing! No one left the dance floor the entire night. Chris Cole was easy to work with and responsive. He even worked hard to set up a sound system so that my nephew could sing a song he had composed just for the bridal couple into the courtyard at the BPL. Chris had said he always kept an eye on the crowd and if it thinned, they would play a slow song for the older folks. It NEVER thinned. My son-in-law is a dancing nut and he thoroughly enjoyed himself. I'm surprised everyone's shoes didn't have holes in them by the end of the night!

Lynne T.

Married on 07/06/2019

Hire this phenomenal band and your wedding with be a dream!


Dear Chris,

Firstly, I wanted to thank you for all of your help and guidance in choosing the best band ever for our daughters wedding. I know I had so many questions when considering using one of your bands and I appreciated you guiding us to K2. You were such a pleasure to work with from start to finish and always made us feel comfortable in the process leading up to the wedding.

Now onto our review of K2. My husband and I are total music people...We spend lots of our free time traveling to music festivals and in general listening to music. So, with that being said, the band we choose for our daughters wedding was of the utmost importance to us. We've also been to our fair share of weddings. We may not remember much about many of the details details of a wedding after the fact, but we do remember the vibe that the band creates.
Well, when I tell you that K2 absolutely crushed it, I mean it, seriously-every single person at that wedding thought that they were the best wedding band they'd ever heard-EVER!
As people were leaving, they were all saying that it was the wedding of the century, and that was in large part thanks to Justin and the rest of his phenomenal band, oh, and there was a double rainbow too. That was also a lovely touch!!
But. Seriously, I can't even tell you how much we loved them. They went all out to make sure Allie and John got the wedding of their dreams and more.
Their song choices were spot on! There was basically no-one seated at tables during their time playing and entertaining our guests. Everyone was on the dance floor, even my 84 year old Dad was dancing the night away. I had to drag him off the dance floor to rest for a few minutes.
Usually there are one or two songs during a set at a wedding where my husband I look at each other and say, let's sit this one out... Nope, not with this band. It was one fabulous song after another. At the end of the night, I looked like I'd taken a spinning class. Lol
At one point, Justin moon walked and then went into the audience to sing with the guests. Everyone was just in awe of him.
At another time during the night, he invited my husband along with Johns Dad up onto the stage. I'm pretty sure that was one of the best moments of their lives. Who doesn't want to be up on the stage with the fabulous Justin and the K2 band. Everyone got such a kick out of that.
I could literally go on and on but it suffices to say that they exceeded our expectations and we would and will recommend them whole heartedly to anyone and everyone. I did see many of our friends and family coming up to them to ask for their contact information.
Justin, you're copied on this email.
We thank you from the bottom of our hearts for your extraordinary effort on July 6th for our daughter and son in-laws wedding.
You and K2 created a vibe than none of us will ever forget and we couldn't be more thrilled.
Thanks again!

With gratitude,

Lynne Taikowski


Emily M.

Married on 10/12/2018

Wedding band

Absolutely amazing! My guest are still talking about how good they were. We hired the k2 nine piece band for the reception and a solo pianoist for the cocktail hour.

Olga

Married on 08/25/2018

Kahootz was absolutely amazing! We worked with KB3 for our wedding reception, and we couldn't have asked for a better band or a bigger dance party. They were very organized in the lead-up to the wedding, and we reviewed with them all the details and special songs. They did an awesome job with the special dances (first dance, parent dances, hora) and then the dance party was just amazing - such a good mix of songs that kept everyone on their feet. The band really sets the tone for the whole evening - and they truly turned our wedding into a once-in-a-lifetime celebration full of joy. Throughout the night and for weeks after, we couldn't stop getting compliments about the band - everyone had such a good time! We couldn't have been happier.

Cassandra

Married on 07/07/2018

I would advise anyone and everyone to choose Kahootz as their wedding band! If you want to have a good time and for your guests to have a good time, this is the way to go! They are amazing and keep everyone engaged the entire night. So much so that when my wedding ended at 12:30.. everyone could not believe how fast the time went. If you spend extra money on anything.. this is the way to go!!

Tina

Married on 07/06/2018

My husband and I had the pleasure of having Kahootz play during our wedding ceremony and reception on July 6th. If you are looking for the best- LOOK NO FURTHER!!. The entire band is outrageously talented and so involved in their entertainment. You can often find them in the crowd dancing and looking for guests to sing along. We found it comical that every time we looked at the tables during our wedding no one was seated- the whole wedding was out on the dance floor all night. We had many guests compliment that kahootz was the best band they had ever heard and also that we had the best wedding they had ever been to. I can't speak enough of the entire kahootz band from their professionalism, enthusiasm, and talent. They truly were everything I was hoping for and them some!

Brenda

Married on 11/25/2017

All of our guests told us that K2 was the absolutely best band that they had ever heard at a wedding! The sound was fabulous, the song mix great and the singers terrific. Chris Cole, the manager, was fun to work with and responsive. You will have so much fun with K2 providing your wedding reception music!

Allison

Married on 10/14/2017

I cannot say enough positive things about KB3! They truly made our wedding the most fun wedding our guests have ever been to. The talent and energy they bring to their performance is unbelievable. I am still getting calls and messages from our guests asking where we found the "best wedding band EVER!" Our wedding would not have been the same without them. The dance floor was packed the whole night! Our hearts are so full and we owe so much of that to them!! The whole band was so gracious and made us feel so comfortable with our choice from day one. When we decided a few weeks before our wedding to add ceremony and cocktail hour music, they were flexible and willing to help out anywhere we needed. This band makes a huge effort to connect with the couple and made us feel so cared for. We want to do it all over again!

Kelsey

Married on 09/30/2017

There energy and song choice were amazing! Everyone including myself and my husband had an amazing time with them.

Courtney

Married on 09/16/2017

KB3 was unbelievable. Not only are they incredibly talented, but they are so flexible. Jim was such a doll and was so focused on making sure the timeline of events as well as the playlist were exactly perfect. And it was! I know I'm biased but my wedding was seriously next level. Months later, it's still the talk of the town. People cannot get over how much it fun it was and how off the charts KB3 was. My husband and went to a bunch of band showcases in Boston and KB3 was so far and above anyone else we saw (and a better price!). We were so thrilled with them and would recommend them to anyone!

Nick

Married on 09/02/2017

KB3 is amazing. They were our wedding band and literally knocked it out of the park -- I've heard from so many guests how our band crushed it. It felt like having Mariah Carey and Michael Jackson (a better looking version of Michael) duet on your dance floor. Everyone would be dancing and then you'd look to your right and the lead singers were there with us on the dance floor dancing and singing, letting people sing the choruses with them, and keeping the energy up. We would use them again in a heartbeat. They had the whole place rocking and had everyone up and dancing all evening. Jim the drummer is the man and so easy to work with and Catherine and Reggie the two lead singers made it such an awesome night!

Lauren

Married on 08/27/2017

AMAZING! Kahootz was worth every penny! We first heard them at a friend's wedding 3 years ago and immediately said we would book them for our own someday--- And we did the same week we booked our venue. Chris and the band were so easy to work with from the start. From learning our first dance song to making my new husband sing (not well but hilarious) at the end of the night, every one of them is so talented. They had the dance floor full all night. We did not want them to end! We cannot express the happiness we both felt on our wedding night knowing we have the absolute BEST entertainment around! Thank you! -Lauren & Brendan Doherty (8/27/17)

Gina

Married on 08/26/2017

Kahootz performed at our wedding in August 2017. They were fantastic and kept people dancing all night. Of the entire wedding, our guests commented about the quality of the band the most. They were amazing!

Tess

Married on 07/22/2017

Hiring Kahootz to play at our wedding in July was by far the best decision we could have made. The band is absolutely incredible, and they made our wedding so unforgettable. They are unbelievably talented, and are so skilled at getting people on the dance floor and keeping them there. Music was very important to us for our wedding, and we could not have been happier with Kahootz. Also, Chris Coles, who performs with the band and manages, was the nicest, easiest person to work with. He was so responsive, and made the planning process absolutely seamless and stress free. The band completely blew us away at the wedding, and our guests are still raving about how incredible they were. The dance floor was packed the entire night, which made us so happy and still puts a smile on our face thinking about it. If you want to make sure your wedding feels like an amazing party where people are having the time of their lives, hire Kahootz immediately!

Katie

Married on 07/08/2017

The rumors are true… Kahootz is literally the best wedding band EVER (not just in Boston). My now husband and I have been to enough weddings to know that what makes a fun party are the guests and a phenomenal band. We wanted our guests to dance and sing all night long and that's exactly what happened. Kahootz brought so much spirit and energy to our reception (held at the Boston Public Library), playing an incredible range of music that brought all the generations out on the dance floor at once. Not only can they play a huge range of music (soul, motown, hip hop, rock) but they can emcee your event and work the crowd at the same time. In the middle of the dance floor, at the height of the reception, numerous friends and family would stop me to exclaim how much they loved the band.

In addition to their amazing performance, it was also a pleasure to work with Chris Cole, the band manager. He was very responsive over email and asked great questions to help focus in on what we wanted for our reception. The band learned two new songs for us, including our first dance, and let us choose the music to accompany everything from our introduction and cake cutting to the last dances.

We are so happy we hired Kahootz. If you want a band, and a party that people will not stop talking about, hire Kahootz now!!!


Jenny

Married on 06/24/2017

KB3 was hands down the best wedding band we have ever heard. Lucky for us they performed at our wedding! I have sent their information to a number of people in the Boston/Maine area, and so many more guests wanted to let us know that KB3 took our wedding to epic levels.

They had everyone on the dance floor the entire night, from kids to grandparents. Also the song list was perfection- they can legit play anything. They learned a Zac Brown Band/country song for our father daughter dance, and then a Freddie Scott/r&b;Soul song for our first dance as husband and wife. The fact that they nailed two newly learned songs from different genres speaks for itself. Motown, pop, rock, soul-whatever you want they will provide. Super organized, on point, kind, I recommend to anyone looking for a bomb wedding. They were, in one word, perfect.

Jenna

Married on 06/17/2017

We hired KAHOOTZ for our wedding and couldn't be happier we did. I listened to basically every band in Boston before hiring them, and what really set them apart was 1) amazing interaction with guests and 2) STELLAR lead singers (you feel like you're at a professional concert). They had our whole wedding party up and dancing the whole night. In our wedding photos you see the band members out on the dance floor interacting with guests and passing around the mic -- how fun is that??! THANK YOU KAHOOTZ you're amazing.

Dave

Married on 06/10/2017

Other than the venue, the band was our biggest priority during wedding planning & Kahootz did not disappoint. From 100% creating the vibe we wanted, to nailing a few song requests (some of which were learned the week before the wedding), to showing up to our after party to return a guest's lost cell phone, Kahootz was simply incredible. We're almost 2 months post wedding & our guests are still taking about the band & the insane party on the dance floor the entire evening. I would highly recommend Kahootz to anyone in search of a wedding band.

Tiffany

Married on 10/22/2016

I have worked in events for over 17 years. Mostly, I have worked on Cape Cod but I have worked across the country. So, when it came time to plan my own wedding I knew which vendors I wanted. Kahootz has always been my favorite band out of all the bands I have seen over the years. They are worth every penny and more! I have worked hundreds of weddings and it was the first time I have ever seen people dance before salads were even served. They engage the whole audience and everyone had so much fun. People are still calling me to tell me how fabulous our wedding was! Thank you Kahootz!!!

Pete J.

Married on 10/09/2016

Just a quick note to thank you for a phenonmenal performance by K2 at our reception on 10/9. Comments from our guests included, "the best band I have ever seen," "that band kicked ass!" and "best wedding we have ever been too!" A heartfelt thank you from Jenna and I for your professionalism and being the best at what you do. It truly was a memorable night for everyone!





Are you interested?
Send a message