Reviews
5.0 out of 5 rating
Quality of service

5 out of 5 rating

Average response time

5 out of 5 rating

Professionalism

5 out of 5 rating

Value

4.9 out of 5 rating

Flexibility

5 out of 5 rating
99%
Recommended by couples
40 User photos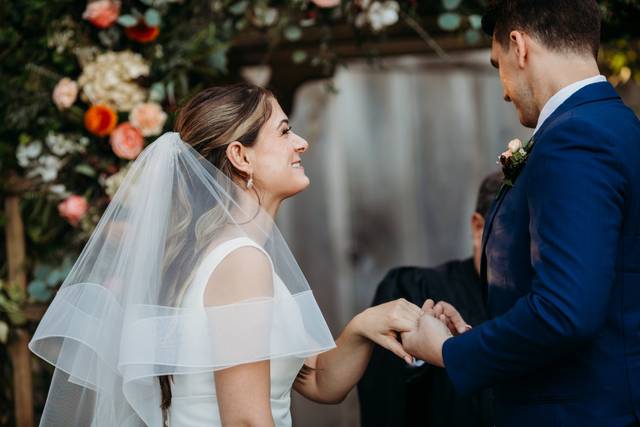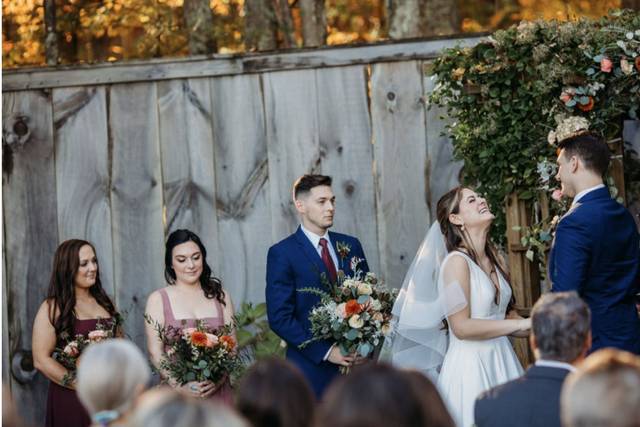 + 36

photos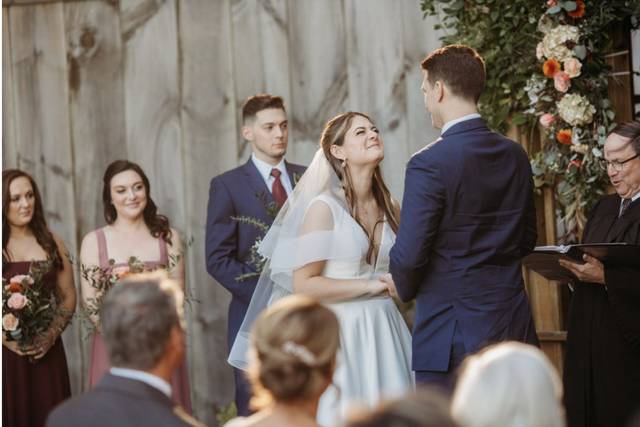 Natalie P.

Married on 09/30/2023

Helped make a personalized ceremony

When my now husband and I set about finding an officiant, we knew we did not want to write our own vows, and we worried how we would fill a 30 minute ceremony block. Fortunately for us, Mike has a binder full of options from different vows, declarations, and special ceremonies. We performed one of the special ceremonies, and it was met with great response from our parents (to whom the ceremony was aimed toward) as well as from our guests. With the input he obtained from both of us, we were able to develop a unique ceremony (that definitely filled our 30 minutes).

David C.

Married on 09/08/2023

Wedding Officiation Done Right!

We recently worked with Mike to be the officiant for our wedding and we can't thank him enough for his services. Mike is professional, prompt, responsive and extremely detail oriented which is everything we were looking for. And we can't forget to mention Mike's positive attitude and sense of humor that were a nice touch during our ceremony! One thing we loved in particular was the ceremony binder that Mike gives to each client to truly customize their ceremony. Great experience and highly recommend.

David C.

Married on 07/19/2023

Wonderful ceremony and overall experience.

Mike was excellent. He was professional, respectful, and genuinely happy to be there and added to our ceremony. We recommend him without reservation!

Are you interested?

Send a message

Michael T.

Married on 06/11/2023

Great Experience with Mike

Mike was a great officiant and brought a great balance of formality and levity on our wedding day. He was extremely thorough in explaining the process, and flexible as we made last minute updates to our vows. I would recommend Mike to any couples looking for an officiant in the area.

Keshi

Married on 06/10/2023

Justice of the Peace

My husband and I were looking for an officiant who was funny and reliable for our wedding. The reviews for Mike Backer were so positive and we couldn't have thought of another person to unite us on our special day. He is friendly, approachable and very efficient with communication during the planning process. Indeed he was very funny made every one at the occasion feel very part of it and maintained professionalism. I would highly recommend his services if you are looking for the best officiant in town.

Rebecca R.

Married on 06/10/2023

Highly Recommend

We had the pleasure of working with Mike as the officiant for our wedding ceremony, and I cannot express how grateful we are to have had him be a part of our special day. Throughout the planning process, Mike took the time to get to know us as a couple and provided us with a binder of ways to structure and customize the ceremony while also respecting our vision for the ceremony. Mike is very knowledgeable and helped organize our wedding party while providing tips and suggestions in a lighthearted way during the rehearsal. This attention to detail transferred to a beautiful ceremony on our wedding day. Thank you, Mike!

Sophia B.

Married on 10/15/2022

Highly recommend!

Michael Backer made our wedding day and rehearsal dinner so special. He personalizes your ceremony to fit your needs! He provides each couple with a binder that helps you through the whole process. He even sends questions to the bride and groom separately to personalize your vows and surprise the bride and groom. He made the ceremony funny, sweet, and took away all my nerves. Thank you so much Mike!!

+ 2

photos

Kirstin V.

Married on 09/14/2022

Wedding of Our Dreams!

I can't express what an absolute joy it was to work with Mike on our special day! My husband and I had somewhat of an unconventional picture in mind for our "night rock and roll" wedding, including torches, firelight, and a ceremony littered with lyrics from my husband's favorite musicians. Mike was 100% accommodating, and gave a truly personal feel to our night. We did not want a stuffy, serious ceremony, and Mike brought the laughter we hoped for. He was even kind enough to stay for part of our reception and socialize with us! He was everything we could have hoped for, and more! Don't hesitate, call him right away!

Katie B.

Married on 09/03/2022

Beautiful Wedding at the Encore Boston

Mike officiated our ceremony at the Encore Boston Harbor. We live in Texas, so we weren't able to meet with Mike in person before the wedding, but he made everything seamless. He was flexible when we needed to move the ceremony start time and his customized ceremony was funny and thoughtful. Everything was perfect and I'd highly recommend Mike's services.

Lisa G.

Married on 08/28/2022

From the moment we met...

I'm not kidding when I say all other JP's have huge shoes to fill! Michael was exceptional. From the moment we first met him we knew he was "the one". He was professional, humorous, thoughtful, experienced. He took the time to really listen to our expectations for our ceremony and offered great advice and ideas that truly made our ceremony unique and special. He cares a lot about his clients and even go's as far as having them fill out a couple questionnaire to get to know each individual. I love how Michael incorporates that into the ceremony leaving an element of surprise and laughter for the bride, groom and the guests. He makes you feel comfortable and helps take the nerves out of the moment. We felt like we had a family member marry us! We even had people come up to us and ask who married us because they wanted them for their own weddings!

Thank you so much Michael for making our day so special! The Pascasio' s

Yiming Z.

Married on 08/20/2022

Michael is great!

We really enjoyed working with Michael since our first phone call with him. Michael is professional, responsive, and very patient with our questions throughout the wedding process. What I appreciate the most is everything is well-organized when working with Michael. He has a blinder to help us build our own ceremony, and questionnaires to learn about us and our stories. Michael also took care of filing the marriage license so we don't have to worry about it, and we received our marriage certificate after we came back from our honeymoon.

Though I already knew the outline before the ceremony because Michael sent us the draft, I was still impressed during the wedding that Michael filled tons of details and good wishes to us based on the questionnaires.

We're very thankful to have Michael officiate our wedding. Our wedding ceremony is perfect and full of great memories, and it couldn't happen without Michael!

Jessica S.

Married on 08/13/2022

Look no further

There are a lot of choices out there for officiants. But if you want someone who is down to earth, funny, professional, organized and a pleasure to work with, then go with Mike Backer. My husband and I wanted to find someone that would work with us on creating an individualized ceremony. We wanted a ceremony that would capture who we are as individuals and a couple and would truly reflect our relationship. Mike made crafting our ceremony a breeze. After meeting with us and having us fill out questionnaires, he was able to create a ceremony that spoke to who we are as a couple. Family and friends commented after the ceremony how much they liked the ceremony and how they felt it captured us. I am pleased we went with Mike as our officiant. We would recommend him to any couple looking for a Justice of the Peace for their upcoming nuptials.

Rachel B.

Married on 07/24/2022

Wonderful Officiant

Mike is a warm, friendly, and experienced officiant. He has done this many times before, and it shows. From our first contact, he was extremely responsive. He met with us in person to make sure that he was the right fit for what we were looking for. He gave us a huge binder of options for the ceremony, which made it so easy to choose how we wanted it to go! On the day of, he made our ceremony incredibly personal and added so many nice touches and funny stories. He had everyone laughing, which is exactly the vibe we were going for. Mike was great every step of the way, and I highly recommend him!

Don A.

Married on 07/22/2022

Outstanding!

Michael exceeded our expectations. We loved his sense of humor, his dedication and professionalism. The way he conducted the ceremony was very touching and delightful. He is very accommodating and easy to work with. We highly recommend him. You will not be disappointed. Thank you Mike for making our day pleasantly memorable.

Ashlee V.

Married on 07/08/2022

Amazing experience!

Mike Backer officiated our wedding ceremony and did a tremendous job. He went above and beyond to perfectly capture us and make the ceremony special, personalized, and even brought some laughter into the mix. My husband and I could not be happier with having chosen Michael for our day and would recommend him to all engaged couples looking for 'just the right' justice of the peace!

Mary G.

Married on 06/26/2022

Amazing!!!

We met Mike the year before our wedding at another couples wedding. We instantly fell in love with his style. He brings life to the ceremony. Very fun and personable. We hope he isn't booked June 26, 2032 so he can renew our vows! Would highly recommend to anyone worried about "the right" person to marry you.

Jill B.

Married on 06/18/2022

Mike was amazing!

We are so happy we went with Mike as our officiant! We met with him prior to ensure he would be a good fit. I knew right away how much care and detail he put into each individual wedding. Everything is customizable and the process was so smooth. He even sent us drafts and different readings to choose from to make sure we were happy the day of. He exceeded our expectations!

Sarah V.

Married on 06/11/2022

Excellent and Personal

Mike was absolutely fantastic to work with. He knows what he is doing and helps you out along the way. His binder was full of options for us to customize exactly what we wanted for our ceremony while adding in a ton of personal touches. Mike was easy going and added a touch of humor. The ceremony was great and our friends and family enjoyed Mike as well!

Alireza V.

Married on 05/15/2022

Highly recommended

Mike has been a pleasure to work with. He was responsive and calm and helped us a great deal with planning the ceremony. He meticulously reviewed our requests and developed a unique text for our wedding ceremony.

Lauren S.

Married on 05/06/2022

Perfect JP for us!

Mike couldn't have made our experience any better or easier. From the first time we spoke to Mike over FaceTime, his sincerity and passion for what he does came through, as well as his good humour! Mike provided us with a huge binder full of many options to suit all needs based upon your ceremony type, religious beliefs or any other possibilities you may have. Due to being located in the UK, we didn't get to meet Mike until after our decision was made to have him as our officiant however there was constant contact and Mike never left us guessing if we had questions as his email contact was great and he always gave quick responses. Quite late on, we realised we were able to have a rehearsal at our venue the day before the wedding and Mike made sure he was available and was there to give us a full run down on what to do and what to expect. This was great as it's a nerve-wracking enough day as it is so with a rehearsal down and the finer details explained, it made the day itself more enjoyable. Guests had nothing but good things to say about Mike and he truly did make the ceremony memorable.

Mikki

Married on 03/26/2022

Great officiant for my wedding ceremony!

Mike recently officiated my wedding ceremony. He was very professional and communicated with us before hand so we knew what to expect the day of, which was super helpful. Overall, it was a beautiful ceremony. I highly recommend Mike!

Makela

Married on 11/12/2021

Our wedding day

Personable, professional, and just an awesome guy! Mike made everything super easy and organized! Great communication the entire time, super personal and stress free!!! Also have the perfect balance of serious and funny during our ceremony! Kept our guests engaged!

Carolyn W.

Married on 10/24/2021

Michael Backer is the BEST.

A true professional. We knew when we first spoke with Michael that he would be perfect for our wedding ceremony and I'm so happy to say he exceeded our expectations! Our wedding date changed 3 times due to COVID and Michael pivoted with us even with a change of venue and went above and beyond. His planning guides are so helpful and he made thoughtful suggestions that resulted in such a meaningful ceremony that we'll remember forever. During the rehearsal the morning of the wedding, Michael put our minds at ease and walked through every step of the ceremony and gave great direction. Michael spoke clearly and has a great sense of humor and even got my dog, the ring bearer, involved which could have been tricky but worked out perfectly! Our friends and family were very complimentary of how he conducted the ceremony. Thank you for being such an important part of our wedding day – we're so grateful!

Melissa T.

Married on 10/10/2021

Amazing experience

My husband and I are thrilled to have worked with Mike on our wedding! We got married in October during the height of the pandemic, and Mike was the easiest person to work with during a very stressful process. He was patient and flexible as we changed our plans from a Boston ceremony at night to a back yard ceremony during the day. He listened to what we wanted and made thoughtful/knowledgeable recommendations when we needed them. Our ceremony turned out so special and personal. We highly recommend Mike!

Stephanie P.

Married on 10/02/2021

Excellent JP!

Mike was great, thorough and made us feel comfortable throughout the process. He personalized the ceremony adding a really nice touch and had some suggestions and recommendations to include in our ceremony and paperwork that we will cherish forever. My family really enjoyed his company and sense of humor as well! Thank you for everything!
Are you interested?
Send a message