773 Reviews
Recommended by 95% of couples
Quality of service

4.8 out of 5 rating

Average response time

4.7 out of 5 rating

Professionalism

4.8 out of 5 rating

Value

4.8 out of 5 rating

Flexibility

4.8 out of 5 rating
198 User photos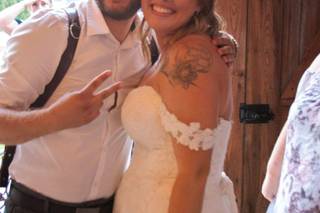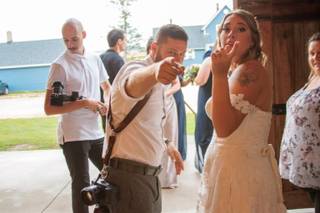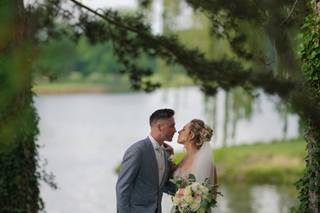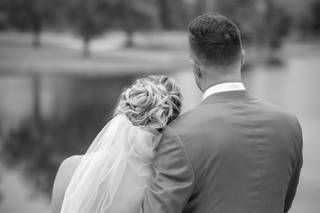 + 194

photos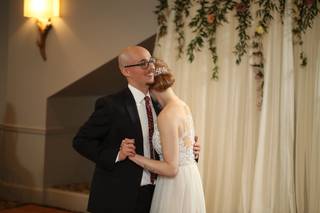 Kristy

Married on 11/11/2022

Maksum was a dream to work with!!

Loved our photographer Maksum for our wedding!!! He busted his butt to get every picture and angle and we can't wait to see our final pics!! He made the day so easy and the preview pics he showed us are amazing!

Kayle P.

Married on 10/22/2022

Great experience!

We had Maxsym? As our photographer and he was absolutely amazing! He interacted with us and was just so excited to do his job! Everyone at the reception kept saying how on top of it he was. I will recommend Jolie images EXPECIALLY Max. He truly was an asset to to our wedding and I can't wait to get the photos back!

Emily L.

Married on 10/15/2022

Amazing! 10/10

I highly recommend using them for your wedding!! Jolie Images is super professional and their photographers do AMAZING work!! Our photographer was prompt, had fun with us and was extremely flexible! We made a schedule but things happen and we were running late, but he was able to adjust quickly and everything ended up working out! The quality of the photos he took were outstanding. I was crying and reliving the moment looking through our photos. Our first photographer we were going to go with backed out last minute, like a few days before. And they were able to save the day and had a photographer available last minute. They say everything happens for a reason and I am truly grateful for Jolie Images and our photographer.

Are you interested?

Send a message

Kimberly

Married on 10/15/2022

Best photographer we could have ever hoped for!

I can not say enough amazing things about our photographer from Jolie Images Sergiy Byalyk! Sergiy was the best photographer for one of the most important days of our lives! His professionalism and creative talent was beyond our expectations! He respected our ideas of photographs we wanted. He was so easy to work with and helped make everyone feel so comfortable and at ease. Everything went so smooth and effortlessly. I truly can not express how talented, professional and amazing Sergiy was. We are so grateful and lucky to have had h for our photographer. I'd HIGHLY recommend him to anyone planning their wedding! You will NOT regret it I promise!

Gail S.

Married on 10/08/2022

Awesome Photographer

We had the joy of having Tony from Jolie Images as our wedding photographer. From the moment we talked on the phone, I knew he was going to do a great job for us. He was wonderful! He got all the shots we requested. He made some suggestions as well that we loved. He felt like part of the family. He was so polite, kind to everyone and very accommodating. I highly recommend Tony if you are getting married. He will make your wedding an experience you will never forget!

Alexa N.

Married on 09/17/2022

Yes yes and everything yes

Jolie Images sent Sergiy for my Wedding on 9/17 and let me tell you!!!! He's absolutely amazing! Everyone of the guest notice how good he was and asked who he works for. I got little sneak peaks throughout the day and I CANNOT wait to see them all, He's literally fantastic! Personality wise he fit right in. People didn't believe we met for the 1st time at the wedding. 100% 5 stars loved him and his work!!

Alexandria E.

Married on 07/23/2022

Fantastic!!!!!!

Sergio Nastenko was our photographer from jolie images and he was amazing! He was very patient with us and his photos were brilliant! I 100% recommend! He took average items like jewelry and flowers and captured a beautiful moment! So thankful for him and his art of photography!

Alyssa G.

Married on 07/23/2022

Incredibly happy!!

I cannot be more happy about the photographer I received. My wedding was july 23rd 22. Our photographer was Greg and he was absolutely amazing so Friendly so talkative he's a comedian my guest Were so happy. Our guests could not stop talking about him and how attended he was to his job. He made my guest feel comfortable! Greg was the best photographer I have ever had and I have had plenty! I can't say thank you enough. But thank you Greg, and Jolie images!!!❤️

Raymond K.

Married on 07/10/2022

Captured the best parts of our big day!

Jolie was very responsive to our initial request and we quickly were able to book and finalize the scheduling. We had the very talented Maks as our photographer on the big day. He was incredible and captured the best moments of our day. We are so thankful for the photos and we are putting together an album of our favorites. It was so important to us to have meaningful photos of the wedding, and Maks definitely captured the real emotion of our day.

Desiree

Married on 07/02/2022

Claudia was great I loved her personality and would highly recommend Jolie. The staff there was always nice and they have reasonable packages.

Dan M.

Married on 07/01/2022

Ask for Max for your wedding photographer!

We used Jolie images photography for our wedding, and they sent Max as the photographer.
They were easy enough to work with by email for contract services. No issues with that.
Max called us the week of the ceremony and worked out what details we wanted covered.
He showed up on time and was beyond helpful! He was great from the start, with his attitude, suggestions, energy! He turned what was probably going to be a standard documented(photographed) wedding into an extraordinary night!! We can not say enough great things about Max, the wedding party and the guests loved how he got them involved in photos along with his patience was excellent. Max took countless great photos with ideas he set up - We can't wait to see how many great photos were snapped.
Max was an 11 on a scale to 10.

Ashley M.

Married on 06/18/2022

The best photography team!

Our Photographer Felipe from Jolie Images was the most wonderful photographer to work with. I gave some requests for some pictures prior to our wedding, and he took charge and had an eye for the most beautiful settings. Felipe was kind, courteous, personable and the most gracious. Where there was a sweet moment, he was there to capture the memory. I've never seen someone run around as much and as fast as Felipe. I appreciate how quick he was to capture a moment, yet he always stayed out of site so my guests could enjoy the moment as well.
Jolie Images as a company were the best to work with. Any questions that I called or emailed in, the staff was quick to respond.
I received an invite before my wedding that I can share with family and friends for those who would also like to view and/or purchase our pictures from our wedding, I thought that was just so sweet and it takes me out as the middle man to take requests for family.
The cost for our package was by far the most affordable I could find anywhere else. What a deal! And to know how far our photographer traveled for our wedding, I was so happy they serviced my area.

I cant rave enough about Jolie Images.

THANK YOU JOLIE IMAGES FOR CAPTURING THE BEST DAY OF MY LIFE!

Maggie D.

Married on 06/11/2022

Maks was amazing!

We felt so lucky to have Maks as our photographer on our wedding June 11, 2022. He had great energy! Everyone loved him but most importantly he made us feel comfortable and we love our photos. Highly recommend Maks!

Katherine

Married on 06/11/2022

Absolutely AMAZING!!!!

Our photographer Sergiy was everything you could ever ask for during your wedding day! He has an amazing eye for the best wedding shots and was super fun to be with! His creativity, great energy, and go-with-the-flow vibe added the perfect touch to our day!

Jeremy M.

Married on 06/05/2022

Experienced photographer with great input!

Daniel was excellent to work with, and his experience shows in his work. The photos he helped us take were fun and thoughtful with his guidance. During our reception, Daniel was ready at all times for requests and also took photos of many great candid moments. Would recommend for anyone's wedding!

Nena V.

Married on 05/22/2022

Totally reccomend!

We had Ramona as our photographer ans she was wonderful! We are so excited and cannot wait to get our photos back!

Steph P.

Married on 05/06/2022

Daniel is amazing

I'm still waiting for a refund on my photo booth that arrived 3 hours late but nevermind that… Daniel the photographer is an absolute angel! He spent the entire day with us and kept the energy positive and kept us laughing. He actually went above and beyond when it came to everything that day… from pinning my veil to pinning boutonnières on the men. He set us up for what I hope will be amazing shots (haven't seen em yet) and he offered to run to the car and set things up because it was raining and all of us girls had freshly done hair and makeup. Everyone that encountered him that day has raved about how awesome he was.
The photo booth arrived 3 hours late and we only got to use it for 3 hours. I'm not sure if that falls on jolie images or not but they did offer half a refund back for the delay.

Sarah

Married on 03/19/2022

So glad we went with Jolie Images!

Photography for our wedding was, believe it or not, a bit lower on the priority list for my husband and I. We wanted the photos to be simple and high quality, but we didn't want a million of them, we didn't want to go around to a bunch of locations, and we really needed them to be affordable. When I came across Jolie Images and looked through their wedding packages, I thought it was too good to be true. IT WASN'T! I reached out and spoke with Jovan, who was our point person for mostly everything, and he was so fantastic. Probably the most responsive person I've ever interacted with. I could tell we were in good hands right away. Something that I wasn't expecting was just the process of being paired with a photographer: You will get a link (I believe this happened after we put down the deposit for the package but I honestly don't remember) with portfolios for all of the photographers, and then you give Jovan a list of your top 5. A few weeks before your wedding, you'll find out who your photographer is (they guarantee it's someone from the list), and then you communicate with them directly about 5 days before the event. This was a little bit nerve-wracking, however it worked out completely fine and if you have any questions along the way Jovan is so knowledgeable. We were paired with Daniel. My first thoughts when we spoke were "what a goofy guy!", and I definitely was right. He has a wonderful personality, and makes you feel very comfortable and relaxed every step of the way. He was great and guiding the bridal party and family photos to keep things moving along and make sure everyone knew what they were doing. When the reception came, he basically faded into the background, but I know he was there capturing so many wonderful moments because our photos are SO wonderful. We are blown away with how well they turned out. We are SO glad we went with Jolie Images, and even more grateful to have had Daniel as our photographer!

+ 5

photos

Bill W.

Married on 01/15/2022

Our photographer was beyond amazing! He was professional and knew his stuff, but also personable and helped us in so many ways beyond taking pictures.

Was flawless experience from beginning to end. Great communication prior to the wedding and our photographer went way above and beyond.

Sarah B.

Married on 01/09/2022

Picture Perfect Day!

Choosing your wedding photographer is not an easy
decision. We selected Wes Craft and could not be happier! Wes is professional, personable and has an amazing eye behind the lens. He has a great energy and makes you feel at ease every step of the way. He is extremely responsive and detail oriented. He took so much time with us on the phone prior to our big day, discussing our visions for the day. He created and followed a detailed schedule for the event so that he was able to capture every special moment. During the wedding and ceremony, he captured so many beautiful shots both formal and candid. Many guests commented about what a great photographer he was! Post wedding, Wes talked us through all of the album options and was so thorough in his explanations. With SO many beautiful photos to choose from, it was a daunting task! But Wes helped us design the most beautiful wedding album, that almost reads like a book, telling the story of our treasured wedding day. We cannot recommend Wes Craft photography highly enough-what an absolute pro!


Erin E.

Married on 12/17/2021

Amazing Photographer/Great Company to work with

We hired our photographer through Jolie Images. Our photographers name was Maks. He so fun, professional and knowledgeable for all the great shots we took for our special day. He was always where we wanted him to be at all times and was honestly just a joy to work with. My whole wedding party and family loved him. I got some sneak peek shots from Jolie Images consultant Nicole. She did a great job editing and also coordinating all schedules/timelines for photography/videography and everything else wedding with me to be on point for the day. She was such a huge help in the process. I highly suggest Jolie Images to any couple as you will be satisfied on all ends of the spectrum. What a perfect day!

They were wonderful! They took some amazing pictures!

Tori F.

Married on 10/17/2021

Great company and photographer

Sergio Nastenko was our wedding photographer and he did a fantastic job. He was very attentive to me (the bride), making sure we got every shot that I wanted. The photos turned out so great, very natural like I wanted. 10/10 would recommend!

Emmanuel

Married on 10/10/2021

Excellent photography

Sergio was our photographer and he was both professional and a delight to work with. His personality is excellent and is an artist with the camera 10/10

Fiona C.

Married on 10/09/2021

Sergio is a true artist who captures the magic on your wedding day!

The most reasonably priced photography and videography packages available without sacrificing quality.

We did the 10 hour package and that was plenty. You don't need a photographer capturing the ENTIRE reception in my opinion. They offer a number of upgrades and packages which you can upgrade at any time.

The staff, Jovan and Nicole, are very responsive and transparent. They are super efficient and good at their jobs. No complaints!

We looked out, we got our top pick and he was fabulous, Sergio (SN). He was on time to each of the stops and very professional bringing with him plenty of supplies (extra batteries, different lenses, etc). He worked really well with the videographer (also from Jolie) and was able to give instructions to us for the posed shots and use his creative side for the candid ones. I recommend getting that shot list together beforehand and providing it to photographer, it was really helpful.

We got married on October 9 and had our pictures on October 26 or 27th. I was in shock! The pictures are beautiful and I couldn't be happier. Definitely recommend for your wedding!
Are you interested?
Send a message