95 Reviews
Recommended by 100% of couples
Quality of service

5 out of 5 rating

Average response time

5 out of 5 rating

Professionalism

5 out of 5 rating

Value

5 out of 5 rating

Flexibility

5 out of 5 rating
17 User photos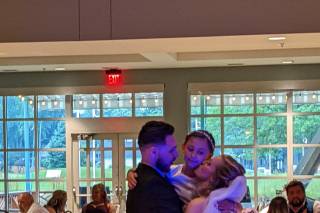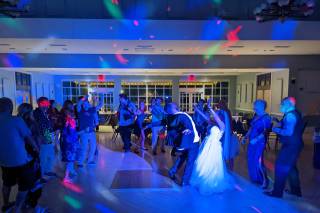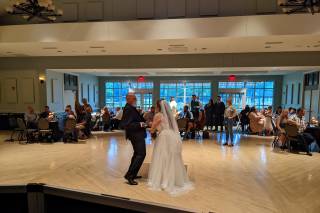 + 13

photos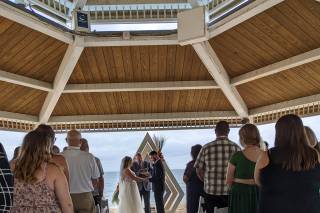 Leah M.

Married on 10/29/2022

A DJ, Wedding Planning Helper, and Family Friend All-in-One

We simply don't have enough space in this review to mention all of the wonderful things about working with John! He was our absolute favorite vendor to work with for our wedding. We knew we didn't want a flashy DJ with a "production-company" vibe, we didn't want to break the bank, and we wanted our wedding music to reflect who we are as a couple. DJ John completely delivered on all of these things! He was incredibly responsive throughout the process (which can often be hard to find in a wedding vendor) and was very accommodating of our music desires for the evening (including our reception playlist and a specific starting point in the song for the bride processional). He was not only a terrific DJ on the night of our wedding by keeping the dance floor lively, but he was also an excellent emcee and did a wonderful job of interacting with the crowd for things such as shuttle announcements and interviewing the "winners" of our anniversary dance. He even went above and beyond in his role as a DJ by providing recommendations of other vendors in the area during the wedding planning process and even carrying the dinner plate for one of our guests with a disability from the buffet table to his guest table. We received endless compliments from our guests about DJ John and feel so lucky to have gotten to work with the best DJ in Southwest Michigan (and, I'd argue, the entire Midwest!). He will forever be one of the greatest choices we made about our wedding day!

Jared M.

Married on 10/21/2022

Amazing and Simple

We can't say enough great things about John! The amount of value he provided to our day exceeded our expectations. From the start, John was very quick to respond and answer any and all of our questions. Leading up to the wedding, he had a simple questionnaire for information he needed and provided clips of all our special songs to ensure he had the correct version of each song. The day of our wedding was seamless and John was a big part in timing of our events. He'd check-in with us to see if we needed anything and give us timing reminders of what was upcoming.

He was also super flexible. The playlist we originally provided for dancing wasn't playing out as we expected and John was able to switch up the music on the spot to keep the dance floor full all night. We can't thank John enough for the professionalism, value and flexibility. He is an awesome DJ and great person! Thank you for making our day and night amazing!!

Meghan M.

Married on 10/09/2022

Exceptional Service

John was readily available and would get back to us quickly. He was attentive during the wedding and we are happy to have shared our special day with him.

Are you interested?

Send a message

Wanda R.

Married on 10/08/2022

Helpful, FUN and Amazing DJ

John was amazing on our and before our wedding day! He made sure to address all our concerns and needs and made sure we had a blast on our wedding day! He also went above and beyond to make sure we were always doing ok and seeing if we needed anything else.

Ian A.

Married on 10/02/2022

Wedding was a very fun and smooth experience with John!

John was very professional and communicative from the start of hiring him. His service was uniquely affordable in our area. During the wedding he was on top of not just the music but all important transitions as well. I felt confident everything was going exactly as it should. A good DJ like John seems to make this kind of thing happen in addition to assembling the music wanted.

Gina G.

Married on 09/30/2022

High quality service at a very reasonable cost!

DJ John is the BEST! He communicated quickly and effectively from the first day I inquired about his services. My now hubby and I choose special songs and John confirmed our selections by sending clips ahead of time. He made sure everything ran smoothly the day of our wedding! He had tissue on hand at all times & made sure our champagne glasses were full! John is professional, thoughtful, and detail oriented. I can't believe we booked such an amazing DJ at a VERY reasonable price. We did not provide a playlist & he kept the dance floor popping all night. HIGHLY HIGHLY suggest booking DJ John for your wedding needs! We couldn't have asked for a better experience.

Kendall

Married on 08/28/2022

John is the DJ you are looking for

John is professional, thorough, reliable, and goes above and beyond to make sure everything runs smoothly. He always was quick to respond and maintained great communication the entire time. We recommend John 10/10!

Brandon

Married on 08/27/2022

John is brilliantly accommodating and experienced

John's attention to details helped us relax on the wedding day. He worked well with facilities and other vendors. Both his MC and DJ experience really showed during the transition times in the ceremony and reception. He did a lot of extra things that made us love having him there; simple things like having extra water bottles available after the first look, or grabbing drinks for the bride and groom after their entrance.

Jodi C.

Married on 08/20/2022

Highly recommend!

John did a wonderful job as our DJ in August. He had great communication with us prior to the wedding, he was always VERY quick to respond and made sure he had every detail exactly right. Day of he arrived early and worked to set up indoors and outdoors. He did a fantastic job keeping the dance floor going and played just the right mix of variety for us. He is very reasonably priced for his skill and the amount of effort he puts in! Would 100% recommend!

Karen W.

Married on 07/16/2022

Amazing DJ

John was an amazing dj! He made our night so special. He goes above and beyond when other djs may not. He is very reasonable on his pricing. John was very professional and did absolutely everything to make sure our night was perfect. I would 100% use him again! Thank you John

Elizabeth S.

Married on 07/15/2022

Our wedding wouldn't have been the same without John!

John was our DJ for our wedding last night. He was amazing! He was super easy to get in touch with right from the beginning, responded within a few hours at most. He was very thorough and called to confirm all of our requests a week prior to the wedding. He also sent clips of all the key songs to make sure they were the correct versions.
The night of our wedding, John was on time fully prepared. He didn't rush things but kept them moving as needed. He continued to confirm things throughout the night before hand (like checking to make sure he had the correct songs cued up for certain dances). He took pictures for us, he got us drinks from the bar during dinner, and he even had cough drops for me when my throat started getting sore from all the talking and singing!
We could not have been happier with our choice to have John as our DJ!
100% recommend for any special event!

*side note: for our reception we paid $885 but John also handled the music for our ceremony at a separate location which we paid an additional $185 for and it was worth every penny.

+ 6

photos

Alek S.

Married on 05/29/2022

Above & Beyond DJ Wedding Service

John Corell went above and beyond the call of duty as our DJ. Not only did he have all the songs we asked for, but he also arrived early, and proactively checked in with us as well as with the planners throughout the day to ensure everyone was doing well and things were proceeding as scheduled.

He kept the ship running the whole day, ensuring great audio and smooth transitions between ceremony, toasts, and the first dance, without a single hiccup. Thanks to his professionalism and accessibility, we had a flawless wedding service at a competitive price.

Sheryl

Married on 05/04/2022

Classy and Professional!

John was a class act as the D. J. for my son's wedding reception! He was extremely thorough in preparation ahead of the event, gave us extensive resources and input to assist with planning, and worked seamlessly with our wedding planner the night of the wedding to ensure the event went off beautifully.

From moving the schedule around to accommodate last minute changes, to being our announcer for all the transitions, John took the worry and stress away and allowed us all to relax and enjoy the reception.

Molly M.

Married on 10/30/2021

Great Dj! Goes above and beyond!

John is awesome! Very professional and made my wedding perfect 🥰

Rachael J.

Married on 10/08/2021

Fantastic, highly recommend

John made our day stress free. Our original DJ got COVID and John stepped in with 3 days before our wedding and did not miss a beat. He worked with our other vendors and made everything go seamlessly. He is timely and very professional. He kept us informed all throughout the wedding and was very flexible with his timeframe which let us run off and get some photos done. We would highly recommend him!

Taylor

Married on 10/02/2021

Phenomenal!

John was absolutely PHENOMENAL! He got so many compliments from our guests! He does not just come and set up a dj table and play music all night, he goes above ajd BEYOND! He arrive pleanty early to get himself set up and organized, he helped make mine (the bride) and other guests plates in the buffet line that needed help, he coordinated with other vendors the day of so we didnt have to stress about it, he triple checked important songs beforehand including sending a clip to make sure he had the right ones. He rolled with the last minute change of order to our bridal party line up MINUTES before the reception entrance. Most importantly he made sure we were having fun and kept the crowd dancing! I cannot speak highly enough of him! A true old fashion professional!

Grace S.

Married on 09/08/2021

John was the best!

John went above and beyond to help our wedding day go smoothly! He provided extra microphones and speakers for our ceremony, mini fans for the head table, and helped release tables for the dinner buffet.

Stacey

Married on 08/29/2021

We 10/10 Recommend Him!

Where do we begin? Choosing John for our wedding DJ was an easy choice from the beginning and that choice did not disappoint. He is not only professional, organized & highly interested in creating personalized service for his patrons, he is also just a genuine and kind person. We loved the details he included such as providing fans at our head table, helping coordinate our ceremony, seamless music & MC transitions, and even assisting elderly guests to their cars at the end of the night. He kept our guests happy dancing away all night long! He is a master of his art. He is an absolute joy to work with and would hands down be my first choice for anyone in of his services.

Taylor W.

Married on 08/28/2021

Amazingly Organized!

John was a great DJ for our wedding at Shadowland Ballroom in St. Joseph, MI! He was professional, timely, organized and most of all helped to keep everything going smoothly throughout the reception! While we were enjoying our reception with the company of our guests, John was in the background communicating with our photographer, wedding coordinator, transportation drivers, and family members to plan what was next! We truly couldn't have pulled off such an amazing reception without him. Would highly recommend to anyone getting married!

Mckenna

Married on 07/30/2021

Went above and beyond!

John went above and beyond on our wedding day to ensure it was the best day for us! He was amazing at making sure our timeline was followed and made sure that everything we needed was taken care of. He was also super helpful and responsive while we were planning the wedding. Would highly recommend!!

Brendon B.

Married on 06/26/2021

John is the Bomb Dot Com!

John was the bomb dot com! John showed professionalism and experience with his prep work and dedication to making our big day special. With all the many things to worry about before and during the wedding, the DJ service was not one of them. He had research on what other weddings were playing and took requests that were special for us. He also filled in the gaps of services that were much needed, like guiding the nights events. 10/10 would recommend.

Jacob M.

Married on 06/04/2021

Excellent DJ, goes above and beyond

John was a pleasure to work with throughout our entire wedding planning process and was always extremely professional and quick to respond. He is very attentive and ALWAYS gets back to you within 24 hours (usually within an hour or two). When you hire John, you get more than just a DJ since he essentially acts as a day-of coordinator. John helped to coordinate the ceremony on the day of, helped release tables for dinner, brought battery operated fans for the bridal party and others who needed them, and coordinates with other vendors to ensure that our wedding day went off without a hitch. He goes over the timeline with you prior to the wedding and makes sure that everything progresses as planned and keeps you on schedule so that you and your mothers/fathers/guests/etc. don't have to worry about the timeline and can just enjoy the party.

John works with you to make your day exactly the way you want it and goes out of his way to download the exact music you want (even if it is a part of a YouTube video or something) so that you can have the exact versions of your special songs that you'd like. He was even able to play a song during the ceremony that was written and recorded by one of our bridal party members (we provided the .mp3 file) and he created a "mash-up" of a couple different songs for my wife's father-daughter dance so that they could surprise the entire reception. He sends short clips of all of your important songs so that you can be sure it is the correct version to avoid any awkward misunderstandings on wedding day. He will act as the emcee on your wedding day and will manage all introductions and announcements prior to toasts, dances, etc. (really whatever you want him to announce). He checks in with you well in advance of the wedding to make sure he is familiar with the venue and brings ALL of the audio equipment needed. He provides all of the microphones, speakers, etc. for the ceremony, cocktail hour, dinner, and dance floor (at our venue he essentially needed 3 separate setups and provided all of this at no additional cost, arriving early to make sure everything was set up way ahead of time). My brother and best man was our officiant and had never officiated a wedding ceremony before, so John went over the logistics of the audio equipment with him prior to the wedding and got him hooked up with both a lapel mic and hand-held mic for the different parts of the ceremony, and sort of "coached" him a little bit before hand. He also plays nice instrumental music prior to the ceremony while your guests are arriving.

When it was time to hit the dance floor, John kept the dance floor moving and kept it full throughout the entire night. He worked with us leading up to the wedding day to compile a "do-not-play" list as well as a "must-play" list and really kept the party going.

When you hire John, you can rest assured that you will have a VERY reliable DJ who will go above and beyond to make everybody at your wedding comfortable and will do everything in his power to make sure your day goes perfectly. There will be no surprises, communication will be outstanding throughout the entire process, and he will provide all of the services he promises and more. Please don't let his VERY reasonable price point make you nervous or hesitant to hire him. His reviews speak for themselves, and they are all 100% true. If my wife and I could go back in time and plan our wedding again, we would absolutely, positively choose John every single time. As a testament to his outstanding service, we actually had a couple of friends, including one of our bridesmaids, ask for his contact information after the wedding (they are currently planning weddings of their own).

You won't be disappointed if you choose to go with John!

Shelby

Married on 04/17/2021

Fantastic DJ!

John did such an amazing job as the DJ at our wedding! He was so attentive to detail, and we really appreciated how smoothly he helped our reception flow. We would pick him again, hands down, in a heartbeat!!

Scott A.

Married on 02/08/2021

John is a pro....

John was a pro. He had everything we needed. Checked in with us regularly before the wedding, let us use some equipment and even pick it up prior to the wedding. During the wedding it was a perfect amount of hands-on and hands-off and we had given him a large list of songs (more than what could be played) and he did a great job feeling the energy of the evening and placing different songs a different times to make the experience extraordinary.

Sarah F.

Married on 09/13/2020

If you need a DJ, look no further

We hired John to DJ our wedding and it is one of the best decisions we ever made. We booked John about a year and a half in advance, and he maintained great communication the entire time. He is extremely helpful and very quick to respond. John is great at what he does. He makes sure to keep the day going smoothly! We received so many compliments at how flawlessly the ceremony transitioned into the reception, which we have John to thank for that. I highly recommend hiring John to DJ your wedding or any other event. You will not be disappointed!
Are you interested?
Send a message