55 Reviews
Recommended by 100% of couples
Quality of service

5 out of 5 rating

Average response time

5 out of 5 rating

Professionalism

5 out of 5 rating

Value

5 out of 5 rating

Flexibility

5 out of 5 rating
56 User photos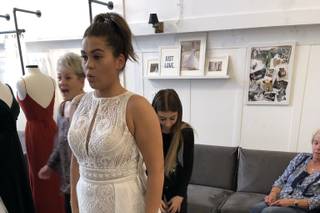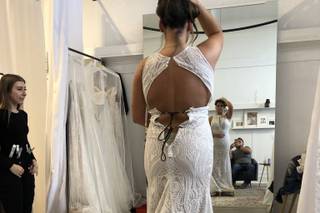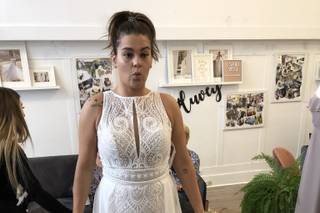 + 52

photos
Tara W.

Married on 05/20/2023

Cannot imagine a better wedding photography experience!

Joanna was an absolute delight to work with for our engagement shoot, our wedding day, and everything in between. She is so welcoming and positive and exactly the kind of person you want around on your big day. She is very thorough with preparation so you know you are in good hands but she's also very flexible and can adjust on the fly when things inevitably change on your big day. Joanna is super communicative and answered every one of our questions quickly and completely. Her second shooter, Christine, was fantastic as well. Our family and friends commented multiple times on how delightful and efficient Joanna and her team were to work with. We are seriously obsessed with how our images came out, Joanna did an amazing job of capturing the typical couples photos and family portraits as well as ample candids of us and our guests all throughout the day. She also did an amazing job using all areas of our venue so we ended with an incredible variety of shots that we cannot wait to cherish forever. The in studio reveal was also such a special moment for us! We cannot recommend working with Joanna highly enough!

Madison M.

Married on 05/19/2023

Best photographer ever!

Joanna is an incredible photographer and an absolute pleasure to work with. She captured our wedding and to say we are blown away by the quality (and the amount) of beautiful photos we received is an understatement. She arrived early to begin capturing the day and needed very little direction as she knew exactly what to do (which is very helpful to a busy bride!). She sent a lovely questionnaire well in advance of the wedding to nail down all the shots we wanted and she just worked her magic! She captured the small details and the large! It's so amazing to look back at our photos because on the day of our wedding we were so busy we didn't even get a chance to see the small things like decor I'd put together etc and she captured literally everything! My husband and I aren't models by any means, and don't know how to pose well, but it was effortless with her and our photos turned out stunning. We look like we belong in a bridal magazine! We loved the energy she brought to our day. She is excited to try anything you have in mind and make your vision come to life. I simply do not know how I will choose even my top 20 favorites. We will cherish these photos for the rest of our lives. Thank you Joanna! You are amazing!

Michelle A.

Married on 09/24/2022

Morher of the bride

Joanna and her partner were amazing. They captured everything we wanted for our daughter's wedding. The laughter the smiles the hugs and the unexpected. She was discreet and amazing. We could not fault her and her partner. Joanna had the proofs ready 2 weeks later and they were everything we wanted.

+ 12

photos

Are you interested?

Send a message

Megan

Married on 09/17/2022

Thank you, Joanna, for your amazing photographic eye as well as sense of humor!

It was an absolute pleasure working with Joanna! Not only is Joanna an amazing photographer that is able to eloquently capture those special moments, but she is also such a pleasure to be around. I am naturally a self-conscious person, so I was very nervous about our 1st time working with Joanna for our engagement photos. Joanna immediately put me at ease with her calming nature & hilarious sense of humor. Having a chance to work with Joanna during our engagement session made me more relaxed on our wedding day. I never expected I would use the word 'relaxed' to describe my wedding day, but Joanna was a big contributor in making that happen – I felt like I was hanging out with a good friend. Joanna captured so many moments throughout the evening that my now husband & I would have missed had she not been there. Following our wedding, Joanna had us over to her studio for the 'big reveal' of our wedding photos on her big screen TV. It was such a fun experience to re-live our event as well as share our stories. We can't wait for an excuse to work with Joanna again to capture additional moments in life.

Nicole H.

Married on 08/27/2022

Joanna brought the fun!

We absolutely loved working with Joanna. From our first phone call, we felt instantly at ease with her - a 30 minute call turned into 90 minutes because we were having a great time chatting! We didn't have the opportunity to do an engagement shoot because we were living outside of Seattle, but when she arrived at the venue on our wedding day she made us feel comfortable and familiar right off the bat. She did a wonderful job wrangling large families and small children for our (long) list of family photos and did it all with a smile and laughter. Throughout the planning process, she was responsive, helpful, and willing to go above and beyond to help us make our big day extra special. We couldn't have asked for a better addition to our wedding day and the photos she captured perfectly encapsulate the day!

Travis P.

Married on 07/30/2022

Amazing photographer for our big day

From our engagement photos, to the wedding day, and to the big reveal, Joanna was nothing but professional while making us feel completely comfortable in front of the camera. Nothing felt forced or posed. Joanna guided us through the whole experience and delivered amazing photos, even in a grueling 90+ degree July day.

We couldn't have chosen a better fit for our wedding day! Thank you for the memories that we will cherish forever!

Sharon H.

Married on 05/15/2022

Hire her!!

Joanna was our wedding photographer and she was exceptional. From our first meeting with her, she was personable and sweet wanting to know all the details on how my husband and I met and how he proposed. She explained her process in detail so we understood everything included. Her customer service level is top notch. She was always available to answer our questions over text or email. Engagement photo shoot went really well and helped us get familiar having our photo taken. Joanna always made sure we were comfortable. When we met to review our wedding timeline, she stayed an hour over our meeting time because she really wanted us to be happy with the time allotted for couple portraits because we weren't doing a first look. On our wedding day, Joanna and her second photographer Christine, did a fantastic job - they kept things fun and light, made jokes to keep us smiling and laughing. After the wedding she revealed our wedding gallery in her studio with tea and biscuits - I mean how personable is that! She created a slideshow of the best photos and organized all photos into categories of the day. We (and our families after sharing the gallery) are in awe over the photos - Joanna and Christine perfectly captured us and our guests. She is also working on our wedding album and we are so excited to see the finished product. We will cherish these photos forever. Thank you SO much for everything!!

Delaney W.

Married on 02/09/2022

Amazing wedding photos!

Thanks to Joanna, we have beautiful memories from our COVID wedding! From the very first meeting, Joanna went above and beyond to make sure our special day was everything we wanted to be and more. She created and managed our wedding website which took a lot of stress off our backs. She also did our engagement shoot which allowed us time to get to know her better and get comfortable in front of the camera. Joanna was so flexible when we had to change our venue at the semi-last minute due to COVID and did everything she could to make the day easier for us. The photos turned out amazing and I love looking back at all the special moments she captured throughout the day!

Jeffrey P.

Married on 09/09/2021

Great photography experience

Of all the vendors my wife and I worked with leading up to our wedding, Joanna was the best! Joanna did both my engagement and wedding - she was excellent! I have never taken professional photos before and was slightly apprehensive about the experience. Joanna is great at giving little instructions, encouragement and making you laugh during the shoot - all to bring out the best in the final product. I was thrilled with the quality of her photos after my engagement shoot and was relaxed and confident in her abilities on my wedding day!


Kenneth G.

Married on 05/15/2021

Photographer & family friend for life

We started working with Joanna for a May '21 wedding about a year ahead. Of a ~dozen photographers recommended to us, she was the only one we reached out to - we loved the diversity of identities and body shapes of people she's worked with in the past. Our first conversation made it clear that she shared our priorities around inclusivity.

She and her team member Christine supported us through all the uncertainty and anxiety of trying to plan a wedding not knowing what things would be like in a year. She took the time to get to know us better, both in conversation and a quite thorough questionnaire, to better understand what we were looking for, what we were comfortable with, and how best to capture our event. While my partner and I have experience planning events, weddings are a whole other thing. Joanna encouraged and accommodated us where we had preferences and provided confident suggestions where we didn't. She was even able to provide recommendations for other vendors as needed. She kept us updated as event & wedding guidance in the county changed. When we changed plans and switched from a 100-guest wedding to a much smaller, socially distanced ceremony, she offered some creative ideas on how we could use the extra time, and made sure we got a bunch of amazing shots that we might have missed with a larger wedding.

Most importantly, throughout the whole process, Joanna and Christine helped us feel safe and accepted. My partner and I have a lot of anxiety around having our picture taken. Through our engagement photos and the wedding day itself, they were patient with us, related to our various quirks, and helped us feel more comfortable as we worked through our initial awkwardness with the posed shots. Their excitement about our sillier ideas helped us feel like we could be ourselves. When we met to go over the (massive trove of) photos afterward, we spent more time talking about raising kids, education, and other shared interests than about the photos! It's probably worth noting that the photos themselves came out better than we ever could have imagined.

We feel so lucky to have found Joanna, and we're already excited about working with her again to capture the next big moments in our lives. She has our highest recommendation.

Kaitlyn K.

Married on 09/19/2020

Such a gem!

Joanna was an incredible addition to our wedding day! She made us both feel comfortable, and at ease! She fit right in as one of the guests- our family was raving about her and we had to agree! Our photos turned out beautifully. She really is a treasure to have and a natural at getting two awkward people to smile, relax, have fun, and feel great on their wedding day! Thanks Joanna! We loved working with you!

Dominique D.

Married on 08/15/2020

A new friend and a photographer

Joanna was fabulous to work with! From the very beginning during our get to know you meeting, we hit it off right away and knew we needed her as our photographer. She is genuine, friendly, and a lovely person and her photography skills are just as wonderful! She did both our engagement and wedding photos and made us feel so at ease the whole time. It was stressful planning a wedding during Covid, but Joanna was incredibly supportive and flexible with dates and helped keep me sane. She is so personable and celebrates the wedding planning milestones with you, so you come out with a new friend and not just a photographer.

We are so in love with the photos we got! Joanna got amazing shots without making us feel posed. She could crack jokes to get us laughing and it was the most comfortable I've ever felt being photographed. Her editing turn around time and quality of prints are also amazing. We can't wait to work with her again in the future!

Caitlin H.

Married on 07/31/2020

Amazing photos

I don't like getting my picture taken, but she made it so much fun! The photos are amazing and she is very organized.

Kalie

Married on 06/27/2020

Joanna is the best choice you can make for your wedding!!!

I truly cannot recommend Joanna highly enough - she is the first vendor I booked back in 2018 for our 2020 wedding after seeing her site and knowing immediately that she would give us the best photos to commemorate our wedding. We had a wonderful first meeting where we drove up to Snoqualmie pass for some absolutely dreamy engagement photos in the fresh snow. We were immediately at ease with her, and it made our experience (the first time taking any type of professional photos together) so easy and something to look forward to at our wedding.

When 2020 threw curveballs, Joanna was always quick to respond and in complete support of our always changing plans - also helping to provide some much needed perspective and advice on how we should move forward. We kept our rescheduled day in 2020 for an elopement ceremony and moved our reception to 2021 - the first thing I wanted to make sure was that Joanna was available for both! On the day of our elopement it was soooo easy to work with Joanna in what should have been a jam packed two hours of photos and ceremony - instead it was easygoing, fun, and we enjoyed every minute of it. We got sneak peak photos back from her super quickly and the full gallery less than a week later, and we are in loveeeeeee with what she's given us! I seriously do not stop staring at them, and can't wait to plaster them anywhere I can. And it's worth noting - in only two hours Joanna was able to get us over 300 photos that are all amazing. I can't even imagine how much good content we will have from our 8 hours next year at the reception ;)

Joanna is the best choice you can make for your wedding (or other life event where you want photos, for that matter) - every penny is worth it!!

+ 3

photos

Bisi

Married on 09/30/2019

Wonderful!

Joanna took our engagement and wedding photos. From our first Skype meeting (we planned our wedding from out of state) she made us feel so comfortable. She was flexible with her time and so knowledgeable about vendors and locations. Our pictures turned out so beautiful! We have gotten so many compliments on them. We would recommend her to anyone!

Ace K.

Married on 08/10/2019

Simply amazing!

Joanna photographed our engagement and wedding and she was fantastic to work with. She took time to get to know us and feel comfortable while she captured the most amazing moments! We had an outdoor wedding which ran into the night and she and Kendal really took some great shots playing off all of the different lighting going on. We cannot recommend her enough, truly wonderful to have her share our wedding!

Thanks Joanna!
Ace and Glen

Laura H.

Married on 07/22/2019

Couldn't have picked a more perfect photographer!!

Joanna was an asset on our wedding day! The photos are absolutely gorgeous and the whole day she was organized, light hearted, and knew exactly what to do. She is so personable that everyone in the wedding party and our families could laugh with her and felt relaxed. She would direct us and tell us what to do, was open to our requests, and just overall helped the day flow so smoothly. She was flexible with changes and helped put me at ease when a few things weren't able to happen. She also did our engagement photos and we LOVE them. She is generous with her time, suggestions/help leading up to the wedding, and her positivity is contagious. My husband and I both talked about how amazing she was the whole day and lucky we were to have her as our photographer.

Mike

Married on 07/09/2019

Highly recommend Joanna

We were extremely fortunate to have found Joanna. She is incredibly great to work with. From the beginning stages of planning our wedding, to the end of our reception, my wife and I felt comfortable and knew we were going to get a great set of pictures. And we did! We couldn't be happier with the pictures and how everything went!

Elizabeth W.

Married on 05/11/2019

You will not be disappointed working with Joanna

Joanna was such a dream to work with. I met her at the Snohomish Wedding Tour early in my wedding planning journey and I gravitated towards her immediately. She was warm and funny and we chatted together for a few minutes.

I was pretty overwhelmed getting my budget straight and all the details together and got a cheerful email from Joanna following up on our conversations from the wedding tour. We set up a time to meet at her studio.

No joke - when we arrived there was cold beer in the fridge (FIANCE IMMEDIATELY DIGGING IT), Adele playing softly in the background (SWOON) and Joanna set up a cute little welcome sign with our names on it.

I tell all these little details because this is how Joanna operates. She is the most thoughtful human and puts so much positive energy into her work - its all about the details. She put us at ease, made us smile when we felt awkward, and made us feel so confident we ended up looking like movie starts (Humble brag) and we couldn't be happier with the photos we have.

All jokes aside, if you are considering working with Joanna you will not be disappointed. She goes the extra mile for her clients and we feel very lucky to have worked with her for both our engagement shoot and our wedding day. We looking forward to whatever next journey we need captured - she will be the person we call!

+ 3

photos

Kate R.

Married on 10/13/2018

Great Photographer!

We worked with Joanna for our wedding and had some pretty big asks of her (e.g. photos with our two cats!!) and she delivered some amazing and drool-worthy photos to us!!!

Lauren

Married on 09/22/2018

Wonderful experience

Joanna is such a pleasure to work with! She was professional, fun, and captured the most beautiful pictures. We feel incredibly lucky to have had her at our wedding and highly recommend her!

Chelsea

Married on 09/15/2018

Great photographer to work with!

Joanna is wonderful to work with! She is so down to earth and a joy to be around. During our engagement shoot we felt a little awkward at first, not being used to being professionally photographed, but Joanna quickly made us feel so comfortable. She made the shoot fun and natural for us. On our wedding day she was calm and efficient and made our day that much more special. I felt Joanna took the time to get to know us as a couple and we loved having her as our photographer. I would highly recommend Joanna to anyone!

Hunter L.

Married on 09/15/2018

Wonderful Photographer

It was a pleasure to have our endangerment and wedding photos done by Joanna. I usually don't like having my picture taken but she made it fun and actually very enjoyable. All of our pictures from both days turned out amazing. I would highly recommend Joanna.

Laura

Married on 08/18/2018

Joanna is absolutely amazing and her photos are gorgeous. She is extremely easy to work with and provided great direction. We were very comfortable working with her and feel like we gained a life long friend. She is not an ordinary vendor that you hire to perform a service. Instead, she takes genuine interest in who you are as a couple and makes sure that the pictures are tailored to you and your relationship. Out of every single vendor we worked with, Joanna was hands down our number one favorite. She photographed our engagement shoot and wedding and I will continue to go to her to capture every other important milestone in our lives. We truly gained a life long friend and I am so grateful to have met her. Hire her, you will not regret it. She is the best!

Erik T.

Married on 07/07/2018

Really Good

Joanna was very easy and fun to work with. My wife and I met her while she was shooting the wedding of some close friends of ours. We saw how she worked the party and interacted with all of the guests. After seeing her work, we decided we would like to meet with her prior to our own wedding. We were convinced that we had found the right person for our wedding – all it took was a brief conversation in her office talking about expectations and photography styles.

Joanna pretty much was our wedding planner. She helped us form our day of timetable and provided reasons as to why some areas should require more or less time. Her experience with weddings was very apparent.

During the wedding she was a blast to work with. She worked with my wife during the early stages of getting ready, and from what I gathered she was very fun and friendly, helping the sooth the nerves. When everyone got to the venue, she had already scouted out all of the prime locations for where she would be photographing from. She also scouted out perfect areas for me and my wife to have our personal portraits taken.

Perhaps the most impressive part was how she was able to deal with my crazy family during family picture time. I have a massive family and nearly all of them were to be photographed with the bride and groom. Joanna was able to calmly but efficiently complete this part of the wedding. A disaster avoided.

At the reception, outside of doing a "golden hour" (my favorite photos of the wedding) photoshoot, I did not really see her. Joanna let people be themselves while still being able to capture the moment. The candid photos of our party are some of my favorites. When she was done shooting the wedding, she socialized and became part of the function.

Overall, I would give her a 5-star rating. She took so many amazing pictures it was almost overwhelming to choose which ones were my favorite.

Thank you Joanna, our wedding was literally perfect, and looking back at those pictures puts a smile on my face. My wife and I could not have chosen a more personable, hilarious, and professional wedding photographer.

Are you interested?
Send a message