107 Reviews
Recommended by 98% of couples
Quality of service

4.9 out of 5 rating

Average response time

4.9 out of 5 rating

Professionalism

4.9 out of 5 rating

Value

4.9 out of 5 rating

Flexibility

4.9 out of 5 rating
21 User photos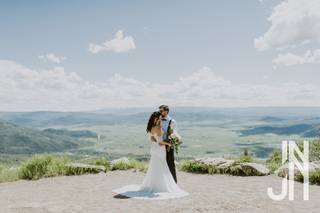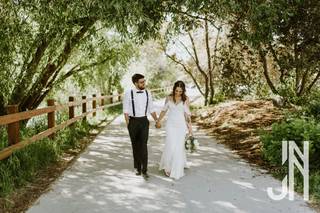 + 17

photos
Beryl W.

Married on 06/19/2020

Seriously the best, ever.

The best ever, ever, ever. Unbelievably beautiful photos. Can't say enough good things. Jenna was wonderful to work with, she was funny and thoughtful and down to earth while remaining professional and keeping us on track day of without being pushy. She is also incredibly talented, our wedding photos are all so beautiful I want all of them on canvas haha. Her eye, and editing, UGH just Gorgeous, my husband and are so beyond happy. She was also flexible and understanding about all the changes we had to make with all the COVID craziness (full wedding changed to elopement, venue change, date change, the works) Would 1000% love to work with her again!

Amber M.

Married on 03/03/2020

Amazing photos!

I couldn't have asked for more! Jenna's attention to detail and amazing vision made for my favorite photos! The day of she was on point and super helpful. We received so many compliments on the quality of our photos and she was sure to include everyone we wanted, going the extra mile to ensure she got them! I can't wait for the next major event in our life so we can use her again! Do it! I promise you won't regret it!

Hannah M.

Married on 08/15/2019

Jenna was amazing to work with!

Hiring Jenna will be the best decision you make for your big day! I immediately resonated with her when I poked around on her website. Her image style and personality was exactly what I was looking for. She explains her process perfectly - she's not looking for the perfectly posed image, she's looking for the genuine love and emotion between her subjects. And she knows just how to tease out the realness when you're with her. She asked us questions about each other to capture our genuine smiles, laughter and love and it truly shows in our images. My husband was concerned about spending too much time away from our guests during our wedding to take photos. But Jenna is efficient and organized. She kept our families close by and ready to jump in and out of photos quickly so that everyone could enjoy our cocktail hour. When we snuck away with her a couple of times to get some intimate shots, my husband and I were able to take a few deep breaths together and soak in the day while Jenna captured our genuine emotion beautifully.
Jenna also helped me plan out the timing of the day based on the ceremony start time, and number of family shots we needed to get and it was a life saver!

Are you interested?

Send a message

Kristy B.

Married on 07/27/2019

You will love everything about Jenna and her product!!

From day one Jenna was responsive, kind, and willing to answer any of our questions along the way. I was really picky when it came to photographers and she checked all of our boxes. All of the preparation before the big day was made easy as she is extremely organized and is prepared to capture your day the exact way you envision.
We couldn't be happier with the pictures from our big day and even though it was a small eclectic wedding, Jenna managed to make it look better than I could have imagined. On our big day Jenna was able to help direct us through the whole thing and was attentive to what we wanted.
Overall, BOOK HER! You will only be blown away and so glad you chose her.

Alisha

Married on 07/26/2019

Amazing, beautiful photos

Jenna did a fantastic job and we highly recommend her! She is professional and took care of all the requests we asked for. She is responsive and the portal she uses is very user friendly. She has a talent to capture emotions. It made her stand out compared to other photographers. We added engagement photos and she gave great recommendations of places to go. Once these photos came back we knew our wedding photos were going to be perfect. We can't thank Jenna enough, the best!

Savanna

Married on 06/22/2019

A Snowmass Mountain Wedding

Jenna is by far the best vendor we hired for our big day, but my fiancé and I were initially pretty stressed about picking a photographer. First of all, the photographs are one of the few things that will actually last through the years. Second, we were traveling from out of state and knew we were relying heavily on recommendations for where and when to take our photos, and third- we are just not the 'photo' type. I mean that in the sense that we always seem to be too caught up in the moment to think about getting photos, so we have very few of them. While I'm sure it's not the worst problem to have, it typically makes us feel pretty out of our element when in front of a lens. But this was one of the (many) reasons why Jenna was such an unbelievable asset to us. Aside from having an amazing eye and such a great style that truly shines through her work, she works in a very photo-journalistic way, as well. Of course, she will get the posed family shots that you want and need to have, but where she really shines is at capturing genuine moments that you don't even recall her being there for! (Seriously, she might be a ninja, but that's a totally different thing altogether) Our photos brought us to tears because they contain all of those tiny tendencies which most outsiders wouldn't even seem to notice, but you and your spouse will immediately recognize. I'm talking about the way my husband's eyes get squinty when he smiles big enough and how I tend to tilt my head back as if I'm looking up at the ceiling when I belly-laugh. Jenna makes sure to grab onto those little things that make each of you, you and translate them into something timeless. On top of that, she was so easy to work with! You'll inevitably spend a lot of time with your photographer, because they're by your side capturing each moment as it happens. When faced with day-of decisions in response to the rain and snow (despite how much we planned and scrutinized the forecast), Jenna was so calm and collected. Her experience truly shined in times that most people would have been stressed. In fact, I know that her experience and suggestions were crucial for keeping us on track for our day. She's a big part of the reason why we had everything seem to miraculously 'fall into place' in the way that it did, despite facing a snowstorm AND a rainstorm within the same three hour time frame. Seriously, thank you SO much, Jenna! We cannot stress how thankful we are to have had you play such a significant role in the biggest day of our lives and we can't wait to share more big moments with you in the future.

Karen

Married on 06/08/2019

Awesome photographer, great candid shots!

So glad we hired Jenna to photograph our big day. She was awesome and captured exactly what we were looking for - beautiful, natural portraits of us, but also great candid shots of our party and guests. We were really looking for someone who shoots with a photojournalistic style, and were so thrilled with Jenna's work. It's so fun to relive our day through her shots... especially since she is so good at capturing moments between guests and ourselves that feel just so genuine. She captured so many real smiles, emotions, and fun. Hire her! She's the best!

Kyra M.

Married on 05/19/2019

Professional, efficient, beyond talented

I could not say enough amazing things about Jenna. Not only was she an AMAZING photographer but also so incredibly easy to work with. Living in CO a lot of photographers I was seeing specialized in outdoor shooting. I wanted someone who would be able to capture our indoor wedding perfectly. Jenna did not disappoint. Words can not express our gratitude for her professionalism and communication. Jenna also shot our engagement shoot. Again, my husband and I wanted an intimate shoot indoors and we did not have any place in mind to do it. Jenna had a professional connection to use a space that was PERFECT for our photos and they came out so beautifully. She has very flexible pricing which was also a must for us. The photos Jenna have us we will cherish for the rest of our lives. I would recommend her to ANYONE. She can shoot anything and it will turn out amazing. ❤️

Jordan T.

Married on 05/12/2019

Professional and VERY talented

Jenna was so professional throughout the entire process. She communicated with us incredibly well while we were booking her, during our wedding, and after while we were waiting for our albums. Our album was GORGEOUS - Jenna really captured what Matty and I wanted. Our group shots where great and our candid were stunning. Jenna's so talented and really caught details of our big day without being intrusive to what was happening. After our wedding we wanted pictures in the mountains as well. Jenna hiked with us to capture some of our absolutely favorite pictures of us together which was above and beyond what she had to do. She was accommodating to our requests and truly was everything and more Matty and I could have wanted in our wedding photographer. I highly recommend her, especially for outdoor weddings!

Ariel

Married on 01/26/2019

Steamboat Winter Wedding

When we chose Jenna for our Steamboat Springs wedding, she made the process so incredibly comfortable and personal. Her website and intro-video had me sold from the get-go, and then we spoke over the phone to begin the process as we live in Atlanta. Every conversation put us at ease that our investment in our future memories were in the best hands possible. She is professional, gentle, caring, and just the right amount of detail-oriented. We loved her process leading up to the our special day and felt that there were no stones left unturned and ensured that all of our priorities would be taken care of.

The day of, she was perfection! She was in the bridal room with us taking all of the detail pictures I requested, but it never felt like we had a giant lens aiming at us. She took some beautiful photos of our tables and flowers, then headed to the guys. All of her shots feel so genuine and "in the moment" that looking back at them gives us all the feels like it was yesterday!

We were able to take ALL the extensive family shots we requested, and most importantly got some of the most amazing pictures of our dog who was in the wedding! She was patient and impeccably efficient in moving people around, and several guests commented on her professionalism. In fact, people were raving about her all day, which made us so happy with our choice in hiring her.

All in all, our photos are absolutely stunning and we couldn't be more pleased. She is a wonderful person and we would 10/10 recommend her to anyone looking for a true artist to capture their special day.

Janelle

Married on 01/05/2019

It was such a joy working with Jenna! I got SO many compliments on my pictures. I am continually amazed with how well she captured the love between my fiance and I. We are extremely grateful we were able to hire her!!

Megan F.

Married on 12/20/2018

If you want amazing photos hire Jenna!

Jenna was awesome. She braved the cold with us to capture some amazing snow pictures outside of Breckenridge. She meshed with our family and fit right in to our small wedding. She is amazing at capturing those candid moments as well as our posed photos. She knows how to make someone loosen up in front of the camera and she knew exactly what to say and what questions to ask. Ric and I have joked that we want to get married again just to have her come out and take photos. You won't be disappointed if you hire Jenna for your wedding. She is truly an artist. Thank you Jenna!

Sarah

Married on 10/27/2018

Jenna is exceptional!

I could not be happier we worked with Jenna. From our engagement shoot through to the wedding, Jenna was professional, organized and so incredibly talented at what she does. I chose Jenna because of the genuine nature of her photography- you get the sense that she truly captures the feeling and spirit of the day in the best way. I knew I wanted the feeling of my wedding day to be preserved in the photos, so working with Jenna was a no-brainer. My partner and I are not comfortable in front of the camera, but Jenna made the entire experience feel so easy and natural. She organized my family and friends like a pro- I got so many compliments about how quickly and easily the posed photos went. As a bonus, Jenna even helped me with my veil and my bustle. Jenna is so amazingly good at what she does and is an incredible person to boot. Do yourself a favor and hire her for your wedding.

Chelsey

Married on 09/14/2018

I LOVED working with Jenna! I cannot say enough good things about Jenna! She is amazing - from her flexibility, to her personality, she is professional and takes amazing photos! She's fun to work with, and made us laugh (which made for great photos), even though she was working on a broken foot in the freezing cold on top of a mountain!

She is creative and willing to go the extra mile, in every way. She thought about everything, from that flyaway hair that can ruin a photo, to straightening my shirt when it got bunched up and I didn't notice.

And maybe most importantly, the photos were stunning! We were so happy with them. They not only showed us both in our best light, but they were also creative and beautifully shot/edited. The best!

Meridith

Married on 05/12/2018

Choosing a wedding photographer was one of the more stressful decisions we made. My husband and I are both in the arts, so it was important for us to find a photographer that not only matched our vision but made us comfortable — a tall order to fill. When we found Jenna's portfolio, we were impressed by her ability to capture candid and emotional moments. Her professionalism and responsiveness further eased our anxiety, and by the time we met Jenna in person we knew she was "our person." She asked engaging questions and really listened to us — we felt understood and valued.

Leading up to the wedding, we were in more regular communication sorting out the last details. Jenna put me at ease each time we spoke, and on the day of the wedding, she showed up prepared, present and on-point. She balanced being invisible and also reaching out if there was anything else we wanted to be captured.

When we finally received our photos we were overjoyed. She was able to capture our authentic selves in beautiful compositions. We've been given the gift of being able to relive our favorite moments through her photographs. We can't thank her enough.

Julia

Married on 04/26/2018

Jenna is the best! We flew her to Iceland with us for our elopement. The pictures came back and I was absolutely blown away! Everyone who has seen them so far has said they are some of the best wedding photos they've ever seen. She was able to capture the amazing scenery while also getting the most special moments between my husband and me. I'm in love these photos! Jenna is a true professional and has an insane gift. Highly recommend!

Daniel

Married on 04/08/2018

Jenna is the perfect choice for a wedding photographer. She captured everything and the photos she produced in the end were incredible. She was organized, friendly, and professional beyond measure and we could not have made a better choice.

Katie

Married on 03/13/2018

I knew from the very first photo I saw of Jenna's that she was THE photographer. She had one of the more competitive price ranges and, by FAR, the most beautiful photos on the list. Communication with her was SO, SO easy and fast despite her being out of the country for another wedding when I first messaged her. My big day was non-traditional and kind of all over the place but Jenna was just so nice and easy going that she actually turned the stress around and had both my husband and I laughing and really enjoying ourselves. I was nervous for the final outcome because I typically hate seeing myself in photos but they turned out absolutely PERFECT! I could not have asked for a better photographer, better photos, or a better experience - honestly! My husband and I have since moved away from Jenna but if/when the need arises for professional photos - we will be seeking her out straight away. Thank you, Jenna!!

Kaitlyn

Married on 09/19/2017

We've hired Jenna to do our engagement and wedding photography. We just got back our engagement photographs and could not be happier. She did a great job capturing the essence of us. During the session she made us feel comfortable and I was impressed with how easy it felt. I cannot wait to see the magic she captures at our wedding. I highly recommend Jenna, but I know her pictures speak for themselves.

Matt

Married on 09/04/2017

Honest to God, Jenna was one of the best things we spent money on at our wedding. Everything was amazing, but only because of Jenna can we relive those moments anywhere other than our memories. The photos are amazing. dead stop. Seriously amazing. And beyond that, Jenna is a dream to work with. She's friendly, smart, and really good at making you feel comfortable and look genuine. I can't tell you how happy we are that our wedding photos aren't just us standing in front of things. Her eye for color, composition, and character is unmatched and is the reason why we looked at a ton of photographers and knew instantly that she was the one for us. Honestly, I can't recommend her enough. I really mean that. I don't often write reviews for anything, but for Jenna I actually got off the couch (metaphorically, of course) and wrote one. She's worth it.

Lauren

Married on 08/29/2017

Choosing a wedding and engagement photographer was one of my top priorities after getting engaged. I looked at countless websites and the second I saw Jenna's I knew she was a class above the rest! She has only done our engagement pictures so far, but I couldn't be happier with how they turned out. My fiance is a little camera shy and she did such a fantastic job eliciting normal and not staged reactions out of both of us, and the pictures/lighting/etc were stunning! I know the wedding pictures will be just as beautiful!

In addition to making us both feel relaxed and getting us stunning photos Jenna was also professional and easy to work with. We had to reschedule our engagement photos twice due to weather and she was nothing but accommodating and helpful keeping in close touch throughout the day to see if the rain would let up-the day we ended up shooting was beautiful and helped us get the best pictures possible. I couldn't recommend Jenna enough!

Elizabeth

Event on: 08/22/2017

Choosing a wedding photographer was the single most difficult decision of the wedding process! We've only had our engagement photos taken so far but they were beyond stunning! Jenna is amazing at capturing the feeling in the moment which was our #1 priority. I can't say enough good things about her or her photographer skills :)

Nick

Married on 08/19/2017

Jenna shot our engagement photos and our wedding. She is incredibly professional and efficient, and an absolutely extraordinary photographer. Jenna got all the "greatest hits" photos, and then took stock of the light and scenery (as well as our personalities) to get pictures that are just so "us". Jenna, we can't thank you enough for all the hard work you put into capturing our wedding in spectacular fashion!

Whitney

Married on 05/27/2017

Jenna not only takes incredible, special photos, but she's also sincerely wonderful to work with. She is a rare combination of super professional/organized and also very comfortable and easy to work with. This is exactly the combination needed in a wedding photographer. She planned and prepared meticulously so that everything would go smoothly that day. She was also so flexible, giving us up until an HOUR before our meeting time to make a call on whether we could stick to our plan of doing pre-ceremony pictures outside because the weather was iffy. And when we decided to go for it, she was sincerely psyched for us. Neither my husband or I are that comfortable posing for pictures, but Jenna was able to engage us in comfy conversation and get natural smiles and interactions between us. She also has clients pre-select the formal portraits you want, which saved us so much precious time on the day of. She efficiently set up and knocked out all of the pictures with my frankly enormous family so that we could get back to enjoying the day. She also caught the most amazing candids of our friends, family, and us during the ceremony and reception. We have these beautiful memories of people enjoying the celebration that we never would have seen otherwise. We absolutely love our pictures. Most telling - my 6-year-old niece, who is an unstoppable (and delightful) ball of energy, absolutely loved Jenna and ran up and gave her a huge hug right before the ceremony. This was after having to participate in a bunch of wedding party pictures. Imagine how amazing, patient, and lovely Jenna is for a little kid to enjoy sitting still for wedding pictures! She's the best!!

Lauren

Married on 03/04/2017

Absolutely fantastic! We loved all the shots Jenna took. Her pricing was also great because it allowed us to get the quality of photographer we wanted.
Are you interested?
Send a message