40 Reviews
Recommended by 100% of couples
Quality of service

5 out of 5 rating

Average response time

5 out of 5 rating

Professionalism

5 out of 5 rating

Value

5 out of 5 rating

Flexibility

5 out of 5 rating
27 User photos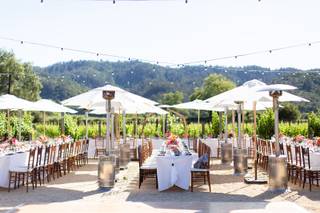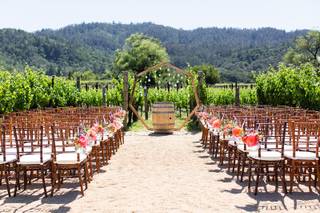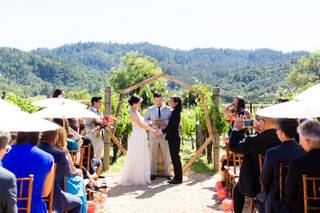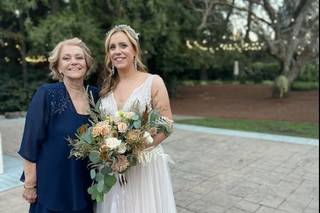 + 23

photos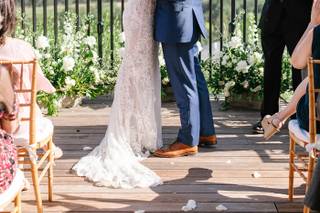 Ross P.

Married on 10/01/2022

Terrific Experience - must hire!

Sonja was absolutely terrific - attentive, compassionate, thoughtful and creative, she listened to our needs and over-delivered on our wedding day. Highly recommended.

Intimate Weddings Napa Valley's reply:

Wow, thank you for the glowing review. I'd help you guys plan your wedding again and again. Feeling appreciated for what I love to do is everything! Sending my love and happiness your way.

Bill A.

Married on 06/23/2022

Professional, organized, knowledgeable

Entire wedding celebration went perfectly with Sonja's vast expertise. Her calm demeanor kept everything running smoothly like clockwork.

Intimate Weddings Napa Valley's reply:

Thank you for the love Bill! We made it thru the pandemic re-schedules!
It has been a pleasure getting to know you and Janet. Hope to see you again soon!

Alexa K.

Married on 05/28/2022

Fun, Organized, Reliable!

Sonja was so much fun to work with! She is a clear communicator, contributes great ideas, and her experience in the wedding industry is evident in all she does from communicating with other vendors and providing great advice for the whole process, design, and day-of timeline! She's caring, fun, and just as excited for your wedding as you are, as she brings a very enthusiastic and genuine approach to her work :)

Intimate Weddings Napa Valley's reply:

Alexa! Thank you so much for saying all this, and taking the time to review me! You are right, I was as excited for your wedding as you were. I love you guys! You two, and your families are so special, it was my extreme pleasure to plan with you all. xo

Are you interested?

Send a message

Julie T.

Married on 05/20/2022

Quality and caring service

We worked with Sonja through the pandemic for our wedding in May 2022. We are so happy we decided to work with her after interviewing several planners. We utilized her partial planning services which included monthly check-ins a few months prior to the big day and her "day-of" services. She responded in a timely manner, helped us stay on track with our planning timeline, and listened to what our vision was while also providing ideas/feedback throughout the process. She is an expert at what she does and has the experience and network/community to make for a seamless wedding day. If anything went awry on our big day, we did not know because of how smoothly everything went. Thank you Sonja for working with us to help create our dream wedding!

Intimate Weddings Napa Valley's reply:

Thank you Julie and Tina for your kind words. I appreciate you both so much! Clients like you make me love what i do. Your wedding was beautiful! I am so thrilled to know how happy you were with the entire experience. Wishing you both all the best! Cheers to your bright future! 🥂.

Shelley D.

Married on 10/15/2021

Thank you! You are a rock star!

Sonja is fantastic and she should be hired, hands down, by anybody who desires a wedding in the Napa Valley region. Our experience consisted of a small, intimate wedding and everything was perfect! Sonja went out of her way on day one, so I knew she would be the one to help with our special day. She is understanding, compassionate, connected me with the best vendors who could deliver our vision, and answer many questions. Additionally, she really pulled through in helping me connect better with the venue, which really helped in a HUGE way. We also were fond of the fact that she stayed the entire time with us on the big day. We also worked well as a team as I am a sales program manager by day and that mattered and meant a lot. Sonja is such a joy and I had the best time connecting with her during the entire planning process.

Intimate Weddings Napa Valley's reply:

Shelley! Thank you for this glowing review. I'm blushing over your kind words. The pleasure was all mine. Best wishes to you and T! Xo

Featured

Jill M.

Married on 05/29/2021

Sonja was a pleasure to work with!

Planning a destination wedding from Texas was harder than I anticipated. Bringing Sonja onboard for our intimate wedding was the best decision I made hands down! She was able to turn my vision into a reality by bringing in the perfect vendors to make it all come together. Her experience and expertise definitely showed.
Wedding day we were able to sit back, relax and enjoy our beautiful day with friends and family thanks to Sonja!

Intimate Weddings Napa Valley's reply:

Thank you Jill! You and Mike are dream clients. I'm over the moon that you were able to relax and enjoy your day, mission accomplished!

Leslie K.

Married on 04/21/2021

Sonja is the best

Sonja is incredible. I live in So Cal so in planning an intimate Napa wedding, I needed help. From the venue (Brix), to the officiant (Kimberly Thompson), the photographer (T.J. Salsman) and the flowers and cake, everything was absolutely perfect. Words cannot adequately express sufficient thanks to Sonja for making our day amazing.

Intimate Weddings Napa Valley's reply:

Thank you Leslie! It was a joy to be a part of yours and Johns special day. I very much appreciate you sharing your experience. xo

Jessica C.

Married on 02/02/2020

Great Experience - would do it again in a heartbeat

So happy we met Sonja. As Napa was a destination wedding for us, we needed someone who was knowledgeable in the area, local vendors and hotels. We knew when we met her that she was the one. Our first two days were filled with so many venue options. Everything was carefully planned and organized from the moment we said yes (to her.)

Over the months, we worked with her from a distance yet we never felt like we were disconnected from anything. She accommodated all our requests, introduced us to quality vendors and relieved us from a lot of potential stressful situations. Sonja always had our best interest in mind and worked hard to make our day perfect. She had everything broken down for a bride who had no clue what came next and she made sure everything was thought about and handled when the time came. She made sure we had our marriage license two months before the wedding, and if it wasn't for that, we would not have been able to get married. Little did we know, Covid was coming to shut everything down.

Two months before our big day, the pandemic hit and uprooted all our plans. She handled all the communication with the vendors, dealing with canceling, restructuring and re-envisioning everything. We still had our wedding on the same date, at the same time and in the same place. Following the county guidelines, our two hundred guest wedding went down to a socially distanced seven. She worked extra hard to make sure it was still beautiful, intimate and very special for us.

We highly recommend Sonja as a wedding planner or even any kind of event planner. Her knowledge, expertise and super fun, friendly personality make her the best choice for anyone looking to plan any kind of special day.

- Fred & Jess

+ 2

photos

Intimate Weddings Napa Valley's reply:

You two were the highlight of my year! Thank you so much for this incredible review. Made me cry. xo

Lauren B.

Married on 09/29/2019

First Class Experience AND Team

Within minutes of talking with Sonja I knew she was the one for us!!! There is this sense of calm to her that I LOVED! Sonja really works hard to make your dreams come true! We had an idea of what we wanted but after talking with her and narrowing ideas down, our wedding day far exceeded my vision. ALL of her recommendations we amazing and the vendors that we ended up using per her recommendation we first class! We wanted a no stress wedding, small, intimate, and personal it was all of this plus more! I would highly recommend Sonja! We live out of state and having her be a part of our day helped SO much!

Intimate Weddings Napa Valley's reply:

Thank you Lauren! I loved being apart of your special day. You and D are the sweetest couple! Sending many moons of happiness to you always. xo

Jenna

Married on 07/12/2019

Beautiful, Flexible, One on one

Caring, flexible, one on one and professional. Sonja made my day just perfect! I asked a lot of her and she brought it all out! Thanks!! We have the beat day!

Intimate Weddings Napa Valley's reply:

Awe Jenna, thank you! You guys win for BEST first dance ever!
I'm missing you and Costa. WishIng you both all the happiness in the world. Keep on dancing!

Terri

Married on 06/21/2019

Perfect Day!

Sonja was a pleasure to work with. She was very responsive and committed to turning the vision for our wedding day into a reality. She helped us to stay within budget, offering creative solutions and alternate vendors. Sonja really shone shone on the day of our wedding, ensuring that every minute went as planned. The groom and I didn't have to worry about any of the details. We were able to fully enjoy a magical evening with our family and friends. Our special day was perfect!

Intimate Weddings Napa Valley's reply:

Thank you Terri! It was a fun challenge to help make your vision a reality. I loved how the design turned out.

Judy

Married on 06/09/2019

Amazing service

Sonja is without a doubt accommodating wedding planner ever ! She worked we me on our budget and not only had the same excitement in the planning but also the dedication to make our dream wedding come true! Truly what we wanted to the tee!

Intimate Weddings Napa Valley's reply:

Judy! Your wedding floral dream was an amazing journey to make it a reality for you. I will miss our late night texting giggles. Hugs to you and N! Xo

Janet L.

Married on 04/25/2019

Best Wedding Planner Ever!!

Sonja made our daughter's wedding day one we will not forget. Her pre-planning, attention to detail and working tirelessly the day of the wedding to make everything perfect was nothing more than what we could have asked for.. I would highly recommend Sonja to anyone that wants to enjoy the big day without having to worry about ANYTHING!! She is the best!!

Intimate Weddings Napa Valley's reply:

Thank you Janet!! I couldn't ask for better clients, I LOVED working with you, and you already know how I feel about your daughter. It was my honor!! I must thank our vendor team, made my job easy!

Cori

Married on 10/10/2018

Sonja made our day magical!

Working with Sonja was the best experience with our wedding planning!! Sonja was so helpful with any questions or ideas. She was always there and responded to everything so quickly! We planned our wedding from NY and had never been to Napa Valley. She was so helpful with recommendations for vendors and accommodations. She paid attention to all the special details! She made sure my bouquet had had orchids and roses because those were my late mom's and grandma's favorite flowers. She helped me with all the details so I didn't miss any special touches. The venue was beautiful and she helped coordinate the whole day to go smoothly and stay on track. She made sure we took pictures with the wine train! I fell in love with other pictures I saw online before our wedding. Our photographer Marc Blondin, that she arranged was so funny and amazing! I can't wait to see our photos. The cake was delicious and so petite and adorable! Every detail was perfect for our cake. We had a very small intimate wedding but everything was planned out to have an unforgettable special day. We can't thank Sonja enough for making our wedding day one of the most amazing days of our lives!!

Sarah

Married on 09/27/2018

We had high expectations, and somehow Sonja blew them away and created the most beautiful, romantic and memorable day ever!

Katie

Married on 09/20/2018

Sonja has been a great person to work with. She was always there with every little question we had. See even setup time for us to visit wedding locations and meet vendors in Napa. She did a beautiful job making my wedding day so special and her setup of the wedding venue was phenomenal! I would highly recommend Sonja and her services to anyone having an intimate wedding in Napa.

Sarah

Married on 05/26/2018

Sonja has been a dream come true! She is very reliable, professional, calm, collected, and all the while made sure that we had fun and were in the moment on our big day. She is highly skilled in managing and planning all the details, and was amazing at helping us choosing vendors. All of the vendors that she referred to us was top-notch and we cannot be happier. Sonja is amazing!

Megan

Married on 06/10/2017

Sonja was absolutely amazing!!! We worked incredibly well together and Sonja made my wedding such a smooth ride. My husband, mom and I were able to enjoy ourselves during the ceremony and reception and not worry about one single detail, as we knew Sonja would have it covered. We got our dream wedding, and it was all because of our amazing planner!! HIGHLY RECOMMEND!!!!!

Katie

Married on 04/29/2017

Sonja was an exceptional planner for our destination wedding in Napa! She helped us find the perfect venue and paired us with the perfect vendors (band, flowers, favors, videographer, etc.) She made our dream wedding come true all while keeping us in check around what's most important. She is s well connected in the Napa Valley area and it showed in her ability to make things happen. We are forever grateful for all that Sonja did for us! We have decided that we will have a party every 5 years and she will be our planner. We love Sonja!!

Erica

Married on 04/28/2017

Sonja put together our PERFECT day. I had some ideas of what I wanted and Sonja turned them into the most special day of my life. She was so easy to work with and made everything soooo easy. I can't recommend Sonja more enthusiastically. She can make your perfect day too!

Kori

Married on 04/28/2017

Sonja was the Best! She was professional and efficient. The wedding was beautiful and she was instrumental in achieving that. I would highly recommend her.

Katherine

Married on 04/06/2017

Thanks to Sonja, planning a California wedding from Texas couldn't have been easier! She was so quick to respond to my MANY questions, had great vendor suggestions and overall was a pleasure to work with. We only had one trip to Napa to get everything done (see the venue, food & cake tasting, etc) and she was kind enough to spend the day with us to knock it all out at once. Loved working with her leading up to the wedding, but especially loved having her there the day of. Sonja was cool, calm and collected while it rained all over my outdoor ceremony & helped us quickly come up with a way to make it all happen. She can/ will do everything to make your big day great (just short of controlling the weather)!

Anne

Married on 09/10/2016

Our experience with Sonja, was fantastic! She was easy-going, understanding of our needs/vision, dependable, and managed the day perfectly. We just enjoyed the reception because we knew we could count on her to run the show. Everyone that attended our reception, said it was not only beautiful, but that it was "magical"..We attribute that to Sonja! ;)

John

Married on 09/02/2016

Getting married is nerve racking enough but when you are trying to coordinate it across the country it can really be daunting. Sonja made our wedding happen. Due to our busy schedules we were unable to travel to Sonoma before the big day. This was not a issue for Sonja and she handled everything for us before we arrived. Her knowledge and sense of humor set us at ease during the many phone calls we had sorting out the logistics. The day of the wedding was wonderful and Sonja made sure everything went off without a hitch. I could not recommend her more!

Ashley

Married on 08/09/2016

Sonja is amazing! I love live in Orlando, FL and was planning a wedding in Napa, CA, and didn't have to worry about anything. Sonja helped me with absolutely anything I needed and helped me stay on budget. I'm a control freak and was able to just fly in, show up, and everything was perfect.

Intimate Weddings Napa Valley's reply:

Thank you Ashley! I loved being a part of your special day. All my best to you both!
Are you interested?
Send a message