The Inn at the Round Barn Farm Reviews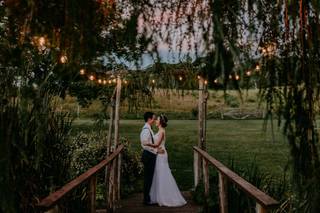 The Inn at the Round Barn Farm
Waitsfield, VT
View more information
Reviews
4.9 out of 5 rating
Quality of service

4.9 out of 5 rating

Average response time

4.9 out of 5 rating

Professionalism

4.9 out of 5 rating

Value

4.8 out of 5 rating

Flexibility

4.9 out of 5 rating
97%
Recommended by couples
Awards
34 User photos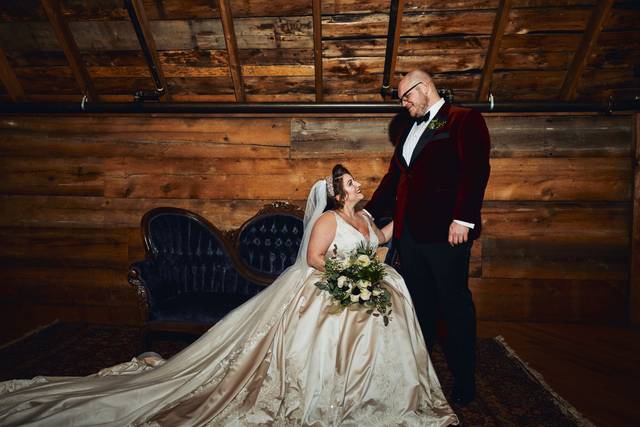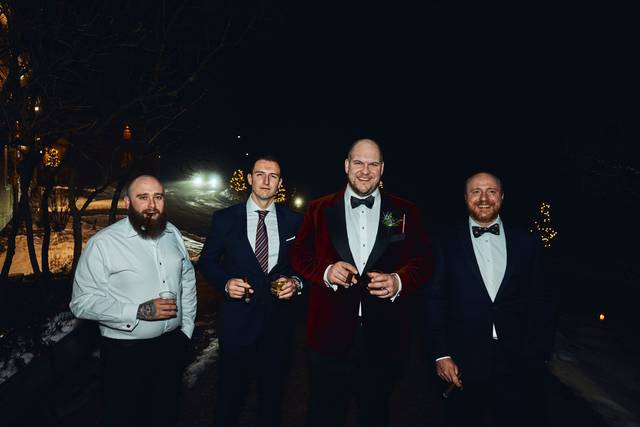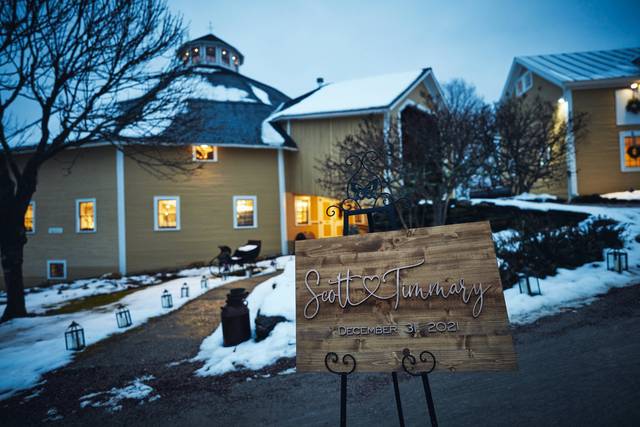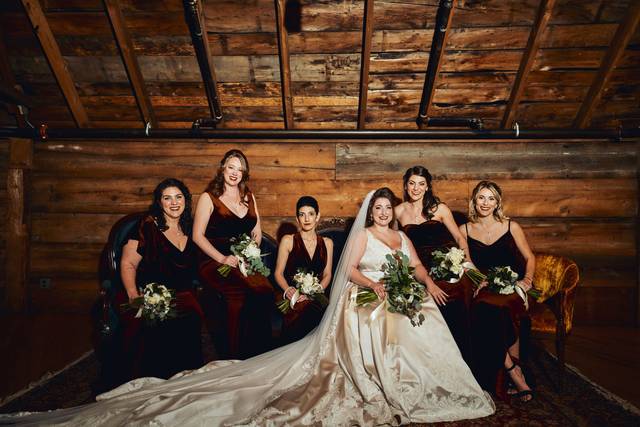 + 30

photos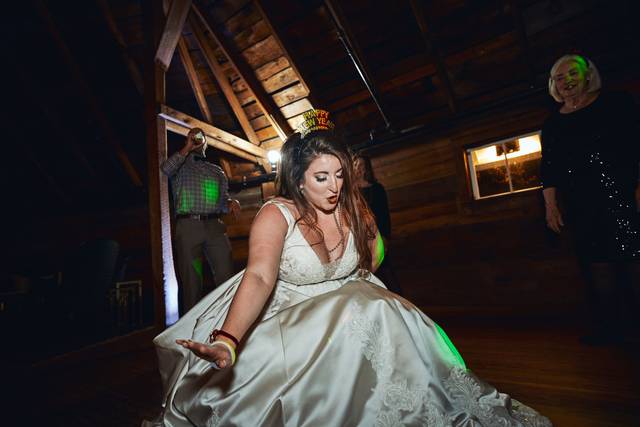 Katherine H.

Married on 08/13/2022

A truly magical Vermont venue

We chose The Inn at the Round Barn Farm for our August 2022 wedding. We were dazzled from start to finish. Kim and Beverly made our experience stress free and allowed us to focus on the most important aspects of getting married -- sharing our love for one another with our closest friends and family.

The planning, food, appetizers, drinks, day-of-organization, decoration of the space (the ceremony, the barn and the cocktail space), the rooms, the service, breakfast -- ALL of it was superb!

We are forever grateful for their kindness and support. We will always love and hold dear the Inn at the Round Barn and the incredible people that made our day so special. We highly recommend this venue. Thank you!

Becca H.

Married on 07/22/2022

Beautiful Barn, Amazing Inn, Great Support

We thoroughly enjoyed our wedding at Round Barn. We had a winter wedding. We originally booked before the pandemic. Kim, who owns Round Barn with her husband Jim, was fair and flexible as we had to move our wedding date to a year later due to the pandemic. Thank you, Kim!

The whole weekend was relaxed, fun, and beautiful. We rented the entire Inn for the weekend, which I highly suggest. It was so enjoyable to have breakfast in our PJs with our families in the morning, get ready in the bright, sunny rooms, and be right next to the Barn. We had our rehearsal dinner and ceremony in the milking parlor and the reception in the Barn.

I'm definitely biased, but everything was incredibly beautiful and elegant. The scenery, the barn, the set up -- gorgeous. Hard to imagine a more idyllic place to get married!

Round Barn does food right! Breakfasts, rehearsal dinner, appetizers, and reception dinner were all amazing. Many guests told us it was the best wedding food they ever had.

It's hard to say enough good things about Bev. I said the weekend was relaxed and that's really thanks to Bev. She guided us through the whole process, made our dreams and requests come true, and made the weekend go off without a hitch. Bev, thank you! We really appreciate everything you did for us over the two and a half years we got to work together :)

Timmary H.

Married on 12/31/2021

Dream Venue, Team, and Day

The entire team at RBF are experts. We first booked with them back in 2019 (which feels like another world ago..) and they stood with us and provided advice, support, flexibility, and joy throughout the entire process. This included a pandemic, a rescheduling, and a last minute variant that once again required pivoting.

Kim is a gem. Truly one of a kind. She is understanding and genuinely loves working with the couples. She was there through thick, thicker, and thin. When you book with RBF you are not getting a wedding business experience- but an individualized and highly tailored process.

Beverly is a wedding fairy godmother. I honestly don't know how I would have done ANY of this without her. Whether you have your day planned down to every detail, or just have a general idea of an aesthetic, I promise you will be blown away. She is not only talentet, but SO kind. My wedding party is still talking about how much they loved her from the moment they met her.

The food- delish. Not your standard "wedding food" but rather really good food that just happens to be served at a wedding. Those canapes- I am still thinking about the crispy pork belly.

The venue- It speaks for itself. Charming, rustic but NOT dirty or disheveled, vintage, and the perfect backdrop for either your dream outdoor day, or your cozy and storybook winter gala (I chose the latter).

Amidst everything, RBF and the team gave me and my husband an unforgettable and magical wedding from the moment of booking to the day we left. Our guests are still telling us that our wedding was one of the best they've ever been to; and while I want to take SOME credit ;) I know that it's because of the love and care that the venue andt team put in to our day. Book with them, I promise you that you won't regret it.

+ 7

photos

Are you interested?

Send a message

Featured

John F.

Married on 06/12/2021

Stunning. Absolutely perfect. Beyond words.

06/12/2021
We can't say enough about the Inn at the Round Barn Farm. But we will try:
The grounds: the grounds at the RBF are amazing. They are unique, interesting, and visually stunning. We loved strolling the grounds.

The Inn: the Inn housed the entire wedding party (12 rooms) and it was great. Super convenient on the day of. We used the usual bride and groom preparation areas and it worked perfectly. The groomsmen particularly enjoyed the pool table while we got ready.

The Barn: Super spacious, super beautiful. Fit our 105 guests with plenty of room to spare.

The Staff: the RBF experience was already 5-star, but the staff bring it to the next level. We were assigned a wedding coordinator, Beverly, who was great and kept every little detail moving on our wedding day (and all the days of planning as well). The wine coordination took extra steps to work with our preferences. Kim, the owner, is the nicest person ever and made us feel like family. The bartender made a special drink for the bride when she asked. The list goes on. Top to bottom amazing folks.

In summary, perfection. We can't imagine how our wedding could have possibly been any better. We plan to be back to this amazing property to celebrate anniversaries.

+ 6

photos

Robin

Married on 10/19/2019

magical wedding

My daughter was married under a chuppah, in a beautiful field, by a pond, as the fall foliage was at its brightest-a day made perfect because of the outstanding service provided at this beautiful inn. The "planner" Becky must be praised for making each moment sheer perfection-food was divine- service impeccable- the timing planned to a tee- such perfection that the dance floor stayed filled till it was time to force the guests to leave! I couldn't be happier that we chose this venue- I did take over the whole inn for the weekend- and all guests loved their yummy breakfasts and uniquely decorated rooms- This is the ideal venue for anyone planning a special celebration of any sort!Thank you Becky and Kim for giving Mallory and Aaron a dream wedding that they will never forget!

Karen K.

Married on 10/05/2019

Mother of the Bride

"We could not have asked for a more perfect celebration." That's what my daughter wrote in a note she handed to her father and me as she left for her mini moon. And that really says it all. The Round Barn tops the the list in beautiful rustic elegance, attention to detail, and a lovely, friendly, knowledgeable staff for whom top notch service is obviously a priority. Thank you to owner Kim, our coordinator Becky and all of the staff. It was a wonderful day!!


Isabel

Married on 10/05/2019

Best day of our lives

If you dream in foliage like we do the round barn farm is a dream come true. Our wedding last October was everything we could've hoped for and more. From the gorgeous grounds to the delicious food and the professionalism and hospitality of the staff, it was an incredible experience start to finish. We loved everything about our wedding weekend and highly recommend this venue to anyone looking for a beautiful, quintessential Vermont wedding.

+ 4

photos

Allie

Married on 08/10/2019

The most magical place for your most important day!

Our wedding day was absolutely perfect, thanks in large part to the amazing team at the Round Barn. Becky, our wedding coordinator is a true professional. She was so patient and communicative during the entire process, making sure every detail was considered and discussed. On the day of, she kept everything moving & on schedule without being overbearing or rude. She just wanted the day to be perfect, and it showed. We rented out the whole inn for our wedding weekend, which I highly recommend doing. The Inn staff is incredible- friendly, kind, helpful. The breakfast they serve is gourmet and we got so many compliments on our wedding food. The grilled cheese and tomato soup shooter apps were a HUGE hit lol. The grounds are meticulously kept and the rooms are all beautiful and different. Also, we had some light rain on the morning of our wedding day and one of the owners of the Round Barn bottled up the rain for us as a good luck keepsake. She wrote the most beautiful poem to accompany the gift. I literally broke down into tears when she gave it to us. You absolutely cannot go wrong with the Round Barn. We can't wait to come back!! What a special place to celebrate our marriage for years to come.

Alyson

Married on 11/03/2018

Wedding venue perfection

We were married at the Round Barn on November 3, 2018 and couldn't possibly put into words how much we love the Round Barn. Every single staff member was kind and professional. The atmosphere was stunning, inside and out. The food and drinks were delicious. Our wedding coordinator, Becky, was amazing. Becky was willing to put in hours of communication via the phone and email, since we were planning throughout the year from Colorado, and answered every single question we had. She anticipated details we never would have thought of and was so easy to work with. She had plenty of suggestions on how to incorporate our ideas (including some traditional and some non traditional ideas, a live band with TONS of sit ins during the first set, and our 200-person guest list) into the weekend while ensuring the weekend ran smoothly for us and for our guests.

Our immediate family (and the two of us) stayed at the Inn that weekend. The inn was beautiful, the staff was wonderful, the food was delicious, and we felt so welcomed. The grounds were stunning, even when it's rainy, windy, and 40 degrees outside. Our guests felt welcomed and were blown away by how beautiful the barn and the decorations were. (Again, thank you Becky!) They were even offered hot cider before the reception, which was especially appreciated due to the weather.

We are forever grateful that we chose the Round Barn as our venue and highly, highly recommend it as a wedding venue!

+ 2

photos

Gabrielle

Married on 06/23/2018

I don't think I can put into words how magical our wedding at the Round Barn was. The location is like something out of a storybook. Our families, close friends, and small wedding party rented out the whole Inn for the two nights of our wedding weekend, and it was the best decision we made. Breakfasts in the enchanting garden, looking at the impeccably maintained lawns and flower beds, listening to the birds sing in the sunshine... we are already planning our next trip back there.

Everyone that worked with us to plan our wedding and was there the day of was kind, polite, and helpful. Beverly, our wedding coordinator, is a gem of a person and made sure everything was running smoothly from the moment we contacted her a year before the wedding to the actual day of the ceremony. She was loving, supportive, listened to our every need and want, and ensured that we had the best wedding we could have imagined. This venue's ability to be flexible, adapt to last minute weather changes, accommodate everyone's needs, and be kind and courteous the whole time really blew our mind. The food was absolutely incredible - I am a big food lover and I was blown away by the quality of ingredients, creativeness of the dishes, presentation... Everyone raved about how good the food was at the wedding.

If you are thinking about getting married here - do it. It's only been a week and I already wish I could relive our wedding day. We will be forever grateful to the staff at the Inn at the Round Barn Farm for making our wedding day absolute perfection.

Caitlin

Married on 10/28/2017

I don't even know where to start! We loved the Round Barn from the first day we saw it, just venue shopping. But we had no idea how amazing it would all turn out the day of our wedding. Becky Greene was our coordinator and if there was an award for the BEST WEDDING COORDINATOR she should get it. She's AMAZING, I think she remembered more about my own wedding than I did. She accommodated everything that we wanted, discussed the best options for us, even gave us her opinion when we weren't sure what to do because we trusted her. We brought a lot of our own decor and she set up everything exactly how we wanted it. The flow of the wedding was fantastic, to the ceremony, cocktail hour, reception and bonfire, there were extremely organized and professional. The food was AMAZING and service was wonderful. All of our guests could not stop talking about how it was the best wedding they have ever been too, and I do feel like they meant it. The Round Barn will always have a special place in our hearts, we will be back for sure.

Rachel

Married on 09/28/2017

We had a wonderful wedding at the Round Barn in September. After considering a large wedding elsewhere and hesitating, my husband and I ended up checking out the Round Barn together on a whim. From the moment we toured the premises, we knew a small, intimate wedding there was just right for us. The people were friendly, the rooms were all so unique and comfortable feeling, the grounds are stunning without being fussy or overdone, and they have Heady Topper and Sip O' Sunshine! We booked the elopement package they offer and added 10 guests. It was all very easy and affordable. Beginning a few months in advance, I worked with Beverly via email (we live in NJ) to set everything up. She was prompt, friendly, and knowledgeable. She worked with us to customize our day and everything came out beautifully. Beyond the wedding experience, staying in the Richardson Room was amazing and the breakfasts offered each morning are to die for (though I was too nervous on the wedding morning to fully appreciate it!) We went into wedding planning wanting a simple, low maintenance, meaningful wedding day. The Round Barn helped us to make that vision a reality. I look forward to hopefully celebrating some anniversaries at the Round Barn!

Kate

Married on 07/01/2017

Everyone at the Inn at the Round Barn Farm, especially Kim, Jim, and Beverly, made our wedding a dream!! Beverly, our coordinator, made sure we thought of everything and remained on track before the wedding; the weekend of, she anticipated every need and ensured that everything went smoothly. Her warmth, dedication, attention to detail, patience, flexibility, calm positivity, and professionalism made her a joy to work with; her experience and capability allowed us to focus on the day, each other, our guests, and having fun because we knew Beverly was on top of everything. Kim and Jim, the inn keepers, had such a personal touch and checked in frequently to make sure we had everything we needed. Everyone worked hard behind the scenes to make sure everything went well and were so friendly that we felt incredibly comfortable and happy to share our wedding with them! The grounds and buildings of venue itself are gorgeous — the guests raved about them, even in the rain! When it rained, it was such a relief to be at the Inn because they have a flawless rain plan with a gorgeous and intimate indoor ceremony location — the weather didn't matter! Their experience enabled them to able to quickly adapt for any changes. Our guests loved the food ("best wedding food ever!") at the wedding, the rehearsal dinner, and at breakfast, for those who stayed at the Inn. We had guests in every room at the Inn, which was amazing because it allowed us to spend more time with everyone and our guests were thrilled to have more time to enjoy the weekend and not worry about traveling back and forth. Even though we live in California, my husband and I talk about how much we love the Inn and about how much we have to go back to visit whenever we can! We can't recommend the Inn at Round Barn Farm highly enough. Thank you, everyone there, for making our wedding the best weekend ever!

Elizabeth

Married on 06/24/2017

My daughter's wedding was held here and I cannot say enough about how special it is at the Round Barn. The wedding coordinator is amazing and so on top of every detail. The staff was friendly and helpful with excellent service! The barn itself is so beautiful. The food is some of the best in Vermont. I highly recommend this venue for a beautiful Vermont wedding.

The moment we pulled up to the Round Barn, we knew this was it. To all of you reading this review, let me tell you... that besides marrying your fiance, choosing the Round Barn will be the BEST DECISION you will ever make.

Why the Round Barn was everything we could have asked for in a Wedding Venue:

-THE PEOPLE, THE PEOPLE, THE PEOPLE: Starting with Stacey, who we immediately fell in love with b/c she was so genuine, patient, sweet and just genuinely excited for us. Becky, our wedding planner (more on that in a minute), Marnie, Kim, the waitstaff….every single person we worked with leading up to the day, and on our wedding day, was a 10 outta 10. Great, caring, authentic, hard working folks!

BECKY: At the RB, a wedding planner is included in the cost. I think a lot of people (including myself) overlook just how important and how necessary a wedding planner is for your wedding to run seamlessly If I could dream up a wedding planner, it would be Becky Greene. She is incredibly organized, extremely responsive and exudes a spirit that is professional, calming and playful. I can confidently say Becky IS the reason my wedding was everything I could ever dream of and more.

THE VENUE: We got married in March, so we had the ceremony in the milking parlor, and the reception upstairs. The whole place is stunning. From the moment you walk in for a tour, you just can't help to fall in love instantly with the barn. And, the best part about this barn? It is so beautiful, entirely on its own. We were on a budget, so couldn't go crazy with flowers, decorations etc. And honestly, at the RB, I really think less is more.

THE INN: every room in the inn is so cozy, romantic and makes you feel right at home. It is awesome to be able to offer your VIP guests a room at the inn. It was so much fun walking into breakfast each morning to see your whole crew. Also, the breakfast is outstanding!!


Thank you RB for making my wedding day so special!!!!

Paul

Married on 09/25/2016

We had our wedding at the end of September 2016. From the second we met Stacey we knew this place was right. The obvious is this place is beautiful, but the experience of working with Stacey and planning was awesome. Every question, email, thought was always answered quickly and easy. She made the process so smooth and made us feel comfortable every step of the way. She has great taste too and speaks her mind. The food was impeccable people are still emailing about it. Staff was also very polite this was a gay wedding and the whole staff at the inn and the barn were polite and kind. The wedding went perfect. Everything we planned and were informed of went that way - there were no surprises. I have heard so many venue horror stories, but The Inn did it superbly. We looked at a bunch of places and were so glad we picked it. We can't recommend it enough! Book here!

The Round Barn is the absolute best! I truly won't be able to capture in words how wonderful the people at the Round Barn are and how special they made our wedding day. From the minute we met Kim, we knew we found the best place for our wedding. The Round Barn is full of charm and offers the best of everything. Charlie, the chef, is an artist and everything we tasted was truly fantastic. So good that we decided to have our rehearsal dinner at the Round Barn as well! Everyone worked so hard to make our day absolutely perfect and we will never be able to thank them enough for all of their efforts in making us, our family, and our guests feel so special. You cannot go wrong with hosting your wedding at the Round Barn!

Carolyn

Married on 09/10/2016

My husband and I were fortunate enough to have our wedding at the Inn at The Round Barn Farm a few weeks ago. We sincerely, from the bottom of our hearts, could not imagine a more perfect venue. It was a truly beautiful event, and couldn't have been possible without the assistance of their wonderful team (who are honestly the most genuine, friendly, and hard working people). The owner, Kim, and Becky, Beverly, and Josh, were so much fun and so lovely to work with that it was actually quite sad to leave after our reception. We can't thank them enough! Also, we had the pleasure of staying for the weekend, the breakfast was the best I've ever had, and the rooms were lovely! I would give 10 stars if I could!

Victor

Married on 06/18/2016

Just can't say enough about the Inn at Round Barn Farm! We visited many venues searching for the right balance between charm, service, and facilities and ultimately determined that the small relatively small premium for a venue that provides complete management service plus all the necessary equipment was well with the money. Kim and her team know what they are doing and strive to eliminate any and all stress so that you can enjoy your special day. Since this was effectively a destination wedding for us, we really needed to rely on Kim and to transform the weekend into everything our daughter wanted. They delivered on that promise in every department. If you are looking for authenticity and a setting that can't be easily matched, the Inn at Round Barn Farm fits the bill. The website does not lie. What may not be evident on the website is the spectrum of location choices for the ceremony and the failsafe milking parlor that can be transformed into the ceremony location in case the weather does not cooperate... We used it for the rehearsal dinner! The added convenience of being able to house the whole wedding party plus parents at the Inn just made the whole weekend extra special and stress free. I have worked in the Hospitality Industry for many many years and have visited some of the most amazing hotel properties. The Inn at Round Barn Farm is a very special place. AWESOME AWESOME AWESOME!! --V2 (FoB)

Abigail

Married on 06/13/2015

When we got engaged, our idea was to have a backyard BBQ - my mother had a different vision for our day. When she asked us to go to The Round Barn to have a look, we were reluctant, for no other reason than a Round Barn wedding is a much more grand affair than we had planned. However, after taking a tour of the property and meeting with the absolutely delightful owner, Kim, we were sold.
We got engaged on Valentine's Day 2015 and were married on June 13, 2015. We planned and executed the entire event in 4 months, all thanks to the ease of the Round Barn. We are so grateful for having had the opportunity to be married out by the pond, under the willows, facing the irises with the frogs croaking and cows behind us. It was truly picturesque! There wasn't anywhere that you looked at that wasn't beautiful. Our guests were blown away but the setting...
The barn, itself, was a vision - just breathtaking. The tables were set to perfection and the service was unparalleled. Thank you, Becky, for taking such great care of us and our guests.
The food was absolutely delicious, as well. Chef Charlie is a true artist, with food as his canvas. It was clear from the beginning, that he takes great care in everything that he creates. Five stars to the chef!
To say that our wedding was a magical day, is an understatement.
Thank you to Kim Donahue and The Round Barn staff for giving us the perfect weekend of memories!

Kristina

Married on 07/03/2014

The perfect wedding venue! We knew we wanted to get married here before we were even engaged. It's just so gorgeous, we loved the inn, and the staff acted as excited about our wedding as we were. We told them our plan and they executed it flawlessly, despite some staffing changes and even an ownership change. I couldn't believe that they didn't even let a single detail slip through the cracks. We rented out the whole inn for a couple of days and it was so nice to have my whole family there under one roof. My wedding was exactly as I imagined it. Just a magical place all around.

Molly

Married on 05/22/2014

Incredible wedding venue! These are the real deal in the business & they work with you around EVERY detail to make your special day seamless. The property is gorgeous, the rooms are so peaceful and comfortable, the barn is the quintessential humble, but stunning Vermont wedding setting, the food is delicious, and the whole team at the Round Barn Farm works tirelessly - and with a smile - to create just the wedding couples want.

Rachel

Married on 12/14/2013

Every single person at the Inn at the Round Barn Farm made our weekend the most special it could be. During the planning process they went above and beyond to make our job easy and stress free. They were cheerful and accommodating as well as helpful in suggesting ideas that had worked for other couples. The venue itself is breathtaking beyond compare, as well, but it's the people who make it a truly special place!

Emma

Married on 09/07/2013

We had nothing but an amazing experience working with the Inn at the Round Barn. We relayed our vision of a casually elegant wedding focused on food and dancing, and they provided 100%. Lisa and her team were always quick to provide a recommendation on vendors, and to guide us towards options and arrangements that fit our vision. Every one of our friends and family said our wedding was the most fun (and delicious!) they had ever attended.

Cara

Married on 08/24/2013

I cannot possibly say enough about this venue. It was top notch service from beginning to end. The staff is absolutely amazing and they obviously take great pride in their work. Our wedding was two weeks ago and the phone calls and emails from our guests to compliment us on the beauty of the location and the food provided have not stopped. If I could do it all over again I wouldn't change one thing. My husband and I cannot wait to go back for another visit!
Are you interested?
Send a message