178 Reviews
Recommended by 99% of couples
Quality of service

5 out of 5 rating

Average response time

5 out of 5 rating

Professionalism

5 out of 5 rating

Value

4.9 out of 5 rating

Flexibility

5 out of 5 rating
114 User photos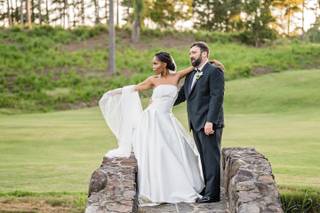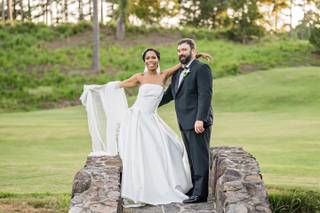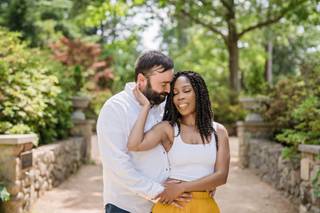 + 110

photos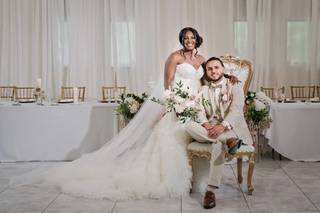 Anna W.

Married on 08/13/2022

Fantabulous!!! Dream Experience! AMAZING!!

Where do I even begin?!?!!! From the initial consult we knew that we picked the perfect photographer for us! What we didn't know was that Dajuan would be a fan favorite!!! The bridal party and wedding guests absolutely loved Dajuan…a true testament to how kind and humorous he is in addition to how comfortable he made everyone feel while photographing. The initial consult with Dajuan was professional yet personable, extremely informative, and we could tell that photography is not only his profession, it's his passion. After the consult we knew we found our photographer and have never regretted our decision. From the initial consult to the wedding gallery reveal, Dajuan was extremely responsive to my many emails, flexible with our schedules, suggested vendors that we still needed, and was a complete joy to work with. Dajuan captured memories that will last us a lifetime and did it beautifully. Our engagement and wedding photos are absolutely STUNNING!!! We are forever grateful that we chose In His Image Photography to capture one of the most special days of our lives; definitely a 10 star experience!!

Cory P.

Married on 07/10/2022

Professional, friendly, delightful, epic

Dajuan is simply incredible. He's a spectacular photographer and a true joy to work with. My wife and I were wrestling between two options for our wedding and we have absolutely no regrets after deciding to hire In His Image. Dajuan was professional and incredibly friendly. Neither of us are into posing for the camera, but he put us right at ease when we met for an engagement shoot (months after we'd gotten engaged) and we always felt a huge amount of stress lifted off our shoulders after every conversation with him leading up to the wedding. He brought in a second photographer for our wedding day and his selection of Mabyn Henderson was phenomenal. She did a great job with getting ready photos and first look photos for me, my groomsmen, and my mother. The work they did during the ceremony and the reception was outstanding and Dajuan got our event day photos turned around and delivered to us far quicker than many of our friends' wedding photographers have done for them. Every photo is wonderful, including those that didn't make his favorites list, and he organized our album to make it easy for us to locate photos from specific moments during our day.

Thank you Dajuan!

Maurice S.

Married on 05/15/2022

The wedding photographer you need!

* Where did you start your search for a wedding photographer? My sister and my parents has used your services in the past and we have loved your work

* How long did you search for a wedding photographer before deciding on me? Without hesitation, we made the decision to utilize your services and was blessed that everything aligned perfectly.


* What made me stand out from other photographers? The quality of work, attention to details, and personal relatability.


* Were there any reasons you were hesitant about booking me? There were no hesitations.
* What made you happy that you chose me? That we had a easy and understandable process and enjoyed the process of thank the pictures.
* How did I exceed your expectations? Respectfully, responsive and we're all on the same page when it came to the vision of the wedding.
* Why would you recommend my work/service? Because if someone wants the BEST, they should use your services.
* What would you tell someone who's considering working with me? That process is well thought out, very detailed, enjoyable and images will come out pristine.
* Is there anything else you'd like to comment on or share about your experience with.
The experience was amazing and worth it and I would utilize your services again and again!

Are you interested?

Send a message

Mlle H.

Married on 05/14/2022

Truly Incomparable!

Truly Incomparable!
Dajuan was the BEST choice we could have ever made for our wedding! From day one, he was communicative, patient, organized, and open-minded. He was also extremely adamant about making sure that our happiness and approval were a priority and it showed! He had a very calm demeanor throughout the entire process and that made it so easy and effortless.
Furthermore, although we had read most of his 5 star reviews before choosing him, we were still in awe once we received our photos. He captured every moment we wanted! The photos were beyond beautiful! Please choose him for ANY of your events, you will not be disappointed!

Haven A.

Married on 04/16/2022

Speechless. Outstanding. I'm Awe

Dajuan is no less than brilliant. I could not be happier with the photos from our wedding. He is the most accommodating and genuine person in general. Words absolutely cannot describe how beautifully he captures the day. Raw images right from the camera are breathtaking. Such a wonderful attention to detail, I could go on forever. Highly recommend.

Letanya L.

Married on 04/09/2022

Pure perfection!

Dajuan Jones, and his entire team of In His Image Photography assistants, are simply the best. If you are looking for an exceptionally talented wedding photographer who delivers outstanding customer service and stunning photos, then look no further. Dajuan is a photographer's photographer who is lauded as one of the best in the industry. As I view our amazing images from our wedding gallery, I can attest that his reputation is well earned. He is meticulous with a keen eye for detail. With his experience, he knew exactly which wedding moments to capture to tell our story. From my bridal session to our wedding day, Dajuan's calm demeanor, attentiveness, posing guidance, and humor created a great atmosphere which helped me to relax and enjoy the moment. For years to come, we will relish the memories and enjoy the beautiful photos from our wedding. I could never thank Dajuan enough for being an integral part of our journey to forever.

Sam B.

Married on 11/12/2021

Just Excellent!

Dajuan and his team at In His Image Photography are incredible. We are so happy we chose him and his studio for our wedding photos. He was very professional and easy to work with. He worked with us to develop a schedule for the day of the wedding and addressed all our concerns in a timely manner. Our photos came out great and beautiful. Everything was perfect. He's the real deal. Do not look elsewhere. Hurry up and book him if he's available for your date because you'll not be disappointed with services and how incredible your photos look.

+ 3

photos

Casie O.

Married on 11/05/2021

Great experience!

Dajuan was our wedding photographer and he and his team were wonderful to work with! Extremely professional while casual at the same time. It's clear he comes with a vision and takes the time and effort to deliver pictures that capture the moments you want to remember.

Victoria

Married on 10/16/2021

Best Photographer Ever!

My husband and I worked with Dajuan for our engagement photos in Craggy Gardens, NC and our wedding at Bella Collina Mansion! Dajuan takes you on a journey with his photos by capturing every little moment and emotion perfectly. We are so grateful to have had such a wonderful experience working with Dajuan throughout our wedding journey. We are through the moon with both sets of photos! Our engagement ones are perfect and our wedding photos…left us speechless! He is professional, fun, kind and just an overall wonderful person to work with!

Larry L.

Married on 10/03/2021

Fantastic Photography

In His Image was an amazing photographer to work with, not only was he on top of things, he was also just fun to be around. Throughout the day he made sure he was detailed and thorough. He had fantastic suggestions and made sure we were getting what we wanted. We couldn't have asked for a better photographer. Even post wedding, In His Image turnaround time exceeded our expectations, we got photos back before even their projected deadline, and of course the photos were absolutely perfect. Not only that, but there's plenty of photos and he definingly captured every part of the day. I would highly recommend.

Tolu A.

Married on 09/08/2021

The Best Photographer For The BEST DAY EVER!

We wanted a photographer with the same faith and values with us, without compromising quality. When we first came across In His Image's name on a wedding website, we were so intrigued by the name. Reading their mission and connecting with DaJuan was just what we needed to know that we have found the perfect wedding photographer. In His Image captured our pre-wedding shoots as well as our wedding day. Even during COVID DaJuan stayed in contact and was very responsive. His calmness made us feel at peace and relax, even when the stress that comes with wedding planning kicked it. Now we have forever to remember and be grateful for how beautiful the In His Image team captured our love whenever we look at our wedding album. Thank you soooo much and we would 100% recommend them to future brides and grooms!

Jasmine

Married on 08/21/2021

SIMPLY AMAZING! No complaints at all! BEST in the business!

Dajuan was simply AMAZING! He captured every single special moment from our engagement session to our wedding ceremony and reception and did not miss a thing! He was very professional, he answered any questions and or request that we had in a timely manner. His work was simply MAGICAL and we couldn't have found a better photographer if we tried! Dajuan made our journey so special and we now have photographs to look at forever! You will not go wrong with Dajuan, he is the best in the business!!!

+ 8

photos

In His Image Photography's reply:

Wow, thank you for the kind words Jasmine! Working with couples like you two makes it so easy for me to put my all into it. And for the record, you two brought the MAGIC, I just made sure the photos leveled up!

April J.

Married on 08/09/2021

100% Pandemic Approved!!!

In His Image Photography is 100% Pandemic Approved! We certainly appreciated Dajuan's kindness, professionalism and patience prior to the pandemic. But amidst, we're truly blessed with the quality of services received while trying to navigate through rescheduled dates, changing locations, and detailed planning of the photo timeline for our microwedding. Dajuan was a pleasure to work with from start to finish. This year will be unforgettable, but we'll always cherish these excellent photos! Thank you so much, such a great experience. God Bless!

Janee L.

Married on 07/18/2021

Best Wedding Photographer!

Dajuan and his assistant did a fantastic job at my July 2021 Wedding. Dajuan was very helpful and communicative during the entire planning process. He makes everything from choosing the photo package to creating the wedding day photography timeline very easy to understand. As a bride who was wedding planning during COVID he made the whole process stress free! And of course I love all my photos! I looked at several other photographers, but one of the reasons I chose In His Image photography was because Dajuan, in my opinion, does a better job of capturing moments even when the room is in chaos. Hair and makeup time, dancing at the wedding reception, people chatting and laughing during cocktail hour, the send off, etc. Everyone looked gorgeous in every photo! Even though there is never enough time to take all the photos you want to take on the day, Dajuan made sure that I got all the photos that were important to me and my husband. I give Dajuan 5/5 stars for being responsive, having a great eye for photography, and for being extremely kind and relaxed.

In His Image Photography's reply:

Wow, thank you Janee for sharing your wedding day experience for future couples to consider. I thoroughly enjoyed serving you, Josh, and the family throughout the whole process. But you are not done with me yet. We have a wedding album to design and display just how amazing the celebration was!

Santana V.

Married on 05/23/2021

Best Photographer in Town!

Working with Dajuan has been a pleasure. He really did a great job and ensured my Fiance and I had beautiful engagement photos, despite some obstacles while shooting in the middle of a pandemic. He is fun to talk to, and highly professional. I look forward to having him cover our wedding day! Look no further, this is the best wedding photographer in town!!

In His Image Photography's reply:

Hi Santana, thank you for taking the time to share your experience for future couples to glean from. I look forward to assisting you in preparation and the execution of your wedding day next Spring!

Thank you again,
Signed: The Best Wedding Photographer in Town :)

Jin B.

Married on 02/11/2021

Absolutely spectacular!

I am so glad we booked with Dajuan to be our photographer for our wedding. He was Amazing, so professional, kind, and he truly made us feel comfortable. We were blown away by the finished photos, he did such a great job capturing the moment. We highly recommend In His Image Photography!

Jennifer F.

Married on 12/11/2020

Excellent Service

I would highly recommend In His Image Photography, the experience from the initial consultation to the conclusion of my wedding day was excellent. I knew I wanted In His Photography for my wedding from the beginning, Dajuan 's work is amazing !! He has an awesome spirit and a way of making everyone feel comfortable and look glamorous. Impeccable service and quality, again would highly recommend!!

Jennifer F.

Bethsaida S.

Married on 11/01/2020

Look No Further

I started my photography search via Instagram in order to see previous weddings they have done as well for reassurance on the quality of their work. As soon as I saw 'In His Image Photography' I knew he had to be my photographer. I did ponder on other photographers but always came back to Dajuan. My fiance also saw his work and his enthusiasm validated my thoughts. I am big on checking for quality of the work when it comes to editing styles and lighting. I also wanted to ensure that the weddings that he had previously done captured the bride and groom beautifully. My biggest nightmare was to not love the pictures that I will have forever for a day that I can't recreate which I expressed during my first consultation with Dajuan. During the initial consultation, his personality also was very personable and professional. From there I knew I would thoroughly enjoy working with him. Our follow up catch ups made me even more enthused to have him as my photographer and more eager for our wedding day. During the day of the wedding, Dajuan went above and beyond to ensure I had the best day in every manner he could. He was amazing with providing directions for poses, evaluating different locations and which ones were best to prioritize based on lighting. He was extremely patient with us. My family and friends there also enjoyed his company and how professional he is. Post the wedding, I had zero doubt that I would not love my pictures once he was done editing. And I was completely blown away. I would tell anyone who is looking to book Dajuan/In His Image Photography to not waste any more time and book him Now, you won't regret it. Not only is he amazing at what he does but he is literally one of kindest people ever, you NEED someone like that in your team during this process.

+ 4

photos

Kelly R.

Married on 09/18/2020

incredible experience

Dajuan and In His Image Photography delivered more than just stunning wedding photos, he delivered a quality of service that is hard to beat. He is one of the nicest people you will ever encounter and has some serious talent. We are over the moon pleased with our photos. Dajuan was with us from start to finish and listened to ideas of photos we wanted as well as incorporated some standards that we had forgotten. He is a friend for life and our wedding day will forever be a bright and beautiful day in our hearts and in the images he captured. Dajaun and IHIP captured the true essence of my husband and I as a couple and individuals and we didn't just get images, we got personality and photos that are perfectly us. THANK YOU Dajuan and In His Image Photography for being kind, professional, delivering our photos at a rapid speed post wedding and for being kind humans. 100/10 would recommend!

Ruth F.

Married on 09/17/2020

DaJuan was the best! He did an amazing job!

DaJuan had the best energy. He is very organized and punctual! He will be part of very special occasions in our life. Ed and I are very pleased and we are still not over our pictures!

+ 17

photos

Kevin C.

Married on 09/12/2020

Beyond expectations

Single handily saved our wedding! I'm forever in debt to him. With our wedding on the brink of collapsing he went out his way to help mend a few relationships and keep the wedding on track for our target date. Not only did he perform his duties but he stepped in as a "planner" as well too.

Chettresvetta H.

Married on 08/08/2020

CnG4Eternity

PHENOMENAL EXPERIENCE!!!! Dajuan of IHIP listened attentively from our first contact. My fiance and I were new to the area of Cary, NC, and had no clue where we wanted to have the happiness and excitement of our engagement captured. Dajuan took the pressure off, and gave us location ideas, and provided a look at work he had done at the various locations. He didn't pressure us, instead let us decide!!

Moneca

Married on 12/31/2019

No need to look any further for your Wedding Photographer! You're Welcome :)

Dajuan is nothing short of PHENOMENAL! From my first interaction with him I could tell right away he was truly passionate about photography. He was so professional and down to earth. I like that he spent quality time explaining everything in great detail to ensure all my questions were answered. He has even been available to us after hours to work with our schedules, which has been greatly appreciated. For our engagement photo shoot, I was out of my element but Dajuan was very patient and made me feel very comfortable throughout the process. He took his time and made sure to capture everything we wanted. Our engagement pictures turned out AMAZING! We are already excited to see our New Year's Eve wedding pictures and are 100% confident they will be FANTASTIC! We feel very blessed to have met Dajuan and to be able to work with him and In His Image Photography to capture our special day. We plan to use him for all our future photography needs! If you want THE BEST wedding photographer, please go ahead and book with In His Image Photography – you will NOT be disappointed!

Taylor N.

Married on 12/28/2019

Simply but elegant

Dajuan was Amazing!! I loved how he was involved and having fun with us throughout our wedding. We will definitely book him again!

+ 2

photos

Tiffany S.

Married on 12/27/2019

Amazing experience!!!

I'm beyond blessed to have had the support of Dajuan on our wedding day! We had a last minuet unexpected change on our day and without hesitation and without us even asking him to make a change, Dajuan was ready to support us. The entire day, Dajuan was positive, patient, and showed that he was happy to be with us. From what I observed, Photography is a passion for Dajuan. I believe he wants to be a part of what makes a wedding day special for his clients. He truly enjoys photography as we observed that he appeared to be "having fun" with taking photos that day. This is truly his ministry and I pray that God blesses his business beyond what he has ever imagined for it. My family was very happy to work with him on that day. My brother in law is planning to use him for an upcoming baby shower. The photos from our wedding day are amazing! Better than I imagined. In His Image Photography is worth every penny. We can't wait to have Dajuan support us with photos for future milestone events in our life!
Are you interested?
Send a message