234 Reviews
Recommended by 88% of couples
Quality of service

4.4 out of 5 rating

Average response time

4.4 out of 5 rating

Professionalism

4.4 out of 5 rating

Value

4.6 out of 5 rating

Flexibility

4.3 out of 5 rating
39 User photos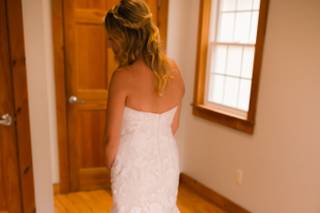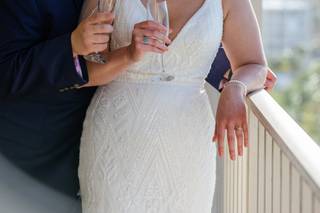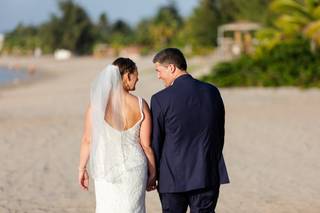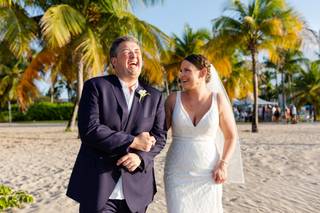 + 35

photos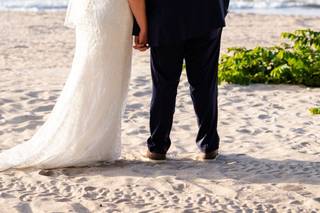 Mary F.

Getting married on 05/06/2023

Wonderful Experience!

Leanne & Tracy are absolutely AMAZING! They are so helpful and kind, truly care about making you feel and look your best. They have a beautiful selection of dresses but they are really what makes the entire experience memorable and fun! I am so happy I found my dress here and Tracy helped me every step of the way. Picking a dress can be overwhelming especially for an indecisive person like my self. But I didn't feel overwhelmed at all at I Do I Do and they helped me to solidify my decision and made me feel so confident! I had been to other shops where the consultants were not personable and just wanted to get the appointment over with, which does not make you want to get a dress from them. This is not the case at I Do I Do. They are not pushy and are not just trying to make a sale, they are flexible and really want you to feel comfortable and happy in your decision. They are a great team. I didn't expect to have a "moment" and be emotional but I did here, and left on a happiness high that lasted the rest of the weekend! I am so happy I got my dress with them and am so excited! Thank you Leanne & Tracy!

Erin W.

Married on 09/05/2022

Truly wonderful

They made getting a dress so easy, and comfortable. Not only was my try on private they took the time to really listen to what I wanted and were so professional and the salon was spectacularly clean

Chelsie B.

Married on 05/14/2022

So many options and so down to earth!

The staff at I Do I Do was so great to work with. They truly helped me find the perfect dress! They had great suggestions, and made me feel at home. I was feeling anxious shopping for my dress and put me right at ease. Each time I came back for fittings I knew I made the right choice in choosing them!

+ 3

photos

Are you interested?

Send a message

Nelli K.

Married on 12/31/2021

I found the gown

I visited a couple of wedding dress stores in the DMV and ended up going to I do I do because it was recommended by a family member. I was very happy with my appointment, but I was even happier that I used their recommended lady for alterations. Lola was everything I wanted in a seamstress, and made me look perfect on my big day.

Kelsey H.

Married on 11/28/2020

Wonderful Experience!

I was recommended to this bridal salon by my cousin who purchased her wedding dress from them many years ago. They were amazing to work with. Everyone was responsive, polite, and I never felt rushed. They have many options and can work with any budget. I ordered my dress, prior to the pandemic, in Oct 2019. Even with the all the constraints from the pandemic, they helped me get my dress 6 months later when it arrived at their store. I live in South Carolina and they made the process seamless.

Ashlee G.

Married on 10/03/2020

I found my perfect dress!

I had the best experience at I Do I Do Bridal and highly recommend to anyone searching for a bridal salon. Prior to visiting them I did a ton of research and visited several salons but my consultant Tracy made me feel immediately comfortable and I never felt any pressure to find a dress. Coincidentally, a dress that Tracy pulled as a suggestion ended up being MY dress that I still absolutely love after purchasing almost a year ago; it arrived during the summer and I finally wore it for my small ceremony wedding this past October (with plans to wear it again for our *fingers crossed* larger ceremony next year). Everyone was friendly and kept in contact even with all the craziness in delays due to COVID. I had my dress altered there with Lola who was absolutely great and even brought my dress back to them to send out for dry cleaning. They were also extremely easy to work with given my sister had to do a lot of pickups/dropoffs for me since I currently live in Pittsburgh. I cannot recommend them enough!

I bought my wedding gown, my veil, and had both tailored at "I do I do." This was the first store I visited, and 40 minutes later I somehow had my dream dress!... I absolutely loved it a year later when I got married in it and it is the most gorgeous dress I could have picked.
The store used to be smaller but just expanded and I am very happy for their growing business. There are lots of dresses to choose and many are very reasonably priced. The place is clean and runs on time overall. The staff were pleasant and consistent.
My ABSOLUTELY favorite part of the whole experience was working with LOLA, the seamstress of the store. She is just the most patient, sweet, and talented woman. She made me feel so incredibly comfortable. She is very honest, has a great eye, great hands, and knows exactly what she's talking about. I got so lucky with her. Never once did she get frustrated with my requests and was more than willing to make sure the dress & the veil fit me exactly how I want it to. She fit me into the schedule, accommodated, and overall just a great pleasure to work with. A huge thanks to her!...

Kelley A.

Married on 11/10/2019

Wouldn't recommend any place else

Two of my friends had found their wedding dresses here, so I just knew I had to at least try some on here. I'd been to two other places with one friend and it wasn't a great experience for her. She came here after and found everything she wanted and more! Our consultant was AMAZING. She was beyond helpful, offered advice, and put up with my crazy party as we pieced together three possible dresses to make one. Their selection is great, and their pricing is even better!

Kate R.

Married on 10/05/2019

Great Experience!

I Do I Do made the dress shopping experience wonderful and stress-free. After looking at several locations (each that had a strict time limit on your appointment) Tracey and the I Do staff spent over 2 hours with me to find the perfect dress--and as style I wasn't even looking at originally. They were patient, service-oriented, and helped with every step along the way, and stayed within my price point. Lola who does alterations for their gowns is also so talented and great to work with. Highly recommend I Do I Do!

Allison S.

Married on 09/22/2019

My dream dress

I found my dream dress here! The service was amazing! They were able to accommodate the large amount of people who came to help me pick my dress! Lola the in-house seamstress was able to make my dress fit me like a glove and I even was from out of town and was able to plan all of appointments in a timely manner! They have a great selection of dress and wonderful staff!

Kelcey C.

Married on 09/15/2019

A Beautiful Dress!

My wife has had nothing but good things to say about to experience of picking out her dress, and although I wasn't personally involved in the process, I can definitely say that she had never looked more beautiful then when I saw her walking down the aisle in her dress and veil.

Sam

Married on 08/25/2019

Amazing ladies with great taste

I Do I Do was one of the last wedding dress shops I tried in the area. Carole made me feel so happy and comfortable to be trying on potential wedding dresses. She gave the perfect amount of attention to me, but also space with my ladies, when appropriate. I was indecisive, so I went back a few weeks later and she gave me the same generosity and warmth that she did the first time I tried on the dress. I said I Do I Do! Lola, the seamstress is an absolute gem! She worked her magic on my dress and I'm so grateful to both her and Carole!

Adrienne C.

Married on 08/24/2019

Attentive, professional, patient and personalized service

It was truly fun spending time in this shop. I'm a fairly, "no frills" type of girl and had anticipated a grin-and-bear-it experience shopping and being fitted for a wedding dress. That wasn't the case here. From the first phone call I made to book an appointment, to the day I took my dress home after the last alterations... I was glad to have found this shop. It's cozy and clean. There is a variety of styles and dresses to fit different budgets. The sales staff are wonderful and Lola, their seamstress is incredibly talented and warm.
...See for yourself.

+ 4

photos

Sharon

Married on 06/14/2019

LeAnn was wonderful!

Nice selection, friendly staff, excellent customer service. I can't say enough about this shop. I highly recommend them.

Asif K.

Married on 05/08/2019

You looking great so beauty

Hello dear r u looking so beautiful

Rebecca

Married on 03/16/2019

I had a WONDERFUL experience here yesterday! I found my wedding dress and had a great time doing it. Tracy was so kind and helpful (not to mention so patient with me as I tried and re-tried dresses again and again). 100% recommend getting your dress here!!


Ashley

Married on 10/11/2018

Great Shopping Experience

I went to I Do I Do for my bridal gown and absolutely loved it. Tracy was super nice and patient during my two appointments with a fairly large entourage. The seamstress was absolutely amazing and basically reconstructed the top of my dress after I lost about ten pounds before my wedding. I also bought my veil and hair clip from there. It's really a one stop shop. I'm in the process of consigning my dress with I Do I Do. The process is fairly easy, because I bought my dress from them they waived the admin fee. They try to sell the dress for 10 months with the possibility for extending a few more months after that point. Will update if/when I resell the dress.

I would definitely shop at I Do I Do again!

Kristina

Married on 09/22/2018

I had a wonderful experience working with Tracy last Saturday at I do, I do! After two mediocre appointments at other salons, my mom, sister, and I knew that this one would be different from the moment we walked in the door and saw my name on the welcome chalkboard. Tracy was warm and attentive, asking to be introduced to all of us and not just me. She listened to my vision for the dress and as we walked around and commented on different styles, she immediately picked up on what I was looking for and pulled several great choices. When I liked a dress but wanted it in a different color, she brought over a dress from that designer in the right color and helped me to see what it looked like. When I tried on what ended up being "the dress," I wasn't too keen on the sleeves so Tracy tucked them in but also showed me a few different ways to alter the sleeves to be more to my liking. With her help, it ended up being completely perfect! Tracy's enthusiasm and patience made the day. And last week, I received a handwritten card from her, which was such a sweet and unexpected surprise.

Leandra

Married on 09/21/2018

Tracy was amazing! Their staff was very responsive to setup my appointment and Tracy was a great listener when I explained my budget and style I was looking for. They have an awesome selection of consigned dresses and a wide variety to fit any budget. Their store and fitting rooms are comfortable and clean. I found a beautiful dress that was strapless and I really wanted straps, their staff immediately found the matching straps to make my dream dress a reality! I would highly recommend you check them out for your wedding gown!

Maddie

Married on 09/16/2018

Wonderful customer service

The customer service and selection of gowns at I Do I Do are above and beyond. All the staff there are kind and helpful, I worked with Tracy who went above and beyond for me. I left my first appointment wanting to think a little more before purchasing my dress, Tracy made herself available for me to come back a few days later to try the dress on again and make my final decision which is exactly what I needed to make the final decision. We ran into a bit of an issue with the dress designer, my dress did not pass quality control and was delayed, this could have been my worst nightmare but Tracy stayed on top of the situation and kept me updated every step of the way and my dress arrived with plenty of time for alterations! Their seamstress onsite, Lola did an amazing job making my dress fit like a glove! I am so happy I purchased my dress there and would recommend I Do I Do to any bride!

Megan

Married on 08/04/2018

I had a great experience with I DO I DO. It was the first bridal salon I went to and also my last as I found my dress on the first visit. I went in looking for one thing and walked out with something I would have never considered. I loved the dress the moment I put it on and I love it even more now that it's closer to my size! Eleanor was a fantastic bridal consultant! Overall, great experience!

Allison

Married on 07/28/2018

I love I Do I Do! I went on a day when they only have one bride in the store at a time (I think it's a summer thing?), so I had the ENTIRE store to myself. I brought along my mom, sister, and my sister's friend, and we all had complete freedom to roam around the store and look at all the gorgeous dresses. The owner was so helpful and pulled about a dozen dresses that she thought would look good on me and based on what I told her I liked. She also worked extremely hard putting the dresses on me, pinning them, taking them off, and even picking veils and belts that matched the dress I was trying on.

I am a young bride (I just turned 21!), so I was scared being treated condescendingly, but my fears disappeared right when I walked in the door!

They also have a huge sale section, which is where I ultimately found my GORGEOUS dress, but all of their prices are extremely reasonable. They also have a large selection of bridesmaid dresses, so I will be going back to browse those eventually!

In summary, go to I Do I Do!

Madeline

Married on 06/02/2018

I had a fantastic experience at I Do I Do! They have a wonderful range of options and price points, as well as a large consignment section. This was my first and last stop - I came in thinking I would just try some dresses on to see what styles suited me, but my attendant Michelle hit it out of the park and found me the perfect dress right off a mannequin's back (and below budget)! I would highly recommend this store - there is no pressure to buy anything, and Michelle was super helpful finding a dress that had all the lace i could want without blowing my budget. I also got my dress altered by the store's contracted tailor, Lola, and she was a pleasure to work with. She even dropped my dress off when it was finished as I didn't have time to swing by the store!

+ 5

photos

Katie

Married on 12/30/2017

Leanne was incredibly responsive and accomodating when I asked for a next day appointment. When I arrived, Michele treated me like the most important person in the world and truly listened to what I was looking for. They guided me through the entire process from start to finish and I'm so thankful for their guidance. I highly recommend this bridal salon - you are truly part of their family when you walk through the door!

Alana

Married on 12/02/2017

I Do I Do! Wedding Gowns was the perfect choice for buying my wedding gown. Eleanor was so kind and patient with me, and I appreciated it so very much. She made what was a very stressful day for me much, much better than it could have been. Eleanor listened to what I wanted, and then helped me think outside the box with different designers and styles. The dress was ordered at the end of May and arrived at the end of September. Lola did the alterations for my dress- she was so lovely to work with!! I moved out of state 6 months before my wedding, and Lola worked with my schedule to do the fittings when I was in town for the weekend. That included last minute alterations 2 days before the wedding. Lola also altered my mother's wedding veil so that it would work with my dress. Lola is a total pro, who will make you feel both comfortable and beautiful. I highly recommend working with both Eleanor and Lola for your wedding day!! (The price I quoted below is for the dress, belt, and alterations).
Are you interested?
Send a message