48 Reviews
Recommended by 99% of couples
Quality of service

4.9 out of 5 rating

Average response time

4.9 out of 5 rating

Professionalism

5 out of 5 rating

Value

5 out of 5 rating

Flexibility

4.9 out of 5 rating
86 User photos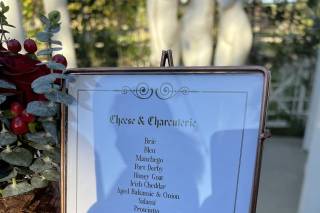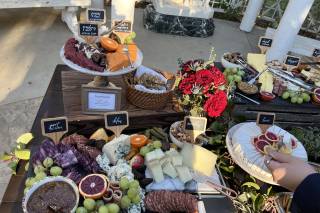 + 82

photos
Anais F.

Married on 06/16/2022

Top Notch Service

I made the right choice going with Henri's Exquisite Catering. From the moment we got in contact, I knew it would be them. Laura was very responsive and attentive to all my questions even when I sent multiple emails at a time in a day. During the day of the wedding, the staff arrived on time, were extremely kind to all my guests and my guests complimented their service the days after wedding. The food was exquisite. There is a reason why it's called henri's EXQUISITE catering. All my guests loved our chosen appetizers and pasta bar. Thank you Henri's for being part of our day and making it extra special with your wonderful service. Will not be the last time that we work together.

Nick M.

Married on 06/04/2022

The food slapped!

The food was amazing! I was dreaming about the appetizers ever since we did the taste test a year ago. The servers were kind enough to bring us a tasting plate once the ceremony was over. They accommodated us even with a possible COVID exposure. We will definitely hire them again for another catering event if they do private dinners. Shout out to Laura Prieto who was an absolute joy to work with!

Celina

Married on 02/12/2022

Your search is over. Henri's Catering is THE ONE.

My now-husband and I are multi-cultural and our wedding was Dungeons & Dragons-themed and part-DIY. We needed vendors who are flexible but also cover a lot of ground. I researched a lot of vendors for my wedding. The intersection of affordable, great customer service, and flexibility seemed inexistent.

But Henri's Catering made it all possible. Laura Prieto, the Catering Coordinator, was responsive and patient with me from day one. She was transparent and answered every question I had in detail. She also made sure to remind me about the various services included in their package. She worked closely with me in perfecting our menu and reception layout. We had specific plans because we wanted our wedding to be uniquely ours - both in culture and in theme. Laura had no problems with accommodating our requests. Even though they catered at our venue several times, Laura and Rebecca (Creative Coordinator) still insisted in doing the walkthrough to make sure that they understand our plans perfectly.

Our wedding went so smoothly and beautifully. We had outside food and other personal decor items we wanted to include in their setup and they incorporated it without issues. They understood our theme and brought decor that matched with it. They even used our wedding font so that everything was seamless. Rebecca's flower arrangements were also so gorgeous and perfectly matched the rest of our florals even though she didn't have our floral recipe.

Our guests were in so much awe of the food - from the tray-passed hors d' ouvres to the charcuterie board to the pasta bar. Our vegan guests also felt special and accommodated thanks to the vegan cheese plate Henri's arranged for us. We have friends who have never understood charcuterie boards and now they are converted and still dream about it. We also heard from everyone that the catering staff were so sweet and had positive personalities. It really uplifted everyone's mood to be served great food by great people.

Henri's staff were also so attentive and made sure that our wedding party were fed and had drinks pre-ceremony. They prepared dinner for me and husband to take home. They also helped us clean up at the end of the event and pack any leftovers that were still safe to eat. We felt so pampered and cared for that I still cannot believe we were able to hire and afford these guys. The amount and quality of service we received was just unbelievable!

I really cannot recommend Henri's enough! I was so pleased and impressed with them that it makes me want to plan another event again just so I can hire them again. I can go on for hours about them! They truly made our wedding the wedding of our dreams! Thanks again Henri's Exquisite Catering!

+ 4

photos

Are you interested?

Send a message

Corinne M.

Married on 11/13/2021

Amazing and organized

We had a fabulous outdoor wedding. Drinks prior to the service were appreciated by the guests. We moved to a separate area for cocktail hour and much of the talk centered around the hors d'oeuvres. It was a nice time to visit from group to group. Dinner appeared at an appropriate time and guests had plenty of choices, my favorite was the Chilean Sea Bass. The staff were prepared for the wedding toasts and no one had an empty glass. Pictures were taken and desserts were enjoyed. Each member of the staff was helpful with requests and courteous with their execution. I'm looking forward to having another event to use them again.

+ 2

photos

Nicole B.

Married on 09/03/2021

Personalized Experience!

Henri's catering provided exceptional service. Laura was friendly and professional from day one. She was proactive in contacting us to discuss the entree, appetizer, and beverage options. Further, she was accommodating for my husband, who preferred vegetarian options.

On the day of the wedding, Laura's team was fantastic! After the ceremony, Laura's team came up to my husband and I and our wedding guests to offer small plates and drinks (before dinner) to ensure everyone was hydrated and full, as the weather was ridiculously hot. The caterers also made individual plates for my husband and I during the day, which was convenient because we were busy taking photos (and I was carrying a long dress train).

The food was unbelievable! We had a Mexican fiesta! Henri's catering printed a lovely menu of the food options and provided it to our guests (free of charge). I thought the menu was a really classy touch. In terms of food, we had carne asada, chicken and fried cauliflower tacos. We also ordered cheese enchiladas. Soooooo good. Mmmm….the enchiladas were so spicy! The chips were hand made and the salsa and guacamole was delicious. We also loved the corn with queso. We made the right choice in selecting a Mexican fiesta. Everyone enjoyed themselves.

Last but not least, Laura blew me away when she helped with the wedding details. Laura helped with my color scheme, dinnerware and other small details, which made the day unbelievable. I still brag to my husband about how much Laura helped me. I don't think my wedding would have turned out half as nice as it did without her help.

I thoroughly appreciate Laura and Henri's catering for catering my wedding, professionalism, delicious food and thoughtful advice. Thank you sooo much. It was a dream.

+ 3

photos

Melissa

Married on 08/21/2021

Exquisite!

Food was so good and the service was so attentive. They were helpful in ways that went above and beyond the day itself; helping us select the tables, linens and decoration from third party vendor.

Kopal Y.

Married on 06/28/2021

Henri's is the only catering you need

From our very first email with Laura, we knew Henri's was the catering we wanted to book! They are honestly amazing from all the food options they provide to how they tailor each wedding to he needs of their clients. We were having a small wedding with 50 guests and wanted options that would accommodate vegetarians and meat eaters alike, and Laura suggested a pasta bar option for all guests to get exactly what they wanted! After the initial proposal, we decided to book them based on all their services that they provide, where other catering companies try to nickle and dime you for everything, Henri's does not!
They provided welcome drinks, flowers to coordinate with our flowers for welcome drink tables, the buffet/pasta bar tables, they provided water service (some caters don't or charge extra) and help set up tables! After talking to Laura on our initial call, we knew we had found the perfect caterers and all my stress was gone after talking to her because i was stressing over who would do water service at the wedding.
The deal was sealed after we did our tasting and the food was amazing- get the black bean quesadillas with the salsa- they are the best ever and the salsa is EVERYTHING! Everyone loved the food at the wedding and how amazing Henri's was! Book them to make your big day seamless and stress free!


Shelley

Married on 06/19/2021

Henri's was extremely responsive to all of our questions and took the time to make our special day so wonderful.

Laura the coordinator was extremely responsive to all of our questions and took the time to make our special day so wonderful. Their food was delicious and so beautifully presented. They knew the venue well and was able maneuver any barriers that may have come their way. I would absolutely work with the entire team again (and plan to!!!) Weddings can be stressful at times and they did a great job on our day.

Kate I.

Married on 05/25/2021

Amazing food and service!

Henri's team was amazing in every way. From the selections on their delicious menu, to the caring and thorough service they provided at our event, everything was wonderful. Everything tasted great, and their team worked hard to provide the smooth and excellent service during the event. Laura was incredibly helpful and knowledgeable as we were planning our little event. We would absolutely hire them again in the future.

Lacey G.

Married on 05/22/2021

Incredible

Service and food selection and quality were absolutely perfect! They managed to make planning the food part of the wedding in the middle of Covid a breeze. They made sure all of our guest felt safe and their pasta bar is incredible!!!! 1000% would work with them again!

Jade T.

Married on 11/28/2020

Run...don't walk...to Henri's for your next event!

Sadly, due to Covid, my husband and I were forced to postpone our large wedding until 2021.
But we were ready to be married so we decided to host a mini-mony. It was very last minute and unorganized but we found Henri's and they guided us the whole way. Not only was the good OUTSTANDING but the service was *chefs kiss* exceptional. They helped us find great rentals and made the whole process feel smooth and effortless. I cannot recommend this amazing company enough. Thank you thank you thank you for everything!

Ralph

Married on 11/27/2020

Exceeded expectations

We had a wedding in los angeles back in June and Henri's catering is like a tradition for the family. They always focus in details and of course great food! The service was impeccable! They will always be the first choice in every family event and even better for weddings!

+ 3

photos

Amanda C.

Married on 10/14/2020

Absolutely Amazing!!!

I cannot recommend Henri's enough!! From the very first communication, Laura was very responsive and helpful. We loved the food at the tasting, but at our wedding it was even better!! Our guests couldn't stop talking about how delicious everything was - which was really important to us. Laura and her team were extremely accommodating and did such a fantastic job setting up our beautiful table! You will not be disappointed if you work with Henri's :)

Chris S.

Married on 05/22/2020

What a Magical Day!

Henri's did such an amazing job with our micro wedding in Malibu. Everything from the planning, the setup, and the day of was absolutely incredible. Laura, the catering coordinator, is so knowledgeable and so professional and really helped us craft a menu and a setup that really made the day special. And the food! Chef Cres put together an incredible display of different apps and main courses that were all so delicious. The professionalism and display of craftsmanship and care they put into our even was stunning. I would highly recommend them to anyone planning any type of event!

Vanessa G.

Married on 04/18/2020

Perfection!

Henri's Exquisite Catering was amazing! From the food, to the service, to all the attention to detail! Given the pandemic, we had to drastically cut our guest list and have a backyard wedding. However, thanks to Henri's Catering, we did not have to compromise our special day.
The catering coordinator, Laura, was so great! She was so helpful from beginning to end. She helped me stay within my budget, but the food and service surpassed what I ever hoped. She is very attentive to detail and I did not have to worry about anything.
The creative coordinator, Rebecca, also made my bouquet and it was so beautiful! The arrangement she did was perfect and complemented the rest of my décor. She also followed our rustic theme and created flower arrangements so that the dinner station blended nicely.
& finally, the food was delicious! Chef Cres, with Laura and Rebecca's support, made and served delicious hors d'oeuvres before our ceremony. We went for a pasta bar, and our guest were able to choose their own toppings, which Chef Cres prepared there. They also took care of cutting and distributing our cake in the evening, with optional coffee and tea. Our guests shared that they loved their dinner and said that Henri's team was great!
We hope to be able to work with Henri's again. I highly recommend them.

+ 2

photos

Tessa

Married on 01/18/2020

Outstanding Experience and Highly Recommended

From the initial phone consultation to the final moments of our wedding, Henri's team exceeded our expectations for a wedding caterer within our budget constraints. We were planning our wedding from across the country on the East Coast, so it was imperative that all of our wedding vendors were organized, communicative, and had very clear vendor agreements so we knew what to expect. Thank you Henri's for calming our nerves and creating such a seamless and enjoyable experience. We also loved supporting a local, family-owned business who has a lot of expertise in weddings.

Our guests kept commenting on how great the food was and we loved that the wedding package included so many special features (welcome drinks, appetizers, veggie tray, fruit tray, bread, menu cards, decorations on the buffet tables, flowers for the buffet tables, the actual buffet tables, etc) that would typically be extra add-ons with other caterers. Some of my guests assumed that I had spent a ton of time and energy decorating the buffet tables and welcome drinks table and they were surprised to learn that our caterers included all of those details in the wedding package! Thank you Henri's (especially Laura) and we are so grateful that we were able to celebrate our wedding with you all in January 2020 before the pandemic began! Hope your team is healthy and your company is getting through this difficult time!

-Tessa
July 2020

+ 10

photos

Jennifer

Married on 10/26/2019

We Love Henri's!!

Henri's is AMAZING!!
Not only was the food amazing, but they literally make it look so beautiful and they helped us with rentals and helpful ideas. We loved working with Laura and we are already planning on when we can work with her again. Communication is amazing!
I do not have my Wedding photos back yet, but you can see the amazing work on the instagram page!
Thank you again Henri's xoxo Jen and Michael

Kerstin D.

Married on 06/08/2019

Amazing!!!!!

Absolutely the best food and customer service we have ever received! We would definitely use Henri's Exquisite Catering again!!

Anel

Married on 03/23/2019

Phenomenal Catering Company

I was married on 3/23/19. Henri's Catering did a phenomenal job. I received so many compliments from guests regarding the delicious food and friendly service they received. They have quite an expansive menu and can also customize to your preferences. For instance, I requested that the chicken in one of my main dishes (Pineapple Chicken) be dark meat and have it deboned.

The day of the wedding Henri's went above and beyond their call of duty. Before my ceremony, I was panicking because my maid of honor's did not have a flower bouquet and it was too late to call the florist. Laura (coordinator) and her team whipped up a bouquet by taking some roses from the reception arrangements - they single handedly saved the day. Henri's catering provides you with fresh flowers to adorn their buffets so it's no surprise how well they managed to do this last minute.

You'll love working with this company - simply because they provide you with such personalized service that you don't feel like you're another person on a list. It's a family run business but I believe Laura is at the forefront of its success.



+ 6

photos

Linda

Married on 08/25/2018

Can't say enough about our experience with Henri's! Everything was incredible! Get the appetizers! Totally worth it!

Kathryn

Married on 06/03/2018

Henri's recently catered my daughter's wedding. Everything was perfect and the guests loved the food. We had the beef, the apricot chutney chicken, carrots with pine nuts, mashed potatoes, a great salad with feta and cranberries, a raw vegetable platter and the magnificent fruit cascade which was so pretty on the buffet. I'm getting hungry just writing the review! We also had passed appetizers which were really good. Laura and her staff were very efficient and handled all the guests needs very well. Laura was also very pleasant to deal with in preparing for the wedding.

Thomas

Married on 05/27/2018

An Invaluable Resource - Highly Recommend

Laura was a wonderful friend, caterer, and invaluable resource - not only did she and her team do an amazing job catering our wedding, she also knew our venue (Orcutt Ranch in West Hills, LA) intimately, and connected us with several of our other vendors, including rentals, photographer, and DJ. When your vendors have worked together in the past, it makes getting everyone on the same page so much easier! With Laura's depth of knowledge about the venue, she already knew a great deal about how to set up and plan the food service. She was always there for us and incredibly responsive. We could not imagine getting through our big day without her!

Jenna

Married on 04/20/2018

I used Henri's catering for my sister bridal shower. It. Was. AMAZING. They paid attention to every detail that i would never have even noticed! Becky and Laura went above and beyond. Truly. And cres cooked the most amazing food! Mini tostadas were to die for!! I am forever grateful for them. My sister never stopped smiling and that was my goal on her special day!! Thank you for making this day extra special!!! I couldn't have done this without your company!!!

+ 7

photos

Amanda W.

Married on 02/24/2018

Henri's made my bridal shower dreams come true!

Laura, Becky & Cris from Henri's Exquisite Catering went above and beyond for my bridal shower. They not only provided the food & beverages, but they also designed and created most of the decor. It was the most amazing Baja chic bridal shower I've ever seen. My family and friends raved about how delicious the food was and how creative and thoughtful all the little details were. You would be hard pressed to find another caterer as kind, professional, and as helpful as Henri's. I would recommend them for any type or style of event looking for a highly skilled Chef and team!

+ 11

photos

Kristen

Married on 11/18/2017

Laura and staff did an amazing job recently while providing service for my daughter's wedding. Every detail was perfect, rave reviews about the menu are still arriving also. I highly recommend Henris Exquisite Catering ! Thank you again, everything was perfect!
Are you interested?
Send a message