72 Reviews
Recommended by 99% of couples
Quality of service

5 out of 5 rating

Average response time

4.9 out of 5 rating

Professionalism

5 out of 5 rating

Value

5 out of 5 rating

Flexibility

4.9 out of 5 rating
122 User photos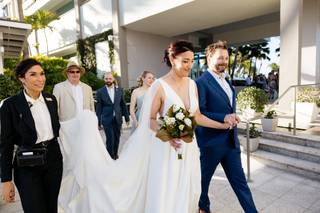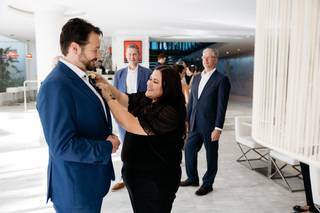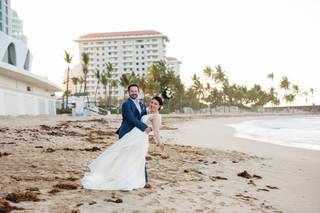 + 118

photos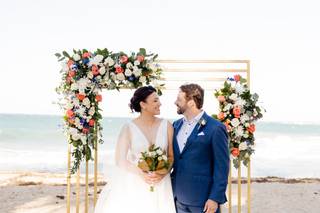 Featured

Tessa G.

Married on 05/19/2023

Best. Planners. In pr.

My husband and I are both wedding photographers so we work with a lot of wedding planners on the island. We knew Handcrafted had to be the planning team for our own wedding when we were working with them at an event and saw how seamlessly they took care of every detail - including the vendors and making sure we ate.

Liliana, Cristina and their team take care of so much more than you will ever know as the bride + groom, and thats kind of the whole point! We actually enjoyed our entire wedding planning process, and got tons of compliments on how "stress-free" we seemed all weekend. The truth is, we are not always easy-going but Liliana and Cristina made it so easy to be in the moment and fully enjoy our weekend knowing that every little detail was being taken care of.

Thank you guys!!!

Belen H.

Married on 04/01/2023

Planing perfection! look no further

We had the pleasure to work with Liliana and Cristina on the planning of our recent wedding in San Juan PR (April 1, 2023). I am at loss of words trying to condense all the memorable interactions and the flawless execution of our wedding in a short review. As residents in mainland, there is absolutely no way we could have had such a beautiful experience in San Juan without the expert guidance of Liliana. She is the most organized person I have ever seen in my life - and she does it all with a radiant smile. She identified top vendors for our needs and handled all the interactions in the background for us. From cake tasting, to meeting with the decorator, to food tasting and choosing the photographer, entertaining and so much more, she was always able to find the right company within our price range. Cristina handled all the scheduling and interactions with the vendors on our behalf . We met in zoom five times and in person with her twice in San Juan before the wedding but honestly, I would have been comfortable handling all the prep without a single visit to the island. The entire planing process was about 8 months long. We used Dropbox as our platform to track the progress of the preparations, contracts and logistics. At no point we felt stressed out, nor rushed in our decision making. On the wedding day we gave her absolute control of the itinerary and execution of the events. We were able to just focus on enjoying the day without having to think about a single logistical detail. Some of her contributions were beautiful and touching, such as her suggestion to place pictures of our deceased fathers in a discrete corner of the reception. Some were practical such as offering slippers for tired feet. and some were just attention to detail to the maximum such as fixing every strand of har, the veil, and the necklaces of every woman before every picture was taken . On the wedding day, from her purse appeared a safety pin for a broken purse strap and a bandaid for a blister . It was like if Mary Poppins had changed jobs to wedding planning coordinator ! All our guest commented this was THE best wedding ever and all of them noticed the tireless contribution of Liliana and Cristina to the success of the day . In conclusion if you want to make the day of your dreams in Puerto Rico made true, look no further than Handcrafted Weds for your planning needs. Thank you Liliana and Cristina, I am already missing you!

+ 7

photos

Handcrafted Weds & Events's reply:

You made us tear up! Thank you so much Belen for your lovely words and for trusting us to handle such an important and special day for you and Ben... You both are such incredible people and the world is a better place because you exist and love each other this much.

Thank you! Thank you! 😘

Leigh B.

Married on 02/19/2023

Best wedding planner, exceptional service!!

We hired Handcrafted Weds for our 3-day wedding Puerto Rico and could not be happier! Liliana and Cristina were extraordinary and looked after every detail. They were communicative, detail oriented, and professional. Liliana did an amazing job making recommendations while listening to exactly what was important to us.

We had a huge wedding with a lot of logistics and everything went off without a hitch. It was stress free for us simply because of Liliana and her team.

I interviewed ~7 planners before choosing Liliana and I know for certain, I made the right choice. Everyone whose getting married should have her as their wedding planner. Thank you Liliana and Cristina for everything. My wedding was more than I could have dreamed of.

Are you interested?

Send a message

Paul W.

Married on 02/11/2023

Fabulous! Highly Recommend

We did the week of wedding planning. Liliana and her team were great and made us not worry about our special day. I would highly recommend them to support your wedding day

Tamiris A.

Married on 02/11/2023

Detail oriented, organized, and supportive!

We hired Handcrafted Weds for our beach wedding in Isla Verde, Puerto Rico and could not be happier! Liliana and Cristina were extraordinary and looked after every detail. Liliana was such a big support during wedding day, making sure we enjoyed it, managing all of our guests' needs and making sure everything ran according to plan. We really appreciated Liliana's professionalism, warmth, and calm demeanor. Thank you for making our day so perfect!

Paulina V.

Married on 05/28/2022

Excellent!

Liliana and Cristina from Handcrafted Weds were the perfect team to help plan and coordinate my wedding! I loved all the vendors they recommended and the guests could not stop commenting on how professional and attentive to details they were on the actual wedding day. I really was completely stress free and able to fully enjoy that special day as I trusted them 100%. 10/10 would recommend!

Handcrafted Weds & Events's reply:

Thank you so much Paulina! It was such a pleasure working with you, and for you (and your family). Many blessings!

Your always HCW Team!

Sorelle P.

Married on 05/07/2022

Liliana is the best planner you can trust with your wedding!

Liliana and her assistant Cristina made my wedding day run so smoothly! We had a destination wedding of 65+ guests in Old San Juan, and they knew all the right vendors to hire to make our day exactly what we wanted. Liliana is kind, patient, and organized. Both she and Cristina offered great advice for special touches that made our wedding special (that I would not have thought of). They kept us on track in the months leading up to the wedding with numerous zoom check-ins, detailed spreadsheets, and a busy group chat in the final 3 months. Our wedding day itself ran so smoothly that I could just spend time with our families and friends, enjoying the party. We could not have done it without her. Liliana even went the extra mile and found a special vendor to make my husband's specialty cocktail dreams come true! As a detail-oriented person, at first I was on the fence about needing a full planner, but hiring Liliana and the Handcrafted Weds team was probably my best wedding-related decision, and many of my vendors (plus my dad) told me the same thing!

+ 2

photos

Amber B.

Married on 04/28/2022

The Best Wedding Planners in PR!

The team at handcrafted weddings did an awesome job. My family and friends are still talking about our wedding. They made the process easy and manageable. Their choice of vendors matched our budget and our wedding was just wonderful and beautifully put together. We reside in Texas, and we were able to communicate with the team and plan a perfect wedding. If you are a busy person, Lilliana and her team provide outlines and timelines to help you through the process.

+ 2

photos

Vianett

Married on 04/17/2022

Excepcional ❤️

Liliana es simplemente la mejor coordinadora! Desde el día uno su compromiso y profesionalismo fue único. Cada detalle de su parte incluyendo su empatía y respeto cuando nuestra boda fue cancelada por el COVID. Simplemente no tenemos palabras para agradecer tanto de su parte. Nuestra boda fue un sueño hecho realidad y Liliana y su equipo hicieron que todo fuese posible. Le hemos tomado un gran cariño y no sólo la recomendamos sino que damos fe de que no hay mejor coordinadora que ella. Gracias por tanto Liliana.
Att. Josué y Vianett

Shay A.

Married on 02/02/2022

Phenomenal!

Liliana and her team were phenomenal!❤️ So organized, professional, friendly and on top of everything. I did not have to worry about a thing on my wedding day! Worth every dollar!

Roxana

Married on 01/15/2022

Simply the BEST! Eternally grateful for Liliana and her team.

Liliana and her team were flawless all throughout - from their responsiveness, resourcefulness, vendor selection and execution during our wedding celebration. I truly had peace of mind going into our wedding weekend knowing that we were in the best of hands. I cannot recommend them enough!!!

Claudia M.

Married on 12/11/2021

Best wedding planner

Hands down, best wedding planner ever. From the first meeting to the actual wedding Liliana and her team did everything with perfection. It really is a Stress Free Wedding! Everyone whose getting married should have her as their wedding planner. Thank you Lili and Cristina for everything. My wedding was everything that I hoped it would be.

Handcrafted Weds & Events's reply:

Thank you so much for your message Claudia! It was such a pleasure working with you, your dad, your aunt, grandmother and all of your family members. ¡Muchísimas bendiciones! 😘

Melany

Married on 12/04/2021

Lovely team!

They are such a great team! We had a non traditional venue, and Liliana went above and beyond to make our wedding date a perfect one. Even when it rain a little, she did such a great job with our guests and family that we were able to have a ceremony with no rain. Our guests still talk about how awesome our wedding was! From the food, to the details, to how smoothly our ceremony and reception went, everything was just well thought and as discussed during our planning meetings. They are certainly a team that you can trust :).

+ 4

photos

Adriana H.

Married on 11/27/2021

Simply the best!

Liliana and her team are simply the best! Her professionalism and attention to detail are impecable. From taking care of the vendors to fixing my veil for every picture there is no a detail she can miss. She was attentive, responsive and great support during the process. It was an honor having her in our very special day and our wedding wouldn't have been the same without her. Forever grateful!

Thaís C.

Married on 11/20/2021

Look no further, the Handcrafted Weds team is THE best!

We have been trying to find the words to express our gratitude and our feelings for Liliana and her team after working with Handcrafted to plan and execute our wedding. I'll do my best to summarize it. Everything was perfect! Liliana and her team are the epitome of dedication, attention to detail, thoughtfulness and patience. Our wedding was everything we dreamed of and much more. The team gave their all to ensure that we enjoyed the process above everything else. They helped us find amazing vendors and gave us ideas and feedback that complimented our vision for Wedding Day. We received so many compliments about their flawless execution! I wish we could do it all over again. Look no further, Handcrafted Weds is the best wedding planning team!


Kasandra U.

Married on 11/13/2021

Very knowledgeable

Liliana and her team are experts! She had answers for ALL my questions, she had very creative ideas and was very responsive. I was very satisfied with all the vendors she recommended. I would hire her and her team in a heartbeat if I needed to.

Handcrafted Weds & Events's reply:

Awww. Thank you Kasandra. We loved your wedding and your style. And of course we loved to work with you 😘

Bridget C.

Married on 10/23/2021

The best in the business!

Liliana and her team were incredible from start to finish. Without their knowledge and expertise there is no way our wedding would have ever happened, especially during a global pandemic. We got countless compliments on her service the day of our wedding and weeks after the event. I would tell every bride getting married in PR to call Liliana as soon as you're engaged. They are just incredible to work with and leave no stone unturned!

Kimberly P.

Married on 09/11/2021

They make perfect happen!

The team of Handcrafted Weddings went above and beyond. Liliana is very attentive and organized. Our wedding was crafted with care and detailed precision.
We still get comments on how great our wedding and the wedding planning was!!!

+ 2

photos

Tatiana C.

Married on 08/13/2021

Liliana was my true saving grace.

I got engaged December 2019 and hired Liliana right away for our 2021 wedding. Liliana was always on top of things, and for a Type-A bride this was super important to me. She had zoom meetings scheduled throughout the months to check-in. I was super busy and she knew how to handle things without me worrying! On the wedding day, Liliana MC'd the entire event and told people where to go. She truly was the brains behind the event. I highly recommend her for your services if you want everything to go perfect!!

Handcrafted Weds & Events's reply:

Thank you so much for your kind words Tatiana. All of our staff and vendors were pleased and a privilege to do your wedding! Many blessings for your marriage! 😘

Angelica C.

Married on 07/10/2021

A Planner's Dream!

Planning a wedding when you don't live in Puerto Rico can be tough (especially for a natural planner like me!). Even though I had family living there, it can be hard to finalize the details of so many things for a wedding. We are SO beyond happy that we hired Handracted Weds to help in planning our wedding. From the start, I felt like we were a priority (even though we started working with her over a year before our wedding date). Through all the updates with the pandemic Liliana was honest, encouraging and highly organized. The day of our wedding, everything ran perfectly. Liliana and her team made sure that my husband and I were taken care of and by the end of the night leftover desserts, favors, and stationary were already neatly placed in our room. I seriously cannot recommend her enough. She recommends vendors that are trusted and known and also at the end of the day wants to make sure your wedding day is everything you'd hoped for. I almost wish we could get married again just so we could work together again!!! You will not regret hiring Handcrafted Weds for your wedding, they helped take so much stress off my plate during the process and we are forever grateful!

Neimy R.

Married on 05/15/2021

Sumamente felices con Handcrafted Weds & Events

Boda en pandemia tenía el potencial de ser mega estresante, pero con la ayuda de Liliana y el equipo de Handcrafted Weddings nunca nos sentimos solos. La boda se pospuso, se re-planificó y oficialmente tuvimos un día hermoso en el 2021. Durante ese periodo siempre nos contestaba los mensajes con prontitud, nos aclaraba dudas, nos invitaba a Bridal Meetups para crear una red de apoyo durante la pandemia, y nos mantenía informados en cuanto a cambios de órdenes ejecutivas/c*vid que afectaban la boda. Como Week of the Wedding Planner, Liliana entendió todo lo que necesitábamos para que fluyera súper el día de la boda. Sentimos que siempre dio la milla extra. Tuvimos nuestro ensayo, confirmación de vendors y ajustes de últimos detalles, hasta que llegó el día tan esperado. Cuando Handcrafted Weddings dice "stress free wedding," tienen razón. Definitivamente siempre surgen contratiempos pero Liliana se encargó de que no nos abrumaran y encontraba solución rápida. Lo mejor fue que sabía "leernos", cuando notaba ansiedad o estrés, ella rápido actuaba para que eso cambiara y nos pudiéramos disfrutar el día. Fue un alivio, nos dio tranquilidad contar con ellas. Todo salió tal como queríamos. Estaremos por siempre agradecidos.

EN🇺🇸
Handcrafted Weddings did a fantastic job and we are very happy with how the day of the wedding turned out. However, it's the extra mile given by Liliana and her team that made all the difference. They adjusted to the pandemic, helped us through rescheduling and invited us to events and virtual meet-ups to show us that we weren't alone in this C*vid period (all of this despite the fact we only had "the week of the wedding" service). Liliana kept us up to date on the executive order changes and what that meant for our event. When the big day came, she made it as flawless as possible by taking care of all the little things that could increase stress in any bride. The most amazing thing is the way she just read the situation accurately to minimize any problem and made us (the bride and groom... mostly the bride) stay calm. That helped us enjoy our special day as best as possible. Thank you Liliana and the Handcrafted Weddings team for achieving OUR perfect wedding day.
Neimy & Federico
May, 2021

Handcrafted Weds & Events's reply:

Muchísimas gracias Neimy! Nos disfrutamos muchísimo trabajar junto a ti el proceso de tu boda. Gracias por confiar en nuestro servicio.

Grecia V.

Married on 05/01/2021

Dream Wedding

Toda mi vida soñé con un tipo de boda, y no pudo ser de esa manera. Pero Liliana se encargó de que mi boda fuera mejor de lo que soñé.
Liliana tiene muchas virtudes espectaculares y las que más la caracterizan son la paciencia, profesionalismo y perseverancia. Todo lo hace con una sonrisa en su cara.

No pude haber escogido mejor Coordinadora. Porque no existe.

Gracias, tuve un día de ensueño y lo agradezco en el alma.

Handcrafted Weds & Events's reply:

Wow. ¡Gracias Grecia! Nos vivimos contigo esta experiencia y estamos sumamente honrados de que nos hayas seleccionados. Te deseamos toda la felicidad del mundo. 😘

Yanice C.

Married on 04/10/2021

Dedicación y compromiso

Estoy más que agradecida de haber contado con Handcrafted para la coordinación de mi boda y sobretodo en un tiempo tan difícil de pandemia. Desde el principio hasta el final el trato y el compromiso fueron impecable, siempre pendiente de cada detalle y que todo saliera bien. Recomiendo 100% su servicio, son excelentes en lo que hacen y lo hacen con amor. Gracias por hacer de mi boda un día especial y único.

+ 4

photos

Dalianie N.

Married on 03/21/2021

La mejor wedding planner

Liliana y su equipo de trabajo son excelentes y especiales. El proceso de planificación de la boda en medio de la pandemia fue muy llevadero. Siempre estuvieron abiertos a colaborar con los vendors que queríamos y a hacer de nuestra visión una realidad. Liliana siempre tiene una actitud positiva, es súper amable, organizada, se adapta a las circunstancias y es sumamente responsable. Fuimos muy afortunados de todo el equipo que estuvo trabajando en nuestra boda. El día de la boda fue mágico, organizado y especial. El trato de todos hacia nuestra familia e invitados fue único. Sin duda no hubiera sido igual sin Handcrafted Weds. La recomendamos al 100%. Son los mejores!!

Juliana

Married on 02/20/2021

Excellent!!

We highly recommend Liliana and her Handcrafted team! We are really satisfied with her work... everything was spectacular. We do not regret having trusted all the vendors that she recommended to us. We've only heard good things about the wedding. The guests were delighted and we could not feel better with our wedding. Thanks again to Liliana and her team.
Are you interested?
Send a message