Reviews
5.0 out of 5 rating
Quality of service

5 out of 5 rating

Average response time

5 out of 5 rating

Professionalism

5 out of 5 rating

Value

5 out of 5 rating

Flexibility

5 out of 5 rating
100%
Recommended by couples
266 User photos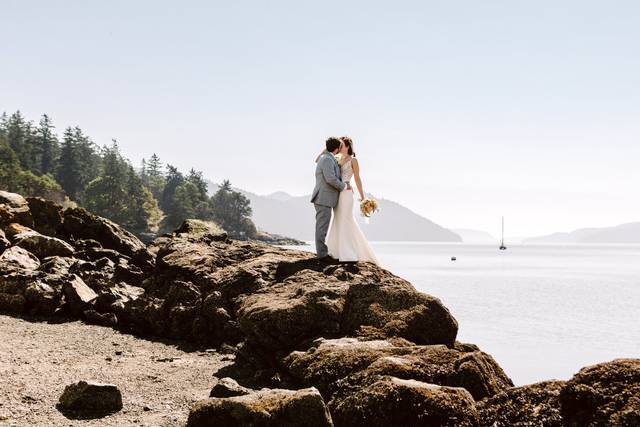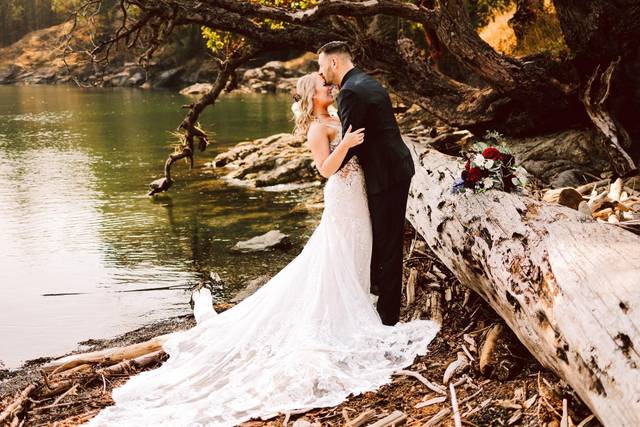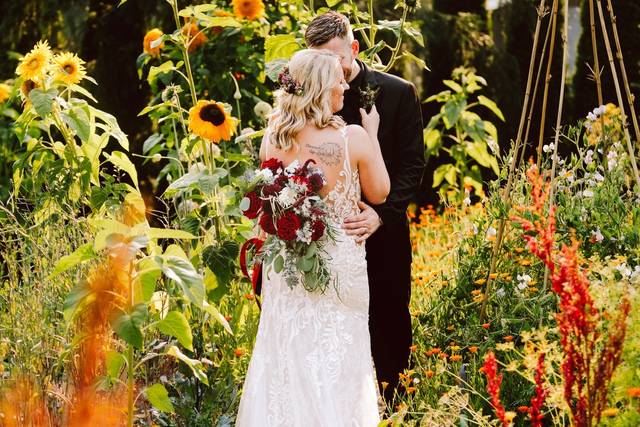 + 262

photos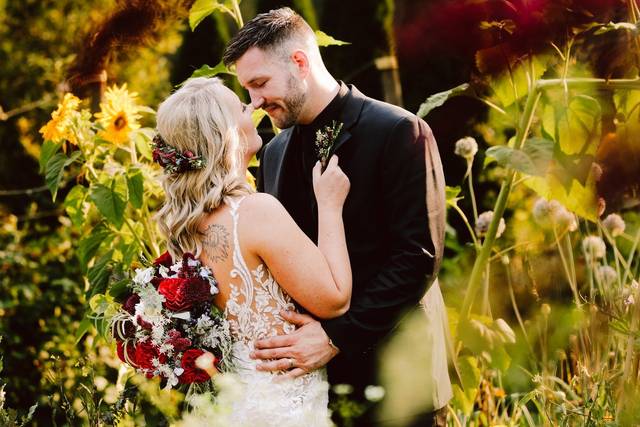 David A.

Married on 09/15/2023

Engagement and Elopement

Kate and Josh provide an incredible service that we've now been pleased to use for two very special occasions- our Engagement photos last fall, and our Wedding ceremony/ Elopement photos just this fall on Orcas Island.

Their work is amazing, their souls adventurous, and their spirits, kind.  Kate coordinated a wedding the weekend before ours, and was going to shoot an entire wedding the very day after ours, and stays busy in between those monumental days, posting beautiful photos of engagement shoots, family shoots, fun holiday setups, the list goes on..  Kate is passionate about her work, and it is evident from the caliber of photos she puts out.  We joked about not knowing when she has time to sleep.. to which Kate responded, "I'm a glutton for punishment, but I TRULY LOVE what I get to do."

They helped capture for us those blissful moments, when nothing else mattered, and kept us laughing.  Kate was extremely helpful, even cleaning my dress‐ what a saint!  And either her or Josh left us a little "happy"- a little piece of seaglass- (we found while unpacking after getting home), after my husband David told them I enjoy hunting for it, while we were taking photos on the beach.  :)  They made our big day feel so special and celebrated!

Hannah and I couldn't be any more happy with our stunningly beautiful photos.  It is a wonderful experience working with Kate and Josh, and w'ed highly recommend booking GSquared Photography for your next big event, or any event!  We will definitely book again whenever we need photos.

Thank you so much again,

David and Hannah

Courtney

Married on 08/26/2023

Thank you, GSquared

Our wedding was absolutely perfect. With that knowledge, I can honestly say hiring Kate to not only photograph, but also assist with planning and coordination, was the single best decision we made throughout the entire planning process. She is a force of nature, and we are forever grateful to her, Josh, and the rest of the GSquared family for orchestrating our dream wedding. Kate's attention to detail is unparalleled.. and she has the ability to make even the most inexperienced model feel like a goddess. More than that, her ability to read any room, anticipate needs, and provide 'unreasonable hospitality' for her clients is what sets her apart from the rest. She advocated for me at times when needed, shielded me from problems until there was a solution, and made game time decisions to bring my vision to life. What more could any bride ask for in a planning partner? Kate was so much more than a vender, and I can't wait to drop in for holiday mini's in the years to come. Thank you, Kate!

+ 4

photos

Olga Z.

Married on 08/22/2023

Absolutely Fantastic Experience

Our wedding experienced some unexpected location and vendor changes at the last minute and GSquared Photography stepped in and absolutely saved the day! Kate was incredibly supportive and helpful during our initial call and provided a fantastic plan and portal to follow.

On our wedding day, Kate and Josh showed up ready to go. They provided great direction in our getting ready photos, provided a fun and entertaining experience during our couples photos before the ceremony, and captured our wedding so beautifully. After the wedding, they were able to quickly organize everyone, capture our family/friend photos. and get us back to enjoy cocktail hour. Admittedly, my husband and I had no idea what we were doing and GSquared provided such kind, but helpful cues to capture everything throughout the whole event. The best part was getting a preview of our photos on the night of our wedding! It was so fun to look through them and then share with our friends and family the next day.

I have never worked with a team that was so organized, prompt, and absolutely delightful. They went above and beyond our expectations. I had several friends and family members mention to me after the ceremony how impressed they were with Kate and Josh - I even had some friends from out of town ask if they travel (which they do!). I would recommend GSquared photography to anyone and everyone who ever needs a photographer.

Are you interested?

Send a message

Rachel A.

Married on 08/01/2023

The determining factor of our wedding day going well!

Kate and Josh were amazing. Simply put, they were the main factor in our wedding day going so smoothly. I was thankful for them constantly throughout the day. Kate did numerous things I wouldn't have ever thought to ask, and was more like a day-of coordinator/event runner. Kate held onto my lipstick and reminded me to re-apply before afternoon photos, she provided two large water bottles for my husband and I, and she had packed tide wipes to help me clean off the bottom of my dress; those are just some of the small details.

Kate and Josh were SO time conscious and efficient we got all the shots we hoped to and more, and still had time to enjoy with our family and friends during our reception. We even used them for a separate session of extended family photos and they wrangled over 60 people to take some fantastic family photos. All our family members were impressed with the family photo session after the fact. Thank you so so much Kate and Josh!

Ray V.

Married on 07/19/2023

One of the best decisions you can make...

...is to hire Kate and Josh. I've worked with them for years (I'm a wedding officiant) and it's always a pleasure. I cannot recommend them highly enough!

Mikeala E.

Married on 07/15/2023

Amazing! 100% would reccomend

Kate and Josh are amazing photographers! They are extremely fun to work with while being efficient. We were thrilled with our engagement photos and are once again with our wedding photos. Kate's experience in the wedding industry extends far beyond photography and helped keep our wedding day running smoothly. They captured every special moment and have a keen eye to capture the heartfelt emotions throughout our wedding day. We highly reccomend them!

Al Weber

Married on 07/14/2023

Amazing!! Worth every penny

Kate and Josh are an amazing team that work flawlessly together. Kate doesn't just do amazing photography but she also kept us on time, did makeup checks, sunscreen provider and general wrangler of the crowd. I've never seen a more smooth family photo portrait session than when I was with Kate and Josh. Our sneak peaks came out and they're gorgeous.

Rene B.

Married on 07/07/2023

They're great to work with!!

Kate and her husband are amazing! Made my day so much easier! Kate delegated things and made sure we had everything we both wanted. Would recommend and or use them 100 times over!!

April M.

Married on 05/27/2023

Incredible experience. Couldn't have asked for more!

Our venue recommended Kate and Josh, and I am so thankful that I was able to meet and work with them. After our engagement shoot with Kate, I was just that much more excited for the wedding. Kate was a dream to work with. She had such an amazing attitude, was beyond helpful with things even beyond photography, and delivered the most beautiful pictures. She felt like a friend I had known for years while hyping me up and made my husband and I feel so comfortable and connected all day. All of this, and of course the pictures were gorgeous, and we received them so quickly. Getting the "sneak peek" pics the night of the wedding was such a fun moment and then we received our album before we were even home from the honeymoon. I could not recommend GSquared more.

Jennifer K.

Married on 02/18/2023

Stunning photography!

I came across Kate and Josh's work years ago when I was an aspiring photographer myself. Though they live on the opposite side of the country from me, I promised myself I would hire them for my future wedding! They made our day fantastic and produced glorious photographs that we will cherish for the rest of our lives!

Stephanie P.

Married on 02/11/2023

Amazing!!!

Kate and Josh are an amazing team!!! They have such a creative eye and really know the ins and outs of getting the best shots in all aspects of the wedding day. Kate is very attentive to details and always has the bride and grooms best interests in mind when getting the perfect pictures. We were beyond happy with the final results and they are so easy to work with. At the end of the day you might even find them having a bit of fun themselves on your dance floor.

Madelynn M.

Married on 10/22/2022

Best Decision EVER

Josh and Kate were the perfect choice to hire as photographers. Not only is their work phenomenal, but they help keep the day moving and felt like friends. They helped us sign our license, carried my food, listened to my nephew talk about pokemon, fix my bustle that kept falling, and over all captured the day in beautiful photographs. Having these two there was the best decision and are the greatest people to have around. I will never forget making Kate laugh so hard she had to stop walking or watching her dance. Josh was so down to earth and the guys liked having him around. Thank you both to helping our day be the best ever!

+ 5

photos

Ana F.

Married on 09/23/2022

First and Best Decision of our Wedding

I first met Kate and Josh 2 days after I was engaged at my best friend's wedding in mid-September of 2021. I saw how Kate and Josh worked together to make magic happen. Not being the bride at this wedding I was able to see Kate work magic to ensure hiccups were taken care of ensuring that the bride didn't even know they happened. Thinks of Kate as the nicest drill sergeant you'll ever meet. She'll put people in line to make sure that the photos the couple wanted get taken and goes above and beyond the photographer role by helping make sure things ran smoothly. Hiring GSquared Weddings was the first and one of the 2 best decisions we made for our wedding. The other was a venue that Kate recommended so I gotta give her credit for that. Kate's website is full of tools and tips that made my husband and I confident in pulling off a dream wedding that we didn't even know we wanted. Kate was always ready with referrals and each one of them was always a great fit for us so I know she was very thoughtful in who she recommended. We did an impromptu winter photoshoot with her in December (I think that's when it was anyway) and that was so incredibly fun! She definitely photographs to capture raw emotions and the natural chemistry between a couple. Our wedding was late September of 2022 (2 weeks ago) and I cannot rave enough about this duo!! I could hear Kate communicating with Josh via their radios fixing hiccups, preventing hiccups, and for lack of a better description-making shit happen. Kate was a key contributor to our wedding feeling like it went incredibly smooth with no hiccups (they still haven't told us anyway. Haha.) They really are incredible in that they are so passionate for what they do and protective of their couples' visions that they go above and beyond the photographer role. They say that you get what you pay for, but trust me when I say that the value of what you get from this duo is beyond what you pay for. Even though Josh is dealing with an injury, I would have never guessed it during our wedding by how hard he worked. Kate was down to try anything and have fun at the wedding and to really portray who we are as a couple. This led to some sword-play during photos since that was the groomsmen gift to my husband which led to a slight injury to poor Kate. Funny is we wouldn't have even known if it wasn't for her putting a bandaid on. Kate takes everything with stride, a fun attitude, and can get down on the dance floor! It's the first thing my husband mentions to people when talking about our wedding! Oh and before I forget, Kate did a mini boudoir shoot right before getting changed into my dress. This was right about the time that I was getting all my "I'm getting married" nerves and it allowed me to have fun and relax. It was so fun and she makes you feel so comfortable and sexy during the shoot too! She even sent us a sneak peak of the boudoir shoot that night! I showed them to husband over morning coffee in bed and it was so worth his reaction!! I am so glad I stepped out of my comfort zone to do that! Kate also released a sneak peak of our wedding photos that night online and our family was so in love with them! They turned out so badass and so very us! We cannot wait to see the rest. I still can't believe after a whole day of hard work and getting down on the dance floor that she took the extra time and effort to give us sneak peaks! That is a long day y'all and then she woke up the next day and probably kicked as much ass at that wedding too. I'm telling you, this duo has the infectious energy you want at your wedding! We have since gotten so many comments about our badass and fun photographers. I could truly go on and on about this duo, but I will just leave it at this… It will be the best decision you made for your wedding. Kate, Josh… Alex is already talking about the next time you guys get to take photos of us!

+ 7

photos

Melissa R.

Married on 09/17/2022

They are worth it

Kate and Josh were truly phenomenal. They assisted with more than just being the photopapers. They helped keep the day on track and sane. GSquared was one of the best choices that i made while planning this wedding. Kate and Josh are so nice and friendly, and they made me feel so confident on my wedding day.

Allie F.

Married on 09/10/2022

Your Dream Vendor!

Kate and Josh were truly one of the best vendors we could have ever hired for our wedding, and I am so thankful we were introduced to them! We also had them do our engagement photos, which was a great introduction prior to just meeting on the wedding day. Both the engagement and wedding photos turned out amazing! Kate and Josh shot such a variety of poses and emotions, as well as many candid photos. Looking back on the photos helped us relieve the entire day, which is so needed since the day goes by so fast! The edited photos were sent to us digitally within a very short amount of time as well.

Besides being extremely happy with our photos, Kate was also very informative in recommending other vendors and providing helpful suggestions during the wedding-planning process. Like all of the other reviews say, Kate is extremely organized and made sure everything ran smoothly at our wedding (even though she was hired for just taking photos!) She worked so hard to make sure everything was perfect!
Having a 2-person team of photographers at our wedding was extremely helpful in order to capture every meaningful moment, as well as two different perspectives of the same shot. Some of my favorite photos are the ones of us reading our vows – photos from behind the bride, showing the groom's emotions, and vice versa. This wouldn't have been able to be done with just one photographer!

The two of them truly went above and beyond what they were hired for, to ensure this was the most special day for us. From helping set up, to making sure the timeline was running smoothly, they had a vital role in all aspects of our wedding.

You will be so thrilled if you choose to hire GSquared!

Becca B.

Married on 08/27/2022

Top Notch Photographer

If I could select 100 million stars I would!
One word of advice I was given and pass along: If you could invest in one thing, and spend the extra money, spend it on your photographers because you will have those pictures for ever. I am so glad we did.

Our engagement photos were a blast, we really got to know Kate, and she instantly made us feel comfortable.

Kate and Josh were absolutely AMAZING. Kate definitely went over and beyond to help with the day of our wedding. She is what ever you need to help things run smoothly; seamstress, bouncer when minor meltdowns need to happen, a voice for bride and groom, coodinator of whatever falls off track... we are BEYOND GREAFUL for her stepping up.

Kate has an eye of landscapes that will make the best photos, connects with her clients, and has the ability to make it fun. She takes the individuals comfort into account, listens, and you can't help but trust her.

Thank you so much Kate and Josh!!

❤️
The Boyers

Ciara B.

Married on 08/20/2022

Best wedding decision we made!

Choosing GSquared Photography was the best decision my husband and I made. They are so organized, they sent us forms to fill out ahead of time to make sure we captured all of the photos we wanted on our wedding day. When it came to actually taking the photos on on our wedding day, they were so efficient that photos went by so fast and easily we had extra time. Not only that they send you vendor recommendations and other wedding tips and tricks like how to change your name to make the whole planning experience easier. On the day of they acted as a day of coordinator making sure everything was running on time. Kate even taught my sister how to bustle my dress for me. Not only that, they were a lot of fun to work with and get to know. And the photos turned out spectacular!

Sebastian

Married on 08/12/2022

Top tier photography and more

We first met Kate and Josh in 2019 and were immediately impressed by the quality of their work as well as the way they spoke about providing not just photography services, but also comprehensive guidance and assistance throughout the day of our wedding. Not only did they fulfill those promises and more, but they stuck with us throughout the challenges of multiple postponements due to COVID. When the big day finally came more than two years later, we were so grateful to have them there and could not be happier with how everything went. GSquared gets our hearty recommendation for their artistry, professionalism, and compassion!

Tessa H.

Married on 08/07/2022

GSquared Made the day PERFECT!

I want to preface this with stating I know little about weddings. This was also a destination wedding so I was extremely stressed about getting everything together. Kate made the whole process easy, and supported me the whole way! She kept the wedding coordinated and going. It would not have been as wonderful without her and her husband. Now to the photos: I'm floored. The eye she has for photos is incredible! GSquared is worth every penny and then some! I'm so pleased and grateful for their professionalism, friendliness, and talent! I know they do so many weddings but on my day it was clear they were 100% committed to our day and capturing our day. I cannot express enough that GSquared is the best wedding investment you'll make!

Ashley

Married on 06/11/2022

Photographers become friends

We found Josh and Kate in 2019 but they were booked for our original date, we ended up hiring a very inexperienced photographer who ended up screwing us over and we found ourselves needing some professionals to come in and save the day! Kate and Josh were those superheroes. After 3 long years of planning, postponements, and many negative interactions with vendor during the c0vid chaos- gSquared came in and changed that all for us.

This power couple are incredible at what they do, but even more than that, they're down to earth, FUNNY, and Kate can DANCE y'all.

We are forever grateful for the beautiful wedding photos, but even more grateful to have met two beautiful souls such as yourselves.

THANK YOU GSQUARED 💕✨ you made our special day even more magical than we could have imagined.

Please note the uploaded images are NOT the high resolution version

+ 14

photos

Madison P.

Married on 05/28/2022

Overall AMAZING in all ways

I figured this review was better late than never. Our wedding was a year ago, but I recently just went to a wedding were I ran into gsquared again and the quality of their photos are unmatched. It was so fun running into them after our wedding and catching up real quick. Not only did we hire Kate and Josh to do our wedding, but we have booked them for Christmas mini with our little one! We are so excited to have another shoot with gsquared. They got our wedding photos to us during our honeymoon the next week… WOW, and we had previews the night of our wedding. All pictures are amazing and I would say one of the best vendors we had at our wedding. They got every pictured I dreamed about at my wedding. Thank you gsquared, we can't wait to see you for the holidays!

Elizabeth B.

Married on 05/21/2022

If only I could give 6/5 stars, for it is totally deserved. Kate and Josh were incredible to work with, extremely talented and professional

Kate and Josh are incredible. From the moment we had our first consultation, I knew they were going to be a perfect match. They take time to get to know who you are and where your inspiration comes from. They are more than your average photographer. They come prepared to celebrate with you as they capture memorable moments forever! I battle anxiety and was so worried about how I would handle my wedding day. Kate was always there ensuring I had my water, keeping me calm with small distractions, and reminding me of simple details that slip our minds, for example when it's hot out, put deodorant everywhere, lol! Multiple times throughout the day she just knew what I needed and had it ready, like shoes! The whole day just felt like I had another friend with me. They are incredibly talented, professional, and truly love what they do. They listen and plan, ensuring they don't miss anything that is important to their client. We received our portfolio super quick, and we were speechless. It was like reliving our day all over again, and almost impossible to pick one favorite. I highly recommend them and will definitely hire them again for future special events! Thanks Kate and Josh!

Krista G.

Married on 05/14/2022

A Qsquared Wedding Experience

Working with Gsquared was recommended to us and we are so happy with our experience. They captured everything we wanted on our special day and did so professionally and with not only special moments but with some funny moments too. We are happy to now be recommending Qsquared to anyone who wants to forever capture their special day.
Krista and Greg

Junia G.

Married on 05/07/2022

Stunning Photos and a Photography Dream Team!

Kate and Josh of GSquared are a dream team when it comes to wedding vendors. The consultation call gave us so much information and assurances going into the process. Our engagement photos will be cherished forever, and Kate gave us a lot of guidance for what kind of outfits to pack and locations to have the shoot!

On the day of our wedding, we were getting rained out and it was a stressful day. But Kate made sure to assure me that our photos were coming out beautifully even indoors, and made sure we got all the shots we were hoping for. The wedding world isn't lying when they say your photographer is who you spend the most time with outside of your spouse, and it was both easy and assuring to have Kate nearby. Any concern or request she was there to help us prep for - my husband even told me after the wedding that Kate never said no to me when I had requests and just did her best to make it all work out! It's also incredible to have two photographers because now we have photos from different perspectives; while we were taking family photos with Kate, Josh grabbed pictures of our guests having a good time. Our photos are amazing and we're excited to put them into a book soon!

If you're thinking of booking GSquared as your wedding photographers, do it immediately. I don't think you could ask for a better team to capture the love and joy on your special day. We are so grateful to have found and worked with Kate and Josh, and cannot wait for future opportunities with our family!


Samantha O.

Married on 03/19/2022

Book them now

Me and my fiancé did engagement photos with Kate & we are so happy with our sneak peek photos. I can't imagine how blown away we will be with the rest. Kate was so easy to talk to & made us feel comfortable, it was like we always knew her. 10/10 recommended.
Are you interested?
Send a message