159 Reviews
Recommended by 98% of couples
Quality of service

4.9 out of 5 rating

Average response time

4.9 out of 5 rating

Professionalism

5 out of 5 rating

Value

4.8 out of 5 rating

Flexibility

4.8 out of 5 rating
134 User photos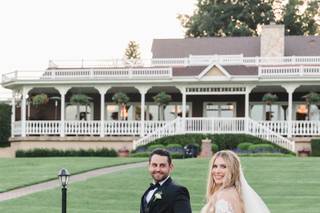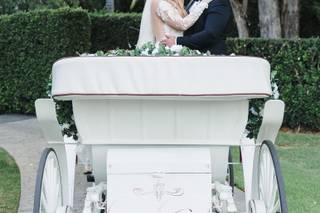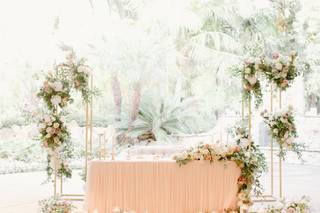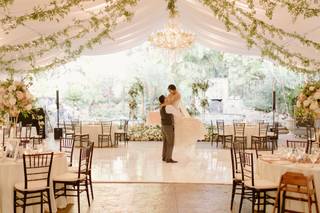 + 130

photos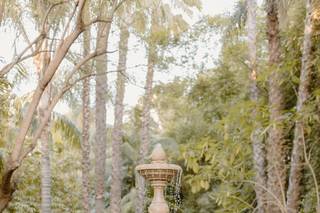 Krystalynn J.

Married on 10/07/2022

Fairytale wedding Oct 7 2022

We had our wedding at Grand Tradition 10.07.22. The wedding of my dreams!!! I am so happy and grateful to have gotten married at Grand Tradition. Lisa V. was our wedding coordinator she is great! We choose the Beverly mansion/gazebo package. STUNNING. Well worth the money. We had cocktail hour at the orchid bar, gorgeous! Our guests rave about our wedding, saying it was the best wedding ever. We used all our venues requested by them, and highly recommend doing the same!! I got ready in the bridal suite, so pretty! The food and drinks was amazing! All staff is great to work with!! Only venue we looked at, it was perfect!! I highly recommend the horse and carriage!! LOVED every single moment!!!!

Melissa V.

Married on 10/05/2022

Fallbrook's Hidden Gem

We got married at the Arbor Terrace on 10.5.22 and had the most amazing time! Fallbrook is a small town, and you would never know this venue is here if you weren't actively looking for it. We are so lucky to have found it! We can't imagine our special day, anywhere else 👰‍♀️🤵‍♂️

Venue✅ GORGEOUS! It truly is like you've entered another world. Everyone could not stop talking about the views. They compared it to Hawaii, Animal Kingdom in WDW, and even Jurassic Park 😅 Most of our guests were from out of town, so we really wanted them to feel like they were on vacation.

Food✅ Honestly, I was nervous about this, because what is the point of a beautiful wedding if the food isn't good. Food was delicious! A popular favorite was the Prime Rib 🤤 Guests also loved the Halibut, Berry Salad, and Potato Gratin 👌

Drinks ✅ Usually when there is a bar package, there is very small selection you can pick from, especially if it's a beer and wine package. Our guests were SO happy with the large selection. We also were able to have 2 of the venue's signature cocktails for guests to purchase: Love Struck (similar to an amaretto sour) and Radiant Orchid (has my favorite Malibu Rum and it's purple!). Those were a hit with guests 🎉

Service✅ Excellent staff! So helpful, friendly, and professional. We felt that they all genuinely wanted to be there to help us ❤️

Coordination and Planning ✅ Molly is incredible! I actually am a Wedding Coordinator as well, and it's hard to let go of control but it was so easy to trust Molly with everything. I didn't need to check the timeline or even just the time, because I knew she had it. During planning, I never felt pressured or nervous about anything. Thank you for so much, Molly! Also, big shout out to my 2 bridal assistants! I enjoyed our chats in between events. It really made me feel at ease. Also, y'all were really on it with holding my bouquet, fixing my dress, and holding my veil. Really made a difference in the photos 👌

We are so grateful to everyone who helped us create such a beautiful day for us and our loved ones 🥰

+ 4

photos

Melanie

Married on 07/16/2022

Flawless, Smooth, Positive, Professional, Efficient

I knew from the start of my venue shopping that I wanted lots of greenery and a waterfall.... Came across Arbor Terrace at the Grand Tradition and bookmarked it. When it was time to go venue shopping I promised myself to only visit my top choices so I'm not wasting my time or get overwhelmed with too many choices. My VERY FIRST VISIT I wanted it to be my top 1.. and I chose to visit Grand Tradition first. ** It's true, WHEN YOU KNOW, YOU KNOW! **That first visit was absolutely spectacular, the videos and pictures do not do it justice. It's breathtaking in person and the little details the staff does to maintain this beautiful property shows throughout the entire venue. Elle was my point of my contact when arriving and she was so friendly. After leaving the venue we visited all the Temecula winery venues but everyone knew my heart was already SET after that first visit. All the other venues just didn't have that uniqueness I wanted! There was no wow factor like GT gave us. So this was actually the first wedding planning decision we made and it was by far the easiest and best decision! We booked the day after HAH! Mikayla ended up being my assigned coordinator and let me just say, the fact the venue comes with a coordinator was the cherry on top of my YES when I booked this venue. BRIDES GET A COORDINATOR! Mikayla was the most positive, friendly, approachable coordinator to have during a stressful time for us brides. (She's always smiling no matter how busy she was with her B2B weddings) There are sooooo many details to a wedding and she was so sweet and thoughtful to remind me of everything as the day came closer. Their way of gathering details and planning is so organized it made the process feel so easy. I never felt like I was bothering her because she was always making herself available for us. Even when I was having a weird feeling about a vendor flaking Mikayla took it upon herself to call and verify for me!! :') The staff on the wedding day made everything run so smoothly. Kristin was also very patient and great communicator in reminding us when payments were coming up as it does come up quickly! Nicole was awesome during our rehearsal helping all of us understand the flow of the ceremony. My bride assistant Adriana was the sweetest always keeping me calm up til I started walking down the aisle and all the way to my grand exit. Their vendor recommendations I went with almost all of them and they were perfect! (finishing touch, Briarmist cakes, etc) Menu tasting event was so fun meeting other couples and being at the venue. The food and drinks were so tasty. My family and friends would not stop raving about the entire venue and the professional staff!! We were blown away how much it exceeded our expectations. Cannot recommend this place enough for future brides. Pricing is definitely affordable and on top of that the venue speaks for itself! Thought I booked too fast when I decided to submit my hold the day after my venue visit.. but nope I knew 1000% this was it! And absolutely no regrets! Only thing i wish I could change is the venue curfew of 10pm would've loved to stay until midnight. And wish the city provided better hotels nearby but our families decided to stay at Pechanga since it was 25mins away. But those are just little things that I still would not have switched my venue experience for anywhere else! The professional and super friendly staff, the organized outline and layout for your big day, the upkeep and maintenance of such a gorgeous venue, made this the easiest decision we made! Thank you MIKAYLA*, Grand Tradition + Staff for a lifetime of memories of the best day ever!!!!

Are you interested?

Send a message

Callie F.

Married on 07/14/2022

Wedding of our dreams!

We got married at Grand Tradition Estate and Garden's Arbor Terrace site on July 14th, 2022. Our guests have not stopped talking about how beautiful this location was. Not only did they find it beautiful, but they have also expressed how professional the staff was to ensure everyone was comfortable and had what they needed. It is like having a wedding in Hawaii without having to travel to Hawaii! The grounds are kept beautiful year round. Not only is the venue gorgeous, but the service they provide is excellent. We were provided with a wedding coordinator who took so much stress away from the wedding planning process! Thank you so much, Sarah! They also provide food and the food is delicious! We are so glad to have found this hidden gem in Fallbrook. You would never know it was there! If you are looking for a venue I absolutely recommend Grand Tradition. They made our wedding run so smoothly and kept us informed throughout the planning process as well as on the day of the wedding. Thank you so much to all the staff that helped bring together the most magical day we could ever imagine! We wouldn't change a thing.

Loretta B.

Married on 03/31/2022

Above & Beyond Service

The whole venue was gorgeous both Beverly Mansion & Arbor Terrace sites were incredibly beautiful. The lush garden scenery everywhere captivated everyone who attended our wedding. Photos of the landscape didnt even need to be edited! Not only were the grounds well maintained the staff and especially the coordinators who worked with us directly were in constant contact with us and made sure our needs were met down to every detail. You can tell they are well trained and experienced. Everything was taken care of and I am quite impressed with everything they offered. The bridal and groom suites were elaborately decorated, well equipped and extremely accommodating! They offered champagne and trays of delicious snacks for the bridal parties in the suites. It was all a very fabulous & memorable experience!

+ 4

photos

Grand Tradition Estate & Gardens's reply:

Hello Loretta,

Thank you so much for sharing your beautiful photos and writing this wonderful review! It means the world to us!

We are so happy to hear that your day and entire wedding planning experience went well :) Thank you for choosing Grand Tradition for your special day. And congratulations on this exciting new chapter. We hope to see you soon :)

With Love,
Your Grand Tradition Family

Anna R.

Married on 03/13/2022

Wedding March 2022

Very overdue review. When we ventured out to pick a location for our wedding, we knew immediately that Grand Tradition (Arbor Terrace) was going to be the perfect fit for us. We had toured many locations throughout Temecula and neighboring cities, but none compared to how we felt when we toured Arbor Terrace. The location was so beautifully kept with blooming flowers and all of the wonderful fountains that it was easy to picture our big day at this beautiful location. My husband and I returned to our car and both knew this was the place (the best feeling during stressful wedding planning). We were assigned Sarah Fox as our Wedding Event Coordinator and could not have landed better support for our big event. She was incredibly organized and supportive from start to finish. The planning phase was made very easy and we enjoyed being able to meet with her and easily decide all the planning details. The food selection was also made very easy after attending the trial dinner and being able to connect with other couples on how they were planning their special day. The actual wedding day was truly magical. Sarah and our Wedding Assistant Danielle were like a well-oiled machine, taking us through each step seamlessly and attending to truly all of our needs (like making sure my husband actually ate). Our guests continue to tell us that it was one of the most beautiful locations they have ever attended for a wedding some saying it was the best they have ever attended. We can credit this to the beautiful setting and the truly great service. I highly recommend this venue for your special day. If you are looking for a worry-free day with a stunning setting and amazing food, this place is for you. Other notable mentions on the team were Dominic, Nkosi, Giselle, Marc, Nicole, Payton, Faith, Amelia, Claudia, Noelle and Ryan but a very very special thank you to Sarah Fox and Danielle for making this the best day in our lives thus far. We are truly grateful for this amazing day and all of the support we were given

+ 6

photos

Cheryl N.

Married on 02/18/2022

Grand Tradition is the best wedding venue you could ever have!

Me and my husband LOVED this venue and we especially loved our wedding coordinator Lisa. She was so nice, very helpful and our whole wedding just went sooo smoothly because of her. The pictures of this venue don't do it justice, you have to just go there in person and see for yourself. After your first visit you'll already know this would be the best venue for you. We were so lucky to have the opportunity to have our wedding here at the Grand Tradition.

Evans P.

Married on 02/12/2022

10 star experience

YOU WILL NOT REGRET HAVING YOUR WEDDING HERE.

The venue was so beautiful and all of our guests couldn't stop talking about it. Although we had to postpone our wedding twice due to COVID, they were willing move our dates with NO FEES and made sure we were able to have our dream wedding.

LISA WAS AWESOME. Our wedding coordinator at the Grand Traditions went above and beyond to make sure everything went according to plan and she nailed it.


Thank you!

Grand Tradition Estate & Gardens's reply:

Hello Evans,

Thank you for taking the time to write this review. It brings us so much joy to hear how wonderful your wedding day turned out! It was much deserved after the long hardship you went through during COVID. We deeply appreciate your patience and flexibility with us while we maneuvered through a pandemic. We are honored to have hosted such a special day.

Congratulations on this exciting new chapter! We hope to see you again soon :)

With Love,
Your Grand Tradition Family

Joyce

Married on 01/22/2022

Impeccable venue and customer service!

We cannot praise Grand Tradition enough for making our wedding absolutely perfect, especially considering we had so many things stacked against us. From the beginning, we fell in love with the gorgeous gardens and the indoor tented reception space. It was the first venue we explored, and we knew right away that it was meant to be (but as good wedding shoppers we still went around and looked at other ones just to be sure). There were several reasons Grand Tradition stood out for us: 1) it is a genuinely beautiful venue, meaning that you really don't need to have too many decorations/floral pieces, which means huge savings. 2) they come with their own coordinator, which means you don't have to worry about your coordinator not understanding the flow or intricacies of the venue and you know it will run smoothly. 3) they have over 30 years in business, which especially since COVID, was extremely important for us as several vendors have closed/are unstable and we wanted to ensure we had reputable and strong vendors working with us. And this 3rd point came into play multiple times as our original coordinator assigned by Grand Tradition (who was amazing) moved out of state a month before our wedding. However you never would have known it because Grand Tradition was very quick to notify us and assigned another coordinator who immediately communicated with us to ensure all of our questions and concerns were addressed. And despite our best efforts, we had several last minute guest drop-outs due to Omnicron and then several more guests (including children even though this was an adult-only event) showed up at the wedding unannounced. What is normally a nightmare situation for any wedding turned out so smooth-- Molly, our amazing stand-in coordinator handled the last minute guest changes with grace and extreme efficiency. I kept bracing myself for multiple questions from our coordinator as to where we would want these last-minute guests placed but nope, she just took care of business! We received so many compliments from our guests for how beautiful the venue was, how efficient the entire wedding was, how delicious the food was (which was very important to us), and how well the staff took care of us. We were extremely pleased with Grand Tradition and would absolutely refer them to anyone looking for a beautiful, smoothly run wedding. They are truly passionate about what they do and it shows in every aspect of their work. And because I was looking for this information when I was looking at venues-- our wedding was in January and there were high wind advisories (75mph) in SD county the day of, but we did not get any wind at all. The weather was a very beautiful, sunny 68 degrees in the daytime, which dropped to about 55 degrees at nighttime. Arbor Terrace had several heaters and I felt totally comfortable running around in a very skimpy dress even though I normally get cold very easily. (Also protip: GET THE ICE CREAM BAR ADD-ON. Literally everyone was in love with it, it didn't matter that it was in January, people were going back for third and fourth servings!)

+ 3

photos

Grand Tradition Estate & Gardens's reply:

Hi Joyce,

Thank you for writing your review on Wedding Wire as well. We appreciate all the time you took to write these reviews. It means the world to us!

Congratulations again on your marriage and thank you for choosing Grand Tradition. We are so honored to have hosted such a beautiful day for a beautiful couple :)

Please come visit us soon!

With Love,
Your Grand Tradition Family :)


Tayler

Married on 11/19/2021

A tropical wedding paradise!!

I'm the owner of Tayler Ashley Photography and I had the pleasure of shooting many weddings here. Its absolutely stunning and it makes you feel like you are in a tropical location. The staff is wonderful and the food is amazing. You're guaranteed the perfect wedding here!

+ 6

photos

Grand Tradition Estate & Gardens's reply:

Hello Tayler,

Thank you for your such kind words and taking the time to write this review. Your photos are absolutely incredible and you do an amazing capturing our venue! Our couples and staff enjoy working with you. We hope to see you soon!

Thank you.
The Grand Tradition Team

Kaitlyn

Married on 10/02/2021

Absolutely Amazing! 💕

Grand Tradition was the absolute best wedding venue! The very first time I stepped on the property I fell in love! All of the staff is very nice and accommodating! They were patient with all of my questions and answered thoroughly. There are two sides to pick from, Arbor Terrace or the Mansion. Originally I wanted a beach venue, but the Arbor Terrace is a tropical dream! I felt like I was in Hawaii! The venue provides a coordinator to help navigate the crazy and make your vision come to life! I was assigned to Lisa. While I am sure they are all great and maybe I have some bias, but she gets 5/5 stars in every category! She is prompt in replying with emails, walks you through timelines/vendors/song choices/etc., she made my crazy living champagne wall become a reality and she just did everything! Unfortunately my cake was not delivered on my wedding day. She came up with quick solutions and because she had caught they had the wrong date and emailed the bakery, we can now get a full refund! Thank you!!! They have so many staff on the wedding day. We did a lot of DIY projects. On the day of the rehearsal, we dropped off all of our decor and the staff set everything up to perfection! They have a bridal assistant that literally follow the bride and groom making sure we had everything we needed throughout the day! She knew how to bustle my dress and helped my photographer with pictures. She was also so calm and pleasant! At the end of the night, the staff packed up and loaded all of our decor in our truck. My family just got to enjoy the day! I have been to countless weddings, usually the food is ehhh… but the food at Grand Tradition is so good! That was one of the first things my family talked about, the great food and how beautiful the venue looked. I am so grateful I got such an amazing venue! This venue is top notch and will be everything you have ever dreamed of having for your wedding!

+ 5

photos

Grand Tradition Estate & Gardens's reply:

Hi Kaitlyn,

We are so happy to hear about your wedding planning and day of experience! It is our number 1 goal to make sure everything is exactly what you planned and hoped for :) Lisa and our entire staff here at Grand Tradition greatly appreciate your kind words and thank you so much for taking the time to write this review. It means so much to us!

We hope to see you soon! Congratulations on this exciting journey ahead :) Love the photos!!!

Best wishes from your Grand Tradition Family!

Jeff M.

Married on 09/26/2021

Amazing Venue!!!

The Grand Traditions, Arbor Terrace is a stunning waterfall backdrop venue that feels like you are in Hawaii. From beginning to end the Grand Traditions staff were professional and focused on creating your ideal wedding. You truly cannot go wrong with this location. Their preferred vendors are all top notch and the food from GT was exquisite. We couldn't have been more pleased.

Grand Tradition Estate & Gardens's reply:

Hello Jeff,

We are thrilled to hear about how wonderful your wedding turned out! It was such a pleasure hosting your most special day here at Grand Tradition. We thank you for taking the time to share your experience with us. It means a lot and we are so delighted!! We hope to see you both again soon :)

Happy New Year!

Warmly,
Your Grand Tradition Family

Anne P.

Married on 08/27/2021

Best day of our lives

We found Grand Traditions on our wedding venue search at the end of 2019 and immediately fell in love with Arbor Terrace. Then like so many couples who had 2020 set as their wedding date- things changed and we decided to postpone a year. Grand Tradition made the transition so easy (especially after hearing many others horror stories.) Through our journey with the venue we worked with Amanda, Charnel and then Mikayla for our big day. Everyone was wonderful and Mikayla creating a day that felt so seamless and stress free for us.

A few of favorite things about the venue:
-The seclusion- you step into a tropical garden that feels like a destination wedding outside of San Diego area- our guests were in awe!
-The ease of planning- Grand Tradition has weddings down to a science but leaves room for customization. Planning a wedding by myself was daunting but made so much easier when so many of the details were already included in the wedding packages including the delicious food!
-The people- From our initial tour to the planning to the day of- our experience was top notch and our guests would say the same. Every one was so kind and Mikayla was especially patient with all of my emails and random changes!

The worst part of our wedding is that we couldn't make the day last forever!

Karen M.

Married on 06/04/2021

Absolutely beautiful and amazing venue!

First of all not only was this venue absolutely beautiful (everyone at my wedding was talking about it) but also the staff here are extraordinary! they go above and beyond for their couples, and handle every little detail and thing that will go wrong. My wedding coordinator Mikayla was amazing, I could not have asked for a better one, she was so detailed with every aspect of helping us plan, and she was there for me every step of the rehearsal and day of answering questions and making sure everything went off without a hitch! My vision of my dream wedding came to life at this venue, and I could not have asked for a better venue or better staff! thank you grand tradition!

+ 14

photos

Matthew W.

Married on 05/21/2021

Stress Relief

My wife and I got engaged in April 2020 (pandemic era). We did not physically visit any venues, but we did 'virtual' tours, browsed photos, read reviews, and did our homework. We originally wanted a tropical destination wedding, but traveling was limited during this time. The Grand Tradition Estate & Gardens was the perfect venue for my wife and me. We had the tropical feeling, peaceful atmosphere, and the luxurious look we wanted. We met with our Wedding Coordinator, Sarah Fox, who was excited for our big day as much as we were. Sarah was professional, easy to communicate with, timely, respectful, and accommodating. Sarah took a load of stress of my wife & my backs which made our wedding day even more relaxing and enjoyable. I highly recommend researching EVERY detail before you throw your high-priced dollar bills at something you may regret on your wedding date. I highly recommend Grand Tradition and their wonderful team, especially Sarah Fox. Thank you!

Alexandra

Married on 10/10/2020

Tropical Oasis

I had my wedding at the Arbor Terrace at The Grand Tradition and it was everything I dreamed of and more. From the gorgeous tropical foliage, to the decadent food, to the professional and courteous staff - no detail is overlooked. The feedback I got from my guests also reflected this. They could not stop gushing about how perfect the wedding was. I couldn't recommend The Grand Tradition enough!

+ 2

photos

Grand Tradition Estate & Gardens's reply:

Hello Alexandra,

Thank you so much for sharing your experience and some gorgeous photos of your big day! You two are absolutely gorgeous gorgeous together.

It was our honor to have hosted your wedding! Thank you for choosing Grand Tradition :) We wish you all the best and a beautiful marriage. We hope to see you soon!

Warmly,
Your Grand Tradition Family

Alia A.

Married on 09/25/2020

Venue was Magical!

The venue was what made our day perfect! The attention to detail, the great food, drinks and views, all provided us with a special day that will never be forgotten. I would recommend the Grand Tradition to any new couple that wants their wedding to be the best day ever!

Nikita B.

Married on 08/09/2020

Amazing! Venue

I have been working with them and everything has been flawless so far. I'm super excited for the wedding.

Grand Tradition Estate & Gardens's reply:

Hello Nikita,

Thank you for such kind words :) We're thrilled to hear the planning has been coming along nice and smooth.

We are looking forward to your BIG day!!

Eurelle

Married on 07/25/2020

5 stars of perfection

5 STARS. To Grand Tradition and our incredible coordinator, Mikayla: Thank you, thank you, THANK YOU. This venue and its incredible A team of sales staff, coordinators, chefs, servers, and more captured our wedding reception celebration to perfection. They were not only incredibly professional, responsive, and creative - they felt like part of our wedding party! We had perfect weather for our wedding reception and even a little rain, which the staff was so kind to provide us and our guests umbrellas and golf cart transportation.

My husband and I wanted a unique venue and when we toured Grand Tradition in 2019, we knew this estate was the one for us. We chose the Beverly Mansion and Orchid Bar, all of which were beautiful and unique. The guests could not stop raving about how unique the venue was!

Please book Grand Tradition - they worked with us, they were flexible, they were understanding, and they KNOW what they are doing.

We cannot wait to visit Grand Tradition again, whether it's for brunch, to walk the grounds on our anniversary, or another event :)

Chelsea

Married on 02/01/2020

Very professional and personable

Our coordinator is Amanda who is super nice and professional. The wedding went smoothly and we loved it. The venue is so pretty and it is totally worth it.

Grand Tradition Estate & Gardens's reply:

Hello Chelsea,

Thank you for taking the time to write your review. We are delighted to hear your wedding went smooth :) Amanda loved working with you!

Congratulations and we hope to see you soon!

All the best,
Grand Tradition

Stephanie

Married on 10/11/2019

Best venue

I got married this October at Grand Tradition Estate. This is honestly the most beautiful venue I've ever seen. Everything went perfect, it will be a day we will never forget. The food tasting was probably my favorite part of the planning process. The food was delicious and I loved that there was variety.
Amanda was such an amazing coordinator. Amanda and her team were really professional and provided us with the best service, they went above and beyond. I had a bridal assistant who was right by my side in case I ever needed anything.
Amanda kept everything and everyone within the planned timeline. She was really attentive and made sure our wedding party and my guests were taken care of.
Thanks to her I was calm and was able to enjoy the entire day. She was there with us from the beginning of our wedding planning to the very last moments.
We couldn't have asked for a better coordinator; we were so grateful for her help.
My wedding felt like a dream, I am so glad I found this hidden gem.

Grand Tradition Estate & Gardens's reply:

Hello Stephanie,

Thank you for such kind words. We are thrilled to hear the planning process and more importantly your big day was perfect!! :)
On behalf of everyone here at Grand Tradition, we thank you both for allowing us to be part of your special day. We wish you well and hope to see you soon :)

Thank you,
Grand Tradition

Stephanie E.

Married on 10/11/2019

Beautiful venue

Grand tradition is such a beautiful venue. The moment my fiancé and I walked into the gardens we instantly knew this was the location we wanted to get married. We are getting married in 5 months and are looking forward for all of our guest to see it. Our coordinator Amanda is great, she has been helping us stay organized and calm during this whole planning process. I would highly recommend this venue. I will do a follow up review after the wedding ❤️

Kaitlyn

Married on 07/07/2019

Unforgettable

Made my wedding unforgettable. My wedding day ran so smoothly due to my coordinator (Sarah) and bridal assistant. I planned the wedding with my coordinator Sarah, she had great ideas and even called all my vendors 10 days before the wedding to ensure things went smoothly. We meet about 3-4 times. I planned my wedding from Florida and Sarah helped a lot since I was far away. During the event the service and food was raved about by the guest. They especially loved the meat and chocolate fountain. The best thing about grand tradition is that you don't need signs to direct people because there is butler's who assist with every transition. The Bridal assistant is awesome, she delivered food to my sweetheart table and cleaned my dress when I spilled red sauce on it. I would chose Grand Tradition 100 times over for a wedding. You will not be disappointed.

Grand Tradition Estate & Gardens's reply:

Hello Kaitlyn and Mat,

Thank you for your kind words! We loved being a part of your special day! We wish you both the best and please come and visit us soon.


Best Wishes,

Grand Tradition

Jessica

Married on 06/06/2019

Get married here!

We got married at the Grand Tradition on June 6th, 2019. Ever since I first walked the grounds I have been completely in love with this venue! They take such good care of the property and it provides a truly unique scene for your big day. Everything was amazing from the food, to the staff, to the scenery! We were truly blessed to have our wedding here. Amanda Cox was our coordinator and she was PHENOMENAL! Amanda really helped us bring our vision to life. She was so patient throughout the wedding planning process and made sure all our needs were met. About a year into the planning process, we found out I was pregnant and Amanda was more than willing to help us have our gender reveal during our wedding day. She even gave us some brilliant ideas for the gender reveal. Amanda always greeted us with a smile and treated our little pup like family too :-) To say I was impressed with Amanda the day of our wedding is an understatement. She truly went above and beyond to create a once in a lifetime experience for us! She made sure we stayed on track with our time in order to do all the things we wanted to the day of. She also made sure the bride and groom got to eat (thank you so much for that!) and ensured that I had plenty of apple cider throughout the day since I couldn't drink :-) Overall, we had a wonderful experience and we do not regret booking at the Grand Traditions one bit!!

Paige

Married on 03/30/2019

LOVE this venue

I am so glad we chose Grand Tradition Estate & Gardens as our wedding venue! We got married at Arbor Terrace on 3/30/19 and it was absolutely stunning! Alyssa was our wedding planner and I cannot say enough great things about her! I kept saying throughout the whole wedding planning process that I didn't know what I would do without Alyssa! Grand Tradition was 100% worth the money. They structure everything throughout the wedding planning process to make it as painless and seamless and possible for the bride and groom. They took care of everything and I didn't have to worry about anything on my wedding day! My guests raved about how beautiful the venue was and how amazing the food was! Shout out to Kevin as well! He was the one who gave us our tour before booking and he was amazing! My dad can be a difficulty person and he handled him with humor and ease - my dad was skeptical before the tour and then completely on board after the tour! Thank you Grand Tradition for making our special day perfect!
Are you interested?
Send a message