215 Reviews
Recommended by 97% of couples
Quality of service

4.9 out of 5 rating

Average response time

4.8 out of 5 rating

Professionalism

4.8 out of 5 rating

Value

4.8 out of 5 rating

Flexibility

4.9 out of 5 rating
63 User photos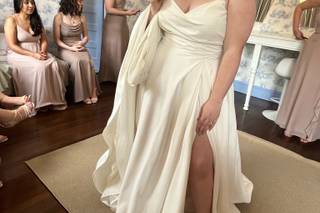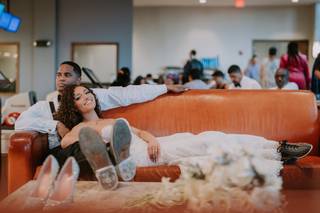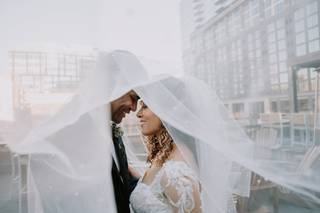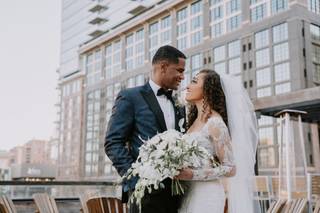 + 59

photos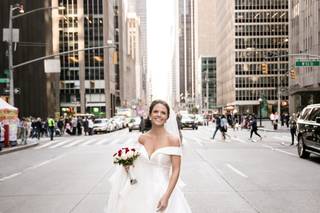 Chandler S.

Getting married on 09/22/2023

Best dress shopping experience!!

I've been dress shopping at least 10 times and this was by far my best experience. Both consultants were so attentive to my friend and I, they listened to what we wanted and let us browse the dresses ourselves. There are a ton of dresses to choose from and all at great price points too! Would recommend to anyone!!!

Brooke G.

Married on 05/19/2023

Found my dress!

I went here for my 2nd time trying on wedding dresses and thought I knew what I wanted/liked. Turns out I fell in love with something completely different! Maria was outstanding, she listened to every little comment I made and went searching multiple times to pull out more dresses. Each time she took care in clipping the dress to fit me and was so patient with me throughout it all. She truly made this experience seamless and wonderful. I highly recommend this place and cannot wait to go back for alterations!

Global Bridal Gallery's reply:

Hi Brooke,

You are so sweet! It was such a pleasure meeting you and helping you find your dream dress. Cannot wait to see how beautiful you will look on your wedding day. Please stay in touch!

- Maria Oliva

Alex H.

Married on 04/15/2023

Amazing service

The staff, especially Marie, go above and beyond to make you feel like the most beautiful bride in the world! I never once felt insecure and found my DREAM dress. Please please buy your dress here!!

Are you interested?

Send a message

Lillian S.

Married on 01/01/2023

The Best Boutique in the DMV

I found my dream wedding gown at this boutique (Morilee 2401 Dauphine). Marie is a fantastic consultant who truly listened to me during this process (I'm a very petite bride). She helped me find the most fantastic gown (it was the first gown she pulled). I love that this boutique has a variety of gowns that are within an affordable price range. The customer service is great, and they did a wonderful job on alterations.

Christine L.

Married on 10/09/2022

The dress of my dreams

This is what every wedding dress shopping experience should be. The ambiance felt serene and I felt like the only bride on Ms. Marie's mind. She made me feel so special when I tried on dresses the first time, and then when I came back the second time to make sure it was The One (which it was!!). I loved how excited she was for me when I decided on my dress and appreciated that she was genuine in her advice on what worked and what didn't. And I LOVED the dress I chose! It fit like a glove, thanks to their seamstress but I still had room to breathe and eat. The dress couldn't have been better.

Chris G.

Married on 09/10/2022

Found the perfect dress for me within budget

Marie at Global Bridal Gallery helped me find the perfect dress within my budget. I stated ideally I'd stay under $500 but my budget was $1500 and she found the perfect dress for less than $800! It was the first dress I tried on, and she let me try a few more options, was never pushy, and even encouraged me to go back to the first dress that I couldn't get out of my head. I would recommend this location to all brides! Perfect for getting a lunch and drink nearby.

+ 2

photos

Chuti

Married on 05/13/2022

Variety of unique and beautiful dresses

I went to Global Bridal Gallery back in 2019 for my wedding dress. They were so patient during the process of trying on dresses and selection. There were so many gorgeous ones, it was so difficult to choose! I picked a Martin Thornburg dress with straps, delicate details, and a long train. I was supposed to wear it in my 2020 wedding, but finally had the chance to wear it recently in May 2022. It is such a beautiful dress and I am so happy I went to Global Bridal Gallery. I highly recommend this shop to all of the brides-to-be!

Global Bridal Gallery's reply:

Hi Chuti, Thank you so much for the sweet review. It was a pleasure serving you and helping you find your dream dress. Congratulations on your wedding!

- Global Bridal Gallery

Janet R.

Married on 10/09/2021

Perfect Dress

If you're looking for your perfect wedding dress, Global Bridal Gallery should be at the top of your list. I went to several other dress shops, but Global Bridal nailed it. They have a great selection of dresses to fit every style and consultants who listen and find just the right options. The alterations were professionally done and my dress looked amazing when I picked it up. This place is a gem in the heart of Alexandria.

Global Bridal Gallery's reply:

Hi Janet, Thank you so much for such a nice review. It was a pleasure serving you and helping you find your dream dress. Congratulations!

- Global Bridal Gallery

Shunia B.

Married on 10/09/2021

Great Experience!!

I went to Global twice for dress shopping. They have a large selection. Ms. Marie and the rest of the staff were spectacular to work with. The ladies made me feel super comfortable. They were helpful and knew what would work for you body/personality. My mom also got her mother of the bride dress from GBG. She loved working with Ms. Marie. She drove up from Richmond for her fittings and was thrilled with the service. Alterations was great as well.

Emily G.

Married on 08/06/2021

Great dresses and service. Reasonable prices.

They are the sweetest! I tried on a number of different styles and cuts, and the staff was so helpful as I tried to determine what was best. The appointments were always enjoyable and the alterations staff was very helpful too. Dress options come at reasonable prices.

Global Bridal Gallery's reply:

Hi Emily, Thank you so much for the sweet review. It was a pleasure serving you and helping you find your dream dress and having so much fun in the process. Congratulations on your wedding!

- Global Bridal Gallery

Mc-Ian W.

Married on 05/29/2021

Marie was a life saver!!

I had more than one dress SNAFU and I was in a time crunch. Marie worked with my budget and preferences and helped me pick out the most PERFECT gown!!

Carolyn M.

Married on 05/22/2021

The perfect dress experience!

I cannot say enough about my girl Marie. Do yourself a favor and see her at global bridal gallery! She will hype you up, she will listen to your input, and she will find you a dress that fits your budget and your vision. I went to her on my own during covid since my family and friends are from out of town. She was my bridal consultant, my mom, and my best friend all wrapped into one. I was so stressed about dress shopping beforehand - coming to GBB was a huge sigh of relief!

PS - They also do alterations and I got my veil there as well!

Global Bridal Gallery's reply:

Hi Carolyn,

You're so sweet! Thank you so much for the sweet review. I'm so glad I was able to make your bridal gown shopping experience nice and fun. Congratulations on your wedding!

- Marie

Stephanie B.

Married on 10/23/2020

Fantastic service!

Global Bridal Gallery was a dream come true for dress shopping and alterations. The dress shopping experience was phenomenal – Marie and Serki both listened to exactly what I was saying I wanted and brought me dresses that fit the bill – the third one I tried on was the one! They were also just the warmest, most pleasant salespeople ever – my mom and I felt like they were members of the family by the time we left the store. They were super supportive about me going to another dress store I had already made an appointment at before deciding on my dress, but told me "we can tell you love it and we know you'll be back" – and they were right! I came back the next day, tried the dress on again, and bought it. I also did my alterations with Global Bridal Gallery and they did a phenomenal job. I had two fittings and needed minimal alterations – cups added, taken in at the waist, taken out at the hips, bustle added – and they executed them perfectly. They made me feel beautiful every time I came in. I cannot thank Global Bridal Gallery enough for making me feel like the gorgeous bride I had always hoped to be.

Michelle H.

Married on 10/17/2020

Great experience

Global was my favorite salon I walked into. They were so kind and easy to work with. They made finding my dress a breeze and were available every step of the way. They did an excellent job with alterations and dress preservation.

Marina L.

Married on 10/10/2020

Beautiful dresses and helpful staff!

I found my dream dress here thanks to their incredibly helpful staff! They listened to exactly what I wanted in a dress and this was one of the first I tried on! I felt super safe any time I came back during COVID to get my fittings and pick up the dress. I can't recommend Global Bridal enough for any bride looking for their perfect wedding dress!

Alexis S.

Married on 09/05/2020

Great service & beautiful selection of dresses

I went to Global Bridal Gallery on the advice of a friend, and I am so glad that I did. The team at GBG is extremely knowledgeable and such a joy to work with.

Global Bridal Gallery was the second salon I went to on my first day of wedding gown shopping - it ended up being the last! Surki, my consultant, immediately figured out what my style was - A-line or ballgown with straps. She pulled a selection of five gowns she thought might work with my shape and style. The first one she put me in ended up being my gown! She had amazing knowledge of the inventory and such a keen eye for style, shape, and design. I was so glad to work with a consultant who understood precisely what I was looking for and didn't push me into a style that I wasn't comfortable in. I also choose to have my alterations done at GBG, and they were flawless.

One thing I very much appreciated about Global Bridal Gallery is the way they treated their customers. Gown shopping was the part of wedding planning I feared most. I am a "curvy" woman and despite losing a significant amount of weight, I am not quite a sample size. GBG stocks a good variety of gowns in larger sample sizes. I appreciated feeling "bridal" having gowns to try on that were closer to my proportions. Additionally, I felt no judgement about my figure. Instead, the entire team from the consultants to the alterations specialists are very positive.

I will definitely recommend Global Bridal Gallery to my friends. This far more than a 5 star experience!


Andrea B.

Married on 08/08/2020

Incredible to work with from start to finish!

Back in May 2019, I kicked off my wedding dress search at Global Bridal and went with a little group to have the whole experience. The GBG team helped make it such an incredibly special appointment and gave me the whole experience (which apparently is not the norm, because the second place we went to literally made me cry and they were not happy tears). After going to about 6 or so other stores, I was not finding at all what I was imagining and the dresses I had wanted to try weren't in stock in the area, so I decided to go back to GBG with just my mom. When we walked in, we were greeted by Marie, who is so incredibly kind and friendly, who told me they had just received a new dress that no one had even tried on yet but it seemed similar to the dresses I had been looking for. I put it on immediately and didn't want to take it off. It meant so much that they really listened and thought about what I was looking for.

The alterations were fantastic as well. I worked with Stacie initially and had this really extra idea of adding tulle bows that acted kind of like a cape/veil. She completely understood what I was looking for, got super excited with me, and helped us create the effect so I could wear it for my ceremony and take it off after.

We are now in the process of going back to GBG for the preservation services because they have been so wonderful and trustworthy every step of the way.

Also, they are right next to District Taco, so when you are super hungry after a fitting, you can grab some pretty good tacos. Just felt that was helpful to add.

Donleigh H.

Married on 11/10/2019

Perfect, easy going!

Danielle was terrific, she did not rush me and took her time in helping me find the right fit, style of dress and shared options I could do to customize it or update it. I was very grateful for her ability to listen and work with me, it helped the stressful situation seem seamless! I also had the fitting down here and it was the best. All the staff were great from giving advice, doing the alterations, making or changing appointments and being flexible on dates. I would truly recommend this store and any of the staff as an excellent place to purchase, alter and even clean/store your wedding dress! Thank you all for making my day a special one 😘

Jessica

Married on 10/26/2019

So happy from start to finish!

Global bridal and their employees are excellent to work with. I went a few different places before this place, and was feeling discouraged.
I showed a picture of what I was looking for to the person helping us out on the particular Saturday we went, and the second dress I tried on I fell in love!
Reasonably priced and they were super helpful from start to finish.
Could not of been happier!

Katie

Married on 10/18/2019

Incredible team!

I initially chose to visit GBG due to all their 5-star reviews. Bridal shops can be a little uncomfortable when sharing your size, budget, style, etc. Global Bridal Gallery listened to my needs and feedback and respected my budget from the first visit! They were very honest about costs "that dress is beautiful, but, it's more than your budget…" and then would find me a similar style dress within my budget. I actually came back a few times to try on dresses and they were extremely patient each time. They were upfront about the adjustments that would need to be made to the dress I finally picked and how much those would cost. On my wedding day, I had a dress that looked like it was MADE FOR ME thanks to Global Bridal Gallery!! And yes, my husband cried when he saw me in it. Wonderful experience and would recommend to any and all brides!!

+ 3

photos

Olivia C.

Married on 10/13/2019

Get your wedding dress here!

You guys. BEST VALUE IN NOVA FOR A WEDDING GOWN. I got the wedding gown of my dreams for such a reasonable price. Besides, I had such a fun dress shopping experience, and the staff is just the sweetest. They had my gown altered way ahead of time, which left plenty of time for any last minute details.

Katie

Married on 10/05/2019

Danielle is outstanding!

Global Bridal Gallery is amazing. I went with my Mom and FMIL, not thinking I would leave buying my wedding dress. I went in knowing whatr style I liked, which was a high neck. I described to Danielle elements in a dress I liked, and Danielle brought out the first dress, which ended up being MY wedding dress! The whole experience was amazing, between the fittings, picking out the bridesmaid dresses, etc. The staff is so friendly (which surprisingly, is hard to come by these days!) Price for what I got out of my dress was perfect for me. They have a huge variety of dresses!

Marisa

Married on 09/07/2019

Great Experience!

I ordered a dress today and will update this review after the dress arrives, but I had to share my wonderful experience with Global Bridal Gallery. At my first visit, I was stick in traffic and 20 minutes late - they were about to close and rather than turning me away, four of the consultants stayed and helped me as a group! The team was so positive and seemed genuinely enthusiastic for me. They had many beautiful options but I had an extremely specific idea in mind of what I wanted, so I did not "say yes" to a dress at my first appointment.

After visiting 10+ stores in the DC metro area with no luck finding my dream dress within budget, I started looking at dresses online. I found a few that were perfect but none of the stores in the area carried a sample. Most stores seemed uninterested in helping me try any dress on that was not currently in their store. Some did offer to have a sample shipped but it would take a long time and I would have to pay a substantial fee just to try it on. Finally, one of the vendors I contacted told me a sample was available to try in a store but it was over 100 miles from my home. Fortunately, Global Bridal Gallery stepped in (they are much closer to me) and was willing to work with the vendor to get the sample for me in only 3 days and no charge! I ended up purchasing the dress and they called the manufacturer while I was there to ensure they were getting the best information for me- they made recommendations to save money on alterations/customizations and took great care when speaking to the dress manufacturer to ensure they could accommodate my customization requests and get the best sizing for me.

They were upfront about all costs and were very organized and thorough. I feel confident that there will not be any surprises or issues when I pick it up even though I had quite a few customizations.

If you are looking for an enthusiastic, meticulous, and accommodating team to help you get the perfect dress, this is your place!


Nichole

Married on 08/17/2019

Wonderful Buying Experience

My purchasing experience was wonderful. Marie was awesome, She is down to earth, she does not push to you purchase anything, and she is very up front. I had an awesome experience.

Sarah

Married on 08/10/2019

Wonderful experience!

I feel as though I have lived at Global Bridal for the past year between my friends' wedding dress fittings and my own! I wouldn't have traded it for the world! Marie is the wedding dress whisperer and I felt like she knew my vision for my dress before I even did! I also chose to have my dress altered at Global and I am so happy I did because Ms Joyce was a miracle worker! I am so happy with her work because I felt so comfortable and beautiful on my wedding day! Excellent service, communication and flexibility! They were all very accommodating to my schedule for my fittings! I would highly recommend Global to any bride out there!

Are you interested?
Send a message