Genna Rose Wedding Planning & Designs Reviews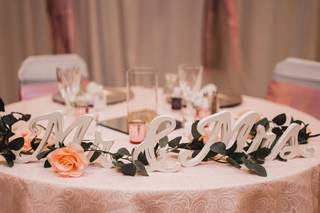 Genna Rose Wedding Planning & Designs
Baden, PA
View more information
15 Reviews
Recommended by 99% of couples
Quality of service

Rating 4.9 out of 5

Average response time

Rating 5 out of 5

Professionalism

Rating 4.9 out of 5

Value

Rating 5 out of 5

Flexibility

Rating 5 out of 5
Awards

Tara N.

Married on 07/12/2021

Genna was awesome!

I am the owner of Talula's Photography and I recently got the chance to work with Genna at a wedding in Dec 2020! She was amazing! Not only did she run things quite smoothly, she was EXTREMELY helpful! She didn't need to check on me during the evening, but she did! She even made sure to ask me if I needed anything, including food and water... this was so appreciated! As a photographer, it wasn't her job to check on ME. But she took time to do that!
As for her work with the bride and groom, like stated earlier, she was amazing. She kept things running smoothly even when there were hiccups. By the end of the evening she was even dancing with the bride and groom during some songs! She is a lot of fun!

Summer F.

Married on 05/15/2021

Fantastic!

Genna is amazing! She is so radiant and lovely. From the second we met her, we knew we made a great choice! She was like a friend we knew all along. She frequently checked in and asked how we were feeling. She helped us think of the little details that we hadn't yet considered and she gave us time to think about them. She kept us on track and reminded us to take a breath. Genna help ensure that we were not overwhelmed by vendors or details the day of, and made sure that we focused on each other and not worrying about the things she helped take care of for us. We were on the fence about hiring a planner, but we are so glad that we did, and so pleased with Genna Rose Wedding Planning. She made our day run smoothly, she listened and accommodated every request.

Genna Rose Wedding Planning & Designs's reply:

Thank you so much for this! what a beautiful day you had! glad I could help! I loved working with you!

Christine K.

Married on 12/05/2020

Best choice I ever made


Genna was so fantastic, I came to her as a Covid bride stressed, scared, frightened and she honestly made all my stresses go away. She was well organized, professional, knowledgable as well as so friendly, kind, loving and sweet. She made not only me but my family, friends and bridal party comfortable. I had multiple compliments from guests on her as they saw her at our wedding managing everything. She was so easy to get ahold of was always there when I called or texted her with questions. Next to choosing my husband, choosing Genna as my day of Coordinator was the best choice I ever made. Thank you!!! thank you! thank you!

Patti D.

Married on 10/10/2020

Indecisive COVID Bride

Being a COVID bride, I was so done with all the back and forth decisions I was having to make. Throughout my wishy-washing Genna did a fantastic job of keeping up with my ever-changing plans, and thinking of things I hadn't considered along the way. I finally decided to change my entire wedding to an outdoor ceremony and reception on our property, which was terrifying enough just based on weather alone, but Genna took control of the entire situation. She made sure everyone was where they needed to be, things were fixed after the wind came through and messed it all up, kept the vendors on time, and truly did not let a single thing interfere with me having the best day. I cannot imagine having a more stress free day, and I have Genna to thank for that!

Genna Rose Wedding Planning & Designs's reply:

Thank you so much for this! what a beautiful day you had! glad I could help! I loved working with you!

Nathan

Married on 09/26/2020

Fall Wedding Fun

As the officiant for the wedding, I have to say that Genna did a really lovely job of working to make my friend's wedding a perfect day. She helped bring the vision to life. She not only coordinated with vendors, she was instrumental in ensuring that everyone was where they needed to be so things went smoothly. She was a joy to work with!

Genna Rose Wedding Planning & Designs's reply:

Thank you Nathan! I really appreciate your kind words and enjoyed working with you. Cassidys wedding was my all time favorite!

Cassidy S.

Married on 09/26/2020

The Day Of Coordinator for you !

My husband & I planned our wedding from clear across the country & Genna took the task of helping with that head on ! Not only did she make the week before the wedding easier, but she kept the day of the wedding flowing with ease ! My husband & I got to enjoy our day & Genna handled all the behind the scenes, which was exactly what we wanted. If you're looking for a wonderful person with a great attitude, excellent service, at a budget friendly price, Genna is the day of coordinator for you !!


Marissa

Married on 06/06/2020

Genna is incredibly passionate about what she does. She gives 110% to every couple she works with, and she doesn't rest until your dreams are a reality! Genna is kindhearted, communicative, flexible, and generous, and she truly cares about your wedding as much as you do.

Genna Rose Wedding Planning & Designs's reply:

Thank you Marissa, I adore you

Victoria

Married on 09/09/2017

Genna was AMAZING! I was a very laid back bride and did not think I needed someone to help with our wedding day. As we started planning I felt like this full time working, student and mom of a busy 4 year old was about to loose her mind! I reached out to Genna and instantly my needs were met. Genna was able to offer a helping, yet very knowledgeable hand. Things I would of never thought of that needed to be covered, Genna had it laid out and ready to go. The day of I thought it would go smoothly, sadly there were a few bumps in the road but before contacting me while I was getting ready, Genna took the reins and took care of all the problems and the guests had no idea. She is kind, energetic, smart, funny and most of all you can feel the love she has for wedding planning. By the time my husband and I arrived to the reception for our entrance, Genna had already met and became a TEAM with ALL OF OUR VENDERS! If I had not know all of them, I would of honestly thought they were all part of one team hired to take care of everything. They pulled together and made our wedding above and beyond amazing. Thank you for all of your help from point a to point z.

Jessica

Married on 06/24/2017

I can't possibly say enough about how amazing Genna is! Only a few months before our wedding we realized we needed a lot of help day of and Genna saved the day. During our first meeting it was obvious she was very professional and organized, and her prices are very reasonable. We were able to customize what we needed and she drew up a detailed plan for us. If you need help with any aspect of your wedding consider Genna, she is a wonderful person and does a fantastic job!

Kaitlyn

Married on 09/04/2016

I booked Genna as my day-of coordinator and I was thrilled with her service. It really took a lot of stress off of me to know that the ceremony would run smoothly, and it did!

I love how Genna was very inviting and positive through every aspect of the planning. I'd definitely recommend her to friends and colleagues

Genna Rose Wedding Planning & Designs's reply:

Thank you so much, It was a pleasure :)

Stacey

Married on 08/06/2016

Having Genna as our wedding planner couldn't have been more enlightening. Genna made our special day absolutely perfect. I can't thank her enough for her services and highly recommend her for anyone looking for the best wedding planner in the business.

Genna Rose Wedding Planning & Designs's reply:

thank you stacey! it was my pleasure

Christine F.

Married on 09/11/2021

Day of planner

I am super grateful that we hired Genna! She made our wedding day feel effortless and stress free!

Kristina

Married on 07/31/2020

Genna Rose is here to make your dream come true. She is truly flexible and works with brides of all needs. She was a pleasure to work with and really makes you feel at ease about all of the things that come along with Wedding Planning.

Genna Rose Wedding Planning & Designs's reply:

thank you kristina. Please let me know how i can better be more professional for my next wedding.

Katie

Married on 05/27/2017

Gena provided great leadership and directiveness on the day of the event - she confidently led the bridal party to their spots and how the procession will occur. She was present and ready to "do what needed to be done" right before the ceremony and immediately following the ceremony.

Genna Rose Wedding Planning & Designs's reply:

Thank you Katie for your review, it was a pleasure to work with you.