Reviews
5.0 out of 5 rating
Quality of service

5 out of 5 rating

Average response time

5 out of 5 rating

Professionalism

5 out of 5 rating

Value

4.9 out of 5 rating

Flexibility

5 out of 5 rating
99%
Recommended by couples
8 User photos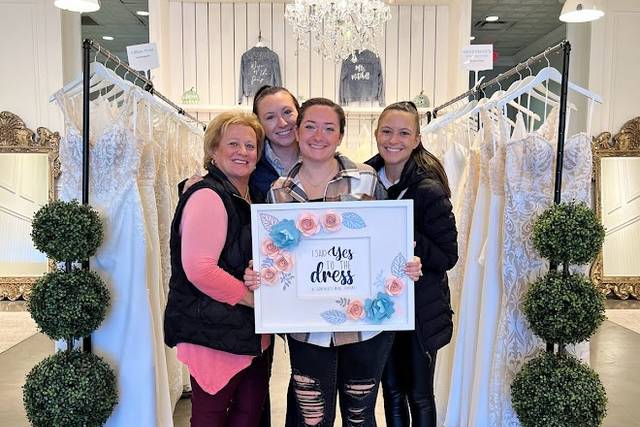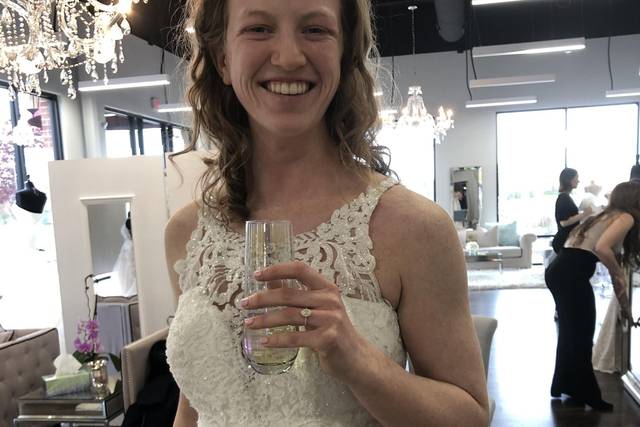 + 4

photos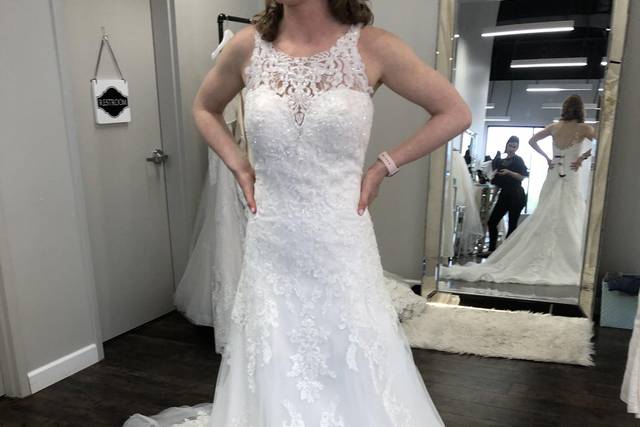 Leilan J.

Getting married on 06/06/2024

Yes to the Dress!

Genevieve's was the first boutique I visited for my wedding dress and needless to say, I said yes to the dress here! The place is beautiful and very well setup. There is a variety of dresses in such beautiful designs!

The staff was very welcoming and friendly. I got the opportunity to work with Monika as my stylist. She is absolutely amazing! She is so kind and professional. She really took the time to get to know me and my style. I was nervous at first, but she really helped ease my anxiety and made me feel so confident in every dress I wore. She made my friends, mom and I feel so comfortable and really listened to our opinions. I tried on multiple dresses, but we eventually found the PERFECT dress and my veil as well! I truly appreciate her patience with me. I couldn't have found it without her and her expertise.

I am so excited to wear my dress and veil. Definitely recommend any bride-to-be to come find their dress here!

Willow B.

Getting married on 05/26/2024

The BEST dress shop in the area!

Lizzie made the experience of buying my wedding dress so wonderful! I cannot recommend this salon and Lizzie specifically, enough! Unlike other salons she allowed me and my guests to browse the racks with her and pull anything I wanted to try. My mother and Mother in Law felt included which was important to me. Her joyful nature was shining through the entire time! I really appreciated her politeness with my guests. She made sure I wasn't overwhelmed and told me if I was she would give me a moment alone in the fitting room. Unlike other salons she was very encouraging while still telling me that finding my dress was the most important thing - not pressuring me to buy it right then and there. This salon is beautiful inside and all the staff are very welcoming with bright smiling faces.

Missy C.

Getting married on 04/04/2024

The best experience!

I'll admit, I was super nervous to try on dresses for the first time. I didn't know what to expect and was feeling incredibly anxious. Right from the start, Lizzie was warm and inviting. She asked me about my vision and style and helped pull a few dresses. She made me feel very comfortable and was constantly checking in on how I was feeling during the appointment. I fell in love with the first dress I tried on, and she really made it come together with the perfect veil. I ended up canceling my other appointment that day, and she graciously offered to cover the cancellation fee. My mom, maid of honor, and I had such a wonderful experience here - thank you, Lizzie!

Are you interested?

Send a message

Jaclyn K.

Getting married on 02/03/2024

Amazing Experience

I originally chose Genevieve's because they carried one of the designers I was looking at. When we walked in I was immediately impressed by how beautiful the shop was and how friendly everyone was. My stylist, Andrea went above and beyond to make myself and my bridal party feel comfortable. She listened to the styles I was interested in and what I wanted in a dress and was able to provide be with a fabulous experience. She provided detail about the different dresses and provided additional options based on my feedback. I would recommend Genevieve's to friends who are looking for their dress for their special day.

Gt

Getting married on 10/14/2023

Yes to the Dress!

I had a great experience at Genevieve's! Lizzy was attentive and patience with me as I tried on several dresses during two separate appointments. They had a great selection and I ended up buying one of the dresses I tried on during my first appointment.

Amy S.

Getting married on 09/30/2023

Best. Experience. Ever!

I truly could not have had a better experience at Genevieve's Bridal Couture. From the second I walked into the store, I felt so comfortable. Staff is incredibly friendly and I was greeted with so many smiles. I was lucky enough to have Monika as my stylist and she was the absolute best. She was attentive, a great listener and the process so easy especially since I shared with her how nervous I was. She also is incredibly knowledgeable and had a plan for which dresses I should try on and in what order. The dresses they have are also gorgeous and have a little something for everyone! I will send everyone I know to there for their dress. Cannot recommend enough!

Jeni H.

Getting married on 09/29/2023

The best!

Genevieve's Bridal Couture went above and beyond any type of customer service I have ever experienced. I drove 5 hours to Genevieve's after speaking with them on the phone. They were so helpful & kind over the phone, even reached out to the designer of the dress I was wanting to verify that they could get it done in time before I drove there. Monika called me back within an hour and a half saying they got the designers approval for my timeline! The atmosphere was miles above anything I experienced in Des Moines, IA. Monika truly out did herself. She was so helpful, very honest, and makes you feel so comfortable! Highly recommend going to Genevieve's and you will for sure love working with Monika! Thank you all so much again for the unforgettable experience.

Sarah E.

Married on 09/16/2023

Beautiful gowns

I loved every dress I tried on. The one I went with was absolutely stunning. Great experience!

Hannah J.

Married on 09/02/2023

Fairy-tale like experience!

Cannot stress enough how absolutely wonderful this boutique is! I worked with Andrea and she was SO kind and so attentive, and it felt like as soon as we started working together on finding a dress, she anticipated everything I was thinking and just knew exactly what I would and wouldn't like. The whole staff is encouraging, the boutique feels welcoming and comfortable, and the dresses are some of the most beautiful (and unique) dresses I've ever seen. I would recommend this place to anyone looking for a fairy-tale like experience during their dress hunting season!

Sarah K.

Married on 08/11/2023

Amazing Experience

It was a great experience. I said yes to the dress here! Andrea was super helpful and gave me no-pressure guidance throughout the appointment. I highly recommend to other brides!

Nancy M.

Married on 07/29/2023

Amazing, attentive, great sale

AMAZING experience, first store I visited while wedding gown shopping, I had a vague idea of what I wanted, knew exactly what I did not want- a ball gown, gave Monika the theme/feel of my wedding and first dress on, that was the one. I did try about 5 or so more, but her first pick was it!! And the sale was great, I brought my sample dress home already 🤗

Tasha S.

Married on 07/02/2023

Fabulous experience

I can't say enough about Genevieve's! I had the most fabulous experience from the moment I walked in the door. The whole staff was supportive, welcoming, and friendly. The store is gorgeous and has a beautiful layout. Andrea was my stylist and she made the whole experience stress-free, easy and fun. She helped guide me to the perfect dress. She was so patient, encouraging, and really made me feel like a Bride/Princess. We loved the way she described the dresses by calling them by their name. For example, "This is Jane. She has beautiful lacing that goes down the back." She knew what she was talking about and how to choose dresses that were right for me. I highly recommend going to Genevieves. You will have a wonderful experience! Thank you, to Andrea and the staff, for helping me find the perfect dress for my special day!

Daniella

Married on 06/17/2023

I said yes to the dress!

They were amazing. So nice. Let us look around first and then as I liked styles and disliked styles they knew exactly what to pull. When I said yes they let me stay in the dress to FaceTime my MOH who doesn't live close and gave us champagne to celebrate.

Tayler R.

Married on 06/06/2023

Amazing! Would recommend to anyone!

Would 100% recommend to anyone! I was not rushed through my appointment and was able to try on many different dresses. The staff was amazing and very helpful!

Francesca K.

Married on 02/09/2023

Genevieve's made me feel SPECIAL !

At first the salon thought there were only about 5 dresses that fit my style I was looking for - but I must have tried on 15 dresses. And I got just what I was looking for !!!! Vintage, elegant and beautiful. Monica took care of me and she was attentive and passionate about her work. The other clients in the shop were cordial and friendly too. When I arrived my name was on a sign outside welcoming me to the shop. It was a truly amazing and special experience. Thank you for making me feel special!

Kate

Married on 11/26/2022

Wedding Dress

I highly recommend this store, from the service to the dress options, this store has it all. It was my first stop and I found a wedding dress that I absolutely LOVED, (it was the dress to beat) & long story short, I went back to purchase it after multiple other locations and finding nothing close to it. Make this store your FIRST APPOINTMENT OF THE DAY. I also ended up buying a vail, belt and earrings from Genevieve's to complete the look. I'm so thankful that this store was able to bring my vision to life!

Kelsey M.

Married on 11/06/2022

Amazing Experience

I had such a wonderful experience at Genevieve's! It was the first shop that I looked at for a wedding dress and didn't have to look any further. I went in without a strong idea of what sort of gown I was looking for, and the employees there were able to curate selections to my liking. After trying on 10 dresses at most I walked out purchasing the dress of my dreams. It was the most seamless, relaxing process I could have ever imagined. It was also very COVID-safe, as my appointment was in January 2021. The staff at Genevieve's worked hard to make sure that I felt like the star of the show! It's every girl's dream to one day pick out their wedding dress - and Genevieve's made that experience so special. I can't wait to pick up my dress!

Morgan K.

Married on 10/15/2022

10/10 - Great Experience!

We worked with Monika and she was amazing! She took her time with us, let us walk through the store and pick out some options. She also took time to pull accessories for us to see the whole look and was great and explaining the payment/contract process. Overall, amazing experience!

Hannah A.

Married on 10/01/2022

Amazing all around!!

My experience here was absolutely amazing! I had been to one bridal boutique before my appointment at Genevieve's and my experience here far surpassed it. My stylist Lizzie was so welcoming to my bridal party, making sure we were all comfortable. I love that we were able to go through the samples and have members of my group pull and suggest dresses as well. The quality of all of the dresses was amazing and felt upscale but well within my budget. Lizzie was great about keeping me moving throughout the appointment and having me try on our picks while adding in some of her own as well. No moment was wasted during this appointment but never once did I feel rushed. She let me spend some time in both of the dresses I was between to really get a feel for them and experience them. She listened to me and took my suggestions, even pulling a dress that I had a screenshot of right away for me to try on (the one I ultimately ended up saying yes to!) Within trying on two dresses here I had completely forgotten everything about the previous boutique completely! I highly recommend Genevieve's to anyone!

Nikki G.

Married on 06/04/2022

Awesome Bridal Shop

I had an awesome time finding my dress at Geneveive's! Monika was great and very helpful!

Andi W.

Married on 12/06/2021

Amazing!

Excellent experience! The staff was super helpful and polite. I could not have asked for a better experience!!

Jayne

Married on 11/20/2021

Personalized

I had a great experience at Genevieve's. The staff was wonderful and so helpful. I was worried I wouldn't get the same bridal experience because of Covid restrictions but it was actually better I think because I limited the amount of people who could come the the appointment but also because we had the whole store to ourselves. I felt listened to and understood by the staff and most of all not pushed into something. Thank you Genevieve's team!!

Michelle P.

Married on 11/13/2021

Amazing and stress-free experience!

Genevieves's is awesome! This was my first dress shopping appointment and it ended up being my last. Me and 2 of my bridesmaids went and got there a bit early. They were more than ready for us and had my name posted on a chalkboard outside welcoming me. The consultant was amazing! I had a couple of pictures and a description of what I liked but didn't have anything specific in mind. She started by pulling dresses similar to my pictures and then encouraged me to try a few other styles just to see. I liked what I had "envisioned" but ended up falling IN LOVE with a different style that she had suggested! It was the second dress I tried and no matter what else I tried after that, nothing compared. She explained the details of each dress thoroughly and showed me what they would look like bustled. In the end we put my favorite dress back on and they gave me a veil and jewelry and I knew it was the one. They let my bridesmaids take all the pictures we wanted and gave us a champagne toast. After I was back in normal clothes I got an "I said yes" pic and they explained the ordering process. My consultant was BEYOND thorough and made the experience amazing instead of stressful. The prices were more than reasonable and the staff is fantastic. They custom order the dress according to size and don't do alterations but partner with an awesome shop in Arlington Heights; make sure you visit and order at least 8-10 months in advance. I would absolutely recommend Genevieves to ALL future brides! They are friendly, thorough, fun, and pressure-free.

Mary

Married on 09/04/2021

Cutest Shop to Find My Dream Dress!

Genevieve's was the perfect place to find my wedding dress! I went wedding dress shopping with my mom, only two weeks after I got engaged, with zero intention of buying a dress. I walked into my appointment at Genevieve's and was awed by the beauty, and that we had the entire salon to ourselves! Our stylists were so helpful, honest and kind, and let us have time to process each dress and try on my favorites multiple times. I ended up seeing a dress immediately as I walked into the store, and there was no looking back! After I said my unexpected yes, we were treated to champagne and cried happy tears. It was one of the most special moments of wedding planning with my mom. The dress came in on time, Genevieve's was amazing with communicating and our experience was flawless! It was a beautiful studio, everyone was so kind and the dress selection was incredible. There were styles for all body types and tastes, and I had a blast trying on all kinds of dresses. Thank you for giving me the dress and experience of my dreams, Genevieve's!!

Marcy T.

Married on 08/10/2021

What an amazing bridal boutique!

I heard about Geneveive's bridal couture shop from some friends that had an amazing experience with them. They were right! After trying on the third dress...i found the one! Their dress selection is amazing, and they solely focus on brides- dresses, veils, accessories, etc. The boutique is so clean and beautiful. Our stylist Tiffany was very friendly and helpful. I would 100% recommend you check out this bridal boutique!
Are you interested?
Send a message