158 Reviews
Recommended by 96% of couples
Quality of service

4.8 out of 5 rating

Average response time

4.8 out of 5 rating

Professionalism

4.8 out of 5 rating

Value

4.7 out of 5 rating

Flexibility

4.8 out of 5 rating
36 User photos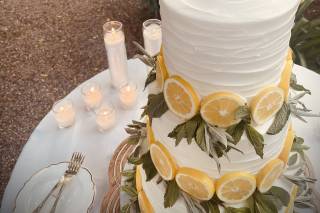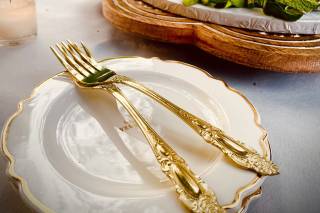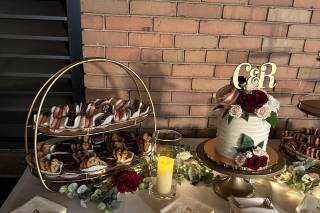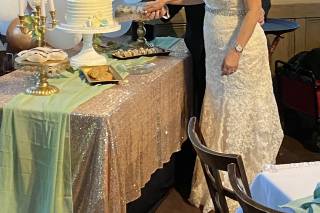 + 32

photos
Kathleen M.

Married on 04/22/2023

Absolutely delicious

Averie and Susan at the wedding team were great to work with and helped us design the custom cake of our dreams! The poppyseed and buttermilk cakes were so good and our guests raved about it!

Christina B.

Married on 02/25/2023

Awesome Desserts

Freeport Bakery is always amazing! As soon as I got engaged I knew I would be going to them for the desserts at my wedding and they did not disappoint. We ordered a 6" cut cake for my husband and me and a variety of desserts for the dessert bar. There were so many positives about the experience and we only had one issue. Their website is very helpful and provides relevant information about their offerings. The consultants are very knowledgeable at the consultation meeting advising us on how many desserts we should order for the number of expected guests. On our wedding day, they delivered our desserts, arranged them, and added floral décor to our cake. Everything looked amazing! They were great with communication about the delivery and storage process and how to return rental items after the wedding.

The only issue we had was with the tasting process. The pick-up times for the tasting kits are inconvenient if you work a 9-5 job during the week. They do offer Saturday times to pick up your tasting kit, but those seemed to go quickly. When I did pick up my tasting kit there was a mix-up and I got part of someone else's order and part of my order was not given to me. This was not discovered until after I had already left the bakery. We eventually got the correct order. We did appreciate that the tasting sizes were generous which was great for mixing and matching different flavors and also re-tasting to be sure we knew what we wanted to pick.

Kim

Married on 10/29/2022

Highly recommended for your next event!

Freeport Bakery cakes is such a staple for anyone who grew up in Sacramento and they were such a great vendor for our wedding cake and desserts table. They were a recommended vendor by not only our planner but also our venue. All the different options we tried in our tasting box were amazing that it was difficult to narrow down our final selection. They were great partners in giving guidance on the appropriate amount we needed to buy for the guest count we had. We received so many compliments on our dessert table. The strawberry shortcake cup was a personal favorite of mine!

Highly recommend going with Freeport Bakery for your next event!

Are you interested?

Send a message

Timothy

Married on 09/03/2022

Freeport Bakery for the win!

We were new in town and looking for a wedding cake. Many of our coworkers suggested Freeport Bakery. Now that our wedding has wrapped up, we are joining that chorus, as Freeport Bakery delivered in spades. Everything went smoothly, from the taste trial to the design planning to the delivery. The cake itself was moist, light, and flavorful and our guests were raving about it.

Wedding planning is hectic. Hire Freeport Bakery, and you'll have a vendor that you never have to worry about.

Freeport Bakery's reply:

Hi Timothy,

You made our day with your lovely review! We are to honored to be a part of your special and beyond thrilled that you loved your cake!

Wishing you love, happiness, and cake in your future.

XO! :)

Lea B.

Married on 07/09/2022

Delicious wedding cake and desserts

We used Freeport for a wedding on July 9, 2022 and we are so happy that we did. We contacted Freeport three months before our wedding and they were very responsive. Their online service of ordering samples and making appointments to ask questions was very user-friendly.

We had a small wedding so we used a two-tier cake. We ordered the lemon cake on the bottom and the chocolate on top. Suffice to say the chocolate cake was gone before the lemon but they were both delicious. The cake was moist and the white frosting was to die for!

Customer service Was excellent and they were very responsive. I highly recommend Freeport for your special events they will not disappoint you!

Oh one more thing there desserts were also excellent as well! We ordered the chocolate chip cookies and the lemon bars, they were both excellent and the lemon bar was my favorite!!!

Matt S.

Married on 06/18/2022

Delicious Wedding Cake

The cake was very good with two different flavors in the two tiers. The ombre design came out a bit different than the concept (we were going for the gradation of color from a painting with evening twighlight hues…and we got a full rainbow (well, it WAS a gay wedding) which did include some of the hues and more, but it certainly got a lot of nice comments from our guests. Staff there at Freeport were friendly and responsive. The online web sign up form could be a bit more user friendly but once we were connected with a person they continued to be responsive all the way through.

Faith

Married on 04/02/2022

Worth every penny!!

FreeportBakery did an amazing job. Our cake was BEAUTIFUL AND DELICIOUS 😋

The lemon poppyseed and strawberry filling was amazing & perfect for our springtime garden wedding.

Stephanie P.

Married on 03/20/2022

Great cake for wedding

We ordered a cake off main menu not wedding cake. Salted caramel chocolate cake

Heather

Married on 03/18/2022

Delicious & Beautiful

When my husband and I saw our cake. We were so excited that it came out exactly how we wanted it to. It was perfect. It looked amazing and tasted even better. We got so many compliments from our family and friends about our wedding cake. They wanted to know where we got it from because it was so delicious. If your looking for a cake vendor for your wedding day. I'd highly recommend you give them a try. They will not disappoint you.

Margaret B.

Married on 03/12/2022

Beautiful!

We had Freeport make our cake and desserts for our dessert table and everything came out beautifully. Everyone was raving about how amazing everything looked and how beautiful they were. Thank you so much!

Freeport Bakery's reply:

Thank you for your kind words, Margaret! We are so happy to be a part of your special day and make your dessert bar so memorable! Much happiness always!

Katie C.

Married on 11/07/2021

Delicious!

The most delicious wedding cake and desserts ever! From our first tasting day to our wedding day (which was postponed twice!), Freeport remained in communication, was professional, and delivered deliciousness! We could not be more happy with how the cake turned out both visually and taste-wise. We love this bakery and will surely return for more!

Kelly B.

Married on 10/23/2021

Beautiful Cake and Delicious Desserts

Our cake and dessert bar were amazing. We ordered a cutting cake as well as cookies and brownies and could not be happier. My cake was exactly as envisioned and so many people came up to compliment us on the cake decor as well as the delicious cookies. Could not be happier. They delivered and set up without issue and also provide a small cake for your one year anniversary which I am excited and looking forward to :)

Sarah W.

Married on 10/10/2021

Best desserts ever!!

My husband Tayler and I booked Freeport bakery for our wedding on 10/10/21, and we were NOT disappointed! From our initial meeting and dessert tasting, we knew had booked the right bakery for our wedding cake and desserts. Susan and Averi were both incredibly helpful and responsive throughout the entire process. Such a pleasure to work with!

All of our desserts were DELICIOUS!!! We had so many compliments from wedding guests, especially on the yummy cupcakes and mini pies!!! Also the attention to detail in the flowers on our personal cake was such a nice touch! I highly recommend Freeport bakery for your wedding desserts, or for any event! You will not regret it!

Debra T.

Married on 08/14/2021

Memorable and Beautiful

Freeport Bakery provided a beautiful wedding cake for my son's wedding in August. It was a buttermilk cake with citrus buttercream with a semi-naked design style. The cake was moist and delicious and their guest loved it. We would recommend them to family and friends.

Freeport Bakery's reply:

Hi Debra,

Thank you taking time to write such a lovely review. We are so happy to be a part of your family's special day, and your kind words made our day! :)

XO,
Averi and Susan

Kimberly

Married on 10/10/2020

Hands Down, The Best Dsserts

Freeport Bakery has always been one of my local favorites so it was no question who we were going to choose for our wedding. Amy and Susan were great to work with while planning our dessert bar and small cutting cake and day of everything tasted perfect and was just beautiful!

Freeport Bakery's reply:

Hi Kimberly,

You made our day with your sweet words! We're so glad you Kamari loved everything. We enjoyed getting to know you and making your wedding dessert dreams come true!

Wishing you love, joy and good health! :)



Joseph S.

Married on 10/10/2020

Delicious!

Our cakes were delicious! Freeport was very flexible and patient as we had to postpone due to Covid. They were able to make us a two tier cutting cake as well as two sheet cakes.

Karissa G.

Married on 10/10/2020

Beautiful Wedding Cake

We had a 2-tier wedding cake that made for a beautiful centerpiece on our desserts table for our wedding. We were so pleased with the care and attention that went into the details on the cake and the safe delivery as well.

Our son was actually the one who selected the flavors for the cake and was the first one to take a bite - it made for a precious family moment that we won't ever forget. Thank you so much, Freeport Bakery!

Irene S.

Married on 09/12/2020

Freeport Bakery

I have been getting my cakes from Freeport Bakery for years, they are the best! My wedding cake was superb!


Lauren N.

Married on 07/07/2020

Divine Wedding Cake with Excellent Service!

Growing up in Sacramento, I always knew that Freeport Bakery was simply the best. When our wedding plans changed dramatically from a 150-person wedding in Tahoe to a 30 person intimate ceremony in Sacramento, we needed a wedding cake on short notice. Without hesitation, we reached out to Freeport Bakery. They offered to-go cake tasting of the flavors we were interested in, which was an incredibly fun experience during a difficult planning season. Even with expectations of excellence, the cakes were more delicious than we could have imagined. We ordered a small circular cake to cut and a sheet cake to share- Italian buttercream frosting, white cake, and raspberry buttercream filling. The cakes were beautiful and absolutely delicious- every friend and family member commented on how wonderful they tasted. We are so glad Freeport Bakery was a part of our special day, and we highly recommend their services to any couple getting married!


Mildred H.

Married on 02/29/2020

Best in Town

I consider this to be one of the best bakeries in Sacramento. I had my 40th Birthday cake from Freeport Bakery 20 yrs ago and I always remembered how good it was. I just had my wedding cake from here and it was delicious. The tasting experience was good, everything was explained to us, and the price was better than we expected. They even call with suggestions if they taught something that we requested wasn't going to work out. We highly recommended this bakery for any occasion cake. Thank you for your services.

Tayler M.

Married on 10/21/2019

Beautiful desserts that taste AMAZING

My husband and I would 100% recommend Freeport Bakery for all your needs, including your wedding needs! Their staff is excellent, and very professional and responsive to you. We loved having our guest enjoy our desserts and we personally loved having our cake! We were also able to purchase a small anniversary cake for next yr in advance (you get a discount!) which were so excited for!

Josh

Married on 10/19/2019

Best Bakery in Sacramento!

We got married a few weeks ago at the Old Sugar Mill, and Freeport Bakery provided the most incredible desserts! First - we loved our tasting. The way Freeport sets up their cake tastings is so fun, we got to mix and match all the flavors we wanted to come up with the pairing that worked best for us. Our cake was a huge hit, and it was simply beautiful and delish. We also ordered caramel and strawberry cupcakes for the wedding and we received lots of complements about how amazing everything tasted. Freeport was so easy to work with, and we can't wait to order more cupcakes for all our big life events along the way. We recommend Freeport for any event you might be planning - they're so professional and lovely to work with, and their cakes are amazing! You won't regret it :)

Freeport Bakery's reply:

Hi Josh,
That was the sweetest review! Thank you so much for taking the time to share your thoughts and kind words. We are delighted to know how much you loved your wedding desserts. I will pass along your sentiments to our wedding staff. Congratulations!

Warmly,
Susan

Raquel

Married on 10/04/2019

Gorgeous Wedding Cake

When me and my now husband were in the process of wedding planning we knew that we wanted to have Freeport Bakery to make our cake. We got married at Scribner Bend Vineyards and when I saw the cake I was so happy because it was exactly what I wanted. The cake was delicious and we got so many compliments about the cake too. Freeport Bakery provided amazing service!

Freeport Bakery's reply:

Thank you for writing such kind words for us! (:
We are honored to have been apart of your big day and so glad that you loved your cake!

Kind Regards,
Amy

Kalliah C.

Married on 09/07/2019

Best Cake in Sacramento

Freeport Bakery lives up to its reputation. Yes, it may be a little more expensive but the flavor is well worth it. We ordered a small 2 tier cake for 180 guests and that ended up being more than enough. If you want a delicious wedding cake that guests will enjoy, use Freeport! Well worth it.

Freeport Bakery's reply:

Thank you for your kind words, Kalliah! We are delighted to have been a part of your magical day! :)

Melita A.

Married on 07/06/2019

Unicorn Bridal Shower Cake!!!

Freeport bakery is the BEST! My sister surprised me with a unicorn cake for my bridal shower and I couldn't have loved it more!!
Are you interested?
Send a message