98 Reviews
Recommended by 100% of couples
Quality of service

5 out of 5 rating

Average response time

5 out of 5 rating

Professionalism

5 out of 5 rating

Value

4.9 out of 5 rating

Flexibility

5 out of 5 rating
26 User photos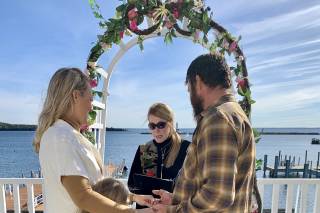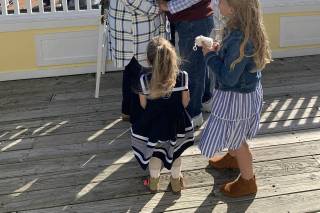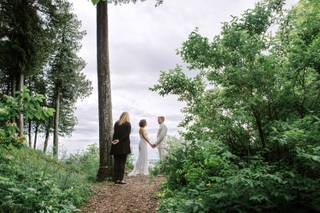 + 22

photos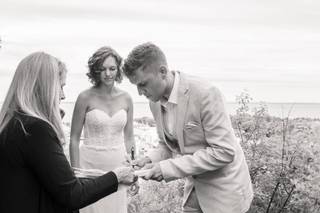 Francine P.

Married on 10/23/2022

For the Love of Mackinac AMAZING

Simply outstanding! We planned an intimate wedding in less than 6 weeks. The destination wedding required hours but every detail perfect!

Lauren H.

Married on 10/03/2022

Vow renewals

Carole did vow renewals for my husband and I's 10 year anniversary and surprise vow renewals for my mom and dad's 37th wedding anniversary! The reaction that my mom had was priceless and something that none of us will forget. I appreciate how she made everything so easy and seem-less and when we met her it felt we had known her for years. She made our Mackinac stay even more magical!

Adrienne A.

Married on 12/06/2021

Our Dream Elopement - even during COVID

For the Love of Mackinac facilitated a perfect elopement for us on Mackinac Island. We had other wedding plans that were canceled due to COVID travel restrictions, but Carole helped us to plan our whole elopement again in a short period of time. She helped us find lodging, booked our elopement site, found us a photographer, and officiated our wedding. We definitely couldn't have done it without her! I would recommend the services of For the Love of Mackinac to anyone getting married or eloping on Mackinac Island.

Are you interested?

Send a message

Melissa D.

Married on 09/26/2021

Our Wedding Fairy Godmother!

I am so glad Carole was a part of my wedding day. She was so incredible, I was calling her my fairy godmother by the end of the night! Her connections with local vendors, knowledge of local resources on the Island, professionalism, and overall responsiveness (over email prior, and in person) are just some highlights of her capabilities as an experienced wedding coordinator. Emotions and energy can run high on a wedding day, so her organization and ability to remain focused on our wedding vision and goals really put me at ease. She allowed me to live in the moment and enjoy every minute of my wedding day. Her service is truly the BEST wedding gift you can give yourself.

Lewis S.

Married on 09/11/2021

Simply THE BEST Wedding Planner EVER!

We had the amazing good fortune to connect with Carol Ebrel ( who we've dubbed "Wedding Planner Extrordinaire"!) for what turned out to be the absolute perfect wedding of our only son.
I truly cannot imagine trying to take care of all of the details that Carole took care of in what seemed like an effortless manner. Her attention to details is absolutely staggering. Not only is she the poster child of professionalism... she is also one of the most kind a caring people we've ever had the pleasure to know. Our only regret is that we only have one child and therefore have no cause to take advantage of Carole in the future!
CANNOT RECOMMEND HER HIGHLY ENOUGH!

Daniel P.

Married on 08/15/2021

The BEST on Mackinac Island!

My husband and I started working with Carole in January 2020 for an August 2021 wedding. Throughout the height of the pandemic, Carole's commitment to our wedding never wavered through all the highs, lows and even uncertainity of our planning process.

We recently had our wedding at Mission Point Resort (August 15, 2021) on Mackinac Island and our wedding weekend and day far exceeded any expectations we had. For the past 18 months, Carole has been incredibly helpful, knowledgable, upbeat, and supportive throughout our duration of working with her. Not a thing went wrong our wedding weekend, but if something had, we are confident the Carole would have figured it out and made it right. Our guests were just as impressed with how the weekend went.

As a destination wedding for us an our guests, Carole knows everything about Mackinac Island and is a respected individual who has fostered amazing relationships with northern MI vendors. She built an amazing arsenal of vendors who we absolutely loved working with. From the photographer, DJ, florist and dessert vendors, all were phenomenal and local to northern MI. We would not have had these amazing connections without Carole's expertise.

We cannot say enough great things about Carole. If you are considering the Mackinac Island wedding of your dreams, Carole and For the Love of Mackinac is who you need to make your dreams a reality!

Diana D.

Married on 08/01/2021

Carole Knows Mackinac!

Carole did a wonderful job in helping me stay organized and on top of things leading up to the big day. On our wedding day, it rained all day, and she worked extra hard to coordinate with our vendors and the locations to accommodate the rain. Thank you Carole for all the work you did behind the scenes to make our day so special. If you're on the fence about hiring a wedding planner - DO IT! And hire the one that knows Mackinac best.

Marie

Married on 07/24/2021

Amazingly helpful

We had Carole for facilitating our rehearsal at the church and the ceremony. She was absolutely amazing! She was very professional, kept everyone on track and helped facilitate our carriage rides back to the reception. She also helped us with our timeline and filing our marriage certs. She was great! Highly recommend

Marty D.

Married on 07/10/2021

Mackinac Dream Wedding Planner

We loved working with Carole and she made our entire experience smooth and flawless.

Layla W.

Married on 06/18/2021

Mackinac Island Elopement

Carole was incredible and I am so happy we chose her! We had a small elopement (just the two of us) and she was extremely responsive, flexible, and all around amazing to work with. She made the whole process easy, even though sometimes we had a million questions! She definitely made our special day easy going and fun.

For the Love of Mackinac!'s reply:

Thank you Layla! The two of you were so sweet and your heartfelt vows brought tears to my eyes. Wishing you all the best!

Jodi W.

Married on 06/13/2020

Carole is the BEST!!!

I cannot put into words how thankful I am for Carole and how highly I would recommend her!!!! We had to cancel our initial wedding plans due to COVID. We decided that in 4 short weeks, we were going to go to Mackinac Island and have a little elopement. Carole made the entire process so smooth and took away any stressors that we had!! She was extremely responsive, organized, and made our vision come into fruition. There was zero stress the day of the wedding. Because of Carole, I was able to really enjoy the day, live in the moment, and take everything in. We also had Carole facilitate our ceremony and the words that she said were so heartfelt and beautiful. She truly made our wedding day perfect and I'm so thankful that we had the opportunity to work with her!!!

For the Love of Mackinac!'s reply:

Thank you Jodi! What a joyous couple you are!! I loved working with you! I hope you will let me know when you bring the whole gang to the Island!

Christy S.

Married on 06/06/2020

Best decision we made!

Working with Carole was the best decision we made. Her knowledge, professionalism and care is outstanding! During these unprecedented times we were especially thankful for her expertise to guide us through. The vendors that she recommends are extremely talented and fun to work with. The whole process was calm and easy to navigate. During the rehearsal and wedding everyone was able to relax and enjoy because Carole has every detail taken care of including those you wouldn't think of. We so appreciate her time and care she took to pull of a wedding during the summer of 2020!

For the Love of Mackinac!'s reply:

Thank you for your kind works Christy. It was a pleasure working with all of you!
Unprecedented times for sure but love triumphs over Covid!

Kathy H.

Married on 01/08/2020

August 3 wedding at Ste Anne's Mackinac Island and Grand Hotel

Even though we are very familiar with the island, we decided to hire Carole for our daughter's wedding. It was probably the best decision we made. Carole is outstanding and so experienced. Her guidance gave us tremendous peace of mind especially during a very challenging time with COVID-19. When the day arrived we were able to sit back and relax knowing we were in good hands. Thanks Carole!

+ 2

photos

For the Love of Mackinac!'s reply:

Thank you Kathy! Challenging times but Alyssa and Dan(and you!) were troopers the entire way through. Beautiful wedding!
Love triumphs over Covid!

Amesforthesky N.

Married on 09/24/2019

Drama Free!

Carole made planning a wedding completely drama-free! She is proactive on items that might end up becoming a concern and is diligent about getting all the loose ends wrapped up. She made the process seem effortless. Our days was absolutely wonderful and I give all the credit to Carole!

Maria H.

Married on 09/09/2019

The best day of our lives

My husband is a Disc Jockey and works a lot of weddings on Mackinac Island. When we got engaged there was no question Carole was the one to go to. She is understanding and so professional. She not only handled the planning side of things but she also officiated our wedding. From beginning to end our day was absolutely perfect. It wouldn't have been the same without Carole. She was beyond helpful. Any time I had a question or concern she got back to us in a very timely manner. She is precise and professional. Our ceremony and reception where in different places and this made me nervous as far as the setting up goes. Carole did not miss a beat. She made sure we had a perfectly decorated ceremony and then was off on her bike with a basket full of centerpieces to ensure the reception was the same. From the beginning stages of our engagement up until the day after our marriage, she made sure everything was taken care of. She even put our copy of the marriage license in a safe place and mailed the other copy out the next day! Planning a wedding is stressful and time consuming and I don't know how we could have done it without her.

For the Love of Mackinac!'s reply:

Thank you Maria! You were a pleasure to work with and your kids are so sweet and well mannered! All the best to all of you!

Sandra R.

Married on 07/27/2019

You're going to love 'For the Love of Mackinac!'

With only 6 months lead-time, Carole at For the Love of Mackinac! was instrumental in coordinating our daughter's wedding weekend on Mackinac Island. Our daughter lives out of state and just wanted to pick her wedding dress and show up which left every decision to me, the mother-of-the bride. I will be forever grateful that a google search led me to Carole at For the Love of Mackinac! Carole is so well-connected and very well respected by the wedding vendors on the island. Everything was absolutely perfect -- there isn't a thing we would have changed.

Cheryl G.

Married on 06/28/2019

Professiona; & Well-connected

Working with Carole on our wedding made the process so streamlined and easy to manage being thousands of miles away from the island. Her recommendations and referrals were spot on the first time! Our wedding was PERFECT from start to finish and the way Carole managed the day of, was priceless!

Sarah W.

Married on 06/14/2019

Best wedding planner ever!

If you are planning a wedding on Mackinac Island, you cannot do it without Carole. Trust me, my husband and I tried. We met in an event planning organization in college so we thought we could handle the big leagues. However, we quickly realized it was not possible without Carole. We have never regretted our decision to hire her. She is one of the best people you will ever meet and we were lucky to have her by our sides on the happiest day of our lives.
First, Carole is an excellent communicator. She responds quickly to all questions and concerns. She emailed with us for months leading up until our wedding, set up a phone meeting a couple weeks in advance, and then met us in person once we got to the island. We loved that she knew the answer to all of our questions to make us feel at ease. She is so caring, warm, and kind that we were never afraid of asking her for help!
Additionally, she interacts will all vendors. My husband and I live near St. Louis, MO, which is about 10 hours from the island. There was no way we could travel all the way to Mackinac to book vendors. Luckily, Carole knows all the top-notched businesses on the island. She was able to give us the best options to stay in our budget and fulfill our vision. Carole also went to bat for us with our vendors. Our wedding day was unseasonably rainy and cold for June so we had to move indoors. At first, we were discouraged, but Carole found us an even better venue indoors. We actually were thankful for the rain. However, we would not have known about this other venue without Carole so we owe it all to her.
Carole cares about the details of your wedding and the people involved. For example, my sister forgot an undergarment for our rehearsal dinner. I texted Carole and asked if she knew where we could buy one on the island. Before I knew it, Carole took it upon herself to deliver it to us. Truly above and beyond her job duties. No detail is too small for her. She planned a minute-by-minute itinerary of the wedding day for us so we know exactly what to expect when. We found this very comforting, as did our families. Both of our parents rave about Carole's work as well
Most importantly, Carole allowed us to enjoy our wedding day. From the very beginning, my husband and I both agreed it was crucial we were able to spend time together and enjoy our day. In my past, I have been known to be Type A/controlling. However, on my wedding day I was completely relaxed. I was so surprised I did not ever feel stressed or overwhelmed. My husband and I genuinely were able to enjoy ourselves and not worry about the small details. We trusted Carole. We know that she would take of everything so that our wedding would go smoothly (and it did). Thank you from the bottom of our hearts!


For the Love of Mackinac!'s reply:

Okay, now you made me cry. You are both so sweet and it was such a joy working with you! You both deserve the very best in life!

Tim H.

Married on 06/14/2019

We would ABSOLUTELY recommend!!

Looking back on our wedding, my wife and I agree that the best decision we made was to hire Carole to coordinate our special day. We are both very organized people with event planning experience, so we were initially tempted to try to plan our wedding completely on our own. Frankly, this would have been a disaster.

Carole thought of so many things that would have never occurred to us without her guidance, and she gave us tremendous peace of mind throughout the planning process. She was always incredibly responsive and quick to answer questions. It is very apparent that she ascribes enormous priority to her clients.

On the weekend of our wedding, Carole took care of every detail for us. Unfortunately, rain caused us to have to move from our originally planned outdoor venue, but Carole worked with our resort to get us an even nicer indoor location than we had originally booked.

Our wedding was so beautiful, fun, and peaceful. We could not have asked for a better way to celebrate our nuptials. The weekend truly exceeded our expectations in every possible way, and the credit is fully owed to Carole.

Maura T.

Married on 06/08/2019

A necessity

As a graduate school student in California that was planning a wedding in Michigan on Mackinac Island, Carole was a must, especially with the 3 hour time difference and managing the venders. She made things incredibly simple and kept me on track in terms of all the planning and arrangements that needed to be made for the wedding. Additionally, Carole was very precise in what she needed from me and had quick responses to any questions I had. Overall, I could not have made my dream wedding a reality without her.

Becky D.

Married on 10/19/2018

Late October on Mackinac!

We wanted to get married on the Island during the height of the colors, and the lowest level of tourists. We chose the week before Halloween, and ended up with a beautiful experience. Carole was amazing! She had warned that the weather could be iffy, but really came through when our outdoor venue needed to be changed-- 2 hrs before the ceremony!-- to an indoor one. This includes changing taxis as well for all the guests!
We live 9 hrs away, but she hooked us up with the best vendors and venues after accurately assessing our needs. Even our guests were amazed at the attention to detail; and commented she was a step ahead and extremely easy to get along with the whole way.

Brita

Married on 09/28/2018

If you're thinking about getting married on Mackinac Island, Carole is a MUST hire! Every single detail of our wedding went smoothly and she was always so quick in responding to any questions! Carole allowed us to relax and enjoy every part of the day, rather than worrying about logistics or timeline. We really cannot thank her enough!

Marta

Married on 09/28/2018

Since the "destination" for our daughter's wedding also happens to be our home on Mackinac Island, we thought we might have an edge in knowing what we needed; nevertheless, we were delightfully surprised at Carole's deep knowledge of and relationships with island vendors as well as the process itself of pulling off such an important event. Her many years of experience in handling the complex logistics of planning a Mackinac wedding simply confirmed what we already knew about Carole: her relaxed attitude (but everyone got where they needed to be on time and on budget), her gentle humor and wry wisdom (no matter what curves the weather or our families threw), and the absolute love with which she handled every detail of the event (right down to wiping tears of joy from her own eyes!) gave us the chance to enjoy the event ourselves. Carole has an uncanny ability to connect with nearly anyone she meets; we give our absolute highest recommendation to anyone looking to experience the specialness of an island wedding.

Kirissa

Married on 09/14/2018

Carole is a dream and made our wedding perfect! We couldn't have done it without her. If you are looking for someone to take the stress away from planning, Carole is your person. We absolutely loved her!

Lindsay

Married on 08/25/2018

Carole was such a pleasure to work with. I knew I wanted to get married on Mackinac Island due to it being a very special destination for my family since I was a child. As soon as I got engaged, I started searching for information about planning a wedding on Mackinac, and right away I saw Caroles name pop up. I reached out and booked her all in the same day. I can honestly say I was never stressed about my wedding, and I feel that is due to Carole. I live about 4.5 hours from the island and was only able to make it up to the island twice to visit venues and meet with vendors, otherwise it was all left in Caroles hands. Anytime that I had a question or needed information from a vendor, I would email Carole and she would take care of it. I also felt that local vendors were so much easier to work with because they already know Carole and have a good relationship with her, I would get comments from vendors such as "oh you're working with Carole so this will be a breeze." On my actual wedding day, the weather did not cooperate and we were back and forth about where the actual ceremony would be (since we had planned for it to be outside.) We did end up having to switch venue, but Carole found us a amazing spot where we could still be outside with a gorgeous tent with hanging lights surrounded by flowers and greenery overlooking the water. I did not have to worry about a thing that day because Carole took care of every little detail from the ceremony all the way until the reception ended. I cannot thank Carole enough, if you are on the fence about whether or not you need a wedding coordinator, I can tell you with 100% certainty it is worth it and will make your wedding planning and wedding day stress free. Thank you again Carole, you are amazing!!
Are you interested?
Send a message