35 Reviews
Recommended by 98% of couples
Quality of service

4.9 out of 5 rating

Average response time

4.9 out of 5 rating

Professionalism

4.9 out of 5 rating

Value

4.9 out of 5 rating

Flexibility

4.9 out of 5 rating
32 User photos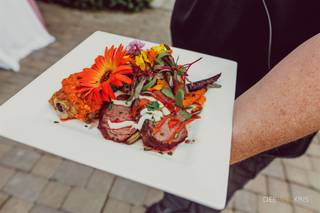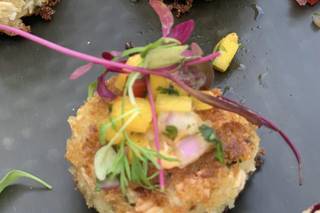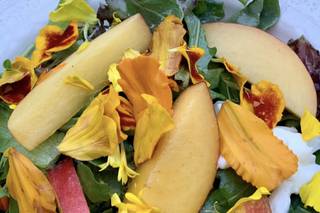 + 28

photos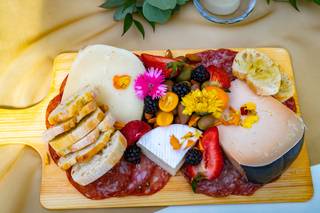 Jenae C.

Married on 06/03/2022

Exquisite food and unparalleled catering team

Jennifer and Carlos really know what they are doing when it comes to catering. From initially reaching out to them with inquiries and up to the day of our wedding, they constantly impressed me with their professionalism and genuine love of food. Communication was a breeze with them, the tasting was an absolute thrill, and the only hard part was narrowing down the food items that we wanted to be served at our wedding! They were incredible with being conscious of our guests' dietary restrictions or food allergies, and they also make sure that the special couple actually gets to eat food on their wedding day! I highly recommend this catering team for your big event!

Nikki M.

Married on 02/20/2022

Incredible!

Jennifer and her team were incredible and went above and beyond to make our day amazing. Jennifer was organized and kept to a timeline which relieved a lot of anxiety for me and my partner, she always reached out before I had to and answered any questions we had in a very timely manner. She was a life saver on our day by putting together a plate of appetizers for us and serving us right as we sat down. I always heard people say "you won't have time to eat on your wedding day" but with Jennifer and her team around, you definitely will have time to eat! I would highly recommend working with Jennifer and her team for any catering needs, you wont be disappointed! Our guests are still talking about how amazing the food was!

Tiara H.

Married on 08/07/2021

Best wedding caterer!

Jennifer and her husband run the BEST catering company! My husband and I just had our wedding a few weeks ago and we hired farm to table to caterer the event! It was the best decision ever! From our first meeting at our tasting we were in love with the service, food and overall experience! They take so much time and focus on making the food exactly how you like it and have so many options. Not to mention room their food is DELICIOUS! When I say it was good, our guests are still taking about it. Their catering staff was also wonderful and so attentive to our guests. If you are looking for a caterer look no further because farm to table is a must if you want delicious food that your guests will be raving about and be asking for more! As a cherry on top they had these spectacular churros that were a hit! Hire Farm to table and I promise you'll be happy you did!

Are you interested?

Send a message

Carolynn K.

Married on 07/08/2021

More than just a caterer!

Farm to Table is a full service operation. They worked so well with our wedding planner, organized all of our rentals and were so personable throughout the planning process. Everyone on their staff is amazing and truly made our day perfect! Plus the food is FANTASTIC!

Jennifer M.

Married on 06/05/2021

The best of the best!

We are beyond delighted we with Farm to Table for our wedding. It was a backyard wedding and Jennifer and Carlos gave us so much help and advice! They really went above and beyond the role of the caterer. Jennifer met with us at the venue to help us figure out how many people we could fit and how to best put the day together. She always had a great attitude, took an interest in us, was flexible and exceeded our expectations day-of! We got a ton of compliments on our food and especially the top notch service from our guests! I would recommend them to a friend in a heartbeat!

Cacey K.

Married on 04/10/2021

Amazing food and easy to work with!

I loved working with Farm to Table! The food is cooked on site and absolutely delicious. The packages they offer are very reasonably priced and make your planning so much simpler. Carlos and Jennifer are an amazing team. Do yourself a favor and hire them!

Haley L.

Married on 11/16/2019

Wedding Caterer: Visually Outstanding and Taste Bud Approved!

If you want the best of the best when it comes to your event catering, Farm to Table is the only way to go! Jennifer and Carlos go above and beyond to make sure the food is both aesthetically beautiful and tastes delicious! We wish we could have their masterpieces for every single meal :)

Jennifer is outstanding at helping you develop the best guest experience when it comes to the cocktail hour and reception food, and Carlos does a perfect job executing the plans. Any idea or request you have, they can make happen (we wanted an upscale taco bar...and churros as one of our desserts). They even make you a personalized tray of cocktail hour appetizers to munch down in between photos, and have a plate of food ready for you to enjoy during dinner. Every past bride always told me you don't have a chance to eat at your own wedding, but Jennifer and Carlos will ensure that you get some food in your bellies! Plus our guests still rave about how delicious the food at our wedding was...even 4 months after the fact!

Please do yourself a favor and set up a tasting with Farm to Table - your taste buds will thank you...and I promise you won't regret booking them as your caterer!

+ 4

photos

Melaine A.

Married on 10/20/2019

Great Experience

Jennifer and Carlos were phenomenal the entire way through the wedding process. Flexible, professional, communicative and kind. I recommend them wholly!

Zoe E.

Married on 09/28/2019

Delicious & Flexible

Working with Jennifer and Carlos made wedding planning so easy! We didn't taste with any other caterer because we were so amazed with how delicious their food was and how easy they were to feel comfortable with. The day of the wedding went not as planned, due to weather, and they were extremely flexible switching from plan a to b to c and all the way down to z. We originally had planned on a family style meal, but had to switch to a buffet to ensure guests got fed before the food got soaked in the rain. Farm to Table helped the day go flawlessly and helped make sure that we were taken care of. Our friends and family were in awe of how delicious the food was, as were we. As I got my dress bustled, they even brought me my own cheese board... true wedding goals. Thank you Farm to Table!

Jenna G.

Married on 09/21/2019

Loved working with Farm to Table!

Jennifer and her husband were so easy to work with! You have no idea how important it is to have a caterer who manages, of course the food their serving but all the rentals (linens, flatware, decorative tableware, etc.). Jennifer and her crew did an amazing job on handling everything and my family/ bridal party didn't have to bat an eye! The food was AMAZING! They brought our bridal party some of the appetizers because pictures were taking longer than expected and it was much needed! They also had set up 2 trays with all our appetizers in our bridal suite for my husband and I to eat together away from everyone else. They also surprised my husband and I with a little gift to go home with, but will leave that as a surprise if you choose them!! They were also flexible when I had expressed concern with our budget and even though they may be a little more expensive than most- it is worth every penny!!
LOVE LOVE LOVE Farm To Table- I would Highly recommend!

Christina

Married on 06/16/2019

Farm to table perfection

I cannot imagine a better caterer exists. My husband and I really wanted delicious food at our wedding, and Jennifer and Carlos delivered times a million. We adored working with them -- Jennifer was super responsive, kind, and accommodating throughout the whole process -- but we enjoyed their food even more! From the gorgeous edible flowers that decorate their dishes to the seasonal menus to the fabulous and inventive flavors, my husband and I and our guests all raved about the food! My particular favorite was the steak with salsa verde -- yum! Finally, FTT was super flexible about allowing us to bring our own dessert and they even served it for our guests with vanilla bean gelato

Kaitlyn G.

Married on 05/04/2019

Delicious and Beautiful Meals!

If you want your guests to be talking about how amazing your wedding food was 6 months post wedding, book Farm to Table Catering! Jennifer, Carlos and their team were one of the best investments we made on our wedding day. The food was fresh, delicious and beautiful too! My husband and I actually met to taste their meals twice before our big day – Jennifer and Carlos were awesome and wanted to ensure we would be getting the exact flavors we loved on our big day. And we were SO happy with everything! From carnitas tacos as an appetizer to flank steak and cheesy risotto cakes for dinner, the food was perfect. Farm to Table even took it above and beyond and helped to create our guest's welcome drinks that had little lemon peels and thyme clipped to the glass rims- so cute! Thank you, Carlos and Jennifer!

Allison V.

Married on 11/03/2018

Dream team literally

I cannot say enough good things about Jen and Carlos. From the first email we were amazed by the candor, professionalism, and kindness we received from both Jen and Carlos. Even our tasting was perfect and we loved getting to know them and the fact that they really did try to personalize the menu to our tastes. Being able to work with Jen regarding the setup of the room and necessary rentals really did ease our minds. Their staff was amazing and we were even able to Chef Carlos right after the ceremony as he was sneaking back into the kitchen. We received so many compliments regarding the food and how it was the best food they've ever had at a wedding. I can't say enough good things about them. Our wedding was perfect and we know that was largely in part because of Farm to Table!!

Lynda

Married on 10/20/2018

Best wedding food ever

HIGHLY RECOMMEND!! Farm to Table is not your typical wedding food. No dried up chicken here. The food was amazing and seasonal and unbelievably delicious at our daughter's wedding two weeks ago! We received so many compliments and every single one said how unexpectedly fantastic it all was and so unlike the usual wedding food we have all come to expect. Also the communication with Jennifer is quick and responsive, always helpful above and beyond. She helped me with all of my wedding concerns, even those unrelated to the dinner! I wish they owned a restaurant, it would be our favorite place to go! You will not be disappointed!! Excellent on all levels and such nice people, they have also become our friends. 😊

Jessica

Married on 09/15/2018

AMAZING!! Full service!! They need to be part of your wedding team!!

It took me awhile to write this review because I wanted to make sure it was perfect, because Farm to Table is PERFECT & AMAZING! From my first conversation with Jennifer I was at ease, she was thoughtful, an event planning expert and really explained to me how a wedding reception should flow. Once our first conversation wrapped up, I knew we needed to work with Jennifer and Carlos. Planning a wedding from across the country made me nervous, but Jennifer made it easy, she was so responsive via email and wouldn't hesitate to set up a call. Now onto the FOOD, we went to Grass Valley for our tasting and Carlos & Jennifer made it so fun! They had a beautiful table set-up and you truly felt like you were dinning at 5-star restaurant. When we left we couldn't stop talking about all the dishes and were so excited for our guests to enjoy. On our big day Farm to Table's execution was flawless, their team was so professional and friendly. Once cocktail hour started Jennifer made sure we each had a drink, apps & had beautiful plates of food at our table right when we sat. Our guests could not stop talking about how delicious the food was and how great the bartender & servers were, the next few weeks when we'd catch up with our friends and family that was the first thing they'd say. "It was hands down the best food I've ever had a at wedding, we felt like we were at a restaurant in wine country or the city". Not only is Farm to Table the full package (catering, bartenders, setup/breakdown, rental coordinator, etc), Jennifer also sent me a list of recommended vendors.They were all amazing and we ended up building our wedding team with their list and were in such good hands. I hope one day to work with them again for another event or they open a restaurant that we can go to! :) THANK YOU AGAIN Jennifer & Carlos for making our wedding day come to life with delicious food & service! You guys are the BEST!!!

Kristine

Married on 06/23/2018

The top notch husband and wife duo! Thank you so much, Jennifer and Carlos. Jennifer- you made our wedding planning so much easier by coordinating our rentals and responding to our emails expeditiously. We will forever appreciate your keen eye for detail. Carlos- we can't thank you enough for how delicious our food was. Our guests were so impressed. No one will forget how amazing everything turned out. Thank you both, again, for making our wedding the best. We had a vision on what we wanted for our wedding and you two totally exceeded our expectation. Needless to say, our day was PERFECT. -The Nickells

Katie

Married on 06/17/2018

The operation is run by the cutest couple. Carlos is the quiet meticulous chef who will wow even your snobbiest friends' taste buds. Jen runs front of house. That means she does all the menu crafting, costing, logistics, staffing… basically she makes it her mission to make sure your wedding is the very best dream wedding ever (and I do believe she means it).

We drove out to Grass Valley for our initial tasting. My wife and I were sold after a few bites and so we started talking logistics. Our wedding venue was a privately owned 1920s house up in Tahoe. Beautiful, yes. All inclusive, no. After the first few minutes it was clear we weren't accurately describing the challenges they would face by taking us on as a client. This place had 2 tables, 7 forks, and a beautiful historic useless 1920s kitchen. They agreed to drive up to Tahoe to do a site visit.

Two months later they drove 1.5hr up to Tahoe to check out the venue. I am so glad they did. They really got a sense on why this venue was special -- and challenging. They decided it would be best to just build their own outdoor kitchen. Did I mention they want to make your dream wedding come true? As we walked around the property explaining our vision, they (respectfully) gave us logistical feedback, as well as grand vision ideas that we later incorporated in the actual wedding.

Wedding day: Just as it is supposed to happen, my wife and I just showed up to cocktail hour and everything was running smoothly. Every guest had a drink and was nibbling on hors d'oeuvres. Jen immediately greeted us with a custom hors d'oeuvres plate for us to inhale. Somehow Jen found out that I love prosciutto and melon and so there was one slice prepared just for me.

We got so many compliments on the food. People always say that your guests will only notice if it's bad. They are wrong. I think people enjoyed the food more than the ceremony. And that says A LOT coming from very foodie SF-b

Kristen

Married on 05/19/2018

I am so glad we hired Jennifer, Carlos and their team for our wedding. Not only was the food outstanding, but the service was excellent. My husband and I drove to Grass Valley for our tasting and we were blown away! I love that they use fresh and seasonal foods. Farm to Table is full-service, so they also helped with set up and break down. It is obvious Jennifer and Carlos really care about their clients. After family photos, my husband and I joined cocktail hour where Jennifer provided us with mini platters of all the appetizers we picked out. She was so sweet and even offered to bring us a drink. All night people kept telling me "the food is so good" and "I've never had food this good at a wedding". At the end of the night, their team organized all of my cups, plates and bowls, which made clean up the next day a breeze. I would absolutely recommend hiring Farm to Table Catering for your wedding.

Mary A.

Married on 03/03/2018

Farm to Table Catering were fantastic! Carlos and Jennifer worked very closely with us to prepare the perfect gluten-free meal for our daughter's wedding. Our guests said it was the best meal that they had ever eaten at a wedding. It was definitely high-end restaurant quality. I wholeheartedly recommend them.

Erin

Married on 10/07/2017

Stop your hunt and hire farm to table now.. seriously.. I never write reviews but I have to for Jennifer. I firmly believe Farm to Table is the best catering company in all of Sacramento and Yolo county.. and trust me I looked into 50+ caterers! Book her now because I have a feeling word is going to spread and she is going to be hard to get!! Jennifer, Carlos and their team were phenomenal and truly made my 150 person Newcastle wedding the best it could be. The food was incredible, people kept coming up saying "I can't believe this is wedding food!" Loved the steak, salmon, and stunning apps. In addition to five star food Jennifer coordinated the rentals, found us our photographer and coordinator, and generally went above and beyond helping us make our wedding perfect. She could have charged us double and I'd be still thrilled. Absolutely love her an


+ 7

photos

Linda

Married on 06/17/2017

Jennifer and Carlos created the most beautiful wedding food you can image. We have never felt so pampered. Im gluten and cow dairy-free. They provided an array of dishes for me as well as 2 vegan dishes for our guests. They take customer service to a whole new level. Their food is beautiful as well as delicious. Literally from farm to table as their business states. Everything they prepared was fresh and visually stunning. Our guests are still talking about it. We would definitely use them again for any catering events we might have in the future. True professional and caring. What lovely people and can't say enough about their friendly, professional staff. 5 Stars isn't enough.


Linda and Bob Kirkland
Big Day June 17,2017

Kevin

Married on 05/28/2017

We could not have been happier with the services of Jennifer and Farm to Table Catering. They didn't just cater for us (and the food was fantastic); they also did a beautiful job setting up the venue, and acting as wedding planners as well. We got married in Nevada City, and Jennifer's familiarity with all wedding-related people and companies there meant we could just trust her recommendations without a second thought. To top it off, they were a pleasure to deal with from beginning to end. They made our wedding day a wonderful and surprisingly stress-free event.

Zoey

Married on 06/18/2016

The Farm To Table Team did an absolutely spectacular job catering my wedding in Tahoe City, Ca at the Gatekeeper Museum. Contacting Jennifer was so easy and enjoyable! Carlos is a spectacular chef, and their bar/wait team was a perfect compliment. From traveling to Lake Tahoe to the on site cooking my husband and I were blown away by the delicious food and presentation! My guests and accompanying vendors all had very positive things to say! I can not enough about the Farm To Table Team!!

Tiffany

Married on 06/12/2016

Farm to Table Catering was the first and only catering company we met with for our wedding at Empire Mine State Park in Grass Valley, California. The husband-wife duo truly had us at hello. We had them cater both our rehearsal dinner and the wedding. Carlos is a spectacular chef, and Jennifer is just plain amazing. We also hired Jennifer as our Day Of Coordinator, which was worth every penny; she is EXTREMELY organized and responsive. She handled the majority of our rentals (dinnerware, tables, chairs, linens). Plus, she's worked with most of the other vendors in the area and at most of the venues, so she knows all of the rules so you don't have to worry about it. Ultimately, we LOVED them because they are easy going and so much fun! They exuded a positive energy and so did all of their staff. They made our wedding perfect!

Hilary

Married on 06/11/2016

Two words: Do it! Carlos is an amazingly talented chef. Not only is the food delicious, but the presentation is second to none! I was pretty set on making my own menu (French Provencial), which is not readily available on most catering pre-set menu offerings. Carlos had no problem working with me. He had a great knowledge of all types of food, and helped me figure out what to offer.

Jennifer was a life-saver. I wouldn't have been able to do it without her. She responded to emails within hours, met as many times as I needed, communicated with the venue and rental vendor, recommended half my vendors, and worked perfectly with my other vendors. I highly recommend hiring Farm to Table with the set up and break down services, especially if you do not have a wedding planner. My venue did not offer a day-of coordinator to help decorate, etc. My family and I would not have had time to decorate our very large venue. No problem. Jennifer to the rescue! Her and her team did not only set up tables and chairs. They put up all of my decorations!! ...including hanging many paper poufs on trees and hanging lights, wrapping tulle around aisle chairs, setting up lounge furniture and lanterns, placing over 70 tealights (and switching them on), and hanging a ribbon backdrop. They also successfully moved my fully-set-up four-layer cake from the back of the venue to the front so it could be displayed where we ate and where we danced. So do not hesitate to hire Jennifer for her services, too. Plus, you'll find that it is so much less expensive than hiring a planner.

With Farm to Table, you get everything you'll ever need and want from a catering service, and at a competitive price, too!
Are you interested?
Send a message