200 Reviews
Recommended by 100% of couples
Quality of service

5 out of 5 rating

Average response time

5 out of 5 rating

Professionalism

5 out of 5 rating

Value

5 out of 5 rating

Flexibility

5 out of 5 rating
55 User photos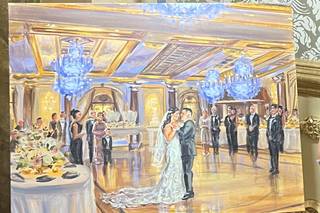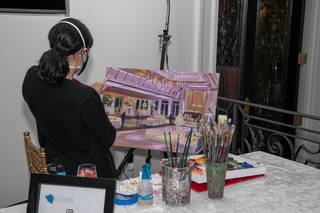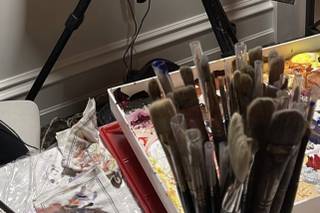 + 51

photos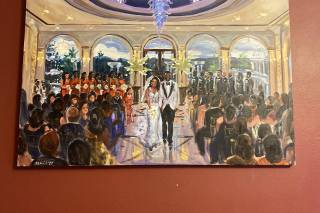 Featured

Deanna A.

Married on 10/10/2020

Captured our wedding perfectly!

When we postponed our wedding due to COVID about a year ago, my mom and I came across Katherine's Instagram page and decided to see if she was available for our new date. I am SO glad we did, as it is one of my favorite parts of our wedding last week! Katherine was so organized and sent us a survey to detail some pieces we would want in our painting, such as which family members, anything special, etc. We asked for our dog to be painted in, as she would not be at the wedding but we wanted her in the background. Katherine arrived in the afternoon and got set up painting while we were busy with our ceremony and other wedding details. When we entered the reception, I finally got a glimpse of the painting from the upper balcony and I teared up, she NAILED it! I think I had requested that she paint some fall foliage in the background window even though our first dance would be when it was dark out, and it was PERFECT! Katherine included each family member that we requested and it is remarkable how perfect they are. She captured my husband's face PERFECTLY, as well as included our wedding cake with topper, and our pup with some perfect floral decoration. Katherine had our painting ready by the next morning, and when she delivered it to brunch all of our guests were totally wowed. I couldn't even get it out the door because everyone was stopping to take pictures! I think we are going to use it as our thank you cards so that everyone can get a copy! Thank you, thank you, THANK YOU, Katherine! If you are looking for a live event painter, look no further!


Brittany E.

Married on 07/01/2022

Remarkable

Katherine is absolutely amazing. My guests were fascinated with her work while at the wedding and were floored when I sent them the end result. It is so intriguing to watch her paint it live. I'm so happy I have this painting to remember the memories from our wedding day.

Teresa G.

Married on 06/04/2022

wedding painter

Katherine is an amazing painter and a pleasure to work with. She painted our first dance and it came out gorgeous! She really captured the moment all in one painting with every detail. We love it so much and recommend that everyone should have their wedding painted by her!

Are you interested?

Send a message

Brianne I.

Married on 05/13/2022

Magical Masterpiece

Katherine was early, professional, reachable, reliable, and thorough. She took my painting after the wedding to finish the last touches of a beautiful masterpiece. She is truly talented and one of a kind. I have seen her do several live paintings, saw her talent firsthand and knew she had to be the one to do my wedding painting. She incorporated my late father which was the true inspiration of why I wanted this done. For any of you who can't have their loved ones there, this is a beautiful forever piece that can include them from your day.

Ashleigh

Married on 05/06/2022

Best live painter!!

Katherine is the best of the best! She painted for my sister and brother at their weddings so I just knew that she had to paint for mine! The painting came out GORGEOUS and she was accommodating throughout the whole process! I would recommend her over and over again!!

Maria K.

Married on 05/01/2022

Fantastic!!

Katherine was absolutely amazing to work with. When we had to postpone our wedding my father passed away suddenly , she was so understanding and compassionate and we were so lucky to have chosen her. We were so thankful that she was still available when we rescheduled and the work she did on our live painting was absolutely stunning. She's incredibly responsive and just an overall pleasure to work with!

Victoria M.

Married on 03/26/2022

The best of the best

Katherine was incredible at our 3/26/22 wedding. Her work is breathtaking! We received so many compliments on what a wonderful addition to our wedding her live painting was. The results left us speechless. Katherine was so detailed when it came to planning as to make sure all aspects of our wants were covered. We even turned her artwork into some gorgeous thank you cards. We cant wait to hang our painting in our dinning room so we can always be reminded of our beautiful day. Thank you, Katherine! All our love, Victoria and Brandon Moore

Event Painting by Katherine's reply:

Thank you so much! So glad it was a memorable part of your wedding and that you could use it for cards on top of that!

Alexa B.

Married on 02/09/2022

Katherine Gressel Event Painting

Katherine is an amazing artist!! We had her paint our first dance and are completely floored by how beautiful it came out. It was an incredible representation of our special moment and are so happy we have this painting forever. Our guests were amazed when they saw Katherine painting throughout the evening and we received so many compliments! If you are thinking about having an event painter, Katherine is THE best option!

Victoria G.

Married on 01/15/2022

Live Painting

If you are planning to do a live painting at your wedding you must use Katherine!! She was so great to work with and the final painting is truly amazing. Our guests are still talking about how fun it was to watch the painting come together during our reception. The painting is now hanging in our home and is a reminder of our special day :)

Abigail P.

Married on 09/23/2021

Highly recommend Katherine for your wedding painting!

Katherine was a joy to work with! From the beginning inquiry to our clear and concise communication to the day of, Katherine was professional and detail oriented. She kept her distance, and was very respectful, due to the current state of large events, but our guests still loved watching her work all the same. Pickup was easy and no extra accommodations were needed in order for it to be convenient for both parties. I'm so happy we decided to hire Katherine for our wedding (extra funds due to a postponed wedding can sometimes be a good thing!) and highly recommend her and her beautiful work as a unique wedding vendor and lifelong keepsake.

Melissa C.

Married on 07/29/2021

The best live event painter!

I found Katherine by chance on IG and was immediately blown away by her work. To say she is talented is an understatement. She was accommodating in allowing us to pay for her services via installment payments (which is extremely helpful when it comes to wedding planning) and easy to communicate with. My husband and I got married back in July and the weather was overcast that day. It did in fact rain and I was devastated because we really wanted an outdoor ceremony. Katherine had the brilliant idea of incorporating the outdoor ceremony space through windows in the actual indoor ceremony space. She did such a fantastic job and we were beyond thrilled with the outcome. Our guests also enjoyed watching her work and could not stop talking about how talented she is. Our painting now hangs in our living room and it was worth every penny. If you are looking to book her just do it! You will be beyond pleased with the outcome.

Alyssa

Married on 07/24/2021

Amazing!

My husband and I knew we wanted a live event painter at our wedding and are so glad we booked with Katherine. She is amazing to work with, super professional and organized, and her paintings are absolutely stunning! All of our guests loved watching her work throughout the evening and raved how good the painting looked during the reception. They couldn't believe how much she was able to get done in one night! Booking with Katherine was one of the best (and easiest) decisions as we now have a forever keepsake from our special day. She even included our puppy in the painting even though she wasn't present at our wedding. We can't thank Katherine enough and would highly recommend booking Event Painting by Katherine to anyone and everyone!! Thanks again, you're the best!!

Stephen F.

Married on 07/11/2021

Katherine is a great painter who is professional and caters to your needs.

Katherine is a great painter who is professional and caters to your needs.

Mike B.

Married on 06/12/2021

11/10 would hire again!

Katherine was fantastic! She had worked at our venue before but still asked us for any specific scenes that we wanted to capture or parts of the room/decor. With pictures of the people we wanted in the painting, she was able to create the rest. If you want a piece that you will always remember and look at fondly, Katherine is a great event painter to work with!

Jenna M.

Married on 05/22/2021

The Best of the Best

Katherine is a dream to work with. Not only is her work the best I have ever seen from live event painters but she is kind, professional, detail-oriented, and organized. My guests were in awe of her talent and checked in throughout the night to see her progress. Couples know that wedding planning could be very stressful and time-consuming, and Katherine took all of the stress out of this one detail of my wedding day. With just a few emails, all of my questions got asked/answered and we had a plan in place for the painting details (colors, people to include, moment to capture, etc.) as well as all the details about arrival time, location in the reception space, etc. I can't recommend Katherine enough to all future brides who want to have a special moment captured in a piece of beautiful artwork!

Nicole B.

Married on 04/09/2021

An incredible keepsake that we will treasure forever!!

Katherine is BEYOND talented!!!! We first met her at my friend's wedding in 2017 and the second I saw her artwork I knew I needed to have her for my future wedding. Katherine is very professional and beyond creative. She asked who we wanted to have in our painting and special details we wanted. Our guests loved and were amazed watching her bring our first dance to life at our wedding reception. We got the package that she brings the painting home for touch ups and more details. I honestly can't believe it is a painting! It looks like a photograph. Highly recommend Katherine!! Thank you so much Katherine! We will forever treasure this special keepsake from our wedding!

Beverly L.

Married on 11/14/2020

An incredibly detailed and unique way to capture our magic moment!

When my husband and I started wedding planning, hiring a Live Painter was something we knew we wanted, as it's such a unique and special experience to include in a wedding. After doing our research, we found Katherine. We absolutely loved her esthetic and attention to detail and knew she was the painter we wanted to capture our day.

On top of Katherine's paintings being incredible, she is so caring and sweet. Part of Katherine's planning process in the weeks leading up to the wedding, includes an extensive questionnaire about what you want in your painting. I loved that she did this, as it gave her an opportunity to know what we wanted. Not only did she include everything that we asked for, she went above and beyond to really portray our day. She was so detailed, she even painted our soup and salad appetizer at each place setting on the table. We were beyond impressed.

Additionally, our guests loved seeing her work throughout the night. Having her added an extra level of entertainment for our guests that they were truly impressed with. She made great progress by the end of the night. We are so in love with our painting and can't wait to hang it in our home.


Michelle F.

Married on 09/09/2020

The Best Out There

Katherine was one of the first people I booked for my wedding. I knew I wanted an event painter, and stalked all of the NY artists, and chose Katherine because her work is beyond amazing. Our painting came out ridiculous and we had a long list of family members and details we wanted included in our painting and she managed to fit everything we asked for. Everyone was talking about it and it truly is something special that we will have forever!! I am OBSESSED with it!!

Nicole J.

Married on 09/04/2020

Personal and perfect!

Absolutely loved working with Katherine! She was so easy to work with and made our wedding painting perfect! Our guests loved watching her work, and the end result is magnificent! Highly recommend!

Katie

Married on 09/04/2020

Amazing Work!

Katherine was amazing to work with and she made our day so special. She is so talented and her work is incredible! I am so happy she recreated our entire wedding in a picture that we can look back on for the rest of our lives!

Rjay K.

Married on 08/21/2020

Event painting

To start off Katherine was responsive with emails, and kept an open line of communication the whole time. She is also very prompt with time. She began setting up in her own little area and brought everything she needed for the work to be done. She was very friendly, professional, and followed safety protocols due to Covid-19. Although my wedding was outside in August when masks were not mandatory outside, she wore one anyway and made sure she did her part on keeping everyone as safe as possible at our wedding. Our painting came out the exact way we wanted it. ITS PERFECT! She couldn't have done a better job. She even incorporated our parrot into the painting. We went with an overall large painting and can't wait to hang it up!

Yadira R.

Married on 08/14/2020

AMAZING Experience working with Katherine G.

I cannot say enough kind words to explain about Katherine, her talent, or her work ethic!! I contacted her VERY early on in the process, as I started booking my vendors in advance. She provides detailed information to help inform choosing the perfect painting for you. Once I contacted her, she let me know everything I needed to know about hiring her as one of our vendors and how it would be working together. Her digital booklets were very informative and I was able to choose a painting size and additions that worked for me; the process was very seamless. That was very early on in the process, and little did we know that a pandemic was going to change my plan for my wedding! We kept a very open line of communication, and while I was trying to figure out what I was going to be allowed to do for our wedding, or whether we would have to postpone or cancel our wedding altogether, Katherine was very supportive, and I didn't feel any pressure to decide quickly or any hesitance on her part. She was so so understanding and sympathized with how difficult our wedding planning became. We worked very closely trying to find a perfect plan after we had to rearrange our wedding from indoors to outdoors! Katherine had everything she needed to work once she arrived at the venue (she arrived super early to paint the background and get an excellent head start), and our guests LOVEDDDD watching her paint! Everyone was so impressed with her painting by the end of the night, but it still wasn't done which was the most impressive part of all!!! I sent Katherine photos of important family members and she incorporated them into the painting. She sent me pictures of the finished piece through email for my approval, and when I suggested some other additions to the painting, Katherine graciously accepted the changes, listened to everything I said and delivered! I was soooo happy with my finished piece!! I can tell who everyone in the painting is and I am absolutely in love with it!! Thank you for this beautiful painting of me, my new husband, and our family members. It looks just like us and you gave us a timeless gift!!! THANK YOU KATHERINE!!

+ 4

photos

Sara Z.

Married on 05/16/2020

Incredible!!

Katherine was amazing through the whole process and very flexible with our last minute changes! A true highlight of the wedding that guests still talk about and the work speaks for itself, just stunning!! Would recommend 100x!!

Sarah G.

Married on 04/06/2020

Amazing, Special Gift

When my sister was planning her wedding, I was looking for a special, unique wedding gift for her and her soon-to-be husband. We came across Katherine's beautiful, special paintings, and I am so happy we did. Katherine is easy to work with and assures you will be happy with the finished work. She is so attentive to detail. Many of their guests are still talking about how amazing it was to watch her in action at the wedding and of course the finished product. We love the painting, and I am so happy my sister and brother-in-law will always have this meaningful keepsake. Thank you, Katherine!

Rosamaria

Married on 03/14/2020

Outstanding experience

Easy to work with! Very flexible and beautiful painting we got of our special wedding day!
Are you interested?
Send a message