26 Reviews
Recommended by 100% of couples
Quality of service

5 out of 5 rating

Average response time

4.9 out of 5 rating

Professionalism

5 out of 5 rating

Value

5 out of 5 rating

Flexibility

5 out of 5 rating
Awards
9 User photos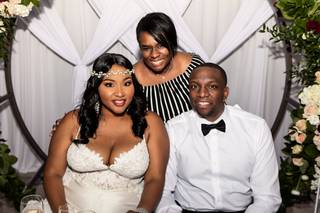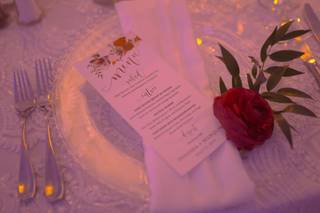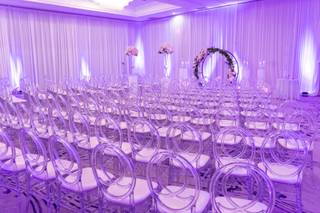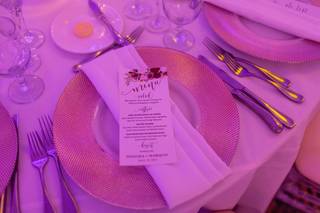 + 5

photos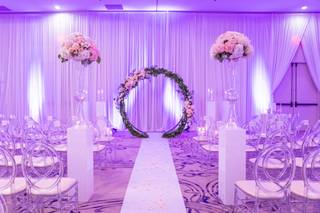 Fatima D.

Married on 12/19/2021

She is perfection!

Erika was my month-of wedding coordinator, and while she was my first, I'm still pretty sure she's the best. She handled LITERALLY everything, she was so professional yet fun, and nothing went wrong thanks to her. That's not to say things didn't try to go wrong -- she just handled everything without a glitch.

And I'm talking big issues -- my wedding venue director was an absolute burning trashcan; I have no idea how she even handles getting dressed in the morning, and Erica handled her firmly and efficiently. Issues ranged from DOUBLE BOOKING my ceremony time to LOSING OUR OUTFITS from the bridal suite to just generally being an unpleasant monster, and Erica handled it all without letting me stress.

I had like half a vision and she helped me form the rest--when I walked into the wedding hall, everything was totally, 100% perfect; and it wouldn't have been without her. Not to mention, she became my best friend for a month just by being hilarious, fun, and personable! So grateful to her!

Eveleen M.

Married on 11/05/2021

Amazing! Creative! Professional! And More!

Erika was by far the best wedding planner! She was there for me prior to the start of the pandemic until my wedding day. When the pandemic hit she did an amazing job contacting all my vendors about my postponement. I don't know what I would have done without her. She also does an amazing job coordinating the day of your wedding with her team. She focuses on you and only you. You will not regret hiring Erika! :)

Denisha M.

Married on 05/19/2019

Absolutely the best decision made having her as our wedding planner/designer!!!

We had the pleasure of working with Erika and her wonderful staff for our wedding this past May at Avenue of the Arts Hotel. She is very knowledgeable in her craft and was able to plan a very beautiful and elegant wedding. She is very detailed oriented and listens to every aspect that will give you your dream wedding. We got unexpected rain on the day of our wedding therefore our planned outdoor lakeside ceremony was a no go. With last minute changes she was able to still provide the most beautiful and elegant wedding we envisioned. On the day of the wedding her and her staff were attentive to both our needs. She communicated directly with our vendors which took off a load of stress during the last month of planning. Our guests were amazed at the design of both the ceremony and reception. We still have guest raving about how great everything turned out. I highly recommend Erika to any future wedding couples. She will execute your vision and provide a very stress free planning process.

+ 5

photos

Are you interested?

Send a message

Erica M.

Married on 05/11/2019

The Ideal Wedding Planner

I am not sure this review will do justice to the work Erika did for me, but I will try..

Erika gave me the wedding of my dreams. I was a bride with a VERY specific vision, and Erika was able to bring it to life beyond my own expectations. She worked with me and my entire family with patience and dedication. By the end of the process, I felt that she was an old friend!

During the months leading up to the wedding, Erika connected me with a team of fantastic vendors, all of whom came through with flying colors. She communicated with me openly and made me feel as though my wedding was a priority. She had answers to questions before I even had to ask them. As the big day got closer, we spoke almost every day. She always took my phone calls (sometimes even at unreasonable hours) and never made me feel like my questions or concerns were burdensome. The day of my wedding went off without a hitch. She was organized, prepared, and genuinely excited to see my vision become a reality. I wish I could thank her more for what she has done for me. With her on my side, I had a FLAWLESS experience.

I recommend Erika 100%. She will bring your wedding dreams to life.

Erika's Elegance Weddings and Events's reply:

Erica OMG thanks so much for taking time out to write this. It was such an honor to work with you and Ahmed. I truly loved and appreciated all of our conversations and getting a chance to witness such a wonderful day. I am grateful that you chose me and my team to partner with you during this journey. I would do it again in a heartbeat. Here's to many years of happiness for you two. Take Care and remember I'm only a phone call or text away.

Patric Y.

Married on 04/27/2019

Committed professional, genuine person & a true friend.

Choosing Erika to be our wedding coordinator was the best decision from our wedding planning, especially because we had to plan our wedding from the other side of the country (NY!!).
And even though we had a 3-hour difference between us, we never had any problem communicating with her. Actually, it almost felt like we were in the same time zone because Erika was always quick and prompt to answer our emails, phone calls, and text messages.
The day we met her to go through our wedding details just a few weeks before the wedding day, she was so prepared! She knew everything we wanted, and even more. She gave us so many creative and money-saving suggestions that it totally blew our minds (my husband had to applause her during the meeting LOL).
On the day of the wedding, Erika and her assistant, Destinee, were everywhere making sure that everything was going according to our planned schedule, so my husband and I didn't have to worry about anything! We just enjoyed our day and had lots of fun. We also invited Erika to dance with us, and dang, this girl can dance!!

If you want a total stress-free wedding planning and a memorable wedding day, Erika is the best way to go. She will make sure that very detail was considered and will do the best to fix any possible situation. The best part is that she will work with you as professional and treat you like a friend.

Holden B.

Married on 02/23/2019

Erika'a Elegance Weddings and Events is the Best!

Erika has been exceptional from our start date through our wedding date. She covered, everything, I mean everything, including many details that I did not even know existed, in terms of helping and organizing the wedding. She made us very relaxed and because of her help, we had a wonderful wedding! We cannot recommend Erika enough. she is the best! We miss her now!

Lauren

Married on 06/16/2018

Erika is absolutely amazing! I do not know what I would have done without her on our special day. She is so much fun and we are forever grateful to have met her. Her team is also wonderful and very professional. Everything came out perfect and no details were missed. I would recommend Erika and her team to all friends and family.

Mandy

Married on 11/18/2017

Okay, it took me far too long to write reviews for all my wonderful wedding vendors. Erika is one of those wonderful people!

Erika!!! I can't say enough wonderful things about the spunk she has, her patience, her kindness, her genuine and real advice.

Erika was my first pick though booking a wedding with Avenue of the Arts. I liked her style on her website and I liked that she actually responded to me (that's a big one, LOL). Finally, we started emailing and talking, and I liked that she was soooooo easy to talk to. She still is! She is also really organized and commanding of a situation if you go off the rails (luckily, I didn't). She will steer you in the right direction by asking you what you want, never pressuring you to make a decision you don't want to make or telling you what you should do.

Erika is a really busy gal with all the events and coordinating that she does, but she will make time for you. She always answered my questions within a timely manner, she always made sure to prioritize and organize the thoughts we had for our wedding. She is cordial and friendly and we could chat all day outside of wedding planning and prep - I love that about her!

Pick Erika if you want someone friendly who will work with you, who feels like an old friend you are catching up with, and someone who has great style and suggestions for you when you are stumped!

Tiffany

Married on 11/11/2017

Erika is a consummate professional. She spent a lot of time helping me develop my vision and together we created something truly spectacular. She is quick to respond and has connections with some amazing vendors. The catering company she recommended was fantastic. My guests are still talking about how delicious the food was. Erika's team on the day of the event took care of everything. I didn't have to lift a finger or make a decision about anything. They checked on me frequently to make sure I had everything I needed. I would recommend Erika's Elegance to anyone looking to have truly memorable event.

Tiffany

Erika's Elegance Weddings and Events's reply:

Tiffany thanks so much for your review. It was truly a pleasure working with you and I'm so grateful to you for allowing my team to support you during the planning process. I had loads of fun!

Christina

Married on 11/04/2017

I cannot speak highly enough of Erika and her team. We booked the month-of coordination package, but I never had any issue getting in touch with her for general advice or recommendations even before our package started.

Once we approached the month before our wedding, Erika completely took over communications with our vendors, which took an enormous load off of my shoulders as the bride. She created a timeline and pointed out several small things that I had not even thought of that would have been very stressful to try to figure out the day of the wedding. Every time we hit a planning snag, Erika would calmly walk me through our options and take care of it from there. I didn't have to worry about a thing except for getting married during the month of our wedding.

We had several people tell us that our wedding reception was one of the most fun and beautiful that they had ever been to, which is due largely to Erika's wonderful planning. We had a few minor things go wrong the day of that were out of anyone's control, but no one (including me) noticed them because Erika took care of them immediately.

If you are looking for a wedding planner who goes above and beyond what is contracted, who truly loves her job, and who will make sure that you don't have to worry about a thing on your wedding day, book Erika. I cannot imagine how our wedding day would have gone without her and will recommend her to all my friends and family who are getting married!

Erika's Elegance Weddings and Events's reply:

Christina thanks so much much. I absolutely fell in love with you and Matt and your families, simply the best. I am so grateful that you entrusted me with such an important day and am absolutely honored to have celebrated with you. It was such an amazing day, filled with high energy but most of all love, love, love which is truly the key to happiness. I cannot wait to see pictures and I have a feeling we'll be connected years to come!

Anna

Married on 09/09/2017

Mrs. Bowers and her team were exceptional. She made sure all my needs and the needs of my guest were met. She was extremely flexible with the people that were in my wedding party (and that was not easy) to make sure my wedding day was a success. It was a pleasure working with her and I have requested her assistance for several future events. If you get a chance to work with her, take advantage of it, it will be worth your time and money. Erika's Elegance will not disappoint you.

Erika's Elegance Weddings and Events's reply:

Thank you so much! It was a pleasure working with you! I cannot wait until our next event :).

Lakesha

Married on 08/12/2017

Amazing experience working with Erika throughout my entire wedding planning. She is not only a wedding planner, but a "life coach" as well. She is truly the best at what she does. (:

Angela

Married on 08/12/2017

Erika's Elegance provided outstanding service her and the Staff was on point every step of the way!

Treice

Married on 08/06/2017

Professionalism at it's best! Erika is awesome!!!

Lauren

Married on 05/28/2017

My fiancé and I recently had the pleasure of working with Erika for a styled engagement photo shoot. From the very beginning, Erika was extremely receptive and responsive. We wanted to include our two year old lab in some of the pictures and she went above and beyond to make all three of us feel welcome and comfortable. Erika has an eye for detail and created a gorgeous vintage styled backdrop for our photo shoot. Everything was flawlessly designed - from the most picturesque location, the adorable personalized cookies to the wedding hashtag she had framed – everything was on point! I would highly recommend Erika, not only was she a blast to work with, but you can sit back and relax because Erika has everything under control and it will all look stunning!

Erika's Elegance Weddings and Events's reply:

Lauren thanks so much for allowing us to be a part of your engagement session and letting us venture into our creative world. It was a pleasure working with you guys. Hope all is well!

Frances

Married on 01/07/2017

Best wedding planner ever!! We would highly recommend her for your big day!! We had about a week to go before our big day and already had some vendors lined up but still needed to get a lot of other things done. Erika stepped in and went above and beyond to organize what we already had done, took care of everything else that we needed and then added her special touches to just make our day even more special! Despite the limited time, she got everything done smoothly! We also fell in love with her-- just a good person all around!!

Christine C.

Married on 11/26/2016

We had to get a day-of coordinator despite having a ton of help from church friends because the venue required one. However, I'm so happy we met Erika! Out of so many coordinators we contacted, Erika was one of the first to respond and she had good prices. Good communication and responsiveness is important to us! She took care of all the nitty gritty details for the day and honestly the reception was exactly what I wanted. Very easy going and fun :). Thanks for making our reception go so smoothly!

Erika's Elegance Weddings and Events's reply:

Christine and Caleb it was truly a remarkable experience to work with you guys. The love that you both share, as well as, your family and friends is so special. Thanks for allowing me to be a part of your day!

Diana

Married on 11/12/2016

If you want a planner/coordinator who's professional, experienced, dependable, creative, goes above and beyond, executes her plans, truly enjoys her work, focuses on your wedding, gives you the best wedding experience, stays on top of all vendors, is reasonably priced, etc and is fun! Book Erika!

We are extremely grateful that Erika came into our lives! Our special day turned into everything we wanted and more! I can't imagine going through this wedding planning process without Erika. She was there every step of the way and I'm booking her for every other big event I have in my life!

When we met Erika, we were looking for a day of coordinator. But we realized that we needed more than just a day of coordinator - we needed someone who would help us plan. The next day Erika became our planner! From day 1 she got straight to work and mocked up a vision plan of our wedding, listed out our next steps, coordinated meetings, would follow up with us on items that were on our plate, etc. The planning process was made easy for us and when it came to the day of - we had no worries in the world! We got to enjoy our special day!! I've always heard stories of the bridal party/bride/groom running around the day of making sure things go smoothly. We did not have to deal with that! Erika took care of everything, took care of us... she's amazing!

We had our fairy tale wedding. Thank you Erika!!

Lezlie

Married on 07/16/2016

Erika's Elegance surpassed my expectations. I was able to enjoy the process and planning of my wedding. As if married my best friend was not enough, I was also blessed with a wedding planner of my dreams. Professional, Gifted, Talented, Sophisticated, Elegant, and Amazing are but a few adjectives to describe Erika's Elegance. They handled every intricate detail of my wedding and reception. BOOK ERIKA'S ELEGANCE TODAY!!!! You, like me, will not regret your decision. Thank you Erika for breathing LIFE into my wedding events!!!!

Alex

Married on 07/02/2016

If you are looking for someone to create an elegant and memorable affair, you've found it! Erika went above and beyond to tailor our day to reflect the both of us and created an absolutely unique once in a lifetime experience. What she created was not only breathtaking but surpassed anything I'd ever envisioned! From the planning to the delivery, she is able to put you at ease about one of the most important and special days in your life. Her passion and dedication to excellence shows in her work. I would highly recommend Erika's Elegance to anyone wanting their dreams to become reality.


Gina

Married on 07/19/2014

I personally felt Erica was an extremely personable and family oriented wedding planner and made me feel comfortable during a very exciting and nervous moment.

Racell

Married on 07/04/2014

Erika has a presence that is amazing, she was very attentive to all my needs, as well as my wedding desires. She has a very professional way of handling any and every thing that comes along with the natural stressors of a wedding. My wedding day couldn't have went better.

Charles

Married on 10/23/2010

She was very attentive to the needs and wants for our wedding. I could tell that she genuinely didn't want us to be overly concerned with anything. At the same time she was very honest and forthcoming about everything that was occurring and she worked very very hard on our behalf to make our wedding a success. It turned out way better than I even expected that it would.

Carolyn

Married on 12/12/2016

If you are considering hiring a wedding/event planner, please seriously consider Erika's Elegance Wedding and Events. We've contracted with Erika's Elegance on more than one event, one being one of the most memorable events in our lives, our wedding. We hired Erika's Elegance shortly after becoming engaged. To be honest, all we really had to do was choose our wedding party, colors and share how we envisioned our day, and Erika took care of the rest. She worked with our vendors (reception venue, transportation, church, etc). She also created all of our decorations for the wedding and reception location. This wedding planning time could have been a very stressful time for me as my mother was very ill during this time, but thanks to the creativity, professionalism, organization, and attention to detail of Erika's Elegance, it wasn't stressful at all, and we had a most memorable day.

Linda

Married on 07/16/2016

Erika's services took a lot of stress from the planning of the wedding and the wedding. She listened, had visions for what was desired and did her best to make things happen. She's extremely knowledgeable regarding wedding and event planning. She has a good working rapport with many vendors and can negotiate in her clients best interest. Her personality says it all...Let's make this happen!!! Good job Erika!!
Are you interested?
Send a message