19 Reviews
Recommended by 100% of couples
Quality of service

5 out of 5 rating

Average response time

5 out of 5 rating

Professionalism

5 out of 5 rating

Value

5 out of 5 rating

Flexibility

5 out of 5 rating
Awards
13 User photos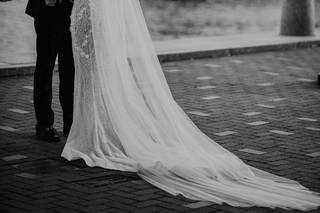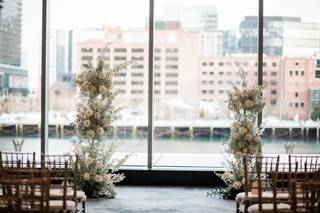 + 9

photos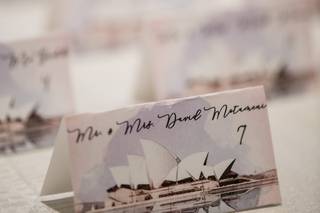 Featured

Monika M.

Married on 03/05/2022

A dream to work with!

A dream to work with!
I cannot recommend Devyn enough!

We were coordinating two international weddings between Australia and Boston and Devyn was a dream to work with. For someone who is a busy at work ,has a vision and is a perfectionist like myself, Devyn was ideal to work with. She got me right away, was in constant communication and by my side overstep of the way on the big day,

From start to finish she was extremely professional and efficient. Planning a wedding is very stressful and her expertise helped us make the wedding of our dreams! The florals were simply stunning and the design layout and implementation of the decorations at our ceremony and reception were perfect. She helped us source all suppliers - videographer, photographer, flowers, make-up, etc.. Her advice and knowledge is priceless and I felt confident in the lead up to the day that she would create our vision. We had the most amazing day, guests still tell us how blown away they were by our wedding! But what stuck with me the most was Devyn, her smile, attitude, patience and organization skills. We are so happy we had her for our big day!

+ 4

photos

Alyssa W.

Married on 10/01/2022

You will not regret Devyn!

Devyn was fabulous! She was professional, organized, detail-oriented, and so easy to work with. She is exactly the type of person you want by your side leading up to your wedding day, and she was invaluable day-of. My one regret was not hiring Devyn sooner!

Emily R.

Married on 09/09/2022

Beyond amazing!

My husband and I can't say enough about Emerald Events and specifically Devyn. She was our wedding coordinator a month leading into the wedding and the day off. She was incredibly helpful by providing detailed checklists (which we referenced often!), toured our venue with us, took over all email communication with vendors, and was always a text or phone call away. Devyn truly made our wedding become the dream we envisioned it to be. She is organized, detail oriented, articulate and personable. If anything had gone wrong that day, my husband and I weren't aware of it, that's how on top of it she is! We truly appreciate all Devyn did for us and we'll be forever grateful. I HIGHLY recommend booking Devyn for any event. Her efforts didn't go unnoticed by family, friends and the even our bridal party!! She's an incredible person and wedding planner!!

Are you interested?

Send a message

Alex K.

Married on 08/13/2022

Emerald Events


Devyn was wonderful to work with. She supported us and was enthusiastic in all the choices we made, but used her experience to guide us and make suggestions when needed. Devyn was always positive and made us feel at ease. From the beginning she had a clear timeline and kept us on track. Throughout the process she always made herself available for calls and was very responsive. She thought of all the little details as we got closer to the wedding, and several of our guests commented on all those small details that made the wedding so special. On the day of the wedding, Devyn was so diligent in making everything run smoothly. We would definitely recommend using Emerald Events!

Jared

Married on 08/06/2022

Exactly how wedding planning should be...

I don't even know where to start... from our initial call, to creating a vision board, to answering all of my questions and putting me at ease no matter the time of day - Devyn and her team were INCREDIBLE. I felt supported and was able to trust that my vision would come to life working with Emerald Events. If you are looking for a reliable planner who is organized and allows for minimal stress experience leading up to your wedding, Devyn is your girl. We are so grateful for her and her attention to all of the details - both big and small. Our day was without a single hiccup which is dream come true for a bride.

Kayla F.

Married on 07/23/2022

Wedding Planner

You could not ask for a more reliable, professional, and thoughtful planner. Devyn was by our side from the first meeting to our wedding day; ensuring we were on track, at ease, and every small detail was met to our liking. She will advocate for you as a couple and provide insightful suggestions to guide you through the entire planning experience. We so thankful to have had the opportunity to work with her and would highly recommend Emerald Event's expertise. Best day ever!!


Jessica A.

Married on 07/16/2022

Beyond Amazing

I cannot even express how amazing it was to work with Devyn. She was invaluable to our wedding planning process. She is extremely hardworking, organized, detailed and professional. She was present from start to finish. She coordinated our site visits seamlessly and was present for them. She gave us great vendor recommendations and was readily available to give expert advice whenever we had questions. She suggested great budget friendly options during the curation process that fit our vision perfectly. We were blown away with how perfectly everything came together at our wedding. Devyn and her team did an excellent job at coordinating the vendors and the wedding program. Not a single thing went wrong. It was such a stress free day! Our venue was absolutely stunning and we had such a great time. We really appreciate all the hard work Devyn put in to make sure we had such an amazing wedding day. We highly recommend Devyn! She is truly exceptional at what she does.

Erin M.

Married on 03/05/2022

Devyn & team were absolutely outstanding!

Outstanding- Great expertise in finding, negotiating with, and managing vendors. Awesome can-do attitude- did whatever it took to make our event wonderful. Creative ideas and guidance. Totally responsive to our needs. Devyn was a joy to work with and we cannot imagine having pulled off a beautiful, elegant event in our incredibly short time, due to covid, without her help and expertise!

Marisa S.

Married on 10/18/2021

Amazing experience + highly recommend

Hiring Emerald Events as our planner was hands down one of the best decisions we made. From beginning to end, Devyn (the owner and lead planner) was incredibly helpful, organized and detailed. I was so thankful to have her those weeks leading up to the wedding to tackle those last minute details and vendor communication when our schedule was jam packed. As nerve wracking the day of the wedding can be, I can 100% say that there was not one time when we were stressed. We had complete confidence in Devyn that our event would be executed flawlessly. Our wedding was perfect and better than we could have imagined. We also received so many comments from our guests of how smooth the night went and how helpful Devyn was. We would absolutely recommend Devyn and Emerald Events!!

Shannon R.

Married on 10/15/2021

Above and Beyond!

Hiring Emerald Events was the best decision we made for our wedding. The entire planning process was seamless and stress free thanks to all of Devyn's hard work. Planning a wedding during COVID can come with many challenges but I never had to experience any of those hardships. Devyn had back up plans ready to go just in case it was needed. On the day of our wedding, everyone commented on how relaxed I looked and that was all due to Devyn!

David L.

Married on 06/19/2021

Devyn is a true professional with great taste and a keen attention to detail only surpassed by her hard work and lovely demeanor.




My wife Elizabeth and I hosted a wedding at our home in Osterville on June 19th. This was our first experience hosting such an event and it was a little daunting, thinking 150 people would be in our backyard. Despite our concerns the wedding could not have gone more smoothly or been more spectacular.

I am certain that it would not have been so perfect without the expertise and hard work of Devyn Facchetti. She was completely prepared having walked the property months before and having made all the appropriate connections long before the wedding weekend. Her preparation was evident with all the subcontractors recommended by Devyn setting up the venue without stress or incident. Her taste in music, flowers and the like were impeccable.

On the day before the wedding and the morning of the wedding, she was in constant movement making sure that everything was perfect, and it was. She accomplished the whole event from behind-the-scenes. If you did not know what she was doing, you would not even know she was there and when you did have direct contact with Devyn, she was always upbeat and to the task.

If we ever have an event of a similar nature, we will hire Emerald Events and Devyn Facchetti without hesitation. I give my highest recommendation possible to Devyn and her company and should anybody wish for a more detailed recommendation they can contact me at (508)778-0303.

David Lawler


Meghan S.

Married on 06/18/2021

Wedding planner

Emerald events was everything!!
To get started, getting engaged and married during a pandemic was a bit stressful and full of unknowns. Devyn (Owner of Emerald Events) took away all the worries and stress from the start all the way to the wedding day.
She was extremely prepared and organized and full of knowledge regarding vendors, details and budgeting.
Our wedding was an outdoor back yard wedding, meaning we had to find many different vendors( rentals, catering, florist, photography, toilets etc.) Devyn was at the venue day in and out the days and nights leading up to the wedding to assist with set up and questions. Which allowed me and my husband to throughly enjoy ourselves without worry. She truly made our dreams come true and made it look easy. If you are looking for stress free wedding planning- Devyn is your girl! She provides amazing service whilst smiling the entire time!!

Would 10/10 recommend!
Thank you so much emerald events!
Love, the Crockers


+ 2

photos

Kayla

Married on 08/28/2020

Carey Wedding Day

I HIGHLY recommend Devyn to be your wedding planner! She was amazing! Steve and I were over the moon at how spectacular our wedding day turned out! It was entirely stress free (aside from the usual bride stress any bride will feel on their big day)!! Emerald events was so helpful the entire year planning down to the hours following the completion of my wedding. Tracking down vendors during a pandemic is not an easy task but Devyn made it all happen for us. Numerous changes due to the pandemic when it came down to restrictions and head counts, I could rely on Devyn for making sure I did not panic. She always kept me in check with the entire planning process and communication was excellent. Thank you for turning our dream wedding into reality!!

Samantha

Married on 07/06/2018

Devyn was absolutely amazing! We had planned for an outdoor wedding but the weather had other plans. She kept me calm and had everything under control from all aspects of the night! she took all my worries away! From the dj to the reception and the photography she handled it all like superwoman! I had the time of my life and she was a major part of it! I woke up the next day and wanted to do it all over again! thanks Devyn and emerald events!~ strongly recommend!!!

Chris

Married on 10/21/2017

Hiring Emerald Events was the single best decision we made in planning our wedding. We initially hired Devyn due to major turnover in our venue coordinators, and she did an absolutely beautiful job picking up the pieces and executing our wedding weekend PERFECTLY. We hired Devyn as our "day-of" coordinator so that we could sit back and enjoy our wedding, but she started working with us FAR in advance to make sure that the day was perfect. Devyn was incredibly detail-oriented, working with us first to construct a detailed timeline that laid out our rehearsal, rehearsal dinner, wedding prep, ceremony, and reception down to the minute. Devyn was SUPER responsive and always available to meet with us (including when our venue coordinator quit 3 weeks before our wedding and we weren't sure how it was going to come together). Devyn gave us the confidence that everything would be ok through her constant support and understanding. She contacted all of our vendors and shared the timeline with them so that everyone was on the same page. For our rehearsal and rehearsal dinner, she arrived early to make sure everything was set up and ran smoothly. On the day of our wedding, she arrived at 8 am and didn't leave until 10 pm, and she did a beautiful job making sure everything was set up perfectly and that the whole thing went off without a hitch. She handled everything from ensuring food for the bridal suites was delivered to setting up decorations. The best part of her work is that there were a couple issues with the venue that she resolved without us even knowing; we did not have to think about a single thing on the day of our wedding outside of having the best time. On top of that, our guests and family really enjoyed her, and our vendors loved working with her. We would VERY highly recommend hiring Emerald Events to provide organization, structure, and some peace of mind on your wedding day!

Camille

Married on 10/21/2017

Devyn was a wonderful planner to collaborate with. She was very organized and detail-oriented, which made working with her easy and seamless! I would recommend her and her company to any bride looking for planning services for their big day!

Bear

Married on 10/21/2017

As a wedding band, we've worked with countless vendors over the years. Devyn at Emerald Events is hands down one of the BEST! From the moment we got in touch almost a year before the wedding took place, it was obvious she knew her stuff. She was super responsive via email and texts whenever questions came up, and she gave us clear directions for timeline, vendor load-in and special requests from the couple as soon as we needed them. She even handled vendor payment details so the couple didn't need to worry about it.

When we arrived for the wedding she was already hard at work and met us with a huge smile, and you could tell she was super excited to be there. She's a pleasure to work with, pays incredible attention to detail, and she worked hand in hand with us through every minute of the event - from hours before during load in, right through the final dance - to make sure we were all on the same page.

Some planners have a "set it and forget it" mentality - once the planning is done they take a back seat and just let things happen. Devyn was a complete rockstar and had the event's success and the couple's happiness in mind from beginning to end. We'd be absolutely thrilled to work with her again!

Shannon

Married on 08/13/2016

Devyn Facchetti was the wedding coordinator for an enormous, amazing, wedding on the Cape in Osterville (at Nauticus Marine), this summer that I was the hired to be the professional photographer for/at. I cannot even BEGIN to express the necessary and proper amount of PRAISE and GRATITUDE and absolute awe, that I am still feeling, after working with her. She is the #1, most organized, most detail oriented, most thorough coordinator I have ever had the pleasure of working with IN MY ENTIRE CAREER. She is classy and spirited, helpful and organized beyond words and the wedding and her dedication and her abilities were by FAR, off the charts. I sincerely, hope and pray she is commended and praised for her over-the-top perfection she delivered in all aspects of the day, the weekend, the time she spent planning, organizing and her execution of this absolutely monumental 100% perfect and beautiful event. I don't know how anyone could have pulled off this gigantic, complex, time constrained affair, but she did so with such poise and elegance and class and in the most professional manner I could have ever witnessed. I hope to work with her again and again and again. She made my job (and the jobs and tasks of every one involved) the easiest, most organized and on point experience and atmosphere. I cannot say thank you and cheers and congratulations enough to Devyn, for the perfect and most wonderful work experience I have ever had.

Chelsea

Married on 08/13/2016

If you are looking for a kind, hardworking, wildly organized, perfectionist with great ideas and someone who will turn your dreams into reality, then you have come to the right place! Devyn of Emerald Events is all of that and more. From the very first day I reached out to Devyn she was nothing short of poised and professional. Initially I planned to only utilize Emerald Events' Day of Services, however, after my planning got well underway I realized there was no way I could pull off the perfect day without more of Devyn's assistance. Without hesitation she stepped up to the plate, organizing a vendor by vendor budget, full wedding weekend itinerary and also began reaching out to each of my vendors by email, phone and written letters (on professional letterhead to boot)! I was working with a budget and let Devyn know that from the start. She was very willing to work within my budget and even found vendors, such as a videographer, I never believed I would be able to afford. My particular venue was merely a piece of land, so as you can expect with a blank slate it can be fun, but a bit overwhelming. I provided every ounce of detail down to the forks! I am a perfectionist myself and had a vision of my wedding for years and I will admit I was afraid I would never be able to have someone else pull off what I thought was only in my head, but boy was I wrong. Devyn captured every last detail and then some. We met numerous times all of which she came prepared and organized. Last but not least, not only is Emerald Events all around the best Cape Cod and Newport have to offer, they are affordable and will provide you with electronic billing!! The best decision you can make is to hire Emerald Events as your wedding planner!! You will never regret this decision!! Thank you Devyn, for making my wedding nothing short of the most beautiful and by far BEST DAY EVER!!
Are you interested?
Send a message