108 Reviews
Recommended by 98% of couples
Quality of service

4.9 out of 5 rating

Average response time

4.9 out of 5 rating

Professionalism

4.9 out of 5 rating

Value

4.8 out of 5 rating

Flexibility

4.9 out of 5 rating
42 User photos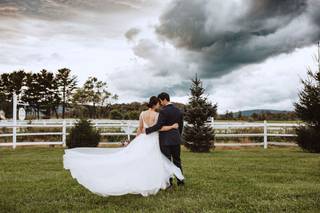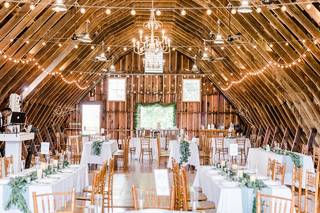 + 38

photos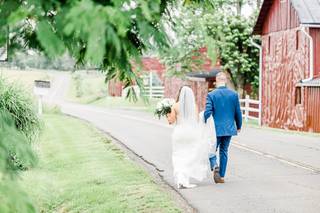 Michelle B.

Getting married on 11/01/2023

Spectacular

East Lynn was the perfect venue for our daughter's wedding. The team was a pleasure to work with and the area is gorgeous. Many of our guest were from out of state, and they were taken aback by the beautiful views and warm farmhouse and hayloft. Hire Smokin WIllie's BBQ for your caterer... and you have a perfect day!

Beth S.

Married on 10/29/2022

Beautiful venue!

I was part of the bridal party for the Windsor/Cruz wedding in October 2021. I can't speak highly enough of how beautiful and scenic the venue is. Having a location that includes a space for the ceremony and reception made it very convenient and easy for the guests to transition from one to the other. The reception space was gorgeous and made for an amazing party space.

East Lynn Farm's reply:

Thank you so much for your awesome review! We are so appreciative when wedding guests/party take time to review our venue-So glad you had a great time at the farm!

Eden

Married on 09/04/2022

Incredible Wedding Guest Experience

I attended this guest as a wedding in September and found this farm to be absolutely astonishing. The farm was breathtaking with different flowers, animals, and an incredible backdrop.

East Lynn Farm's reply:

Thank you so much for this kind review! We are so happy you had such a great time and honored you took the time to leave this review.

Are you interested?

Send a message

Jacob

Married on 09/04/2022

A truly incredible wedding

This fall, I had the pleasure of being a wedding guest at East Lynn Farm and it was hands down the most tasteful event and beautiful venue I've ever visited. The property is naturally magnificent, well taken care of, and manicured—but not like a country club, rather a screen saver image. The barns have a rustic, industrial appearance but are quite elegant with beautiful wood floors and ceilings. It turns out that the goats on the farm love to be fed by hand, too.
I usually don't leave reviews online but this venue 100% deserves the praise!

Jamie

Married on 07/23/2022

Great Experience as a Guest

My friend had a wedding here this past summer, and I am so glad I came. East Lynn Farm is gorgeous — the incredible mountains, the farm itself, the interior of the barn, etc. Could not recommend more to anyone in the area!

Kara

Married on 06/18/2022

Beautiful Wedding Venue

As a close friend of the bride, I saw firsthand how helpful and kind the owners of the farm are. They offered us recommendations for every part of the wedding — caterers, photography, tents, etc. Beyond the friendliness of the owners, the farm itself is stunning (almost out of a movie). Really beautiful! All of the photos from the wedding came out gorgeous and so unique!

Sandra

Married on 06/05/2022

Stunning Farm!

East Lynn Farm is stunning. There is no other word that better encapsulates how breathtaking beautiful this farm and wedding location: the scenery, the milk-barn, the ample space, the flowers/greenery. Also the staff is extremely helpful.

Mary C.

Married on 04/23/2022

Unforgettable Wedding Venue!

We always wanted a beautiful natural setting for our wedding and what better place than a farm! East Lynn was the only one of the many venues we looked at that was an actual working farm. We were living out of state when we booked this venue. When we finally came to visit, it was even more stunning in person than it was in the photos! We encountered a lot of unforeseen challenges that came with COVID-19 - including having to reschedule our wedding date two years after we booked the venue. We were lucky enough to work with the hugely accommodating staff here who helped us navigate every obstacle we encountered with ease. Leading up to our wedding, we were able to visit the farm every season which helped us narrow down which areas we wanted to use for each event. Their event manager, Allyson, was very timely with communicating and was very professional. Georgia, the owner, was so easy-going and was very welcoming. Our spring wedding at East Lynn Farm was a dream come true!

East Lynn Farm's reply:

Thank you so much for taking the time to write this lovely note Mary! We are beyond happy you had such a wonderful experience and honored you chose us to host your incredible wedding!

Jenifer

Married on 10/23/2021

Amazing Experience!!!

Matron of Honor here— Shelby Windsor and Victor Cruz got married here on October 23,2021 and the experience was amazing!! The venue is unbelievably beautiful and the evening went so smoothly! I wish I would have known about this venue when I was getting married:-)
Will definitely recommend this venue to everyone I know who is looking for this type of venue for their weddings :-)

Betty

Married on 10/16/2021

Beautiful farm venue!

We just had a beautiful mid-October wedding at East Lynn Farm! Like many couples, we had to postpone our wedding after booking for 2020, but owner Georgia and assistant Allyson were very responsive and understanding in working with us to select a new date - just as they were throughout the whole planning process and while working with our wedding coordinator, Virginia from V&V Wedding Planning & Coordination. The scenery around the farm, with grassy pastures and cows roaming along the hills, is simply spectacular. In terms of a getting ready space, the Inn on the property is a gorgeous historic house with lots of character. There are multiple ceremony sites to choose from, including the rustic barn milk parlor, which we ended up using due to a bit of rain on our wedding day. The team at East Lynn Farm made sure that day-of change went smoothly, and despite the cloudy weather our photos turned out more beautiful than we could have imagined. We would definitely recommend this venue to any couple looking for a scenic, cozy farm setting with plenty of options to choose from for their big day!

East Lynn Farm's reply:

Thank you for your review!! We are so glad you had your dream wedding here at the farm! It truly is a beautiful place (even when the weather isn't what you expect!). Happy you were still able to get great pictures and to have a perfect day!

Susan

Married on 06/12/2021

Lovely wedding venue!

We are delighted that we chose East Lynn Farm for our daughter's wedding reception. It is a lovely wedding venue with a charming farmhouse inn and barn with breathtaking views of the Blue Ridge Mountains. A perfect setting to make your special day unforgettable!

East Lynn Farm's reply:

We always love to hear what part of our venue guests love the most! Thank you so much for taking the time to give us your fabulous review and we are honored you chose us to host your daughter's reception here at the farm!

Derek M.

Married on 06/12/2021

June 2021 Wedding

My wife and I had our wedding reception at East Lynn Farm this past June. We really enjoyed working with Georgia and Allyson. They were so kind and accommodating throughout the planning process and made everything come together seamlessly. The farm and the barn are beautiful and made for great pictures as well.

East Lynn Farm's reply:

Thank you so much for this kind review Derek! We are ecstatic that you chose us for your wedding, and we were able to give you and your family this wonderful experience! We also love your profile photo :)

Amanda M.

Married on 06/12/2021

Wonderful venue!

2021 bride here! My husband and I had our wedding reception at East Lynn Farm in June of 2021. Everything about the venue was incredible. We had such a positive experience working with Georgia (owner) and her assistant, Allyson. They were so kind, responsive, and accommodating throughout the entire process. They were always ready and willing to answer any and all questions I had while planning which was super comforting. Georgia took the time out of her day to come meet me at the venue multiple times in the months leading up to the wedding (for planning, walk-throughs with our wedding coordinator, and even engagement photos with our photographer!) She was always so sweet and patient, we truly couldn't have asked for a better person to work with. Not to mention, the farm is absolutely GORGEOUS! It is extremely well kept and we loved everything about it. We used the outdoor space and the bottom floor of the barn for cocktail hour and had our reception upstairs. My bridesmaids and I also stayed at the Inn the night before the wedding and got ready there in the morning. Again, everything was extremely clean, well-kept, and overall just really, really beautiful. There are so many ways to utilize the space at East Lynn and really make the experience your own which I think is a super cool, unique thing about this venue. I definitely recommend East Lynn to any brides looking for gorgeous views of the mountains, lots of open green fields, and a rustic feel for their wedding day.

+ 4

photos

East Lynn Farm's reply:

Thank you for taking the time to give us this kind review! We are so happy to have hosted your wedding and so glad it was everything you envisioned your experience to be! P.S. Your pictures turned out magical!

Michaela

Married on 01/01/2021

Great venue for a wedding or any event!!

Vickie S.

Married on 08/29/2020

Mother of the bride review

I am the mother of the bride - Sara Shaw , bride, married to Marshall Alexander 8/29/2020. Venue was beautiful and tranquil setting. Would recommend it for other couples.
Vickie Shaw

Matthew H.

Married on 08/29/2020

Great summer wedding venue

I visited as a guest for the Alexander's wedding in August 2020. This is a great venue with lots of outdoor space. The staff were pleasant and helpful. Good indoor space with a rustic theme and plenty of ventilation for those hot evenings.

Lauren

Married on 01/19/2020

This was one of the most impeccably beautiful landscapes for a wedding that I've seen in a long time. The weather could not have been more perfect, yet even the sunniest of days would not have done East Lynn Farm justice alone. From the sheep grazing out to pasture in the distance to the tallest gorgeous trees flanking one of the primary ceremony sites in the grove to the quaint farm house (complete with quintessential farm house interior) to the sprawling lawns around the barn. The barn itself is a beauty with an expansive and sunlit reception space in the would be hayloft and extra room beneath in the milking stalls of the barn. The farm has been lovingly restored and polished to be the perfect backdrop for any wedding. The wedding I attended was in the afternoon-- 3:30pm which is the perfect time for a ceremony given the way the light falls on the grove-- followed by a reception into sunset, the ideal time for "golden hour" photos in the fading light, which made the barn and reception area positively glow. Anna was a fantastic support throughout the wedding process and made sure to pay close attention to each detail along the way. Smoking Willie's was the caterer and not only was the food absolutely delicious, but it also was one of the best orchestrated catering set-ups and break-downs I've seen. East Lynn brings in great vendors. Definitely a winner for any bride and groom looking for a VA country wedding with charm and elegance.

Sasha

Married on 01/10/2020

Picturesque Wedding Venue

The venue was beautiful - tastefully rustic and picturesque. The fields and countryside make for a wonderful backdrop and the barn was beautifully lit and romantic in the evening. The dance floor was the perfect size!

Robert B.

Married on 01/10/2020

Awesome Rustic Setting

The countryside setting was beautiful, and the barn hall was classy. All the amenities were top-notch and convenient.

Very accommodating. Very sweet owners. Easy to contact by email or phone

A most beautiful setting!!! The hayloft was beyond our expectations and we could bring in our own caterer. Only downside, it isn't handicap accessible.

Arianne P.

Married on 10/13/2019

Picturesque

Was at a wedding, 2nd week of October. The venue and weather could not have been more perfect. Venders could easily set up and there was no hassle.
This was one of the best hidden gems o could have dreamed off

Jeff

Married on 10/13/2019

Excellent venue and experience!

My sister and her husband chose East Lynn Farm for their wedding in 2019. The venue was spectacular from start to finish, including the perfect rustic ambiance/experience they wanted. Staff were friendly, helpful, and available, and the event went off seamlessly. Thanks to East Lynn Farm, it was a special occasion to enjoy.

Andrew J.

Married on 09/07/2019

The perfect farm wedding venue

My wife and I were keen on finding a venue that had a vibrant nature and outdoorsy vibe. We were immediately charmed when we first saw East Lynn Farms, and met the team behind its operation. The owners Georgia and Peter were incredibly supportive, and gave sage advice throughout our planning process. In addition, Alyson, who handles the emails for the farm, was always incredibly quick to provide responses to our questions, and was a pleasure to communicate with.

We visited the venue a couple times throughout 2019 between January and our wedding this past September. It takes some imagination to picture how the grounds would look like on your wedding day, because it transforms so much with each season. However, we thought it was gorgeous and made for a terrific backdrop each time we visited regardless of the season.

The farm is between an hour to an hour and a half outside of D.C. so it is a fantastic option for getting a rustic venue space that is still accessible for our friends living in the city and the families flying in to Reagan or Dulles.

There is a lot of flexibility for events at East Lynn Farms, which may be a stressor for couples depending on their appetite for DIY versus a turnkey wedding option. The farm includes some decorations and a list of recommended vendors, but we were not restricted to the list as long as the vendors we chose had the appropriate license and insurance. The farm allows you to provide our own beverages for events, and we were able to save quite a bit by sourcing our drinks from Costco rather than ordering through the caterer.

My wife and I were initially worried about how hot might be at the tail end of Summer, and we contemplated renting fans or A/C units for the wedding. Thankfully, Georgia advised us that the surrounding mountains provided the area with a cooler ambient temperature and a reasonable breeze that negated the need for that hefty expense. On our wedding day, the weather was perfect! Even at the peak of the afternoon it never got so hot that it was uncomfortable to wear a suit jacket, and at the end of the night it wasn't so cold that one needed a jacket.

There's no limit of the amount of praise and recommendations my wife and I would give to East Lynn! We honestly couldn't have imagined a better place to have our wedding!


Jai B.

Married on 07/20/2019

Best venue ever!

East Lynn is the absolute best venue. They were easy to work with, and I felt like they really cared about helping make my wedding special. I would recommend them to anyone and everyone. Perfect location out in the beautiful countryside.

Lily P.

Married on 06/10/2019

We love east lynn

East Lynn Farm is the place to be! We loved having our wedding here. Georgia was just lovely to work with, and we felt so taken care of. The views are amazing, the barn is stunning, and our entire event was just perfect. Thank you, East Lynn!!
Are you interested?
Send a message