64 Reviews
Recommended by 100% of couples
Quality of service

5 out of 5 rating

Average response time

5 out of 5 rating

Professionalism

5 out of 5 rating

Value

5 out of 5 rating

Flexibility

5 out of 5 rating
6 User photos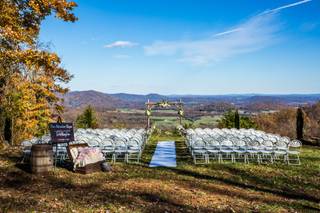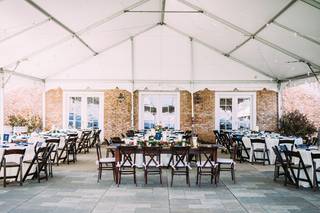 + 2

photos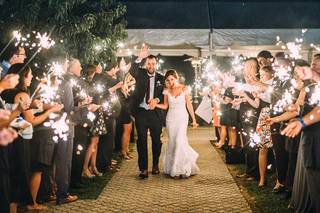 Jessie M.

Married on 06/18/2022

DTAE: Always Goes Above & Beyond

We worked with Julia of Down the Aisle Events for two years leading up to our wedding. Though we purchased her 10-week coordinator package, she went above and beyond to help us corral our vendors and style our venue to create the wedding of our dreams.

After hiring Julia (and an initial meeting), Julia held a call with us to understand our vision at the 10-week mark. From there on, she exceeded any and all expectations we had:
- She handled our complicated family dynamics and vocal bridal party with such grace.
-She handled our vendor communications professionally and acted as our advocate, ensuring we were only paying for services needed and received
-She curated day-of timelines for our entire bridal party and other day-of key players
-She recommended a nail spa for the bridal party and made sure our time there was extra special
-She worked with her wonderful assistant Tasia to style our venue to our exact specifications with the decorations provided. - She understood our individual stress points and so kindly and discretely ensured that our bridal party was prepared and our nerves were calm so we could enjoy the evening with our guests.
-She delivered the leftover cake and treats to our afterparty!

The list could go on! Perhaps most importantly, Julia was warm and fun to work with (we had lots of laughs along the way). We now consider her a friend.

Camille

Married on 11/03/2018

DTAE is Amazing & Highly Recommended!

Down The Aisle Events was absolutely amazing- do yourself a favor and hire them! Julia was so great to work with and I was able to be fully present without any worries on my wedding day. She took care of any kinks that came up and made sure everything was absolutely perfect the entire day. She set up our decorations, which were AMAZING. Coordinated everything with the vendors, was there for the rehearsal and everything. During post-ceremony pictures she even made sure we got a plate of our food from the cocktail hour and the entire bridal party all had drinks! At the reception, she always made sure the groom and I had drinks (and water), that we got to eat, and the bartenders all knew what we were having. It was so important to me that I be able to enjoy my wedding day fully without any distractions, and Down The Aisle Events made this possible! Do yourself a favor and HIRE THEM!

Kaitlin D.

Married on 10/27/2018

Julia and DTAE are amazing!

Hiring Julia and DTAE was one of the best decisions my fiance and I made when planning our wedding. Julia confirmed everything with our vendors beforehand, created a detailed itinerary of our wedding day, and handled complicated family dynamics with grace so that we could relax and enjoy our day. Julia's day-of suitcase was a life saver when my bridesmaids and I were getting ready (tummy troubles and wardrobe malfunctions were solved with her kit, seriously a blessing). We ended moving our ceremony inside due to rain and Julia completely handled coordinating the moving process with our venue. Julia was reliable, easy to work with, and truly a friend by the end of the wedding and I would recommend her and DTAE to all of my friends with no reservations! I would absolutely love to work with her again.

Are you interested?

Send a message

Lisa

Married on 10/06/2018

You DO need a coordinator. This one.

I can't say enough good things about Julia. She was an absolute pleasure from start to finish. We contacted her to provide day-of coordination so that I wouldn't have to worry about anything. I couldn't tell you if there were any hiccups on our wedding day - everything was seamless from our perspective and it was a zero stress event. I was able to relax and enjoy. She was phenomenal and I would absolutely work with her again.

Erin G.

Married on 08/11/2018

Didn't need to worry about a thing!

Julia literally knew to think of everything. I was having such a hard time figuring out details and what I needed to take into consideration, and she always knew exactly what to do. She also took all my decorations and made our cocktail hour and reception hall so beautiful with almost no direction!

Ryan K.

Married on 05/12/2018

Couldn't have asked for anything better

Julia and her team were amazing! They made everything so easy and stress-free. I would definitely recommend them to anybody!

Joan G.

Married on 05/12/2018

Couldn't have been better!

I was able to enjoy the day and relax since Julia and her team were "at the helm" . She took care of any problems that arose and did it in a professional and kind manner. She was always smiling and very accommodating to guests wishes. Even guests commented on her relaxed manner and attention to detail. She is definitely a wonderful choice for any type of wedding or event.

Paige K.

Married on 05/12/2018

BEST Wedding Vendor decision I made!!!

I am so incredibly thankful for Julia Define and Down the Aisle Events! I could not have made it to my wedding day or through my wedding day without she and her team. Julia was originally hired as my day of coordinator, but quickly turned into so much more. She provided planning support throughout the entire process and went above and beyond the "typical" duties that most coordinators include. I always knew that I could count on her for her guidance, wedding expertise, and calming support to cheer me on! My wedding day was perfect with her team by my side, and I knew that I didn't have to worry about a thing. Our wedding day was filled with intricate details that were all so important to my husband and I and her team handled them all with ease and included some of their own special touches into our design. Hiring Julia's team was by far one of the best decisions we made when planning for our special day. For all of the brides that are looking for a wonderful team to help prepare them for the best day of their lives, look no further than Down the Aisle Events! You will not be disappointing, and will come out of your special day with a lifelong friend!

Alicia

Married on 04/21/2018

Julia is the best wedding coordinator you could ask for! She is very organized, professional and very sweet! Julia has great suggestions & ideas and she makes everything you want actually happen & follows through! She made my wedding day completely stress free! Julia is very creative & does an amazing job decorating a venue with the decorations she has! Julia has a very calm personality and is very detail oriented! Julia's assistant she has with her on the wedding day, is also wonderful! I can't say enough good things about Julia & how well she did at making sure the rehearsal and wedding day went smooth! I would recommend Julia to anyone! You won't be disappointed having Julia coordinate your wedding day! She is amazing!!

Barbara

Married on 10/01/2017

We used Down the Aisle Events for partial planning leading up to the wedding and on the wedding day itself. Julia did a very good job. The wedding was perfect! And her suggestions for the reception were helpful!

Erica

Married on 10/01/2017

Julia and team were so helpful in ironing out the details as we planned the event and with keeping everything beautifully coordinated the day of my wedding!! I could not have asked for a more hiccup-free day, thanks to Julia's coordination of the many moving parts!

David

Married on 09/09/2017

Julia was a delight to work with. She is highly organized, which made everything run smoothly on wedding day. My then-fiancee/now-wife and I did not have to worry about a thing. On top of being great at her job, Julia was a pleasure to be around and made everyone in the bridal party, and our parents, feel at ease. I can't recommend her enough.

Amy

Married on 09/09/2017

My wedding day would not have been the amazing, incredible, joyful day that it was without Julia. Having been a part of many weddings, I know how hectic and chaotic things can get - and I've seen my fair share of stressed brides and family running around making sure every vendor has been paid and troubleshooting random issues that come up (shuttle buses, missing decorations, you name it).
While we had a clear vision of what we wanted our wedding day to look and feel like, I knew we would need help bringing it to life. When Julia asked me to describe what I hoped for in a planner, I basically just said "I just want myself, my fiance and our family to be calm, relaxed, and present the whole day". Having Julia there made it possible for that wish to come true. She was in close contact with me in the weeks leading up to the ceremony - assuring me that she had every tiny detail covered and bringing up things I hadn't even thought of. She carefully reviewed every contract, timeline, and list, to make sure there were no inconsistencies, errors, or questions. She coordinated with all of our vendors to ensure seamless drop-off and setup, and she wrote out a detailed timeline for all of our wedding party, family and VIPs, to keep everyone on schedule and informed.
I'm pretty confident that there are many, many little things she handled on our wedding day without me ever knowing - and this allowed me to be fully present and relaxed all day long. I can't recommend her more highly as a planner - she's calm, incredibly organized and detail oriented, and you know that she's got your back no matter what happens. She's also just an incredibly delightful person to be around! Julia, thank you for making my wedding day even better than I ever imagined!

Nancy

Married on 09/09/2017

Our daughter was married in September. Julia and her team served as our "day of" planners and they were amazing! Any time anyone had a question, I said "let me ask Julia" and it was taken care of. Having her there allowed all of us to relax and just enjoy the day. She handled all vendor gratuities, distributed a wedding day schedule to the families and wedding party that was incredibly detailed and left nothing to chance, coordinated with vendors to make sure everything was set up exactly as Amy wished (I saw Julia moving banquet tables around herself at one point) and collected all leftover items at the end of the evening. It was a wonderful day and Julia was a big part of that.

Sylvia

Married on 07/22/2017

I first met Julia at my nieces wedding. To be honest, I couldn't imagine why you would need to pay someone to help. After working with Julia
And her assistant I decided I most definitely wouldn't want to navigate our upcoming family wedding without her. I had already overseen two of our daughters weddings and was thrilled to have Julia take the lead. I have to mention our wedding was Dutch/American(many international guest)with a mix of traditions and lasted all day. I would hire Julia again, she is a delight to work with and knows her stuff!!!! Thank you Julia!!!!

Amanda

Married on 05/27/2017

I highly recommend Julia for your wedding. She was an amazing help from beginning to end for my daughters wedding. I can honestly say that everything from the rehearsal to the wedding was absolutely perfect. And her support leading up to the day was wonderful as well.
Julia is a gifted natural leader and she has a very sweet calming way about her. She will listen to what you want and she will make it happen. She is not pushy or bossy. She is amazing!
The day of the wedding,my daughter nor myself were worried as we felt assured that we were in good hands and we were.
As the mother of the bride, I will forever look back on my daughter's wedding with happy memories of the whole process and their day. It was amazing! I totally attribute this to Julia's amazing leadership. She thought of everything!
From our guest, I heard nothing but praises for the wedding that truly went off without a hitch.
Thank you so much Julia! you are awesome!


Sara

Married on 05/19/2017

My daughter was married on a beautiful May afternoon outside by a lake. 20 minutes before wedding a thunderstorm came up. Julia was the calming force that saved the day! She regrouped all guests into barn, reorganized drinks and hor d'oeuvres. She saved the day. 1/2 hour later my daughter had her dream wedding. I was able to enjoy my daughters beautiful day because all stress was taken off of me. She did a fabulous job with all details. If you are looking for the "best" wedding coordinator Julia is that lady !


Ally

Married on 11/20/2016

Awesome! Super helpful, creative, resourceful, and great working with multiple families!

Jessica

Married on 09/18/2016

Julia was an absolute dream to work with! She picked up all of our missing pieces, and really made our wedding day flow. I would recommend Down The Aisle Events to any and all looking for a wedding planner that truly knows what they're doing, and works in a professional and effective manner.

Hailey

Married on 09/10/2016

It was an absolute pleasure to work with Julia! There isn't a single bad thing I could say about her or her service. Throughout the planning process, she managed to ease all my stress and fears about the wedding (which is saying something because I am a worry wart!) while also facilitating several aspects of our big day. She made a timeline for us, organized the rehearsal, managed vendors the week before and day of, and decorated the venue on the day of so that everything was just perfect. Several of my friends and family said this was the best wedding they had been to in a while! I would highly recommend her as a wedding coordinator because she is an awesome person who really cares about you and your wedding!

Kate

Married on 09/03/2016

Julia was a pleasure to work with! We hired her as a day-of coordinator and turned everything over to her in the week before our wedding. We were able to be completely present and in the moment on our day. Our wedding was absolutely flawless, and we have Julia to thank for that!!

My wedding day would not have been what it was without Julia. I had just finished getting my degree and graduating college, so I wasn't able to devote as much time towards planning the finer details of my wedding (which was 2500 miles away from where we currently live). Needless to say, I was a massive ball of anxiety. Julia always managed to put things into perspective for me and set me at ease. When the big day came, she rolled right into action, coordinating the vendors and guests, and was always quick to help when one of my girlfriends needed a pin or anything at all- she seemed to carry the world of rescue items in her Mary Poppins-like emergency kit. She was able to anticipate every need of guests and the wedding party so seamlessly. If anything went wrong, I certainly didn't know about it! Guests are still telling us how much they enjoyed the ceremony and reception. Our wedding was not at a venue, but on a private property in Virginia, which meant orchestrating the services and timing of several different vendors that one would normally have at a major venue. No easy task! I highly recommend Julia to any bride, she will put your needs first and is an absolute miracle worker. Remember, it's YOUR wedding day and you deserve to experience all of the best parts of it and leave the big stuff to the pros. Thank you, Julia!! You're the best!

Kelsey

Married on 05/28/2016

Julia was great to work with! I used her has a day of coordinator, but she was so much more than that. She helped with anything I needed all throughout the planning process. She had great suggestions while also being very open, reminding me that it was our day. On the wedding day, I didn't have to worry about anything! I highly recommend her!

Alexandra

Married on 12/27/2015

Hiring Julia was hands-down the best decision we made when planning our wedding, she went above and beyond anything we expected! She covered everything we could think of and so many more things that never crossed our mind. When the hair and makeup stylists didn't show up, Julia helped find other solutions and got in touch with the salon. She even fixed the bustle of my dress after it ripped out with her suitcase of supplies! After seeing how crucial she was on our wedding day, I really can't imagine how I would I have done it without her. My husband and I (and our parents) were truly able to enjoy our wedding and spend time with friends and family thanks to Julia.

Down The Aisle Events, LLC's reply:

Thank you!! It was an honor and privilege to be apart of your amazing wedding! your love for each other was tangible and your friends and family are the best! I wish you the absolute BEST that life has to offer and can't wait to watch your love flourish in the years to come!

Laura

Married on 10/03/2015

Julia and her team did a great job coordinating the day of our wedding. She was easy to get in touch with leading up to the big day and had many helpful suggestions. Her efforts were very detailed and organized. Even with the buckets of rain we got leading up to our wedding she was able to make it a fun day. Her contact with my other vendors and the owner of the venue kept everything o bun track and we had an amazing day! I couldn't recommend her highly enough!
Are you interested?
Send a message