Reviews
4.8 out of 5 rating
Quality of service

4.7 out of 5 rating

Average response time

4.8 out of 5 rating

Professionalism

4.8 out of 5 rating

Value

4.7 out of 5 rating

Flexibility

4.8 out of 5 rating
95%
Recommended by couples
4 User photos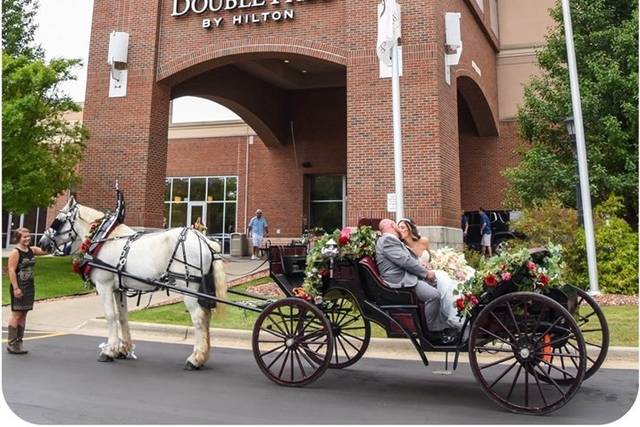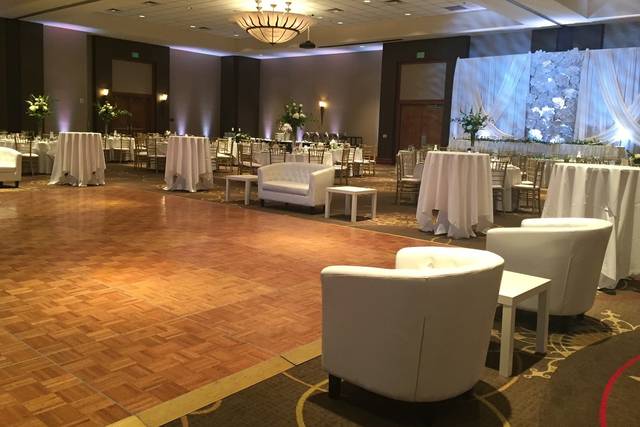 Abby O.

Married on 09/02/2023

The most incredible day

The Doubletree staff (Valarie Gulde in particular) were absolutely incredible. Everyone was extremely helpful and so sweet during our planning process. We had a decently big wedding (about 200 people) and I was so stressed out wanting everything to be perfect. I was in contact with Valarie for about 1.5 years before the wedding and she was ALWAYS available to help me. She even made sure she was there the day of the wedding to give me some piece of mind. Our day truly went off without a single hitch, the doubletree staff took care of everything and anything. I cannot recommend the Doubletree enough!

Richard L.

Married on 11/05/2022

everything was taken care of for us. The day was perfict

Azurah was our contact person she was great. From start to finish she was wonderful. What was amazing that they had decoration included that we did not have to pay for. Our floral decorator use these items with her design. The food was also over the top different items that were offered that most of the guests never had, not like a normal wedding reception. It turned out wonderful, so many compliments from our guests.

Alaina

Married on 10/29/2022

Amazing! Felt supported and cared for by their warm professionalism the entire experience!

Our experience in choosing the DoubleTree in Bay City, MI for our wedding was SUPERB. The staff was wonderful and accommodating, from Tricia initially booking our day to all the communications and conversations I had with Valarie in the planning of our day. I had a lot of questions! Valarie was so graceful, timely, and kind with each response. On the day of the event, the event staff from setup through the event were amazing! We received a lot of compliments about the food as well. We even received chocolate covered strawberries and a thank you note in our hotel room from everyone! The DoubleTree in Bay City was amazing! I am so thankful we had our wedding there! Everything was perfect, I mean it.

Are you interested?

Send a message

Megan

Married on 03/20/2020

Everything was perfect!

Two weeks before our wedding our other vendor canceled our contract. Luckily, DoubleTree in Bay City came to the rescue. Their ENTIRE staff was absolutely amazing and made our day better than we ever could have imagined. They were incredibly flexible, helpful, and a DREAM to work with. The space was decorated beautifully, the staff was friendly, and the food was DELICIOUS! We felt supported by everyone at the hotel, but not overwhelmed with questions - something I expected to happen with so many moving parts to our day. I would recommend for anyone to consider having their wedding here.

Kristen A.

Married on 08/30/2019

Making my day an absolute dream

I had my wedding ceremony and reception on August 30th. From the start of planning Tricia was always super helpful and responsive with any questions we had! Let me say this place is absolutely gorgeous a beautiful ballroom and ceremony space right on the water! As the day approached they hosted a taste test which I truly appreciated as not all places let you taste the food for your day! They gave us a packet to fill out all of our details which made all my decisions feel so easy as they were all laid out in front of me. Deanna then went over the details one last time with me to make sure everything was the way I wanted. They take all of your items and set it up for you! Day of the liaison service was amazing! I was stress free on my day thanks to them! They made sure things ran smoothly and on time! Doubletree made sure my needs were met and always were happy to help! My wedding planning truly was so much easier thanks to them! And my day was absolutely perfect and beautiful, everything I had hoped to be and more! I would recommend this place to everyone! We recieved compliments for weeks after from our loved ones saying it was one of the best weddings they attended! Thank you Doubltree especially Tricia and Deanna! My day was an absolute dream! Any brides and grooms interested also note that I was able to have my dream wedding and stick to an amazing budget! They offer many packages including Friday and Sunday deals!

Allie

Married on 08/03/2019

Ceremony & Reception

We couldn't have made a better choice to host our wedding at the doubletree on 8/3/19. Tricia and Deanna were absolutely wonderful to work with during the whole process. They were prompt at responding to any question or concern I had. The staff the day of was friendly and went above and beyond to help our guests. The food was absolutely amazing and all of our guests kept commenting on how it was the best food they have had at a wedding! Thank you so much for everything!!

Smith

Married on 03/09/2019

Amazing Experience

Best value , staff, food , beverages , indoor ceremony site and beautiful location ! The venue was amazing for pictures and hotel guests enjoyed the hotel rooms, outdoor seating , and breakfast .

Nina B.

Married on 02/12/2019

Amazing! Exceeded all expectations!!

It was a great experience from day 1 of planning the wedding reception with Double Tree/ Tricia Coonan. Tricia had great suggestions and took all the stress out of planning. Every staff member we came in contact with made our day special.

DoubleTree by Hilton Hotel Bay City - Riverfront's reply:


Thank you for taking time to give such an amazing review. It was nice working with you on your special day. Hopefully we have the chance to work together in the near future. Congratulations again and thank you for selecting the Doubletree by Hilton Bay City Riverfront. Best of luck in the future, Tricia Coonan
Wedding Sales Manager


Brittany C.

Married on 01/26/2019

Double Tree Bay City

Working with the double tree was smooth from our very first tour. Tricia was beyond helpful and answered all questions quickly. The venue offered many different options with everything from drink packages, food and decor. The room blocks were very nice for our guests. Lastly, the day of the wedding was a dream. Everyone worked so well together and made every guest feel warm and welcome. Food was top notch!

Brittany R.

Married on 01/26/2019

Double Tree

Great venue, everyone was friendly and wanted to make sure the wedding went smoothly. Planning with Tricia was a breeze.

DoubleTree by Hilton Hotel Bay City - Riverfront's reply:

It was so nice working with you and planning this memorable event. I would also like to personally thank you for taking the time to write a great review!!! Hopefully we have the chance to work together in the near future. Congratulations again and thank you for selecting the Doubletree by Hilton Bay City Riverfront. Best of luck in the future Brittany, Tricia Coonan -Wedding Sales Manager

Lauren K.

Married on 01/11/2019

Tricia and her team made my day feel effortless!

Deciding to have our wedding at the Doubltree Riverfront was a no-brainer, especially once we met Tricia! But we didn't quite understand the implications it would have on that day until it was here. Our reception didn't start until 6:30 and I didn't see the ballroom until 6 - EVERYTHING was set-up the way we wished and absolutely perfect. And I wasn't even stressed about it before hand, I just knew they would do everything to a T. And the best part was watching the staff take everything down after the reception was done. After the long day, I was drained and didn't have to worry or think about putting things away, taking away table linens, etc. Putting the decorating, coordinating, and take-down in someone else's hands was amazing. And it was ALL thanks to Tricia and her team - they expect nothing but the best, and deliver to their brides every time I imagine. I can't recommend highly enough!

Sarah

Married on 06/02/2018

Great Service

Loved every aspect of the wedding!!! Thank you so much Doubletree

Keri

Married on 09/02/2017

The ceremony space was beautiful outside. The staff was so helpful with our reception area. They were so accommodating with all of our guest and any request that we had. Especially with our Ringbearer I had a peanut allergy. I would recommend as a venue for any event the staff was just amazing and went above and beyond any expectation that we had.

Katie

Married on 06/18/2017

The DoubleTree was the perfect place for our Sunday wedding. Tricia, Amanda and the rest of the staff were just amazing — incredibly accommodating in every way — we couldn't have asked for more. From our custom brunch menu to our altered timeline, they were able to work with anything we were willing to do (and more) all within our budget. If you're looking for a beautiful venue in the Bay area, tour the DoubleTree. You won't be disappointed.

Tony

Married on 10/07/2016

The best place to have a Wedding or Conference in Bay City!!
I had my wedding of 300+ and could not be happier for the service and quality I received at very affordable prices.
They give you a great room rate for the Hotel that is connected to the venue that is so convenient for guests!!
They even have a great selection of decor options, and chair selection!!

Dr. C.

Married on 08/14/2010

We had our reception at the Doubletree in Bay City- it was perfect!
Deanna is so great to deal with, and I found the prices to be fantastic. We had our reception in the Davison Room (65 guests at our wedding), and the room was filled nicely.
I had to plan my wedding from a long distance, and the best part about the planning was how much Deanna helped me. I emailed her about a million times, and everytime I received a reply that was very helpful. I was very pleasantly suprised that the staff at the DoubleTree set up all the decor for the venue. Most venues make you set up your own decor (which would be a drag when you want to be out celebrating your day and taking pictures!).

The food was wonderful, and staff were all great. Thanks, Deanna!

Courtney

Married on 08/06/2010

Doubletree Hotel Riverfront Bay City was the perfect location for my wedding. We booked on a Friday and received many incentives including a free brunch the next day! They gave my husband and I a free room for our wedding and more than 70 guests stayed the night. The food and service was absolutely amazing! We went with the lowest food package and still had SO MANY OPTIONS and delicious variety!! I am so happy I held my wedding at the Doubletree and would recommend it to any bride!!

This is a beautiful place to have your reception big or small. It is also in a hotel so you don't have to worry about safety. They have options for plated or Buffett style eating. And will help you with the process.

Jenafer

Married on 05/26/2019

Excellent service and quality

The wedding coordinator (Tricia) is such a blessing to work with; she is responsive, thorough, and helpful all around. She even provided other vendor recommendations. I am having a Sunday wedding, and the extra perks and discounts are awesome!! My brother got married at the Doubletree two years ago and everyone LOVED the food and quality, hence why I chose to have my reception there.

Jenna P.

Married on 03/23/2019

Wonderful Wedding Venue!

Tricia, Stephanie, and the entire staff helped make our March 23rd wedding one of the best days of our lives! From the pre-planning stages all the way through our first days as husband and wife, we always felt important and taken care of by the Double Tree in Bay City! We would definitely recommend this venue for any of your special occasions!

Kim

Married on 10/08/2011

We had a wonderful experience at the Doubletree for our reception. The staff the night of our wedding was above exceptional and catered to our every need.

Kim Kisser the wedding coordinator is fabulous and wonderful to work with.

We had a few food issues thats why I didnt give it 5 stars, but it was still good and I would absolutely recommend this place for a reception.

Victoria

Married on 06/13/2015

I booked a block of hotel rooms at the Doubletree Hilton Riverfront in Bay City for my wedding this upcoming June. Stephanie from Sales was very responsive even though I contacted her during the holiday season. I wasn't sure if the Doubletree would allow us a block of rooms since we aren't having the ceremony or reception there, but I was quite pleased to find out that it didn't matter and we still received a discounted rate. I wasn't quite sure how many rooms I'd need or for which nights but found out the contract is pretty much risk-free because if my guests don't book then the rooms are relinquished a month before the wedding. The contract was very straightforward and didn't require a deposit. Yay, one thing that doesn't require a deposit!!! I was able to easily add additional nights and rooms to the contract quickly when needed. I'm very pleased with the level of service I'm received thus far.

Anne

Married on 09/29/2007

Some issues, but we were able to resolve them without much hassle.

Stephanie

Married on 05/23/2008

Doubletree was great. The food was very good and we recieved alot of compliments. Their waitstaff was very helpful. The management was somewhat hard to communicate with.

Missy

Married on 10/22/2011

There were just so many things that were poorly/incorrectly done (or not done at all). We planned on getting married 2 weeks earlier, but were talked into changing our date so that the hotel could keep that weekend open for conferences that might come up. We found out that the date we had then agreed to was the same date and time as another wedding, but were assured this wouldn't be a problem. At the rehearsal, there were no chairs in the room. On the day of the wedding, the front desk had to find the coordinator, who was missing minutes before our ceremony. The set-up of the room was NOT what we agreed to. The entire front row of guests (including parents and grandparents) couldn't even see our faces. One bridesmaid kept having to shift around so as not to bump knees with someone in the front row. Getting everyone out to the cocktail room was a mess. We were assured that the other wedding wouldn't be done yet so there wouldn't be any confusion. Our guests exited to a sea of other people. I saw the coordinator once, for about 30 seconds, before our reception, and after we were announced and went in, she disappeared. She was gone for so long that vendors began asking me what was happening, and I had nothing to tell them. Our DJ stepped up and took over coordinating duties (and also mentioned to me that the coordinator had never once contacted her) and our photographer had to coach us through cutting the cake. This may or may not be the coordinator's duty, but surely organizing things with the vendors is. When we entered the room, everything was set up differently than the schematic we'd signed off on. All guests were at the wrong tables, because the tables in the room were mislabeled. The flowers weren't where we had discussed, nor was the dance floor, the DJ station, or even the door we were supposed to come in through. The last straw was when my husband walked over to a corner of the room at ten thirty at night and said, "There are desserts over there." We served our cake for the formal dessert, but nobody ever announced to any of us that they had put out desserts and coffee. Everything was wasted because nobody was aware of them. And at some point, half of my mother-in-laws favors got misplaced. The only thing keeping this from being a one-star review is that the facilities themselves were extraordinarily nice, but the staff and especially the coordinator were stretched too thin that night and our wedding suffered as a result.
Are you interested?
Send a message