Reviews
4.9 out of 5 rating
Quality of service

4.9 out of 5 rating

Average response time

4.9 out of 5 rating

Professionalism

4.9 out of 5 rating

Value

4.9 out of 5 rating

Flexibility

4.9 out of 5 rating
98%
Recommended by couples
286 User photos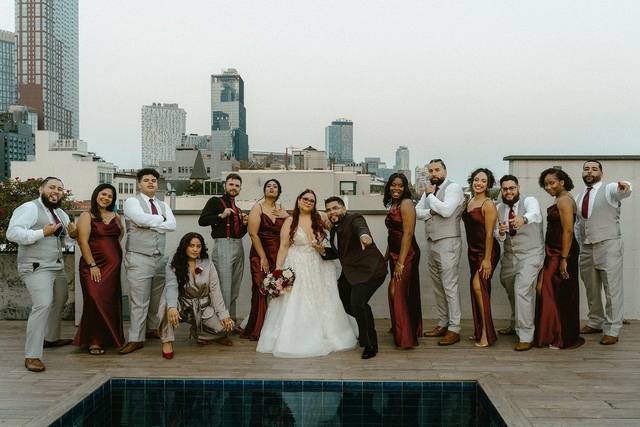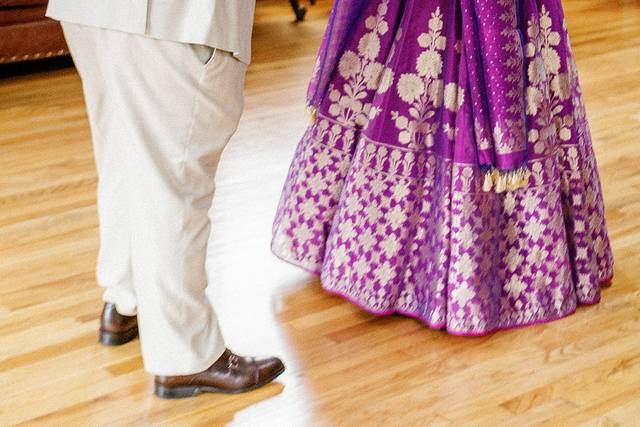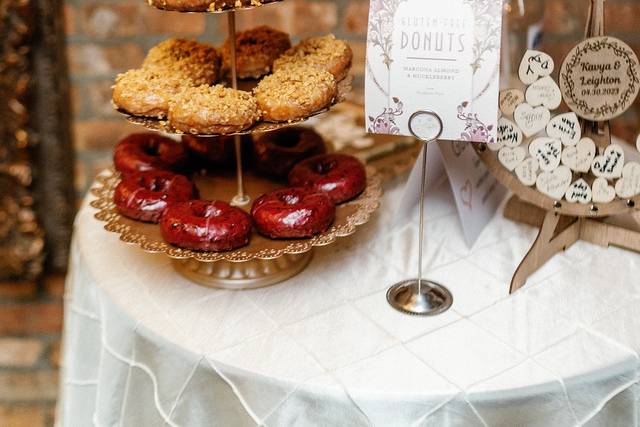 + 282

photos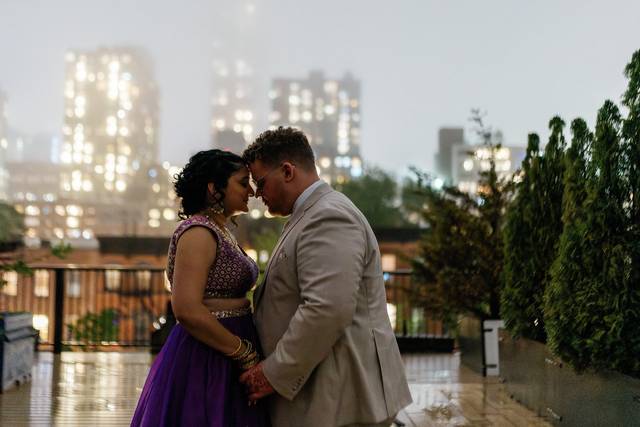 Joel

Married on 08/06/2023

A Dream Wedding at Deity, Brooklyn

August 6th, 2023, will forever be etched in our memories, not just as the day we said "I do," but also as the day we experienced the magic of Deity.

From the moment we stepped into Deity, we were captivated by its beauty. The venue effortlessly marries elegance with charm, creating an ambiance that's both intimate and grand. Every corner, every detail, whispered tales of love and celebration, making it the perfect backdrop for our special day.

But what truly set our experience apart was the staff. Their dedication to ensuring our day was nothing short of perfect was evident in every gesture, every smile. And at the heart of this incredible team was Anna. As our coordinator, Anna was nothing short of a fairy godmother. With a meticulous eye for detail and a passion that's palpable, she orchestrated an evening that was seamless and unforgettable. Every moment flowed into the next, allowing us to be present and soak in the love and joy that surrounded us.

Now, let's talk about the life of the party - DJ Jamal. If you're looking for someone to elevate your event, look no further. His impeccable taste in music, coupled with his ability to read the room, ensured that our guests were on their feet all night long. From timeless Latin classics to Hip Hop hits, and of course hitting every point on our music wish list. Jamal's set had something for everyone. We can't recommend him highly enough!

And of course, what's a celebration without delectable food and drinks? Deity truly outdid themselves. Each dish was a culinary masterpiece, tantalizing our taste buds and leaving us craving for more. The drinks, crafted to perfection, were the cherry on top of an already sumptuous feast.

If you're on the hunt for a wedding venue that offers not just a beautiful space but also an experience, Deity is the place to be. With a team that's as passionate as they are skilled, and offerings that are high-level tasty, your special day is bound to be everything you've dreamed of and more.

Thank you, Deity, for making our wedding day truly magical. We couldn't have asked for a better place to start our forever.

Kelly D.

Married on 05/20/2023

Celebrating Love the Brooklyn Way

From our initial tour of the venue to packing up at the end of our wedding night, the experience at Deity was fantastic. The unique character of the venue immediately drew us in. We loved how it appeared unassuming from the street (we'd actually walked by it dozens of times and never knew it was an event space), but then had so much charm and possibility when you entered. Anna, the coordinator extraordinaire, was such a pleasure to work with and truly made the planning process painless. Anna always exhibited happy patience and flexibility while fielding all of our questions over email or phone as we put together the event. Her recommendations for local vendors were excellent and she made us feel like we were doing great, even when we felt there were too many details still left to finalize. And, although the space doesn't need any additional décor, Anna collaborated with us to add some small extra special touches that we wanted to incorporate that brought our vision of the special day to life.

Deity also provided a delicious food selection and amazing staff for our event. We opted for a standing cocktail style dinner to facilitate chances for folks to mingle and celebrate together. The staff was attentive and made sure everyone got an opportunity to try everything. And the chefs created delightful additions, which of course cemented the rave reviews from our guests about the food and drinks. In the days that followed the wedding, we heard consistently from our guests how we "threw one hell of a party".

For any folks looking to host their event at Deity, we cannot provide higher praises. If your event would benefit from using the suite upstairs or the rooftop, you should do both. We did and have no regrets, even though the weather only gave us a small window to use the roof. The suite was the perfect place for our family and friends to hang out together before the festivities began (which ensured that all of the ladies in the wedding didn't have to worry about messing up their hair in the rain) and some of our best pictures came together in that brief window of sunlight on the roof.

Caio (the owner of Deity) and Anna were a pleasure to work with. Collaborating with great people who want your event to go off as perfectly as you do makes the whole endeavor of planning a million little details so much easier. Deity was the only venue we saw that was 100% transparent about their pricing. There were no surprise charges and fewer moving parts for us to worry about. Which, at the end of the day, just made our decision to work with this amazing team the second best one behind saying yes.


Kavya B.

Married on 04/30/2023

A beautiful, full-service, fun venue

We had the most fantastic time getting married at Deity! We were immediately impressed after taking the tour. So much is included in the reasonable price, the interior is beautiful, and the get-ready suite and rooftop is a major plus. We were not disappointed.

We knew we were going to have a small wedding with a bit of a complicated intercultural ceremony. Anna worked patiently with us for months to pin down every moment of the day. It was also very easy to plan using their recommended vendors (Stonefruit Botanical and Le Image), since they were already familiar with the space.

We made so many precious memories on the day-of — despite the torrential rain! The ceremony went perfectly, the food and drinks and dancing were great, and our guests had a fabulous time. The two of us had a lot of fun, too

We were a bit sad that the rain stopped us from taking pictures on the rooftop. But later in the night, Anna noticed that the rain had let up, and took us up for some portraits. That was so thoughtful! She also made sure we had a private moment after the ceremony to eat and catch our breaths, which felt magical after such a whirlwind of an evening.

Overall it was an amazing experience. We are deeply grateful to Anna and the whole team for giving us such a beautiful day. We highly recommend Deity!

+ 5

photos

Are you interested?

Send a message

Henrietta

Married on 12/18/2022

we had a blast

We just had our wedding on 12.18.22 and had a blast- we'd like to thank Caio, Anna and their staff for making our day so special- we could not be more impressed. From the start of the planning process right until the day of, Deity accommodated everything we needed to ensure our wedding day was perfect. The food was terrific, the chef accommodated our preferences, Anna was on point with every single aspect of the process throughout the day, and Deity staff was warm, experienced, and attended well to our guests. We fully recommend Deity to anyone considering a wedding in Brooklyn, and can be reached on IG @friedm4347 for further testimonial.

Kevin W.

Married on 12/04/2022

Deity - Thank you for giving us the wedding we dreamt about!

Deity was the perfect place to host our wedding! We were hoping to host about 80-100 guests and had six months to plan so the stress was HIGH when we started the process. With that said, we fell in love with Deity as soon as we saw it and meeting Anna, Deity's coordinator, cemented our decision to choose Deity as she answered our barrage of questions patiently. So WHY Deity? The SPACE is unique; you get three floors to host your wedding, each with a different vibe so your guests are entertained throughout the wedding. The FOOD and DRINKS were fantastic, definitely do the pre-wedding tasting and think about doing signature cocktails too. You MUST get the BRIDAL SUITE as it will make your life infinitely easier and we spent the majority of our pre-wedding festivities there. Finally - did we mention it's ALL-INCLUSIVE? AKA you don't have to keep track and pay a thousand vendors. Your fee includes not just the space, but also the food, drinks, furniture/décor, cake cutting, DJ and the priceless advice of Anna (coordinator) and Caio (owner). NO HIDDEN FEES, NO SHADYNESS, ONLY A TEAM that will help you design and have the wedding of your dreams. My wife and I are still riding our post-wedding high and hope many of you will get to experience Deity as well!

Shea C.

Married on 11/18/2022

Deity exceeded our expectations!

Deity was the absolute best choice for our wedding venue. From our first communication with Anna the coordinator we knew it was the place for us. We loved that Deity was almost entirely all inclusive, We just needed to book our florist, photographer and cake/ desserts. We were relieved we did not have to worry about booking a DJ since it was also included at Deity. DJ Ben was great, exactly what we hoped for. Our guests are still raving about how great the food was. Unfortunately we hardly ate any of it, even though Anna and the staff arranged a platter of food for us to enjoy while we had a private moment after the ceremony. We were just too excited to eat, we so regret not just relaxing and sampling all of the amazing food. My husband and I were understandably nervous on the day of our wedding, we would have been lost without Anna. Everyone at Deity is amazing but Anna is truly special. She is unflappable, there is no problem she can't find a solution for. My parents are still talking about how exceptional she was. We are so grateful that we found Deity! We're already looking for an excuse to have another event there. We will cherish the memories from our wedding forever!

+ 4

photos

Victoria G.

Married on 11/05/2022

Absolutely Fantastic!

When my now husband and I first got engaged, we knew we wanted to have a simple wedding with our closest friends and family. I come from a large Italian family and my husband comes from a smaller Puerto-Rican family so between my family, his family and our friends it was around 80 people. Most venues on Long Island wanted at least 100-125 unless it was a weekday wedding, which we did not want to do. We found Deity by luck and we could not have been happier with our decision. The owner, Caio, is super down to earth and dedicated to ensuring that all of the events hosted at the venue go smoothly and as the hosts intend. Caio responded to our request for information super quickly and was very clear and transparent about what Deity was able to offer - this was extremely helpful and comforting. It made us feel like we could trust him and his staff with our special day and would know exactly what we were getting. We then were introduced to Anna, the day-of wedding coordinator, who is an absolute dream to work with. It's clear they work very hard to perfect their service as I truly felt I did not need to do anything the day of except show up and enjoy our time. She made sure my husband and I were well taken care of and the guests never wanted for anything.

The Food was absolutely amazing - our guests came up to us after dinner and could not stop talking about how terrific the food was. One of the best parts of the dinner is that it is served family style so everyone got to try a bit of everything. The whole vibe of this venue is different and people really seemed to enjoy the flow of the day and the atmosphere. I did not buy a single flower as the venue did not need any additional decorating - it was perfect and simple as is.

We opted to rent the bridal suite the morning of and it was the best decision we made for the day. Having the ability to have everyone get ready at the venue and photos done early was a dream. The space was beautiful and we did most of our photos upstairs in the suite and on the roof.

If I could do everything all over again, Deity would still be my first choice. I don't think I can rave enough about the staff, the space, the food, the communication. Everything was just brilliant and AFFORDABLE. It's clear they are in this business for the happiness the comes along with owning an event space and not just about the money.

+ 12

photos

Song K.

Married on 10/23/2022

Amazing Venue, Food, and Staff! (What else could you possibly ask for?)

My wife and I could not be more grateful for having chosen Deity for our wedding! As the title suggest, what else could you possibly ask for when choosing the venue? 1. Venue - with Deity having a variety of spaces providing uniquely different ambience, it's definitely something you will fall in love as soon as you come check out the place for your self. 2. Food - from me and my wife's experience from attending many weddings, we were convinced that the only thing that dictates the good/bad wedding is how well you feed your important "Guests!!" who bless us on the beautiful wedding day. All of my guests have come to us and commented how good the foods were (and the variety of options/menus given) even during the cocktail hour (so they did not think there there will be any foods on the table during the reception haha. The dinner served during the reception as a family style were amazing as well (Short Ribs for entre is a Must!!). 3. Last but definitely not least, the staff. The interactions from the planning phase, Anna and Caio has definitely made the planning & day of the coordination hassle/worry free. My wife and I had considered having a separate wedding planner, but rest assured, you would not need one with the great team you have. On the wedding day, the day-of coordination support from the team was purely amazing (quite honestly not expected, so very pleasantly surprised. All the staff were polite, helpful, very fun to chat with. With zero exaggeration, at least half of my guests have noted that they haven't seen these nice team of staff in any weddings before - you will feel supported and blessed at the same time!! Shout out to the whole team!! Thank you again for making our wedding day a true blessing and want to share my genuine gratitude for making this happen!!

Jaimie G.

Married on 10/14/2022

Unique Venue, Amazing Service - the Perfect Choice for our Wedding!

Looking back on our Wedding at Deity brings a smile to our face every single time we think about it. It was a perfect day filled with love and joy, with so much of that being made possible by the amazing staff at Deity. The moment we walked in we knew it was the perfect venue for our Brooklyn wedding. We met Caio at our first visit and knew we were going to be in great hands. The entire planning process from communication on the details leading up to the day, to the drop off of everything the day before - was all completely seamless and Caio and Anna were so supportive and helpful.

The wedding was a total success and every guest told us how they loved the delicious food, and the amazing the service! Many guests told us it was the best wedding they had ever been to! Emily, our day-of-coordinator, was there for everything and anything we needed, going so far as to even make sure every one of our guests took a picture for our polaroid guestbook!

The Bridal Suite was gorgeous (and huge!), and I'm so glad we booked it for the day. It made getting ready feel so special and the pictures taken there were beautiful. We loved how the wedding felt unique with the transitions between rooms for different parts of the wedding. The venue had its own natural charm and aesthetic that barely needed much decoration. The basement was the perfect setting for the most epic dance party, we had so much fun!

Thank you Deity for making our wedding so memorable!

(photos by @bethanymichaela)

+ 7

photos

Toni D.

Married on 10/03/2022

A Day to Remember

What a great experience Deity provided us on our wedding day! We live in Texas but decided to get married in New York City. We came across Deity early in the process and were intrigued by the fact that the venue not only came with tables/linens, it also included bar service, food and a coordinator, and for an additional cost, a DJ. In addition, we loved that the venue was three levels. The lounge, where the bar was located, was used for cocktail hour. The loft was used for the reception, and the cellar for the dance. We essentially only had to go to outside vendors for the cake and flowers. The décor of the venue did not call for too much additional decorations. We loved the exposed brick, the "Brooklyn Love" sign in the cellar, and the tree in the lounge. We loved the use of candles and lights, as they created the perfect setting.

We ended up booking the venue before seeing it in person, instead choosing to go off pictures, great reviews, and early email exchanges with Anna. Each new question we had was quickly answered by email in a timely manner. We flew to NYC a few months before the wedding, to have our tasting, and wow, what incredible food. The best man also attended to have another opinion, outside of our own. We had our tasting with two other couples which allowed us to try more dishes than we originally expected. During the tasting we also got to meet the Chef. In total, they brought us about 23 dishes, which included hors d'oeuvres, salads, entrees, and sides. We want to warn everyone, please do not eat anything the day of your tasting as the portions are generous and so delicious. The entire experience just reassured us even more that we had made the right decision. The food we decided on for cocktail hour was chicken & waffles, Cuban sandwich, tomato soup & grilled cheese shooters, lemongrass shrimp, vegetable potstickers, & bruschetta. Our salad was the tomato and mozzarella. Entrees included beef short ribs & lemon cream salmon, accompanied by garlic mashed potatoes and mac & cheese. We added a 3rd side, the green beans, at an additional cost. We spent the next few months telling our guest how amazed they would be with the food. As we expected, our guests really enjoyed the food and so did we. There were so many food options that we could have gone with, which was another positive of the venue.

We must give some real thanks and appreciation to Caio, the owner, and Anna. We were only set to have the wedding reception at the venue, the ceremony was supposed to be outdoors, at Dumbo Park, which is about 2 miles away from Deity. The day of our wedding the forecast showed cloudy with no rain. However, mother nature had another idea in mind as the rain began as we had our first look at Central Park, around 2:00 PM. Our wedding was supposed to start at 5:45 PM and we were not supposed to be at Deity until 7pm. Looking at the radar, it did not appear that the weather would clear up (in fact it rained for the remainder of the day). I called Anna to explain the situation, which she was willing to help. In coordination with our officiant, photographer, and Deity we were able to push our wedding ceremony back and have the event at Deity. We could not put into words how appreciative we were of this kind gesture. When we arrived, we were wet & cold, and a little stressed. Anna assured us everything would go as planned and remained patient with us even though it called for some shuffling of tables and chairs. Anna made sure that we had our drink of choice as we waited for the ceremony to begin and before guest were allowed up to the loft. Our expectations were not only meet but exceeded.

The Deity staff was so professional, attentive, and made everyone feel special. Even with this change we were still able to enjoy the entire wedding and reception and our guest loved the entire experience. Anna had a table set up with some hors d'oeuvres and drinks, which created an intimate moment before we went down to the cocktail hour. Nothing ever felt rushed. Even after the event ended, many of our guest were mingling by the bar to say their goodbyes. Caio allowed this even though it was passed the end time. Many of our guest told us what a great decision we made and thought that having the wedding ceremony at Deity gave it a more intimate feeling that we may not have gotten at an outdoor setting. If you are thinking of getting married in NYC, we highly encourage you to look at Deity. It will provide a great experience that will create a lifetime of memories. We had a fairly small event with approximately 35 people but we could see a larger event occurring without the feeling of overcrowding.

Tara P.

Married on 10/01/2022

More than just a venue!

This was a full experience! Deity was nothing short of amazing. This place is a gem. Caio and his team, Anna especially, were so amazing. This all inclusive venue made my special day one to remember. Every detail was brought to life flawlessly. I will hold on to this memory forever more. And, the bridal suite is a MUST HAVE. What an incredibly gorgeous add-on. I enjoyed EVERY second of this day and this process! Thank you from the bottom of my heart.

+ 7

photos

Laura K.

Married on 09/24/2022

Best day of my life

Deity gave us truly an above and beyond wedding experience that couldn't have been more perfect!

My now-husband and I had gotten discouraged by wedding planning since coordinating everything between vendors seemed really challenging and stressful, so we were really excited to find Deity when we searched for all inclusive wedding venues in NYC. After meeting the owner, Caio, and getting a tour we were sold. After that, it was amazing how smooth the process went. Our wedding party and families kept asking how they could help and we had nothing for them to do, and hardly anything to do ourselves. We met Anna (the day-of coordinator) a couple months before to plan out the day, and she was AMAZING leading up to the wedding and the day of.

The actual wedding itself went SO smoothly and was SO fun. We dropped off bags of stuff the night before without any instructions and they just set everything up beautifully. We didn't have to worry about a single thing all day, it was totally stress-free and the most fun day of my life. The guests raved about the venue, the food, the drinks, and the music, and many people told us that it was one of the best weddings they've ever been to. The work that the staff did to make everything run smoothly was so appreciated and everyone commented on how great they were.

I could go on forever about how great Deity and the day was! I can't recommend them enough!

Katy A.

Married on 09/10/2022

Best Venue in NYC

My sisters were the ones who found Deity after a few disappointing weeks of contacting venues that felt like wedding factories that didn't actually care about us. From the first email we received from Deity, we knew they were different. We scheduled a walk through with the owner Caio and left feeling so elated that we couldn't wait to confirm a date. Caio wasn't like the other people we met with. He was very honest, kind, and we could tell he generally cared to make our wedding one of the best days of our lives. The space itself is a beautiful historic building with a ton of character and didn't feel like every other wedding venue. It was exactly what we were looking for. We made a date night of the food and drink tasting and literally had a blast with the other couples there. We rented the bridal suite to get ready in and take family photos. My husband and a few friends spent the morning swimming in the pool on the roof until it was time for them to get ready. 
The party itself was absolutely perfect. Everything ran so smoothly and on time. Our DJ was literally amazing, the food was incredible and we even had a chance to thank the chef in person which my husband appreciated as he used to work in a kitchen. Anna, the day of coordinator, was on top of everything and helped us with all of our questions and timeline in the months leading up to our party. The day of she made sure we had everything we needed and that we stayed fed and hydrated. We could not have asked for a better person to be there for us and she was such a pleasure to work with from start to finish. Our families loved the venue and thought it was such a "unique and cool place to have a wedding". They still talk about how much fun they had at Deity, including my 94yr old grandma who still talks about how it was the best wedding she's been to. We knew we made the right decision booking Deity the day we met with Caio, but looking back months later we feel so lucky to have found such an amazing venue and so incredibly grateful to Caio, Anna, and the whole team at Deity. 

+ 7

photos

Jason S.

Married on 09/09/2022

The Best Wedding Venue!!

My husband and I recently had the pleasure of hosting our wedding at Deity and were blown away by the entire experience. From the moment we stepped foot into the venue, we knew we had found the perfect place to celebrate our special day.

The first thing that struck us was the venue's unique ambiance. Deity combines old-world charm with modern elegance. The beautifully restored 150-year-old building showcases exquisite architectural details, creating a romantic and intimate atmosphere that instantly won our hearts. The carefully curated decor and tasteful lighting enhanced the overall aesthetic, setting the stage for a truly magical wedding celebration.

The staff at Deity were an absolute delight to work with. From the initial planning stages to the day of the event, their professionalism and attention to detail were incredible. Our day of coordinator, Anna, was incredibly knowledgeable, organized, and accommodating. She worked closely with us to understand our vision and executed it flawlessly. The entire team, including the waitstaff and bartenders, were friendly, efficient, and went above and beyond to ensure that every guest felt welcomed and well taken care of. A day of coordinator can either make or break your wedding, and Anna is the BEST in the business – our entire wedding party still talks about her as a highlight of the day!! You won't find anyone like her!

One of the standout features of Deity is its versatility. The venue offers multiple spaces, allowing for a seamless flow throughout the event, including getting ready in the suite (worth every penny!). We started with a heartfelt ceremony in the stunning Loft space, followed by a cocktail hour in the speakeasy-esque bar. The transition between spaces was effortless (which was our biggest concern with the multi-level venue), and our guests were in awe of the seamless coordination. The highlight of the evening was the reception in the Cellar, a hidden gem with its exposed brick walls and disco ball. It provided the perfect setting for an unforgettable evening of dancing.

Another aspect that impressed us was the culinary experience at Deity. The food was absolutely divine! The in-house chef is incredibly talented and our guests raved about the delicious hors d'oeuvres and main courses. We chose the standard family-style option and are glad we did – guests loved the ability to try all of the main dishes and sides.

Many other reviews mention that Deity is all-inclusive – this helped contain costs, have a seamless experience, and reduced the number of choices we had to make. The DJ being included was fantastic – we were a bit worried about not being able to choose our own, but Ben was amazing during planning and on the day of the wedding. For the vendors we did need (photographer, videographer, florist, dessert) we took advantage of Deity's suggestions and were thrilled with the quality of each vendor recommended (Photography: Robert Carlo, Videography: Le Image, Florist: Charlotte Taylor at Floral Heights, Empire Cake, CityCakes).

To sum it up, our wedding at Deity in Brooklyn was an absolute dream come true. The combination of the venue's breathtaking ambiance, attentive staff, exceptional cuisine, and seamless execution made for an unforgettable experience. If you're searching for a wedding venue that exudes charm, sophistication, and provides top-notch service, Deity should be at the top of your list. We wholeheartedly recommend Deity to anyone seeking a memorable and enchanting wedding day. Thank you Anna, Caio, and the Deity team!!!

Elaene

Married on 08/28/2022

Amazing wedding venue

Deity is amazing!!
My husband and I cannot recommend Deity highly enough . We fell in love with the place instantly. My husband and I are soo happy we had our wedding at Deity! It was everything we asked for and more! Anna (the wedding coordinator) and the Deity crew made our wedding day flow so smoothly. The entire crew showed excellent service to our guest. Especially Anna, she helped me fix my dress through out the day and made sure everything went according to schedule. Our guest raved about the drinks, the food and the ambiance. The DJ was professional and respected our musical request. Everything was perfect! Highly recommended! We wouldn't have our wedding any other way! It was dream come true!!

Jessica

Married on 08/07/2022

Hosted Our Wedding

Deity and their staff were absolutely phenomenal in helping plan and execute our wedding day. Anna prioritized my husband Luis and I in making sure that the day was moving smoothly and unfolding as we wanted it to.

Deity not only hosted our wedding but also had previously hosted the wedding of my brother and sister-in-law. When we decided on Deity, the team spent months chatting with us to help us nail down all the details. They also prioritized the things that mattered to us and helped us make it happen- from the personal touches of a mariachi to our polaroid guest book to the delicious food to the wine we picked (which mattered a lot to my sommelier husband!).

Above all, the staff led by Anna that day are amazing humans! When COVID impacted a number of our guests being able to travel in for the wedding, Anna handled a fragile day with such care and patience. She was as protective of me and my husband as our wedding party was. She also helped coordinate with my friends to find unique ways to incorporate some of my family who were unable to attend because of the pandemic.

Deity truly helped make one of the most important days in our lives memorable and magical. When we think back to our day, we always smile and Deity had a huge part in that.


Nicholas O.

Married on 08/05/2022

Stop the search you've found your venue!

After spending years searching for wedding venues in multiple cities, when we found Deity online we thought it was too good to be true. Weddings are expensive and in our research we found way too many venues that would nickel and dime you for everything. One of the things we loved the most about Deity was the all-inclusive cost with no hidden fees. We scheduled a tour with Caio and fell in love with the venue. Deity's is a beautiful, multi-floor venue, that is filled with NYC charm. We really appreciated the wedding flow across the different levels as the night progressed. The downstairs dance floor helped keep our guests dancing all night long. We rented the bridal suite and it was the perfect space to get ready in. We did the first look on the roof, and then we took a trolley with the bridal party to take pictures in Dumbo. The food is also amazing! We did the tasting and left very full and with leftovers. Guest kept raving about how good the food was! The bar and its staff were a hit with the guests as well and provided top notch service to all. Anna, Deity's wedding coordinator, and Caio were a pleasure to work with both professionally and personally throughout the wedding planning process. We had a few planning meetings leading up to the wedding to discuss the details with Anna. We are happy to say that these meetings helped ensure everything on our wedding day went according to plan. On the day of the wedding, Anna + Team did all the behind the scenes magic such as coordinating with the florist, setting up the dessert table, décor, etc. so we could enjoy the day. Anna has superb attention to detail. For example, the bride had lipstick on her teeth right as she was about to walk down the aisle and Anna quickly gave her a tissue to wipe it off. The effort Anna put into preparation beforehand helped ensure that the flow of our wedding day ran perfectly, and it did! We couldn't recommend this venue enough.

+ 9

photos

Ivana L.

Married on 07/16/2022

Everything we wanted in a wedding venue!

My now-husband and I didn't want to go with a traditional wedding venue; we wanted something lowkey yet elegant, and most importantly, we wanted our guests to have a blast. As soon as we visited the space and met with Caio, we knew that Deity would give us everything we wanted in a wedding. Planning was a breeze because Caio and our coordinator Anna took care of everything. They were incredibly responsive with any questions we had, and made coordinating with our vendors so easy. When we decided to postpone our wedding due to high COVID rates in January '22, they were so understanding and worked quickly to rebook a new date. It was worth the wait because our summer wedding couldn't have been more perfect. I got ready with my bridesmaids and family members in the bridal suite (DEFINITELY book the bridal suite! It is SO worth it to have all that space to get ready in comfortably, and to already be at the venue when you're done) which was so gorgeous and had everything ready for us --steamers, 2 bathrooms, plenty of seating, a fridge stocked with wine, wine glasses, mirrors, and plenty of space for hair and makeup to be set up. We did our first look up on the rooftop which resulted in some of my favorite photos because the plants and buildings in the background provide a gorgeous backdrop. Our ceremony space looked exactly how I envisioned it, with Deity's complimentary hurricane vases and pillar candles and the Deity hexagon arch decorated by my florist. The ceremony space was then flipped to the dinner space while the guests went down to the lounge for cocktail hour where they enjoyed hors d'eauvres (Deity has a great selection of unconventional, fun appetizers to choose from) and drinks, including our signature cocktails. Dinner was set up quickly and beautifully, and we received lots of compliments on the food choices (we chose the filet mignon and salmon, and Deity provides complimentary vegetarian options if you let them know in advance). By the time dinner was over, everyone was ready to dance and party in the cellar space. At first, I was nervous that people would hate all the moving between the levels, but I honestly think it was best to have the dancing portion separate from the cocktail hour and dinner because it just felt like a party at a local Brooklyn club! Our DJ/MC, provided by Deity, was so nice and even arranged a call before the wedding to go over our questionnaire on song preferences. DJ Trauma really wanted to get to know the vibe we were going for with the music and dancing, and he totally nailed it! I would definitely recommend Deity to anyone looking to have a unique, fun, and trendy NYC wedding with stress-free planning!

+ 13

photos

Alice T.

Married on 07/02/2022

Deity - a dream wedding venue!

Deity is our DREAM WEDDING VENUE! This was the one venue we saw when we were not sure if we should host a wedding due to the pandemic, and as soon as we saw it we knew we had to have our wedding here. From the start, Caio and Anna were constantly in communication with us, ready to answer any and all questions we had. We were so excited to have our Chinese/Taiwanese cultural wedding fused with modern elements at this venue and every moment was jam-packed with precision, effortlessness, and joy! We greatly appreciated being able to drop off our decor, signs, and guestbook materials the day prior (and for allowing our dogs to have a moment in the space to get used to their special role as flower dogs walking down the aisle), and shoutout to Anna for her careful eye on what visually worked versus what didn't! On our special day, we loved being taken care of constantly with food (and the most delicious hors d'oeuvres - shoutout especially to the chicken and waffles), and drinks (shoutout to the bartenders for helping us design specialty drinks inspired by our dogs and favorite spirits) from the moment the ceremony ended through the very end of our time. Our guests, friends and families, all loved the versatility of the venue from the beautiful ceremony floor which also became our lunch floor, the cocktail floor, and the Brooklyn Love dance floor. Shoutout to our DJ Ben for being adaptable to various musical genres and keeping the party LIT — hip hop, kpop, pop, alt. rock, 2000's bangers, you name it and he's ready; our friends literally asked to hire DJ Ben for their weddings, too! Deity was great with vendor deliveries and keeping us posted when florals and our desserts arrived. Shoutout to Deity and the entire team for making us feel so incredibly special, and we recommend EVERYONE to book their special event with Caio and Anna!

+ 9

photos

Jaquelyn N.

Married on 05/29/2022

May 28, 2022 Wedding

We got married at Deity in May 2022, but wanted to share our experience there. The staff at Deity made our day one to remember. Deity is a lovely venue with a surprise on each floor. The vibe is so cozy, warm, romantic, and welcoming. We were not looking for a typical catering hall wedding venue, and no other place we visited came close to Deity.

Anna, the wedding coordinator, was simply incredible. She is fantastic at helping brides, grooms, and everyone in-between create their visions. She answered every email I sent and every request I suggested.

The food tasting we had at Deity was nothing short of terrific, and the food the day-of was no different. We chose the family-style dining and it was a huge hit with our guests - everyone was able to try a little bit of this and that. Dessert was not included, which was fine for us.

Deity offers a DJ at no additional cost, a vendor they have worked with many times in the past. As we got closer to the wedding, we felt a little bit nervous about this. However, we were wildly impressed with Ben - he definitely picked up on the music we were looking for. I would pay for his DJ services independently, outside of Deity... that's how much we liked him!

The bridal suite is absolutely beautiful. Though it is not included in the pricing of the venue, we felt it was worth paying for (especially for pictures, hair, and makeup). I do wish Deity would permit the couple and bridal party to use the suite for the duration of the night, since it's a cost the couple opts to pay additionally for.

We had 117 guests attend, but felt 100 would better suit the venue for space reasons.

It's worth mentioning that while we were venue shopping, we felt like there were costs for every little thing. Deity does not surprise you with costs; there were NO hidden secrets, unexpected surprises, or add-ons for every aspect of a wedding where it becomes overwhelming. The costs that we received in December 2021 were the costs that we paid in May 2022.

I wish we could do this day over again and again for an eternity. Thank you to the Deity staff that made it all possible!

Jason R.

Married on 05/29/2022

Party Time!!!!!

Deity was the perfect place to hold our special day! When my husband and I got engaged, we knew we wanted to get married shortly after. This meant we only had a year to plan our entire wedding. With help from Anna and Caio at Deity, the entire wedding planning process was a breeze. They provided many beautiful in-house details for our wedding, gave us an incredible vendors list, and worked with us to curate an event that was personalized to us. Being vegan, it was incredibly important for us to have a fully vegan wedding. While Deity had never done a vegan wedding, they were beyond excited to expand their menu to accommodate us. The food ended up being a HUGE hit! The multiple levels of the space gave the guests the ability to find the perfect place to party and enjoy the night, whether it was downstairs dancing with the incredible DJ provided by Deity, or upstairs in the chic and elegant lounge enjoying a delicious cocktail. Our guests had so much fun, they are still talking about the electric energy of the space 6 months later.

We want to give a special shout out to Anna, the wedding coordinator, who made us feel at-ease during what could've been an incredibly stressful day. One of our favorite memories from our wedding is when Anna provided a moment for us in the bridal suite after the ceremony. She had celebratory drinks and a sampling of our passed hors d'oeurvres, giving us time to celebrate our marriage privately. This level of care continued throughout the entire evening, making us feel supported in a way that put all of our focus on celebrating with friends and family.

Thank you Deity for providing us with the wedding of a lifetime!

Max H.

Married on 05/07/2022

Amazing all-inclusive venue!

Having our wedding at Deity was fantastic! They did a great job handling everything, including food, decorations, and dancing. The multi-floor layout is very cool and unique. The staff was great, and the venue's party planner, Anna, was incredible. She was on top of every detail, and was super helpful all the way through to the day of the event. We had a very unique ceremony due to the pandemic, and Anna really went out of her way to make sure we got exactly what we wanted, even when we didn't know what that was! They also did a great job keeping up with covid guidelines, and were very upfront about being able to reschedule the event in case the situation worsened (which fortunately didn't happen). If you're looking for a venue that includes everything, we can't recommend Deity enough.

Taramia H.

Married on 04/16/2022

Everything Was Perfect

With Caio's vision of the space and Anna's execution of the plan we truly enjoyed our day. From having multiple floors to spread out during these Covid times to in house wedding coordinator to the catering and DJ being included this was the best thing for us with planning a wedding in less than 7 months. The only food you need to bring in are the cake/desserts and just make sure to bring your own guest take home containers so you won't have so much left over to bring back home, lol. Our guests loved the space and we all truly enjoyed our time dancing away with DJ BenHaMeen following our vision of music as well. We will recommend Deity to anyone looking for a non traditional space that's affordable in NYC.

Cheryl M.

Married on 04/01/2022

Great value, beautiful venue

Deity was such a wonderful venue to hold our wedding at! We loved that there was a dedicated space for each segment of the evening , how many items are included in the total cost (e.g. food, DJ services, tables, chairs, tableware, tablecloths, lighting), and overall how beautiful the space is. The whole team is super friendly and professional, and Caio and Anna made the final planning stages a breeze! We were able to let go and trust that everything would go perfectly. Anna was with us for the entire evening, helping with the rehearsal, fixing my bustle, and making sure we had a few minutes to celebrate on our own before joining the rest of our guests for the party. I'm so glad we held our wedding at Deity!

Claudette G.

Married on 03/11/2022

Best choice for a NY Wedding Venue

I wish I could do all events at Deity! I was married on April 2022 and have been recommending to everyone as the place to get married or throw an event. The day went exactly as planned which is a rarity for a wedding and guests are still raving about the food. I loved the option of a family style dinner which I think made the dinner service fast and efficient (so we can get to the partying) and also had guests interact and I think better food quality. Another plus is that Deity provides a day of coordinator which ensured that I could relax during the day instead of having to manage all the vendors. I had the pleasure of working with Anna and she was amazing including fixing my bustle when it kept falling off. The schedule went exactly as planned and all my vendors arrived and were taken care of easily. Last but not least the venue itself has so much character and is beautiful. I did all of my pictures at Deity and I also opted for the bridal suite which is the best bridal suite I saw at any NY venue. The pictures and videos were top notch not only because of my vendors but because the venue had so much natural detailing which saved money on any extra decor. P.S. DJs are provided by the venue and I danced the night away! He understood exactly the vibe that I wanted for a mix of contemporary Hip Hop and Latin music.
Are you interested?
Send a message