57 Reviews
Recommended by 100% of couples
Quality of service

5 out of 5 rating

Average response time

5 out of 5 rating

Professionalism

5 out of 5 rating

Value

5 out of 5 rating

Flexibility

5 out of 5 rating
5 User photos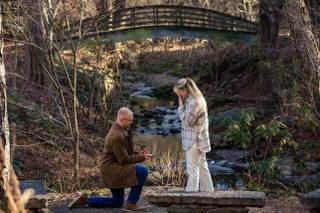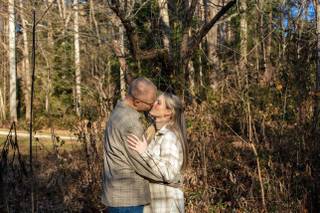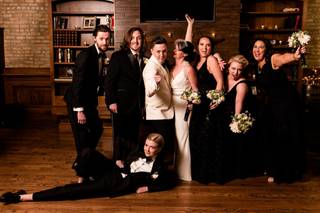 Featured

Erik F.

Married on 12/17/2022

Very Thankful

I couldn't be more thankful for finding Dawn. She helped me pull together a surprise engagement at the Asheville Botanical Gardens and it couldn't have went better! Dawn was very easy to plan everything with. She had a ton of great recommendations and was flexible with everything that I envisioned. Most importantly, was able to recommended a great spot for my proposal and captured some great pics that my fiancée loves.

Amanda S.

Married on 03/06/2021

Wonderful Photographer & Experience

My husband and I had a micro wedding in March 2021, and had Dawn capture our day. Overall, we had an absolutely wonderful experience. Dawn is organized, professional, and is an incredibly sweet person. Everything went smoothly before the wedding from meeting Dawn virtually, to having questions answered, to discussing the plan for the wedding day. The wedding day was also a breeze, Dawn made taking pictures fun and natural, not only for my husband and I, but the entire group. You can tell she takes pride in her work, the quality of the pictures are fabulous, we could not ask for anything more! I would absolutely recommend her to anyone looking to hire a wedding photographer.

Gabriel S.

Married on 05/09/2020

Great photographer! Must Hire

There is so much to say about Dawn, but the best way to really capture the essence of working with her, is to work with her! Dawn was fantastic.

Due to Covid, we had to reschedule our wedding and had to find a new photographer. A friend recommended working with Dawn and the rest was history. Dawn walked us through what the new schedule would look like, what photos we wanted, and understood how we wanted photos to look. We wanted a more natural, "candid" picture.

She was able to adapt to our individual needs. Even before the event, she was extremely helpful, welcoming and addressed our questions in a timely fashion. She also asked questions that helped her understand the unique situation she was asked to take photos for (small wedding, personal premise).

When it came to the wedding, Dawn was fantastic. She immediately started scouting for an additional photo spots to ensure she would get the best view point. This was no small feat, she walked a good distance to the tree line and into a small forest. She really wanted to maximize her working area. The photos of the prep time, ceremony, dancing and speeches captured the magic of the evening. Her photos really speak for her craft.

To close and probably the most important reason why we're giving Dawn a sparkling review (outside of the photos of course) is that she truly was a pleasure to work with before and during the event. The stress of changing and planning a wedding three times in a year was overwhelming. Dawn was able to fix one of our problems and became an asset to the team. Dawn was extremely wonderful to work with leading up to the event. At the event, Dawn fully integrated and felt like she was truly there as a guest of the wedding. Her personality fit in seamlessly with the atmosphere and jovial energy of the evening. This really stood out as the event was so small. She really added onto the day.



Are you interested?

Send a message

Christina

Married on 08/17/2019

Dream Wedding Photographer!

Dawn came highly recommended by a co-worker of mine and after seeing her work I knew we had to meet with her. We had met with one other photographer before meeting Dawn and still had two others lined up to explore. After our first encounter with, my husband and I knew immediately that we wanted her to photograph the most important day of our lives. In fact, walking from her studio to our car we had our minds made up and cancelled our meetings with the other two photographers.

Dawn has a natural way of making you feel at ease and comfortable which was so helpful during the chaos of everything else surrounding the planning of our big day. She had photographed many weddings at our venue and even though my husband and I were getting married in the city, we were clueless about any whereabouts to get the photos we dreamed of. Because of Dawn's experience and amazing talent, we were confident in putting all our trust in her hands and letting her lead the way, and she did not disappoint!

While we were her clients, she treated us as if we were close friends and family. She shared so many helpful tips and information that I was able to use for my wedding planning and continued to help me avoid any stress, even for things not related to our photos.

Her communication and planning made everything so simple and kept me so calm and excited! She listened to everything we had shared and was able to capture and honor our day beautifully. Dawn and Sonce were like ninjas throughout the whole day making sure they did not miss any moments.

Words cannot even describe the joy and excitement we felt when we received our photos. My husband, our family, friends, and guests just loved working with Dawn and Sonce. They provided us with such wonderful memories that will last a lifetime! We are so grateful to have worked with Dawn and would highly recommend Dawn Roscoe Photography.

Sara

Married on 10/20/2018

Dawn is wonderful

Dawn is great and easy to work with. I have see her work for many of my friends weddings as well as my own. Everyone I speak to is always very pleased with the final product. She is very kind and has a great eye. Thank you again for your wonderful services Dawn!

Erin G.

Married on 08/17/2018

Photographer Perfection

Dawn was highly recommended to us from a friend because they worked with her as a photographer for their wedding and the bride's sister's wedding as well. We reached out to Dawn and met with her at her studio in Bridgeport. Steven and I continued to feel impressed by the quality of her photos, her interest in getting to know us as a couple, her communication and recommendations, and her vast experience photographing weddings throughout Chicago.
It didn't take us long to realize that Dawn was the one we wanted to photograph our big day.

We decided to do an engagement photoshoot and we had the best time. I was originally very nervous but Dawn was so complementary and helped make us both feel more comfortable. She has a keen eye for different backdrops, colors, and creative lighting. She also helped coach us through new poses or how to get natural shots. We absolutely loved our photos and it made us so excited about working with Dawn on our wedding day.

Throughout the planning process, Dawn was so helpful and kept all lines of communication open. She chatted with us a few weeks before the wedding to talk out details and help us make important decisions. She offered an alternate rain plan, helped us schedule large family photos, and gave us some recommendations.

On our wedding day in August 2018, Dawn started with myself and the ladies at the Ambassador hotel while Sonce, the second photographer, started with the men at our apartment. We were all reunited for the first look and the photo fun kicked off. Seeing that our wedding was the same weekend as the Air & Water Show, there were additional traffic limitations but they helped create a backup plan when needed. They helped crank out all of our photos, they were a great team, and we all had great time along the way.

After receiving our photos, we are so pleased! We feel so grateful to have had the opportunity to work with Dawn and would highly recommend her to any friends/ family.

Kristina

Married on 12/31/2017

Dawn Roscoe is amazing

I have been meaning to write this review for some time, and as we're approaching the one year anniversary of working with Dawn, I think the time is now! My husband and I hired Dawn for our 12/31/17 wedding, and it was one of the key decisions to our wedding's success! (You can find my previous review for her after our engagement session somewhere on this Yelp! page, too - it is also a very resounding endorsement.)

In short, I will tell you what I told her when she delivered our wedding photos: "I am so amazed. The angles, the lighting, the expressions you caught are incredible. I am so thrilled and humbled."

In long, Dawn is an expert professional who will take care of you emotionally and photographically for whatever big day you hire her. If she's available, hire her. Hire her right now. If you have to, change the date just so you can work with her.

From the first minute, Dawn's expertise came forward as we - on the first phone call interview - plotted out what our schedule would look like. She even referenced the sunset time, just so she could be sure her estimates were good ones. That amount of detail and care lasted throughout our process, and created for us a sense of ease on what can be a stressful day. She is everywhere, but unobtrusive; she is creative, yet asks for direction and input; she is careful, yet spontaneous. And she is so skilled. Whenever I get compliments on the wedding, the photos are always one of the top two things that people gawk over (we had a live band that rocked, that's hard to compete with...or else Dawn would be #1 every time). I hopefully will never have to plan another wedding, but if I do, Dawn will be the first call I make.

In our interactions with her post-wedding, she has continued to provide excellent information and service. I never felt pressured to purchase prints or books through her, and she has been consistently active and willing to help when I had questions. Very recently, she re-uploaded my entire gallery when my mother-in-law could not find that "perfect" image.
She addressed a need in very little time and, again, helped to assuage anxiety.

I highly recommend Dawn Roscoe Photography to any/everyone. And if you're still pondering after reading this (and all the other stellar) review, just call go look at her website or her FB page again. That is mastery right there.

Katie

Married on 10/22/2016

Dawn was great to work with. She had great ideas of places to shoot and the pictures turned out beautiful!

Daniel

Married on 10/02/2016

In my opinion, the wedding photographer is perhaps the most important component of a wedding. There is so much time and energy poured into this one day that it would be silly not to document it well. Also, wedding planning sucks. It's exhausting. I hated it. So, spare yourself a ton of stress by hiring Dawn.

Dawn is very easy going, which is so refreshing. You don't want an anxious photographer raising your heart rate all day. But don't mistake her calm demeanor for indifference. She is dedicated to her craft, and will provide you the highest quality of pics, which is what's most important. I have some friends that skimped on the photography for their wedding in favor of spending more money elsewhere. Don't do that!! Do not hire some college student, or someone guaranteeing you great pics for $500, because you're going to get mediocre results. Maybe you won't regret it right away, but 5 or 10 years down the line when you're skimming through that wedding album...

Our reception was a tricky shoot. In the evening, when the sun was going down, and in a glass conservatory. If we went cheap, the lighting in the pics would have been terrible. But Dawn's a real pro, and she captured everything beautifully. We are completely thrilled with how our pictures turned out, and it's just icing on the cake that she was so fun, and easy to work with making our day a lot less stressful.

But rest assured if you happen to be a control freak. Dawn will meet/talk with you as often as it takes to ensure your satisfaction. She gave expert input on any suggestions we had, and offered some great ideas herself. She can even offer advice and/or suggestions on other aspects of your wedding like catering and location because she's seen and done it all.

I don't usually write reviews but I felt compelled to in this case. I highly, highly encourage all future bride and grooms to meet with Dawn! Once you interact with her, and see her portfolio you know you've made the right decision!

Chelsea

Married on 11/07/2015

Dawen and her team are the best! Leading up to the day, day of, post wedding... she's amazing. People tell us we have some of the most beautiful wedding photos they've seen ??

We had a minor hiccup the day of the wedding. Our limo didn't show up which was supposed to take us, Dawn and her team throughout the city for pre wedding pictures. Dawn and her team handled it like PROS. Calm, cool, collected. Dawn found shots around the hotel when we were Just trying to figure out what to do and the shots are some of our favorites. We actually hopped into an Uber XL mini van and just made it work!! They also had to handle a TON of our family pictures, and again, handled it amazingly. It was like herding cats.

Lauren

Married on 10/17/2015

I fell in love with Dawn's beautifully candid photos when I was searching for a wedding photographer last year and she did not disappoint when she shot our wedding in October 2015!

Aside from her talent, Dawn and her team were the best to work with on our wedding day. They were extremely flexible (helped our niece and nephew join the group picture fun), organized (coordinated a mess of family photos :)) and personable (Aaron had the group super impressed by memorizing all of the bridal party's names in the first 10 minutes of being onsite)!

Dawn's photos captured the emotion and spirit of our day perfectly and we couldn't be happier with how the photos turned out. We have had so much trouble putting together a book because it is too hard to pick our favorites!

I would HIGHLY recommend Dawn to anyone looking for a wedding photographer!

Mary

Married on 08/29/2015

Dawn shot my wedding in August 2015 and as all of the other reviews mentioned, she was amazing to work with.

Going into planning a wedding is an overwhelming process and we knew right away that finding a great photographer was the most important thing on our list. I stumbled across Dawn on Yelp and the rest is history.

Dawn was wonderful to work with throughout the planning process and had invaluable advice that helped make our wedding pictures exactly what we had envisioned. Dawn's associate Aaron also shot our wedding day - he was great as well and had us laughing the whole time.

We were both so happy with how our photos have come out and I've already recommended Dawn to my newly engaged friends :)

Elise

Married on 08/15/2015

Dawn was such a pleasure to work with! She took our engagement pictures as well as our wedding photos. I had a very specific style of photos I wanted and she took her time to make them come alive! She was so patient & helpful. We were rushing on our wedding day and had a few issues with weather but she was such a fast thinker she still made it all happen! Her pictures are so stunning and speak for themselves. Dawn and her partner really take their time to capture them. I have gotten so many compliments on them! I would highly recommend her!

Jennifer

Married on 06/13/2015

I don't even know where to start with my compliments of Dawn. She is so professional, while being flexible and approachable at the same time. She was willing to give me feedback on potential shoot locations, while understanding the feel that I was looking for with our pictures. I cannot recommend her enough, she is just a lovely person inside and out and that comes through her lens. I'm so excited to get our pictures back because I know that I could have been wearing a potato sack and sat in a basement and Dawns pictures would have been gorgeous!

My husband I had hired Dawn for our engagement photos and wedding photos. If you have any reservations about hiring her, forget them all! She is very easy to communicate with and makes you feel completely comfortable in front of the camera. She had awesome location suggestions for engagement sessions. We ended up going to the Gardens at the Art Institute, and we were very happy with how they came out! Very candid and captured the love between my then fiancé and me. We were hesitant about the engagement session, because we didn't want them to look too staged. However, we are so happy we decided to do them! We got to know Dawn, and Dawn got to know us. Also, the pictures are so adorable! Not cheesy! Now comes the most awesome part! Our wedding was on February 14, 2015. Coldest Valentine's Day in decades in Chicago! She was a trooper and also convinced us to do outdoor pictures (after extensive researching by Dawn and myself for indoor locations), and we are so happy with that decision! Her assistant, Aaron, was also a super star! Getting on his knees in the snow...and ice when my husband decided he wanted to play a little ice hockey! Also, right before our "first look" my husband broke his button on his suit jacket. In a normal situation, this would just have to do for the rest of the day.. ceremony and all! However, Aaron had his own sewing kit and fixed it before the outdoor pictures. Needless to say, we were impressed. We ended up needing an extra hour of their service at the reception, but Dawn and Aaron were nothing but happy to stay for us. Highly recommend Dawn.. and if you can, please do get an extra photographer, because it gives you a lot more variety in the end. Especially if guys and girls are getting ready separately. It would not have been the same if we didn't capture my husband and all his buddies getting ready too. Also, if you are given the option of a flash drive or a digital file, go with the flash drive! You will be pleasantly surprised! ;)

Melanie

Married on 10/24/2014

Dawn was our wedding photographer, and she also did our engagement shoot. We had met with two other photographers, who were great in their own right, but we immediately "clicked" with Dawn. Her personality put us completely at ease, and her photography style was exactly what we had in mind.

Initially I didn't even want to do an engagement photo session. I'm not at all photogenic (believe me, that's not false modesty, but a fact) and I'm not very comfortable posing and having my picture taken. My then-fiance convinced me that having an engagement shoot would be good practice for taking the wedding photos, and would give us an opportunity for Dawn to get to know us better and vice versa, thereby resulting in better photos. As usual, he was 100% correct.

We wanted our engagement photos to not be too "staged," so we chose to shoot around our neighborhood, where's there's unusual backdrops and lots of natural settings. At best, I was hoping for a few photos that I could "live with," but they all turned out beautiful. I was blown away.

Fast forward to our wedding, and again, Dawn nailed it. The pictures captured all the fun and emotion of a most memorable day. We'll cherish these photos for the rest of our lives.

If you're looking for a wedding photographer, I can't recommend Dawn highly enough.

Ashley

Married on 09/13/2014

I hired Dawn as my photographer for both engagement and wedding pictures. I interviewed quite a few photographers, as these pictures were one of the most important aspects for my wedding. I ultimately decided on Dawn based on her professional, friendliness, easy-going personality, and level of skill. She is extremely down to earth and I loved working with her doing both occasions. She had a ton of ideas for pictures, but also let us do our own thing and create our own backdrops. I was a little worried that I would have the cheesy, cookie-cutter images that seem to be everywhere but I found that Dawn's pictures were very original. I definitely recommend her for any photography needs and would love to work with her again for another occasion.

Danielle

Married on 08/16/2014

I worked with Dawn for my wedding in August of 2014. She was the first (and only!) photographer I met with, and one of the first vendors I booked after getting in engaged. Not only were Dawn's photos beautiful (which was the main reason I wanted to meet with her), but her warm personality and passion for photography was very evident when I met with her.

Many people told me, "you have to really love your photographer, because they are with you ALL day and truly dictate the flow of the day". This is incredibly true - and Dawn is the exact kind of person you want to spend one of the most special days of your life with. She is incredibly creative and has a such a great eye for unique locations...she is up for any kind of adventure you and your significant other are looking for, and if you don't know exactly what you want (which was definitely me at the beginning!), she offers tons of different ideas and tips to think about while you are planning your location shots.

Also, Dawn always has another photographer with her (verses an assistant) - so you are getting two extremely qualified photographers to capture your day. Our second photographer was Aaron Ehinger and he was equally amazing and a true additional asset to the day.

I would highly recommend Dawn - she is artistic, passionate, and truly wonderful to work with.

Lindsay

Married on 06/28/2014

Dawn and her assistant did an amazing job with our wedding photos! She helped guide me and my now husband to the exact style of wedding photos we were looking for. We were having trouble coming up with the couple shot locations that would work with our timeline and Dawn had some creative ideas and locations that really made our photos stand out from the typical wedding shots, all working within our time frame.

Dawn was very familiar with our venue, made me feel at ease throughout the day/evening, fun to be around, and we got some amazing photos in the end! We couldn't have been happier with our decision!

Picture Perfect. Dawn did an amazing job capturing our special day. My husband and I had our engagement session with Dawn and our wedding day. Dawn is extremely professional and a perfectionist. We began this process by sitting down and discussing our styles, likes/dislikes, and who we are with Dawn. From there, we worked with her to decide where we wanted to do our engagement session. We wanted a fun, urban feel…Dawn helped us find some really neat spots in the Brideport neighborhood, where we took some fun shots outside of the ballpark. She also led us to some cool, industrial spots that would later turn into some awesome shots! Leading up to our wedding, we had to decide where we wanted our photos to be taken with the wedding party. We had no clue. So, Dawn suggested the garden at the Art Institute. We trusted her, so we quickly agreed, happy we had one less thing to think about. These pictures turned out great! We took some serious, traditional poses and then mixed it up with some fun, silly poses which allowed our wedding party to kick back and be themselves. On the way to the reception, our limo stopped at a bridge. Dawn captured the most amazing pictures of us on the bridge. It screams city wedding. These have turned into some of our favorite pictures from our wedding day. From the preparation shots, to the cake shots, to the ceremony shots, to the intricate detail shots, Dawn captured it all. She has a fabulous eye for what looks great. If I ever need professional pictures again, I would definitely call Dawn. She is nothing short of spectacular.

Karin

Married on 09/28/2013

Amazing memories that will last a lifetime! Dawn and her team did a beautiful job with both our engagement & wedding photos. She has a unique ability to capture emotion but also the beauty surrounding moments in both nature & city-scape. We have received so many compliments: "Your wedding photos are the best I've ever seen" and we were thrilled when our prints were framed and hung.

Dawn was great in researching areas for shoots and her creativity pushes the envelope. She stood in the middle of a busy Chicago street to get just the right angle for a shot on the Nichols bridge at the art institute. Her attention to detail was on point, from my jewelry down to the napkins at our bar. She turned the simplistic surroundings of the Modern Wing at the Art Institute, into a blank canvas. Her ability to play with open space was great and we were able to get a perfect mix of serious, romantic, and playful shots. Thank you to her and the team for a wonderful wedding that will never be forgotten!

Marthe

Married on 07/06/2013

Dawn was an excellent wedding photographer - we have already recommended her to friends who have weddings coming up this year. She was very easy to work with, especially because we had a large wedding party, and also a big wedding with both of our very large families. Dawn was great about keeping the photos moving along, both when we were getting ready, and then throughout the day. We really needed someone to keep our group directed, and Dawn took care of that. Plus, the photos turned out absolutely beautifully - we have so many great photos to choose from, ranging from more traditional family portraits, to some great outdoor shots of just the two of us, to really fun, hilarious photos from the dance floor. Strangely, I don't really remember seeing Dawn during the reception, but she still managed to take so many photos of our guests, it was like she was everywhere all at once. Wedding photography is very expensive as we all know - I found that Dawn's prices fell in the mid-range of photographers that we were considering, but the quality of the prints (and the quality of working with Dawn) were at the very high end of the spectrum.

Sara

Married on 05/18/2013

I originally found Dawn E. Roscoe through online searches and saw she had a lot of positive reviews. My husband and I went to meet her in person and I knew right away she was the perfect fit to shoot our wedding. She made us feel super comfortable and asked all the right questions, not to mention all the samples I had seen blew me away. She has such an eye and really pushes the shot so they don't come out like any ordinary photo. We hadn't planned to do an engagement shoot but it was part of our package. Man, am I glad we did. Not only are they some of the coolest shots I've ever seen, it gave us even more confidence that she was going to do a fabulous job at the wedding. We just received our photos and couldn't be any happier with them. They are unique and really capture the weekend. Dawn is so easy to work with and does a great job of communicating to ensure you get the photos you want. I have passed on her info to a bunch of my friends and family who were also very impressed. You can't go wrong with Dawn!

Kelly

Married on 04/20/2013

Dawn and her assistant absolutely exceeded our expectations as our wedding and engagement session photographers. Dawn was such a good listener throughout the process and was able to capture beautiful images that fit our vision while incorporating her creativity.

My dad is a very serious amateur/semi-professional photographer for many years and helped us in selecting a photographer for our big day. Dawn's talent sincerely impressed him, both artistically and technically. She was the only photographer we met with he felt comfortable putting all his trust in to capture our wedding day. And she delivered to his expectations as well as ours.

In addition to being an extremely talented photographer Dawn was 100% reliable with appointments, business matters, and communication. If that weren't enough, she was really nice and easy going, but still careful and thoughtful enough so that she did not add any stress to wedding day but it was easy to trust she was getting done exactly what she needed to get done. She and her assistant were easy to be around and work with, they were in the background unnoticed when that was appropriate and gave direction when needed without making my husband and I feel awkward or forced.

Most important, the end product was everything and more promised and expected. We have countless beautiful, creative, emotional, real, personality and atmosphere capturing pictures that we will treasure forever. We feel really lucky to have found her!


Laura

Married on 04/13/2013

Dawn is wonderful in so many ways! She is such a joy to work with and her work is stunning. From the first time we met Dawn we knew we wanted to work with her as our wedding photographer because we loved her portfolio, she was responsive, and it was clear that we could trust her guidance and recommendations. Dawn exceeded our expectations throughout the entire process! She was thorough in the preparation while also making it very easy on us, and she gave perfect recommendations on where to take pictures based on our personalities. On the wedding day, she was instrumental in keeping us calm and comfortable; she was patient, flexible, and unobtrusive, and she captured our day beautifully! We are so grateful for Dawn!

Are you interested?
Send a message