14 Reviews
Recommended by 98% of couples
Quality of service

5 out of 5 rating

Average response time

4.9 out of 5 rating

Professionalism

4.9 out of 5 rating

Value

4.9 out of 5 rating

Flexibility

4.9 out of 5 rating
Awards
1 User photo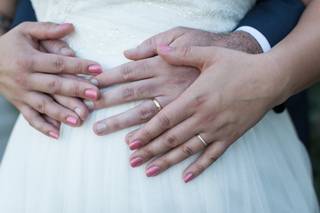 B84396879F11C9283Cb2A202879708Ca88F5Ecb0

Married on 06/11/2022

Love our rings!

I knew I wanted a colored sapphire for my engagement ring, and not a lot of local jewelers have stones like that. My fiance got me a GORGEOUS people sapphire engagement ring from Dan. I needed it resized and Dan was great about that. We liked him and his service so much that we went back for our wedding bands.

Dan was patient with us as we looked through the various options for men's bands (my band was an easy choice since it matched my engagement ring). He ended up taking a gold band we lined the design of and casting it in platinum to match my bands.

Dan was always responsive when we reached out to make an appointment or ask questions, and we're delighted with our lovely wedding jewelry!

Daniel Spirer was the perfect jeweler for us. We have no experience in buying jewelry, and he patiently answered all of our questions honestly and helpfully. He gave us time and space to browse and ponder the jewelry on display, then discussed the intricacies of different metals, gems, and construction processes with us. My husband and Dan designed my engagement ring together; Dan remembered exactly which details and styles of rings I had liked when we browsed the shop months before, and together they made a ring that is exactly right for me, and unlike any other I've seen. We returned for our wedding rings and were struck again by the beauty of Dan's work and the care he puts into every design, whether it's for a young couple on a budget like us or the most lavish jewelry for his longstanding customers. We heartily recommend him.

Erin

Married on 07/13/2013

My fiance purchased my engagement ring and then we went on to purchase our wedding bands from Danny. My ring is handmade, unique, and gorgeous. Not only to I get many complements on it, but I absolutely adore it and have not stopped admiring it for a year now. Danny encourages me to come in to have it cleaned when I'm in the area, which is often, since I live in Cambridge so it's nice to pop in and have it shined up every so often. Danny wants his jewelry to look its best so he's happy to do this as often as you'd like.

We recently bought our wedding bands from Danny and now that we're actually wearing them, I now have two new pieces of jewelry to admire. Danny made a rose gold band to complement my platinum engagement ring and my husband has a brushed rose gold band. Mine look great together and it's great to look at him and admire his as well.

Danny is friendly, honest and great at what he does!



Are you interested?

Send a message

Claudia

Married on 09/08/2012

I have never been a woman who wanted what everyone else was having: I have my own sense of style. It was a difficult endeavor for us, to purchase an engagement and wedding ring. They all were so run of the mill and boring. But then, we were introduced to Daniel's work. I doubt my rings will ever be called "run-of-the-mill" by anyone. Daniel is a creative genius who marches with his own flair for style. He loves gold and he loves gem stones! If you want a Tiffany set solitaire, he is really NOT your man ... but if you want a ring that is as singular as you are? There is no other artist BUT Daniel Spirer!

We love Daniel!!! And WOW, is he talented with his jewelry!! My now husband and I, went shopping around for engagement rings, I was adamant for a beautiful blue sapphire. Everywhere we went, the sapphires looked dark and murky, and the settings were not that particularly unique or beautiful. I researched on the internet and found Daniel. We went to his store (he is the owner and he makes of the jewelry himself!) and WOWWWW I was AMAZED!!! Even my husband stated how beautiful his jewelry was! I ended up picking out a beautiful cornflower blue/purple sapphire in one of Daniel's original settings with the matching band. It was love at first sight!!! Mu husband also got his band there as well!! He GLOWS when looking at it, and ladies that says a lot for a guy who does not where jewelry! Daniel makes beautiful artisan jewelry, his quality is SPOT ON. He has a great lifetime warranty on his jewelry and is just a great guy all around. I even have had people stop and ask me about my wedding ring and beautiful it is!! He is definitely a jeweler to check out!

Libby R.

Married on 10/15/2011

The most beautiful work- his jewelry is just stunning, highest quality, and well-designed. He has a lot of great stuff in his gallery, but he can custom-make anything you can dream up. He custom-made my wedding ring, designed it round a few other rings I liked so as to make it perfect. He made a mould and casted it in a multistep process. It is just beautiful and the price was fantastic for all of the work that went into it. This is they type of jeweler you keep for life! Very talented.

Richard

Married on 10/15/2011

My father-in-law recommended Daniel to me, and it couldn't have worked out better. The rings were ready well ahead of schedule and came out better than we had hoped. And, every time we come in he insists on cleaning them for free! It's nice to feel like we have supported a local artist and in the process have chosen unique symbols of our love and marriage.

Monica

Married on 09/12/2010

Daniel Spirer soldered two rings together for me to create my wedding band. He was easy to work with, the work is high quality and looks great, and his prices were reasonable

Amber

Married on 05/17/2008

I love this small, local jewelery designer. I can't say enough good things about their services. First of all, Daniel is most likely in the shop...it's nice to see the person who crafted your rings regularly...it makes them feel special and not run-of-the-mill. They only have a few tradition engagement ring styles, but they also let you design your own if none of them are the right fit (however, they're really beautiful and tasteful and timeless...he knows what he's doing). They use the finest quality materials. Also, they let you come in and clean your rings for free whenever you want. I also had the tinest nick in my band, and they smoothed it out for free.
This is the kind of jeweler your rich great-grandmother would have used and befriended. There are not many like him out there anymore. Very personal service. He even remembered our names when we walked in months later. A "real gem."

Ilyse

Married on 10/10/1993

My husband had our rings made at Spirer Jewelers over 15 years ago and people still stop me to look at my rings. 10 years later Daniel engraved them for us. For my 15th anniversary my husband bought me a gorgeous anniversary ring. Just beautiful.

Sara

Married on 07/20/1991

I wish I had known about Daniel Spirer's shop when I got married. Luckily, though, I had discovered it by my tenth anniversary, and my husband got me a gorgeous gold anniversary ring with diamonds and rubies in it. It's a very sophisticated and classic design, but still entirely unique. People comment on it all of the time. Over the years, I have purchased many things in his shop, from custom-made earrings to a pendant for my mother-in-law's 70th birthday to pearl bracelets for first communions and bat mitzvahs. I have nothing but good things to say about all of my experiences.

Jill

Married on 08/21/2010

I went with Daniel for a custom wedding band, and was nervous about the process. My first visit was a little intimidating, as I knew just what I wanted, but found out that Daniel couldn't work with the old white gold band I wanted made into a ring. I hadn't thought of what to do in that instance, so I came back a week or so later to talk more detail. I had a better plan of what I wanted, and while he hinted that it would be a doozy, he took it on. I don't know how long the jewelry-making process can take, but he needed my engagement ring to model the fit of the band, and it overall took probably 6 or 7 weeks. I think I was impatient. :-) He showed me the band in all its stages: a wax mockup of the shape, the actual band sans engraving and then the finished product. Each time I was able to say more of what I was looking for, and he was attentive and told me what would work and what wouldn't and why. Throughout the process I felt comfortable with him knowing I was getting an explanation of why something wouldn't work. My finished wedding band is absolutely beautiful and was just what I was looking for. The value of the ring and services paid were great and completely worth it. I would highly recommend Daniel for anyone looking for a custom-made band, or any custom jewelry. Also, check out the rest of his shop...his pieces are really unique and oddly beautiful!

Amy L.

Married on 09/23/2017

We first went to Daniel to resize my engagement ring. When it didn't fit perfectly after wearing it home, I brought it back and he resized it again without charging any more. Because the experience was so great, we went back to have my husband's grandfather's wedding band resized, which he did while still keeping the original inscription intact. Daniel also made my wedding band, which after a few months I realized wasn't exactly what I wanted. When I went back to talk with him about making changes, he recommended how many stones + what setting was best, and I ended up with the perfect wedding band.

Yolanda

Married on 01/02/2010

i absolutely loved the ring that i got!! im so happy!