Reviews
5.0 out of 5 rating
Quality of service

5 out of 5 rating

Average response time

4.9 out of 5 rating

Professionalism

5 out of 5 rating

Value

4.9 out of 5 rating

Flexibility

5 out of 5 rating
99%
Recommended by couples
22 User photos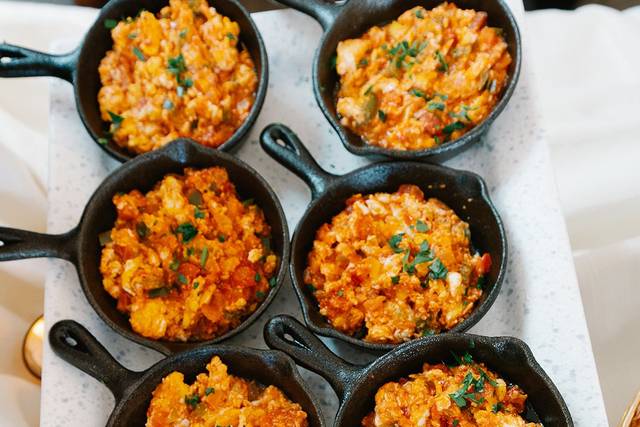 + 18

photos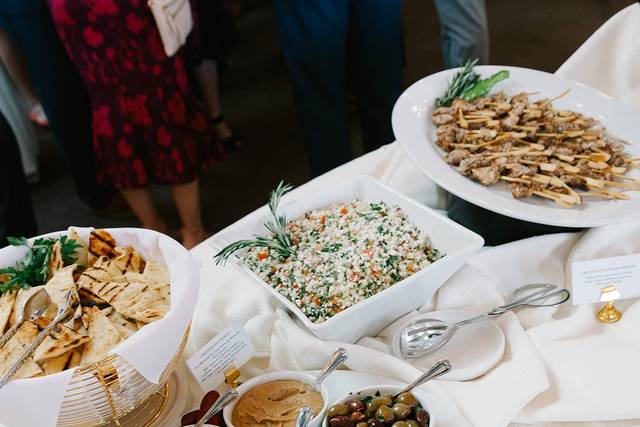 Ilisa

Married on 11/12/2023

Exceptional food and service!

Corcoran Caterers are the absolute best! From the beginning of our wedding planning where we shared our vision to the execution on wedding day— everything was perfect. We worked with Emelie who listened carefully to our vision of a chill brunch wedding with some unique food. She and her team came back with an incredibly creative menu and made the entire process enjoyable! At our wedding our guests raved about the food! We are so happy we chose Corcoran as our caterer!

+ 2

photos

Allison N.

Married on 11/04/2023

Highly Recommend

We highly recommend Corcoran Caterers to anyone planning a wedding or any event! Working with
Laura Hennigan made wedding planning as easy as it could be. Our friends and family can't stop talking
about how great all the food was, from the thoughtful selections for cocktail hour appetizers, delicious
entrees, and tasty desserts. We couldn't have been more impressed with the quality of the food and
service. The attention to detail and care exhibited by the staff was unparalleled. The staff was so
professional, yet fun and accessible, keeping our guests so happy and making our wedding memorable
for all our guests.

Samara

Married on 10/14/2023

Amazing Experience!

We hired Corcoran Caterers to run the show with food, staffing, materials, setup, and breakdown for our wedding, and we couldn't be happier with our choice. Jordan was extremely helpful throughout the entire process, starting 8 months before the wedding and ending on the day-of. Any change, question, or problem that arose, Jordan was extremely responsive with suggestions to help move us towards our day. The week of our wedding, forecasted rain threw a dent in our original plans and timeline, and Jordan was right there to help with changes we needed to make in order for the day to run smoothly. Every staff member we encountered on the day-of made us feel extremely special. Jordan had staff assigned to us making sure we ate and had a full drink in our hand the entire evening. With so many choices in the DC-metro area, we didn't know where to look, but Corcoran came recommended by our day-of coordinator and was reasonably priced for the location. We cannot recommend Corcoran enough and would hire them again for any large event we would host.

Are you interested?

Send a message

Jennifer T.

Married on 09/23/2023

Best Vendor Decision We Made!

Where do I even start?!? Using Emelie with Corcoran Caterers was the best decision we made during our wedding planning process. Having sent over 150 emails, texts and phone calls she was a constant source of information, guidance, and comfort from the beginning to end of our wedding planning process. She helped us not only nail down the perfect menu that our guests raved about but she also made all my table linens dreams come to true. The food was UNREAL, I know it is hard to cook that well for 120 people and it was amazing from the appetizer, main course to late night bites. Also, when I said I love an espresso martini but was scared of someone spilling on me, she came up with the brilliant idea to make them shooters!! It was perfect!! She was so helpful during the rental process with helping us pick linens, chairs, and bars. When I told her I envisioned four white wooden bars, they went out and got them for us so we didn't have to use an outside rental company! She referred us to both our planner and florist who both made my dreams come true but also stress go away. When we had to pivot due to tropical storm Ophelia, she quickly hoped on the phone with us, my parents, planner to figure out how to make the best rain plan that was even been better then our original plan. I cannot recommend them enough! I already miss my emails and texts with Emelie, she is just the best person and that's what you need in your wedding vendors!! You need to hire them for your wedding day!!

Marie M.

Married on 09/23/2023

Phenomenal food and exceptional service

It was a delight to work with Laura Hennigan on developing a menu for our wedding reception. Corcorcan Catering did an outstanding job with respect to having many tasty seasonal selections using fresh ingredients for us to choose from, great alternatives for those with allergies and/or food intolerances, and impeccable service. An added bonus was that Laura has worked with our wedding planner, Kristi Hartig, of GLOW Weddings & Events many times and at our venue Woodend Sanctuary & Mansion. This duo worked like clockwork and provided us peace of mind throughout the whole planning process. Thank you, Laura and Corcoran Caterers!

Joe M.

Married on 09/15/2023

Unbelievably Great Catering Experience

We hired Corcoran for our Sept. 2023 wedding in DC at the DAR and had a fantastic experience. We worked closely with Emelie over many months. She was incredibly responsive and thoughtful and essentially took care of everything we needed. At the DAR -- and many other wedding venues in DC -- you need your caterer to do a lot more than food: tables, linens, bartenders, signage, logistic, etc. Emelie did it all and made it easy for us. And, about the food -- it was truly exquisite. I've been to a lot of weddings and rarely am I impressed by the food, but this was totally different. Our guests raved about the food: the hors d'oeuvres, the main dinner, desserts, late-night snacks -- it was all fantastic. Emelie made a special effort to have a plate of my favorite passed hors d'oeuvres ready for just me (the groom) right after the ceremony. I am so so glad we hired Corcoran. You won't regret it.

Zoe W.

Married on 09/09/2023

The best of the best!

Stop your catering search now & just book Corcoran!! Our experience with Emelie & the team was beyond outstanding! We truly can't thank them all enough for the perfect delivery & execution in our catering, rentals, cake & bar for our Big Day! They truly rocked every part & the guests were raving about all aspects, including the bomb food! From start to finish they nailed it all & treated us like the only client. We became such great friends in the process & look forward to working with them in the future beyond the wedding!! Thankyou Corcoran!!

Gretchen D.

Married on 06/24/2023

Amazing All-Around!

From start to finish, Corcoran Catering was absolutely incredible to work with for our wedding. The initial call with Emelie left us knowing that she would work with our needs, provide honest feedback, deliver an absolutely quality product, and maintain joy and positive energy throughout the planning process! Jordan, our On-Site Coordinator, was flexible, calm, and ran a flawless event the day of our wedding. The food from start to finish was delicious - a diverse initial proposal allowed us to fully personalize our menu and appeal to many different dietary preferences. The service was outstanding - bartenders and servers made guests feel welcomed and kept incredible energy throughout the night. We are now dreaming of ways to enlist Corcoran's help again!

Catherine R.

Married on 06/03/2023

Incredible from start to finish

Martha Corcoran and all of Corcoran catering deserves 10/10 stars! We wanted a cocktail style reception with multiple dinner stations that encouraged guests to move around throughout dinner. We didn't have a wedding planner so Martha worked extremely closely with me to design the layout, the right mix of high and low top tables, and the timing to make my "cocktail party" vision come to life. Corcoran executed perfectly. Our guests are still raving about how good the food was. I felt SO taken cared of. Corcoran was truly a partner in wedding planning and I could not have done it without them. Hire Corcoran!
Photos by Paperbird Photography

Susana G.

Married on 05/13/2023

Amazing Amazing!

One of our best vendors! We worked with Emelie and she went above and beyond to make sure we had the wedding day of our dreams. Emelie is extremely responsive and an overall amazing person. We reached out to several companies and no one provided the attention like Corcoran. The food and appetizers were delicious! Emelie made sure we included my Colombian and my husband's Philly food culture. The attention to detail on the wedding day made sure everything went smoothly. I cannot emphasize how amazing Corcoran Catering was and we could not have had our wedding day without them! Thank you thank you!

Ryan A.

Married on 05/06/2023

Catered to Our Hearts and Stomaches

Emelie (owner) reached out to us before passing off to our Lead (Laura), and what a team it was! The tasting, linens, and setting coordination was very well thought out, and Laura did very well to follow-up with us on any details and specifics over the course of pre-planning. The food is delicious and the teams has great ideas for setting up a wedding and utilizing the venue space. We loved working with them throughout the whole process.

Jen F.

Married on 04/08/2023

Love Corcoran!

Our wedding was at Woodend and after reaching out to a few of their preferred vendors we are so happy we picked Corcoran! Laura was absolutely amazing! She worked closely with us from the very beginning and made the process smooth and easy! They accommodated our request to have all food except one entree option be vegan! Everyone was blown away by the food - even the vegan desserts were a hit and no one could believe they were vegan! In addition to the food all of their equipment is beautiful - I loved how we could pick everything so it fit our vision. Highly recommend them for your wedding!

Denisse V.

Married on 10/29/2022

My favorite vendor at the wedding!

Hire Corcoran Caterers!  I worked with them for our Oct. 29 DAR wedding. I can't say enough great things about them, from the food, to their attention to detail, how friendly and easy they are to work with, how no one at the wedding had an empty wine glass at any point in time, they were overall amazing.  The food is delicious, served hot, and the team works with you to find the best meals and cocktails that fit you and really personalize your wedding.  No request is too crazy or too odd, they even made us delish arepas as appetizers as a nod to my fam background! 

Their prices are extremely fair and, although I know they had a very busy year, they always treated us a top priority.   Emelie is also a delight to work with, she was super calm, always had answers and suggestions at the ready.  She was truly the MVP, going above and beyond with her help - not just with food but with other ideas, be it decor or logistics.  She is so fun to chat with and if I ever need an event catered, I am absolutely hiring them again.  If it hadn't been for her, there's no way our wedding would have gone as splendidly as it did.

Jenny L.

Married on 10/28/2022

Amazing catering team

My wife and I hired Corcoran Caterers for our wedding on 10/28/2022. From the start, Laura Hennigan was absolutely amazing. She was helpful, responsive, kind, and incredibly detail-oriented. Our meetings and tastings with her were very productive, and we always got the sense that she was really listening to what we wanted. Laura's menu recommendations, her suggestions on timing, her layout and staffing plan, clearly were coming from a place of expertise; even her suggestions on the smallest things turned out to be super important, and really added the touches that made our wedding exceptional. On the day itself, her team was incredible. Our guests continually remarked at how genuinely kind and helpful the service staff was, and how delicious the food was; in fact, several guests said that this was the best wedding food they had ever had. Can't ask for much else!

Sammy C.

Married on 10/23/2022

Unique Dinner Perfectly Planned!

Laura and Corcoran allowed us to have the wedding reception of our dreams! We opted for a unique aka never been done before dinner style of tapas served family style. Laura was the only coordinator out of the five we reached out to that would even entertain our concept, and then she made it happen FLAWLESSLY.

We have heard from several guests that this was the best wedding food they've ever had - and it was ENTIRELY gluten and nut free. We had so many people with allergies but Laura made sure everyone could eat safely and to our knowledge there were no issues.

The food was delicious, from cocktail hour to dessert - we had the best food imaginable. We don't have any photos or I would attach them here but it was incredible.

Additionally, the on-site catering staff was lovely to work with, and they were able to help all of our guests be fed quickly even with a crowd of 135! I cannot recommend Corcoran highly enough, they are FABULOUS to work with!

Martha F.

Married on 10/21/2022

Laura Hennigan, My Hero

Laura Hennigan and Corcoran Caterers knocked it out of the park. Laura was responsive, constructive, and thoughtful to work with when planning our wedding, and she managed everything wonderfully the day of. The servers were also exceptional; more than one guest mentioned individual servers by name days after the wedding when talking about how much they enjoyed our cocktail hour. And the food was delicious. Several people have said it was the best food they've ever had at a wedding. I know I'm biased, but I agree! We had the best day ever, and it was in no small part because of Laura and Corcoran.

Elizabeth H.

Married on 10/15/2022

An easy choice for a caterer

We chose Corcoran to cater our wedding at Woodend, and from the moment we called we knew it was the best choice. Laura was fantastic - she had gotten married at woodend, so we knew that she was confident in all of the decisions for our day. She was a pro in dealing with me changing my mind or asking a million questions, offered opinions when we asked, but never pushed. Everything day of was absolutely perfect.

Scott

Married on 09/17/2022

Amazing food and service

Corcoran Caterers was a dream to work with, and the food is really above and beyond what you'd expect from an event caterer. The dishes were adaptable to our guests needs, and Martha made sure that we had little touches that we want. Additionally, they were great partners for planning the tablescapes and venue layout.

Rachel S.

Married on 09/17/2022

Amazing Caterer for Your Wedding Day

We used Corcoran Caterers for our wedding on Sept 17th 2022, and we were so pleased with the whole experience. From the start, I worked with Laura, and she was extremely organized and detail-oriented. I could tell from the first phone call that she knew her stuff! What sealed the deal was when me and my fiancé tried the food. The food was really great! It was miles better than what we had tried with another caterer. The food was super important to us, so this seemed like a stellar choice. On wedding day, things went perfectly. Laura recommended a great month of coordinator for us, so we had a dream team. Everything went very smoothly! Guests loved the food. The linens and glassware were stunning. It was a very beautiful day. The cake was the only thing that left something to be desired. I think they had a little issue with it being lopsided (we honestly did not care about that), but the actual taste of the cake was just OK. You have an option to do cake with them or get an outside cake. The rest of the food was truly AMAZING. If you are thinking about booking Corcoran Caterers for your wedding, do it! Such a phenomenal experience. Great coordination and organization.

Soumya-Singh

Married on 09/02/2022

Excellent!

Corcoran catered my wedding reception at Woodend Sanctuary and Mansion and was a god send! We had a decent number of guests who were vegan, vegetarian and/or had a dietary restriction. The chef is very talented and open to trying new things that aren't traditionally on the menu. One of the guests had a child with a severe peanut allergy, and she said "I have never been this care free with what can eat because everything prepared with care and was marked so clearly!".

Also, Laura was very helpful throughout the process, and was flexible to my needs. She is also a very creative person -- she managed the set up of the food stations and they looked amazing. The food was excellent and my guests were happy clams by the end of the night!

Dani D.

Married on 08/20/2022

Feels like family

They say no one will remember the food at your wedding. If you work with Corcoran Caterers, that won't be true (in the best way!). People were going back for seconds, our non-traditional dessert of creme brulee and chocolate truffles was a huge hit. Even the vegan truffles had people talking! But more than that, working with the Corcoran team is an absolute joy and we knew they were just as invested in our big day being a success as we were. We can't speak highly enough of how kind and accommodating they were to us during COVID. Not only did they postpone with us twice, they made sure the linens we selected back in 2020 were ready to go two and half years later. When we decided to still legally tie the knot in 2020 anyway, we worked with them to put together a fabulous boxed dinner for our immediate family. They surprised us with a little monogrammed sticker of our names on each box, which was the sweetest touch. When they pivoted during COVID to offer takeout family meals, we ordered from them a few times and enjoyed everything so much, we constantly questioned whether we should tweak our wedding menu to include the latest dish we'd just tried. We wouldn't hesitate to recommend Corcoran for any event that requires catering, they're fantastic!

Emily C.

Married on 08/07/2022

Great food and so much more!

Creative, seasonal, menu options, including great tasting vegetarian appetizers and mains. Not only did Corcoran Caterers provide great food that my guests loved- they really helped steer me through the whole wedding process. From providing coordinator and photography vendor recommendations, to accomodating my wheelchair-bound father at the tasting, Corcoran was responsive, flexible and a great wedding partner! Their serving staff was friendly and attentive- there was always someone checking in with me and my husband, bringing us drinks and appetizers. Prices were similar to the other catering quotes I received.

Emily S.

Married on 07/16/2022

Incredible food and service, and fun to work with!

Laura and her team are simply incredible. She helped us imagine, plan and execute the most amazing wedding cocktail hour, dinner, and dessert. The quality of the food was spectacular - many guests have told us over and over again that it was the best and most interesting food they have ever had at a wedding. The service was phenomenal - the team was friendly and warm and seemed so happy to be there. When we completely changed the schedule to avoid some rain, everyone was so flexible and accommodating, and it felt totally seamless and stress-free. And working with Laura over almost two years of planning was such a delight - she offered great suggestions, was always professional, thoughtful, and honest, and helped us craft something truly amazing. I am so grateful to this team and would (and have!) recommend them to anyone.

Gretchen W.

Married on 07/09/2022

Absolutely Outstanding Service and Food!

If I could rate Corcoran Caterers as a 10 instead of only the maximum 5 that I am allowed I would do so! Where to begin ... This is a family owned business which I love to do business with, and all the family members are completely devoted to service and products that are absolutely top notch. I hired Corcoran to provide the food, bar service and all rental equipment for my daughter's wedding. The exceeded my expectations in all three categories. The food was simply outstanding - as good as you would expect in any top tier restaurant. Their bartenders, alcohol selection, and bar service was excellent and much easier that contracting from a liquor provider. I was able to select and specify exactly which wines etc. we wanted for the event. The rental equipment was all perfect, and I appreciated the fact that there was not an upcharge for things like selecting gold flatware instead of silver. They were literally able to provide everything that was needed except our dance floor, and the selections they offered were fantastic. This was important since our venue did not provide anything other than the venue itself. But what was most exceptional was our primary contact at Corcoran - Emelie. Together we face MANY hurdles along the way and Emelie always focused on solving the problems, and doing so with grace and professionalism. I could not have done it without her! I recommend Corcoran Caterers without reservation and thank them for all they did to my daughter's wedding the wedding of her dreams.

Shelby

Married on 05/21/2022

Laura was outstanding

We worked with Laura for a wedding at Woodend and couldn't be happier with the way things turned out. The food was delicious, the communication and responsiveness was excellent. Unlike some other caterers, they make cakes, and really good ones at that.
Are you interested?
Send a message