32 Reviews
Recommended by 97% of couples
Quality of service

4.9 out of 5 rating

Average response time

4.9 out of 5 rating

Professionalism

4.9 out of 5 rating

Value

4.8 out of 5 rating

Flexibility

4.9 out of 5 rating
Awards
17 User photos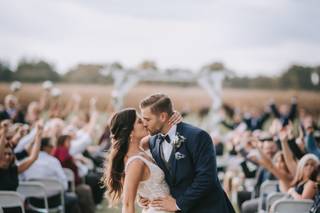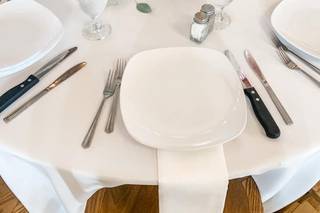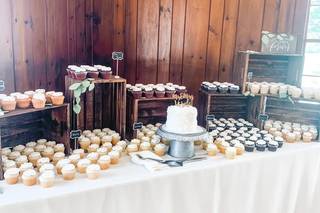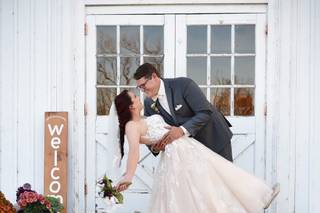 + 13

photos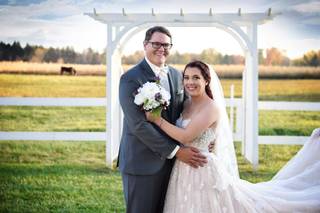 Kelsey V.

Married on 10/08/2021

Amazing venue and staff!

Our whole experience with Columbia Ballroom was amazing! Amber was the sweetest and answered the millions of questions we had.
We originally were supposed to get married in October 2020. Due to covid, we pushed it to October 2021. We were devastated that we had to push it, but Amber made the whole process a lot easier for us!
Our wedding was an absolute dream and I couldn't imagine having it anywhere else! We were married outside with the horses in the back. It was like a fairytale. The horses even came up to the fence after the ceremony, so guests were able to take photos with them.
The inside of the venue was everything we wanted. It's a modern rustic vibe with great natural lighting! Perfect for photos in the venue. And the dance floor was a perfect size for over 200 guests!
Also, I recommend renting out the bridal suite for the morning of. It was so helpful to have a place next to the venue to get all the girls ready together. We had 12 girls & 4 hair/makeup ladies & it fit us all!

Brittany Z.

Married on 03/28/2020

March 28, 2020

From the moment my fiancé and I started planning our wedding, we knew we had to have our reception at Columbia Ballroom. We had previously attended a wedding there, and loved it! We booked them within a month of getting engaged. Once we started telling our guests and our other vendors where our reception was, all we kept hearing was good things about the venue, food, and service. From the time we booked Columbia Ballroom up until this day, they have been nothing but amazing to my fiancé and I.

Unfortunately, we are not able to have our reception at Columbia Ballroom due to the fire that took place exactly three weeks before our big day. What I can speak on is that Columbia Ballroom has gone above and beyond to provide us with THE BEST customer service (even when they were going through such tragedy). They stayed in touch with me to keep me informed of what was going on after the fire took place. They reached out to other venues on my behalf to see if our date was available, and to see if they could accommodate us. Even before the fire took place, they always responded in a timely manner whenever I had any questions or concerns. They provided us multiple food tastings (which made it very difficult to choose our food menu because everything was so delicious)! They were extremely flexible on specific requests we had. We were able to be picky about all the details for our special day, no matter how big or small they were. They made planning our reception so much easier than I ever anticipated. I cannot thank them enough for all they have done for me these past couple weeks, and the last year & a half of our wedding planning.

I worked with Amber throughout the entire process of planning our wedding, and she was amazing to work with. She makes planning your wedding reception so easy. She is truly a professional at what she does! The owners Shane and Heidi were also great to work with throughout everything that happened. All three of them truly care about every couple that steps foot into Columbia Ballroom.

Future couples, PLEASE consider Columbia Ballroom for your big day— they are an amazing venue with an amazing team behind them. I PROMISE you will not be disappointed with their food, staff, and services!

Brittany S.

Married on 11/08/2019

Amazing venue

I just had my wedding at Columbia ballroom last night! Amber is amazing. The venue is beautiful. Everyone raved about the food. Everything was just perfect. HIGHLY RECOMMEND.

Are you interested?

Send a message

Victoria V.

Married on 11/01/2019

Wonderful. Amber was so helpful and patient.

My wedding day was a dream. Everything looked so beautiful. All my guests raves about the food, dj, and decor.

Taylor

Married on 10/11/2019

Columbia Ballroom

Words cant describe how amazing our wedding went! Columbia Ballroom was a dream venue & everything was perfect the night of our wedding. Not a detail missed. AMAZING. Just walking in took my breath away. My HUSBAND and I couldn't have asked for a better night. Thank you Amber for making sure it all went smooth!!! Also, my bridesmaids & i stayed at the bridal house the night before....it was perfect. A dream really!

+ 3

photos

Alexis

Married on 09/01/2019

Thoughtful

Columbia Ballroom places the bride and groom first. Heidi and her team work closely with you in order to ensure your day is perfect. The team is polite and quick to respond to any question. I would recommend this venue for any event, I cannot say enough good things about Columbia Ballroom.

Rebecca

Married on 08/17/2019

Columbia Ballroom Is The Perfect Place To Get Married

The Columbia Ballroom is an incredible venue. We booked them shortly after we got engaged 18 months ago and they have been a pleasure to work with the entire time leading up to our special day! They are kind, professional, and very responsive. We did most of our communication with Amber who was always available to answer and questions or share ideas with. Heidi was there the day of our wedding and she was so kind and thoughtful and really put a lot of effort into making our day perfect. They were flexible with anything we needed or wanted to really customize our wedding to fit us. They have their own catering on site, which is absolutely incredible. The food was amazing! They have their own bar (which you can customize) and bartenders who provided great service. Their event staff made the day effortless. Our ceremony was on site too and it was everything we ever dreamed of. We will recommend The Columbia Ballroom always and forever!

Jaclyn

Married on 05/18/2019

Amazing venu!

This venue is so great! They make everything so easy! The have there own catering and bartenders. The food is amazing and they have an excellent selection when it comes to alcohol. They have all the tables linens, tables and chairs already there and not to mention they beautiful decorations. Heidi is amazing! Overall just a great experience they go over and above to make your day amazing!

Kellie

Married on 07/21/2018

Everything about my wedding was absolutely PERFECT, starting with the Columbia Ballroom.
I fell in love with the ballroom since the moment I saw it. The ballroom, despite it's name, is not a ballroom, but a rustic-barn feel, with exposed wood beams and hardwood floors. It's a big main room and dance floor, complete with a large bar, and stage to keep the whole party in one place. A horse farm out back, gives it that extra touch.

The venue books fast, so if you want this place DON'T hesitate. The year I wanted was completely booked, so I ended up putting my name on a waiting last. It turned out the venue had a cancellation and we quickly scooped up the date.
Heidi (the owner) and Amber were both a phone call or text message away throughout the whole planning process. They were both so helpful in making my day exactly how I wanted. My finace and I quickly picked our food, and our tasting was delicious. Closer to our date we had to pick table cloths.... I changed my mind a million times, and went up multiple times, and Heidi and Amber were always eager and accommodating. The month or two before the wedding I changed the table cloths (again) and even wanted to add in a taco bar, and again they were quickly there to help!
The day of the wedding finally came. We opted for a plated dinner instead of buffet and the severs executed it flawlessly. We received SO MANY COMPLIMENTS on all the food, from the Italian Wedding soup, to the main course, to the late night taco bar! Every single guest had something good to say about the meal.
The bartenders were equally amazing. There is an older blonde lady bartender who took care of me all night! I wish I learned her name because she definitely deserves a shout-out! The bartenders had hustle and the drinks were great!
I can't say enough good things about this place. If you are considering it for your wedding venue, just book it now!

Karen

Married on 04/28/2018

There are truly no words to describe how amazing The Columbia Ballroom is. From the absolutely beautiful venue to the incredible staff and service and the DELICIOUS food - everything was beyond perfect. Heidi and her crew provided the best service and attention to detail - our ceremony transitioning to reception was seamless and it's truly all thanks to these amazing people! THE FOOD! Hands down the best. We still dream about it and wish we could have just ONE more bite of steak. Not only were Sean and I pleased, our guests couldn't stop raving about how delicious everything was. Absolutely incredible.

You guys are amazing. My first wedding memory will forever be walking into The Columbia Ballroom, seeing the ribbons tied on the chairs and the tables set, and I walked right back out and cried so hard over how beautiful everything was. It honestly took my breath away. We are so grateful for all of you - it was a day we will never forget! Just perfection.

Christa

Married on 12/02/2017

My fiance and I just had our wedding at Columbia Ballroom 12/2/17 and we could not have asked for a more amazing experience. Heidi and staff were extremely helpful and acomidating. Our guests raved about the food and the beauty of the venue. Could not have asked for a better place to have held our wedding at!

Liz

Married on 11/17/2017

We LOVED working with the Columbia Ballroom for our wedding. They were very professional and helpful from beginning to end. The Ballroom is absolutely beautiful! We received so many compliments on the venue and the food from our guests.


Amber

Married on 09/09/2017

I had my wedding at the Columbia Ballroom on September 9th 2017. I couldn't have asked for a better day! Heidi was so helpful from the time we first came to look at the place up until after our wedding. She made planning the wedding stress free from recommending an awesome Dj, to responding to all of my questions quickly. The Ballroom provides chairs, tables, glassware, linens, napkins and so much more! I had so many compliments on how beautiful the venue was and how delicious the food was. I can not thank the Columbia Ballroom enough for making my big day PERFECT!

We just booked our wedding for 2016 here and so far they have been wonderful. I live in Akron, but my fiancé lives in IL and all of our family/ friends will be coming in from out of town. I needed something where I don't have to do a lot of thinking and planning. They make it so easy- food (the one owner is a chef), bar, tables/chairs, linens, decorating (besides adding your own flair), wait staff is all included. This completely takes all of the running around trying out vendors and craziness out of it. The place is a cool old barn. Heidi is awesome and so far has been extremely responsive. She is also laid back which is good for me. I am super busy, type A personality, but I travel a lot and need someone to take this part of it over. So far everything has been great!

The Columbia Ballroom was the perfect venue for our vintage chic wedding! The venue is gorgeous and Heidi and Shane were amazing to work with! I had so many compliments on the venue, the bar staff, and the FOOD- delicious!!!
The venue is perfect for an outdoor ceremony too! They have a beautiful arbor that backs a field of horses. Can't praise this venue enough!!!

Brittney

Married on 07/30/2016

Everything was absolutely amazing! The food and the venue and the ceremony were above and beyond what we expected!

Tara

Married on 07/08/2016

We were married at the Columbia ballroom last Friday, and I wouldn't have wanted to be anywhere else. I was planning the whole thing from Tampa, Fl which was stressful enough, but Heidi was always prompt in her email responses and always made herself available when I would come in town for a few days to meet with me and answer questions. On the day of the wedding, we had a mishap with the florist- he thought the wedding was the next day- so two hours before the ceremony was to commence, I had no flowers or centerpieces. Heidi was a rockstar, before my bridal party had even made me aware of what was going on with the florist, Heidi, her husband and crew were cutting flowers from their OWN gardens for centerpieces, running to Costco to get flowers for my bouquet, decorating with anything they could find. The staff and the ballroom, along with my bridal party and family, saved my wedding day. It was also great because the inside of the ballroom is naturally beautiful with everything that they provide anyway. I got so many comments on how wonderful everything looked, nobody knew what happened. Heidi and the staff made the whole wedding experience amazing. Definitely would recommend. And the food is phenomenal.
- Tara and Nick Biondo

Elizabeth

Married on 06/04/2016

This venue is absolutely beautiful and Heidi is so great to work with. Even with the 17-year cicadas and rain, our wedding day went off without a hitch. And the food is delicious!

Amanda

Married on 05/20/2016

Heidi (owner of Columbia Ballroom) executed my dream wedding May 20, 2016. She was super flexible and easy to work with throughout the process. She was patient with me when I had a lot of questions! She was cool with our dogs being part of the ceremony as well. Her husband Shane makes the food and it was soooo delicious. Our guests raved about it. Overall, this venue is affordable and well worth the money for the quality. I loved my wedding and am so grateful to Heidi and the CB staff.

We booked this venue for our wedding in April 2016. Heidi was wonderful to work with and was always ready to help. Every question I had was quickly answered. She was so attentive during setup and the reception. She was at the ballroom for the entire reception was very helpful when we had questions or needed anything. Shane is a fantastic chef and the food is absolutely delicious prepared perfectly. To top off the two wonderful people that own the venue it is absolutely beautiful and was a perfect fit for our wedding reception!

Christina

Married on 12/04/2015

Heidi was great to work with and willing to work with all of my requests!

My husband and I could not have asked for a more beautiful and wonderful ceremony and reception location.

Sharron

Married on 10/17/2015

What a unique and beautiful venue. Vintage and gorgeous! And the food was delicious. We served our guests a marinated London broil and a bourbon glazed salmon. Both were both outstanding. The potatoes were "real" and the vegetables were cooked to perfection.

The Table linens and chair bows were absolutely beautiful. I cannot imagine having a reception anywhere else!

Matt

Married on 05/09/2015

Columbia Ballroom was a perfect choice for having our wedding ceremony and reception. The venue is beautiful and the food is amazing. Working with their coordinator was very easy and she was extremely helpful. If you are looking for a great place with a rustic feel, Columbia Ballroom is the right choice.

We had our wedding reception at the Columbia Ballroom, and could not have been happier with everything! The Ballroom has such a charming, romantic feel. The owner was so helpful and friendly, great to work with and really helped us make our party a unique and special event. The food was delicious, and our guests are still raving about it! Thank you so much for making this such a fun, memorable and magical night for us and our guests!!

Cheryl

Married on 12/20/2014

Wow is all I can say about this place, it is absolutely amazing inside! They made my dream wedding come true! I can not say enough about how great it was working with Heidi, she is so nice and helps every step of the way. The food is amazing, so many complements on it, especially the broccoli cheddar soup, London broil, stuffed chicken! You will be so happy if you have your reception here!
Are you interested?
Send a message