Reviews
5.0 out of 5 rating
Quality of service

5 out of 5 rating

Average response time

5 out of 5 rating

Professionalism

5 out of 5 rating

Value

5 out of 5 rating

Flexibility

5 out of 5 rating
100%
Recommended by couples
171 User photos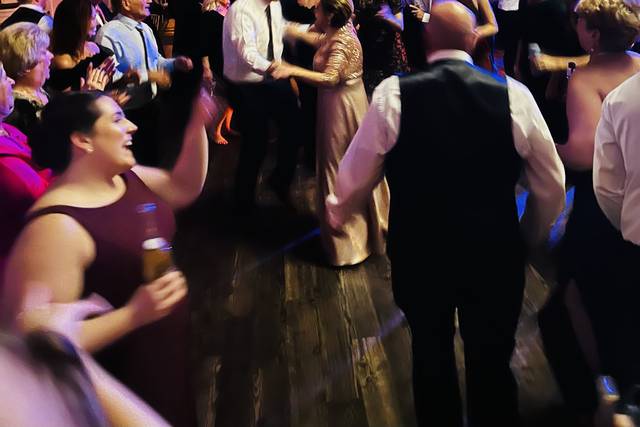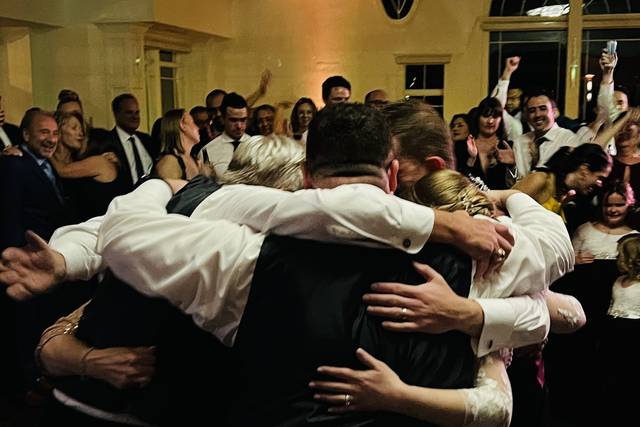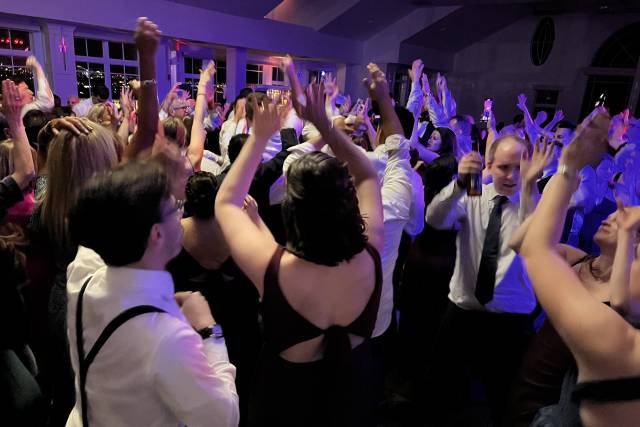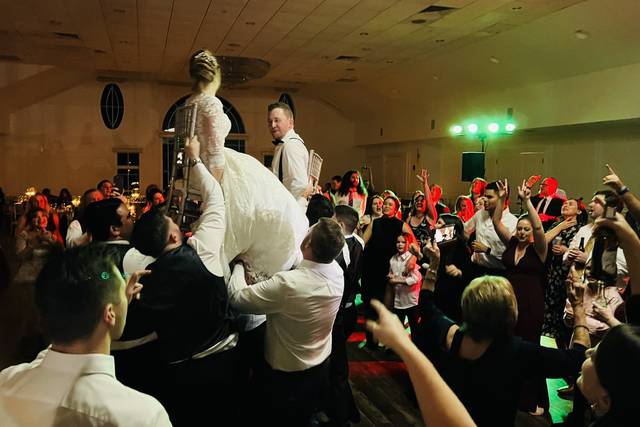 + 167

photos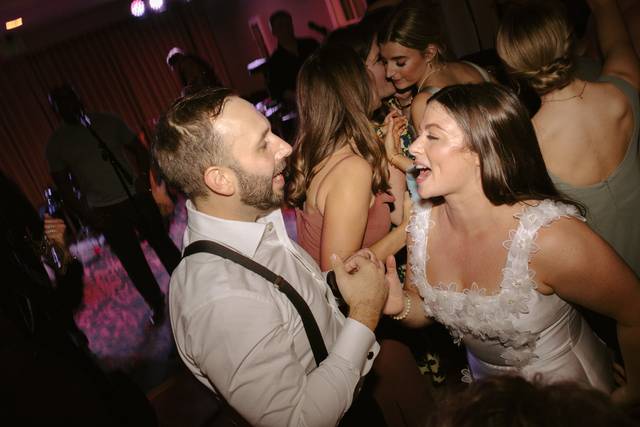 Featured

Alana S.

Married on 11/03/2023

Incredible

I can't tell you how happy we are that we booked Clockwork New England. After looking around for bands, going to see them play, and realizing that it's just a constant rotation of band members and not a guarantee to get who you necessarily prefer, we stumbled upon CNE and they assured us that they do not have a rotation of musicians - what you see is what you get. And what we got was absolutely incredible. I can't tell you how many people came up to my husband and I raving about the band. They sound incredible, picked an amazing selection of songs, and kept the audience engaged the entire night. We practically felt like we were at a concert, and it was amazing. We were hesitant at first knowing we couldn't see them ahead of time…but this was our biggest relief of the night. The band was truly incredible and worth every penny. Highly, highly recommend!!

Don M.

Married on 11/18/2023

Father of the bride/wrote the check😁

Clockwork was sensational! From the first phone call, to communication leading up to the wedding date of 11/18/23, we could not be more pleased. Then on the day of the wedding, they were not only fabulous but they were also spectacular. They worked on every detail to please my daughter and her new husband. They had the dance floor packed the entire evening! Could not recommend them more highly. Book them as soon as you can!!!


Mike B.

Married on 11/03/2023

Blew all expectations out of the water and more! Look no further for the best band :)

Ron and the Clockwork team were an absolute pleasure to work with from Day 1 all the way through the big day. They take the time to understand your big day, are very clear and communicative during the planning process, extremely professional, and blow your guests away with their performance. Their uplighting was amazing, their musicians were unbelievable, and they delivered such a memorable and special day from ceremony to cocktail hour, through the end of the reception.

They are truly the best in the business and we have nothing but great things to say. Thank you for everything!

Look no further if you are planning any type of event and want a top tier group of people :)

Are you interested?

Send a message

Laura L.

Married on 10/28/2023

Dancefloor packed all night!

Clockwork New England kept our dancefloor packed all night long. We had so much fun thanks to them, and our guests can't stop talking about how great they were. Ron was so responsive and communicative throughout the planning process and our ceremony sound, cocktail hour sax/piano duo and of course 8 piece reception band were excellent. We couldn't recommend Clockwork enough!

Liz M.

Married on 10/21/2023

Best wedding band ever

Clockwork Boston helped make our wedding the best night of our lives. They vibed off the crowd and kept the dance floor going the entire night. They were professional and accommodated all of our requests. We couldn't have asked for a better band and multiple guests told us it was the best wedding band they've ever enjoyed. Would recommend them to anyone 110%.

Noelle P.

Married on 10/13/2023

Amazing - Highly Recommend!

Clockwork New England was such a blast on our wedding day! They sounded amazing and really engaged with the crowd during our reception. Everyone was telling us how much they loved the band and how much fun they had. Booking & pre-wedding process were all very helpful and straightforward as well. Would definitely recommend!

Tracey M.

Married on 10/13/2023

Absolute perfection

Being a music lover, choosing the perfect band for our daughter's wedding was the MOST important decision I had to make. To say Clockwork was PERFECT is an understatement. They were absolutely FABULOUS and everyone that attended were so happy and entertained. The female and male lead vocals were beyond words and the instruments were phenomenal. The options we chose for the ceremony (pianist) and cocktail hour (saxophone and pianist) over exceeded our expectations. The BAND made the night!!! We never stopped dancing ( our feet can attest to that lol) I can not recommend them enough. They truly are the BEST OF THE BEST!!!! In the words of our 89 year old father..."that was the best band I have ever seen"!!!!!! THANK YOU THANK YOU THANK YOU for making our monumental night magical!!!

Shaun W.

Married on 10/08/2023

Professional Performers!

Exceptional performers at an amazing price! This team of 8 put on a great show, had everyone dancing, and gave the night great energy! Highly recommend in the New England area!


Mary

Married on 10/08/2023

Excellent music of all genres

The dance floor was packed the entire night! Every guest commented on how fantastic the band was! They performed every song as well as , if not better than, the original recording. I'm so happy that Clockwork New England entertained at my daughter's wedding!

Susie

Married on 10/08/2023

Wedding band

Clockwork East Coast's hundreds of happy reviews were not wrong! From the first dance to the end of the evening the band kept everyone dancing and everyone raved about our band! Particular shoutout to the vocalists who were incredible. We are excited to se them again at our friends' wedding!

Vinicius A.

Married on 10/08/2023

Everyone left saying "what a band..."

Clockwork was fabulous! Their professionalism leading up to the event, song selection, musical talent, and stage presence and energy where unparalleled! We highly recommend them!

Kristin B.

Married on 10/07/2023

What a wedding!

Our son recently got married in an absolutely beautiful and wonderful wedding in Rhode Island. Speaking as a parent, this was one of the most fun weddings I have ever attended. The music was great, Clockwork Boston was professional and so much fun. My husband and I danced until midnight. Thanks again, Clockwork. I recommend you highly.

Margaret C.

Married on 10/07/2023

Absolute best wedding band!

We cannot recommend Clockwork enough! We had Clockwork New England perform for our wedding, and they were the best! They were super organized and communicative leading up to our wedding, and brought unreal energy to our reception! All of our guests couldn't stop commenting on how great the band was and how much fun they had dancing. They played exactly what we wanted to hear, and closed down the night with an epic rendition of Shout! If we could give more than 5 stars to Ron, Patrick, and the whole team - we would!

Jen W.

Married on 09/30/2023

Clockwork Boston made our wedding!!

We cannot say enough good things about Clockwork Boston!!! The band absolutely made our wedding the dream come true that it was, and guests couldn't stop raving about how good they were. They played all our requests, and left out all the songs we didn't want played -- and kept everyone on the dance floor the whole way to the end. Great communication and coordination leading up to the event, and left us feeling confident and secure in our decision to book them.

Laura V.

Married on 09/23/2023

FABULOUS from the start of planning until the end of their gig!

Clockwork Boston helped make our daughter and son-in-law's wedding the HUGE party we wanted it to be. All of the band members were accomplished musicians and performers. Both the male and female lead singers had phenomenal voices and stage presence, were enthusiastic, and got all of our guests out of their seats and on the dance floor. They were OUTSTANDING!

Stephanie H.

Married on 09/23/2023

Danced All Night!

Clockwork Boston was an outstanding band for our son's wedding. Great performers & great music. We all danced all night - even our 85 year old grandma! We couldn't have picked a better band. Book them if you can!

Tom B.

Married on 09/16/2023

Best wedding band I've seen, great performance and attention to detail. People were dancing all night.

We Can not say enough good things about Clockwork New England. They rocked the modern party songs and hit the high notes on the slower motown songs, had everyone on the floor dancing the entire night. So many of our friends came up to say they were a great choice and the wedding was so much fun. They also had a great attention to detail for all of the music we requested, including some unorthodox song choices for our ceremony. We Highly recommend them for any type of wedding!

Clark G.

Married on 09/16/2023

Such a Smoking Band!

Wow! What a vibe these folks created and kept going for almost 4 hours. Edith was such an engaging and rousing host and vocalist. She read the crowd and kept the pace just right. Donnell, the other front person, had killer vocals and leapt into the crowd at just the right moments to really put things over the top! The whole band was super tight, so fun to watch and the damn horns just blew everyone away. Seen a LOT of bands and these folks were one on the BEST! Super choice!!

Mary E.

Married on 09/16/2023

Wonderful music at my son's wedding. Guests danced all night

The band was terrific. Guests danced all night. They provided music for the ceremony as well as reception. Responsive to pre arranged song requests. Vocalists had great voices. Highly recommend

Anthony D.

Married on 09/16/2023

Absolutely electric!

This is hands down one of the best wedding bands I have ever seen. Their song choices are on point, they sound amazing obviously, and they're very interactive with the crowd. 15/10 would recommend!

Michele D.

Married on 09/16/2023

Amazing band!

Superb band! They made the reception so much fun! Excellent vibe, great songs, super high energy. Love them!

Cassandra L.

Married on 09/15/2023

Best wedding band ever!

My husband and I were guests at a NYE wedding 5 years ago and since that time we had been to several other weddings, but we always talked about how GREAT the band was that night. When we got engaged we didn't have many certainties about what our wedding details would consist of but the one thing we knew for sure is that we HAD to have ClockWork perform at our wedding. Our band selection was by far the most crucial element of our entire wedding planning process, and every expectation we had was completely exceeded beyond words. Our wedding was elevated to a whole new level all thanks to ClockWork Boston. From the moment I secured the date with the band, Ron was so friendly and professional. As stressful as wedding planning could be Ron took so much pressure off and literally said "Don't worry too much about music selection, we guarantee to play songs that will have guests dancing all night." I put all my faith in Ron and his crew and he executed in every way. From our cocktail hour jazz trio, to keeping the flow of the night smooth with MC'ing, our reception felt more like a royal event. Our guests fed off the amazing energy from ClockWork starting with the incredibly well spoken introductions from one of the fantastic vocalists, Edith. Guests from all different age groups were able to relate to the song choices and flooded the dance floor even before dinner was served. My husband and I kept saying our only regret was that we couldn't be a guest at our own wedding. So many of our guests raved about the band and how many wedding they had gone to in the past no other band could compare to ClockWork. Each of the band members were so talented, energetic and friendly. The sax and guitar solos that took place on the dance floor amongst guests was such an exciting element. The band was even so accommodating to incorporate some DJ'ed Greek songs for us. A memory I will not forget is my husband and I dancing to foot loose on stage with the band while looking out at a completely packed dance floor full of happy friends and family. We agreed that our night would have never been the smashing success it was if Clock Work were not there. If you want to have an incredible wedding the first thing you need to do is secure Clock Work Boston—— I promise you will not be disappointed!

Stephen S.

Married on 09/09/2023

Best band ever

We feel so beyond lucky to have had Clockwork Boston play at our wedding. We knew from the moment we got engaged that we wanted to have live music during our reception and so the search began. We found Clockwork Boston, and from the videos we were able to see, we had a feeling they may be the one. We reached out to Ron Barth and after our first interaction with him, had great feelings about booking the band. Ron was incredible when it came to helping us plan how we wanted our reception to go. He was extremely flexible and accommodating with us and always had a positive attitude when we talked to him. We opted for an 8-piece band for the reception and a DJ for our ceremony and cocktail hour. When Ron arrived with the crew to set up, we had the chance to meet him and he was as much of a pleasure in person as he was on the phone. He had all of the details planned out and wanted to ensure our day was perfect. The DJ for the ceremony was excellent and made the ceremony flow smoothly. We were lucky to also be able to listen to the DJ during cocktail hour and noticed how the music kept the great energy from the ceremony going. When the band started during the reception, we knew we made the right decision in picking Clockwork Boston. From the incredible instrumental play to the beautiful voices of the singers, the band kept the party going throughout the reception and got every guest on the dance floor. We had such an incredible time dancing to their great set list and had so much fun as they interacted with the crowd. It has been 3 weeks since our wedding and we still consistantly hear from the guests how much they loved the band and the energy they brought. We would absolutely recommend booking Clockwork Boston for your wedding if given the opportunity!

Monica G.

Married on 09/09/2023

Best Wedding Band Ever!!

Clockwork made our ceremony and reception unforgettable! They took care of everything and had everyone on the dance floor the entire night. I loved how they involved the guests and us in their performance, every single one of our guests has been raving about them!

Janine G.

Married on 09/09/2023

Made the wedding so much fun!

Fantastic from beginning to end! As the MOB, I couldn't be happier. Highly recommend!!
Are you interested?
Send a message