795 Reviews
Recommended by 100% of couples
Quality of service

5 out of 5 rating

Average response time

5 out of 5 rating

Professionalism

5 out of 5 rating

Value

5 out of 5 rating

Flexibility

5 out of 5 rating
156 User photos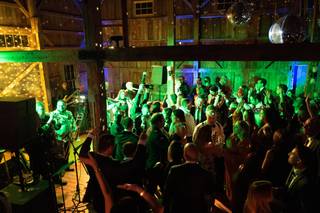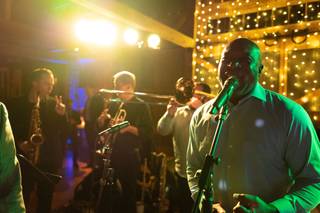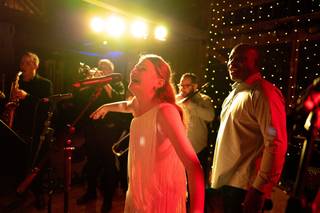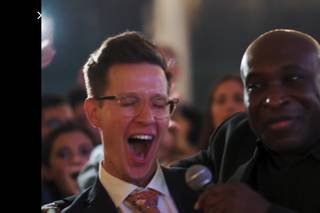 + 152

photos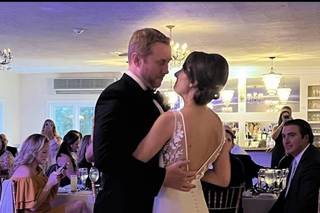 Featured

Lauren G.

Married on 12/03/2022

10/10, Everyone Danced ALL Night!

If your priority for your wedding is for you and your guests to have fun, 10/10 would recommend Clockwork Boston. Us along with our guests danced the ENTIRE night. The band members interacted with the crowd which my guests and I absolutely loved. During the afterparty and next day at our hotel venue, our guests raved about how amazing Clockwork Boston was and how our wedding was one of the best they've been to. Clockwork Boston made our wedding extraordinary for us and all of our guests!

Additionally, Clockwork Boston/Ron was a dream (easy & stress-free) to work with from start to finish. Ron was extremely easy to communicate with and responded to emails and questions in a timely manner. I relied on Ron for suggestions on ceremony microphones & songs, a general timeline for our reception and picking a playlist for without having the stress of picking one myself (I made specific requests and then he picked the rest, knowing which songs the band performs best). Our ceremony music & mics went off without a hitch. Before our reception I briefly met with Ron and the MC to go over the announcements for the night. During the dinner part of our reception Clockwork Boston knew tasteful songs to play along with songs that went with out theme (Christmas). Lastly, I will mention again, the dancing part of our reception was UNBELIEVABLY fun. They made our reception everything we could've hope for and more!


Eric T.

Married on 01/07/2023

Grateful for a Great Gig!

Clockwork New England absolutely crushed our wedding. They went above and beyond more than any other wedding band that we have ever been too. We had countless people come to ask us where we found Clockwork and want to use for their weddings. A++ I'd say "would do business again" but this is my only wedding :) perhaps a big time anniversary celebration may be needed on the books!

Ashley G.

Married on 01/07/2023

Amazing band!!

Clockwork East Coast is amazing, and we would highly recommend them to anyone and everyone!! When we started planning our wedding, we wanted to prioritize good music and a full dance floor, this band gave us that and more! We had a wedding of about 200 people and the dance floor was full all night long. The band does not only sound amazing, but their energy is also contagious. Before the wedding both Ron and Greg made the planning process a breeze. They are both super knowledgeable, responsive and great to work with. On the day of the wedding Greg took our vision and made it come to life as the MC. We cannot recommend Clockwork East Coast enough; they made our wedding dream come true and the night unforgettable for not only us but all our guest as well!

Are you interested?

Send a message

Warren R.

Married on 12/31/2022

Clockwork Played Our Daughter's Wedding

The wedding was New Years Eve and the band had the guests dancing into the new year. Your 9 piece band was amazing. EVERYONE loved the music, audience interaction and nonstop entertainment. We received many compliments on your behalf throughout the night. You are all very talented musicians who are an absolute pleasure to listen to and work with. Last, but definitely not least, the piano and flute during the ceremony, the jazz trio through the cocktail hour were outstanding. Thank you.

Chris L.

Married on 12/31/2022

Band for our daughters Wedding @ the Bedford Village Inn

Clockwork was amazing at our daughter's wedding at the Bedford Village Inn Friday night! The dance floor was packed and everyone was commenting on how amazing the band was! Thank you for making Meghan & Peter's wedding so incredible!!

Jaime R.

Married on 12/31/2022

Spectacular

Clockwork helped us ring in the New Year for our wedding and they were nothing short of spectacular. They kept the energy up and the dance floor moving. Could not be more pleased with them. Thank you Clockwork!!!

D Baldwin

Married on 12/16/2022

Clockwork Boston — An AMAZING Band!!!

Probably one of the most important decisions to make for a wedding reception is the music. Clockwork exceeded all expectations. This high-quality band was professional, and the vocalists were very personable and immersed themselves into the party on the dance floor. The atmosphere they created was perfect, and the dance floor was busy all night with everyone,—young and old alike—partaking in the singing and dancing. Thank you for making our son's and new bride's wedding reception such a happy and memorable event.

Haley C.

Married on 12/16/2022

The BEST decision we made! (Besides the one to get married!)

Clockwork Boston was a DREAM! Ron, the band manager and keyboardist, was always so responsive and accommodating! Now let's talk about the music…this band is insanely talented!! From the musicians to the vocalists, we were completely blown away! They created the set list, which kept the dance floor busy all night long. I had several guests take their card and inquire about the band playing at future events! It's all everyone is still raving about, and rightfully so! If you want to hire a band for your wedding, this is the one! They're worth every penny!

Diana H.

Married on 12/10/2022

Easily the best decision for our wedding day!

At first we were skeptical of all the positive reviews, because there are only poor quality videos on their website, and no other way to see them. However, right from the start, Ron was so pleasant to talk to and his communication was top notch. As I continued to see positive reviews flow in, and talked to Ron about the wedding day logistics, we knew we were making the right decision. And did we ever!? Greg, the band leader for Clockwork East Coast, helped us work out the flow and vibe of the evening, and we had an extensive worksheet to fill out to make sure everything would be perfect. It went better than we could have ever imagined. From the casual music during the ceremony, the intros into the reception, the songs that were sung during dinner (At Last by Etta James...are you kidding me with how beautiful it was!?), everyone felt like they were at a concert! Throughout the evening our guests couldn't stop asking us how we found Clockwork, and complimenting their voices. The dance floor was full from 9-11 pm with guests young and old, and they made sure we truly had the best night of our lives. Thank you Clockwork! Would recommend to EVERYONE who asks!

Bora T.

Married on 12/02/2022

BEST wedding band ever!

Professional, energetic and absolutely amazing. The Clockwork organization helped to make our wedding the best time ever with their talented group of musicians and singers. They channeled the energy of the crowd effortlessly and had the dance floor jumping every second that they played.

11/10 this is the band you want to play at your wedding.

Meghan L.

Married on 12/02/2022

BEYOND what we had hoped for!

We knew we wanted a band for our wedding, and after seeing a few bands in person we heard about clockwork. We were a little hesitant at first that we were unable to see them in person but after connecting with Ron, reading 5 star reviews, and watching the videos online we decided to move forward and I can easily say it was the bet decision of our wedding. Patrick was so easy to work with and flexible to the ever changing needs throughout the day. I cannot say enough good things about the band; their talent, their energy, their interaction with the crowd. Everyone was on the dance floor the whole night and EVERY person asked where did you find this band?!?! A few months have passed and people are still talking about our wedding band. If you are thinking about clock work- pull the trigger!

Jamie F.

Married on 11/19/2022

Amazing!!!!

Clockwork Boston was incredible!!!! Our guests could not stop commenting on how amazing the band was! Ron and his team had everyone dancing the whole night! From our 3 year old niece, to 90 year old grandmother and everyone in between! Highly highly recommend! Thank you for making our night so fun!!

Robert M.

Married on 11/12/2022

Exceeded any and all expectations!

I really have no words to describe our experience with Greg and all of the members of Clockwork. Before the wedding they proved to be caring, considerate, and thoughtful. We were confident that this band was going to be great. Well, the night of the wedding proved that to be an absolute understatement. WOW! Their talent and energy were nothing short of amazing. Just a small anecdote… As my head was down to take my first bite of Italian Wedding soup the lead female vocalist began to sing…her voice was so strikingly perfect that myself and every other guest's head snapped up in awe. I had goosebumps from there on out. Throughout the night friends and family were coming up to me and saying "where the f**k did you find the band?" The dance floor was packed the whole night. My wife and I, and all other guests had the time of our lives. Words do not do what this band did justice. They quite literally made our wedding day the funnest day of our lives. If you are having a wedding I suggest getting in touch with Clockwork! You will be so happy that you did! Thank you again!

Stephanie T.

Married on 11/05/2022

Incredible performers!

I credit my husband with choosing our wedding band - Clockwork New England exceeded our expectations! The band played a mix of popular music from the 70s to today with high energy. More than a band, Clockwork is made up of performers! And each of the members of the group was so unbelievably talented. Our entire wedding was up dancing throughout the night and everyone couldn't stop talking about how great they were even weeks after the wedding!

Diane T.

Married on 11/05/2022

An amazingly talented group of professional musicians and vocalists that made our wedding reception perfect!

This is an amazingly talented group! Their musical artistry crosses multiple musical genres. There was never a time during the reception that the dance floor was not full. People were up dancing all night. Clockwork's performance pulled in the guests enhancing the musical experience. They are just amazing! This group made the reception perfect!

Nanci R.

Married on 10/15/2022

Nanci Otrando

Fantastic band! They are all very talented musicians and their vocalists are outstanding. They turned our wedding night into a great party. Everyone had nothing but great things to say about clockwork! Don't hesitate to hire them for your next event you won't regret it!

Randall C.

Married on 10/15/2022

Outstanding

You know that the band was a smashing success when many people came up to me to say just that. Everyone was dancing. I've been to enough weddings to know that is a rarity. Perfect performance, great connection with the audience and everyone said they wished it could have gone on another hour or two. Strongly recommend!

Marissa C.

Married on 10/14/2022

Outstanding Band!!!

I can not say enough good things about Clockwork Boston! From the minute we got engaged we knew we wanted a band at our wedding. We researched many and instantly loved Clockwork Boston! They exceeded our expectations and although we had a smaller wedding they got everyone to get up and dance! We felt like we knew the band our entire lives that's how welcoming and fun they were! We will 100% be referring them to anyone we know looking for a band. We also want to give a shout out to Ron for being so responsive during the planning process and putting us at ease about many last minute details we requested such as having them play during our ceremony! Thank you all for everything! We truly appreciate each of you!

Kevin S.

Married on 10/14/2022

October 2022 - Cape Cod Wedding

Clockwork New England did an amazing job playing at our wedding! The playlist was a great mix for singing / dancing. The dance floor was always full! Clockwork was very professional, responsive and extremely easy to work with. Would recommend to any friends / family.

Dan P.

Married on 10/14/2022

The vendor was very good.

They did my sons wedding, so we hired them for my daughter. They were great the 1st time and great the second. Very great job the MC was fantastic, the music was the same. I would highly recommend them to anyone.

Lauren L.

Married on 10/14/2022

Clockwork made our wedding!

Having a great band was a top priority for our wedding, Clockwork East Coast certainly did not disappoint! They kept the energy up all night and everyone on the dance floor! We would certainly recommend them for your wedding!

Amazing band

Amazing band- kept the whole wedding party on the dance floor until the last song!

Julie

Married on 10/08/2022

Clockwork Boston is the best wedding band!

One of the best investments in our wedding was booking Clockwork Boston. I always envisioned having a band for our wedding and Clockwork lived up to my wedding band dreams and then some. From the start with Ron's wonderful insights and incredible responsiveness throughout the entire process to each band member who gave their all night of our wedding and kept everyone on the dance floor all night, I couldn't have asked for more. We even had guests saying they want to redo their wedding just to have Clockwork be their band!

Alexandra G.

Married on 10/08/2022

Kept the Dance Floor Rocking

Patrick and his team were unbelievable! They kept the music going all night long and kept the dance floor rocking. They were able to accommodate last-minute changes like ring bearers going home early and a change in the speeches without hesitation. Their collaboration with the other vendors and venue made this wedding absolutely spectacular. They were even able to play traditional Greek and Jewish songs to round off the celebration! Cannot recommend them more!

Carrie R.

Married on 10/08/2022

Book Clockwork East Coast now!

The most amazing band ever!!! They played at my daughter's wedding on October 8,2022 and they rocked the house! The talent and energy this band has is indescribable! Our guests fed off of their energy and were on the dance floor all night! I would recommend them 100/100!!! They made the night so special. I'd love to upload videos but not an option. Hire them now!
Are you interested?
Send a message