187 Reviews
Recommended by 100% of couples
Quality of service

5 out of 5 rating

Average response time

5 out of 5 rating

Professionalism

5 out of 5 rating

Value

5 out of 5 rating

Flexibility

5 out of 5 rating
94 User photos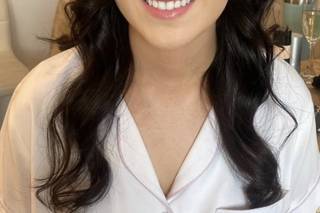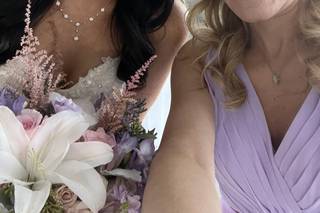 + 90

photos
Annemarie L.

Married on 03/18/2023

Could not have been happier!!

Christy Ann and her team, Christy, Marissa and Hailey were amazing!! They did our makeup this past weekend for my daughter's wedding. There were a lot of us getting glammed and they were spot on!! Their timeline was exact!! Which eliminated so much stress from the day!!! They spent time with each of us to know what we wanted and made it happen. Everyone's makeup stayed looking great all the way to the after after party!! They were so professional while at the same to time so easy to be with it felt like a friend was doing your makeup!! Such a great fun experience!! 110% recommend!!

Jamie L.

Married on 12/22/2022

Absolutely Flawless Service

Tiffany and the team were absolutely amazing! I have zero complaints. We had 11 people total getting ready and they made everything go so seamlessly. They were right on schedule, and didn't rush. They listened to everyone's wants, concerns, etc. and made everyone feel and look fabulous. Our makeup stayed all night long even through all the sweat and tears. You would be silly not to choose this team! Could not have been any happier.

Nicole A.

Married on 09/24/2022

Highly recommend!!

I used ChristyAnn for my makeup on my wedding day and for my bridal party who had Liz. My bridal party was so happy with their makeup by Liz, she did an amazing job! I had ChristyAnn who was professional and responsive to any questions I had. She is so kind and talented as a makeup artist! She made me feel so comfortable and listened to everything I had to say. My makeup on the day of my wedding was unbelievable!! I got so many compliments and it lasted all night!! Highly recommend!!!

Are you interested?

Send a message

Erica W.

Married on 09/10/2022

Best wedding makeup

Can't say enough wonderful things! All the artists were amazing and my artist especially, Amanda, was FANTASTIC. All my girls were thrilled with their makeup which was individualized to their completions and desires. When my mom had questions, all the artists on site worked with her to be sure she was comfortable and happy with her final look. My makeup was natural and reflected exactly what I wanted in my trial and lasted all night through sweat and tears. Fantastic experience!!

Nicole M.

Married on 08/14/2022

Truly the best

I highly recommend Christy Ann Cosmetics and her team. I got married on August 14th and Monica did an amazing job on my makeup. I got so many compliments and my makeup lasted all day!!! Thank you so much for making me beautiful on my wedding day!!

Courtney R.

Married on 07/16/2022

Obsessed with cac

I highly recommend Christy Ann and her amazing team. I never questioned who I wanted doing my makeup from the moment I got engaged. Amber, the beauty concierge specialist, was very easy to work with. She answered any questions I had and always responded quickly. Christy Ann was very accommodating rescheduling my trial at no additional cost when it had rained on my engagement shoot day and I asked for the trial to be pushed back to another day. On my trial day, Christy was kind, helpful and most importantly genuine. She really got to know me and my style and made me feel completely comfortable. On the day of the wedding, I had Victoria, Tiffany, Marissa and Christy Ann for myself, the bridesmaids and mothers. They were all amazing, and everyone's makeup looked perfect, whether they requested a more natural look or more dramatic. All of the girls with CAC were very professional and so friendly, we felt as if we had known them forever! It was great to feel so comfortable around them, as my nerves had already started to kick in! I received so many compliments at my wedding and my makeup lasted all night even with the heat, humidity and dancing the night away, i never needed a touch up! I have nothing but good things to say about Christy Ann Cosmetics and I definitely plan to work with them for future events. If you haven't already, please book CAC, you won't regret it!!

Lisa M.

Married on 07/16/2022

The BEST in the biz!

I got married on 7/16 and had the most amazing experience start to finish with AJ and everyone at Christy Ann Cosmetics that I came in contact with. From my make up trial, hair trial to touch up services on site AJ was nothing short of amazing. Not only her skills in hair and make up but her personality and calming ways. It was such a pleasure having her glam me up for my big day & she truly went above and beyond. The compliments are still flowing in and the recommendations for AJ are flowing out of my mouth. What an amazing experience during the most hectic time for a bride. Thank you all!!

Doris

Married on 07/15/2022

Amazing!!!!!!!

Christy Ann and her team are amazing! They are extremely talented and professional! ChristyAnn did my make for my wedding and Amanda did my bridesmaids' make up. We all got great compliments, their work was impecable, our make up lasted the entire day.
Their contract was straightforward, not hidden fees or funny "retainers" like other companies. I recommend them 100% and will definitely use their services in the future!

Michele

Married on 07/10/2022

Christy Ann & her team were AMAZING!!!!!

Christy Ann & her team were amazing !!!! They were so wonderful to work with. We all received so many compliments on how beautiful our makeup looked and how we were absolutely glowing!!! They were so sweet and made sure we were happy, which made the experience so wonderful!!! I cannot recommend them enough. They will go as natural as you want. I felt like myself which was what I wanted. I thank them so much for their patience and kindness and attentiveness. Highly recommended!!!!!!!

Karissa C.

Married on 05/29/2022

5-29-22 Wedding

I used Christy Ann cosmetics for my 5-29-22 wedding, and I am so happy that I did! Christie and Amanda were on time, professional, and so sweet. The girls were ALL super happy with how their makeup turned out. The owner, Christy Ann, did my bridal makeup, and I probably do not even need to tell you how AMAZING she was! I would recommend Christy Ann cosmetics to anyone getting married.

N Babikian

Married on 05/20/2022

Best MUA wver

Christy Ann and all the make up artists at Christy Ann Cosmetics are truly the best! Christy did my make up for my wedding and I never felt better. I got so many compliments on my bridal glow and make up look. It lasted all night long even through some happy tears. I couldn't recommend them enough!

Viktoriya U.

Married on 04/30/2022

So happy with the make up!

I got married last weekend and we had Tiffany and her assistant. They were absolutely amazing. My bridesmaids loved them as well. We looked stunning. Thank you so much!

Natalie P.

Married on 04/29/2022

The absolute best!

You cannot go wrong with booking Christy Ann Cosmetics! The makeup for my wedding day lasted all day and night and looked absolutely amazing! The most professional, fun, and talented group of makeup artists… I will recommend Christy Ann to any future bride/bridal party!

Danielle M.

Married on 04/09/2022

The best!!

Christy Ann Cosmetics was amazing for my 2 trials and my wedding day. Jackie did both of my trials and myself along with some of my wedding party on my wedding day. Christy was an additional artist who did the rest of my wedding party. I was so happy with both of my trials and on the big day. Jackie listened to everything I wanted and was so warm and easy to work with. Christy was also super friendly and listened to what each girl wanted. Everyone looked amazing! Our makeup lasted from morning until late at night. I highly recommend Christy Ann Cosmetics for all of your professional makeup needs!

Julianne P.

Married on 03/25/2022

The Ultimate Wedding Day Makeup Dream Team

I cannot thank Christie Ann Cosmetics enough for being by my side on my wedding day this past March 2022 and for making each and every one of my bridal makeup dreams a reality and even more beautiful than I could have ever imagined. My wedding pictures are absolutely gorgeous and I could not be happier with how my makeup presented in the photographs! On my wedding day, Christie Ann made me feel absolutely stunning (even with a clean face during the start of makeup prep =P) and I was truly at ease the entire day from makeup/bridal prep until the end of the night just knowing that I could trust Christie Ann, Liz and their team to make sure that all of my bridal makeup preferences, chosen color schemes, priorities, etc. (as well as that of my bridesmaids, MOB, MOG and grandmother) were all top of mind at all times and that my (our) makeup-related concerns were all addressed long before the camera started rolling (and long thereafter). The Christie Ann Cosmetics team (special shout out to Christie Ann, Liz and the rest of the CAC team, including Amber at the office! ) are super professional, enthusiastic, responsive, helpful, knowledgeable and their makeup artistry skills truly go unmatched in the wedding industry. Christie Ann and her team know that the key to a happy bride is making her feel like her most gorgeous self on her special day and they do everything in their power to make that their top priority and to make it happen for every one of their brides. I would highly recommend Christie Ann Cosmetics to any bride for wedding day makeup glam over and over again. Not only did Christie Ann make me feel more beautiful than I ever had before with spectacular wedding makeup that captured every single thing I asked for and then some, truly exceeding every one of my expectations, Christie Ann herself was also genuinely wonderful, friendly, warm, charismatic, funny and caring person to have there with me on my wedding day and I feel truly blessed to have had the opportunity to hire and work with Christie Ann for my wedding day glam. Christie Ann is not only an amazingly talented and extremely skilled makeup artist that listens to each and every one of her bridal clients and makes their dreams come true, but she takes it to the next level by making you feel super comfortable and like she is an old friend you have known for years and by educating you as a bride on any bridal makeup techniques, products, look suggestions, professional recommendations, etc. that you ask her about considering your personal wedding style, venue choice, color scheme, complexion, skin type, etc. My wedding day would not have been the same without Christie Ann and now that I have had a taste of the Christie Ann makeup glam, I wish I had Christie Ann with me to do my makeup for every single event I've planned since my wedding =). I am also still considering the recommendations Christie Ann and her team gave me on my wedding day and at my trial as to which products were the best to use for my complexion, skin type and makeup needs, which has given me a chance to get better at doing my own makeup on a daily basis (what a great and unexpected extra treat!). In short, CAC is amazing. If you are a NYC/Long Island/Tri-State Bride with an upcoming wedding and can book CAC, provided they have your wedding date open still (fingers crossed), please get on it and do so! I promise you won't regret it and you will be the happiest bride ever!

Brianna B.

Married on 12/31/2021

Just do it!

The first time I met Christy Ann and her team was at my cousins wedding back in 2018 and back then, the team was amazing. I felt so beautiful that day that I said whenever I get married, I am definitely hiring Christy Ann and her team...and I am so glad I did. Christy Ann and her team just did my makeup, my bridesmaids and the mom's for my wedding last Friday. Every single one of us looked gorgeous. Our makeup held all day and night, through lots of happy tears and dance floor sweating! Christy Ann and her girls were not only professional but also so friendly and we had a great morning with them. I am sad that the wedding is over because I felt so beautiful! But CAC definitely has a customer for life now :) THANK YOU SO MUCH!

Brianna M.

Married on 11/20/2021

the BEST experience!!!!

WOW, just wow. Christy and her team are not only SUPER talented, but extremely friendly and versatile. They were able to provide the exact looks requested by my bridesmaids, from soft and natural to full out glam. Christy nailed my makeup and it lasted the entire night. I booked a trial with Christy over a year before my wedding, and we instantly hit it off!! I trusted her to give me the best wedding glam and she definitely delivered. If you are looking for the best makeup team for your wedding day, Christy Ann should be your pick!!! Thank you again ❤️

Athina G.

Married on 11/12/2021

Amazing job

I hired Monica through Christy Ann Cosmetics and she did an amazingggg job for me and my bridesmaids. Highly recommend Monica!!

Shantal S.

Married on 10/30/2021

The absolute best makeup artist in the industry!

Christy Ann Cosmetics is by far the best of the best hands down! Christyann is a sweetheart. She was the absolute best vendor I booked for my October 2021 Wedding! From my engagement party to my bridal trial (which I used for my boudoir shoot) to my wedding she was an absolute doll and her work by far exceeded any makeup artist on Long Island. The team at CAC was amazing the day of my wedding. I had 7 bridesmaids, myself, my grandma & my mom and we were all done on perfect timing. I look forward to booking them for future events. If there is one vendor a bride should not worry about is your makeup artist and with Christyann you are in the most amazing hands in the industry!

Stefanie F.

Married on 09/17/2021

Amazing Experience!! Book Immediately

Christy Ann Cosmetics was the makeup my co worker was using and immediately said to contact her and make an appointment. Christy was so sweet and my makeup was amazing and stayed on perfect the whole day even through some humidity and dancing like crazy. For my engagement shoot we had to post pone a few times because of weather and Christy's team was so understanding and helpful with setting me me up with another artist from her team who did a fabulous job with such short notice! So happy I was able to have Christy and her team apart of my day!

Paige L.

Married on 09/12/2021

Absolutely Amazing Every Time!

I cannot say enough wonderful things about Christy Ann of Christy Ann Cosmetics and her amazing team. First of all from the moment you meet Christy, she makes you feel like family! She is so sweet and so kind, and literally makes you feel more beautiful than you could have ever thought possible. I've had my makeup done with her a few different times once for a trial, twice for an engagement shoot, and also for a special event - so I've had a more natural look done, a more glam look done, and a combination of both. She is the only makeup artist I have ever used that I have been completely satisfied with - no need to wipe anything off or add makeup after. She nails it every single time and is consistently great and it's so simple to see how talented she is.

Kerrianne S.

Married on 09/04/2021

Couldn't be happier with Christy Ann Cosmetics

I used Christy Ann Cosmetics for my wedding a few days ago and could not be happier with the service. Christy Ann was probably my favorite vendor I hired for my special day because of her kindness and professionalism. I went for a trial and Christy Ann helped pick out the perfect look for me. Her studio is very clean and beautiful. As my wedding came closer, I reached out to her in IG a few times with a few questions and she always got back to me fast which I really appreciated. On the day of the wedding, Amanda (another makeup at CAC) Did my bridesmaids makeup and Christy Ann did my makeup. Both showed up early to set up and helped with touch ups. Sooo sweet and friendly too. I never felt more beautiful in my wedding day and I attribute that to CAC. I can't recommend this company enough for weddings. Thank you!!!

Lisa

Married on 09/03/2021

The best!!

I got married on 09/03/2021. Christy Ann and her amazing team did the makeup for myself and my bridesmaids, and when I tell you every single one of my bridesmaids and mother-in-law looked amazing, I'm being completely honest and sincere! Everyone looked stunning. Christy Ann did my makeup and I was in love with it. I didn't even do a trial because I knew she would do an awesome job. Book them, you will not be disappointed!! I've never felt/looked so beautiful in my life!!

Helene

Married on 08/28/2021

Amazing flawless christy!

Christy Ann is THE BEST in the business! There are no words for how beautiful she made me feel on my wedding day. I doubt I will ever feel that gorgeous again, without Christy's help! Her team did my entire bridal party of 13 + 4 more and they were amazing, on time, professionals and knocked it out of the park. I am beyond impressed with Christy and her team and HIGHLY RECOMMEND YOU BOOK THEM BEFORE SOMEONE ELSE DOES! We love you so much Christy! XOXO Helene

Bradie B.

Married on 08/14/2021

Best Makeup Artist EVER!!!

I feel SO lucky that I was able to book Christy Ann for my wedding! My makeup was STUNNING and I felt like the most beautiful bride! All of my bridesmaids looked and felt beautiful thanks to Christy's amazing team. Christy Ann truly exceeded my expectations!
Are you interested?
Send a message