Reviews
5.0 out of 5 rating
Quality of service

5 out of 5 rating

Average response time

5 out of 5 rating

Professionalism

5 out of 5 rating

Value

4.9 out of 5 rating

Flexibility

5 out of 5 rating
99%
Recommended by couples
32 User photos
+ 28

photos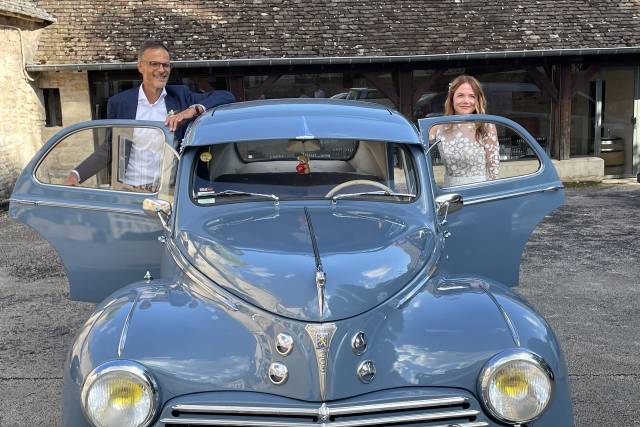 Neil M.

Married on 08/10/2023

Fantastic Service

Luke was excellent in all respects and made our wedding very special.

Celebrantissimo's reply:

Thanks a lot Neil! All pleasure was mine, and I saw all the family and guests so happy with this moment we all shared. Have a wonderful honeymoon in Europe! Warm regards, Luc

Olivier

Married on 08/05/2023

Luc qui a rendu notre mariage inoubliable

Nous tenons à laisser un avis très positif pour Luc qui a célébré notre mariage à Annecy le 5 août 2023. Il s'est montré à l'écoute, attentionné et très professionnel tout au long de la préparation de la cérémonie. Le jour J, il a su créer une ambiance chaleureuse et émouvante. Son discours était personnalisé et reflétait parfaitement notre histoire et nos valeurs. Il a su trouver les mots justes pour officialiser notre union. Nous ne pouvions rêver mieux pour ce moment si important dans nos vies. Nous recommandons vivement ses services pour l'organisation d'un mariage réussi à Annecy. Un grand merci à lui pour avoir rendu cette journée inoubliable.

Celebrantissimo's reply:

Bonjour Olivier!
Merci pour ces gentils mots encourageants et flatteurs. C'était un honneur pour moi de créer ce joli moment pour vous. Et quel mariage! En espérant se croiser encore lors d'un de vos voyages en France! Tout de bon et merci beaucoup. Luc

Jan

Married on 05/27/2023

Superb with a personal approach

The ceremony was very well laid out - personal and loving at times, whilst humorous at other times. Moreover, it is clear that it was entirely written for us. We received many compliments about the ceremony.

Celebrantissimo's reply:

Thanks a lot Jan for your review! It's always so pleasant to get those kind of answers and testimonials. All the best to both of you and have wonderful honeymoon together! Warm regards.

Are you interested?

Send a message

Eefje D.

Married on 10/15/2022

The perfect wedding ceremony in 3 languages

Celebrantissimo crafted the perfect ceremony for us, combining their speech with those from family and friends. They struck the right balance between all emotions for a wedding with joy, laughter and the occasional tear. Fluently done in French, Dutch en English.

Celebrantissimo's reply:

Hello Eefje and Michael,
Hope you are both doing well! Thanks for your nice review, it was a pleasure to be part of your important day. I am happy we succeeded as you write so well "the right balance between emotions, joy and laughter"! It was a great joy to celebrate that day, under the unexpected splendid autumn sun of Switzerland :)
All the best and warm regards to all of you!!
Luc

Jack M.

Married on 09/17/2022

Flawless from start to finish. A highlight of our day!

Luc & Emmanuelle were more than we could ever hope for. From the first day where we contacted them to officiate our ceremony, they were responsive, professional and their service was extremely personal. Our interviews with them in the months leading up to our wedding were always great fun, and you could tell that they really cared about the service that they were giving. The ceremony itself, a bilingual one since my wife and I are French and British respectively, was beautifully delivered and perfectly adjusted to our preferences. Guests who could only understand one language, and those that could understand both, all really enjoyed it and it was the perfect start to our day. I recommend them wholeheartedly - you won't regret it!

Celebrantissimo's reply:

Waw Jack, thanks a lot for those lovely words, and we neither do not regret to have been there all along the way to create this ceremony for your marriage. The pleasure has been shared from both sides, all the conversations we had, the laughs, and of course the seriousness also to build a beautiful ceremony. All the best!! L&E

Robert G.

Married on 08/11/2022

Perfect from start to finish!

Luc was very helpful and supportive in planning our elopement in Burgundy in 2022! There wasn't one negative memory from the beginning to the end. I highly recommend!

Celebrantissimo's reply:

Hi Robert! Thanks for that, all pleasure was mine. I hope you had a wonderful wedding in Paris too with your families and friends. All the best and luck in life, but I have no doubts about that. You are a wonderful couple.

Gersende C.

Married on 07/09/2022

Laïque Ceremony

We have celebrated our wedding day the 9th of July 2022 in Burgundy, France. We choose to have our ceremony in French and English because of my British husband and guests. I will never thanks enough Luc and Emmanuelle for their wonderful work. Our ceremony was perfect with a lot of emotion, laugh and tears! We will never forget this moment. Thanks again to you both XX 

Gersende & Seb 

Celebrantissimo's reply:

It was so wonderful to have you both as a couple to celebrate your wedding! The venue was perfect, the guests, the atmosphere...everything,a marvelous time, the view from the hills...almost like Schotland :). We will be happy to have a drink together when you come back to Burgundy! Emma & Luc

Chelsea B.

Married on 06/18/2022

great wedding!

Fantastisch! Het verhaal was geweldig en hij begreep de setting goed.

Anne R.

Married on 06/06/2022

It was perfect!

Luc managed to make our wedding ceremony wonderfully personal, intimate, loving, super fun, heartfelt and full of emotion. All the conversations before the wedding and also on the wedding day itself, he conducted with a lot of sensitivity and got to know us as people and thus, together with Emmanuelle, created the perfect wedding ceremony for us. In the end, Luc was not only our wedding speaker, but has become a friend because of the many beautiful conversations we had together. We are infinitely grateful to him and Emmanuelle and will never forget this wonderful time and wedding! Our families and friends also found the ceremony wonderfully personal. Luc is simply a great and engaging person. Merci pour tout!
Andre and Anne

Celebrantissimo's reply:

Dear Anne and Andre,
How happy I am to read you and your loving words. We still have a lot of nice moments to share, around a Pinot Noir, especially when you travel through France, there are some nice spots here in Burgundy to discover excellent wines too...but most of all, it will be wonderful to meet again. Thanks for everything, your marriage will remain in my memory as something special. Luc and Emma

Lauren P.

Married on 09/18/2021

A Perfect Officiant!

Luc was FABULOUS! He made our ceremony beautiful, warm, fun, and full of love and humor. We are so grateful and will cherish our ceremony forever!

Celebrantissimo's reply:

Thank you so much dear Lauren and Jason ! It was an unforgettable moment ! Enjoy your trip through Europe !

Sonja S.

Married on 09/11/2021

Just a perfect wedding day in Burgundy!

We live in Switzerland close to Zurich. Without Luc and his great support it would not have been possible to organize all the details for our wedding day. Especially because of two postponements due to corona pandemic. It was a great pleasure for us to get to know Luc; we found him always very professional and attentive, thorough, personable and helpful. Even more - we had fun together which we very much appreciated. The ceremony was amazing, and our guests from Switzerland and Czech Republic enjoyed this beautiful day with us where everything went just perfectly. Luc made this special day unforgettable for us and our guests! Many thanks!!!

Celebrantissimo's reply:

Hello Sonja and Stefan! Thanks for your nice words, and the pleasure is shared! It was a wonderful day, I received mails from your guests and family, so that is really touching too. Hope to see you again in Burgundy to have an excellent wine together and laugh again. See you! All the best . Luc

Aurélien A.

Married on 09/04/2021

Highly recommended !

Very professional and excellent service.

Celebrantissimo's reply:

Thanks Aurélien, it was a pleasure to celebrate your union! I wish you all the best on your journey together.

Aurélien G.

Married on 09/04/2021

Very Professional and excellent service !

I highly recommend the service of Celebratissimo. They could provide exactly what we wanted and could organise it in a really professional way.

Anna M.

Married on 08/28/2021

Warm professional and Romantic

We were so so happy that we chose Luc as our wedding celebrant.
He presented the whole ceremony so beautifully, the words were PERFECT.
We felt very comfortable at the front of the ceremony and we cannot thank him enough for how utterly wonderful it was.

The whole process from start to finish was so easy, he helped to perfect the words and express exactly what we wanted to say.
We had the ceremony of my dreams and it only took 1 week to perfect that way.

We had such incredible feedback from our guests, I'm still overwhelmed with emotion and how perfect it was.

Thank you, we will always remember you with a warm heart.

Celebrantissimo's reply:

Thank you so much for your nice words. It was a beautiful moment to share together, and being part of your wonderful celebration with your families and friends is always for a celebrant a strong and intense feeling.

Jolanda K.

Married on 06/23/2021

Bijzondere ceremonie!

Luc heeft gezorgd voor een hele mooie, bijzondere ceremonie op onze bruiloft in Frankrijk. Het contact van te voren was prima. Dankzij Luc was de ceremonie compleet en hij maakte er echt iets moois en bijzonders van.

Brynne

Married on 06/06/2020

Amazing! Highly recommend!

Luc and Emmanuelle are so friendly and great at what they do! We could not have imagined a better ceremony! All of our guests raved about the ceremony and thought it was so nice to have a ceremony that was truly written for us. Luc and Emmanuelle took a great time to understand the relationship between us and the story about how we met in order to create a custom ceremony that told our beautiful love story.
They took the time to do background research and it added amazing details to our ceremony. For example we met at a University and the slogan is "love at first sight". Neither of us knew this and we loved that they took the time to research the university and additional details. Luc and Emmanuelle are very kind and they were great to work with. They are very knowledgeable yet flexible and truly dedicated their time to creating the most special ceremony for us. We highly recommend this duo to any couple that is planning a wedding.

Celebrantissimo's reply:

Dear Brynne and Ilan, thank you so much for your lovely words! It is always a pleasure to read a testimonial of the newlyweds, and it's very important for us because it reflects our work. Because newlyweds want to make the right choice, compare services, but it's hard to explain sometimes the difference in the work and preparation of a celebrant. But we must say that working for and with you was a great pleasure and fun! :)So, have a safe and nice trip back to the States and we keep in touch for your new adventures under the sun!! Nous vous embrassons. Emma & Luc

Katja

Married on 10/08/2019

Merci Danke Thank you

Merci Danke Thank you Emmanuelle und Luc😊
Luc war stets gut organisiert und hat uns geholfen eine wunderschöne Trauung zu kreieren. Es war definitiv die richtige Entscheidung für uns Celebrantissimo auszuwählen.


Celebrantissimo's reply:

Dear Katja and Cyril!
Thank you so much for your confidence, it was a real pleasure for me and a sincere accompaniment of both of you during months preceding this wonderful moment. Very happy to be part of your adventure. Cheers!

Kelsey

Married on 08/14/2019

Our lovely ceremony with Luc

Luc was amazing. He put together a heartfelt, honest, and touching ceremony for our Lake Annecy elopement. Luc was able to blend together our story and our promises to each other, then deliver them eloquently. He was friendly, calm, and put us at ease—no nerves to be felt! Our 6 year old daughter especially adored him and he was great with her, helping us to include her in the ceremony and allowing her to feel very special. Luc worked in tandem with our photographer and videographer to ensure our ceremony was a perfect fit for us (and it was)! He even provided a copy of the script and vows, which was a lovely and much appreciated touch.

Celebrantissimo's reply:

Dear Kelsey and Josh!
There are those particular moments in life when a lot of love is in the air, and being part of your special day made me happy as well! You make such a loving couple and family with your daughter, and as celebrant it's just pure pleasure to share those moments. Thanks for all your nice words and confidence. Kind regards.

Soph-Jmax R.

Married on 07/27/2019

The ceremony of all ceremonies!

The ceremony created by Luc and Emma was more than we could have hoped for. They captured our personalities and life history as if they have known us for 10 years. There was laughter, tears and a lot of love throughout. Luc presented it with warmth as well as professionalism, our guests being completely blown away by the whole experience. They commented they have never witnessed such a joyful and unique ceremony. Thank you so much.

Celebrantissimo's reply:

Dear Sophie and JMax, thank you so much for this review! We enjoyed and laughed so much reading the title of this testimonial "the ceremony of all ceremonies"...it will scare future couples to know if we will be able to reach that level of accomplishment for another ceremony:). It was a great experience indeed, also for us, happy to have met you and be part of your big day. Enjoy your honeymoon! Luc and Emma

Guillaume T.

Married on 07/26/2019

Fantastic preparation of our wedding

Luc & Emmanuelle have done an amazing job in organizing our ceremony, they took the time to know us and adapt the tone of the speeches to our preference. Their work was thorough and as a result the ceremony was absolutely beautiful. Luc even had less time to prepare due to train issues, and yet it did not show one bit! We are very thankful for their work.

Celebrantissimo's reply:

Thank you so much Nina and Guillaume for your nice words. It was a great moment to celebrate in the fantastic park of the venue in Brussels your love and commitment in front of all your family and friends from all over the world! All the pleasure was ours.

J.b.

Married on 06/22/2019

Excellent quality for multilingual cerimonies

Many guests asked us afterwards how we found them

Valerie B.

Married on 06/22/2019

An unforgettable bilingual ceremony!

My husband is american, I am French, we live in New York but decided to get married where I grew up in the South of France.
We wanted to build a bilingual ceremony celebrating both our backgrounds, cultures and different religious (he is jewish, I grew up catholic).
Emmanuel listened to our requests and right away understood what we wanted. She sent us some questionnaire to fill and we met several times via skype to build our ceremony. We spoke about the tone of the ceremony, what we wanted to stress, which rituals we wanted to include... Emmanuelle researched jewish and catholic rituals, the region I grew up in, but also the place we met to better speak to it in the ceremony. She provided ideas and suggestions that really helped give life to our perfect ceremony.
She was extremely available, supportive, resourceful and oh so kind!
Our ceremony turned out to be even better than how we envisioned it. Our guests loved it, both french and american, thought it was moving and funny at the same time, celebrating our differences while describing what attracts us to each other. They said they had never seen anything like that!
I highly recommend Celebrantissimo for your ceremony, whether french only or bilingual!

Celebrantissimo's reply:

Dear Valérie and Adam,
I'm deeply touched by these heart-felt words and I'm very proud to have celebrated your ceremony full of joy and love ! You made my day. Thank you very very much !

Elise A.

Married on 06/01/2019

The ceremony of our dreams

Emmanuelle, from Celebrantissimo, celebrated our wedding in June 2019.

We met Emmanuelle and her husband, Luc, one year before our wedding. Their kindness and unparalleled listening skills contributed to an excellent first contact and positive outcome.

Then, Emmanuelle organised several calls with us to understand our story, values and wishes regarding the ceremony. Finally, the result was even more than expected. We discovered the ceremony the D day, and it was simply perfect.

Emmanuelle is incredibly charismatic and has a magnificent elocution. The ceremony was 100% "sur mesure" and deeply touched us.

At the end of the ceremony, Emmanuelle gave us a beautiful "Love certificate" and ceremony booklet. These are precious memories. We look at them very often and will keep them forever.

Our families also appreciate a lot Emmanuelle.

We thank Emmanuelle from the bottom of our hearts, she offered us the ceremony of our dreams.

Best wishes,

Elise & Matthieu

Victoria N.

Married on 05/31/2019

Luc Florquin

Luc was fabulous. From the moment we spoke he was professional, responsive and exceeded all our expectations. He performed a intimate, thoughtful and well presented ceremony for us. He was friendly and an extension of our family and friends. We had the perfect day. Thank you Luc!

Julie E.

Married on 01/18/2019

Luc Florquin nous a réalisé notre cérémonie laïque . Les échanges riches que nous avons eu ont permis une célébration aussi belle qu'émouvante .

Luc et Emmanuelle sont chaleureux et leur plume a résumé avec élégance et humour notre rencontre avec mon mari Florent . Ce fut un véritable honneur d'être unis par eux. Merci pour ce moment inoubliable. Nous garderons un souvenir fort de vos textes et votre présence parmi nous . Chacun de vos mots nous on touché, nos famille et nos amis. Merci pour cette rencontre tout en douceur et en partage .
Are you interested?
Send a message