65 Reviews
Recommended by 100% of couples
Quality of service

5 out of 5 rating

Average response time

5 out of 5 rating

Professionalism

5 out of 5 rating

Value

5 out of 5 rating

Flexibility

5 out of 5 rating
56 User photos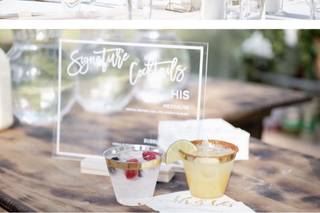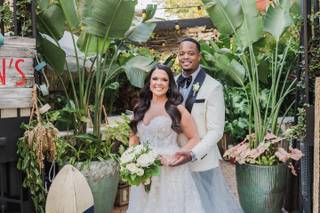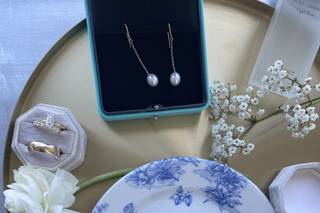 + 52

photos
Victoria H.

Married on 10/22/2022

Perfect Coordinator

Cristina is an amazing wedding coordinator! Herself and her team were a pleasure to work with and her attention to detail made our special day run smoothly. Planning a wedding can be very stressful but it was very comforting knowing that we could leave the logistics and coordinating in Cristina's hands to help make our day perfect! 10/10 highly would recommend to coordinate your wedding!

Ashley D.

Married on 10/21/2022

If you want a perfect day (and planning process) hire Carismas Design!

Cristina Gomez and her team are absolutely fantastic! We were nervous about the process, and Cristina walked us through it each step of the way with kindness and support, day or night. Her expertise and professionalism is unmatched. We truly couldn't have gotten the vendors (or deals) we did that lead to our perfect day without her. Couldn't recommend Carismas Design enough!

Kate T.

Married on 10/01/2022

Absolutely the best for a stress-free wedding! 💖

Cristina was amazing to work with, from start to finish. In each of our calls for the month-of coordination, she was extremely organized, helped us stay on track with planning, and knew what questions to ask to make sure our vision was brought to life. Our vendors were impressed with the clear timeline she put together, which kept everyone on the same page and helped us get the most out of our time. And on the day of the wedding, she knocked it out of the park. She made sure the venue looked amazing, kept everything running smoothly the whole night, and made sure we were treated like royalty. I felt so relaxed and stress-free having her there. My family members all kept gushing about how helpful and great she was too! Thank you for everything, Cristina!!

Are you interested?

Send a message

Caroline D.

Married on 09/24/2022

Absolutely incredible

Cristina was an absolute gem to work with- I hired her as our month of coordinator (and day of coordinator). She took the time to connect with me weekly, for easily an hour at a time, liaised with vendors, and brought up minutiae that was so important but that I wouldn't have known myself. She's the sweetest person, and it's abundantly clear how much she cares about her brides and her commitment to excellence. I truly cannot recommend her highly enough. Thank you so much, Cristina!

Christina T.

Married on 09/09/2022

The best day of coordinator!!

I cannot say enough great things about Cristina and her team. From our first call 6 weeks before my wedding all the way to the day of the wedding, she was so helpful and organized. I truly cannot recommend her enough and wouldn't have gotten through the planning process or day without her!

B. Kelly

Married on 09/03/2022

Cristina was a life saver!!!

I cannot recommend Cristina and Carismas Designs enough!! I worked with both Samm and Cristina and the two worked together seamlessly. Cristina was there on my wedding day and made sure everything was on schedule. We actually ran AHEAD of schedule, which was a relief to have extra time. She truly made my wedding dreams come to life. I let her take creative liberties with decorating and she did not disappoint. Everyone commented how elegant & classic everything was, which was my entire vision.

+ 2

photos

Deanna Y.

Married on 08/20/2022

The dream team you want in your corner

Cristina and Samm were god-sent. I really can't name a better duo. The owners of my wedding venue went out of their way to tell me how impressed and blown away they were with Carismas Designs, and I couldn't agree anymore. I hired them about 3 or 4 months before my wedding, and I just wish I had found them sooner. Cristina is the person you want in your corner when you're wedding planning- she looks over budgets, payments, designs, advocates for you, and helps you make thoughtful decisions while carefully managing countless vendors. She also stayed after the wedding to ensure all the rentals were returned and we weren't charged anything extra. Before the wedding, Cristina spent multiple late nights with me on the phone working on planning details and is so incredibly flexible with her scheduling. Samm is undeniably kind yet sharp and thoughtful when it comes to producing detail-oriented excel sheets, analyzing prices, and solving problems in no time. But more importantly, on the day of the wedding, Samm and Cristina felt like friends who were really there to help you. They thought of absolutely everything, showed up when I needed them, and made the entire day run so smoothly. I am so glad I had the opportunity to work with them, and I know that I will be reaching out for future events.

Megan

Married on 07/03/2022

Amazing and stress free wedding day!

I actually didn't hire Christina and Sam but they stepped in when my coordinator got Covid! I couldn't imagine my wedding day without them! They were running around all day long and I felt no stress what so ever. If your on the fence a day of coordinator is soo worth the money! Christina and Sam are an amazing duo and even my husband said glad we had coordinators! You ladies are amazing! 💜

Maria G.

Married on 05/22/2022

Cristina was on top of everything!! I gave her an idea of what I wanted and she created it ❤️

Working with Cristina was a pleasure ! She helped with all the details that are so tedious for me. I have her my vision and she made it happen! She worked with all the vendors and the timelines. The day flowed beautifully with no hiccups - or if there were I never found it ❤️ I will certainly use Carismas Design again !!

Ana S.

Married on 02/10/2022

Best wedding coordinator there is

Cristina was the best decision I made in all of my wedding planning. She helped me with every detail and made my big day flow effortlessly. In every each phone call that we had, she helped me narrow down decisions and come up with even better options that I hadn't considered. She also pays attention to every detail and makes you feel heard and appreciated. Her timeline for the day was perfectly executed down to the minute so no second was wasted. If you are looking for someone to help you make sense of the chaotic day ahead, look no further because she is truly the best!

Rachel G.

Married on 12/04/2021

Amazing team!

Cristina and her team were simply amazing to work with. My wedding day was perfect and everything went by so smoothly. Cristina is so organized, supportive and truly cares about your vision. I honestly could not have asked for a better wedding planner/team.

Melissa K.

Married on 11/19/2021

Amazing Wedding Coordinator - You need her

Cristina & her team is amazing. She was always available, always responsive, super flexible & overall a gem to work with. Our day would not have been as amazing without her. She made sure we were on time, every vendor was double confirmed, and every person involved was on the same page. I cant recommend her enough!!!!!

Katherine W.

Married on 10/23/2021

This woman is a godsend

What to say about Cristina? I think my title explains precisely how I feel about her. She is the most professional, positive person I have ever had the pleasure of working with. I hired her basically at my best friend's wedding which she also coordinated beautifully. Cristina helped me plan out every 15 minutes of my wedding day (trust me I had zero idea I actually had to do that until I spoke to her). She helped me organize all my items, transported things to my venue(s) for the ceremony and the reception. She coordinated final timelines to all my other vendors and provided us with individual timelines so they/we all worked seamlessly throughout the day. However, the biggest thing of all was that when my transport company for my bridal party cancelled on me 3 days before my wedding, she found a couple options for replacements within 2 hours. Cristina was available to me whenever I had questions and I really couldn't imagine our day going as perfectly as it did without her. I will insist everyone in my family on hiring her for their wedding days. She will now become our wedding/event coordinator for life!

Becky S.

Married on 10/16/2021

Amazing!!!

Cristina and Vicky were phenomenal. I worked with Cristina the month leading up to my wedding and from our first call I knew I was in good hands. She's extremely organized and quickly takes control of the tasks at hand. On the day of, she brought Vicky and I don't know how I could have ever gotten through the day without them. They took a divide and conquer approach, which helped tackle logistics and decorating, all while sticking to the timeline and making sure my ceremony began on time and without a hitch. They were both a pleasure to work with and a calming presence. Vicky even helped my 7-month pregnant self change into sneakers!

I cannot recommend their services enough!

Rachel W.

Married on 10/03/2021

Professional and supportive wedding coordinator

We hired Cristina for month-of coordination and are so glad that we did. After the long planning process, it felt like a breath of fresh air to have Cristina come in to support the final details and ensure the wedding day would be perfect. Day-of, everything ran so smoothly and we had such peace of mind knowing that Cristina was onsite with the lists we put together to make sure nothing was missed (while still allowing us and our closest loved ones to enjoy the day too).

Darshana

Married on 10/01/2021

Amazing!!!

Cristina was a pleasure to work with! She is super detail oriented and thought of things I had forgotten about. I was on the line about hiring an event coordinator but I am SOO happy I had Cristina. My wedding was worry free and I just enjoyed the day while she handled all the logistics and made sure every moment went seamlessly. Our bouquets (that I thought were assembled) came unassembled and Cristina made bouquets for all of us last minute and they looked beautiful. If you need a coordinator for your event definitely use Carismas Design LLC.

Joseph S.

Married on 09/18/2021

You must hire this wedding coordinator!

If you need expert assistance and a calm professional to support your own planned wedding Cristina is the one for you. We wanted to be heavily involved in the planning and execution of our event but at the same time knew that we were 1) amateurs at this and 2) we would not be able to both get married and run a wedding. Cristina came in as our wedding coordinator and pulled our ragged thoughts into a professional workplan and timeline. She thought of everything in advance. And come the day of the wedding she worked tirelessly and calmly to make sure that every moving part was executed without a hitch. Dealing with vendors, working with the caterer, managing the moving parts of the event space, arranging the flowers, organizing the guests, and most importantly being the go to person for everything wedding that day. Amazing. You couldn't find a better wedding coordinator. You need to hire this person.


Ashley R.

Married on 08/27/2021

AMAZING!!!!!! You will not regret it!

First I would like to thank Cristina for all the help she provided as our "month of coordinator" and answering all our questions even before the "month" actually began. She was incredible throughout the entire process and just the sweetest person ever (and super professional!). Thank you again and please pleaseeeeeee for any bride doubting to get a coordinator/planner, just got for it and select Carisma Designs because you will not regret it! Thanks so much! ♥️♥️♥️♥️♥️♥️♥️♥️

Nicole M.

Married on 04/16/2021

Cristina is the best!

Let me start by saying Cristina is truly the best. If you're planning a wedding or will be planning a wedding in the future, YOU NEED HER. She is seriously a miracle worker.

I have been mentally planning my wedding since I was probably about 19 years old (I'm 33 now so this has been going on for a while). I would read wedding planning books for fun. So when it came time to plan my wedding for real I was READY! Then covid happened. Luckily I had already chosen all my vendors, but it was about 4 months before my wedding when I started feeling overwhelmed. After a year and a half of planning, plus 1 pandemic, wedding planning fatigue had set in and I was just over it. I reached out to my officiant (who is also amazing, Ceremonies my Lauren, if you're wondering) and she recommended Cristina as a Month of Coordinator.

Like most people, I thought, "I don't need a wedding planner/coordinator." I cannot stress this enough, Cristina is so much more than that. Cristina is so kind and understanding. She makes everyone feel calm because she's got everything under control. She created the entire wedding timeline, communicated with all my vendors to make sure everyone was on time, knew what they were doing and where they were going. On the day of she was my human alarm clock so that I never had to think about where I had to be and when. That feeling is absolutely priceless. I actually got to enjoy every second of my wedding day because I literally had nothing to worry about. I could just live in the moment and have fun.

Because of covid I had trouble getting access to my ideal photo location. For months I had been emailing my contact at the photo venue, and 5 months before the wedding they completely stopped responding. Cristina went above and beyond, reaching out to anyone who had an email or phone number posted on the venue's website. (I'm pretty sure she might have called someone's mom.) Just when I had given up hope she found a board member who was able to grant me access to the property. Remember when I said she was a miracle worker? Yeah.

I had a completely stress free wedding day and I owe that all to Cristina. She is absolutely amazing and I cannot recommend her enough.

Stephy

Married on 03/08/2021

Very Professional and Accommodating! Love Cristina!

I had an incredible experience with Cristina at Carismas. My wedding would not have been as success as it was without her especially during these COVID times. She really took alot of stress off of me and my family and we are so grateful for her services. She has an eye for detail and really put my needs first. I would highly recommend Cristina to every bride.

Kristen

Married on 11/21/2020

Wedding Planner

Cristina was my wedding planner and day-of coordinator for my November 2021 wedding. It's not an exaggeration to say that hiring Cristina was the best decision I could have made while wedding planning. She guided me through every step of the process, including creating vendor searches for each category and helping me maintain a budget. Her industry knowledge and contacts were invaluable. Our wedding was more amazing than I could have ever hoped for. Everything ran exactly according to the plan Cristina and I put together and was so beautiful. I'm truly so grateful to have worked with Cristina, I would recommend her to anyone looking for a wedding planner!

Stephanie B.

Married on 11/14/2020

Super Satisfied!

We hired Cristina for our wedding for October 2021. Cristina helped us make a plan for all of the small details and we never had to worry if something had been forgotten. I trusted her professional opinion 100% and all of my family and guests raved about her attentiveness on the day of our wedding. It was truly amazing to sit back and relax and enjoy our wedding knowing that Cristina was handling the timeline and all of the details!

Chelsea

Married on 10/03/2020

Cristina is the best!

Cristina was so helpful and so adaptable to change when we had to deal with changes relating to COVID and ultimately postpone our wedding to a later date. She was very organized and responsive. She made every part of the wedding planning process easier and she was also just a pleasure to work with. Cristina loves her brides and wants to do everything she can to make sure they all have a perfect wedding day!

Robin H.

Married on 09/26/2020

You Need Cristina!!

Cristina was our Coordinator for my daughter's wedding 9/26/20. I can't imagine not having her to guide us. We had a Barn wedding (actually because of COVID had it outside the barn) so we had to do everything ourselves. She was AMAZING! Handled the vendors and all documentation we needed, created a timeline for hair, makeup, and photographer so it all went perfectly smooth, calmed me down when I called her stressed about weather, offered suggestions/ideas that we never thought of. Very professional and organized and was ALWAYS very responsive when I had a question or needed advice. Excellent communication!! Didn't worry about a thing on the wedding day! So my daughter & I were able to enjoy the day. I can't say enough about our experiences with her.

Katie

Married on 09/12/2020

The BEST thing to happen during a pandemic

I work in healthcare and my now Husband works in the National Guard. Needless to say, wedding planning during the pandemic while both being on the front lines was extremely stressful. The guidance from Cristina during the pandemic wedding planning was the best thing that happened to us during that stressful time. I like to tell Cristina she was my therapist and knew exactly what to say and what I needed to hear during the planning process. Talking to her felt like it was going to be okay and it was! Our wedding day was the BEST day of our lives. I will be forever grateful for her and helping us have the best wedding. She goes above and beyond, is so detail orientated and thinks of every option for literally every situation. I would hire her again and again one thousand times over!
Are you interested?
Send a message