217 Reviews
Recommended by 100% of couples
Quality of service

5 out of 5 rating

Average response time

5 out of 5 rating

Professionalism

5 out of 5 rating

Value

5 out of 5 rating

Flexibility

5 out of 5 rating
43 User photos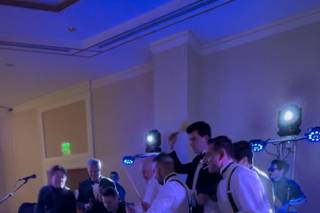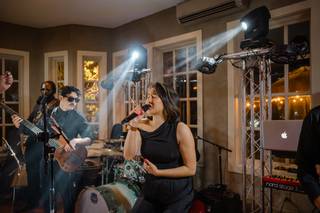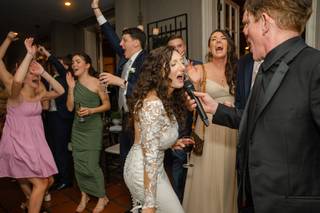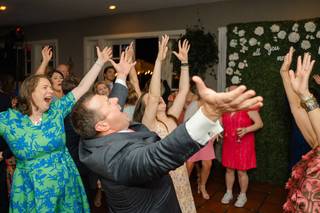 + 39

photos
Featured

Katie M.

Married on 04/15/2023

Great experience!

Men in Black are the best! We hired them after interviewing a few different bands. We liked that we knew exactly who we were getting, since the band doesn't rotate members in and out depending on availability like some of the other wedding bands on the circuit. We did not have a chance to check out a live showcase before making our decision but we went off of MiB's great reviews, their videos, and our very positive conversations with Jeff. We made the right decision!

In the months leading up to the wedding, Jeff was extremely available for phone calls regarding timelines, music selections, and other questions. We ended up adding on an extra hour of Nick the pianist's time for cocktail hour- it was an easy process to add this on and it streamlined our decisions since we didn't have to hire a separate musician. They would've done our ceremony too if we'd wanted, but we had our ceremony offsite at a church. The band was flexible in terms of song selection- we gave them our input and they did a great job mixing in our requests with crowd favorites. We wanted to use the recorded version of our first dance song, so they agreed to learn another song that was not on their list in its place, which we really appreciated!

On the day of the wedding, the band was prompt and professional. Nick did a great job during cocktail hour and having the piano music really elevated the experience. The band played a lowkey set during part of dinner, and once dinner was done the party was rolling! Every member of the band brought incredible energy the entire night and it was clear they were genuinely having fun! During our prewedding calls Jeff had mentioned a "audience participation" component- honestly I was a little skeptical, but (without spoiling it), he and Wendy do an amazing job of getting everyone involved without having it be cheesy or forced! My family loves to rock out at weddings and so it was really important to me to have a band who could crush it. Men in Black more than delivered!! You will not regret hiring them for your wedding.

+ 3

photos

Alexa M.

Married on 05/06/2023

Hire men in black!

Hiring men in black for our Boston wedding in April 2023 was, hands down, one of the best decisions we ever made. You will NOT regret it. We have attended many weddings in the last few years and having a great band was top priority for us - their interaction and engagement with guests is unmatched in my opinion. I don't think anyone left the dance floor all night, which is exactly what we hoped for. In addition to reception music, Jeff & one of his guitarists facilitated our ceremony & cocktail hour music, which we highly recommend as well! It kept the flow of the night smooth and the energy high. Jeff is extremely responsive, attentive, and so, so helpful, which is MUCH needed during the crazy planning process as brides know. HIRE THEM!

Rick C.

Married on 05/06/2023

They are the best!

We were pretty set on a DJ for our wedding but came across this band and saw a couple videos. We are so unbelievably happy we went with Men in Black. They were so much fun. The interactions with the crowd were awesome and got everyone engaged. the songs were perfect and kept everyone on the dance floor the entire night. We got so many compliments about the band during and after the wedding. Strongly recommend Men in Black if you want everyone to have a great time!

Are you interested?

Send a message

Gabrielle S.

Married on 04/01/2023

An absolute BLAST!

If I could give more than 5 stars, I would! There are not enough words to fully capture just how EPIC Men in Black was at our reception. All of our guests were raving (and are still raving a month & a half later!!) that this band is the best wedding band they have ever seen. They kept the dance floor absolutely PACKED all night! They were so easy to work with, and absolutely nailed it when it came time to play at our reception. They made the night so much fun, and kept up this incredible high energy performance all night. I would hire them again in a heartbeat! Do yourself a huge favor and book them!!

Leah

Married on 12/17/2022

Best wedding band ever!!!

Men in Black was absolutely amazing. Our friends and family told us all night that they were the best wedding band they had ever seen. They are extremely musically talented but more importantly they are the most fun band ever. If you want a guarantee that everyone will be out on the dance floor for the entire night then this is your band! We cannot recommend them highly enough!!

Erin M.

Married on 11/19/2022

Look no further!

HIRE MEN IN BLACK!!!!! They absolutely MADE our night. The talent is out of this world - we had broadway performers in attendance and even they were impressed!! We booked them for our ceremony music and cocktail hour as well. Chris played acoustic guitar for our cocktail hour and his voice is out of this world. Jeff is a seasoned professional and MC'ed our reception better than we could have imagined. Wendy's vocals and energy are unparalleled. She is a ROCKSTAR. Our dance floor was PACKED the entire night. We are six months out and guests are still telling us how much they loved this band. Look no further and trust these amazing reviews. Oh - and get the horns!!!!

+ 8

photos

Sandi E.

Married on 11/05/2022

Best Wedding Band Ever

Men in Black was an incredible part of our wedding. They provided music for our ceremony, cocktail hour, and reception and each component was flawless. They had all our guests on the dance floor the entire night night, were so fun and interactive, and just sounded amazing. Everyone who attended our wedding said they were the best wedding band they have ever seen. Not only that, but Jeff was so easy to work with, responsive, and organized leading up to our wedding. Look no further for the best wedding band ever!

Donna B.

Married on 10/29/2022

Non stop action

No one sat for ONE MI(NUTE!!! And they learned Beauty and the Beast at the last minute for the father-daughter dance---a tear-jerker moment for sure! Book them while you can!!

Keri H.

Married on 10/08/2022

Blown away!

Wow! When we booked MIB we had loved their promo video, but had not had the chance to see them in person due to the pandemic. They were above and beyond anything we could have imagined. They had literally every guest on the dance floor, which was amazing for a 200 person event. They surprised us with hit after hit. The male and female lead singers were unreal and the energy from the rest of the band was excellent. We've gotten so many positive reviews from guests wondering where on earth we found them. Look no further, this is your band

Kate M.

Married on 09/25/2022

Look no further, truly the best in the area!!!


I'm not kidding I would give 100 stars if I could. If you are looking for a truly lively dance floor, opportunities to get on stage, and amazing music across all genres truly look no further. After seeing Men in Black at a dear friends wedding, they were the first vendor I reached out to when I got engaged and they did not disappoint. Every single person at our wedding, and everyone who saw it on social media reached out specifically to say how amazing our band was. It truly made the night, I never wanted the encores to end, you guys are truly the best in the biz!!!

Alli S.

Married on 09/09/2022

Amazing band!!

We cannot say enough great things about Men in Black. They were absolutely phenomenal at our wedding and truly helped bring the party. We are still getting asked by guests who the amazing band was and how we found them. Men in Black also had us come up on the stage and play some instruments with them and it was overall such a fun night. We also had a guitarist for cocktail hour and he was fantastic. Would recommend them to anyone who is looking to keep the dancefloor packed all night long!

Kacie O.

Married on 09/03/2022

Men in Black were a hit!

Men in Black were amazing. They made our wedding reception a true party and were fantastic to work with during the planning process. There was never a dull moment when they were playing. So many of our guests raved about this band after our wedding. They played a great combination of new and old songs and really interacted with the party. We were so lucky to have them at our wedding!

Beckie M.

Married on 08/21/2022

Best night of our lives!

Everyone always guests will remember 3 things from your wedding: the music, the food and the wedding dress. Well, let me tell you, they DEFINITELY remember Men In Black as our band!! All our guests were asking where we found them, what the name of the band was and saying it was the BEST wedding they've ever been to because of our band choice! You can't go wrong with MIB. They'll have all your guests up and moving the entire time. They get the crowd involved and even hand out the mic and a few instruments from time to time! We had the absolute best day of our lives at our wedding and a HUGE part of that is because of Men In Black! Super reasonably priced to for their incredible performance!

Kelly

Married on 08/12/2022

Fantastic wedding band!

Men in Black were fantastic at our wedding! From the beautiful music played by the pianist during ceremony, to the awesome acoustic guitarist during cocktail hour, and the party energy during reception - they were amazing! They learned our first dance song and nailed it. Everything went smoothly and so many of our guests have been talking about how amazing they were. They are true professionals to work with - we highly recommend them. We will definitely be seeing them again at another wedding in the near future!

Emily M.

Married on 07/30/2022

MiB gave us the BEST night of our lives!

Hiring Men in Black as our wedding band was the BEST decision we could have made. They absolutely MADE the party. We attended a wedding a few years ago with MiB as the band and booked them asap without even considering other bands. We had several people tell us we had the best, most fun wedding they have ever been to, and Men in Black is the reason for it. Jeff was so wonderful to work with throughout the process - organized, responsive, efficient. MiB honored all our requests in terms of songs to play and vibe we were going for, and Jeff was on point in mc'ing the event according to our schedule (announcing speakers etc). The band was engaging with guests, worked the crowd, and really gave their all, even though they do countless weddings a year. They played so many crowd pleasers - everyone was on the dance floor all night! Their value is incredible, I found their cost very reasonable compared to what I've heard a band can cost. Highly recommend Men in Black as a wedding band!

Mike M.

Married on 07/01/2022

Superb wedding musicians!

Men in Black did a phenomenal job at our wedding this summer! We had the band for the reception but also a pianist for our ceremony an acoustic player for our cocktail hour. All were top notch, they kept out wedding guests engaged on the dance floor and did a great job mixing it up and going with the flow! In addition they were very communicative and respectful of song selections and super accommodating and professional! They helped make the day o the wedding a breeze and just showed up and partied it up! Lots of compliments from all of our guests they over delivered! Can't recommend enough!

Jaclyn E.

Married on 06/26/2022

MIB is the best there is!

Men In Black was the best decision we made!! We heard about them through a friend who planned her own wedding date around their availability after seeing them perform at a wedding. We had already been reaching out to a few bands and after finding them knew they had to be the ones! They are INCREDIBLY talented each and every performer. Everyone months later is still talking about how amazing they were, and how the dancefloor was packed all night… they sure brought the party! Jeff was super easy to coordinate with and made it super easy for us from the beginning. He helped talk us through each decision and gave us his advice since they are the experts after all. We found them reasonably priced, and compared to how expensive a DJ is who plays a set list they are 100000x better and worth it!!! We had added on for them to play acoustic at the cocktail hour and he was amazing too! During one of the speeches it was mentioned how I (the bride) loves Billy Joel, and after hearing that they changed the set list to include two Billy Joel songs, one being a sing along piano man circle that was so special and got the entire crowd involved and singing along. They know what they are doing and are SO good at it. Thank you Jeff and all the performers of MIB you guys made our night the best ever!

+ 2

photos

Elizabeth L.

Married on 06/08/2022

Best wedding band

They are by far the best wedding band. Our guests can't stop talking about how awesome they were. They really put on a show & keep the dance floor crowded all night long. Jeff & the band members are truly one of a kind!

Anthony T.

Married on 06/04/2022

Absolutely Recommend

Not only did they have the dance floor filled for every song, but they were amazing and so easy to work with and helped create the perfect plan for the night. Everyone loved the band. Every song was a hit. They got the crowd going. From first song to last song to the rockin' encore, we loved every minute and had the night of our lives. This band is a MUST pick and will not disappoint.

Kelcie W.

Married on 05/22/2022

The absolute best wedding band

Can't say enough good things about Men in Black. I've seen them play 3 times - at a bar in Gloucester, at my best friend's wedding, and now my own wedding. Every time is better than the next. They put on an amazing show, and everyone is on the dance floor the entire night. They are SO talented, and did not want the night to end! If you do not have a band yet for your wedding, BOOK THEM - you will not be disappointed.

Stephanie

Married on 12/17/2021

Men in Black Band Review

Men in Black were amazing! They are so talented! They did a wonderful job getting all my guests to dance and have fun. They also did an excellent job playing songs that I requested and choosing songs that my guests enjoyed. Thank you Men in Black!

Lisa S.

Married on 10/24/2021

Amazing wedding band!

After 3 postponements we finally had our dream wedding- mainly thanks to Jeff and Men in Black band! Jeff was extremely accommodating throughout the rescheduling process and very responsive to all our emails. They absolutely did amazing the whole day at our wedding. From the ceremony music, to the cocktail hour and finally to keeping almost everyone on the dance floor the entire night, we are still getting people telling us this was the best wedding they have ever been too. They interacted with the crowd and had the bridesmaids and groomsmen each up to sing a song and gave me as the bride and my husband a lot of attention. I have never been to a wedding where almost everyone danced the entire night! We told Jeff we wanted an epic dance party and he certainly delivered. As we were doing photos before the ceremony our videographer said to us "Oh wow you got Jeff Fraser, he is amazing this is going to be a fun party". We knew then that we made the right decision in booking him. If you are looking for a wedding band, stop looking and hire MIB! -Lisa and John H.

Annie S.

Married on 10/16/2021

Do your wedding a HUGE favor and hire this band!!!

It's hard to put into words exactly how incredible the Men (and woman) in Black were at our wedding. We booked them because they guarantee "a packed dance floor", but that is the under sell of the century! There was hardly any room on our dance floor the entire evening, and it's safe to say that how great the band was has been the single most popular topic of conversation with our guests ever since (even a groom at his own wedding later brought it up!). They were so engaging, from coming on to the dance floor and having guests sing into their mics to letting the bride and groom with their bridal parties play the cowbell on stage with them! They did a beautiful job with the ceremony and cocktail hour too that eventually led into the awesome power set later that had people begging for an encore (of which they gave us not one, but three)! Jeff was super easy to work with and did an amazing job learning and playing our first dance song. Jeff and the band were also so amazingly flexible the day-of with a slight rescheduling and changing of logistics given inclement weather. We could not recommend this band enough!!! If you are reading this and thinking about getting a band, I would call them now because they book up quick!

Ralph V.

Married on 09/16/2021

Sept 16, 2021 Lake Pearl Wedding

Superb right from the start the dance floor was packed. Stage looked awesome. Your personality and your interactions with the guests through out the night is where the magic is. The energy you created in the tent was insane.
Couldn't have gone any better. Week later I'm still getting calls
Amazing musicianship throughout the band. Memories were made
Great Job MenInBlack

Shannon G.

Married on 09/05/2021

Hire this band!!!

Our wedding day was amazing and Men in Black was the icing on the cake. All of our guests can't stop talking about how incredible the band was. The music throughout the night was absolutely perfect. The dance floor was packed all night long and we loved the way they got the guests involved in the fun! Jeff was responsive and super flexible, especially with our changed wedding date. I cannot stress enough that this is the best wedding band!!
Are you interested?
Send a message