15 Reviews
Recommended by 100% of couples
Quality of service

5 out of 5 rating

Average response time

4.9 out of 5 rating

Professionalism

5 out of 5 rating

Value

5 out of 5 rating

Flexibility

5 out of 5 rating
Awards
34 User photos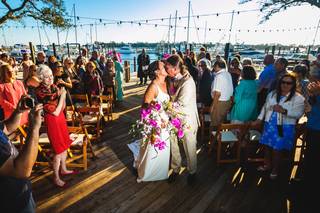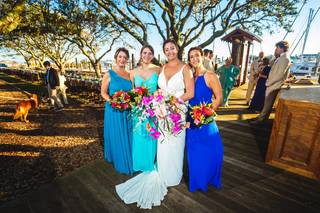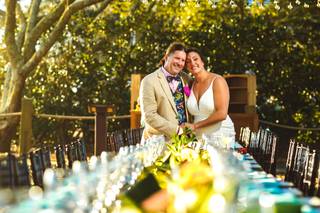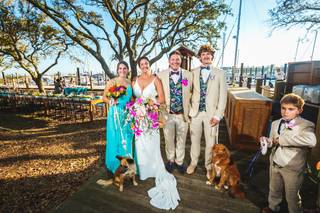 + 30

photos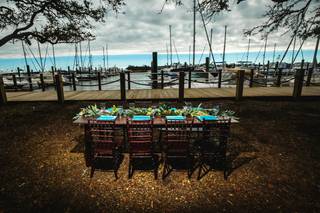 Blake G.

Married on 12/02/2022

Excellent party planners

Kim and Jumila were very professional, helped plan a wonderful rehearsal dinner and welcome party for my son! It was perfect and they were awesome to work with

Blue Satin Bee's reply:

Thank you so much! We absolutely loved working with you to plan the evening! Thank you for trusting us with such an important part of the weekend festivities!

Jodie Y.

Married on 11/12/2022

Blue Satin Bee is the BEST!

We could not have had the most beautiful day without Blue Satin Bee. From the first planning day to the last recap (after our wedding) they were the best! The wedding planning team listened to what we wanted and then went above and beyond to make our day the best day of our lives. In the beginning we were just going to use them for on the day of the wedding but from the first planning day we decided we needed them for all of the planning due of their experience and their dedication to making our big day their top propriety. Throughout the planning experience they made sure we were happy every step of the way and ensured things would run accordingly as planned. They also protected us from any stress and made sure everyone in our family and wedding party was happy. On the wedding day they also were a part of making the day special just because of the relationship we made with them. They even brought in extra support to make sure that my grandma who could not make it to the wedding could participate in the virtual platform. The ladies at Blue Satin Bee are exceptional wedding planners and go above and beyond. We could not have asked for anything better. We would HIGHLY recommend Blue Satin Bee!!

+ 13

photos

Rebecca F.

Married on 10/08/2022

Phenomenal

These ladies are the absolute best!! They are fun to work with and really care about the couple & their wishes.

Are you interested?

Send a message

Janie W.

Married on 05/15/2022

Best Wedding Planner

There is no one better in the Southport/oak island area than Blue Satin Bee for event planning! We were lucky enough to have both Kim and Jumila to plan our wedding. They were so helpful even though we planned the majority of our wedding from across the country and in the middle of a cross country move. They were extremely accommodating, and helpful. They kept us calm when we had no idea what we wanted, set up all our vendor visits, tons of recommendations, and available anytime we had questions. Day of, they were the Go To Team! I didn't even have to think about anything, they had everything set up and ready and even helped us with our pups when they didn't have to, and our wedding went perfectly!! Most times I am hesitant to spend money, but I can 100% say blue satin bee was worth every penny! They made our wedding more than perfect it was our dream event! We can't thank them enough!

Blue Satin Bee's reply:

Wow! Thank you so much for the glowing review! It was our pleasure to get to help you plan and take some of the stress off as you moved across the country and got settled into your new house! You all felt like family by the time we got to wedding day! Being able to help you create a vision for the design and bring that vision to life was such an honor. Looking forward to continuing to follow your journey in this next chapter of life!

Amber I.

Married on 05/07/2022

Just amazing!

Weddings can be stressful (obviously) but knowing that you are in good hands with your wedding coordinator just makes everything so much easier! I can't say enough good things about Blue Satin Bee. They took care of everything down to the smallest detail and everything just turned out so beautiful! Danielle, our coordinator was just amazing with all the kids and went above and beyond. I am 100% happy and would definitely recommend to a friend!

Mark D.

Married on 09/25/2021

Don't look back and WISH you had hired a wedding planner

So, my wife and I were not planning on hiring a day of planner…that would have been the biggest mistake ever!!!

I have my friend who got a wedding planner and asked if we planned on getting on, and I didn't see the need to. We had all our vendors picked out and booked. Then I was talking to our vendor for rentals, and she was like, "You may think you don't need a planner but let me tell you, come the end of your wedding night and it will be you stuck without anyone to help clean as everyone who says they will help will be drunk and leave" and she gave me the name of Kim at Blue Satin Bee.

We reached out to Kim and met up for coffee and we knew right away that we need to bite the bullet and hire her. She asked many questions of things we never even thought of, and we knew it would make the day wayyyy less stressful. Though we had the full wedding planned and I had all my spreadsheets/budget in order, we decided to hire her for just the 'day of' planning. We met with Kim and her team multiple times for drinks and coffee and to discuss our wedding. She and her team are so personable and fun that many times we lost track of time. An hour meeting would turn into just great discussions, and we all got to know each other very well.

Come the wedding day, though it was still stressful, we did not have the stress of setting up, the stress of having all our vendors on the same page, the stress of making a schedule of the day, everything… Kim and her team at Blue Satin Bee handled it with such professionalism. If there was any hiccups on the day, we wouldn't know because her whole team was all over and just making sure the day was perfect, which it was. They were just so fun to work with and Danielle's dance skills with a mop were on point as well.

If you are having a wedding, and plan on doing it yourself…do yourself the biggest favor and reach out to Kim and Blue Satin Bee, they will take off so much stress, especially for you brides. Even if it's just for the day of, there are so many little things we didn't think of/didn't know about until they asked us and discussed with us. You don't want to look back and wish after the wedding that you had hired a wedding planner, by then, it'll be too late. They get 5 stars and are a must hire for your wedding down here on the coast. They will build not just a client relationship but a friendship as well.

Ana D.

Married on 06/30/2021

Great! Kim is a wonderful wedding planner.

Kim and her team did amazing job!
Than you so much for all your work!

Blue Satin Bee's reply:

Thank you Ana! We are so happy you and your family were able to enjoy the day together and we are honored that you chose us to help plan and execute your vision. Nothing is better than seeing the joy of families coming together and celebrating a couple at an intimate wedding like yours did. Your father's toast had us all tearing up!

Chini L.

Married on 06/05/2021

Absolutely a dream!!!

Blue Satin Bee was beyond perfection! Thanks to them we had our dream wedding and honestly I dont think we could have done it without them. I seriously probably would have thrown in the towel and just eloped on my own. Working two jobs, going to school full time, and working an odd schedule would have been hard for some people to accommodate but not Blue Satin Bee. They were always so prompt, flexible, friendly, and organized! They really listened to what we wanted and helped us plan accordingly. The day of what such a BREEZEE. I am a control freak, but Kimberly told me to let the professionals handle it, and I am so glad we put our trust in them because we were able to relax, eat, socialize and still do the things we needed. I swear I could go on and on bragging! She even helped me bustle my dress and place my veil because we were struggling with it. Trust me, give them a call you wont regret it!

Blue Satin Bee's reply:

Wow! Thank you for the super sweet words! You and Gary were a dream to work with and it was such a special day to be a part of! The pic of me putting your veil in place totally captures my concentrating face 😂 Beautiful day, beautiful bride and beautiful joining in marriage of such an awesome couple!

Brooke G.

Married on 05/30/2021

Exceptional Experience

I cannot begin to express how amazing Kim and her team are. From my first interaction with her to the Wedding day and after, she has been nothing short of exceptional. Throughout the entire planning process, she was easy to communicate with, kept detailed notes and kept me on track with planning. She ensured all the finer details were considered and planned for. She did walk though, assisted with vendors, created a detailed timeline, and too immense amounts of stress off of me as the bride. On the actual wedding day Kim and her team ran things so myself and the families could enjoy the evening and not stress. Because of this service we had an amazing stress free wedding and I would HIGHLY recommend these service to anyone. hen I started planning I wasn't sure if I needed a wedding planner, but hands down would say worth every penny and then some. Kim and her whole team when above and beyond to ensure our big day was flawless.

Blue Satin Bee's reply:

It was totally our pleasure to work with you! We are so glad that you trusted us with your wedding day and that we were able to help with the planning and execution of everything! Thank you for your amazingly kind words! Working with you was awesome from start to finish!

Sarah G.

Married on 04/17/2021

Amazing team that planned a seamless beautiful wedding

I absolutely loved working with Blue Satin Bee. Kim helped keep me on track during the planning process and went above and beyond on our wedding weekend to make sure everything was beautiful and seamless. I would pick them 10 times over if I did it all again

Blue Satin Bee's reply:

Thank you so much! It was such an honor to be a part of your whole wedding weekend! We loved being there to help plan (and replan- looking at you Covid 😒) and make sure everything turned out exactly as you'd envisioned! Congratulations to The Taylors!

Alison M.

Married on 10/24/2020

Blue Satin Bee is phenomenal!

If you're considering a wedding in Southeast NC, I wholeheartedly urge you to connect with Blue Satin Bee. Kim, her team, and her vendor connections are absolutely the best of the best.

After rescheduling and then indefinitely postponing our Vegas wedding, Blue Satin Bee was able to perfectly capture our vision for our reimagined Oak Island wedding in just two months. I cannot speak highly enough of Kim! We immediately had a great connection from our very first call. She handles absolutely everything, and is also so kind and just a true joy to work with! I highly suggest hiring Blue Satin Bee for your wedding planner needs.

+ 2

photos

Blue Satin Bee's reply:

Thank you so much! I will never forget you telling me that I had "made planning fun again" as we got off the phone after our initial call. With so many twists and turns impacting your original wedding day, it was such an honor to be able to help bring some joy back to planning! The day was so fun and helping make your vision coming to life was awesome! The vendor team still talks about how beautiful the day was!

Sherrie W.

Married on 10/10/2020

Best Wedding Planner EVER!!

Kim and Teresa are the most amazing planners in this business!! Our area was hit by a hurricane and of course Covid-19. I was so worried that my daughters dream wedding was not going to happen. Then I met Kim and Teresa!! After our first meeting they were hired and my mind was completely at ease!! Every detail was attended to beautifully!! They work with the most AMAZING group of vendors, each one did a fabulous job! Blue Satin Bee's communication and coordination skills are unmatched. I can honestly say I have never seen my daughter so relaxed and happy as she was on her special day. They event was beautiful and Kim made it go beyond our dreams and visions. I will never be able to thank her enough. If you have the opportunity to work with these special ladies, don't hesitate. It will be the best wedding decision you make!!

Blue Satin Bee's reply:

We could not have loved working with you all any more! You guys were so fun and easy to work with it was like helping close friends plan a wedding. Thank you for the kinds words! Helping make Heather's wedding vision come to life was totally our pleasure!

Sydney S.

Married on 08/08/2020

10/10! 100% would recommend to anybody in the Southport/Oak Island area!

Kim and Teresa are a dynamic duo! They made my vision for my wedding possible. Kim is very organized and plans every aspect that goes into a wedding and she has tons of experience. Teresa is very attentive and professional. I was also very impressed with how many local vendors have already worked with Blue Satin Bee and they all had wonderful things to say about them. My husband and I live two hours away from Southport and Kim was very flexible when we were planning on driving there and meeting. I definitely would not have been able to go through wedding planning process without them, it was so stress free and fun!

Blue Satin Bee's reply:

Thank you so much Sydney! It was our pleasure to help you and Thomas plan your wedding day! It was absolutely beautiful and we are still swooning over your gorgeous photos!

Holly B.

Married on 10/11/2019

Amazing Ladies!

Teresa and Kim were fabulous! I was the mother of the bride and worked closely with Teresa (my daughter lives out of town). We met in person a couple of times and talked at length on the phone to make sure every detail was as we wanted and let me tell you she thought of everything! I texted her with questions and changes, she always responded even if it was to say she was out and would get back to me asap. She planned out the wedding timeline and every minute was accounted for, I had no idea it took that much thought! On the day of the wedding Teresa and Kim were there when our venue time began, helping with set up details until the time we had to leave the building, making sure everything was taken care of. I even called Teresa the next day because I couldn't locate and item and she knew exactly where it was. Because of their attention to detail, I was able to completely enjoy my daughter's wedding without any worry. I had complete confidence in them!

Blue Satin Bee's reply:

Thank you so much! It was a pleasure to get to work with you both. We love seeing a mother and daughter get to enjoy the wedding day and not have to worry about anything!

Madison S.

Married on 05/23/2021

Bride to be

Working with Kim was always professional and fun! She made it such a smooth process and great weekend. She always brought us good ideas and options. I would recommend her to any bride!

Blue Satin Bee's reply:

Thank you so much! It was our pleasure to work with you and your mom to plan your big day! Seeing the vision become a reality was amazing! Even with a venue change due to Covid things turned out beautifully and we loved seeing you and Austin enjoy the day!