Reviews
5.0 out of 5 rating
Quality of service

5 out of 5 rating

Average response time

5 out of 5 rating

Professionalism

5 out of 5 rating

Value

4.9 out of 5 rating

Flexibility

5 out of 5 rating
100%
Recommended by couples
12 User photos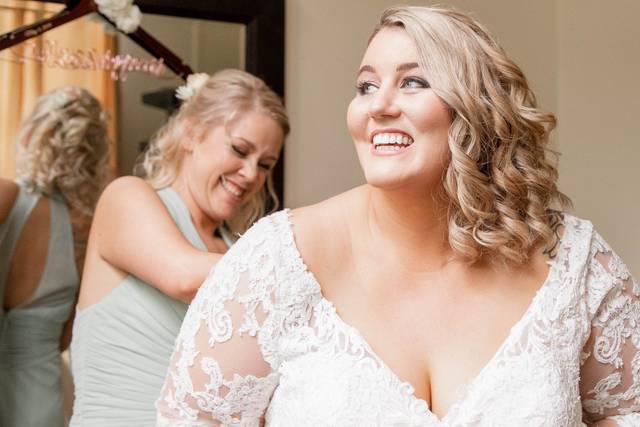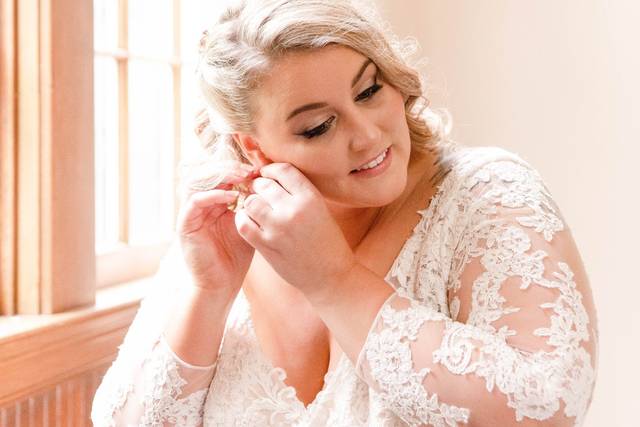 + 8

photos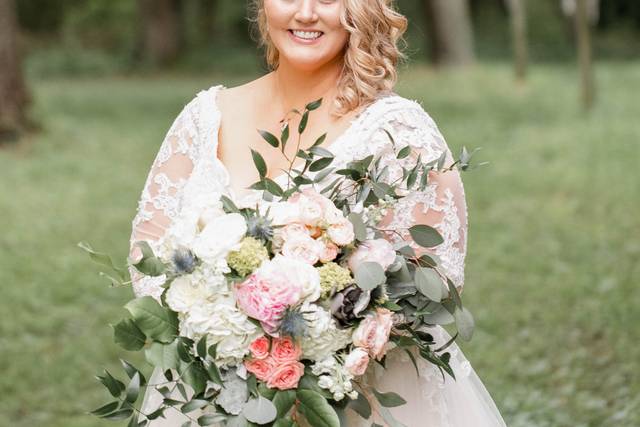 Lauren S.

Married on 09/21/2019

Perfect, natural wedding day look

I loved working with Ryan from Blend for my wedding day makeup! Because of a mistake on my part, I didn't even end up doing a makeup trial beforehand, but I wasn't worried because I trusted in Ryan's talent and had sent her some inspiration for what I wanted on the day of. She gave me the perfect, natural look that I wanted and was a joy to work with that day! She was really laid back and completed our makeup well ahead of schedule. Highly recommend her!!

Ellen

Married on 07/13/2019

Wonderful experience! Highly recommend!

Blend Make-up Artistry was recommend to me by my fiancé's cousin who used them for her wedding and raved about them! I was extremely happy with my wedding day makeup. I worked with Kathy and Amanda and they both were wonderful and both very talented. They arrived early and were kind and professional. I will treasure my wedding photos for the rest of my life and thank you from the bottom of my heart for the beautiful makeup. Thank you Blend Make-up Artistry!

Megan

Married on 07/05/2019

Amazing Work!

Kathy was amazing to work with! She took my envision of a natural look and worked her magic! I am not a big makeup wearer and I honestly could not feel the airbrushed makeup on like I have experienced with other makeups. My makeup lasted all day during a 95 degree wedding day in July! I had so many people compliment how great it looked and so many asked how it was still staying on and looking perfect!

Are you interested?

Send a message

Erica

Married on 06/22/2019

Talented Makeup Artists, Delightful Ladies

I did my trial with Kathy and worked with Kathy and Ryan the day of for me and my bridal party. They were both so kind, flexible, and talented. I felt completely at ease in their hands, and they really listened to my preferences. I wanted my makeup to be glamorous but I still wanted to look like myself, and Kathy made it happen. They used airbrushing which worked so well for a warm day. The makeup lasted all night. I am so happy I got to work with Blend!

Blend Make-up Artistry's reply:

Erica! Thank you so much for this review. You were a stunning bride and I was so happy to work with you. I can't wait to see pictures!

xo Kathy

Jennifer

Married on 05/04/2019

Absolutely Perfect

Ryan was absolutey wonderful. I felt like I stepped out of a magazine when I looked at myself in the mirror for the first time. My makeup was perfect all night! Great experience from start to finish with Blend & Ryan! Thanks so much for making my day!

+ 2

photos

Deb

Married on 11/11/2018

Goddess creator

She takes your inner beauty and explodes it outward. So flexible, professional. I never felt less than amazing during trial or the event. I felt like I could have been on the silver screen.

Rachel

Married on 10/06/2018

Exceeded all expectations!!!

Kathy was amazing! She is extremely talented, dedicated, flexible, friendly, and fun. She worked with me to determine the makeup I loved most for my wedding day, and did a great job on faces of my entire bridal party!

Blend Make-up Artistry's reply:

Rachel, thank you so much for this kind review. It was my pleasure being part of your special day. Thank you for trusting me! Hope to see you again, soon!

xoxo Kathy

Olivia L.

Married on 10/06/2018

Great make up artists

Blend was great. Kelly was the main one I set everything up with. I used them for makeup for myself, all my bridesmaids and for my mother and fiancés mother. so 11 in total. the make up looked great. it was 75$ a person, which is comparable to most places, and even less expensive than some. Jennifer and Amy were the artists that came day of. Jennifer was great, she came to my house for the trial and both girls came to the hotel downtown we were getting ready at for the day of. they were both professional and fun, on time and timely. the day of was super stressful, and everyone there did a great job of keeping the mood light, and making me feel beautiful on my Big day. I would definitely recommend.

Blend Make-up Artistry's reply:

Hi Olivia!

We wish we could take credit for your wonderful experience, but unfortunately it looks like you meant to leave this review for a different company. Our pricing is a bit different and we don't have any artists with those names.

Reviews are so important to small businesses, so we wanted to be sure the rightful owner of these very kind words receives them.

Congratulations on what sounds like a perfect day!

- The Blend Team

Sallie

Married on 09/30/2018

We're so thankful we had Kathy there to help us get ready

Kathy was amazing. She's so talented but also so nice and I'm very happy we had her for my wedding. She arrived on time bright and early and we all had a fun time getting ready with her. I couldn't believe how great my bridesmaids looked. All the looks complimented our various skin tones and makeup preferences. I enjoy wearing more makeup but my mother in-law prefers her makeup very minimal and we were both so happy with the outcome. All our makeup lasted throughout the night and I'm so thankful we had Kathy work with us instead of trying to do it ourselves!

Blend Make-up Artistry's reply:

Sallie!! Thank you so much for your kind review. It was so fun working with you and your ladies. You all looked beautiful! I hope to see you again soon!

xoxo Kathy

Elise

Married on 09/15/2018

I LOVED WORKING WITH RYAN!! Amazing at her craft and a beautiful personality to go along with it. Great skill! My makeup nailed what I wanted and she also did an amazing job for my mother's makeup! Plus all of our looks, bridesmaids included, lasted the entire night! Not to mention she helped keep a relaxed day-of atmosphere! Totally loved everything about my experience!

Jennifer

Married on 07/28/2018

Blend Makeup Artistry was one of the best decisions I made for my wedding! From the initial point of contact to the wedding day, Kathy and and Ryan were a pleasure to work with! My trial with Kathy was outstanding and this was beyond her ability to do fantastic makeup. Her kindness and passion for the job shined through throughout the whole process. On the wedding day, Kathy and Ryan made a point to compliment every single girl in my bridal party, making each of us feel beautiful, even without any makeup on! They were very responsive to everyone's needs and were eager to please. I recommend Blend Makeup Artistry to any bride looking for talented, kind makeup artists!

Blend Make-up Artistry's reply:

Jennifer,

I'm so sorry for the late reply. Thank you so much for this very sweet review! It was such a pleasure to get to know you and be part of your big day! You looked stunning! I hope to see you again soon!

xoxo Kathy

Erika

Married on 03/03/2018

I was so lucky to have worked with Kathy from Trial to the wedding day! She is AMAZING and I loved my makeup! I don't normally wear a lot of makeup and was nervous about feeling uncomfortable but it felt amazingly light and non-existent! My bridesmaids, mother, and mother-in-law also worked with Kathy and Amanda for the wedding day. All our ladies- me included- LOVED our look and went through glam-team withdrawals the following day. Thank you both for making the getting-ready-experience memorable and so much fun!!

Tamar

Married on 02/03/2018

I highly recommend Ryan as a make-up artist. Not only did she do a beautiful job on my daughter's wedding party but she is also an extremely sweet person.

Melissa

Married on 12/31/2017

When my wife and I booked with Blend and secured Kathy Schultz for two bridal airbrushes, we were confident that we were booking a wonderful make-up artist. What we did not know was that we were booking a true artist who is just the kindest, most loving soul. Kathy's joy and excitement for us permeated everything she did - from emails, to our trials, to the day-of. Her warmth is unmatched. And she made us both look like the best versions of ourselves - with far better eyelashes and eyebrows than we could have dreamed of! Kathy was thoughtful in her selection of colors, basing her approach not just on our skin tones and eye-colors, but on my wife's blue suit and my pink-and-gold gown. She also took my vintage hair-style into consideration. The results were STUNNING. We looked like modern versions of classic Hollywood stars. And the make-up held through tears and toasts and dance-floor sweat so we look as beautiful in photos from the beginning of the night as we do from ones after the guests had left. If you want a flawless look from a big-hearted artist, Kathy with Blend is the way to go!

+ 4

photos

Ladan

Married on 11/24/2017

Ryan was a DREAM to work with!!! She did an incredible job on all the ladies and was so fun and easy to work with. I LOVED my make-up and she was extremely flexible and made slight changes to the look she created based on my feedback. Also, my make-up stayed in place all night after 5 hours of dancing! Couldn't have asked for a better experience! I would highly recommend Ryan and Blend to everyone!!!

Each

Married on 06/30/2017

Ryan was amazing! She was so easy to work with and made sure we all looked gorgeous! I got so many compliments not only on my makeup but that of everyone else's. AND everyone said how wonderful she was to work with. Thank you so much for making my day extra special.


Anna

Married on 06/24/2017

Kathy was great to work with - she exceeded all of my expectations. I originally found Blend after pouring through tons of photos on WeddingWire, and they stood out to me because their work looked beautiful as well as natural. I was thrilled to hear they were available for my day, and was so excited when Kathy invited me and my friend into her own home to enjoy some champagne and do a trial. Kathy was very patient and was great at hearing my suggestions and reflecting them in her work.

When it came to the day of the wedding, Kathy arrived promptly and with a huge smile on her face. All of the women looked absolutely gorgeous - and so much of that was because of the amazing work Kathy did. She was so patient and understanding she was able to put makeup on my Mom, who had started out the day saying she did NOT want makeup because she wanted to look "natural", and made her look so natural and BEAUTIFUL that my own mom had to swallow her own words. And, of course, Kathy made me look and feel beautiful. I was pretty terrified I was going to end up walking down the aisle not looking like myself, but instead I just looked like an effortlessly beautiful version of myself.

I hope I have another event soon where I get to work with Kathy and her team. She is a love to work with and will make you and the ones you adore look absolutely gorgeous. Worth every penny.


Allyson

Married on 12/10/2016

I can't say enough good things about Ryan and the Blend Make-up Team! I first met Ryan at my brother's wedding and was so happy with my makeup that I knew instantly I'd want to have her do makeup for mine. Not only is Ryan incredibly talented, she really pays attention to what her clients feel comfortable with in terms of makeup. I had 8 bridesmaids who all have very different styles and she and her team accommodated every single one of them, along with my mom, mother-in-law and grandmothers. I was so happy with the end result of my makeup—Ryan really knows how to keep everything natural but still camera ready. She's also just so much fun to work with. We were all done with our makeup early and Ryan took the time to carefully apply touch ups and make sure everyone was camera-ready. I'd highly recommend Ryan to anyone!

Cassie

Married on 10/15/2016

Can I just say... I LOVE Kathy!! She did a phenomenal job at my trial and on my wedding day! All my bridesmaids were raving about her and how well she did (not to mention friendly!). She really took the time to listen to any little changes I wanted to make from when I had my trial to the day of the wedding and made them happen! I felt flawless! I have rosacea and there were absolutely no signs of redness!

I cannot thank her enough for the extra above and beyond she went to making my Mom feel more like herself. My Mom was diagnosed with Stage 1 breast cancer April 2016 and has been undergoing chemo and radiation before, during and after my wedding. She lost all her hair and started to lose her eyebrows and eyelashes. It was so nice seeing my Mom look like her again and to have her feel beautiful. She gave her back her eyebrows and put on small individual lashes to give her a more natural look.

Overall, Blend as a company is so extremely professional, personable and a joy to work with! Highly recommend Blend and Kathy as your make up artist for your wedding or special event!

Blend Make-up Artistry's reply:

Cassie!! I love you too! You, your attendants and especially your Mom, were a pleasure to work with and I was honored to be a part of your big day. Thank you for this very special review. xoxo

Nikki

Married on 10/01/2016

Book Marquia and you will not be disappointed! From the moment we met at the trial, she made me feel so at ease and 100% confident in her abilities.She contacted me the day after the trial to see if everything held up and if I wanted to change anything, I felt like she was really trying to give me exactly what I wanted. For the wedding day, I wanted a natural look, but i also wanted to cover up my many blemishes. She made me feel so beautiful! My girls looked gorgeous and I could not have asked for a better make-up artist!

Jenn

Married on 08/27/2016

I loved how myself and my bridesmaids looked the day of the wedding. Their team can do both natural and dramatic looks equally adeptly. They were even understanding about my "germaphobia," indulging all my questions about how the brushes and other products were cleaned. I can't recommend Blend enough!

Francesca

Married on 08/20/2016

Marquia Kinard is so talented and I would recommend her without reservation. My makeup looked absolutely stunning for my wedding. It was very natural yet photographed beautifully. She truly made me look like the best version of myself while still looking like myself. I received so many compliments. It also held up through tears, 90 degree heat, and wild dancing. One of my bridesmaids had her makeup done before 10pm and her makeup still looked perfect over 12 hours later.

Marquia is also an absolute joy to work with. I absolutely loved every minute I spent with her during my engagement session, wedding trial, and on my wedding day. Same goes for my bridesmaids. We all wanted to be friends with her after she did our makeup. Not only is she fun and spunky, but she is also highly professional. You won't regret having her do your makeup.

Mitra

Married on 06/25/2016

Maliki was AMAZING - she showed up super early, did beautiful make up for my 7 bridesmaids, my niece, my mom, my MIL, and me, not to mention a couple touch-ups for the groom! So nice, so flexible, and she was able to give me EXACTLY what I wanted. SO grateful to have had such a wonderful person there while we were all getting ready!

Melanie

Married on 06/04/2016

Kathy at Blend is wonderful! I cannot say enough good things about her! Blend came highly recommended from a few of my other vendors. I did a trial with Kathy and one other place but there was no competition, Blend was by far the better choice and I couldn't have been happier.

The trial was at Kathy's home studio which was so warm and welcoming. She came to our venue the day of the wedding and it was such a joy to spend the morning with her. She is so friendly, caring and has amazing talent!

The next morning at brunch a few of the girls who got their makeup done still had it on and it still looked fabulous! They didn't want to wash their faces because they loved their make up so much!

Kathy even gave me a custom lipstick she created if I needed touch-ups.. what she put on lasted all day/night but now I have a tube of lipstick that's the exact shade that I wore on my wedding day! A small detail that made such a touching impact.

Amanda

Married on 05/28/2016

Ryan and her mother were a great team the day of my wedding. All of my bridesmaids loved their makeup and mine was perfect. They were flexible and able to work with my fluctuating schedule to make sure everyone's makeup was finished. I had a great time!
Are you interested?
Send a message