39 Reviews
Recommended by 96% of couples
Quality of service

4.8 out of 5 rating

Average response time

4.9 out of 5 rating

Professionalism

4.8 out of 5 rating

Value

4.8 out of 5 rating

Flexibility

4.8 out of 5 rating
Awards
2 User photos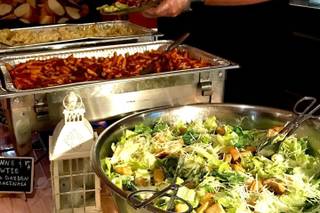 Samantha

Married on 03/19/2022

Amazing Food

Big Girls Catering was the best choice I could have made. Not only are they super easy to work with. They did their research even before I got to the tasting. Super impressed with all there hard work. And the food was to died for. I looked for a long time to have breakfast food served at my wedding, and they knocked it out of the park. My guest are still talking about it. Thank you so much for making my special day great.

Renata S.

Married on 06/05/2021

Thank you Big Girls Catering!!

I had the pleasure of having Big Girls Catering & Events cater my backyard wedding this past June. I have so many good things to say about them. They made our wedding day so special and kept everything running smoothly. The staff was so kind, accommodating, and fun to be around. The food was absolutely delicious and set up so beautifully. We had the most gorgeous artesian cheese & meat display that all our guests loved. In addition, we selected the pasta station and meat carving station which was so yummy. Thank you so much for being a part of our dream wedding day and helping make it perfect!

Brianna R.

Married on 04/18/2020

Big Girls Catering is the best!!

Big Girls Catering was probably the best vendor we hired for our wedding on 8/29/2020. We enjoyed a tasting at their location in Acworth and we knew that they would serve the best tasting food! We did the Great Gatsby menu with some substitutions and everyone at our wedding couldn't stop telling us how great the food was. Not only was the food delicious, the team was absolutely amazing from planning til the wedding day. They were available by text if I had a quick question, and were flexible with so many things on the wedding day (weather, Covid adaptions, etc) They were so friendly, positive, and made sure we (bride + groom) got to eat a plate of food and try our passed appetizers- which was good because we never sat down at our table! They have so many options for pricing and you will not find another caterer as competitively priced with the quality of food they serve. Thank you girls!

Are you interested?

Send a message

Emily

Married on 12/27/2019

Amazing wedding caterers!!

Big Girls Catering did an absolutely amazing job on our 12/27 wedding day!! They were so easy to work with from our first meeting to the wedding day. They helped us pick the perfect buffet menu for our wedding and were extremely responsive to any questions or requests we had. On our first meeting with them, my husband and I asked that they make a sign for my husband's younger sister, Mackenna, that said "Mac's mashed potato bar" (the girl loves potatoes). They loved this idea and we kept this a secret from her until she saw it on the wedding day. My new SIL cried from happiness when she saw it! Also, at the beginning of the reception the staff members made my husband and I our own plates of food so it was ensured that even with all of the craziness around us during the reception, we ate a meal. I loved that and it was greatly appreciated. The food was delicious! Big Girls rocks!!

Jordyn

Married on 09/06/2019

Wedding caterer

Big girls catering did an amazing job. We originally chose to do a tasting with them because their menu had "normal" food that we actually knew what it was (we aren't too fancy and pretty much just like the basics) at our tasting the staff was so sweet and the food was amazing and we fell in love with them. Our food was phenomenal and I had soooooo many guest ask me after our wedding if I had a recipe for the sweet Georgia brown chicken. Everyone said it was the best chicken they had ever had in their life. The staff was so sweet and made sure we had appetizers served to us while taking pictures after the ceremony. Cindy hiked up and down a huge hill to bring us something to drink while we were taking pictures. They also fixed our plates and served our food so we wouldn't have to worry about it. They made sure we got the chance to eat and they also took great care of the elderly guest we had that couldn't stand in line for the buffet and they helped out the parents with kids as well.

Olivia G.

Married on 06/29/2019

Amazing food and service!

I can not recommend Big Girls Catering enough! From the beginning, I felt so taken care of! Their staff is so kind and made me feel like our wedding was of upmost importance to them. We loved our tasting, and our wedding day food was phenomenal. All the catering staff was so great!!!

Robyn J.

Married on 06/22/2019

I love vita at bgc⠹

Vita was such a joy to work with! She is super sweet and always available by text to answer any of my annoying questions! :) She truly cares about her brides which makes working with her so much more meaningful! They had amazing prices that couldn't be beat and the food was soooo amazing!! I couldn't have been happier!

Ryann

Married on 11/03/2018

Amazing food!

I don't think there was a single person that my husband and I talked to on our wedding day that didn't make some sort of comment at how amazing our food tasted. The bartenders were courteous and mixed our drinks well, the food stayed plentiful, my husband and I had plates made and waiting for us upon sitting down to eat. Vita is so sweet and will do everything to make sure your day goes perfectly!

August

Married on 02/17/2018

My wife and I highly recommend Big Girls Catering. The Wedding Planning for Catering, Wedding Cake and Floral was very easy with their one stop shopping for all. Everything went as planned, the food was GREAT, everyone loved the food and most folks wanted more. There was nothing but compliments from the guests who attended our Wedding. The Flowers were Beautiful and the Wedding Cake was Delicious. Vita did a fantastic job with the Catering for the Reception. Big Girls Catering, Sarah, with Cakehouse on Main and Terri Hollifield, The European Garden Florist provided an exceptional Wedding experience for us. We appreciate the effort in making our Wedding an enjoyable experience. August & Susy

Jazmine

Married on 11/04/2017

I couldn't have asked for a better catering company. The food was delicious, their customer service was some of the best I have ever received and Vita really did everything she possibly could have to make our most memorable day special as well as affordable. She worked with our budget extremely well and went above and beyond for us on the day of. I highly recommend this company for any catering needs and I will always use them in the future!


Brittany

Married on 09/29/2017

We cannot say enough nice things about Big Girls Catering! They were an absolute pleasure to work with. We never and any issues with the planning process and they did everything they said they would. The food itself was delicious. All of our guests were very impressed. I would recommend them to anyone looking for catering and we will use them again in the future. Everyone who works there is so friendly, helpful and makes you feel special. We are a very happy with our experience with them!

Liz

Married on 06/17/2017

I would highly recommend Big Girls Catering. For one, their food is AMAZING. I had many people tell me it was one of the best wedding meals they've ever had (pork loin, stuffed chicken, green beans, squash casserole, mac n cheese). Their manager, Vita, is fantastic. She went above and beyond to make sure I had a perfect wedding, even as going so far in chasing me down to eat! You would not go wrong in picking this company, they obviously love what they do.

Susan

Married on 11/11/2016

I have nothing but good things to say about Ami & Cindy & the Big Girls Catering staff. They were absolutely the best caterers we contacted in our search. We chose rosemary lamb chops & stuffed chicken, lemon Parmesan asparagus, wild mushroom orzo, and a salad they put together at my request. We also rented china, flatware & glassware from them. They were so very accommodating and friendly and were by far the best value of all the caterers that gave us quotes. I have no regrets about our decision to go with Big Girls Catering. Our guests loved the food, and we had a 100% positive experience with them.

Big Girls Events & Catering's reply:

Susan!
Thank you so much for your wondeful review! We loved catering for y'all, you stretched our cooking abilities by creating your own awesome menu...which we have now added to our regular menu !
Your family and friends were just the best to serve that evening.

We wish all the love and happiness God gives each day!
Ami and Cindy

Leah

Married on 06/18/2016

Ami and Cindy are FABULOUS! Their food is delicious, and they helped me save money with a greater variety of food choices! Love them!

Big Girls Events & Catering's reply:

Thanks Leah!! We can't wait until your wedding. You're sweet to give us a review before your big day!

Katherine

Married on 06/11/2016

Wonderful people and delicious food. Big Girls was the best catering decision I could have made. They were great to work with. Flexible, knowledgable and helpful. Did I mention delicious food... my guests raved about all the food. Love them and will use them again for any event.

Big Girls Events & Catering's reply:

Thank you Katherine! We enjoyed working with y'all so much! Congratulations and thank you for the sweet review!

Ami & Cindy

Alicia

Married on 06/11/2016

Big Girls Catering was amazing!!! Ami and Cindy were awesome to work with. Planning a wedding when you live out of town can be stressful, but they were so easy to work with and very accommodating (especially when I was trying to make it into town for a tasting.)
The communication was great, they got back to me right away, even if it was late at night or early in the morning when I had a random question. We decided to do just appetizers for our wedding. They had some great suggestions and everything was delicious and beautiful! Sara did our cake and assorted mini cupcakes. AMAZING and beautiful! The staff that came to the wedding were the best. Vita was amazing and made sure the night went smoothly and made sure I had everything I needed and more!! (Hailey and Hunter were great too) if you are looking for a caterer, I highly recommend Big Girls Catering!!! You will not be disappointed !!!

My husband and I were unable to use Ami and Cindi to cater our wedding, however Ami was so kind to try and help anyway she could when our wedding planning got really difficult. She referred us to their wedding coordinator, Kristi. Kristi was an answer to prayer for my husband and I. A month and a half out from our wedding we found ourselves in a really bad situation with a wedding coordinator we had been working with since the beginning of our engagement and were left without a coordinator, and our wedding plans basically up in the air due to budget issues. Kristi literally came to our rescue and made the last month of wedding planning stress free. Saying that she went above and beyond for us, does not even give what she did for us justice. We were complete strangers when we met. She had no reason to do all that she did for us, other than her love for wedding coordinating and her genuine desire to give her couples the wedding day that they dream of. She was so considerate about how she gave her opinions, always making sure her opinion reflected what she thought was best for us, and not what would be best for her business or her image. She is so selfless, hard working, quick to respond to emails and texts, and just all around what everyone needs in an event coordinator. You will not regret booking with her!

These ladies did such a great job with the food for my wedding and making sure my husband and I got to eat. Their service was amazing and made everything run sooo smooth. I definitely recommend them!!!

Emily

Married on 06/06/2015

Everything about the food and bar service at our wedding was perfect. Ami and Cindy are absolute gems and responded almost instantly to all of my emails always ready to help, answer questions and solve any problems that popped up during planning. I changed the menu about 1,000 times and every single time they were completely flexible, sweet, and so very patient with me. We took no food home because our guests loved it so much there was none left. It was fantastic. We had the BBQ station, the Shrimp and Grits station, and the Big Garden Salad station, and we had guests asking us if we could get the recipes for some of their dishes. I have not one complaint about them. They made our reception wonderful!

Big Girls Events & Catering's reply:

Emily! Thank you for such a sweet review!!! You were as equally amazing to work with! Let us know what recipes you would like to have - we love to share them! We wish y'all many years of blessings in love & marriage! Ami & Cindy

Christina

Married on 02/28/2015

Overall we had a wonderful experience with Big Girls Catering. The food was a huge hit among around guests which is exactly what we were hoping for. We've added some basic notes about our experience below. :)

Quality of Service:
Staff was professional and friendly. It was exactly what we were expecting!
Food was super yummy! We had traditional Southern type dishes (chicken tenders, cajun pasta, mac and cheese, mashed potatoes, green beans, etc) at our wedding which was a huge hit with the guests. Several guests stopped us to complement the food choice. YAY! :)

Responsiveness:
They were always quick to respond to emails or phone calls. We usually heard something back from them within 24 hours. The only small issue we encountered with emails related to clarity. Sometimes we would have to send 2-3 emails before we clearly understood why something was the way it was.

Professionalism:
They had a laid back sense of professionalism. They were always willing to answer questions and make last minute adjustments without being intense about it. Wedding planning is crazy so having someone who was pretty calm was a really good fit for us!

Value:
We felt that it was a good price for the taste and quality of the food. They worked to make sure that the buffet line was well stocked which was important!

Flexibility:
They worked around our schedules for the initial food tasting which was nice. Wedding planning can be a stressful and BUSY time, but they adjusted their schedules to meet us on a Saturday at the local Starbucks. :) They also let us choose from different themed drink dispensers and name cards (rustic vs formal) for the wedding buffet. We thought that was a nice bonus!

Big Girls Events & Catering's reply:

Oh my goodness, you are too sweet! Y'all were wonderful to work with!! Sorry for the confusing emails - we'll work on that for future brides. Y'all picked a great menu and we are so happy your guests were pleased!

We wish you many years of joy, happiness & blessings!

Bre

Married on 12/13/2014

The food was amazing!!! There were not any left overs!!! Big Girls Catering met us for a food tasting!! A few bites and we were sold!!! Their pricing per plate is the best you will find! We were very happy with the presentation and the wait staff! Thanks for making our reception amazing!!!

Big Girls Events & Catering's reply:

Bre! You are too sweet! We LOVED working with y'all! We could not have asked for a more laid back bride and groom. Your guests & family was so kind with all of their compliments. Our biggest compliment - they ate ALL of the food! You chose a fabulous menu. Here's to many happy years of joy & blessings to you both!

Big Girls catered our wedding reception at the Stanley House in Marietta, GA in October 2014. Ami and Cindy were GREAT, and the food was out of this world! We went with an hors d'oeuvres menu and had a pretty full spread of veggies and dips, fruits, their mac 'n cheese muffins, sweet georgia brown chicken tenders, french dip sliders, chicken salad (OMG their chicken salad is fantastic!) croissants. It was definitely a meal; nobody left hungry that day!

They did all of our food plus a huge dessert bar and it was all wonderful! The food was amazing and exactly how we wanted it. The dessert bar was delicious and all of our guests raved about how good it was. They are wonderful people to work with and affordably priced.

Tatum

Married on 10/05/2013

Food- excellent.
Service-excellent.
Staff-excellent.
The buffet was set up beautiful. And had lots of colors to it! Perfect!

Heather

Married on 05/25/2013

I am trying to come up with more events to have to use Big Girls Catering again and again. They were amazing to work with and the food was phenominal. My guests had nothing but great things to say about everything served at the wedding. Three weeks later and people are still talking about the food!
Are you interested?
Send a message