123 Reviews
Recommended by 100% of couples
Quality of service

5 out of 5 rating

Average response time

5 out of 5 rating

Professionalism

5 out of 5 rating

Value

5 out of 5 rating

Flexibility

5 out of 5 rating
103 User photos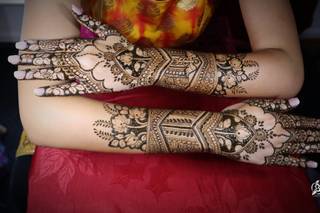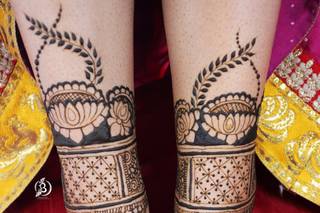 + 99

photos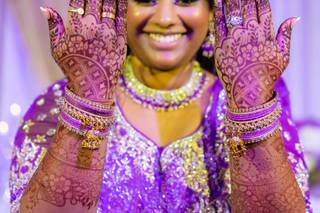 Bhavini

Married on 11/26/2022

Choose Bhavna for the most amazing bridal mendhi!

We were so pleased with the work of Bhavna for my wedding day. We knew Bhavna from previous weddings, and knew that we had to work with her and she was the perfect fit for what we had in mind. She truly understood our vision and brought it to life in a way that exceeded our expectations. Not only was Bhavna professional, creative and easy to communicate with, she is also the most amazing and humble human being. It is a joy to work and chat with her, which is something you want when she's working on you for 5+ hours. She was able to create beautiful and intricate henna designs for myself as well our guests that truly represented the culture and tradition of our wedding. She is also very tech savvy and does consultations with her brides, which results in a digital copy of the personalized design in advance of the mendhi day. Bhavna worked quickly and efficiently, ensuring that all of our guests were able to get their henna done in a timely manner. She also makes her own aftercare products and gives instructions for the henna, which helped to make sure that the designs lasted as long as possible. My bridal henna was so dark, they came out great in pictures and truly made me feel like a bride! We highly recommend Bhavna to any couple looking for a talented, professional and experienced henna artist. She exceeded our expectations and helped to make our wedding week even more special.

Bhavna's Henna & Arts's reply:

Thank you for such a thoughtful review.

Priya

Married on 11/05/2022

The absolute best!

I truly can not say enough wonderful things about Bhavna. Beginning with the consultation, Bhavna displayed professionalism, attention to detail and truly listened to what I wanted in my bridal henna.
The morning of my henna, Bhavna was on time and brought her own chairs/tables, creating a convenient set-up. She was incredibly thoughtful and brought gifts for me and my mother. I was so nervous because I can't sit still for long periods of time, but Bhavna was so easy to talk to...5 hours flew by! Bhavna is incredibly detail-oriented and you can tell she is truly passionate about creating beautiful, individualized henna for each bride. Unique touches for me included: heavy floral work, elephants, healthcare symbol and my fiancé's initials.
Following my bridal henna, other family members began to show up for their henna and everyone I talked to was equally impressed with Bhavna's professionalism, attention to detail and pleasant demeanor. Bhavna is an extremely popular vendor in the DMV area and now I know why...she is an amazing and talented henna artist, but an even better human being, exuding positive energy and love. Simply the best!

Bhavna's Henna & Arts's reply:

Aww thank you so much for such kind words of praise. Yes I do passionately love henna and people and that is my true gift from the universe. Love connection with everyone and creating for them.

Monica K.

Married on 10/26/2022

Amazing artist and a joy to work with

From the very beginning of our experience, Bhavna was nothing short of professional and communicative. She offers thoughtful touches to her brides, like a complimentary consultation to customize the design. Her artistry is unparalleled - everyone was in awe of the bridal henna that she did for me. Hire Bhavna only if you want the best henna artist out there!! We engaged when services for both my bridal henna (arms and feet) which took about 7 hours. She brought her own setup which ensured I was comfortable the entire time. We also had Bhavna and her team for sangeet guest henna and they all loved her designs, efficiency, and calm demeanor. Can't say enough great things!!

Bhavna's Henna & Arts's reply:

Thank you so much Monica for your kind words . It was a pleasure creating your design and servicing your friends and family.

Are you interested?

Send a message

Christina

Married on 10/07/2022

Best Henna Artist Ever

Out of all the craziness that happens during an Indian wedding, the best decision I ever made was having Bhavna do my henna. She is such an amazing human being with talent that is beyond this world. My bridal henna took about 6 hours to complete and during that entire time she gave me much needed life advice, made some jokes, and I truly found myself enjoying my experience with her. She pays attention and cares for her clients from providing a water bottle to make sure we brides stay hydrated to consistently checking in to make sure we are okay during the long process. My henna itself was so detailed and perfect that my guests could not stop staring at it throughout the festivities. The stain was so dark and beautiful plus the after care balm Bhavna provided along with the after care instructions definitely gave me the picture perfect henna. I would hands down recommend any future bride to go and get their henna done by her. Bhavna will be your little pocket of peace and happiness amongst the craziness plus your guests will be mesmerized by her design talent!

+ 2

photos

Bhavna's Henna & Arts's reply:

Aww your sweet and kind words brought a smile to my face. Thank you for taking the time to write me this review. I appreciate every word. Enjoyed creating your design.

Malvika D.

Married on 10/01/2022

Bhavna is incredible!

I booked Bhavna in Spring 2021 for my October 1st (2022) wedding. As soon as I booked her, she provided a form for me to fill out my likes/dislikes. During our consultation, she came up with a preliminary design to start off. She was super open to all my adjustments and small clues I wanted to place within my mehndi.

On Thursday of my wedding week, Bhavna arrived prepared with all the items she needed. My mehndi took about 6 hours. Conversation with Bhavna was super easy, and she even spent time conversing with my now husband! Even as our house filled up with guests closer to the evening for our first event, she was able to be a rock and help me out wherever I needed. My wedding was Saturday morning and the stain was so dark that day! She also provided the most beautiful-smelling homemade balm as well.

To all future brides: I HIGHLY recommend booking Bhavna for your bridal mehndi. Her talent is seriously unmatched. I was drawn to her reverse fill, the intricacy, the figure work, and her florals. The stories Bhavna can tell within her art, even in the most subtle ways, make you feel so special throughout the whole wedding. If I could get married again just to have Bhavna do my mehndi, then I 1000% would.

Bhavna's Henna & Arts's reply:

Aww thank you so much for the lovely review. I appreciate the time and the effort you took to write it. It was amazing to connect with both of you and your family

Puja P.

Married on 07/09/2022

Amazing Henna & Artist

Bhavna was an absolute pleasure to work with! She is extremely talented, kind & personable. Starting with an in depth consultation to nail down all the important details I wanted incorporated, working with Bhavna was a breeze. She brought all the set up she needed (including adorable waterbottles/post-care packages for myself & my mom) and the 7 hours for my bridal henna flew by. We chatted throughout the afternoon and I was astounded by the amount of detail and precision Bhavna was able to weave into my mehndi. She also gave my mom the same level of detail and treatment which was incredibly special. The stain was also very dark and my family/guests could not stop raving about it. Bhavna was one of the first vendors I booked because she was so popular & recommended! I would 100% recommend her to anyone looking for bridal or family henna!


Bhavna's Henna & Arts's reply:

Thank you so much for the lovely words. I appreciate it all very much. I enjoyed creating your design and doing henna for you and your family and guests.

Gugandeep

Married on 06/17/2022

Simply Phenomenal

From start to finish, the experience with Bhavna will have you feeling like the queen you deserve to feel like during the wedding process. She will show you exactly what you should expect, and there are no games with Bhavna. What you see is what you get. On the actual mehndi day, she was so sweet the 7 hours flew by! And she even came through by hearing about my nose ring woes and went above and beyond by handing the one she had off to one of my bridesmaids! Which I ended up wearing on my wedding day. She is an angel! Don't hesitate to hire her. She is worth every penny and then some!

Bhavna's Henna & Arts's reply:

It was an amazing experience creating your design. Thank you from the bottom of my heart for such a wonderful review. Appreciate every word.

Tienn E.

Married on 05/19/2022

Superior Professionalism

Bhavna is an incredibly gifted artist and consummate professional. She is an expert and her dedication to her craft shows through in every part of the experience.

We had a consultation months before our event to customize our designs and talk through the entire process. This was reassuring and a great way to build initial rapport.

We talked for hours during my bridal application and all of our guests raved about how warm and engaging she was during their sittings. It's hard not to bond with her. Lastly, even with a few last minute changes and alterations Bhavna was flexible and accommodating. We had a wonderful time working with her on both our bridal mendhi and welcome night event. I highly recommend her to all.

Bhavna's Henna & Arts's reply:

Aww thank you Tienn I appreciate your kind words. Hope you guys had a wonderful wedding, saw a few snippets on IG. You and Eshani looked awesome.

Komal S.

Married on 05/14/2022

Best Henna Artist; Loved working with Bhavna.

If you are looking for a henna artist, your search ends now. Meet Bhavna. She is such an amazing henna artist! I loved working with her. She exceeded the expectation on my bridal henna. Made me look more beautiful on my D-day. All of my friends and family loved her work especially the detailing. She is extremely professional with her work. And provided detailed instructions on taking care of the henna. She is super easy and fun to work with as I spend more than 7 hours with her. Despite such long hours, she had a big smile throughout. I would highly recommend Bhavna!


Bhavna's Henna & Arts's reply:

Thank you, for such kind words. I appreciate it. And enjoyed your company as well. Loved creating your unique design.

Vish

Married on 05/08/2022

A true henna artist

We cannot count the number of compliments we received for Bhavna's henna art. Our families were extremely pleased with how her henna turned out. She worked with us to create unique designs that showcased our story and was able to expertly translate that into henna. Frankly, we were amazed at how good it looked compared to her sketches. She provided excellent after-care instructions and even stayed beyond when we had booked to ensure all the folks in our family who wanted henna were able to get it. Highly recommend!!

Bhavna's Henna & Arts's reply:

Thank you Vish for such a heartwarming review. Hope you had the wedding of your dreams. Please give my wishes to German too.

Parishi S.

Married on 03/06/2022

Such a talented artist!

Bhavna did a fantastic job for my wedding henna. She is so detailed and precise and can tell she puts her blood and sweat into it!! Its mesmerizing watching her perfect the versioned design on your hands/feet. She also did some guest henna for my family and everyone was a huge fan of her work. Such a nice, friendly, and outgoing person to work with. I was sitting there for 7 hours total for both arms and legs and the time flew by so fast I could not even believe we were done. Highly recommend her for your next event!

Bhavna's Henna & Arts's reply:

Thank you so much for your kind words of praise. I really love what I do. I'm so glad that my clients can feel that in my work. I wish you all the best in your married life.

Varsha P.

Married on 11/10/2021

Brilliant, Extraordinary, Caring, Thoughtful, Outstanding Artist. Picasso of Henna.

So many wonderful things to say about this Amazing human, Bhavna. Before I get into her being a fantastic artist I want to get into her being a fantastic human. I have had my henna done by Bhavna a few times before. However there is nothing like getting your wedding Heena done. My experience with her was with such great care, understanding, friendship, and love. Sitting in a chair for long hours will make your entire body numb. But she is constantly checking on you to make sure that you are comfortable, if you need a break to take a sip of water or readjust your sitting position, feed you if necessary, and she will even help you when you need to go to the restroom. She is a woman filled with love, care, and light. The experience you have with her is well beyond the price of such magnificent artistry. With that being said She's not an "Aunty" she truly is an Artist like no other henna artist. Recently she posted a quote from Picasso that read, "It took me 30 years to do that masterpiece in 30 seconds". Bhavna is worth every single penny plus more. There is no copying, pasting or sticker layout on your skin before she starts your design. Everything comes from her mind and your skin is her canvas. She takes hours to create the perfect, custom design for you. But it's truly an amazing sight to see her do her magic on your skin. We are all shaped so differently and our skin is all very different. Some people have sweatier palms, some people have really oily skin and Bhavna manages to make everything work and beautify your Henna. Bhavna prays over you to ensure you have a calming presence before your big day. As with many brides, the few days before the wedding can be extremely stressful. Bhavna makes your henna ceremony so special and stress free. Bhavna provided me with a needed water bottle to keep me hydrated, a personalized gift which included a jar of her homemade henna balm that smells divine and made my skin silky smooth, plus my husband could not stop telling me how good i smelled, gauze/ wrap to help protect my Henna and instructions that will make my henna last longer and provide an incredible, long lasting dark color on my skin. I was told that the darker your henna stains on your skin the more your husband loves you. My henna came out so beautiful and dark and i definitely believe that my husband's love shows no bounds. Thank you Bhavna for taking such great care of me and creating my vision for my wedding Henna come to life. You matched perfectly Every single detail of my henna. Your work is sensational and you work so diligently. You made me feel empowered as an Indian woman and excited to share my culture with my Blasian husband. God bless your hands, back, eyes, and your magical spirit always

Bhavna's Henna & Arts's reply:

Thank you so much for your time and writing such a thoughtful review. I appreciate every word. I loved creating your design

Rajani G.

Married on 10/09/2021

Hire Bhavna Immediately!

If you are on the hunt for a henna artist, please look no further. Working with Bhavna for my wedding mehndi was a dream come true! As a same sex couple planning an Indian-American fusion ceremony, we were very intentional in choosing vendors that we knew would celebrate our love and protect our safe space. From the detailed design consultation where Bhavna helped educate me on ways we could honor both my Bengali-father and American-mom through my henna to the tears of gratitude that filled many of our guests eyes after Bhavna did their henna on the day of the event, it was clear that our mehndi would not have been complete without Bhavna.

Bhavna's Henna & Arts's reply:

I truly enjoyed incorporating the bengali culture and your moms name in the design and also create Ashton's design. I appreciate the review.

Kiran M.

Married on 10/02/2021

An experience I will never forget!

I hired Bhavna for my bridal mendhi pre-pandemic, and I was lucky enough to have her stick it out with me for two years! I let her free-hand my mendhi and absolutely loved the outcome. From the beginning, Bhavna has remained professional and helpful - always quick to answer emails and questions. She brings her own set up, so you don't have to worry about providing her with any tables, chairs, pillows, etc. She also makes her own mendhi and after-care balm, which both smell incredible. Bhavna's talent speaks for itself and her kindness is equally as great. We had such great conversation together every time we met (consultation and on my mendhi day). Bhavna, thank you for making my experience one I will never forget!

Bhavna's Henna & Arts's reply:

Aww thank you so much for such heartfelt words. I truly enjoy my conversations with brides and wish you all the best in your life.

Suma C.

Married on 09/18/2021

Highly Recommend Bhavna!

Bhavna was amazing and my family and I were so impressed with her work! Not only is her work amazing, she is such a kind hearted and caring person. She made sure I was comfortable and fed. She is very professional and personable. All of my guests were impressed with the henna and mentioned how they have never seen work this amazing before. I highly recommend Bhavna for any henna services!

Bhavna's Henna & Arts's reply:

Thank you so much for taking the time to write me a wonderful review. I appreciate every word. Thank you once again.

Juhi K.

Married on 09/05/2021

Best Henna EVER!!

I would recommend Bhavna over and over again. She is amazing at what she does and has an amazing personality as well. She comes prepared with everything you might need during the henna session. What I really appreciated was the consult beforehand where she helped me come up with a design based on my likes. I was able to show her I had a foot tattoo and she effortlessly replicated it on my other foot to make my designs identical. All my guests loved her as well.

Bhavna's Henna & Arts's reply:

Thank you so much for taking the time from your busy schedule to write me such lovely words I do try to take the time to have a consultation with all my brides so that I get to understand their vision , and help them create one if they don't have a preference in design.

Sachi K.

Married on 09/04/2021

Absolutely amazing!! I highly recommend Bhavna to brides!

I reached out to Bhavna very early on in my planning process because I saw her work and immediately fell in love with her designs! The experience from the initial reach out, to the consultation to the day of my mehendi was absolutely fabulous. I was blown away by the way she customized my design, patched the different concepts I loved together, switch things around to give me different options - all in the hour long consultation! By the end, I knew exactly what my design would look like and was even more excited for my mehendi.

On the day of, she was not only such a calming presence amidst all the craziness, but also was such a great conversationalist during those 7 hours. Her application was flawless and she thinks of absolutely everything to make sure your experience is the best! Not only did my mehendi turn out gorgeous and dark, but I was confident knowing that it was made naturally and applied by the best! Thanks so much Bhavna for being so kind, engaging and creative!

Bhavna's Henna & Arts's reply:

Thank you so much for taking the time to write me such kind words. I appreciate it very much.
Hope your wedding was awesome

Natasha S.

Married on 09/04/2021

The best experience!

Working with Bhavna for my bridal henna was such a wonderful experience! The amount of talent she has is out of this world. I am still in awe of the amazing design she created for me. My mehendi turned out perfectly- everything I could have hoped for and more. She added so many elements that I asked for including a building from where my husband and I went to school and the igloo where he proposed, as well as lots of little hidden elements that were meaningful to us. She is also just the sweetest person and fun to hang out with all day! The eight hours went by pretty fast! She gives you everything you could possibly need and more to make the day/night easier as the henna dries. Her team did the henna for my family and bridal party and were wonderful as well!

If you're looking for a bridal henna artist - look no further - Bhavna is the best!

Bhavna's Henna & Arts's reply:

Thank you so much for your kind words you made my day or should I say my week I really appreciate all my brides taking the time to write something so sweet and meaningful thank you so much once again.

Bhavi S.

Married on 08/21/2021

Extraordinary & unique!

I would recommend Bhavna over & over again! She is a pure genius as what she does. What makes her unique an different is that she gets time to know and learn your story and incorporate it into your henna design. Her works is simply beautiful to say the least. I could go on and on about how amazed I was with her skills and with her attention to detail. She makes it fun & enjoyable and will make sure you're taken care of throughout the entire process. For the package that I took, the process took around 7.5 - 8 hours with a few short breaks in between. Bhavna makes sure that you are comfortable all along the way and also makes sure you get food and water in your system. She honestly takes care of you as if you're her own daughter. That quality is really rare to come upon. I'm so glad and thankful that I found her to do my wedding mehndi. I can guarantee she will not disappoint and will make your mehndi unique and different from the rest. I don't think I've seen any bridal mehndi design that is the same. Thank you a billion times over, Bhavna! Miss every moment of that day. ❤️

Bhavna's Henna & Arts's reply:

Aww thank you so much for taking the time to write me such a wonderful review. I appreciate it. Hope your wedding weekend was awesome.

Melissa S.

Married on 08/07/2021

Wonderful Person, Wonderful Artist

What a wonderful person. Yes, she is a tremendous artist but she is also a wonderful person to be around. Bhavna is a great conversationalist and so kind. She made me feel special for my wedding day but she also made my mother and sisters feel wonderful too! Also, her henna and sugar spray smelled so fantastic! I really had no idea what I wanted my design to be and she was so patient and thoughtful.

Bhavna's Henna & Arts's reply:

Thank you for taking the time to write me a wonderful review. Appreciate every word. I am so glad I could create a design that you enjoyed.

Nirali M.

Married on 07/31/2021

Breathtaking Henna

Don't look any further! If you are getting married and require henna services for your big day, do yourself a favor and book with Bhavna. Not only is she incredibly talented, but her kind demeanor and easygoing personality just make it so wonderful to work with her. The meeting you have with her beforehand where she asks you about your relationship and also what design elements you wish to have is such a unique and wonderful experience. She then hand creates a unique design just for you. It is the most wonderful process and I can't say enough good things about it. On top of all of that, her artistry is simply amazing - you will really feel as special as you deserve to feel on your big day! She's simply the best in my opinion and I would recommend her to anyone!

+ 3

photos

Bhavna's Henna & Arts's reply:

Thank you very much for the lovely review and taking the time. I appreciate every word. I enjoyed creating your design.

Harjot O.

Married on 07/23/2021

Amazing Henna!

Bhavna was a pleasure to work with from the beginning! She has a consultation with every one of her clients and makes the henna design based on what you like and what you don't like. She prepares you for the day perfectly and lets you know what you need to do and what you shouldn't do. Her henna is amazing and she makes the process so easy and relaxing. It was very nice to work with you and get to know you a little better! I would highly recommend Bhavna to anyone who is looking for a henna artist. Thank you again :)

Bhavna's Henna & Arts's reply:

Thank you for taking the time to write me a lovely review. I appreciate every word. It was a pleasure creating your design for you.

Abhishek A.

Married on 06/26/2021

Bhavna is the best!

Bhavna is the best bridal henna artist! She is extremely talented and wonderful to work with. She offers a variety of packages to choose from to customize the type of henna you would like. Once you select a package, she will then take time to consult with you on what types of designs you like and what sentimental details you want included in your henna. She then creates a individualized design based on your specifications from scratch. On the day I got my henna, she meticulously put the henna on and was very easy to converse with. I could not have wished for a better artist and highly recommend Bhavna for your wedding!

Bhavna's Henna & Arts's reply:

Thankyou for taking the time to write me such a lovely review. Thank you for appreciating my work. I am truly blessed to have brides like you.


Monisha S.

Married on 06/25/2021

Amazing!

Words cannot express how amazing Bhavna is, both as a person and with henna. She is a true artist and you will not regret hiring her for your big day. She worked with me on a custom design, something she had never done before, and gave me the henna of my dreams! I will cherish the memories of my henna for years to come and it is all thanks to Bhavna for making it come to life.

Bhavna's Henna & Arts's reply:

Aww, thank you so much for your kind words. I appreciate it.
It was amazing trying to create your henna design.

Kiran S.

Married on 05/03/2021

Best Mehndi Artist!

Bhavna is the sweetest mehndi artist ever! I fell in love with her work back in 2017 and knew she was going to be my wedding mehndi artist! I loved every detail of my mehndi & loved that I got to create every single part of my design. She captured my love story and even drew my design in advance so we could make any changes prior to my mehndi day. It was a pleasure working with Bhavna & I am SO glad I chose her. Wish I could do it all over again just for another experience with her!

+ 2

photos

Bhavna's Henna & Arts's reply:

Aww thank you so much for taking the time to write me such a wonderful review. I appreciate every word.Thank you.
Are you interested?
Send a message